Acadia National Park is located on Mount Desert Island on the coast of Maine and is an absolute treasure trove of natural beauty.
There are so many places to visit in the park and so many activities to take advantage of, that visiting Acadia National Park with kids is a great vacation idea for families. Activities like exploring tide pools, biking around the carriage trails that John D. Rockefeller constructed, and visiting the Thunder Hole are all unique ways to entertain and educate the kids. 
Families as a whole enjoy the many water sports available and the many hiking and walking trails (a lot of which are kid-friendly). Also, with the ability to stargaze from different points in the park, uninhibited by city lights and smog, many visitors are wooed into a sort of trance by the sky's beauty. Even chats with park rangers are available most times during the year, which is yet another easy and free way to engage your little one's mind while taking in some breathtaking scenery. 
For the less active kids, there is a drive around the Park Loop, which is a relaxing way to take in the coastline. When you've taken in enough of Acadia National Park with kids, stopover at Jordan Pond House for their locally revered popovers, or visit the neighboring town of Bar Harbor for light shopping and great eats.
In this article, we will discuss several places to visit and things to do around the park – but let's get started with some context about Acadia National Park, which can be a helpful context to teach the kids about as you kayak, walk, bike or hike around the park.
History Of Acadia National Park
The first inhabitants of the area called Acadia were Native Americans, and they lived in the land for about 12,000 years. By the mid-1800s, artists were traveling to and from the area on a seasonal basis, capturing Acadia's beauty in color and paying modest fees to stay with fishermen and their ilk during the season. Soon, so many people wanted to stay in the area – specifically Mount Desert's neighboring town of Bar Harbor – that thirty hotels opened up by 1880 to respond to the growing tourism demand.
As time went on, wealthier visitors began to patron the town, soaking up the sun and sea mist during the summer. Eight sprawling estates were built around this time, and the neighboring town of Bar Harbor acclimated to the newfound wealth by providing upscale leisurely activities such as buckboard rides, picnics, and day-long hikes with the artists living in the town for the season. It was forty years of wealthy decadence dominating the island before the great depression and World War II shut the town down, like so many other small towns across America during this time.
Soon after, three men came together to build out the idea of the park, garnering donations through advocacy to ensure that Acadia National Park was well cared for. It was the first national park in America east of the Mississippi River and is the only national park in the northeastern portion of the United States today. Its namesake comes from the French colony of Acadia, which once had a presence in Maine.
When To Visit
The weather of your destination is one of the most important factors to consider when planning a vacation, and this is the case for Acadia National Park. According to online results, the prime time to visit Acadia National Park is in September through early October. We know this is a short window, but visiting in September through early October enables you to avoid the summer crowds, the mist, rainfall, fog, and freezing winter temperatures.  
If you visit in the colder months, take time to pack some waterproof gear. Of course, the park is quite pleasant in the summer, but the rest of the country knows that, as well, and there will be many other tourists. In terms of avoiding the little ones getting too cold or too hot, visiting in early fall seems like the safest bet.
Check out our guide to the best time to visit Acadia National Park to learn more.
Play In The Water
Because Acadia is located on Mount Desert Island and surrounded by water, it makes sense that there are various watersport offerings in the area – and if you're not taking advantage of these, you're missing out on crucial experiences in Acadia.
One of the ways to enjoy the water at Acadia is to sail out in the afternoon on the Margaret Todd with a park ranger. It's an old-fashioned sailing ship, with plenty of room and easy access for both children and grandparents. It is a very accessible and family-friendly way to enjoy the views.
Furthermore, kayaking tours are offered by local companies around the island, awaiting families with a sense of adventure like yours. Remember that Acadia is near the ocean, so be sure you and the kids are in good paddlin' fashion before taking a kayak out to the water.
Take In The Beauty From Two Wheels
When millionaires such as John. D. Rockefeller lived in the area surrounding Acadia, Rockefeller decided to build carriage roads so he could more easily travel by horse throughout the area. Today, these sprawling, windy roads meander throughout the area and are easily enjoyed by bicycle. The roads are gravel and lend themselves well to mountain bikes in the place of average road bikes.
The roads themselves can sometimes wind up with a steep incline. However, there are roads around Witch Hole that can be accessed through the parking lot at Hulls Cove visitors center. These roads are flatter and potentially better for the kids. Along these roads, you might stop and see ponds, beaver homes, and the beautiful Duck Brook Bridge.
There are also horse-drawn carriages that travel these roads, and you can make reservations for these online. If you didn't bring bikes and you still want to enjoy the roads, stop at Bar Harbor Bicycle shop for one, a locally owned business with great reviews.
Go Stargazing
Humans have been gazing at the stars since the dawn of humanity, and there is a good reason for that. Stargazing is an exceptional way to help your little ones discover the vastness of the universe and a fantastic way to insert feelings of warmth and awe into any trip. Lucky for us, Acadia offers some fantastic stargazing spots.
One of these is at Ocean Path, which can be found via the Park Loop Road (more info on that later), just fifteen minutes from the neighboring town of Bar Harbor. There is access by private vehicle as well. It is not open during the winter, but in summer, spring and fall, there are breathtaking views of the stars to be experienced.
A few tips for stargazing activities – remember that anything done in the dark with kids should be well planned, so headlamps and flashlights are a must. For seating options, bring cushions or purchase affordable camping chairs. Bring binoculars to get a good peek into the heavens and, if you're a photographer, pack away a camera that uses long exposure shots to capture an excellent photo of the stars.
Explore The Belly of The Bridges
As mentioned above, Acadia is home to sixteen carriage roads first established by John D. Rockefeller. These roads have bridges above them, and each embodies its uniqueness. Many of these bridges have paths that lead beneath them, where geocachers may have hidden gems. If not, there is still plenty of mossy wildlife to explore.
The architecture varies from bridge to bridge, and a lot of times they'll be home to a creek or stream below – a great relief for your toes on those hotter days. You can walk these bridges alone or go out with a ranger, where you will learn a lot about the history of the bridges and how they came together under Rockerfeller's purview.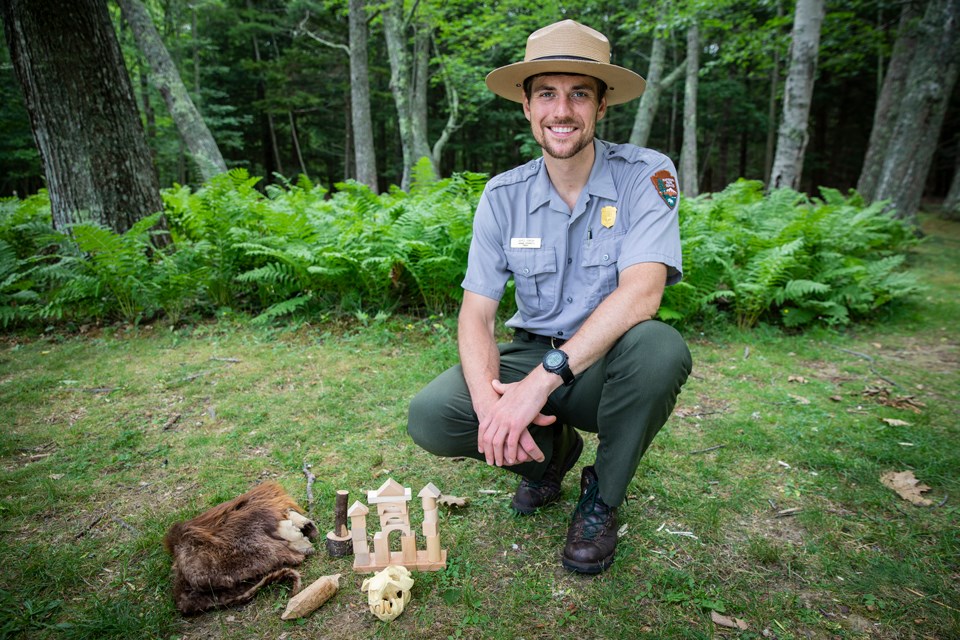 Chat With A Ranger
Why not take advantage of one of our country's most informed voices when it comes to the natural world? One offering from the park rangers at Acadia is a guided tour of the rocks along the coast. Rangers are trained to have a wealth of knowledge about how Mount Desert came to be and even the types of rocks you will be climbing all over. Upon arrival at the park, you can obtain a schedule of ranger-led talks throughout the week – or take a look at this online schedule.
Popover to Jordan Pond House
Popovers are a lighter form of muffin forged from a thin batter, which rises to a shallow shell after baking. Sounds delicious? Well, imagine popping one of these in your mouth after a long day exploring Acadia. You can do just that at Jordan Pond House, a cafe located in Jordan Pond within the park.
During the end of the nineteenth century, Acadia was becoming a popular tourist destination, which is when Jordan Pond House became a restaurant. The first popovers sold here were handed out by a local couple in 1895. After John D. Rockefeller donated the location to the National Park Service in 1940, he began a company to run the Jordan Pond House and ensure that it kept on poppin'.
These days, offerings at Jordan Pond House include a scrumptious crab, and goat cheese dip served warm with pita chips, a variety of specialty cocktails, a kids menu, and a bunch of popovers served with locally made strawberry jam and butter.
Experience Cadillac Quality Views
Cadillac Mountain in Acadia National Park is a renowned landmark. It boasts 360-degree views of the rocks and ocean and is the highest point on the eastern seaboard. There are a couple of ways to summit the mountain, including hikes to the 1,500-foot summit. You can also drive the three and a half miles up to it.
There is a small summit trail at the top, which reviewers said was easy and fun for kids and provides breathtaking views of the island. At the summit, views of Bar Harbor's cruise ships appear, and there are sweeping views of the radiantly blue ocean, dotted by almost untouched islands. Be aware that these views are popular during sunrise and sunset, so if you want a more isolated experience, it is best to go outside of these times.
Go Cruisin' On Park Loop Road
The Acadia National Park's Park Loop Road is a twenty-seven-mile twisty coastline drive. This road has been lauded as one of the most beautiful drives in America, rivaled only by the coastal drives found in California. The road begins in the neighboring town of Bar Harbor.
There are plenty of places along Park Loop Road for families to stop, step out and enjoy the inimitable smell of the ocean while gulls caw overhead. Throughout the drive, there are popular tourist spots, mountains, jagged and rocky shorelines, tall and mossy forests, and clear, quiet lakes. Stopping to see these is a perfect opportunity for those moments when everyone is tired, yet you're still wanting to take advantage of all that visiting Acadia National Park with kids has to offer.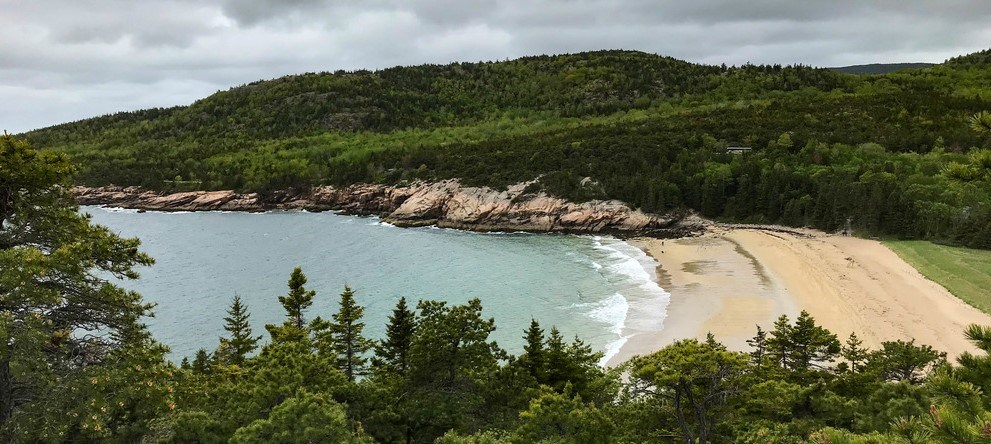 Sculpt A Castle On A Sandy Beach
Is it a beach if there's no sand? Well, you won't have to ponder questions like these when the almost tropical-like blue waters of Sand Beach beckons you and your family down onto the shore. This beach is the only sand beach in the park, and therefore it can get quite popular. Visitors recommend parking by 11:00 am to avoid the stress.
Once you can track down a parking spot, head down to the beach. Local gulls join humans as they both take in the wonder of the outdoors, listening to the peaceful crashing of ocean waves. Little ones love to play in the sand here, building castles, digging holes, and doing what they do best – getting messy.
Roll With The Tide Pools
Tide pools are little snapshots into ocean life, so it's no wonder children are agog at them. Fortunately for the whole family, Acadia National Park is home to many such tidepools, perfect for exploring and learning about marine life. At low tide on the island, a stretch of the ocean floor is freely open to walk upon, and wildlife that can be spotted there includes crabs, starfish, and little fish that get stuck in the pools when the waves come in.
Visitors have said that the southwestern side of the island has the most kid-friendly tide pools, which can be accessed by a 15 to 20-minute hike through the Wonderland trail. There is more info on the Wonderland Trail below. There is also an area called Seawall, where you can park and walk directly out to the beach.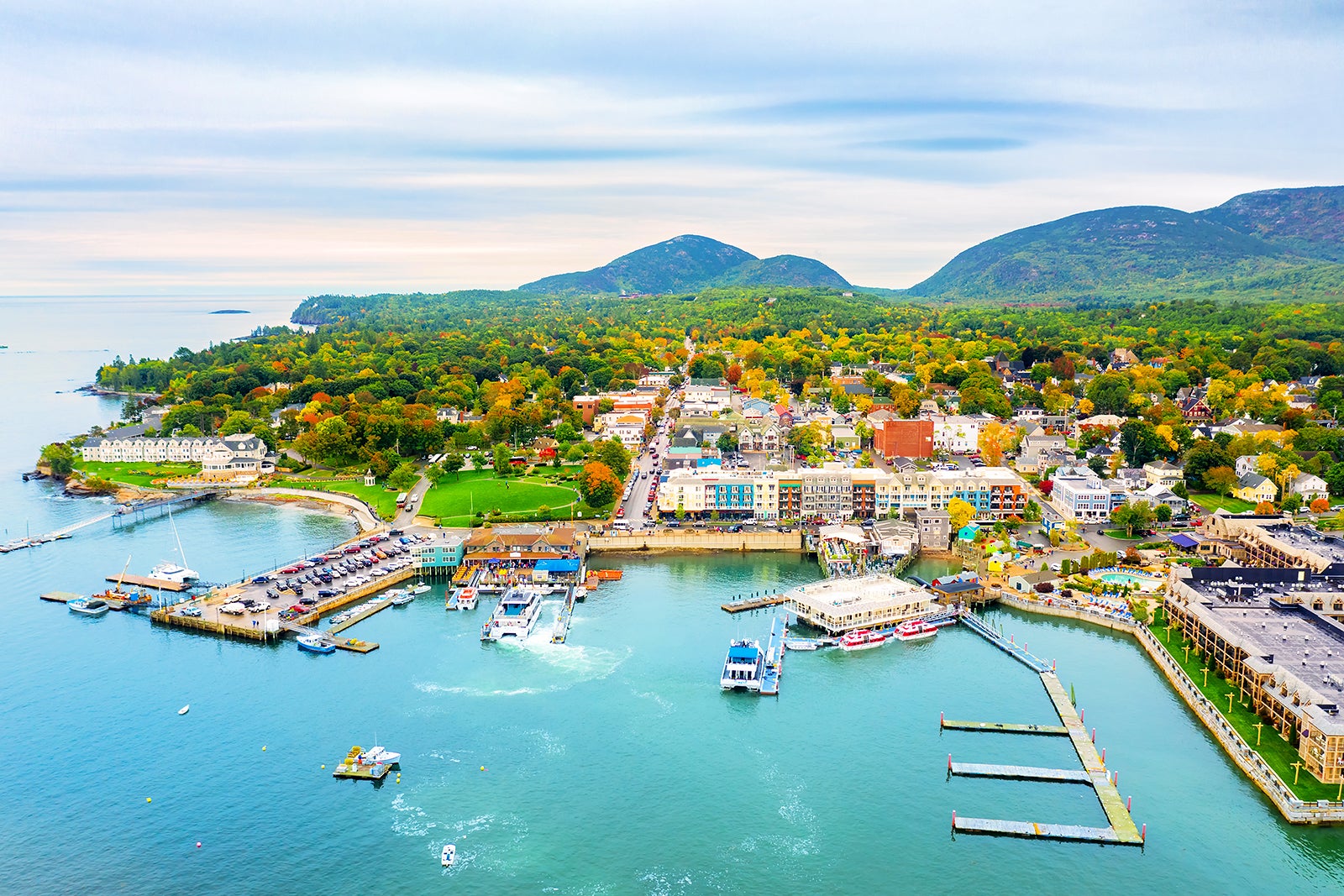 Take A Break In Bar Harbor
Bar Harbor, located just four minutes away from the center of Acadia National Park, embodies that breezy, beachy small-town feel you and yours have been searching for. The town is outfitted with many retail locations, offering tourist-style shirts, hats, and practical gear for hiking around and visiting Acadia National Park with kids.
There are many places to get food – breakfast, lunch, and dinner. Stop by one of the local creameries for a refreshing snack if you're there during the hotter months, or grab a latte at one of the cafes during the fall or early spring before you take your bike around the carriage roads or summit Mount Cadillac.
Get Rocked By Thunder
Along the rocky shores of Acadia National Park, there is a hole in the rocks aptly named Thunder Hole. On calm days one might find the spot a little listless but arrive two hours before high tide and you'll get to experience what the thunder is all about.
Thunder Hole is a slight crevice in the rock that booms when waves hit it in just the right spot. On the end of the crevice is a small cave. When water pours in, it compresses the air inside of the cave. With enough pressure, air explodes in a burst of spray with a thundering boom. Thunder Hole is a great place to enjoy the ocean spray and cool you and the kids as you take a moment away from walking around Acadia National Park.
Hike Into Wonderland
On the less crowded western side of Mount Desert Island is the beginning of a storybook-like trail, aptly called Wonderland. The trail is gravel and, therefore, both kid-friendly and largely wheelchair accessible.
The scenery on the trail is more level than the drama of the rocks and cliffs of other parts of Acadia National Park. It is safer and a more easygoing trail, perfect for small children. The trail outlets at the coast, where tide pools abound. Pro tip: make sure you and the kids watch out for the slippery seaweed while exploring the creatures in the tide pools.
Visit The Bass Harbor Lighthouse
The lone lighthouse on Mount Desert Island, this concrete mammoth is sure to inspire and entice any little one. It is located close to the Wonderland Trail. The lighthouse was built in 1858 and has been guiding ships into the harbor ever since. It is fully automated, powered by electricity. Although visitors are not allowed inside the lighthouse, it is still a fun sight to see, especially if you're already nearby and if anyone in your family has an interest in the nautical world.
Wrap Up
Acadia National park is a resplendent national beauty that has been honed and protected by several benefactors and the government to ensure pristine stewardship of this grand landmark. The first inhabitants of this inimitable land were Native Americans. However, hundreds of years after they were displaced, wealthy people like John D. Rockefeller invested in the land, creating a vacation oasis for some of the world's most affluent summer visitors. The surrounding land was developed, with many hotels cropping up in the nineteenth century to meet demand. 
The best time to visit Acadia National park is during early fall – right up till mid-October. Visiting during this time avoids the summer crowds and the chances of your little ones getting too hot or too cold.
There is an abundance of activities to partake in around Mount Desert Island. Remember when you're traversing the leisurely Wonderland Trail to visit the Bass Harbor Lighthouse. No trip to Acadia National Park is complete without a visit to the water, so dip your feet in or take a ride on the local schooner to chat it up with a ranger who knows what they're talking about. Because Rockefeller built those carriage roads, biking around the park is easy, and when doing so, don't forget to look for trails that lead beneath the bridges so your kids can discover worlds under them.
Stargazing is a popular pastime at Acadia National park, where at night the stars shine with grandiosity, making for great views and perfect shots if you're a photographer. There are ways to access the park's on-staff rangers for tour guides if you're wanting to provide some light education for you and your family. After you're done taking in the views at Cadillac Mountain, put those tired kids in the car and watch their eyes light up as they watch the coast stretch out before them on the Park Loop. The tide pools in the surrounding area are a veritable universe of ocean life, and building a sandcastle after exploring these sounds like a great type of fun for all ages.
If you're looking for something exciting that might add an element of eeriness to your trip, visit the Thunder Hole and listen for the loud clap of pressure as it releases. After all that, take in a meal – and maybe even a cocktail – at one of Bar Harbor's best eateries.
Visiting Acadia National park with kids is destined to be a memorable, educational and entertaining time for the whole family. However you choose to spend your vacation, this family-friendly National Park is sure to impress you and beckon you back year after year.
More about our TFVG Author
A seasoned traveller, Dad, and avid sports tourist, James foundered The Family Vacation Guide to share his expert vacation experiences- especially when it comes to being a travelling family man.
Featured in Travel articles such as Travel + Leisure, TripSavvy and SFGate, you know you're reading some of the best vacation tips online.