From the coast and all the way up to the mountains, Maine has campgrounds that offer the best vacationland experience. With its rich camping and outdoor recreation history, Maine is home to hundreds of campsites open all year round.
However, glamping provides you with a luxurious stay outdoors, and it has become increasingly popular in Maine. Each of Maine's glam camping rentals grows by the year, and all are designed with luxury in mind.
Thus, if you're a fan of camping but also want to enjoy a relaxing experience without having to think about setting up tents or bringing any cookware and such, glamping might be the thing for you.
Therefore, make sure to continue reading and find out about some of the best spots for glamping in Maine, USA, that will provide an unforgettable vacation.
6 of the Best Spots for Glamping in Maine
Huttopia camps offer you the most beautiful and wild ready-to-camp nature getaways in North America. Once you visit this place, you'll see that you've stepped into the deep heart of vast and wild spaces.
Huttopia offers you and your family a glamping experience that will help you and your family have an unforgettable vacation worth remembering for a lifetime.
Discover the French version of camping at Huttopia's fully-equipped tents and cabins that provide the perfect stay in the picturesque and serene nature. Once you set foot at this campsite, you'll let in on the needed comfort after a long day of exploring the surrounding areas.
Accommodation
The Trappeur – This expansive Trappeur tent offers a large space for bigger families along with all the needed amenities. It has a private bathroom, real beds and mattresses, a kitchenette with all the needed things, and electricity. The tent also features two bedrooms, a fire pit, a picnic table, and a BBQ.
The Canadienne – This was inspired by the lifestyle of trappers in Northern Canada who relied on well-built tents large enough to provide a comfortable living space in the outdoors. The tent fits up to five people and features a kitchenette, two bedrooms, electricity, a shared bathroom, a fire pit, a picnic table, and BBQ.
The Trappeur Duo – This tent provides the comfort of your home in the heart of nature. It features a king-sized bed and electricity that powers a mini-fridge, fan, and lights. It is also equipped with all the additional features the other two tents have, plus an outdoor lounge area.
The Vista – These tiny houses provide ultimate comfort and connection to the outdoors. They're equipped with a kitchen, two bedrooms, electricity, a bathroom, a screened-in porch, BBQ, and a fire pit.
Things to do
There are many things to do at Huttopia. You can explore beaches and inlets, the thick pine forests, the one-of-a-kind treasures and crafts, and much more. Thus, relax and breathe deeply because everything you need is right here.
The campsite has a bistro that is open every day and features fresh, handmade foods throughout the day.
You can also rent a canoe or kayak, enjoy a peaceful paddle, or swim in the campsite's heated pool.
If you want to change things up a bit, then taking a yoga class might be the ideal thing to do, or just hopping in the car for a beach excursion.
As for the kids, the campsite has a kids club that is open every day, as well as other activities and entertainment that will never fail to deliver fun.
Sandy Pines Campground in Maine is one of the best places to go glamping. They have scenic accommodations for all tent campers and RV owners.
The campground offers some of the best campsites with highly-rated tents for glamping and an array of unique retreats that cannot be found elsewhere.
Whatever accommodation you choose at Sandy Pines, you'll definitely enjoy the experience altogether. With the picnic table setups, firepits, and clean and modern bathhouses, you'll want to come back camping here every other year.
Accommodation
Each of the Sandy Pines glam camping rentals has been designed with luxury and glamor in mind. Staying at one of these glam camping rentals will give you an unforgettable vacation.
There are couples glamping tents available, which offer 430 square feet of eccentrically designed space. All the tents feature a seating area, a deck with seating, a king-sized bed, and access to a shared bathhouse.
All the tents are placed on a wooden deck, which serves as a platform for the interior and the outside seating area.
Things that are included with the nightly rate: bath amenities, lighting, indoor mini-fridge, air-con and a small heater, fire pit, beverage cooler outside, and bed linens including sheets, blankets, pillows, and bath towels too.
Things to do
Sandy Pines Campground offers an array of amenities to all of its guests. This makes your stay more enjoyable and ensures you a fantastic experience of glamping in Maine.
There's the Grand Lodge, where you can find the campsite General Store and Snack Bar and the community space to relax.
The campsite is also perfect for kids' activities. There are Kids' Craft Sessions that provide hours of crafting and artistic fun. There's also a playground where kids gather to play some of their favorite lawn games, such as Volleyball, Badminton, Corn Hole, and Ladder Ball.
You can also try out some of the best paddling in Kennebunkport at Sandy Pines, which can be accessed right from the campsite's property. If you don't own a paddleboard or a kayak, you can rent one from the campsite.
Terramor Outdoor Resort provides the perfect retreat that is committed to an immersive, authentic experience in nature. This is the perfect place to visit if you choose glamping in Maine, this is the perfect place to visit.
As a guest, you'll enjoy all the benefits of a camping adventure blended with the resort's amenities. You'll be able to relax in the most comfortable, unexpected fashion while being off the beaten path in this secluded place.
Whether you discover the beauty of the scenic hikes on Mount Desert Island, Bar Harbor, the kayaking around Frenchman Bay, or the natural peace on your private deck, you'll find whatever you might wish for and need at Terramor.
Accommodation
Terramor offers way more than just tents. They are a refined way to connect with nature while relaxing in style.
You can enjoy the comfortable and casual essentials that are paired together with indulgent touches such as deluxe skincare products and in-room diffusers. The tents are the perfect outdoor opulence, done in the right way.
The tents feature private fire rings, private in-tent bathrooms, screened porches, Frette linens, upscale comfort mattresses, Pendleton blankets, a hair dryer and bath essentials, wine glasses and a coffee machine, and more.
There's the Alder Tent, the Birch Tent, and the Moosewood Tent, which sleep up to five people. The Hemlock and Bayberry tent sleep only up to two people and are mainly meant for a couples getaway.
The larger tents are perfect for groups and families that want to enjoy a more communal experience. These feature a large patio, a queen or king bed, and twin beds for the children or extra guests.
There is an overhead fan which is perfect if you're camping during the warmer seasons. They also have a private restroom and walk-in indoor shower.
Things to do
You can explore the beauty of Acadia National Park or the beauty of Bar Harbor. There are opportunities surrounding every place you turn.
Hiking the trails of Acadia National Park is suited for those who want to explore the area's wilderness. You can go at your own pace with that or explore the seaside villages that surround this resort. Both things are located just minutes away from your glamping campsite.
You can also make a splash in the steamy hot tub or the refreshing pool, play in the open field, and top it all off by chilling around the evening campfire as you enjoy some of the cocktails and local fare.
If you love finding unusual places to stay, Acadia Yurts will definitely be on top of your list. If you're looking for a place to go glamping in Maine, Acadia Yurts will fulfill everything you've been looking for. Everything about the place is wonderful, and the yurt has everything you need to provide you with the ultimate comfort.
If you're beyond the age of wanting to camp in a tent but enjoy a campground community, this place is the perfect compromise. The owners of Acadia yurts have created the perfect environment here.
The place also has a little barn consisting of all kinds of amenities you can borrow. Coming back from a strenuous hike to a nice meal at the campsite sounds like the perfect little treat.
Accommodation
The yurt in Acadia sleeps up to six people. It comes stocked with all the necessary things and essentials, featuring an enclosed bedroom with a queen bed, a lofted bedroom with a queen-sized bed, and a queen-size sleeper couch.
The yurt also has a large kitchen with a dishwasher and stand-up refrigerator, sink, dishware, cookware, and an A/C and heat unit. The bathroom features a stand-up shower.
Things to do
Acadia Yurts has a wellness center that offers on-site yoga classes, which are held on Friday and Sunday mornings.
Also, you can enjoy licensed massage therapy, a full spectrum infrared sauna that is used for detoxification and cardiovascular healing, and a floatation room that provides a zero-gravity environment void of external stimuli for many benefits.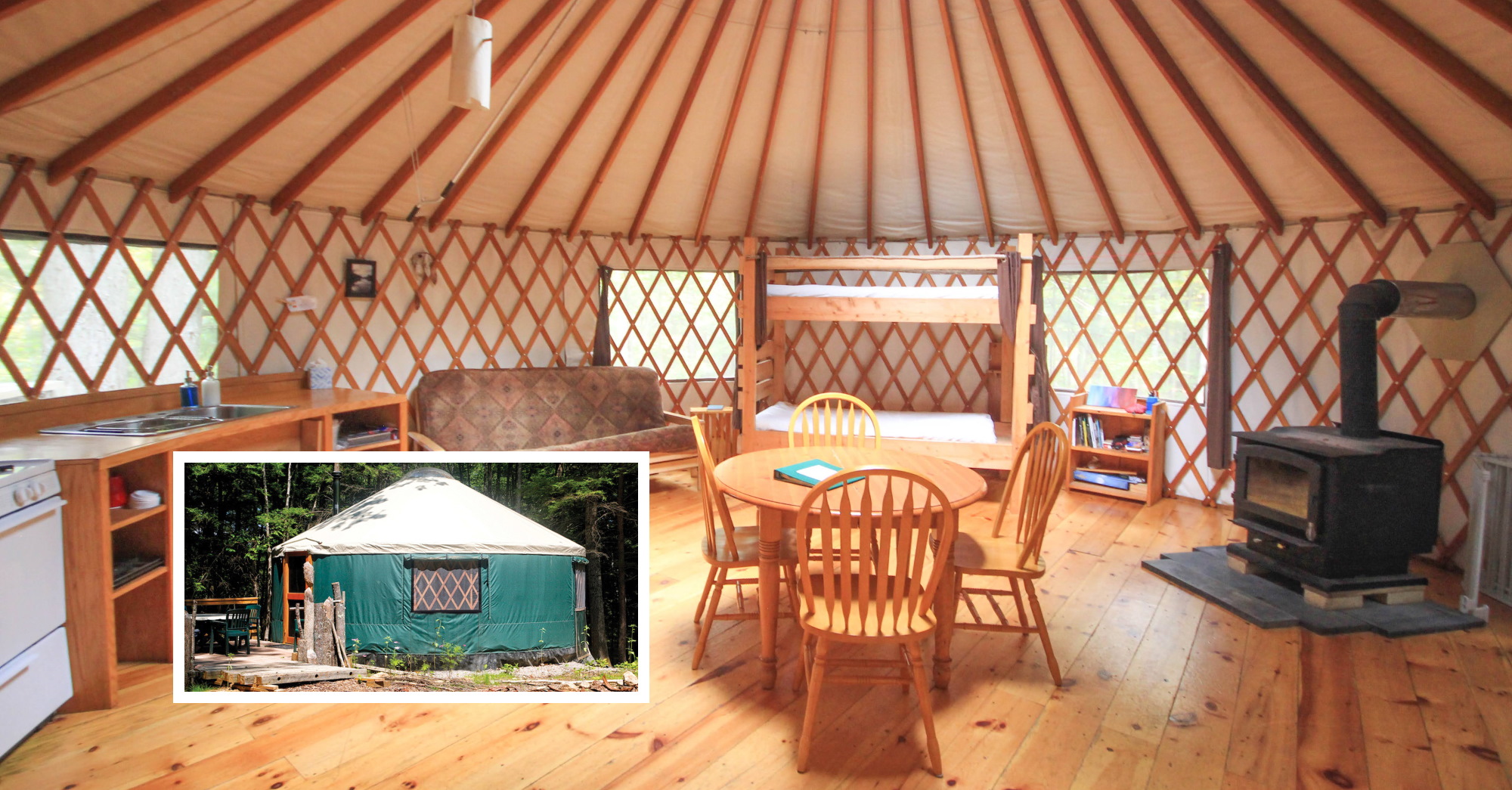 Maine Forest Yurts is a wonderful camping ground located on the Runaround Pond in Durham. It spans more than 100 acres of wilderness. It is the ideal place to go if you're interested in glamping in Maine.
Whether you want to stay overnight, for a weekend excursion, or for a week-long retreat, you will truly enjoy the beauty of the place.
You can stay in one of the fully furnished yurts or bring your tent; the campground is accessible all year-round. Thus, you can experience all the seasonal adventures, including canoeing, hiking, kayaking, wildlife viewing, snowshoeing, cross-country skiing, or just wind down and relax as you take in the wonderful surroundings.
The pond where the campground is situated is quiet and perfect for a peaceful paddle in a small canoe. As you canoe your way through the pond, you can view the local wildlife, including otters, beavers, turtles, osprey, bass, and more. This pond is the ideal place for snowshoeing and cross-country skiing during the winter.
Accommodation
The forest yurts are fully furnished and family-friendly. They also allow visitors to bring pets during their stay there. The accommodation features a kitchen that has a gas stove, a wood stove, and a BBQ gas grill.
Moreover, it also has bunk beds, a futon, and a composting toilet. There's extra seating that you can put outside of your yurt if you want to enjoy the natural scenery and relax.
Things to do
There are many things that you can do at this campground. You can go for a nice bike ride, as Maine covers a strikingly diverse range. You can also experience some of the unique seasonal adventures since the campground is open year-round.
Moreover, rent a kayak or canoe and go paddling along the peaceful pond in the area, or take your friends and go for a nice hike as you view the local wildlife in the area.
As for the winter, get your ice skates out or participate in cross-country skiing once the pond has formed a thick ice layer on top.
Seguin is a nice secluded place in Maine that offers visitors the best getaway. While you're there, you'll experience the area's natural coastal scenery. There are beautiful beaches surrounded by the Atlantic Ocean, as well as the lightness of life among the pines atop the wooded hill that slopes to dramatic river views.
Glamping in Maine has never been better. These tree dwellings and gathering spaces merge the natural world with the place's minimalist decor and interior space. You can visit this place if you seek rejuvenation, reconnection, and a happy and relaxing retreat from everyday life.
Seguin is located in a coastal Maine village, up the road from Reid State Park's long beaches. You can enjoy the breathtaking scenery while you feast on lobster at the famous waterfront restaurants during your stay at one of the beautiful treehouse camps.
Accommodation
You can gather in the trees together with your dearest for special occasions such as ceremonies, celebrations, retreats, and more. Guests also have the option to book the entire campground.
The Seguin Tree Dwelling property consists of 21 acres of land and four tree dwellings. Three of the dwellings have their wood-fired hot tubs, a cookhouse, and a gathering space in the trees. Canoes and kayaks are also included.
The three dwellings are named Souhegan, Madawaska, and Isle au Haut. They have a total of four bedrooms, walls, and sliders that open to a large deck for a nice river view, big tables and chairs for group meals, and a cozy gas fireplace. The cookhouse has seating for 22 people and a large, fully-equipped kitchen.
Things to do
At Seguin, Maine, you can take up yoga classes and reconnect with nature or settle for a sunset boat cruise as you breathe in the fresh air while you take in the beautiful scenery.
The place also offers creative workshops that the Seguinland Institute faculty teach. If you want to feel inspired and restored, come gather at Seguin for a great time.
You can also visit the Markings gallery, which represents fine local art and craft straight from the heart of Mid-Coast Maine. It is a great place for gift buying as you can purchase unique handcrafted fiber art, bronze, glass, jewelry, and more.
There's also the tallest lighthouse nearby, which is the oldest one in the United States. It is located on a small island off the Kennebec River's mouth.
Conclusion
Whether you want to enjoy the mountain glade or relax at a seaside campsite, glamping in Maine has it all. Whatever your pleasure, these campsites with luxurious glamping areas offer the biggest fun and ultimate comfort.
If you're a fan of luxury camping in nature, then make sure to book your next family and friends weekend getaway at one of the camps in Maine mentioned in this article.
There are many things in store for you here, starting from the tents with all the needed amenities to the endless list of activities to enjoy. Therefore, make sure not to miss out on this unforgettable experience.
More about our TFVG Author