Maine's Acadia National Park is an excellent place to spend your vacation days, giving you a huge variety of excellent locations to explore and trails to follow. Not only does the park change with each season, but your experience can be wildly different depending on when you visit.
Unfortunately, that does not make planning your visit any easier. If you are looking for a specific kind of experience, then choosing the right time can make a massive difference to how the park looks and feels. Beyond that, some times might have larger crowds than others or a higher chance of rain.
If you want to visit Acadia National Park in the near future, then you should think ahead and consider the best time to go. Below, we take a look at when could be right for you.
Visits by Season
While it might seem obvious at first, the four seasons of each year can actually be a good starting point for choosing the experience that you want. Each season brings new positives and negatives, but it also completely changes some core things about how the park looks and operates.
If you do not where else to start, then looking at your preferred season is a great idea, even if it is just to get an overview of what you should expect.
Spring at Acadia National Park
Spring marks the start of the year, so you can expect some lingering influence from winter. It is generally quite wet, but the park will begin to dry out near May as long as there is not an excessive amount of rain. The weather is generally quite pleasant but unpredictable and inconsistent at times.
If you are visiting during the start of spring, then it helps to be prepared for the worst. There is always a chance that you will encounter a muddy trail, large puddles, heavy rain, or large numbers of biting bugs. However, things get a lot more stable and much more comfortable later in the season.
Keep in mind that winter activities will carry on until around the middle of April. If you are not interested in those winter offerings, then consider arriving in May instead. Crowds and visitor numbers will get higher as you approach summer.
Summer at Acadia National Park
If you visit Acadia during summer, then you should expect plenty of other visitors as well. This is not a bad thing, but people who are intentionally visiting to try and get away from others might want to consider this before taking their trip. On the positive side, everything in the park is open during Summer.
Remember that it will almost always be the warmest season of the year, so you will have to plan around the heat if things get extreme. With such large crowds, you might also want to consider reserving certain activities, such as meals at conventional restaurants in or near the park itself.
You are going to encounter the least rain here, but summer also tends to be very hot. This dry heat can mean that you need to put a lot more thought into what you will be wearing and how much water you will carry with you.
Fall at Acadia National Park
Fall acts as the winding-down period after summer, seeing a big drop in visitors almost immediately. The slightly colder weather means that the park can be a lot more comfortable for people who hate the summer heat, but you will also need to consider the chance of rain, wind, or possibly even snow.
This can be a great time to visit if you are not looking for any summer-specific activities, although a lot of the park activities will close around the middle of October. This is extremely important to remember since there are some activities that you can only enjoy around summertime.
Fall is also the point where the trees will start to brown and lose their leaves. This is not a bad thing at all and offers a unique look and feel that you would not get during summer. If you love the fall aesthetic, then you will love how Acadia looks during that time of year.
Winter at Acadia National Park
Winter, as you might expect, offers up a lot of snow. An already-gorgeous park covered up by thick and beautiful snow can be a hard sight to turn down, and some people choose to visit during winter specifically because of the way it changes the park's entire atmosphere.
The cold will thin out the crowds a lot more than other seasons, meaning that it is the perfect time to enjoy the park without an influx of other visitors. Of course, such low temperatures can mean that you will have to plan accordingly and pack clothing that can protect you from extreme weather.
More importantly, certain winter-only activities are going to be available as long as the snow is still falling, like snowmobiling and skiing. However, you should also be aware that some roads are going to close down due to snow, so you may have to do more route planning than in other seasons.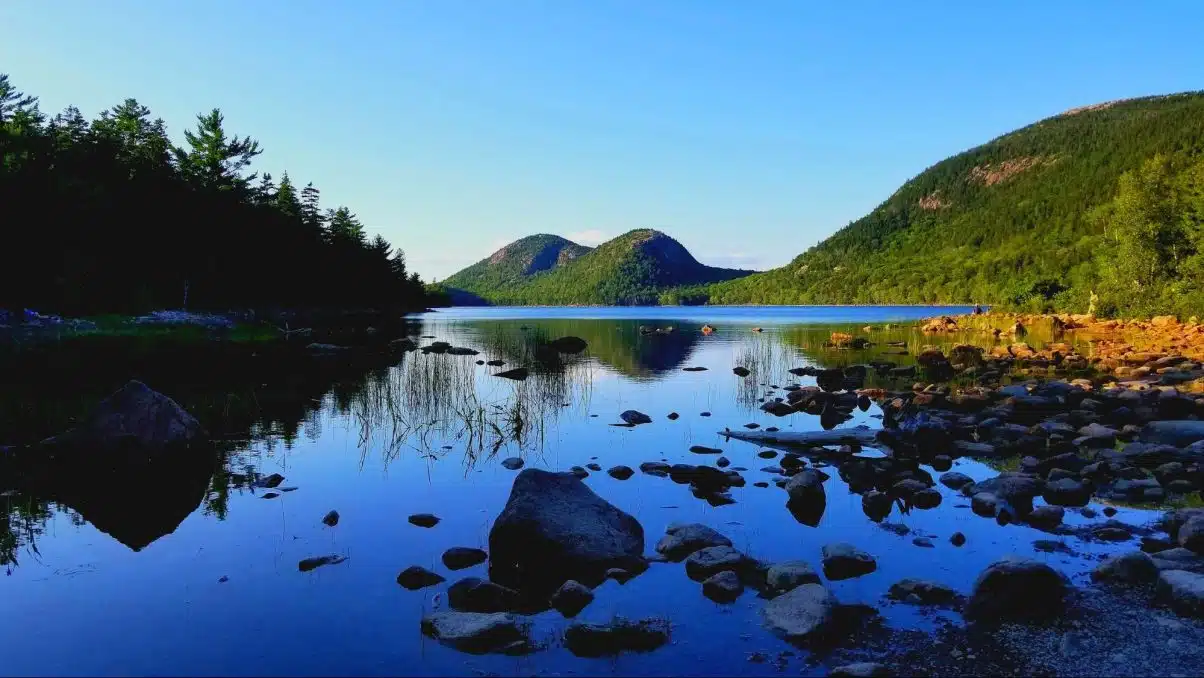 Visits by Month
Understanding the differences between each season is helpful, but what about individual months? The start of spring can be radically different from the end of spring, for example, so choosing the right month to visit can have a massive impact on the kind of experience you get at the park.
Remember that certain activities and options are only available in certain months, too. This is especially true of specific weather-related activities, which literally cannot run in non-optimal weather conditions or incorrect temperatures.
January
January is technically still part of winter in many ways, offering extremely low minimum and maximum expected temperatures. The park will be very cold during the start of the year, with a middling amount of rain being expected on most days.
Visiting in January is not a bad thing, but you still need to watch out for the below-freezing temperatures. However, as January progresses, you are likely to lose a lot of the left-over snow from winter itself, meaning that certain winter sports might close down earlier than expected.
On the other hand, January also tends to have a low amount of visitors. It is one of the least popular times to visit, with only February and November coming close in terms of average visitor numbers. If you like to avoid crowds, then this month can be a great choice.
February
While February is warmer than January and often less filled with snow, that does not make it any more popular. The low tourist count can sometimes be lower than at the start of the year, making it a great option for people who want to visit without the park feeling over-crowded.
The average temperature will not usually be much higher than January, but you are more likely to dip above freezing levels, meaning that it will not be quite as inconvenient. The month will obviously begin to warm up as you approach March, so it will not be too cold for too long.
If you are going to visit at the beginning of February, prepare as you would for winter. Otherwise, you can probably get away with assuming that the temperature and precipitation will be perfectly normal for spring weather.
March
March is the point where visitors become more and more common, mostly due to the temperature increase and the lack of snow blocking key roads. The total temperature has quite a high jump, meaning zero snow should be left after the first few days.
Arriving in March is a great way to experience the park as it normally is without needing to worry about large crowds or traffic jams. While some of the plant life might still be growing back, and some animals may not have stopped hibernating, it is a good time to take walks and hikes at your own pace.
A lot of summer activities still will not be open, and winter-specific activities will not be possible anymore. If you care about either of these, then you might want to try a different month.
April
April starts to build up the temperature even further, easily surpassing January or February in terms of total average heat. Precipitation is roughly the same as the previous four months, with around 4 inches in total (on average).
April sees a major spike in visitors near the end of the month, usually when the park is approaching room temperature, and the amount of wind is dying down a little bit. Thankfully, the park is still fairly wet without being too muddy, so you do not need to pack for any specific weather conditions.
Visitor numbers will ramp up as the month continues, so you can go earlier in April to avoid crowds. Just remember that you will likely be facing colder weather too.
May
While May still has a similar level of rain, you can expect far more visitors and much higher temperatures. May basically acts as the start of the summer season in many ways, so it will be quite a popular time for people to visit the park as either individuals or entire family trips.
If you want to go in May, then you can get some great results visiting earlier in the month, before the visitor numbers begin to spike again. Unfortunately, you will also have to deal with slightly colder weather (and, possibly, certain activities not being open yet).
Visiting later in the month gives you larger crowds and warmer weather, which can be great if you do not mind dealing with other people from time to time.
June
June is actually a dip in population numbers, dropping the average visitor count quite significantly. Temperatures will keep increasing, meaning that you will end up with warm, dry summer weather before long.
This is also the point where average precipitation (in inches) takes a small drop, cutting down the amount of rain by a quarter compared to May. You are not going to get as much rain, and the heat will be a lot higher, so plan ahead for summer weather. Even so, this can be a great time to visit.
July
July is generally the hottest month of the year in the park, with the least rain and the highest peak of average visitors. If you enjoy summer conditions, then this is the perfect time to visit the park and see what it has to offer, but you will also need to bring plenty of water.
Summer-specific activities are going to open up around this point, and they will stay open for a while. Just remember to book anything that you really want to experience in advance, since the large crowds might mean that you do not get as much choice over what is available.
Certain areas of the park can get quite congested, and you might struggle to find places to stay last-minute if you do not plan ahead. Make sure to get everything figured out before you arrive to avoid unexpected headaches.
August
August has a slight dip in visitor numbers, as well as in temperature, but it is very similar to June in terms of the conditions you will be dealing with. If you were going to visit in June, then visiting in August will keep things mostly the same, although the month will get colder over time.
Most of the summer activities should still be available, so this can be a nice time to visit if you want to avoid the major crowds you might see in July. Just remember that there are still quite a lot of visitors, so even this off-peak month can have sizable crowds.
September
September begins the temperature dip into winter, and it is also the month when the rain begins to pick back up. This is very similar to May in terms of both heat and precipitation, but with an obvious focus on it getting colder over time.
There is not too much special to say about September since the month is mostly just a reverse of May. If you can plan for one, then you can generally plan for the other, not counting any special events or activities that might be going on.
October
Holiday value aside, October pushes you properly towards the winter conditions, keeping the high precipitation and dropping the temperatures as you get much closer to winter actually beginning. Visitor numbers continue to drop, but not too significantly – they are still above April's.
This can be a good month to visit if you missed your chance to go earlier in the year since you get a nice temperature level and enough rain for the park to stay wet rather than dry. There can also be some seasonal touches in the park activities themselves and far fewer crowds in your way.
November
November is the wettest month of the year in most cases, giving the park a whole six inches of precipitation. The drop in temperature puts it somewhere on par with March or April, but there is also a huge drop in visitor numbers, possibly the lowest in the entire year.
If you do not mind visiting the park while it is at its wettest, then you can use November as a great way to avoid crowds and take a nature walk through the rain. Casual visitors may prefer to wait until later, though, especially since the temperature will be dropping quite severely near the end of the month.
December
December sees visitor numbers pick back up again, both due to the snow and thanks to the festive events that might be running. Precipitation drops by about an inch from November, but that is still higher than every other month's average.
The average temperatures here can sometimes still be higher than in January, but that is not always the case. Either way, you are almost always getting snow instead of rain, so be sure to factor that into your plans if you are aiming to go at the end of the year.
The slight uptick in visitors carries on into the start of the next year, but it is still a relatively low average. If you want to experience the park coated in beautiful white snow, then now is the perfect time to do it.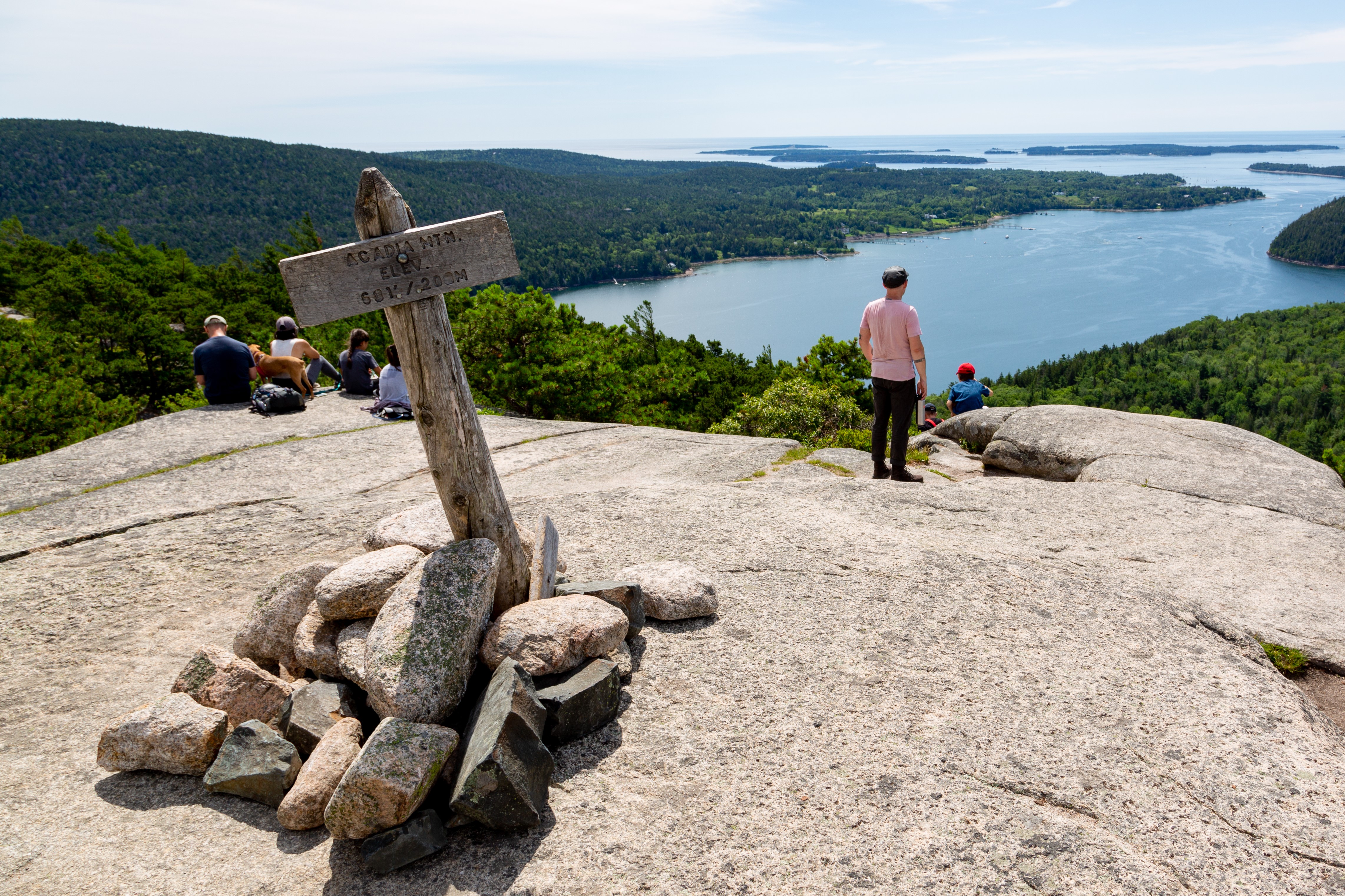 When Should You Visit Acadia National Park?
If you are looking for the best time to visit Acadia National Park, then it depends on what you are looking for. January and December offer a snow-covered wonderland, but June, July, and August are much hotter and more activity-focused.
Really, the best time to visit is heavily dependent on the kind of experience that you want. If you are going alone, then you will likely want a different time than you would while visiting with a family.
If you want to avoid crowds, November has the lowest population, but March may be your best bet since it avoids the increased precipitation.

People who hate bad weather should visit in summer. It is hotter during the summer months but also far less likely to rain.

If you are aiming for specialized activities, then they usually run during summer and winter and are best pre-booked to secure your spots.
April and October are a good way of avoiding the summer heat and the winter chills, especially if you go in the middle of either month.
More about our TFVG Author
A seasoned traveller, Dad, and avid sports tourist, James foundered The Family Vacation Guide to share his expert vacation experiences- especially when it comes to being a travelling family man.
Featured in Travel articles such as Travel + Leisure, TripSavvy and SFGate, you know you're reading some of the best vacation tips online.