Mexico City is one of those magical cities that every family needs to experience at least once. It's vibrant, colorful, and full of life, making it the perfect destination for an unforgettable family getaway. It is undoubtedly one of the best places to travel with kids.
With its sprawling range of accommodations, it can take time to determine where you should rest your head for your vacation in this bustling city. To save you the effort, we have identified the best places to stay in Mexico city for families with kids. You'll appreciate how many safe, comfortable, and family-friendly options there are for you.
You'll never have to feel like you're missing out on everything the city offers because we've narrowed down the best neighborhoods that will give you the bang for your buck.
About Mexico City
Before we get into the locations, let's provide a bit of information about Mexico City. It is the capital of Mexico and the largest city in Latin America, with a population of over 8.85 million people. It is situated between the Sierra Madre Oriental and the Anahuac Valley, making it a breathtakingly beautiful city with a rich cultural heritage.
Mexico City boasts 1,000 years of history to explore on foot. It is home to numerous tourist attractions and activities, such as the National Museum of Anthropology, the Chapultepec Castle, the Teotihuacan Pyramids, the Xochimilco Canals, and more.
The chances are you won't get to experience everything Mexico City has to offer in one trip, but you can certainly make the best of it. No matter your background, you'll experience a warm and helpful welcome from all the locals. It's no surprise that it is a favorite destination for families with kids.
How To Navigate This Article
Our goal with this article is to provide you with the best places to stay in Mexico City for families with kids. We have taken into account safety, value, and convenience while making our recommendations. We will provide a brief overview of each location, giving you an idea of what to expect before deciding which one best suits your travel needs.
We've provided four locations within Mexico City. We recommend them based on safety, convenience, and high-quality hotel accommodations. The four locations we choose are:
Polanco
Juarez
Cuahtemoc
La Condesa
We've vetted several ideal hotels for families in each of these neighborhoods. We've considered the latest amenities, design, and family-friendly services to ensure you get the most out of your Mexico City family getaway.
Polanco
Polanco is one of the most abundant neighborhoods in Mexico City and is full of luxury shops, restaurants, and hotels. It's also known for its selection of cultural attractions, such as the Soumaya Museum and the National Auditorium. There are gorgeous parks and art galleries to explore here.
The area has adequate public transportation and is within walking distance of some top attractions. If you want to experience the shopping scene, Polanco features the largest department store in Latin America. And that's in addition to having six malls.
Avenida Presidente Masaryk is a popular avenue for luxury shopping, and you'll find many four- and five-star accommodations in the area. Polanco hotels offer luxurious accommodations and excellent service.
If you are looking for 5-star hotels, Polanco is the place to be. Polanco is great for those with bigger budgets who want the best and are open to experiencing all the city offers. Here are some of our recommendations for family-friendly hotels:
Las Alcobas
Las Alcobas is a luxury boutique hotel located in the upscale Polanco neighborhood. It is a Marriott hotel. So guests can take advantage of the loyalty program. The stylishly designed rooms are perfect for families, with plenty of space for everyone to relax and enjoy. There's also a dry cleaning and laundry service, free coffee and tea, and an on-site restaurant and spa.
For families who want to bring their own culinary traditions to the table, Las Alcobas offers a fully equipped kitchenette. The hotel also has complimentary Wi-Fi and an outdoor pool. If your goal is to visit the Cathedral, the Templo Mayor Great Pyramid of Tenochtitlan, or the Alameda Central Park, Las Alcobas is the perfect spot for families.
We recommend it because it comes with all the amenities you'll need to be comfortable and have everything they need to feel at home away from home.
JW Marriott
We recommend the JW Marriott because it provides all the same comforts as Las Alcobas. The JW Marriott is a high-end hotel located in the posh Polanco neighborhood. It has a recreation and fitness center as well as a spa.
The hotel provides easy access to the Chapultepec Castle on Chapultepec Hill, Teotihuacan and Xochimilco-Floating Gardens, and the National Auditorium. Remember to book your accommodations direct to take advantage of the exclusive Marriott deals. They also offer seasonal deals, so check their website when planning your visit.
Dominion Polanco
Dominion Polanco is a modern hotel in the heart of Mexico City's trendy Polanco district. It conveniently sits near some of the city's best shopping. The hotel also provides easy access to nearby attractions, such as the Soumaya Museum and La Condesa. The rooms are stylishly decorated and feature modern amenities.
The hotel features a complimentary breakfast, pet-friendly suites, and a heated outdoor pool. The Dominion Polanco made our list because they offer Master suites. The suites come with two bedrooms, two bathrooms, a living and dining room, and a completely equipped kitchen.
The views of Lincoln Park in Polanco are a bonus. If you are spending a week away from home with your family, having the privacy and feel of a home can be a welcome change.
Camino Real Hotel
The Camino Real Hotel has been in the Polanco area since the 1970s. It sits near Chapultepec Park, shops, and restaurants. The hotel offers family-friendly amenities, such as a heated outdoor pool, catering, and an ATM. The hotel is remarkable and has a rich history. Did you know it was built in 1968 for the Olympic Games?
While it also offers a variety of rooms and suites to give you the space you need, it also offers many food and beverage options. From coffee shops and a steakhouse to Japanese and international, your family will have all the food they need almost around the clock.
What makes it stand out is the 24-hour medical assistance. Any little accident can require an immediate medical professional, and the Camino Real Hotel provides that peace of mind. That alone is the main reason the hotel made our recommendation list.
Hyatt Regency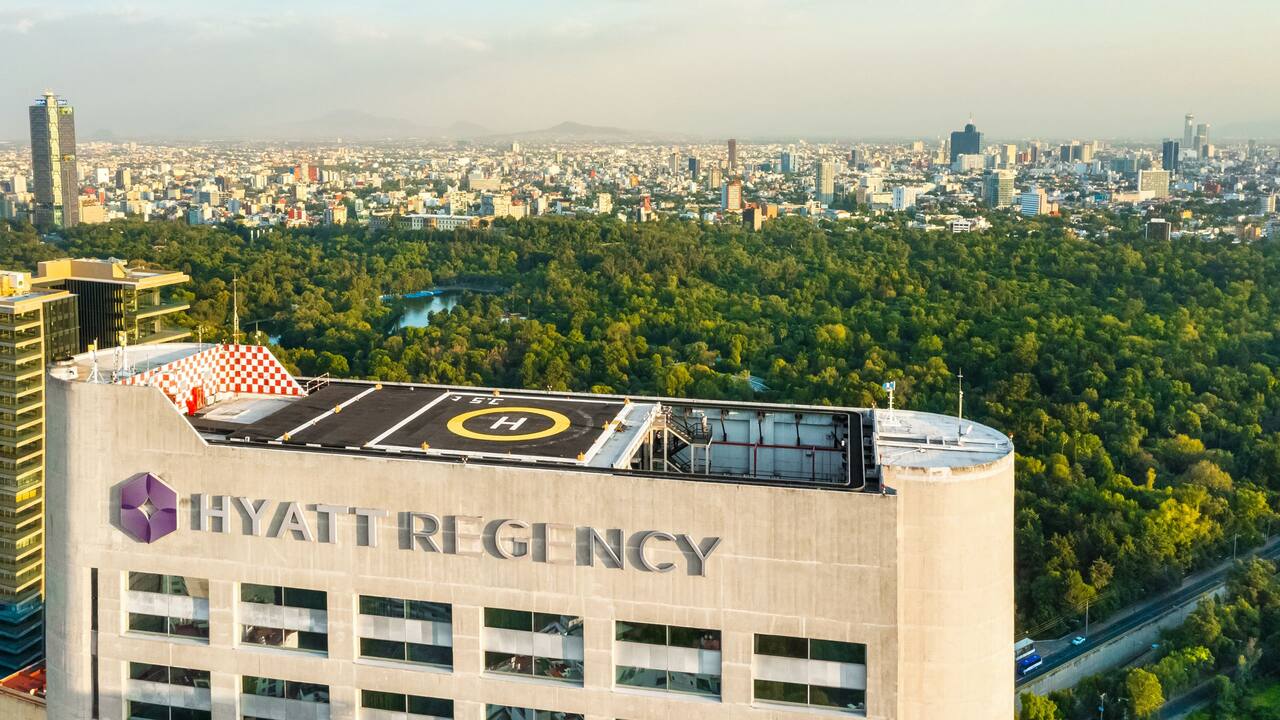 The Hyatt Regency is an exquisite hotel in Mexico City located within the business district of Santa Fe. It offers modern amenities, such as free internet access, digital check-in, business services, and a fitness center. This hotel also offers pet-friendly services if you want to travel with your pet. They provide food and water bowls.
The Hyatt Regency also provides transportation from and to the airport and a complimentary shuttle service to the nearby Santa Fe Mall. The hotel has a swimming pool and restaurant to give your family the comfort of enjoying the hotel atmosphere during their stay in Mexico City.
We recommend the Hyatt Regency if you have a Hyatt credit card and you're looking to take advantage of the special rewards.
Suites Contempo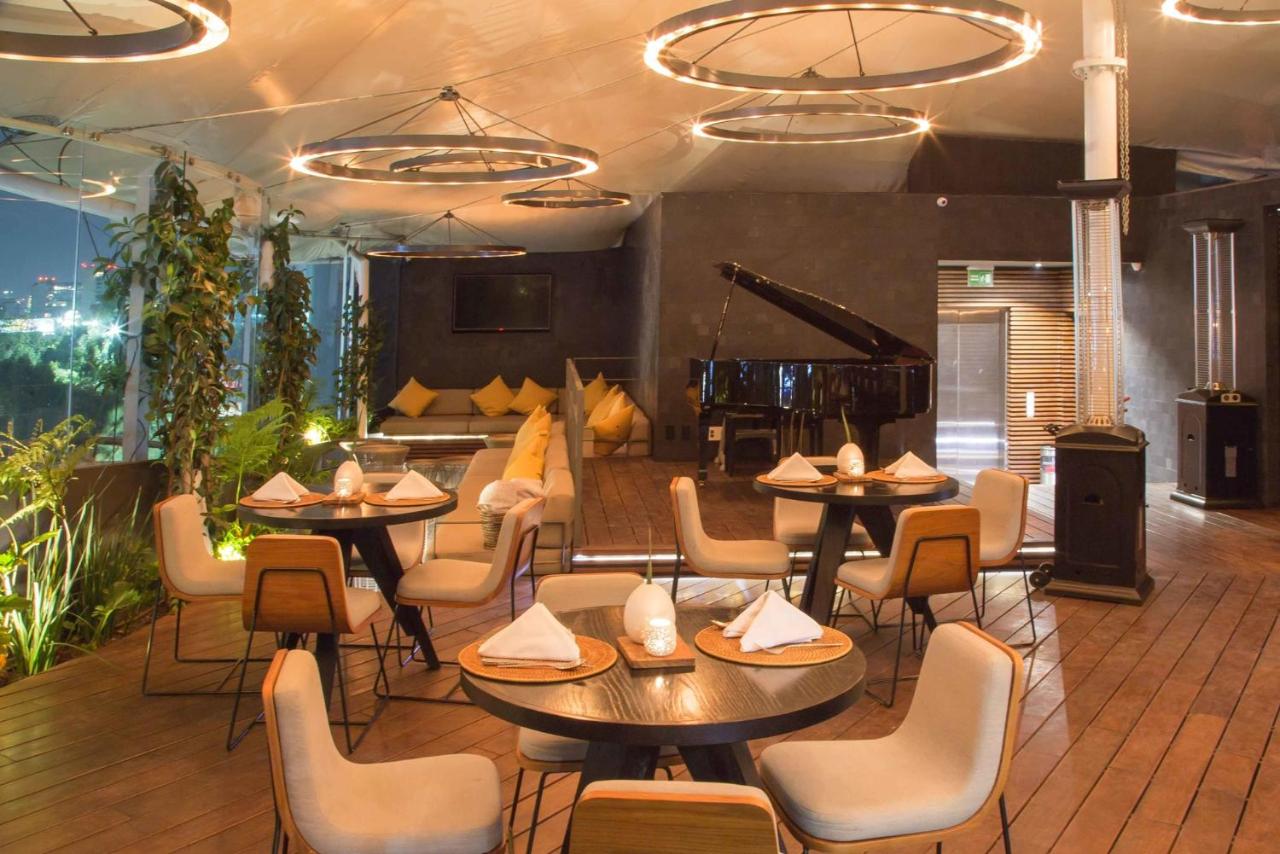 Suites Contempo Polanco is an excellent option for families who want to stay in a modern, stylish apartment. The suites are the perfect blend of comfort and convenience. They feature fully-equipped kitchens, cable TV, free Wi-Fi access, complimentary breakfast, and a lounge area.
The Suites Contempo has an on-site restaurant, gym, and spa, making it ideal for relaxing after a long day of sightseeing. The hotel sits 800 meters from the Castle of Chapultepec. We chose Suites Contempo as one of the best places to stay in Mexico City because it's a fabulous walking distance location.
Walking is a great way to stay active while on vacation and gives you the freedom to explore the city at your own pace. You can also take advantage of the hotel's free shuttle service to get around even more quickly.
W Mexico City
If you're looking for a luxurious stay in Mexico City, look no further than the W Mexico City hotel. This hotel lives in the Reforma district and features a stunning rooftop pool, bar, and restaurant. The W Mexico City also offers complimentary Wi-Fi access and luxurious rooms and suites with all the necessary amenities.
You'll find that the decor is modern and stylish, and the food is delicious. That's part of what makes this location so unique. Each of the suites has a unique high-energy color and creative pattern. You'll also find that the staff at W Mexico City is friendly and attentive and will ensure you have everything you need during your stay.
What makes the W Mexico City hotel stand out is the 24-hour in-room dining service. Traveling with kids can be tricky, and having food available whenever you need it can make your family's stay much more enjoyable. Also, it's a Marriott hotel!
Presidente InterContinental
The Presidente InterContinental has a different atmosphere than the other hotels we've listed. It's located in Ciudad and offers a more relaxed atmosphere without sacrificing comfort or convenience. The hotel is just a quick drive from the airport and offers free Wi-Fi access. It also has a pool, spa, and fitness center.
The Presidente InterContinental hotel stands out because it provides nanny services, making it an excellent choice for families with young children. You can rest worry-free knowing your kids are being taken care of while you explore the city or relax.
The hotel is also close to some great attractions in Mexico City, such as the Chapultepec Castle and the Anthropology Museum. Traveling can prove tiring for everyone. The nanny service can provide space to relax for a few hours or enjoy a spa day while your kids play safely.
Casa Anzures
Casa Anzures is a great place to stay for families looking for a more traditional Mexican experience. The hotel is located in the Polanco district, in the heart of Mexico City.
Casa Anzures is a family-run hotel that offers comfortable rooms with modern amenities. It's only 30 minutes from the International Airport of Mexico City.
Casa Anzures is close to Soumaya Museum, Reforma Avenue, and the American Embassy. The property is also close to great restaurants, cafes, and bars. Casa Anzures is one of our top picks for families because it offers a unique and authentic experience symbolic of the colonies of Mexico City. The staff is friendly, welcoming, and helpful. The hotel rooms are spacious and clean.
Juarez
Juarez is a smaller hotel located in the Juarez district. The triangle-shaped neighborhood was one of Mexico City's most popular and exclusive before World War II. Today, the area is still full of cultural richness and stunning architecture. It's close to great cafes, bars, and shops, making your stay even more delightful.
The hotel's rooms are comfortable and have all the amenities you need. Juarez is an incredible choice for families looking for an intimate atmosphere. It's also close to Chapultepec Castle, which adds to its family allure. Juarez is also conveniently close to a variety of restaurants and entertainment venues. Let's look at the fantastic hotels available in the area.
Hotel Geneve Mexico City
The Hotel Geneve Mexico City is the perfect hotel for families with kids. Located just steps away from Reforma Avenue and Chapultepec Park, this hotel offers a great location and wonderful amenities. The rooms are spacious and decorated modernly, and the staff is friendly and helpful. You'll also find a variety of restaurants and entertainment venues nearby.
The Hotel Geneve Mexico City is a great family-friendly hotel that offers comfortable accommodations and convenient services. The hotel is legendary. It opened in 1907 and reminds you of a fancy antique and European-style museum. It also has an on-site cafe and restaurant.
Just walking into the hotel is an unforgettable experience. Other amenities include baby cots, a fitness center, a sauna, and live music.
St Regis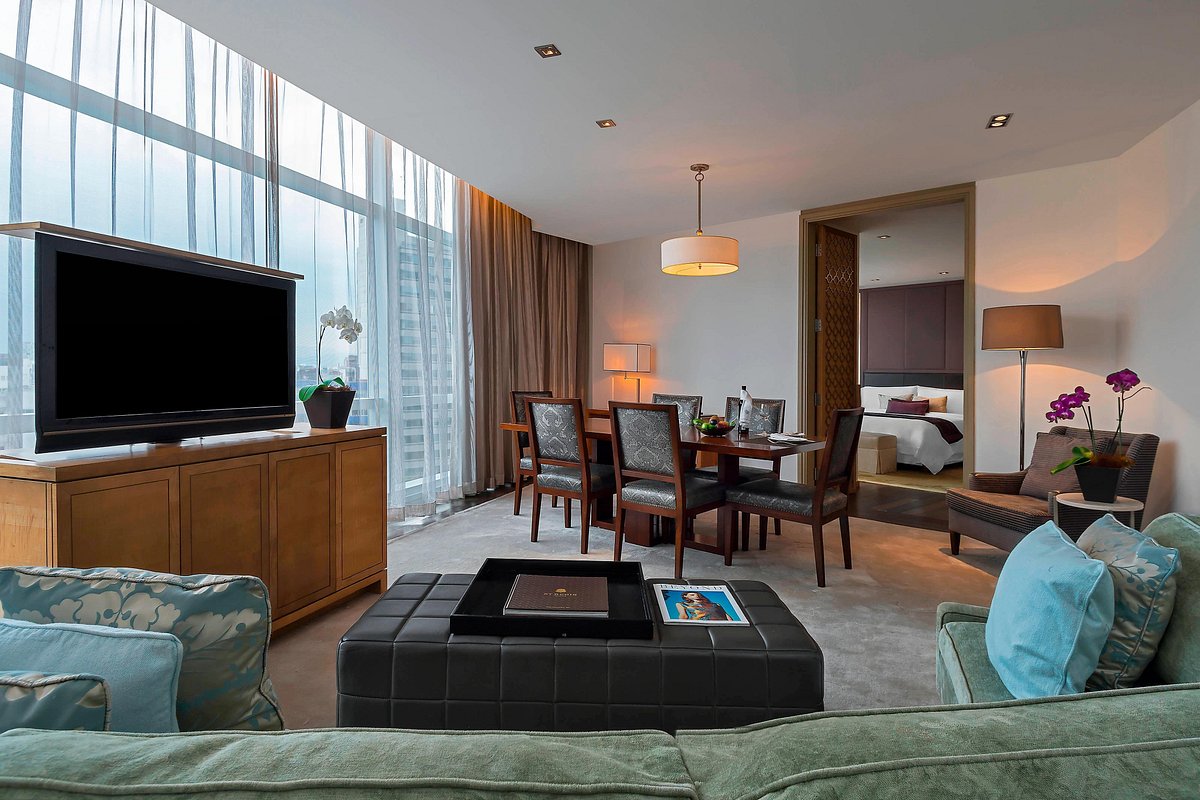 The St Regis Mexico City is part of the Marriott brand and offers premium accommodations for you and your family. Located in a chic neighborhood in Ciudad, this hotel provides easy access to Reforma Avenue, Chapultepec Park, and other popular attractions.
The rooms are spacious and have luxurious amenities like Egyptian linens, premium TVs, and Wi-Fi access.
The hotel also has a pool, spa, fitness center, and a variety of restaurants. The St Regis Mexico City hotel is the perfect place for families with smaller children. It has a children's club for kids between the ages of five and eleven. Children can have fun with art projects and video games.
The hotel also features in-suite glamping. Glamping is a unique experience that will make your stay memorable. We highly recommend this hotel for parents who'd like to ensure that children have a new and fun experience while they get to rest and have some alone time. St Regis is another Marriott hotel so remember to take advantage of this rewarding opportunity.
Four Seasons Hotel
Anyone who has stayed in a Four Seasons Hotel knows this is the place to be for families. From its stunning and luxurious facilities to its impeccable service, the Four Seasons Hotel in Mexico City will exceed your expectations. This hotel is close to the city center and offers easy access to popular attractions like Polanco, Roma, and the Zócalo.
The rooms are luxurious and well-equipped with amenities like the rooftop pool, fitness center, and wellness house. The Four Seasons Hotel makes our recommendation list because it offers a private hot air balloon ride to the Teotihuacan pyramids.
You and your family will enjoy a unique experience while admiring the amazing scenery of Mexico City. If you choose to participate in the hot air balloon ride, you must reserve it at least 21 days in advance.
Suites PF
If you're looking for a smaller, more intimate hotel in Mexico City, then Suites PF is the place to be. This boutique hotel is located in the popular Polanco district and offers a great location and exceptional amenities. The rooms are spacious, with flat-screen TVs, Wi-Fi access, and balconies.
The hotel also features a terrace with a beautiful view of the city. Suites PF made our recommendation list because it is another walking location. While it provides an on-site restaurant and gym, it sits close to many great attractions.
For example, Zona Rosa, Ambarte, Casa Museo Guillermo Tovar de Teresa, and the Plaza del Angel Centro de Anticuarios are only about a quarter of a mile away.
Sheraton Mexico City Maria Isabel
Here, we provide you with yet another Marriott hotel with the Sheraton Mexico City Maria Isabel. The five-star hotel is perfect for the whole family. It offers spacious and modern rooms with amenities like a pool, fitness center, spa, and business center. The hotel also features its own restaurant, bars, terrace, and garden.
Another great thing about the Sheraton Mexico City Maria Isabel is that it provides free shuttle service to popular attractions like the Zocalo and the San Angel neighborhood. If you're looking for a hotel that offers luxury, convenience, and comfort for your entire family, this is the place for you.
Colonia Cuauhtemoc
Cuauhtemoc is a fabulous neighborhood to stay in if you're looking for an exciting and unique experience. The city gets its name from the last Aztec emperor, Cuauhtemoc.
The community is tiny, but it has everything you need to enjoy your trip. The area is known for its energetic and artistic culture and many great restaurants and shops.
There are plenty of Airbnb options in this neighborhood, so you will be able to find something within your budget. If you want access to an international dining scene, then this is the place for you. Colonia Cuauhtemoc also offers easy access to attractions like Parque Mexico, La Condesa, and Bosque de Chapultepec. Here are two places to stay while in Cuauhtemoc.
Ryo Kan Ciudad de México
The Ryo Kan Ciudad de Mexico hotel is located in the heart of Cuauhtemoc and offers its guests a chic and modern experience. The rooms are spacious, with free Wi-Fi, flat-screen TVs, and comfortable beds. The hotel gives you an outstanding balance of simplicity, comfort, and beauty.
We chose this hotel for our list because it upholds Japanese values and principles of the love of nature and respect for the family. It doesn't come off as the perfect family vacation hotel. But it is the ideal place to relax and recharge which is technically part of the reason why you're on vacation.
It is suitable for families with children ten years old or older. Learning about self-love, relaxation, and appreciation for Japanese culture is a great experience for you and your family.
Sofitel Mexico City Reforma
The Sofitel Mexico City Reforma is a chic French hotel in the middle of Mexico City. It offers luxurious amenities like a pool, gym, and spa. The hotel is only eight miles from the Benito Juarez International Airport. Families have four dining options and views of Mexico's capital. We recommend this hotel because of the different suite options.
Their Opera suite has floor-to-ceiling windows, private balconies, and a terrace with views of Reforma Avenue. It also comes with a jacuzzi, which is excellent for those who want to relax and unwind.
The Sofitel Mexico City Reforma is close to the Zocalo, restaurants, museums, cultural tours, and more. It is a superb place to stay if you want to be close to the city and all its attractions. Also, you can conveniently purchase tickets for nearby excursions and activities at the concierge desk.
La Condesa
La Condesa is one of the most fashionable neighborhoods in Mexico City. It is known for its vibrant nightlife, creative restaurants, and lively bars. But don't let that deter you from visiting. The neighborhood is perfect for exploring with your family. There are plenty of restaurants, cafes, and boutique stores to explore.
La Condesa also has many outdoor activities like the Bosque de Chapultepec and Parque México. You can also find museums, parks, and galleries in the area. We recommend this neighborhood because of its fun atmosphere and cool vibe.
It's the perfect area to shop and see some of the best designer boutiques Mexico City has to offer. Here are four places to stay in La Condesa.
Hotel Parque Mexico Boutique
The Hotel Parque Mexico Boutique is an elegant, modern boutique hotel. It has a terrace and garden where you can relax and hang out with your family. The hotel is conveniently located near popular attractions like the Zocalo and the National Museum of Anthropology. It also offers free Wi-Fi, complimentary breakfast, and a bar for guests.
We chose this hotel because of its terrific location and modern design. It also has free bike rental and fragranced rooms, which come in handy when you travel with children. The Hotel Parque Mexico Boutique sits in a great spot that allows everyone to walk to parks, galleries, and restaurants.
Casa 9
Casa 9 is a modern, four-star bed and breakfast hotel in La Condesa. The history of the hotel is what sells it. It was once a house owned by an elite Mexican family. Over the years, nature has taken over the property until a new owner came along. The current owners kept the traditional Mexican charm but included modern touches to make it a great place to stay.
Casa 9 makes our list of recommendations because it sits near eateries, malls, and other establishments. The hotel also features multiple tours, such as the Roma and Condesa Taco and Barragan Architectural tours. Both allow you and your family to see some of Mexico City's most famous attractions.
Casa Mali by Dominion Boutique
Casa Mali by Dominion Boutique Hotels lives in a residential area of La Condesa. It's close to some of the city's attractions, like the Chapultepec Forest and the Museum of Modern Art. Its rooms are spacious, stylish, and cozy, with a terrace for peaceful sunsets. The hotel also offers a library equipped with a fireplace, a rooftop terrace, and a jacuzzi.
There's also a fitness center and a BBQ area for guests to use. We chose Casa Mali because of its proximity to the cultural attractions and restaurants in the area. It's also great for relaxing with its spacious rooms and fireplaces. Boutique hotels always have a cozy home feeling.
Casa Condesa Michoacan 113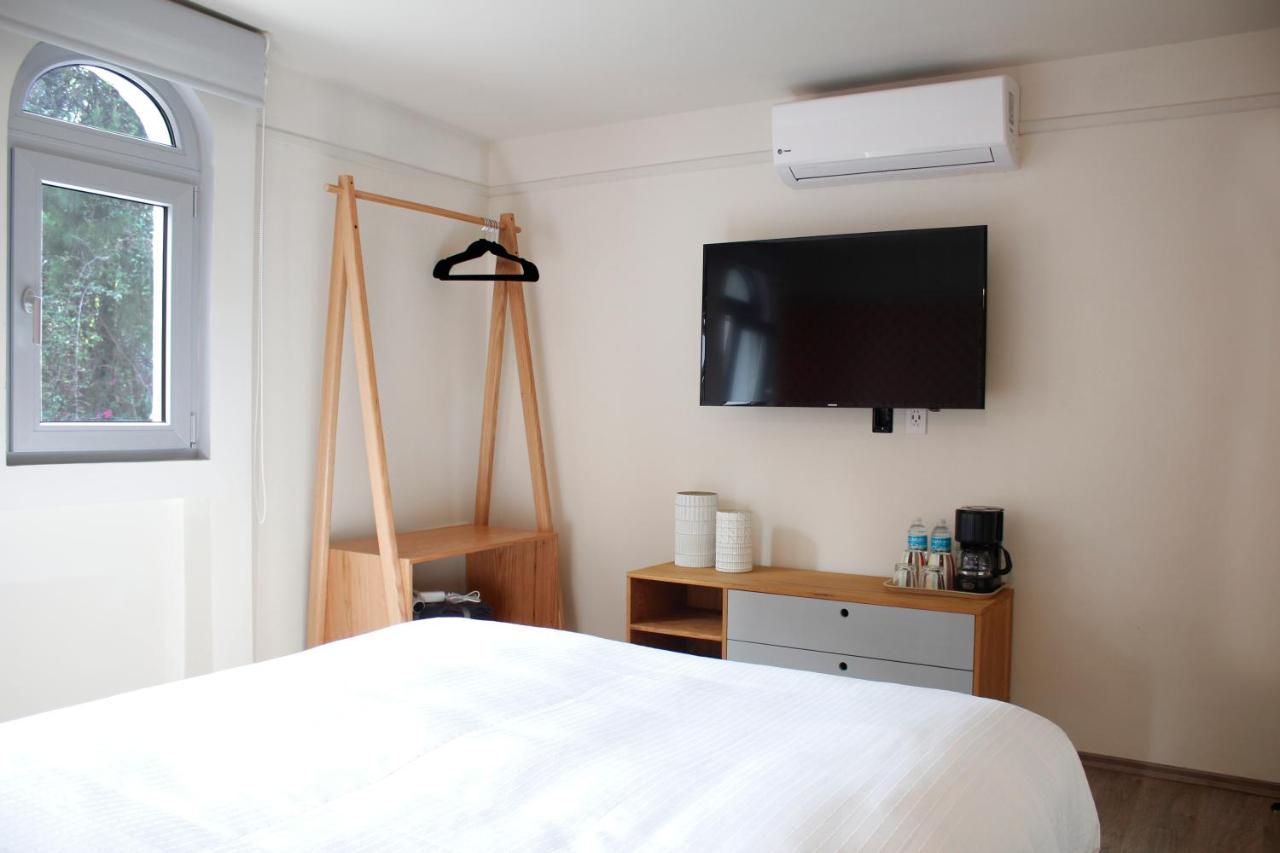 Casa Condesa Michoacan 113 is a small hotel located in the heart of La Condesa. It offers guests a homey stay with its modern interiors and bright colors. It has many amenities for guests, such as a daily breakfast, free Wi-Fi, and cable television. The rooms here are much smaller than other hotels on our list.
However, it's an awesome place to stay if you do not spend much time in your room. But sometimes one room with two beds is all you need when it's affordable. We chose Casa Condesa Michoacan 113 because it's only 15 minutes from Chapultepec Park. Other attractions include bookshops, cafes, and the National Anthropological Museum.
Tips For Traveling with Kids to Mexico City
Traveling with kids to Mexico City can be a wonderful experience. There are many great attractions, activities, and places to explore. Always plan ahead and be aware of the risks associated with traveling in Mexico City. Here are some tips for traveling to Mexico City with kids:
Research the safety of the area you are visiting. Read up on crime statistics and look for advice from travelers who have visited the area.
Make sure your children understand the risks associated with traveling to Mexico City (if they are old enough) and the importance of being aware of their surroundings if they sightsee without you.
Check the weather forecast before your trip and plan accordingly. Mexico City has a temperate climate but can sometimes be rainy or windy.
Research the lodging options before your trip to make sure you're staying at a safe and secure place. Start with the areas listed on this list for the best places to stay in Mexico City with kids.
Make sure you know the exchange rate before traveling and familiarize yourself with basic Spanish phrases.
Stay alert when walking around, and be aware of pickpockets and scams.
Bring a map, so you don't get lost. Make sure your cell phone has a reliable international plan.
Pack appropriate clothing, sunscreen, insect repellent, and a first-aid kit.
Have an emergency plan in place. Make sure your family knows what to do in case of an emergency.
Familiarize yourself with local laws and customs.
Make sure you insure your trip in case of an emergency. Anything could happen that would prevent you from making your trip. Insurance protects you and ensures you don't lose money.
You can have a safe and enjoyable trip by following these tips and visiting the best places to stay in Mexico City with kids. With careful planning, you and your family can experience the best of what Mexico City offers.
Wrapping up the Best Places to Stay in Mexico City with Kids
Mexico City is an incredible destination to explore with your family. With its vibrant culture, delicious cuisine, and unique attractions, there's something for everyone. Each of the four neighborhoods we covered in this list (Polanco, Juarez, Cuahtemoc, La Condesa) offers unique experiences for travelers.
Polanco is home to some of the best restaurants and hotels, while Juarez is great for exploring markets and historical sites. Cuahtemoc is perfect for travelers looking for culture and relaxation, while La Condesa is great for shopping. Choosing suitable accommodations that meet your needs, fulfill your preferences, and fit your budget is essential.
No matter your choice, you will have a wonderful stay in Mexico City. Enjoy your trip!
More about our TFVG Author