Taking a vacation to Mexico with your family can be filled with a multitude of beautiful memories.
The country of Mexico is rich in culture, landmarks, and beautiful landscapes. While not all areas of Mexico are conducive to a family vacation, many places are.
So how do you know where the best cities and resorts are for your next family vacation? This guide outlines the best places to vacation in Mexico with kids. Continue reading below to learn about the options available for your next adventure!
Traveling to Mexico
Mexico is the 13th largest country in the world. Therefore, it has lots to offer. As a Spanish-speaking country, they do have many areas that are familiar in English. However, it is not a commonly spoken language, and there are not many who are fluent outside of touristy places.
As the largest hub in Mexico, Mexico City is also the oldest city in North America. The country comprises 31 separate states and one federal district. Mexico is so vast and unique that you can find beautiful sandy beaches, mountain villages, and rain forests. Whatever experience you are looking for, you can find it in Mexico!
When To Travel
Because of the different climates throughout Mexico, finding the best time to travel to the country will often depend on where your adventure is taking you. However, most find that the best time to travel to the country is during the dry season, which happens between December and April.
Outside of that time, you may experience higher precipitation levels than average. While this might be a detriment to some, it can also come with benefits. Traveling outside of the dry season will come at a much cheaper rate. Additionally, the beaches will not be as crowded as during the dry season.
Although there is a higher likelihood for rain after April and before December, it doesn't mean that it is a bad time for travel to Mexico. You will need to pay special attention to the weather during the hurricane months, but otherwise, the climate is often temperate, and the rain lasts for a brief stint in the afternoon.
What To Know When Traveling
When getting ready to travel to Mexico, several things are essential to know. To begin, it is not advisable to drink water directly from the tap when in the country. While most homes have a purification source, it is difficult to know if the water is genuinely purified or if it has been contaminated at some point when en route to the home.
However, you don't need to fret about a lack of drinking water. Many hotels offer purified bottled water, and it is readily available in shops and markets for purchase.
Other things to keep in mind during your vacation to Mexico:
Mexico uses the Peso as their currency
The country is predominantly Catholic
Cars drive on the right side of the road
You may need to pay for toilet paper in public places
Some local vendors and markets will allow you to negotiate prices
Uber is widely available in the more populated areas
The women's restroom is marked "M" for Mujeres (women)
Not all areas will accept credit card
Do not flush toilet paper. It goes in the wastebasket
If you rent a car, there are attendants at the gas stations who pump for you
Mexico utilizes kilometers for measurement
The Best Places to Vacation in Mexico with Kids
With all the different areas and experiences that you can enjoy while visiting the beautiful country of Mexico, it can be hard to nail down just one location. Below we highlight the top destinations for your upcoming vacation.
Riviera Maya
As one of the top locations on most tourists' lists, Riviera Maya is a beautiful beach getaway that Mexico offers. While you can easily spend all of your days lazing on the beach and enjoying the sunshine, the area has many other advantages as well.
For the days that you are keen to explore the surrounding area and see what Riviera Maya has to offer, be sure to check out the following top attractions:
Tulum Archeological Zone
Xcaret Park
Dos Ojos Cenote
Gran Cenote
Xplor Adventure Park
Rio Secreto
Cenote Calavera
Aktun Chen Underground River
Zona Arqueológica San Gervasio
Xenses Sensory Theme Park
Croco Cun Petting Zoo
Avenida Norte
There are also many different beaches to enjoy in the area, so don't feel limited to whatever beach your hotel or resort is located on. With the various attractions available, families can find something suitable for everyone to participate in during their stay.
While many hotels and resorts will have food options and restaurants available on-site, there are also several types of eateries within the area that you can check out while exploring. Some of the top choices include:
Antojitos La Chiapaneca
Alfredo di Roma
Casa Rolandi
Café de la Musique
El Camello Jr.
El Capi Navegante
Flor de Michoacan
El Sol
La Cocay
La Cueva del Chango
Luna
Mur Mur
Why not check out our guide to the best all-inclusive resorts in the Riviera Maya for families?
All of the restaurants included in the list above have appropriate options for children and are suitable for family groups.
The weather in Riviera Maya consistently hovers around 80 degrees Fahrenheit. Some months may get up into the 90s. Like other areas of Mexico, Riviera Maya experiences a rainy season outside of December through April. However, this change shouldn't deter you from visiting during those months.
In the area of Riviera Maya, there are many family-friendly resorts. While some are higher priced with more extensive amenities, there are just as many in the moderate price range with fewer amenities.
Some of the top family-friendly resorts in Riviera Maya include:
Grand Velas Riviera Maya
Dreams Riviera Cancun Resort
Moon Palace Resort
Barcelo Maya Tropical
Iberostar Grand Paraiso
Andaz Mayakoba Resort Riviera Maya
Grand Hyatt Playa del Carmen Resort
Vidanta Riviera Maya
As one of the top family-friendly vacation destinations in Mexico, Riviera Maya allows for ample opportunity to come together and create memories. Between Mayan ruins, beach days, fabulous restaurants, and petting zoos, everyone will have the time of their life when in Riviera Maya.
Mexico City
As the fifth-largest city in the world, Mexico City has a lot to offer. Additionally, they have a large population within the city limits themselves. With approximately 15,000 restaurants in the city, you could eat at a different one every single day for years on end.
When it comes to activities that the entire family will love, there is no shortage of options within Mexico City. While the area has ample shopping opportunities and areas to connect with nature, they also offer unique adventures for tourists and locals alike to take part in, including:
Universum
Acuario Inbursa Aquarium and Museum
Parque Bicentenario
Six Flags México Amusement Park
Tío Pepe Granja Didáctica Farm
Papalote Museo del Niño Museum
Planetario Luis Enrique Erro
Bosque de Chapultepec
Museo Interactivo de Economía
KidZania Museum
While in Mexico City, you will also notice a wide variety of daytime markets that pop up around the area. When visiting these vendor fairs, you will have the ability to purchase many handmade goods, including home decor, food, clothing, and toys. Make sure to save room in your suitcases for all the keepsakes you will be bringing home!
One of the great things about visiting Mexico City is the easy access to various food types. Outside of typical, in-person restaurants, you will also find many street vendors with mouthwatering snacks and meal options.
If you are looking for a restaurant for you and your family to enjoy while out on the town, be sure to check out the following kid-friendly establishments:
Sonora Grill Coapa
Porfirio's Coapa
Cambalache Escenaria
Zesta Punta
Restaurante Condimento Emporio Reforma
Ryoshi Masaryk
Zefiro
La Mansion Marriott Reforma Steakhouse
La Distral
La Vicenta Tezontle
All of these restaurants that we list above provide traditional Mexican fare and options suitable for picky eaters. One way to try various dishes is to order separate meals and share them amongst the table. And don't forget to save room for dessert! Most restaurants will come around with a dessert display for you to check out before committing to just one!
The weather in Mexico City consistently hovers between 70-80 degrees Fahrenheit. During April and May, you could see the temperature go up into the 80s. Additionally, the lows can get down into the 40s, so it is best to wear layers when going out and pack for various weather conditions.
Staying in Mexico City for your vacation gives you many options for accommodations. While some are all-inclusive and provide meals and activities, others are provided for lodging only. Some of the top choices for your time in Mexico City include:
Sheraton Maria Isabel Hotel & Towers
Stara Hamburgo
Le Meridien Mexico City
Four Seasons Hotel Mexico City
JW Marriott Hotel Mexico City
Presidente Intercontinental
Live Aqua Urban Resort México
Galeria Plaza Reforma Mexico City
Fiesta Americana Reforma
Camino Real Polanco
W Mexico City
For a great experience and an excellent opportunity for cultural immersion, taking a vacation to Mexico City is everything and more. You will leave the country full of good food, fantastic experiences, and beautiful memories with your family.
Mérida
In moving to another area of Mexico, a great place to visit in the country is Mérida. Within the Yucatan Peninsula, a visit to the area gives you a different perspective of the country and an immersive experience of the local culture.
One of the most wonderful opportunities to take part in during a stay in Mérida is the various public activities. Many locals gather in the city center to enjoy live music, dancing, and fellowship in the evenings. Those in the area have a strong focus on community and put maximum effort into displaying that.
In addition to the city center activities, there are many other attractions that Mérida has to offer. Some of the most popular opportunities for tourists and locals include:
Mayan World Museum of Mérida
Dzibilchaltún Archeological Site
Cenote Xlacah
G. Cantón Palace
Catedral de Mérida – San Ildefonso
Plaza Grande
Parque de Santa Lucía
Museo Casa Montejo
Palacio de la Música
Monument to the Fatherland
Paseo de Montejo
Taking the time to check out all the attractions listed above will give you a better idea of the history of the country and the Yucatan Peninsula. You will find yourself at the center of it all, taking in all the historical events that shaped Mérida and the country of Mexico.
When it comes to dining options, the Yucatan is known for its unique cuisine. While different from other areas of Mexico, it shares some commonalities. Many of the ingredients used are specific to the Yucatan area, making it slightly different from the other styles around the country. You will actually find Yucatan-style restaurants in other areas of Mexico due to their popularity!
Some of the popular options for restaurants in Mérida include:
Museo de la Gastronomia Yucateca
Los Trompos
Wokies Monchis
Porfirio's Mérida
Casa Canela Mérida
La Terraza Amarilla Todo Esquisito
La Casa de mi Tia
Amore e Gusto
La Chaya Maya
Mr. Pampas Brazilian Restaurant
Many of these restaurants cater to families with children, with several of them including special children's play areas for occupying the attention of the youngest diners. The menus have favorable options for children and an atmosphere conducive to making memories during your visit.
Mérida has a hotter average temperature than the other areas represented in this list. Most months will see weather between 90 to 100 degrees Fahrenheit. August and September will see the most rain, with an average of ten days of considerable precipitation each. The lows in Mérida only reach the 60s, not the 40s that other Mexican cities see.
Mérida is a family-oriented city, and the accommodations available to visitors reflect that. You will find many resorts, hotels, and vacation rentals that welcome families with young children and provide amenities specific to that population. Some of the top choices include:
Fiesta Americana Merida
Hyatt Regency Merida
Hotel NH Collection Merida Paseo Montejo
Hotel del Peregrino
Fiesta Inn Merida
Casa Lucia Hotel Boutique
Luz En Yucatan
La Mision de Fray Diego
City Express Junior Merida Altabrisa
Wyndham Merida
Taking part in all that Mérida offers will give you a unique travel experience that you can't get elsewhere. Between the public events that occur daily, the many family-friendly amenities, and the diverse recreational activities to take part in, you will thoroughly enjoy your time in this beautiful area of the Yucatan Peninsula.
Puerto Vallarta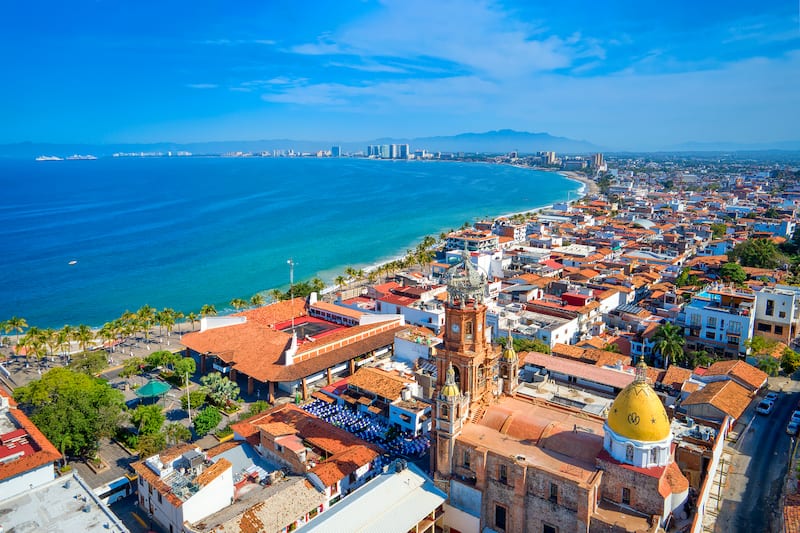 As another popular tourist destination in Mexico, Puerto Vallarta attracts over four million visitors each year. Known for its many beautiful beaches and posh resorts, Puerto Vallarta offers many water experiences and beautiful scenery for your enjoyment. It is important to note that you will likely come in contact with more tourists than locals at this vacation destination due to its popularity.
Many visitors flock to Puerto Vallarta for its luxurious accommodations and relaxing atmosphere. While its location allows for lively nightlife for some (mostly the younger crowd), it also provides a family-friendly environment for those looking for a vacation getaway with their children.
For those visiting the area with family, many attractions are exciting for those of all ages. Therefore, you don't have to worry if Grandma will enjoy the experience as much as the youngest traveler in the group. These opportunities are conducive to all ages!
Some of the top attractions in the area of Puerto Vallarta include:
Vallarta Zoo
Mismaloya Beach
Pirate Ship Vallarta
​​Cuale River Island
Sea Safari and Horseback Riding Tour
Los Veranos Canopy Tour
Puerto Vallarta Romantic Zone
Las Animas Adventure Park
El Faro Lighthouse
Los Muertos Pier
Malecoón Boardwalk
Las Caletas Beach Hideaway Tour
Playa Camarones
ChocoMuseo
Museo Histórico Naval
While many of these activities take place outdoors, several of the attractions are located inside. This availability of inside entertainment allows visitors to Puerto Vallarta to get a break from the sun and heat that the city offers and take in a bit of history and culture during their vacation experience.
With the many resorts located in Puerto Vallarta, there aren't too many opportunities where visitors go out to dinner in the town. However, there are several family-friendly dining options that your family can take part in during your stay. Whether it's for a quick lunch while out exploring or to get a break from the resort, there are places available!
UMAI
Maria Baja
Fredys Tucan
Meno's Place
Salud Super Food
Mexico Latte
Nine Ninety 9
Capitan Cajun
Casa Tradicional Cocina Mexicana
Juan Tiburon
Sonorita Olas Atlas
All of the restaurants listed above provide menu options for all, including items specifically for children. The laid-back atmosphere allows families to have a good time making memories while enjoying great food.
The average temperature in Puerto Vallarta is slightly less than what you would get in the Yucatan Peninsula. Most days will have weather between 80 and 90 degrees Fahrenheit. While this makes for good beach weather all year round, you do have to be mindful of the rainy season after April and before December.
When it comes to resorts in the Puerto Vallarta area, there is no shortage. There is especially no shortage of resorts that are family-friendly and child-appropriate. Despite the many party-goers who descend on the area for spring break, the area is ideal for those who travel as a family.
Sunscape Puerto Vallarta Resort & Spa
Villa del Palmar Beach Resort & Spa
Hilton Puerto Vallarta Resort
Dreams Vallarta Bay Resort & Spa
Marriott Puerto Vallarta Resort & Spa
The Westin Resort & Spa, Puerto Vallarta
Velas Vallarta
Playa Los Arcos Hotel Beach Resort & Spa
Sheraton Buganvilias Resort & Convention Center
Sunset Plaza Beach Resort & Spa
Why not check out our guide to the best all-inclusive resorts for families in Puerto Vallarta?
Taking a trip to Puerto Vallarta will give you peace of mind that you are in a place where many speak the same language as you. With all the family-friendly attractions and accommodations, you'll have to battle your family to get back on the plane to go home!
Cabo San Lucas
Like Puerto Vallarta, Cabo San Lucas has a history of being popular with the younger crowd. Many gather in the city for spring break or summer entertainment. However, also like Puerto Vallarta, Cabo San Lucas is a great location for family vacations.
Located in the southernmost tip of the Baja Peninsula, Cabo San Lucas is in a much different location than the other options on our list and is surrounded by water. Outside of all the typical water activities like boating, fishing, paddle boarding, and kayaking, you can also take part in outdoor activities like golfing, tennis, hiking, and biking.
As with all the choices we outline, Cabo San Lucas is just as unique as the others. The nice thing about Cabo San Lucas is the humidity doesn't get as high as some of the Mexico hotspots that people tend to flock to. Having a lesser amount of humidity allows you to enjoy your time outside more thoroughly than you might otherwise.
While Cabo San Lucas is known for its pristine beaches, it also has many other quality attractions to enjoy during your visit. Between shopping, restaurants, museums, and outdoor recreation, your days will be packed during your stay. Some of the most popular include:
The Arch of Cabo San Lucas
Lovers Beach
La Palmilla
Marina Cabo San Lucas
Pedregal de Cabo San Lucas
Mt. Solmar
El Medano Beach
Playa El Chileno
Playa Migriño
Museum of Natural History in Cabo San Lucas
Most of the activities located in Cabo San Lucas take place outdoors due to the beautiful natural landscape that the city sits on. Between the scenery and the optimal weather conditions, most in the area want to spend as much time as possible in the great outdoors as opposed to inside.
However, there are some options available, such as the Museum of Natural History and the city center with various shopping and boutiques, that allow you some respite from the sun and outdoors. Additionally, there are many fantastic restaurants available that are both family-friendly and kid-friendly. Some of the highest-rated options include:
Il Forno
Boga Grill
Hard Rock Cafe
John's Place
Tropical Kitchen Cabo
El Burro Loco
Taba BBQ
Lolita's Restaurant
Isabel Restaurant
Captain Tony's
Many of the restaurants listed above cater to tourists, which include groups with children. Because of this, they offer a varied menu with options for those who have a more picky palate. Cabo San Lucas is used to entertaining visitors of many different generations, so you will be welcomed into the eateries with open arms.
As we have mentioned, the weather in Cabo San Lucas is quite favorable for those who visit, and it doesn't deviate much throughout the year. The average temperatures throughout the year vary between 80 and low 90 degrees Fahrenheit. Additionally, the humidity is quite a bit less than in other areas of the country, making the heat more tolerable.
When choosing a source of lodging for your family's stay in Cabo San Lucas, you will have many options available to you. Between hotels, vacation rentals, and resorts, there is an option available to fit the needs of everyone, many with a multitude of amenities to enjoy during your stay. Some of the top choices for a family vacation include:
Grand Solmar Land's End Resort & Spa
Solaz
Hyatt Ziva Los Cabos
Sheraton Grand Los Cabos Hacienda del Mar
The Westin Los Cabos Resort Villas & Spa
The Hilton Los Cabos Beach & Golf Resort
Montage Los Cabos
Chileno Bay Resort & Residences
Villa La Estancia Beach Resort & Spa Los Cabos
One & Only Palmilla
Grand Solmar at Rancho San Lucas Resort
Dreams Los Cabos Suites Golf Resorts & Spa
Why not check out our guide to the best all-inclusive resorts in Cabo San Lucas for families?
When considering an area of Mexico to visit that offers plentiful opportunities for outdoor recreation, as well as many family-friendly resorts, Cabo San Lucas is an option you don't want to forget about when considering your next destination. You will have ample opportunities to get close and personal with nature while also experiencing the beautiful culture of Mexico during your memory-filled vacation.
In Summary
Mexico is a diverse country that offers many types of experiences for your vacation. Between the different landscapes you encounter like mountains, tropical rain forests, beaches, and everything in between, you can have any type of experience you desire when choosing to vacation in Mexico.
Vacationing in Mexico with your family is an opportunity that is guaranteed to be filled with a multitude of memories. A country like Mexico is rich in culture, landmarks, and beautiful landscapes to take in during your stay. While not all areas of Mexico are conducive to a family vacation, many places are.
When planning your visit to the beautiful country of Mexico, how do you know where the best cities and resorts are for your next family vacation? This guide outlines the best places to vacation in Mexico with kids. Check out the list above and see which options will work best for your next adventure!
More about our TFVG Author
A seasoned traveller, Dad, and avid sports tourist, James foundered The Family Vacation Guide to share his expert vacation experiences- especially when it comes to being a travelling family man.
Featured in Travel articles such as Travel + Leisure, TripSavvy and SFGate, you know you're reading some of the best vacation tips online.