Want to take a vacation in Mexico but don't want to have to take the time to figure out where to buy the things you need or where the best restaurants are?
If this sounds like you, then it's time to look into an all-inclusive resort for your next stay in Mexico.
What is an all-inclusive resort exactly?
An all-inclusive resort includes not only your room but your snacks, meals, beverages, and activities. If you are staying at a beachfront resort, that would include water sports as well.
Other features of an all-inclusive resort include access to the resort's fitness center, pool, and other sports facilities. However, be aware that some resorts offer tiers to their all-inclusive perks.
For example, one resort may offer a premium level upgrade that includes access to a less crowded section of the beach. At the same time, another will charge an extra fee for alcohol.
Why not check out our guide to the best reasons to go all-inclusive?
Knowing What's Included in your All-Inclusive Package
It is essential to understand that just because your resort offers an all-inclusive experience doesn't mean that everything they offer will be included in your stay.
Some things that may not be included in every all-inclusive resort package deal are Wi-Fi, liquor, or discounted rates at a restaurant. It is best practice to do your research to understand what is included in your resort's all-inclusive package deal.
This ensures that you know everything included in your all-inclusive resort package deal to eliminate possible frustration during vacation.
For example, just because you paid for an all-inclusive package at a resort that has a spa does not mean that you have free access to spa services. In other words, getting a massage may be an extra fee.
Feel Free to Contact the Resort for Details
As always, if you have any questions about what's included in an all-inclusive resort package or you're not clear about what they offer online, feel free to reach out to them and speak to one of their sales reps. Sales reps can effectively educate and help you choose the best all-inclusive deal for your family.
Should I even get an all-inclusive resort package?
If your plan is to enjoy a laid-back stress-free vacation with your family without having to worry about traveling to find things you need, then an all-inclusive resort package is what is best for you.
Not to mention, it takes the guesswork out of your travel experience and saves you money since you don't have to worry about spending extra money for every new experience and meal.
Another reason to consider an all-inclusive resort package is that it saves you money and helps you budget if your vacation includes more than one person. It is your family's solution to budgeting while on vacation.
At the same time, it assures them that they have everything they need. Meals and attractions are already paid for.
An all-inclusive resort package gives you more space to relax and focus on spending time with your family. If your goal is to relax, revamp, and enjoy time by the beach, this is the best option. 
Why Mexico?
The best all-inclusive resorts are ranked in the United States based on reputation among travel experts, hotel class ratings, and guest reviews. Based on these rankings, Mexico is one of the top places to visit if you're looking for an all-inclusive resort experience.
And with all the exciting resorts we have to introduce you to today, you will soon see why Mexico is your destination for the best all-inclusive resort in the United States.
Top 10 All-Inclusive Resorts in Mexico
Here are the top 10 all-inclusive resorts in Mexico. Each of these resorts is unique in what it offers its customers, from living room space to a king bed. Each customer will have access to the features they value the most while on vacation.
Number 1 Best All-Inclusive Resort in Mexico: Grand Velas Riviera Maya
The Grand Velas Riviera Maya is rated the number one best 5-star all-inclusive resort in Mexico. It's also widely regarded as one of the best all-inclusive family resorts in the Riviera Maya. It overlooks the Caribbean Sea and offers a relaxing natural environment that helps customers relax and pamper themselves while enjoying everything that the Caribbean has to offer.
The resort has received three positive critic awards. This location is rated at a 9.4 for couples. It even offers two swimming pools, an airport shuttle, and a spa and fitness center. Other amenities include room service, bar, breakfast, and restaurant access.
Beachfront views are included, along with access to a private beach area. No need to worry if you forgot to get cash as there is an ATM and currency exchange service located on the property.
The Grand Velas Riviera Maya Resort has eight restaurants on-site to fulfill the preference of everyone's taste. They offer Mexican, Italian, international, Chinese, Japanese, Thai, and French meal options.
The spa is one of the major highlights of this resort as it offers personal training services, fitness and yoga classes, massage chairs, facials, steam room sessions, and pedicures and manicures.
These services are offered at no additional cost to you and included in the all-inclusive package. However, if one is interested in getting a massage or sitting in the sauna, there is an additional charge.
Le Blanc Spa Resort
The Le Blanc Spa Resort is ranked the second-best all-inclusive resort in Mexico. It has received three critic awards for its awesomeness. Unfortunately, this resort is for adults only. Every suite inside of Le blanc's Spa Resort comes with a coffee maker, stocked mini-bar, butler service, and liquor cabinet.
If you request a higher floor and a suite with an ocean view, you will also be experiencing extreme quiet and unforgettable views. This resort's most notable top amenities are complimentary breakfast, a business center, pools, free Wi-Fi, on-site restaurants, and free parking.
The Le Blanc Spa Resort is minutes from downtown Cancun and offers visitors tours to Chichen Itza, Tulum, Xcaret, and the Jungle.
One great thing about this resort is that it is nearby a lot of attractions in the case that you are tired of staying in one place. The backstage theater is only 2 miles away from the resort.
If you want to experience some of Mayan history during your visit, there is a Mayan museum only 4 miles away. Other great attractions include the Coco Bongo and City nightclubs and the La Isla Shopping Mall, which are no more than a mile away.
Grand Velas Los Cabos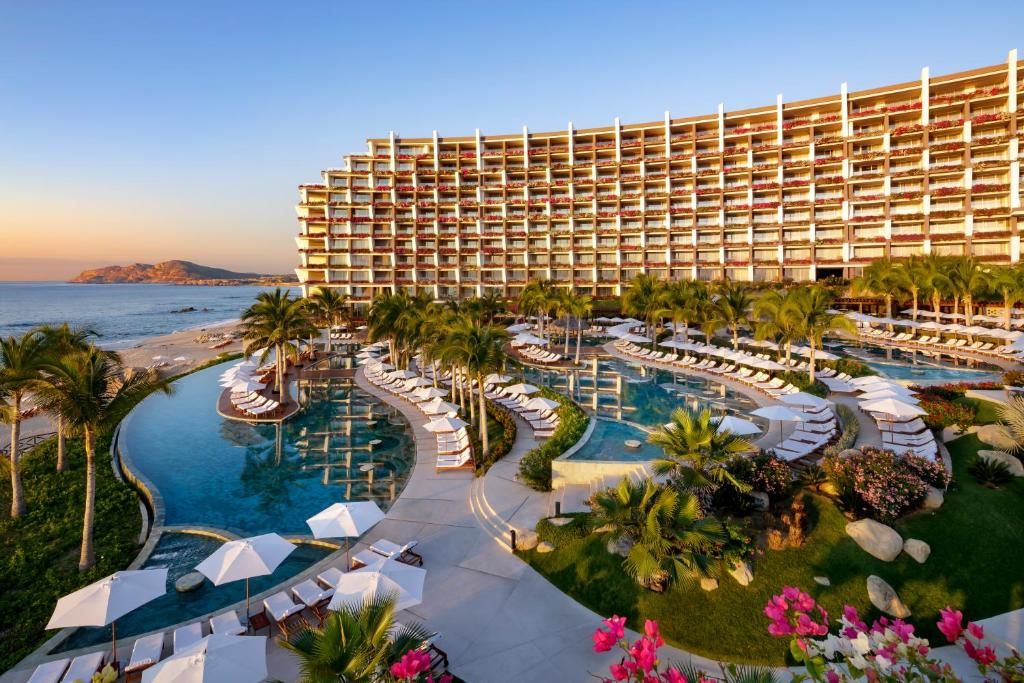 The Grand Velas Los Cabos is ranked third best all-inclusive resort in Mexico. This luxury resort is located in San Jose Del Cabo in the Baja California Sur region. It offers three infinity pools and a private beach area.
Each room comes with a flat-screen TV and DVD player, iPad docking station, robes, slippers, 24-hour front desk service, in-room tea, and coffee maker, fitness center, and shops on the property.
The 24-hour front desk service comes in handy when you need to exchange currency or have questions regarding accessing one of the many amenities offered. One unique feature at this resort is the all-inclusive premium bar available 24/7.
There are six restaurants on-site, including Italian, Mexican, seafood, French, and International. There's also a kid-friendly Buffet. It helps keep children sustained in between meals. Available activities are where the Grand Velas Los Cabos Resort stands out.
During your visit, you can enjoy live sports events broadcasts, karaoke, ping-pong, pool, and stand-up comedy. The resort also offers offsite fishing and visits to the golf course. These two options are available at an additional charge to you.
Grand Velas Riviera Nayarit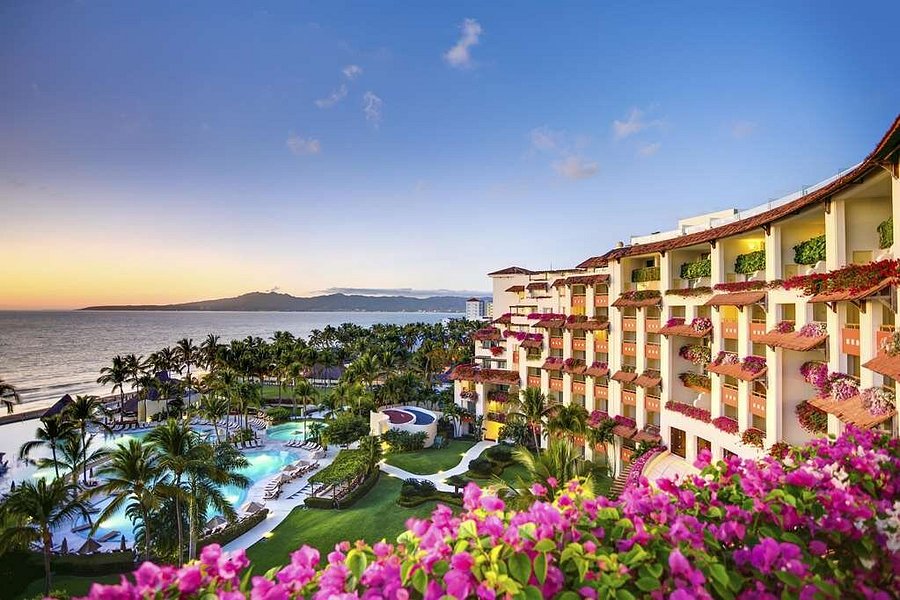 The Grand Velas Riviera Nayarit is the fourth-best all-inclusive resort in Mexico. This resort overlooks Banderas Bay and offers luxury suites to its visitors. It's also only a 15-minute drive from Puerto Vallarta. Couples rate this property at 9.3 for all of the popular amenities offered.
Each suite at the Grand Velas Riviera Nayarit offers access to a swimming pool, airport shuttle, spa, fitness center, room service, on-site restaurants, and tea and coffee makers in all rooms. Other amenities include the bar, complimentary breakfast, and private beachfront access.
Each suite features a beachfront view. There are five restaurants on-site, including Mexican, Italian, Asian, and French options.
Available activities at this resort are bike tours, aerobics, cooking classes, tennis, karaoke, ping-pong, and a casino game room. Diving is offered as an offsite activity at an additional charge.
Canoeing, snorkeling, and on-site water sports facilities are also offered on-site but at an additional charge.
One underrated service while on vacation is laundry. The resort offers laundry, dry cleaning, and ironing services on site. However, ironing and laundry come at an additional charge as well.
Hotel Mousai
Hotel Mousai is ranked the fifth-best all-inclusive resort in Mexico. This hotel takes luxury to a whole new level. It offers more than 1200 ft.² of outdoor and indoor space. Each room provides a workspace, your choice of a balcony, lanai, or terrace, Wi-Fi, and a coffee and tea maker.
Hotel Mousai offers unlimited alcohol and meals at their on-site restaurants, as well as private access to the beach and use of their on-site basketball, squash, and tennis courts. This hotel features a rooftop infinity pool and spa experience for those who are visiting to relax.
Remember to enjoy the ambiance of the walk-in rain shower. Another remarkable feature is the terrace with a Hammock and Jacuzzi tub. This is a perfect amenity for couples looking to enjoy a romantic getaway from the daily hustle and bustle.
It goes without saying that hotel Mousai is an adult-only property not suitable for family vacations. If you decide that you love your resort experience at hotel Mousai, you can utilize their preferred program to accrue points that you can use for future stays.
Fairmont Mayakoba, Riviera Maya
The Fairmont Mayakoba Riviera Maya Resort is ranked the sixth-best all-inclusive resort in Mexico. This resort is suitable for family vacations and offers a kids club to keep the kiddos busy while still enjoying the experience.
The Fairmont Mayakoba is a member of AccorHotels, which means visitors who utilize their points system can get discounts on stays. This property has 401 rooms and suites to choose from.
Each includes the following amenities: Tropical-inspired decor, soaking tubs, LCD televisions, Wi-Fi access, access to the Willow Stream Spa, six eateries, multiple pools, bars, and a gourmet market.
And if you have a furry companion that you'd hate to leave at home, you can bring them along. Even though this resort is available to families, couples still rated a 9.5 by couples due to the many beauty and massage treatments Willow Stream Spa offers and their on-site restaurants.
The Fairmont Mayakoba Riviera Maya Resort offers Seafood, Italian, and Mexican dining options. Visitors rave about their sushi bar as one of the best options to enjoy.
The Fairmont Mayakoba resort is a neighbor to the El Camaleon Golf Course, making it an ideal vacation destination for those families who love golf. It also has five outdoor swimming pools for you to enjoy and private beach access for those who want to experience the Playa del Carmen beach.
Excellence Playa Mujeres 
The Excellence Playa Mujeres is ranked seventh best all-inclusive resort in Mexico. The property offers visitors access to seven pools and 12 restaurants. It sits on the white sandy beach of the Playa Mujeres peninsula.
This resort is adult-only and offers many amenities for their visitors to enjoy. The most notable amenity is the pillow menu. What is comfortable for everyone may be different, and the option to choose a pillow that supports your head and neck in various ways is pretty excellent.
Other options at the Excellence Playa Mujeres all-inclusive resort in Mexico are private balconies, large jacuzzi tubs in each suite, a fully stocked minibar, and a lounge bed for two.
Some fun activities for couples are cooking classes, introductory scuba diving lessons, and dance lessons. They also offer spa treatments at the Mille Spa. However, the spa treatments are not covered in the all-inclusive offer.
This resort is a fan favorite as it has achieved multiple awards, such as the fourth-best Cancun hotel and the number 20 in best Mexico Resorts.
Some suites offer spa and pool views and large indoor and outdoor living quarters. Their spa-like bathrooms are equipped with rainfall showers and an ambiance that makes you want to stay forever.
This is a personalized paradise complete with Caribbean surroundings. Enjoy excellence at the Excellence Playa Mujeres resort.
IBEROSTAR Grand Hotel Paraiso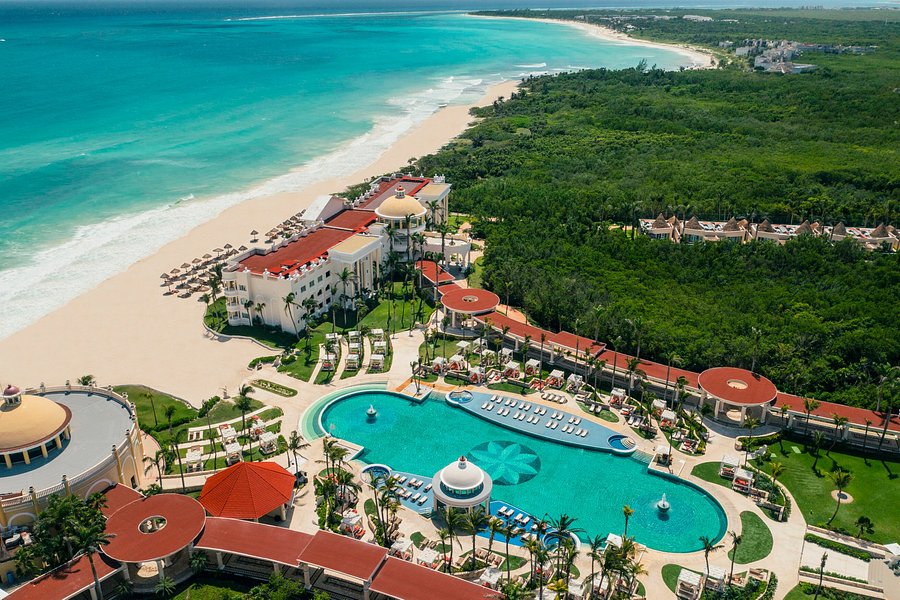 The IBEROSTAR Grand Hotel Paraiso is the eighth-best all-inclusive resort in Mexico. This resort sits up in the middle of Playa Del Carmen and features water sports facilities and a tennis court for its visitors to enjoy.
They also offer a car rental service for guests, which gives them the option to get out and enjoy the surrounding areas during their stay. Visitors get a free continental breakfast each day with the leisure to enjoy available meals at their in-house restaurants.
There are seven on-site restaurants, including Italian, Mexican, and Japanese options. Their on-site spa offers yoga classes, spa and wellness packages, steam room sessions, body treatments, pedicures and manicures, and sauna sessions at no extra cost.
Some spa treatments, such as massages and wraps, come in at an extra cost to the visitor. One great thing about this resort is that individuals who speak German, English, Spanish, and French can all enjoy what the resort offers without the stress of any language barriers.
The IBEROSTAR Grand Hotel Paraiso is an adult-only facility. Their indoor pool is only available during certain times of the year. If swimming is something you are interested in, be sure to do your research to determine what time of the year they are available.
Beloved Playa Mujeres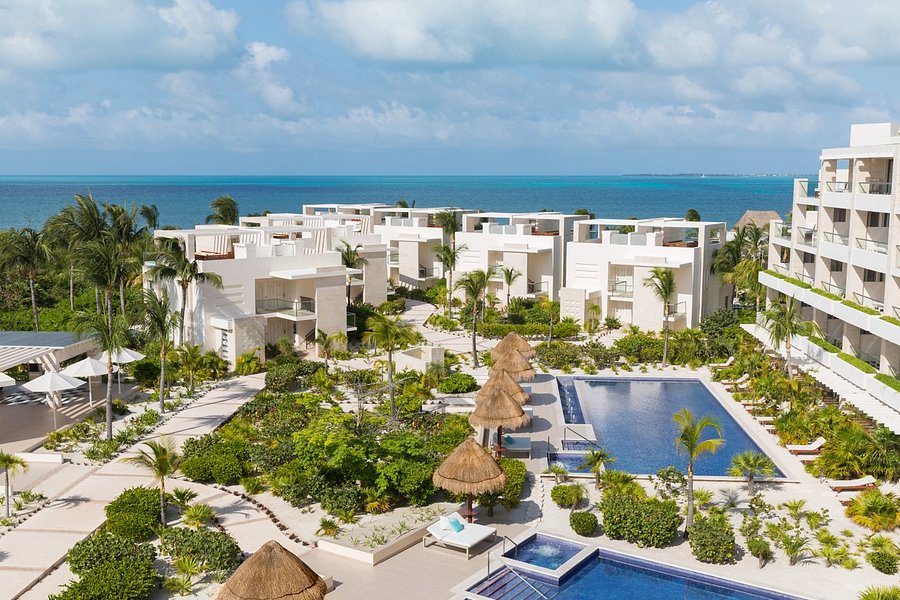 The Beloved Playa Mujeres is the ninth-best all-inclusive Resort in Mexico. It provides its guests with a romantic atmosphere that showcases the sunrise each morning.
The Beloved Playa Mujeres sits on a remote white sandy beach and overlooks the island of Isla Mujeres on the horizon. Walk on the beach with your partner and breathe in the ocean air. Listen to the soft calls of the sea birds and feel the Caribbean breeze flow through the palm trees.
This lovely hotel offers wedding services and has an on-call doctor. If you bring your children and want to spend a few hours with your partner alone, they also provide babysitting. They truly offer the best at-home experience away from home.
Wellness facilities at this hotel are spa services that include massage, Turkish baths. The hotel has a fitness center, yoga studio, and beauty salon.
Fun activities for you and your family to participate in include biking, golf, tennis, skiing, snorkeling, kayaking, and beach volleyball.
We always love the resorts that offer laundry facilities because when you bring your family along, accidents can happen that will require a quick visit to the laundromat so that you can get back to enjoying your vacation.
It saves you money not having to buy new clothes during your trip.
Secrets Maroma
The Secrets Maroma Beach Riviera Cancun Resort is the tenth best all-inclusive resort in Mexico. This adult-only resort is rated a 9.4 by couples and has 13 outdoor pools, seven restaurants, and a coffee shop. It also offers a wide variety of on-site activities like yoga and scuba lessons.
Every visitor will have a chance to enjoy their warm bathrobes and marvel at the beautiful marble floors and countertops in the bathrooms. Some other amenities here are hot tubs and specialty restaurants with Italian, French, Mexican, and Asian cuisine.
This all-inclusive resort offers other activities: dance lessons, beach and pool volleyball, bingo, mini-golf, water aerobics, and archery, among others. Diving and snorkeling are offered at an extra cost.
Cancun's nightlife entertainment area is less than 30 minutes away if you decide to get out and experience life outside the resort.
That completes the list of the top 10 all-inclusive resorts in Mexico, but before you go, there's more!
Other Notable All-Inclusive Resorts in Mexico
Now that we have identified the ten best all-inclusive resorts in Mexico based on the U. S. News World Report let's dive into other notable alternatives that you should know about.
Azul Beach Resort Riviera Cancun
The Azul Beach Resort Riviera Cancun is a special place to visit. It is a much smaller resort with less foot traffic. It's generally calmer but still gives you a positive experience with your family.
It is a family resort that can accommodate up to three children. The rooms are very modern and stylish. Available amenities include jacuzzi tubs, rainfall showers, and furnished balconies. One exciting option is the swim-up pool access.
The Azul resort offers a playhouse for young children. It is essentially a supervised environment to leave your children while you enjoy a nap or some alone time with your spouse.
Don't worry about your children while they are at the playhouse. They will be playing with other children and learning Spanish. They may even know how to make you a famous Spanish breakfast by the time you pick them up.
The activities don't stop there. Children have access to yoga and dance classes as well. No one is too young to learn self-care, right?
While the children are being looked after, you can visit the Vassa Spa and take advantage of a relaxing signature therapy like a mud massage or a cold water hydrotherapy course.
Other amenities include three pools, shaded cabanas, hammocks, snorkeling, and kayaking. Five on-site restaurants serve international food.
Some dinner options are sushi rolls, pasta, Mexican dishes, and several buffets. Buffets are ideal because they offer many options for everyone in one place. If you get something you don't like, you can just revisit the buffet and try something else.
Let's not forget that they offer live music and entertainment.
Generations Riviera Maya
The Generations Riviera Maya resort features an Eko Kids Club that teaches children about arts and crafts. It also has gaming consoles and books specifically for children between the ages of four and 12.
There is also a Little Eko Chefs program that lets children experience cooking on their own terms. Children aren't the only ones who can benefit from this program. Teenagers can utilize movies and the social media center.
Other amenities at the Generations Riviera Maya resort are family-themed in-room dining at night and designated family lounges with a library and reading area. They definitely focus on things that work for everyone in the family.
You can even travel with your baby. The resort offers some baby amenities: cribs, bottle sterilizers, strollers, and baby food. Families can enjoy dinners on the beach, and the perks don't stop there.
Enjoy a romantic dinner while your kids stay with the on-site babysitter. Enjoy that couple's massage and walk on the beach.
Fiesta Americana Condesa Cancun
The Fiesta Americana Condesa Cancun resort has a reputation for creating a fun family vacation experience. It's a beachfront resort that focuses on embracing Mexican culture.
Families can indulge in Mexican food, artistry, and music and have fun doing so. There is even a poolside Mexican Fiesta. Each performer wears a costume. The kids will have fun throwing balloons and eating churros.
Families interested in learning more about local culture will enjoy the experience. The resort offers excursions to Chichen Itza and Xcaret. You and your family can even be picked up from the resort.
And don't worry about the price. It's all included in the all-inclusive rate.
Grand Residences Riviera Cancun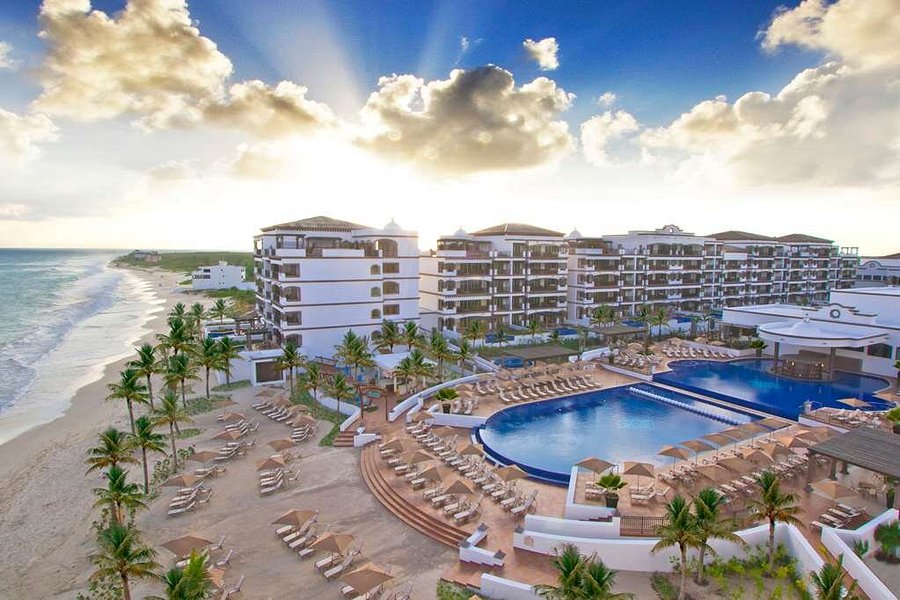 The Grand Residences Riviera Cancun resort is known for its large family suites. There is nothing like having a big open floor plan to stretch out and enjoy your family. Some of the suites offer three bedrooms.
Each suite has a kitchenette or full kitchen and a private balcony or terrace. What better way to keep your family safe than keeping them all in one place with access to a patio?
You can also elect to stay in a suite with a washing machine and a dryer.
The Grand Residences Riviera Cancun resort has on-site restaurants and a kids club for children between 4 and 12. They also have an activity center that features water and land sports equipment, pools, and a spa. There is something for everyone to enjoy.
Moon Palace Cancun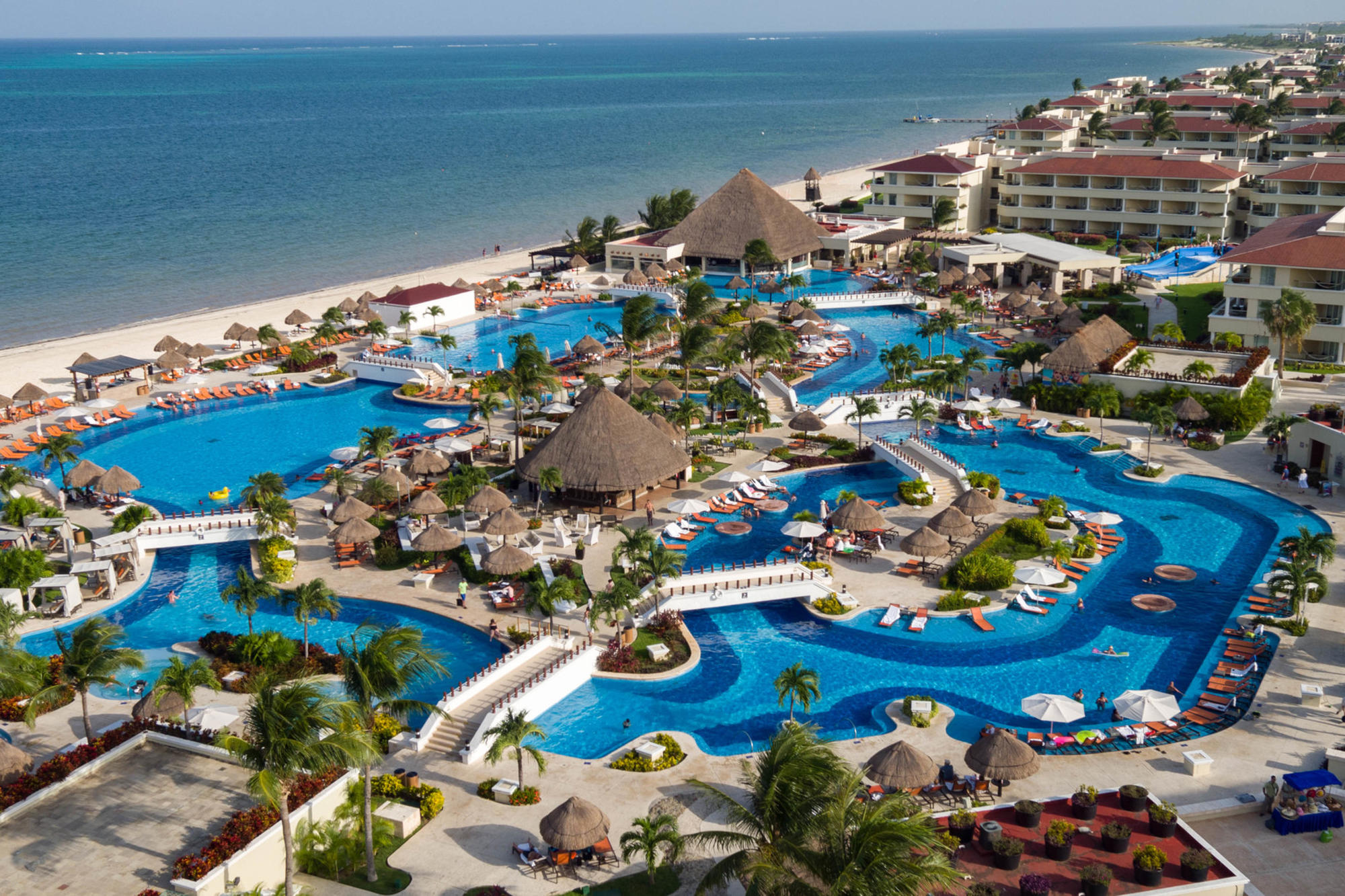 The Moon Palace Cancun resort is known for offering a great vacation experience that is more bang for your buck. The resort has nine swimming pools, a kids and teen club, and in-room video gaming systems.
The in-room video gaming system is ideal for relaxing while the kids play.
The resort is connected to the Nizuc and Grand Moon resorts. All three resorts share dining and amenities as well as shared programming. So this means that if your favorite restaurant is at the Nizuc resort, your family can eat there without having to pay extra money.
Did we forget to mention that the resorts are minutes away from the Cancun International airport? Now you don't have to worry about rushing to make it to the airport on time. Just remember to pack the night before.
Dreams Tulum Resort and Spa
The Dreams Tulum Resort and Spa is a great vacation destination if you are looking for a more relaxed atmosphere that's safe for everyone. The resort is on an isolated stretch of beaches north of Tulum.
The Resort is stunning to look at and experience. Beautiful gardens surround it. The buildings remind you of a country club and are made with hardwood floors and marble finishes.
Dreams feature a children's center that has fun activities for your kids to enjoy, like wall climbing and video games. It even has a waterpark with slides. Other kid-friendly activities are treasure hunts, sandcastle contests, and arts and crafts events.
It's so important to give children a great family experience. Making it an opportunity to learn makes them well-traveled and well-educated.
Don't think we forgot about the adults. While the children are having fun and learning, parents can enjoy an excellent massage therapy session or a traditional temazcal ceremony at the Dreams Spa.
What is a temazcal ceremony?
A temazcal ceremony is a Mexican tradition in which participants sit in a traditional sweat lodge to soak up its therapeutic benefits. The ceremony lasts for at least two hours and is led by a Shaman or spiritual leader.
Sandos Caracol Eco Resort
The Sandos Caracol Eco Resort provides eco-friendly experiences in natural surroundings. The resort is also known to have one of the best water parks in Mexico, which is a win-win for a family vacation.
Rock climbing and looking at animal statues while running through splashing fountains will create an unforgettable experience for the entire family. Let's not forget that there are attractions in the waterpark for more minor children and teens.
Smaller children can enjoy sliding down one of the many waterslides, while older kids and adults can rock out on a giant tube slide. Feel your stomach tighten up while your adrenaline rises.
Remember to take pictures of the giant mushrooms at the entrance of the kids club. The kids' club features a large indoor playground with slides, a ball pit, a movie theater, and a climbing wall.
There is also a natural cenote filled with crystal-clear water for snorkeling, and experiences in the surrounding natural environment include jungle bike rides, river cruises, and tree plantings. One notable experience is the rescue animal park with donkeys, macaws, and other domestic animals.
Many who visit the Sandos Caracol Eco resort talk about spotting wild animals during their visit. It's always lovely to see animals that aren't native to your hometown.
Wrapping Up
Mexico is a beautiful place to visit no matter what time of year you choose to go. There are many all-inclusive resorts for you and your family to enjoy. Save money and take the guesswork out of enjoying your favorite vacation.
Whether you choose to make it a romantic getaway or make it a full-on family staycation, Mexico has a budget-friendly option with all the amenities you prefer. From secluded private resorts to large open spaces, Mexico has an option that exceeds your needs.
Focus on enjoying your family and creating an unforgettable experience that will last a lifetime. Book your next stay at one of the 10 ten all-inclusive resorts in Mexico or choose one of the other great resorts and bring your children and furry companions along.
Now that you have a list of all the best resorts in Mexico, it's time to start planning your next vacation at one of the best all-inclusive resorts in Mexico.
More about our TFVG Author
A seasoned traveller, Dad, and avid sports tourist, James foundered The Family Vacation Guide to share his expert vacation experiences- especially when it comes to being a travelling family man.
Featured in Travel articles such as Travel + Leisure, TripSavvy and SFGate, you know you're reading some of the best vacation tips online.