Kansas City, Missouri is a vibrant holiday destination known for its jazz culture, steak houses, and BBQ cuisine – and its thrilling water parks!
You're spoilt for choice here, but we've given our top two recommendations in this article.
We know you don't want to waste time in transit, so why not stay at the on-site resorts? They have everything you need for the vacation of a lifetime!
The following water parks have hotels that offer hearty dining options, luxurious rooms, and excellent facilities and amenities- whether you're there for business or pleasure.
They also have rave reviews, with many families and conference planners returning year after year!
Both resorts have impressive conference facilities and meeting spaces, making them ideal for family reunions and work functions. Book now to secure your spot!
Great Wolf Lodge Kansas City
Great Wolf Lodge is one of the most exhilarating water parks in Kansas City.
Just 13.6 mi from the city center, it covers a massive 38,000 square feet. This water park caters to all ages and abilities, with slides and activities for toddlers, children, teens, and adults alike!
Of its 12 major water adventure attractions, the Howling Wolf is the biggest, most exciting slide.
With its dramatic twists and turns, you have just a second to catch your breath before being dropped straight down into the plunge pool!
The best of the open-air slides is the Triple Twist that drops- you guessed it- three times in ever-descending loops.
Those of you who are cowboys at heart will enjoy staking your claim in the Water Fort Tree House, which truly has to be seen to be believed.
In addition to the permanent indoor and outdoor water park features, this resort has an events program that changes throughout the year. As such, there's always something fresh and exciting to do!
Mom and Dad can relax in the hot pool or practice mindfulness in a yoga studio while the kids attend an art class.
The teens may want to revisit memory lane in the video game arcade, play mini-golf, or have fun with the interactive MagiQuest game!
You won't want to miss a moment of water-based activities, so be sure to check out the delicious dining options onsite.
Freshwood Markets have a wide range of healthy options for poolside snacks and drinks. If you're after treats, then try Bear Paws Treats and Snacks for pastries, ice-creams, and confectionery!
For more substantial appetites, sit under the tent at Camp Critter Bar and Grill and enjoy the buffet, salads, and sandwiches. The chicken wings here come highly recommended!
Another option is Buckets Incredible Craveables, which is exactly as it sounds- simply irresistible. The "bucket" includes ice cream, cookies, chocolate, decadent sauces, and more!
For the convenience of ordering and pick-up (not to mention deliciousness), Hungry as a Wolf serves pizza, garlic bread, and salads.
The Great Wolf Lodge can cater to large groups with its banquet facilities, buffet, or plated five-course menu options.
When it comes to accommodation, guest rooms come with air-con, a bathroom, TV, mini-fridge, microwave, and at least 4 passes to the water park. Your reservation buys you unlimited time in the park and life jackets and towels.
The standard rooms, priced from $170, sleep 6 people. These rooms have 1 or 2 queen beds and sofa bed configurations.
The premium rooms (which start at around $220) are suitable for up to 12 people. They have more space, and provide the option of extra sleeping quarters in the upstairs loft!
However, what people really come here for are the themed rooms.
You have an exciting choice between a "log cabin", or a "cave"! These guest rooms blend the "camping out in the wild" experience with the comfort of a luxury resort.
They sleep up to 6 people and are priced at $180 per night upwards. Quite the bargain, if you ask me!
Sleep Inn & Suites Lagoon Indoor Water Park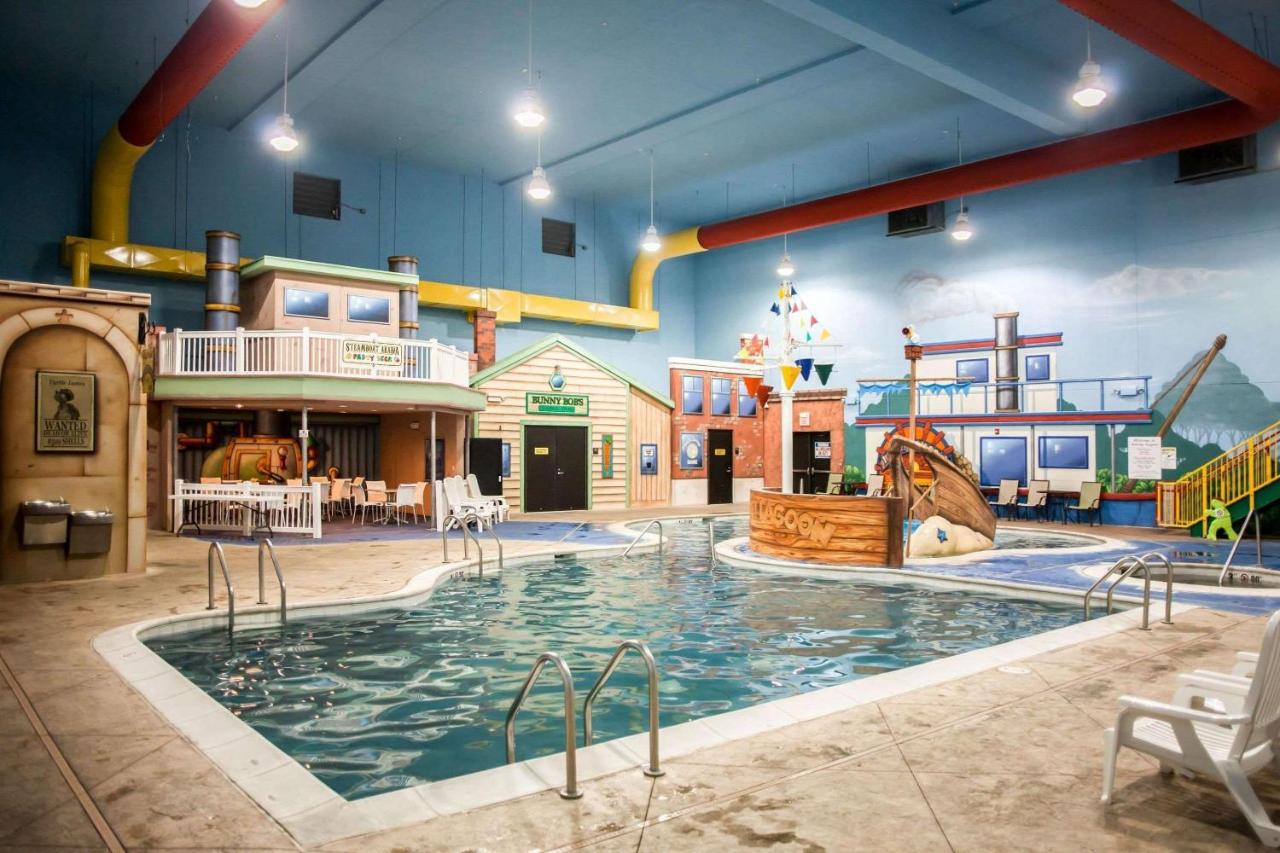 Liberty has a mixture of beautiful outdoor spaces, parks, great shopping, and historic architecture.
The Sleep Inn & Suites Lagoon Indoor Water Park is located in the center of the main attractions.
As well as easy access to the water parks, other nearby attractions include the Nelson-Atkins Museum of Art and the Kansas City Zoo.
The Sleep Inn & Suites is not far from the famous Worlds of Fun and Oceans of Fun, but you don't even need to step outside the resort unless you want to.
This is because its main attraction is the 5000-square-foot Liberty Lagoon Indoor Water park- complete with slides, water features, and fountains!
This water park is renowned for its 3-story slide that loops out of the building and then back in again.
It will terrify some- and then inexplicably have them coming back for more! There is also a lot for the little ones to do in the kid-friendly pool, with its own slides and cute water playground.
The Sleep Inn & Suites resort is absolutely luxurious with massage, family hot tubs, indoor whirlpools, and spa facilities to make you feel special and pampered. It even has its own golf course and gym!
The rooms have 1 king bed or 2 queen beds and are priced between $130-$150 per night.
Depending on which room you book, a number of free passes to the water park are included so you can sidestep the hassle of booking online!
Each guest room has an ergonomic work desk and chair, so you can catch up on some work if you really, really want to. Alternatively, just relax with your complimentary newspaper and drink!
Even better still for some, watch your favorite shows for hours on end many of the rooms have cable TV, after all.
Continuing with the watery theme, the king rooms have massive walk-in showers. And, if you're too full of adrenaline from your day at the waterpark to fall asleep, be sure to check out the free sleep and relaxation apps available!
The guest rooms all come with a microwave, mini-fridge, and coffee and tea-making facilities, The more up-market rooms provide free toiletries and a mini-bar.
However, you really won't need to cook, as the hotel offers a free buffet breakfast and has its own restaurant and bar on-site (as well as plenty of vending machine snacks and drinks).
Finally, for a special occasion such as a birthday or family reunion, it's certainly worth celebrating it at the Sleep Inn & Suites Lagoon Indoor Water Park Party Room!
More about our TFVG Author