Great Wolf Lodge is a chain of resorts across the United States, with one location in Canada.
The resorts contain family-friendly attractions great for all ages, such as indoor water parks, arcades, spas, and restaurants.
If you are considering a visit to Great Wolf Lodge, we've put together this ultimate guide to help you plan your stay!
You'll find useful information about dining, attractions, lodging, and the various locations across the United States.
Reasons to Visit Great Wolf Lodge with Kids
Great Wolf Lodge is an incredible attraction for families with children.
Whether you want to book a holiday getaway, your yearly vacation, or have a special moment to celebrate, your family will be excited to spend a few nights at these miraculous resorts.
Since the resort locations all feature indoor water parks and activities, you do not need to worry about the temperature outside to have some summer fun.
Accommodations
Great Wolf Lodge features spacious, luxury rooms with accommodations for children, and in-house restaurants, shops, and activities.
With so much right inside the buildings, there is no need to drive anywhere or step outside. You will have an oasis with everything you need at your fingertips!
Each lodge has a unique design, so even if you have already visited a Great Wolf Lodge, it would be worth checking out one of the many other locations!
Pricing
While a stay at Great Wolf Lodge can be expensive, it is much easier on the wallet than more prominent resorts such as Disney World, with the added benefit of being contained to one location.
Additionally, the various locations offer specials throughout the year. If you are flexible on the dates you travel and the date you book your stay, it is possible to book your room at a steep discount. 
Things to do at Great Wolf Lodge with Kids
Great Wolf Lodge boasts tons of activities sure to put a smile on your children's faces.
Their massive indoor water parks vary by location. They contain a variety of aquatic activities such as water slides, swimming pools, wave pools, lazy rivers, and splash pads.
There are also outdoor pools and activity areas with water basketball, fountains, and hot tubs at some locations.
Each stay at a Great Wolf Lodge includes access to the water park and free activities in the lobby.
These free activities include yoga classes, appearances and shows by memorable characters, storytime, arts and crafts, games, and seasonal activities, depending on when your visit occurs.
There are also additional paid activities.
Great Wolf Lodge is home to a plethora of exciting activities. Attractions vary by resort location, but each lodge has more than enough fun for your family to enjoy!
Great Wolf Lodge features an exciting indoor interactive virtual game called MagiQuest. This game is live-action.
Participants use a magic wand (which they can then take home as a souvenir) to complete quests and explore a magical world. Your wand even saves your progress so that you can continue your game at another time!
Other activities include a ropes course, bowling, miniature golf, a gem mining experience, a rock climbing wall, and an arcade.
Lodges also feature in-house Build-a-Bear Workshops where youngsters can create a loveable stuffed friend to bring home as a remarkable memory of your trip!
While the paid activities are an additional cost, you will be offered to add on activity packages for each person when you book your stay. Different levels provide access to different activities.
The three levels for the passes are the Pup Pass, Paw Pass, and Wolf Pass.
Using the activity passes will help you save some money while planning for a fun-packed visit!
Everything You Need to Know About Great Wolf Lodge Rooms & Suites
The rooms and suites available at Great Wolf Lodge are top of the line.
They have accommodations that will fit large families or groups.
The rooms available at the Lodge contain different combinations of beds to fit your needs. They are ideal for families who need space for children and adults to sleep comfortably.
There are standard suites, which have more traditional hotel layouts and are great for those with a small family (though they can accommodate up to six depending on the suite chosen) or who prefer the comforts of a traditional hotel room.
Themed Suites, such as the Wolf Den Suite or the Kid Cabin Suite, are designed to have separate sleeping areas for children and adults.
They are roomy and are decorated to captivate the younger members of your party.
The Premium Suites are for those guests who need a spacious room that can accommodate many people.
The room sizes and occupancy vary by location, but some may be able to comfortably sleep twelve guests in one room! These deluxe suites are luxurious and fun for all ages.
All rooms at Great Wolf Lodge come equipped with Wi-Fi and a kitchenette featuring a mini-fridge, microwave, and coffee maker.
An added benefit to booking your suite directly from the Great Wolf website is their Best Rate Guarantee. Great Wolf Lodge will match the price if you find a better deal on another website for the same suite package. This must be done within 24 hours of booking, so be prepared to submit the better rate before you book.
Food & Drink at Great Wolf Lodge
With so many options for in-house dining available, there is no need to re-enter the outside world during your stay at a Great Wolf Lodge resort.
Bring your own Food
Guests do have the option of bringing food and drink into their suite if they do not wish to solely utilize the restaurants at your location.
With a mini-fridge and microwave, you won't be cooking up gourmet meals, but you will be able to heat small meals and snacks for your family.
Order one of the Dining Packages
Great Wolf Lodge offers add-on dining packages at a discount when you book your stay.
You can choose from various dining packages to receive a credit to be used in any of the in-house dining locations.
If you are planning on purchasing food during your stay, we highly recommend the dining plans. You are purchasing dining credits in a dollar amount at a discount.
Visit a Restaurant Nearby
These are just some of the restaurants available, and of course, they will vary by resort. Check your specific location on the website and review your options under the "Dining" tab.
Some Great Wolf Lodge locations have an in-house full-service Starbucks for your caffeine needs. If the coffee maker in your suite isn't cutting it, you can head to Starbucks for a venti iced mocha or a chai tea latte! Whatever your drink choice, you don't have to miss out on your afternoon pick-me-up.
Don't see a Starbucks at your Great Wolf? Look for Dunkin' Donuts instead to grab a sweet treat or your favorite coffee.
For a wonderful and hearty breakfast, the Loose Moose Cottage is a family favorite. They offer signature wolf waffles for the little ones.
However, the Loose Moose Cottage is not just a breakfast joint! They offer a variety of food sure to satisfy everyone.
While at the water park, you are sure to feel a little hungry and need a mid-morning snack. Buckets Incredible Craveables is a poolside restaurant that offers premium burgers, sandwiches, and fresh salads.
Buckets has a signature treat called the Tipping Bucket. This shareable dish contains ice cream, candy, brownies, cookies, chocolate sauce, and whipped cream.
The Lodge Wood Fired Grill is your go-to for wood-fired steaks and smoked ribs. They offer freshly caught seafood as well as kid-friendly options like mac-and-cheese, wings, and burgers.
Lodge Wood Fired Grill even offers wallet-friendly two-dollar desserts. Don't forget to grab a cocktail while you are there.
It is recommended that if reservations are available, you reserve a table early at Lodge Wood Fired Grill. It is a popular location with terrific food and fills up quickly.
Many options are available at the various resort locations, including pizza, snack foods, burgers, fine dining, and more.
Some locations, like the Boston, Massachusetts Great Wolf, even have a brewery where you can sample local craft beers!
Be sure to check out your specific location on the website – or download the Great Wolf App. Review your dining options and arrive hungry!
Great Wolf Lodge Locations in the US
Great Wolf Lodge is an expansive enterprise with nineteen locations in the United States. There is even one location in Canada.
We have gathered the most interesting and essential information about each of the American locations.
Great Wolf Lodge Anaheim / Garden Grove, California
This 121,000 square-foot resort in California is the largest Great Wolf Lodge property. 
It opened in 2016 and is located just 15 minutes south of Disneyland. That makes this a great location if you plan on a longer vacation and are interested in visiting the parks.
However, there is so much to do at the Anaheim Great Wolf Lodge that you won't even need to go to Disneyland!
The Anaheim location features an outdoor poolside grill called Grizzly Jack's during the summer.
Not only is there an arcade and bowling, but there is also Howl at the Moon Glow Golf, which the little ones are sure to love.
Great Wolf Lodge Atlanta / LaGrange, Georgia
The location near Atlanta, Georgia, was the 16th addition to the chain of resorts, opening in 2018. 
This resort features Timbers BBQ, offering ribs and a Southern staple: pulled pork sandwiches.
There is also an Iron Horse Fitness Center, which is available at most resort locations. This fitness center features a towel service, flat-screen TVs, and both cardio and weight training equipment.
Inside the resort, there is a gift shop, candy store, beachwear store, and a Camp H.O.W.L. Kids store where your children can purchase licensed merchandise to commemorate the trip.
Great Wolf Lodge Baltimore / Perryville, Maryland
Great Wolf Lodge Baltimore in nearby Perryville, Maryland, is not yet open.
This will be the 20th location and is slated to open in 2023.
The resort will feature 700 suites and will take the title of largest Great Wolf Lodge from Anaheim with a whopping 126,000 square feet.
Great Wolf Lodge Baltimore will occupy 48 acres in Cecil County, Maryland, and will have all of the amenities and activities of previous Lodges. There are also conference centers and event spaces planned.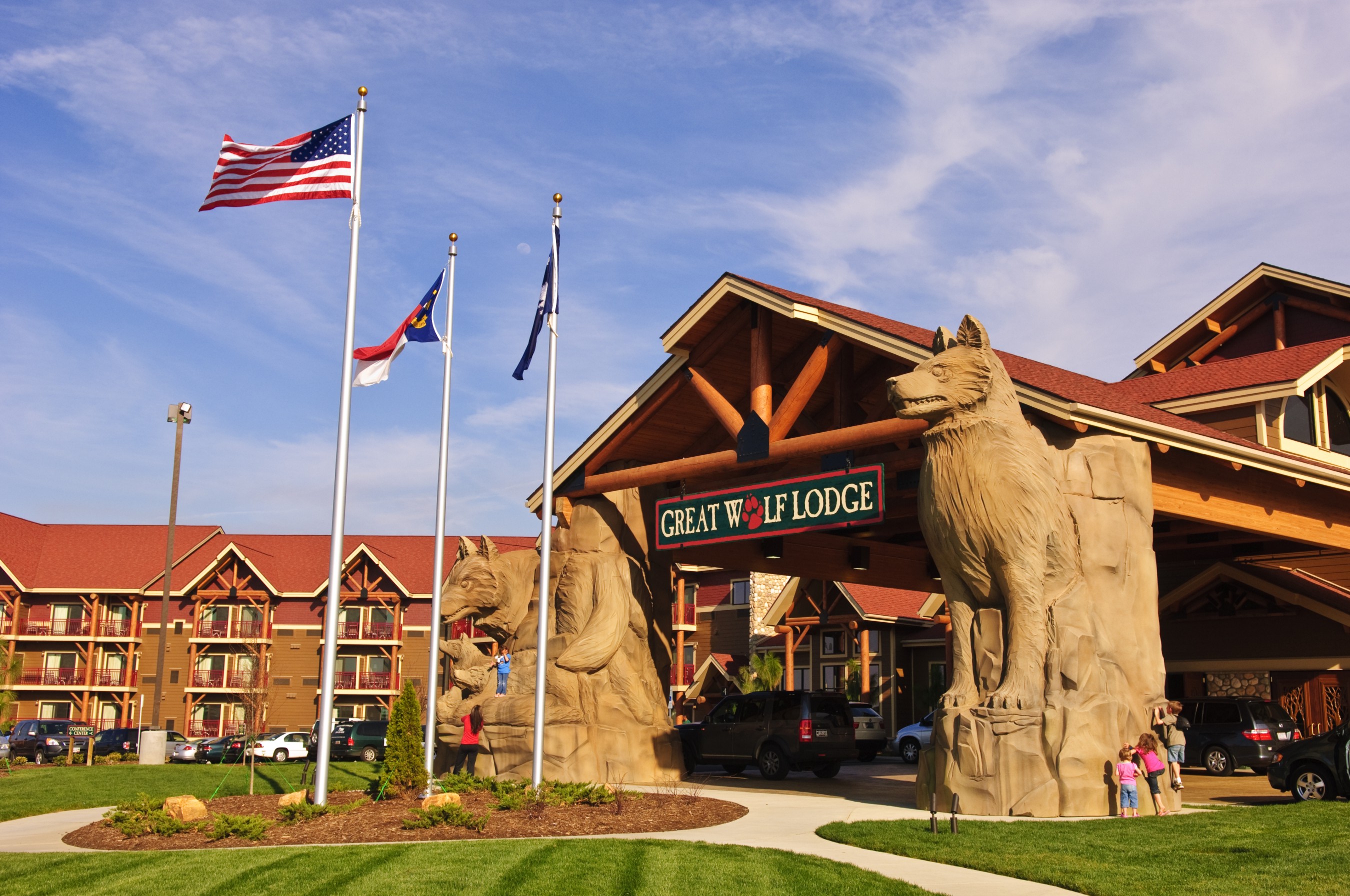 Great Wolf Lodge Charlotte / Concord, North Carolina
Great Wolf Lodge in Concord, North Carolina, just north of Charlotte, has suites that can accommodate up to 10 guests at a time.
There is a large variety of attractions available at this location, such as gem mining, an arcade, laser tag, a ropes course, bowling, and mini-golf.

There is also a unique game called AtomicRUSH in which families compete together to solve puzzles against a timer. 
Great Wolf Charlotte has ShadowQuest and CompassQuest in addition to MagiQuest. These are newer expansions to the MagiQuest franchise, providing an exciting gaming experience for all.
Great Wolf Lodge Chicago / Gurnee, Illinois
The Lodge in Gurnee, Illinois, features six indoor pools, an outdoor pool available seasonally, and a children's pool.
This resort, like many others, offers Day Passes to the waterpark, which allows you to enjoy a day at the park without booking a suite.
With eight on-site dining locations, including Freshwoods Market and Ben & Jerry's, you will be satiated your entire stay.
In addition to storytime, yoga, and arts and crafts, if you're looking for fun during your visit, there are great attractions!
A ropes course, climbing wall, and mining experience are just a few of the terrific options you will have to entertain your family and keep everyone happy and active.
Great Wolf Lodge Cincinnati / Mason, Ohio
This Ohio location offers seven dining areas and has incorporated the Great Wolf mobile app for contactless dining.
Like all other Lodge locations, they have strict health and safety protocols in place to keep all guests safe.
With a gift shop and a swimwear shop, guests can purchase souvenirs to bring home or attire for the waterpark.
The MagiQuest at this location also features the ShadowQuest and CompassQuest games. MagiQuest is a great way to add some magic to your stay.
By purchasing one of the activity passes (Pup, Paw, or Wolf), kids can enjoy a $5 credit to the Northern Lights Arcade, which is just one of the eight extra attractions available for guests at the Cincinnati Great Wolf Lodge.
Great Wolf Lodge Colorado Springs, Colorado
The Colorado Springs Great Wolf Lodge was the 14th Great Wolf location. It opened in 2017.
The signature water slide at this indoor water park is the Howlin' Tornado, which is six stories tall and has a thrill level rating of 'High'.
The resort also features the Wolf Tail, another High-thrill rated water slide exclusive to the Great Wolf chain.
Chinook Cove is an indoor activity pool that features a basketball hoop.
In addition to all the fun water attractions, Great Wolf Colorado offers late-night dance parties, Wolfercise aerobics classes, and nightly bedtime stories free for all guests.
Great Wolf Lodge Grand Mound, Washington
This indoor water park in Grand Mound, Washington, is about an hour and a half north of Portland, Oregon, and less than an hour away from Seattle, Washington.
With hundreds of trained lifeguards employed by this location, you can feel secure as you and your family embark down the six-story Howlin' Tornado, which seats two to four riders.
Being so close to Seattle, there is no surprise that Great Wolf Lodge in Grand Mound contains an on-site Starbucks. There are six other food and drink vendors too!
While the Oliver's Mining Co. mining experience is found at many Great Wolf locations throughout the United States, this location has the Moonstone Mine, which combines a difficult mirror maze with gem mining at Oliver's.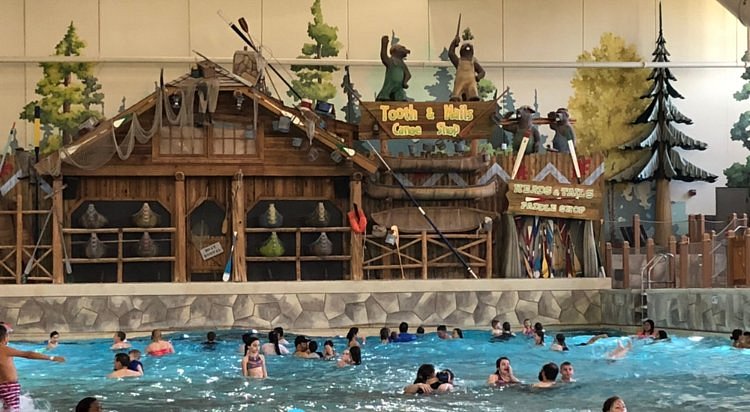 Great Wolf Lodge Grapevine, Texas
Is everything bigger in Texas? 
Not necessarily. This 80,000-square-foot resort is not the largest Great Wolf Lodge location. However, it is one of the grandest.
The location, which holds 605 guest rooms, underwent a multi-million dollar renovation in 2018. It has 12 different suite styles and, at the time of the renovation, had more rooms than any other Great Wolf Lodge.
Great Wolf Texas features the iconic Hot Springs: the adult-only North Hot Springs and the family-friendly South Hot Springs.
It is one of the many Lodges to boast a relaxing lazy river known as Crooked Creek.
Great Wolf Lodge Kansas City, Kansas
At just 38,000 square feet, this small Great Wolf Lodge in Kansas is packed with plenty of fun!
The Howling Wolf and Triple Twist are the two High-thrill rated rides in the 84-degree indoor water park.
There are also low-and-medium-thrill rides, such as the Alberta Falls, a four-story tandem tube slide.
For some dry fun, try the Laser Trail. This attraction in which you dodge laser obstacles is a guest favorite and provides excitement to all ages.
Of course, you can also visit the in-house Build-a-Bear Workshop to bring home a cuddly friend who will remind you of your magical stay.
Great Wolf Lodge Minneapolis / Bloomington, Minnesota
This unique location near the Mall of America is 70,000 square feet.
It was formerly known as the Water Park of America before being purchased and renovated by Great Wolf Resorts in 2017.
When you're done drifting down the relaxing Crooked Creek lazy river, try the Wolf Rider Wipeout, an exciting High-thrill surfing simulator.
After your day at the water park, perk up with Dunkin' Donuts or fill up at the Campfire Kitchen, two of the eight dining locations available at this resort.
Do not check out without experiencing the Howlers Peak Ropes Course or the Rustic Ridge Climbing Wall!
Great Wolf Lodge New England / Boston, Massachusetts
Great Wolf Lodge New England opened in 2014 and has more than 400 guest suites.
The indoor water park boasts the Wolf Tail Water Slide, a 20-foot drop, and a 360-degree turn.
For a fun family activity, check out the incredibly popular Forest Friends Show, a magical animatronic experience featuring storytelling and songs. The cost for the Forest Friends Show is included in your stay at Great Wolf Lodge.
This Lodge also features event space, including an outdoor lawn and conference rooms for birthdays, weddings, meetings, and more.
The city of Boston is about an hour's drive from the resort location, so there is plenty for you and your family to do while on vacation.
Great Wolf Lodge Pocono Mountains, Pennsylvania
This Pocono resort is only two hours from New York City, which means that there is no lack of nearby attractions.
The nearby mountains attract tons of visitors each year, and the Great Wolf Lodge is an oasis of fun and excitement nestled in between peaks such as Camelback Mountain and Jack Frost Big Boulder.
If you are headed to the Poconos for skiing in the winter, the 84-degree indoor water park provides the perfect contrast to the snow, so you can really have it all on your family vacation.
With seven restaurants and a plethora of free and paid activities, Great Wolf Poconos is a popular destination for all.
Great Wolf Lodge San Francisco / Manteca, California
This 95,000-square foot resort in California's Bay Area contains the winding Crooked Creek lazy river and the Wolf Tail thrill slide.
Among the variety of on-site restaurants is Wood's End Creamery, Great Wolf Lodge's popular ice cream vendor. The local news referred to their milkshakes as the "most decadent milkshake in Manteca."
After playing arcade games at Northern Lights, stop by Moonstone Mine for a thrilling mirror maze and gem mining experience.
The Manteca resort is slightly more than an hour's drive from San Francisco, which opens the door to loads of family-friendly experiences.
Great Wolf Lodge Sandusky, Ohio
Great Wolf Lodge Sandusky is about 25 minutes from Cedar Point amusement park, which means that you can plan a thrilling vacation for your family without much travel.
You can also explore Shoreline Park or the Pipe Creek Wildlife Area.
With more than eighteen activities and rides appropriate for kids and adults alike (and even more for just the older crowd), you will never be bored at Great Wolf Sandusky.
One of the more popular activities in the lobby is the Great Clock Tower Show, an experience your family will not be quick to forget.
Great Wolf Lodge Scottsdale / Salt River, Arizona
Located about a half-hour northeast of Tempe and Phoenix, Arizona, Great Wolf Lodge Scottsdale has a variety of exciting offerings.
One of the newer Lodge locations, Great Wolf Scottsdale, opened in 2019.
This location does not yet offer Day Passes, so you will have to book a suite at the resort to experience the large indoor water park.
With one High-thrill ride and thirteen low-or-medium-thrill rides, the Sandusky location water park is sure to give you a rush.
After some fun out of the sun, fill up at any of the nine dining locations. Among these is Hungry As A Wolf, which offers large pizzas and shareable pasta dishes served family-style.
Great Wolf Lodge Traverse City, Michigan
This location is five minutes from downtown Traverse City, Michigan.
It offers Day Passes for those guests who do not wish to stay at the resort.
Featuring Buckets Incredible Craveables and Hungry As A Wolf as some of the multiple dining options, this location leaves no guests hungry.
There are seven attractions in addition to all of the free activities. These include indoor bowling and mini-golf, as well as a Build-a-Bear Workshop.
Great Wolf Lodge Williamsburg, Virginia
This Lodge is about 15 minutes north of Colonial Williamsburg, a living history village that is popular with adults and youth alike.
It is also near Busch Gardens amusement park, and Ripley's Believe It Or Not! Museum.
The resort boasts five dining locations and has two High-thrill rated water slides.
Laser Tag and Howler's Peak Ropes Course are just two of the most popular activities offered by the Williamsburg location.
Great Wolf Lodge Wisconsin Dells, Wisconsin
The Great Wolf Lodge in Wisconsin Dells is the original location for the chain.
This waterpark was the first of its kind, opened in 1997. It was initially named "Black Wolf Lodge".
The Wisconsin Dells location proudly has seventeen unique experiences in its water park area alone, not to mention the free activities, paid attractions, and the plethora of dining experiences.
A visit to Great Wolf Lodge is a memorable experience that you and your family will cherish for years to come. Remember to visit the Great Wolf website to explore all of the available amenities at the location of your choosing!
More about our TFVG Author
A seasoned traveller, Dad, and avid sports tourist, James foundered The Family Vacation Guide to share his expert vacation experiences- especially when it comes to being a travelling family man.
Featured in Travel articles such as Travel + Leisure, TripSavvy and SFGate, you know you're reading some of the best vacation tips online.