Montana is the perfect country for your family vacation if you can't decide between mountains and lakes. Combining the best of both, rich in greenery, fresh mountain air, and crystal-clear lakes, Montana is the perfect place to recharge your batteries and have a fun getaway with your loved ones. All you need to do is find suitable accommodation for you and them.
You're lucky because below, you will discover the most beautiful lakes in Montana with cabins. So, read where they're located and what they offer, and decide which one is the best for you to book. There's no doubt that all of them will provide you with an amazing vacation and enjoyment.
Georgetown Lake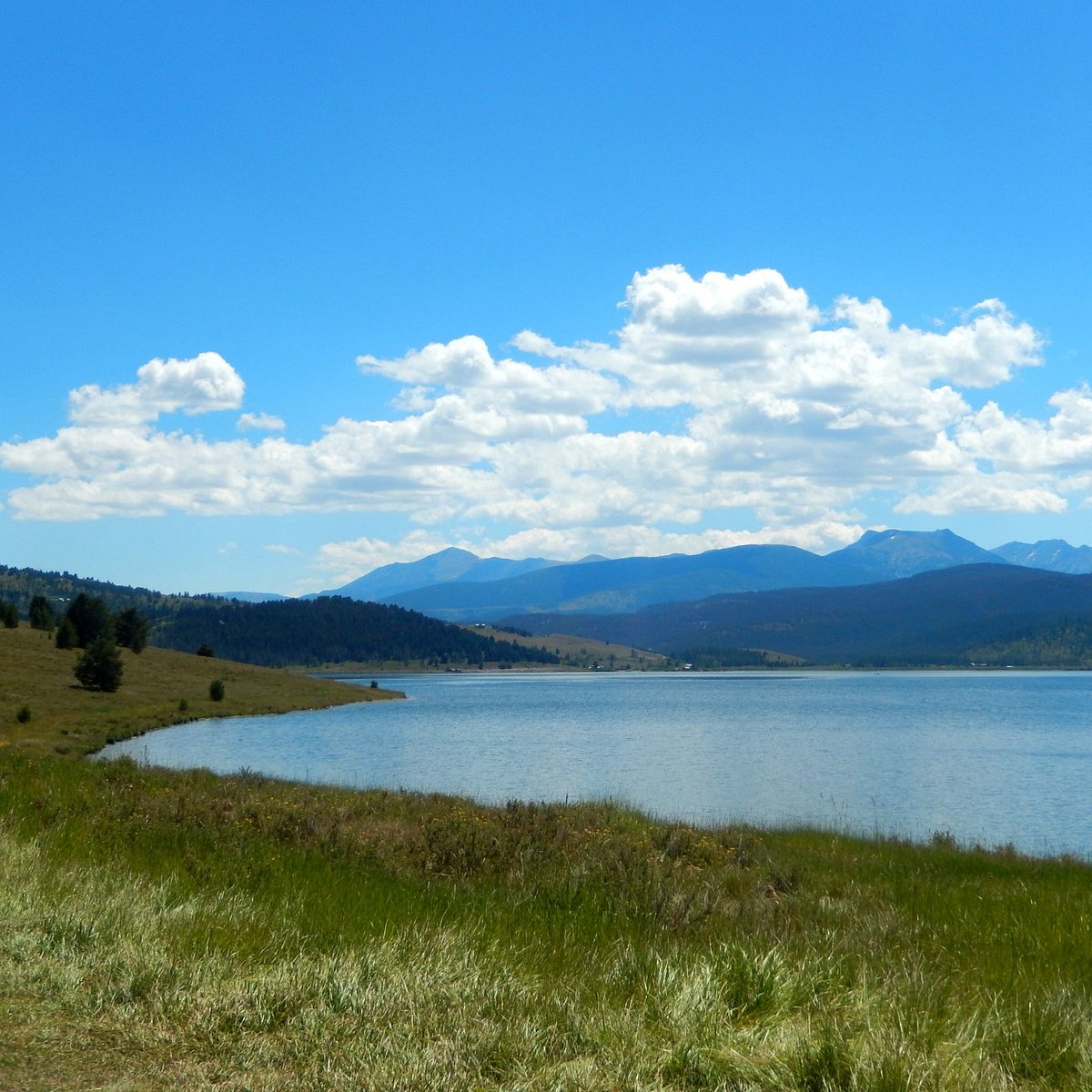 Georgetown Lake is located in Granite County and Deer Lodge County in southwestern Montana. Renting a cabin next to Georgetown Lake is a great idea, as this lake offers many recreational activities.
Because mountains surround this lake, renting a cabin next to it in winter is ideal if you love skiing. The ski resort named Discovery Ski area is only six miles from the lake, known for its suitability for beginner skiers but also experienced ones.
In the summer, the water quickly warms up, so you can enjoy a refreshing swim or go fishing which is a common activity on this lake. You can even drive a boat or a canoe and enjoy the wilderness and greenery around you.
Whispering Pines Guest Cabin
Among the many commodities available near this lake, you'll find the Whispering Pines guest cabin. Cozy is the word that best describes it. The parking is free and on-site, and the cabin is pet-friendly, so when saying it's great for a family vacation, this also includes your furry members. The Whispering Pines is just a half mile from Georgetown Lake, so let's see what else it offers.
Things the cabin offers
Since this charming cabin has a hot tub on the patio, if you book this cabin during the warm months, you can tan yourself there or relax with your partner while watching the kids play. You can also use the barbeque and make a delicious meal for all your family. Whispering Pines Guest cabin is cozy and ideal if you want to relax. If you decide to visit this cabin during the colder months, the fireplace in the living room will always keep you warm.
Private, family-friendly, and comfortable, you'll have a great time staying in this cabin. Even better, you won't have to worry about security thanks to the cameras in front of it.
Additional information
Southern Cross Cabin
The Southern Cross cabin is just a couple of minutes away from the lake, and it's an ideal accommodation for a family vacation thanks to the spaciousness it offers. Located among the tall pine trees, you'll be surrounded by greenery and nature while, at the same time, you'll enjoy the spectacular view of the beautiful Georgetown Lake.
In this cabin, you'll get absolute peacefulness and relaxation, besides the other things it offers.
Things the cabin offers
The Southern Cross cabin has a sauna, and a little pampering has never hurt anyone, so feel free to use it as much as possible. The fully equipped kitchen and the gas grill on the porch are all you need to make and enjoy the tastiest meal ever. The porch offers a fantastic view, and probably, that'll be the place you'll love to spend time in.
The outdoor fire pit will bring many exciting nights of games and conversations between everyone. You wouldn't want to miss gathering the whole family around it.
Additional information
Flathead Lake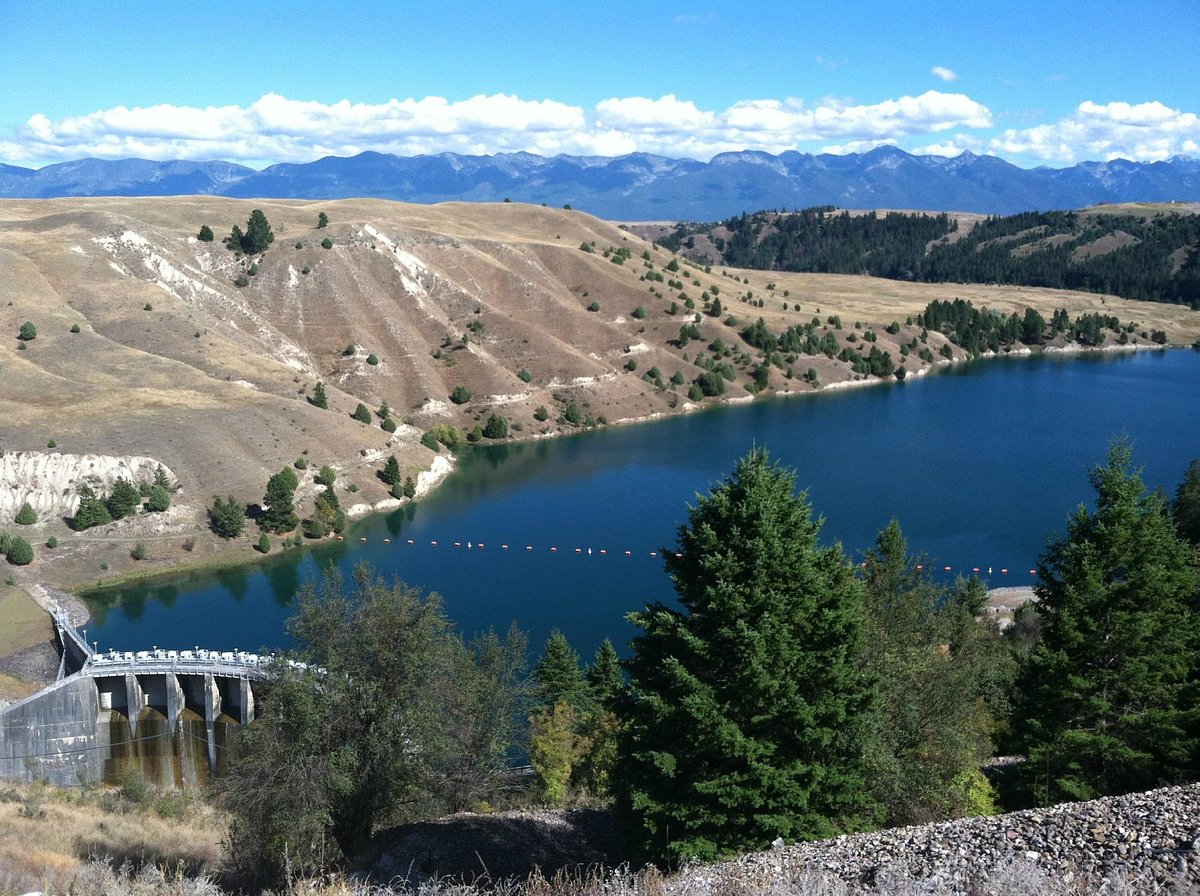 Flathead Lake is located in northwest Montana, and it's considered one of the cleanest lakes in the world, so swimming in it is something you shouldn't miss out on.
There are a lot of hiking trails beside Flathead Lake, so hiking is a great activity.
Additionally, you can always plan a picnic along the lake's beautiful nature and enjoy the breathtaking views.
Wild Horse Island is accessible only by boat, but the trip is worth it. The island is filled with wild horses, deer, various birds, and many other animals, so your kids will have lots of fun discovering the wildlife. To make things easier, below are two amazing cabins you can book for your visit.
Somers Bay Cabins
The Somers Bay Cabins is just a two-minute walk to Flathead Lake Somers Beach, offering you seven cabins equipped with all the essentials. Cabins one, five, six, and seven have a sleeping capacity for four people and other ones for two.
The Hockaday Museum of Art is only 20 minutes from the cabins, and the breathtaking Purple Mountain Lavender farm is even closer, just 15 minutes from the cabins. If you're planning on visiting in winter, riding in a sleigh will be an unforgettable experience for the entire family.
Things the cabins offer
All of the cabins have private barbeque grills and flatscreen TVs. They're also equipped with air conditioning and Wi-Fi, and some even come with an electric fireplace.
There are many beautiful cabins that provide enough room for a family of three or four, so head on to the website to book the cabin you like the most. They're in a quiet location, cozy and comfortable, surrounded by greenery, and placed just by the lake.
Additional information
Stoner Creek Cabins
On the west shore of Flathead Lake, you can find the simple yet comfortable Stoner Creek Cabins, amazing for two people or a small family. The eight cabins are within walking distance of many coffee shops and restaurants. Also, they're hand-built, which makes each of them one of a kind.
Things the cabins offer
The cabins come with a fully equipped kitchen and a Nespresso machine, allowing you to enjoy a delicious cup of coffee in the morning on the patio. The patio is spacious, and you can enjoy the sun and nature around it. These cabins are pet-friendly, so you can bring your pet without paying any additional fees.
Moreover, the private fire pit will keep you warm on colder nights, and the outdoor area is great for enjoying a delicious meal made on the grill you can find in front of the cabin.
Additional information
Whitefish Lake
Whitefish Lake is located in northern Montana and, hence the name, it has a large amount of mountain whitefish in it. That said, if you want to spend your time fishing, you can do so from the shore or, even better, by using a boat.
Because of its cold water, the lake is great for boating and kayaking. Still, there's a great city beach with shallow water, so if you're planning to visit in summer with your kids, they'll have a lot of fun swimming here.
But, if you're up for a little adventure, you can easily rent a canoe or kayak. Besides, of course, this wouldn't be possible without adequate accommodation, and the best ones are below, allowing you to see why Whitefish Lake is one of the most visited lakes in Montana with cabins.
Echtra Cabin
If you have a big family, Echtra Cabin is ideal because it's more than 4000 square feet large. Fully furnished and located just a 13-minute drive from Whitefish Lake, this cabin has everything you'll need, no matter the season you're visiting.
The Echtra Cabin is located at the Whitefish Mountain Resort. The location is great because you can quickly drive to the lake and chill. You'll also enjoy mountain biking, hiking, or even zip lining.
Things the cabin offers
Echtra Cabin has five bedrooms, so everyone in your family will have lots of space. In addition, being equipped with four bathrooms and three TVs will allow everyone to have a bit of privacy when needed.
Furthermore, you can use the outdoor hot tub that's big enough for six people and spend the nights under the starry skies. The three fireplaces and the large deck will be great areas for gathering and making lots of memories with your family.
Additional information
Lakefront Paradise
Lakefront Paradise is the perfect place to stay with your family as this accommodation has it all. Located beside Whitefish Lake, its sleep capacity is enough, even for 10 people.
The city beach is 15 minutes drive away, and Downtown Whitefish is just a 10-minute drive away, filled with shops and bars. So let's see what else Lakefront Paradise has to offer.
Things the cabin offers
The Lakefront Paradise has four bedrooms, and two bathrooms, allowing everyone the needed privacy and peace. The light, warm interior, and the wood fireplace will make you feel cozy, just like being at home, and the big windows will provide you with a magnificent view. The kitchen is fully equipped, and from the dining area, you can look directly at the lake.
Furthermore, you can even use the private dock and relax fishing or chill in the private hot tub away from everything and everyone.
Additional information
Seeley Lake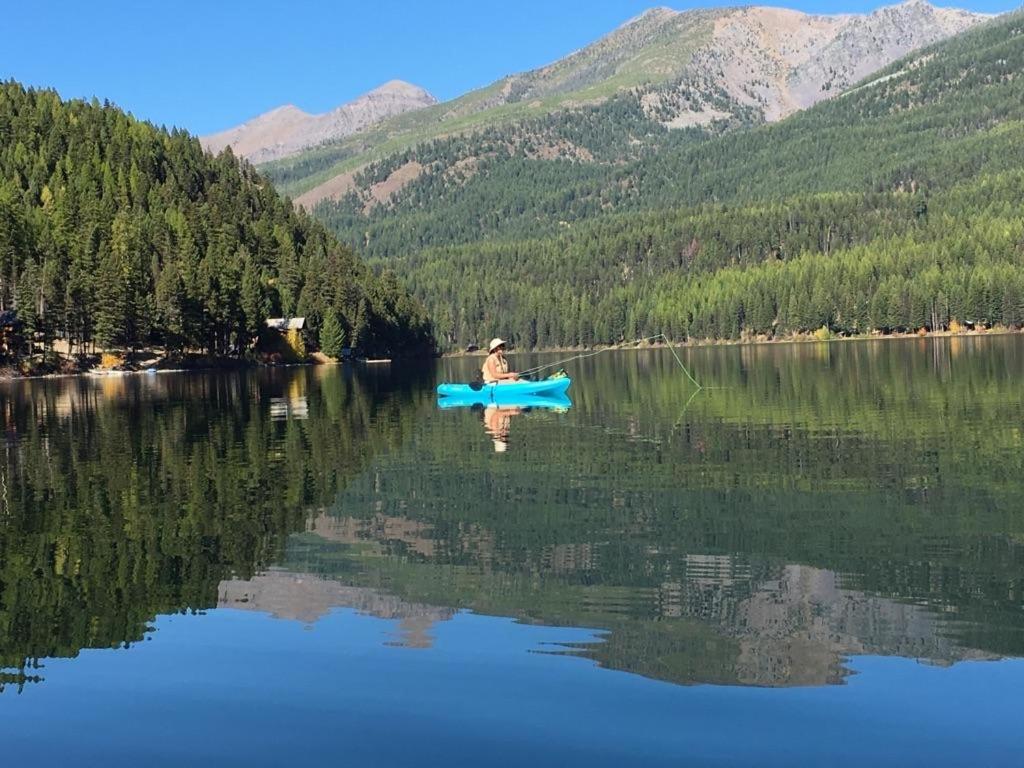 Seeley Lake is located in the Seeley-Swan Valley, surrounded by pine trees, and people love visiting this place because there they can have many activities. Even the drive to this lake will leave you amazed by the stunning natural sights.
The lake is surrounded by two mountains providing a scenic view, wildlife, and rare birds like the common loon. That's not all. There are a lot of biking and hiking trails, fantastic for adventurous families.
Visiting Seeley Lake will give you the opportunity to visit the unique Seeley Lake Historical Museum and Visitor Center, which is placed in a barn. In addition, the variety of cafes and restaurants will make your stay complete, so don't miss out on trying the delicious local steak.
Check out below why this is one of the greatest lakes in Montana with cabins for families.
Unplug & Unwind
If you're planning a trip to Seeley Lake in Montana, the Unplug & Unwind cabin is big enough for your entire family. Located right on the lake, there's no better place to relax. The downtown is within walking distance from this cabin, so you won't be totally excluded from the modern world.
Things the cabin offers
This cabin has three bedrooms and seven beds. The kitchen/living area faces towards the lake, so you can enjoy the astounding look while dining.
The porch is fully furnished and covered, so even on rainy days, you can still enjoy the amazing view outdoors with your family. There's no Wi-Fi, and that's considered a big plus because how else will you be able to spend quality time with your loved ones?
Hence, the cabin has everything you'll need for an unforgettable vacation.
Additional info
The Lodges on Seeley Lake
The Lodges on Seeley Lake is a popular resort filled with cabins suitable for small and big families. Each of the cabins offers idyllic views and spotless service. In addition, the sleeping capacities vary, as The Lodges on Seeley Lake has something for everyone.
Lazy, New York, Loft, and Limb are the names of the cabins that have a sleeping capacity for four persons, while Lucky and Lingering offers a sleeping capacity for six. Besides, if you plan a trip with more than six people, don't worry. The cabin named Larch offers a sleeping capacity for eight persons. So all you need to do is head on to the website and see which cabins best suit your family's needs.
Things the cabins offer
All of the cabins are warm and cozy, with comfortable beds and amazing views. They have big windows that provide a scenic view across the lake or a view of the forest and the beautiful large larch trees.
The cabins have a kitchen and a fireplace to enjoy the cold nights, and the bigger ones have a patio and a barbeque grill. They're equipped with flat-screen TVs, Wi-Fi, a kitchen, and a fireplace.
Additional information
Conclusion
Montana offers all of this and much more, so don't miss out on spending at least one weekend there. Gather your family, prepare for a fantastic time, and discover the spectacular lakes in Montana with cabins big enough for all of you.
Whichever of these properties you choose, it'll be like a home-from-home. There's no doubt that you'll have a great time, and you won't want to leave the beautiful nature and the breathtaking views.
More about our TFVG Author