Montana is a mountainous state, and like most mountain areas, it has many hot springs that provide outstanding opportunities for relaxation. Here are some of the best hot springs in Montana for families, presented in no specific order.
Why not also check out our guide to the best places to vacation in Montana with kids?
Bozeman Hot Springs is one of the most established options in the state, with a history stretching over 100 years. It's also one of the most temperature-diverse locations in the state, with twelve pools ranging between 59 and 106 degrees. As if that wasn't enough, Bozeman has both wet and dry saunas to enjoy.
This is easily one of the best hot springs in Montana for families and groups of all sizes. Bozeman emphasizes the cleanliness of their facility, which comes into play on two levels. First, the pools use a flow-through system for water, so they don't need to add chemicals. Second, they drain and clean the pools every night, so there's no buildup of dirt or debris.
The eight indoor pools are rectangular, with the three hottest pools located immediately adjacent to cold pools for people who want to move back and forth between them. Dominating the middle of the chamber is the big pool, which averages a comfortable 85 degrees. The four outdoor pools offer extra space to move around.
Beyond the pools themselves, Bozeman features a regular series of outdoor events and entertainment. Musical events happen twice a week, while holiday-themed events occur throughout the year.
Bozeman is primarily a day-use facility, opening early every day of the week except Saturday so the team can do maintenance on the facility. Bozeman does not have on-site lodging, but they are right next to the Bozeman Campground, which includes a selection of tent sites, RV spots, and cabins for guests.
The campgrounds are highly affordable, especially if you're camping, and the overall site is just 40 minutes away from Yellowstone National Park. Between the on-site springs and easy access to other beloved entertainment spots, Bozeman is easily one of the best hot springs in Montana.
Norris Hot Springs in Norris, MT is another great location, built over a local spring where milled fir planks provide a comfortable place to rest. The spring itself releases about 60 gallons of water per minute, or 86,400 gallons a day, while the main pool holds a little less than half of that total.
Norris takes their health and cleaning seriously, with the pool drained nightly and refilled with fresh water. Circulating the spring water cools it to a comfortable 100 degrees, although they increase to about 106 in the winter. The pool receives a pressure washing weekly, with no added chemicals.
All overflow and drainage go through the local wetlands, which is the natural course for this stream. Releasing water this way ensures that the hot springs don't damage the local area and helps maintain the scenic views.
Norris Hot Springs is mainly a day-use facility, open to the public Thursday through Sunday throughout the year. Private parties can use the facility on Mondays and Wednesdays, while the pool closes on Tuesdays for cleaning. While there's no on-site lodge, camping is available May 1st through September 30th and comes with $3 unlimited soaking per guest.
Quinn's Hot Springs Resort in Paradise, MT is somewhat upscale, focusing on guests who have lodging reservations. The site has five natural flow hot springs, plus two salt-treated pools. One of these pools is extra-large, providing more options for swimming, while a cool plunge pool is right next to two of the warmer springs for variety.
The resort has more guidelines for its pools than some other resorts. The first pool is for adults only, the next three are for ages 14+, one pool is for 5+, the huge pool is for 3+, and the final pool is for guests of all ages.
The pools are open consistently from 7 AM to 11 PM, although the first and last hours are fully adults-only. Day-use visitors can visit in blocks from 9 AM to 2 PM or from 1 PM to 6 PM, with reservations required to ensure space.
Accommodations are comfortable here, with two large lodges and 25 additional cabins by the canyon and river. Most of these are family-size residences and sleep at least four people on top of their proximity to the hot springs. An on-site restaurant provides meals, with the menu typically including steak, seafood, organic produce, and a curated wine list.
Those looking for more fun may prefer visiting Quinn's Tavern, which includes a selection of gaming machines, televisions for sports events, and drinks. The tavern is open to the public, and you might see additional events hosted at the property when you arrive.
Elkhorn Hot Springs is set near the Idaho border, and they have a little over a century of experience offering relaxing stays to guests. The heart of the facility is the two large outdoor pools, which are heated entirely by geothermal energy and flow fast enough that they don't need to add any additional chemicals.
There are two levels for the pools here, offering guests their choice of the deeper main pool or the shallower lower pool. The water temperature varies between 92 and 102 degrees, but the on-site wet sauna can get up to 106 degrees if you like it especially hot.
Rates are affordable for visits here, with adults about $10 each and kids lower than that. Elkhorn has a rather large pool, and they offer discounts for larger groups. As a lodge-type hot spring, Elkhorn has options for guests who want to stay overnight or even for several days.
The cabins can sleep anywhere from 2-10 people, depending on the one you rent, while the lodge rooms sleep up to four people in the two-bed chambers. Breakfast is provided each morning, as is unlimited access to the hot springs, while an on-site restaurant provides American-style meals.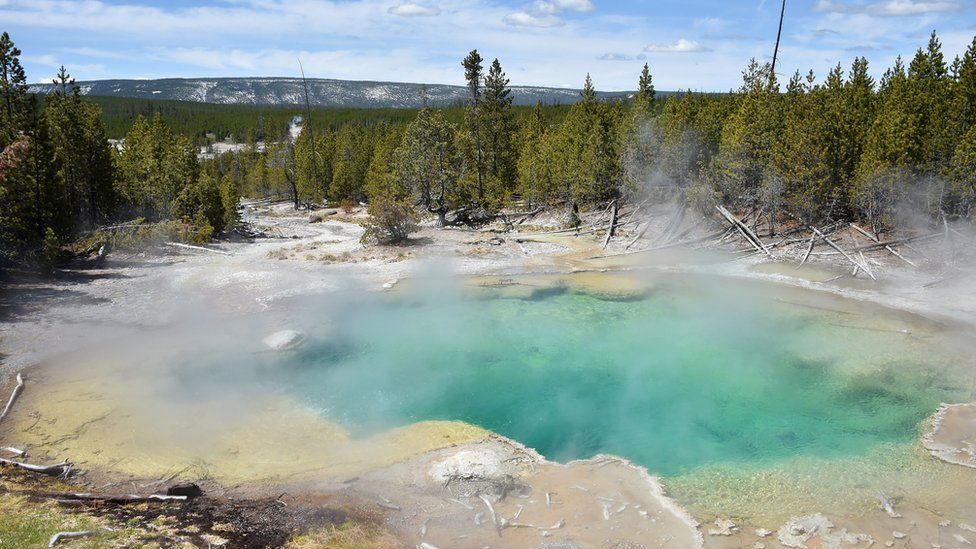 Set about eight miles north of Yellowstone Park's northern entrance, the Yellowstone Hot Springs is a luxurious modern facility. The large main pool persists at about 102 degrees, while the nearby hot plunge increases the temperature to 104. There's also a cold plunge that can go as low as 60 degrees if you want to cool off quickly.
All of the pools here are constantly flow-through, which means the water within changes as fresh water arrives. That's one of the characteristics of a great hot spring, and it helps keep the entire facility clean for guests.
Rates here are generally low, with an all-day pass so you can return as many times as you want. The pool opens from 9 AM to 9 PM Wednesday through Sunday, but it's closed on Mondays for cleaning and Tuesdays for private groups. Yellowstone Hot Springs also offers a 12-visit pass, discounts for groups, and free entry for people on their birthday.
Set between Butte and Helena, Boulder Hot Springs is a large and elegant resort with family-friendly pricing and styling. Unlike some other resorts, it's fully alcohol and smoke-free, which is great if you're traveling with younger children.
Boulder Hot Springs sits along otherwise-pristine wilderness, with animals in the area including foxes, deer, coyotes, moose, elk, and even bears. However, the animals rarely approach the main property.
The main hot spring at this resort is the large outdoor pool, which mixes geothermal mineral water with some natural well water to hover around 98 degrees. This is a little cooler than some other hot springs, but it maintains the minerals that make hot springs so desirable.
Those who prefer hotter rooms can enjoy the steam rooms and plunges, which are separated between men's and women's sides. The geothermal waters can exit the ground as hot as 175 degrees, but the cooler well water brings this to about 106 by the time it enters the hot plunges.
Like most better hot springs, these areas continuously flow and completely change their water contents every four hours or so. Near-nightly cleaning ensures the area is always safe and sanitary, too, and these chambers are the real highlights of the property.
As a lodge-style facility, Boulder Hot Springs includes affordable guest rooms with simple appointments, ideal for families looking to visit on a budget. Those who prefer better accommodations can get the Bed and Breakfast rooms, which come with morning meals and more luxurious furnishings.
Each of the B&B rooms has a different design, so you can pick a room to match your aesthetics.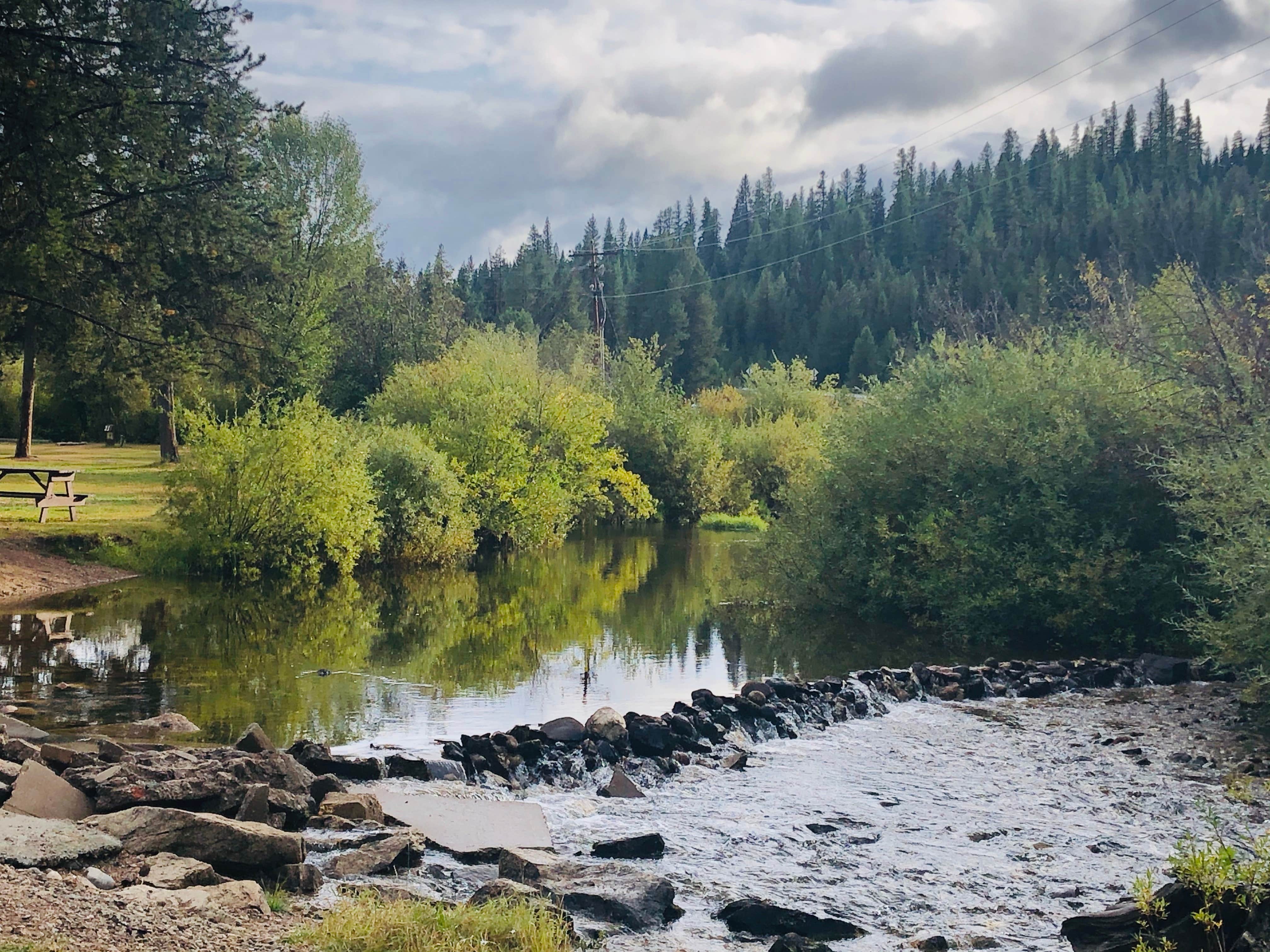 Lolo Hot Springs in Lolo, MT is particularly family-friendly, with events and entertainment for guests of all ages. The main hot springs pools range between 102 and 106 degrees for a luxurious soak, while an indoor hot pool and outdoor pool offer additional swimming and fun.
Other on-site entertainment includes an 18-hole frisbee golf course and access to snowboarding, skiing, snowshoeing, hiking, biking, rafting, and kayaking in the nearby area. Meanwhile, adults may enjoy the on-site casino, which focuses mainly on fun and games.
Lolo Hot Springs has several forms of accommodations, including an RV park, year-round tent camping, and both regular and pet-friendly cabins. The economy cabins sleep up to three people, while the deluxe cabins can fit up to six and have additional accommodations.
Lolo's on-site restaurant features mainly American fare with a couple of Mexican-inspired options, as well as a selection of shots and cocktails for older visitors. Together, these make Lolo Hot Springs an accessible and exciting destination that has something for everyone to enjoy.
Set in the aptly-named town of Hot Springs, Montana, Symes is an energetic and upbeat facility with a close connection to music and entertainment. Although not particularly large, the hotel has three pools available, with the upper pool hovering around 107 degrees, the lower pool at 101 degrees, and the bigger swimming pool averaging 95.
Symes is mainly a hotel, although they offer day-use tickets for guests who don't plan to stay overnight. Notably, they also sell a 10-swim pass that never expires, which is good if you're going to pass through the area regularly. Local children and adults get a significant discount for day passes.
Lodging is available in several types of rooms. Most of the standard rooms only fit two people, but a couple of rooms sleep four. The site also has a selection of cabins, house options, and apartments on the grounds, most of which hold between 4-8 guests. The hotel itself is a historic landmark, so they have fairly strict rules to help keep the place clean.
On-site dining is available at the Symes Bathhouse Grill & Cantina, which features American-style food for all meals. The menu changes throughout the day, but offers consistent on-site meals if you plan to stay for a while. An espresso bar offers coffee for guests who want that.
Jackson Hot Springs in Jackson, MT is another comfortable lodge-style facility, open Thursday through Monday for visitors four and older. The large main pool is well-lit by hanging lights from above and features water that goes between 100 and 106 degrees. The chemical-free water helps keep the hot spring safe and natural.
Rooms vary, although most have either one king-size bed or two queen-size beds. A few cabins offer an alternative sleeping arrangement, while three RV sites and a campground provide another way to stay. Several of the rooms are pet-friendly, which is a nice touch for the facility.
Jackson Hot Springs also has a restaurant and bar, featuring local beef and a selection of popular dishes like onion rings, burgers, and sandwiches. The breakfast menu emphasizes farm-fresh eggs, while the bar has a wide selection of drinks. Music shows are common, offering solid entertainment for an evening.
Although not a full resort, Jackson Hot Springs does accommodate visitors who are coming in for hunting and fly fishing, which is something many other lodges don't. It's also quite close to several skiing and snowboarding opportunities, offering an entirely different kind of fun for families.
Fairmont Hot Springs, located near the Pintler mountains, stands out as one of the best hot springs in Montana thanks to its four main pools. Two of these are oversized Olympic-style pools, while the others are smaller mineral soaking pools. One of each pool type is located indoors and outdoors, giving you more control over the experience when you arrive.
Each of the four pools is fed by natural spring water, ensuring a constant supply of hot water. Kids will likely enjoy the 350-foot water slide, which uses the same hot spring water to avoid diluting things over time.
However, unlike some other resorts, Fairmont doesn't offer day-use passes. Instead, both the indoor and outdoor pools are only available to overnight guests and resort members, with pool hours being 7 AM to 10 PM daily.
Lodging is flexible here, with rooms accommodating anywhere from 2-10 guests. That added flexibility makes this resort a better choice for larger families, especially because all guests get direct access to the hot springs.
Some of the larger suites have full kitchens for those who want to make their meals, but all of them have easy access to the on-site restaurant and lounge areas. Fairmont has casual dining throughout the day at its Springwater Cafe, plus finer dining for evening meals at the Water's Edge.
Sleeping Buffalo stands out from the crowd as the only real hot springs area in Montana's northern area. Most of the hot springs are clustered more towards the southwest, close to the geothermal activity that supports Yellowstone National Park. That alone makes this a clear destination for anyone traveling through the emptier northern part of the state.
Sleeping Buffalo's water source is a deep well that unleashes about 900 gallons of water per minute, or slightly under 1.3 million gallons of water a day. That makes it one of the most active supplies in the state, and the owners empty and clean the pools nightly to ensure they're adequately clean.
The main pool area is inside, ensuring the pool is enjoyable throughout the year. Accommodations include an outdoor RV park and camping area for guests traveling that way, a selection of interior suites, and deluxe cabins for those who want a little more space. Both the cabins and suites come with varying bed setups to meet the needs of different families.
Enjoy Hot Springs in Montana
Montana has a surprisingly high number of hot spring resorts. These come in a wide assortment of styles and price ranges, from small pools at compact hotels to massive facilities capable of hosting several hundred people simultaneously.
Make sure to check the resort's policies before scheduling your trip. Some locations require reservations 30 days or more ahead of time, while others will let you arrive and grab a room. Most locations don't allow pets, either, although a few do. The only truly universal thing about hot springs in Montana is fantastic water, so a little preparation ensures a great trip.
More about our TFVG Author
A seasoned traveller, Dad, and avid sports tourist, James foundered The Family Vacation Guide to share his expert vacation experiences- especially when it comes to being a travelling family man.
Featured in Travel articles such as Travel + Leisure, TripSavvy and SFGate, you know you're reading some of the best vacation tips online.