Montana is often overlooked as a family vacation destination, but beautiful areas await you and your family to explore. Whitefish is a resort town nestled in the Rocky Mountains and is a premier winter and summer destination.
One of the most popular resorts in Whitefish amongst families and other travelers is Whitefish Mountain Resort. Not only is it widely popular in Montana, but it's one of the largest ski resorts in North America. The resort sits just west of Glacier National Park and is four miles from the town center of Whitefish.
One of the reasons Whitefish Mountain Resort is a popular choice for travelers is because it has over 3,000 acres of skiable area. You and your family will love the friendly staff and all the amenities that the resort and surrounding alpine village offer.
You and your family can take advantage of snowmobile rentals in the winter, go ziplining in the summer, and ride on Montana's only alpine slide. There are several restaurants and cafes for you to try during your stay, and you won't need to eat at one place more than once unless you want to.
All the rooms are comfortable and equipped to hold families of varying sizes. You can browse their options and see what works best for your family.
You'll find North Forty Resort in Flathead Valley. It's a great year-round destination in Whitefish that offers families the perfect combination of an adventurous and relaxing vacation. The resort sits on 40 acres and will leave you breathless.
This smaller resort features 23 cabins that offer you and your family the opportunity to have your privacy while still soaking up all the amenities that the resort offers. The cabins are rustic and precisely what you'd expect from a cabin in Montana. They're comfortable and have full kitchens, free WiFi, and porches to enjoy your morning coffee or a glass of wine at night.
You'll love soaking in their covered hot tubs to stay warm during the winter, going cross country skiing, and walking their nature trail.
North Forty Resort typically offers special rates throughout the year so that you can stay at this luxurious yet rustic resort for an even more affordable rate. Be sure to keep an eye out for those rates.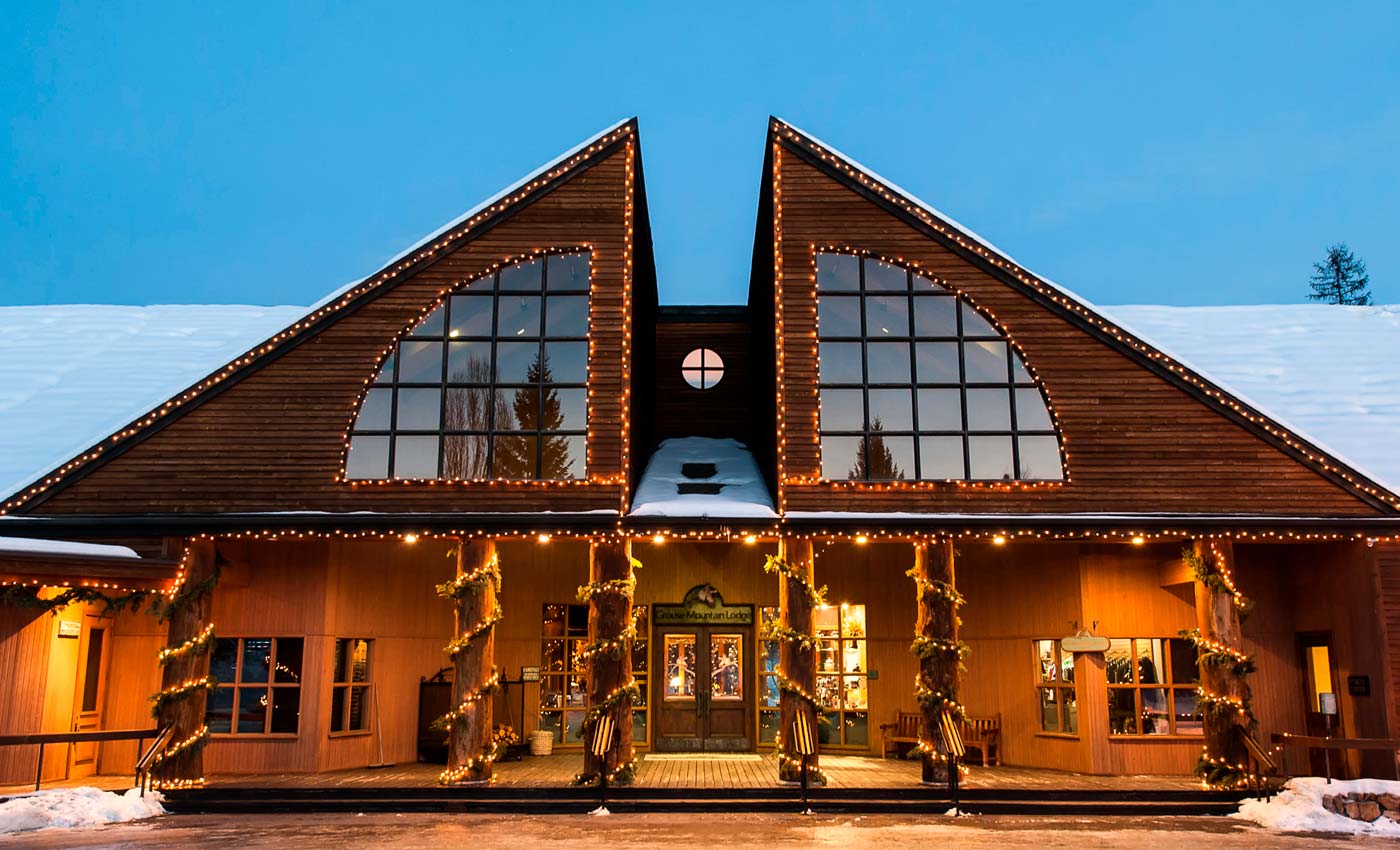 One of the top-rated hotels in Whitefish is Grouse Mountain Lodge. It has traditional-style accommodation that families love in a hotel and an excellent location. Not only is it a great family resort, but it's one of the most pet-friendly lodging options in town. This way, everyone in the family, including your furry best friends, can join the vacation.
From the minute you step into the lodge, you'll see how luxurious the resort is, but it also has a very comfortable and homey feeling. Each room in the inn offers you a great view of the beautiful landscape outside.
An amenity that everyone loves about this lodging option is that it has air conditioning and heating, so it's comfortable no matter what season you visit. You're right near the Whitefish Lake Golf Club, tons of hiking trails, shopping, and restaurants in town.
You and your family can rent cruiser bikes to explore the town and then finish off your night at Logan's Bar and Grill, which is right on the property.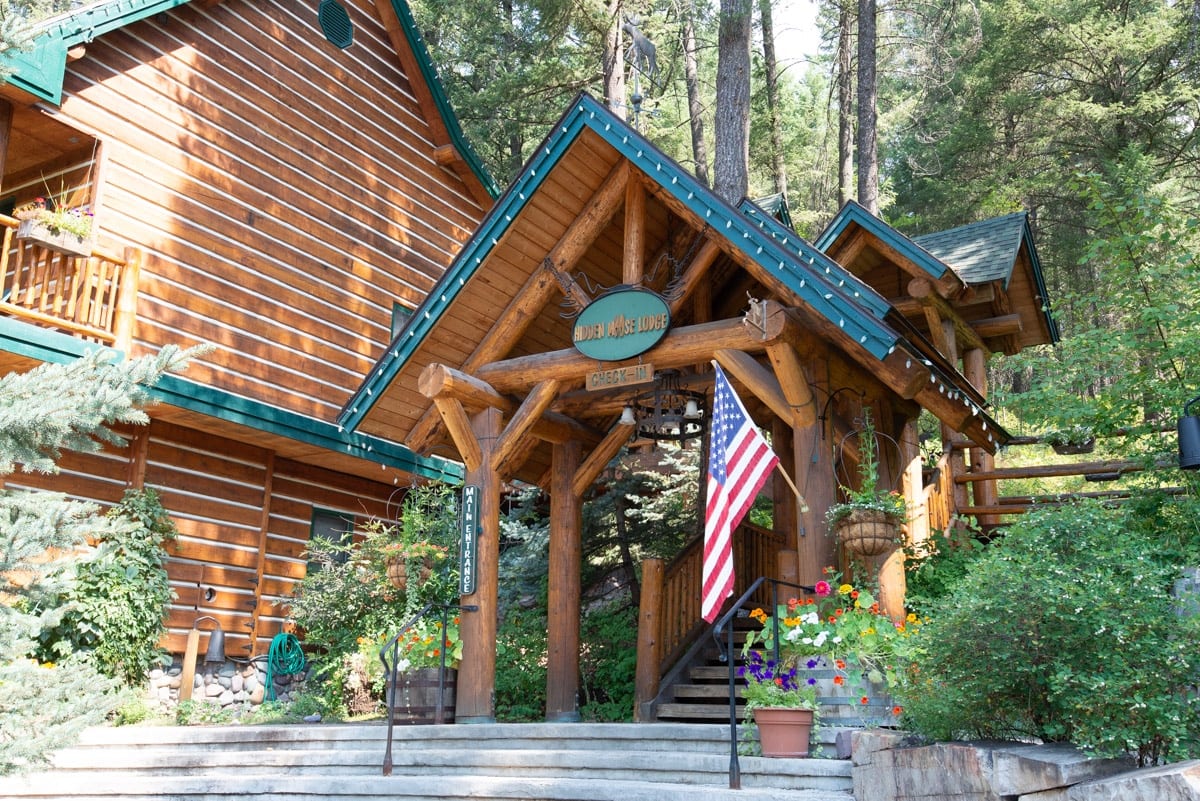 If you want to take your family to Montana but want an authentic rustic experience fit with a resort made of logs, then Hidden Moose Lodge is one you need to consider. Since the beginning, the same couple has run the lodge. They opened it to share their love for the outdoors with guests.
You can choose to get traditional hotel rooms for your family or upgrade to one of their suites. These are great for larger families or those who prefer a little more space. All the rooms at Hidden Moose Lodge are budget-friendly, but you wouldn't know by looking at them.
Each room has a Montana theme. They feature log or iron beds, artwork from local artists, and Western-style decor. Their rooms also have cable TV, a mini-fridge, and other comfortable amenities. You'll love the deck that looks over a rock garden.
The lodge's location puts you near everything you could want to do. You can walk through town, visit Whitefish Lake, and hit the slopes that are only a few minutes away.
The Lodge at Whitefish Lake has been a fan favorite for families and other groups since opening in 2005. It's a vast resort that features 145 traditional hotel rooms in the main lodge, lakefront condos, and luxury homes for you and your family to choose from.
If you want to stay at a luxury accommodation right by the lake, this is the best and only one close to the lake. While it's a year-round destination, it's very popular in the summer since you can take advantage of all the lake's activities.
You and your family can go fishing, paddle boarding, swimming, and kayaking during the summer. You can also lounge on the lake's shore and soak up the sun on a private beach. The lodge has several pools and hot tubs to use too.
The lodge also has a library, shuttle service, lawn games, and fitness classes that families can do together. You won't want to miss the hiking trails either.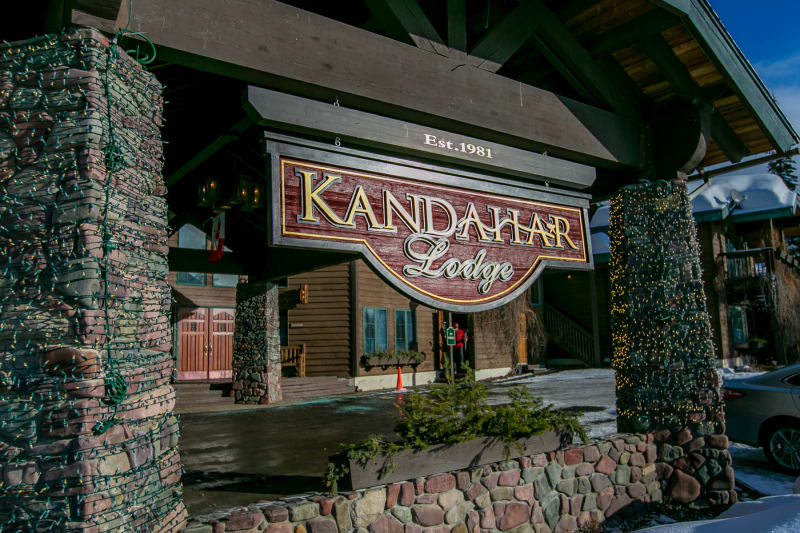 One of the smaller lodges on the Whitefish Mountain Resort property is Kandahar Lodge. It's a somewhat quieter and quaint accommodation at the base of the slopes. Kandahar Lodge has been a popular spot for families in Whitefish, Montana, for over four decades.
During the summer, you and your family can go zip lining through the mountains. The tours are within walking distance of the front of the lodge, making it an easy activity to do. Of course, during the winter, you'll want to take full advantage of the slopes at your doorstep.
While you can go in the summer, this area and the alpine village it sits in becomes a magical place. People of all ages can take in the white snow and twinkling lights and make memories in this beautiful area.
The rooms at Kandahar Lodge feature antique items and classic wood furniture. There's an on-site spa where you can get a massage and a delicious restaurant with menu items to make everyone happy.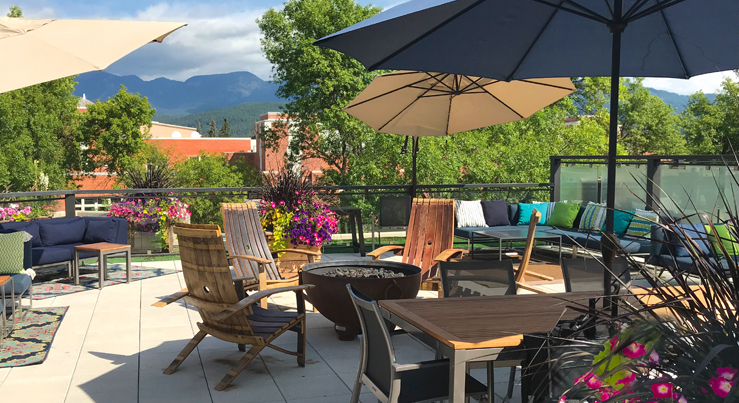 A great spot to stay with your family is this four-star hotel, the sister hotel of the Lodge at Whitefish Lake. It's only five minutes from the lakeside property and has a great location within the town. The hotel is beautiful with stonework and bricks, making it a chic hotel in this mountain town.
The Firebrand Hotel is a popular spot for families visiting Whitefish because they offer a special tour package that allows you to experience all the best things about the area. The package includes tips on how to explore the city and surrounding area.
You and your family will love listening to live music, enjoying great food and drinks, playing games in the library, and hanging out on the rooftop patio. The rooftop offers some of the best views in Whitefish without going hiking.
Other things you can enjoy here include yoga classes, spa services, and a delicious on-site restaurant that never disappoints.
A newer resort in Whitefish that's been making waves in the community is the Pine Lodge on the Whitefish River. The resort opened in 2019 and quickly became a family-friendly accommodation option in town.
You'll love the location and the fact that it provides complimentary transportation services to and from Whitefish Mountain Resort. This way, you can visit the alpine village, go skiing, or do anything else you want to do there without worrying about how you'll get there.
You and your family will love swimming in their heated outdoor pool, warming up further in the hot tubs, and roasting marshmallows at the firepits. During the winter, you can purchase ski lift tickets at the front desk and other essentials you and your family need on the slopes.
Staff at the resort are knowledgeable about the area and can assist you with anything you may need. If you're traveling with kids or those with a sweet tooth, they'll love the lobby's free cookies and chocolate.
Roughly half a mile from Whitefish Mountain Resort Village is Kintla 305, sometimes called Kintla Lodge. It has all the wooden features you want in a mountain retreat. It's rustic yet modern and is comforting.
While you can visit this lodge any time of the year, it's incredibly popular in the winter. It's especially popular amongst skiers and snowboarders. It has plenty of ski rentals and storage options you can use during your stay.
Even if you and your family have never been skiing before, you can schedule lessons at the front desk. There's a complimentary ski shuttle you can use to get around to the various slopes in the area.
Kintla 305 is still an excellent option for families who don't ski. There are outdoor hot tubs and pools, saunas, and space to relax in the lobby and explore Whitefish in other ways than skiing. Kids will love sledding and enjoying hot chocolate when it's cold, and you'll love spending quality time with them.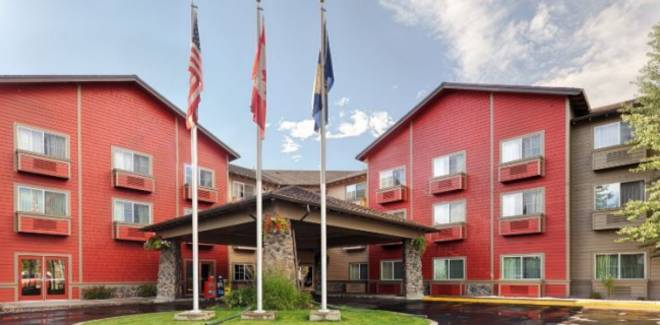 Family vacations don't need to break the bank. If you're searching for a great budget-friendly place to stay in Whitefish, the Best Western Rocky Mountain Lodge is perfect. It's conveniently located in town while still being close to the ski slopes, lake, and other attractions.
You'll have all your standard hotel amenities like TVs, mini-fridges, and free WiFi. For larger families or families with older kids, you can all have your privacy while staying close to one another with their connecting rooms.
You and your family will enjoy a complimentary breakfast that has a little bit of everything, including kid-approved foods. You can cool off in the outdoor pool during the summer and still enjoy it when they heat it for the winter. Kids can splash around while you relax and soothe your muscles in the hot tub.
The location offers easy access to nearby golf courses, hiking trails, shops, and restaurants. This hotel is pet-friendly, so if you have a pet that loves traveling with you, there isn't an issue with them staying in this lodging option.
Good Medicine Lodge is an intimate resort perfect for families who prefer a quieter place to stay on vacation. This rustic retreat is excellent for families, couples, and solo travelers who want to reconnect with nature and appreciate the mountains.
The entire lodge is filled with wood fixtures and high ceilings, which adds some elegance to the place. Since the lodge is a smaller option, you may even get to meet other guests and potentially make some new friends along the way.
When staying here, you can choose between classic rooms or suites. Suites are better for families and offer more space. You and your family will love the homemade breakfast that's served every day you're there.
You can experience everything Montana has to offer. You'll be close to fly fishing areas, Whitefish Lake, and plenty of nature trails. While the kids play in the yard, you can relax in the hot tub with your favorite beverage.
Final Thoughts
Whitefish is a gorgeous mountain town that has a little bit of everything. You can hit the ski slopes in winter, spend a day on the lake during the summer, go hiking, and make memories with your family that will last a lifetime.
A great family vacation starts with a fantastic family resort. Luckily, Whitefish has plenty of resorts and lodges that you and your family will love. Regardless of which one you choose, you're sure to enjoy your time in Whitefish, Montana.
More about our TFVG Author
A seasoned traveller, Dad, and avid sports tourist, James foundered The Family Vacation Guide to share his expert vacation experiences- especially when it comes to being a travelling family man.
Featured in Travel articles such as Travel + Leisure, TripSavvy and SFGate, you know you're reading some of the best vacation tips online.