The vast mountain ranges, crystal clear waters, and endless valleys make Montana a highly sought-after vacation destination. Enriched in western civilization history, Montana is the perfect vacation spot for you and your family to get a taste of the wild west.
Full of cattle and horse ranches, Native American architecture, unique wildlife, and gorgeous mountain ranges, you are sure to find a vacation destination in Montana that provides ample entertainment for your kids.
With so many varying activities to partake in and sites to see, choosing the best place to vacation in Montana with kids can become a daunting task. While our list isn't complete, here are some of the best vacation destinations you and your family will want to experience time and again in Big Sky Country.
The 13 Best Places to Vacation in Montana with Kids
Big Sky, Montana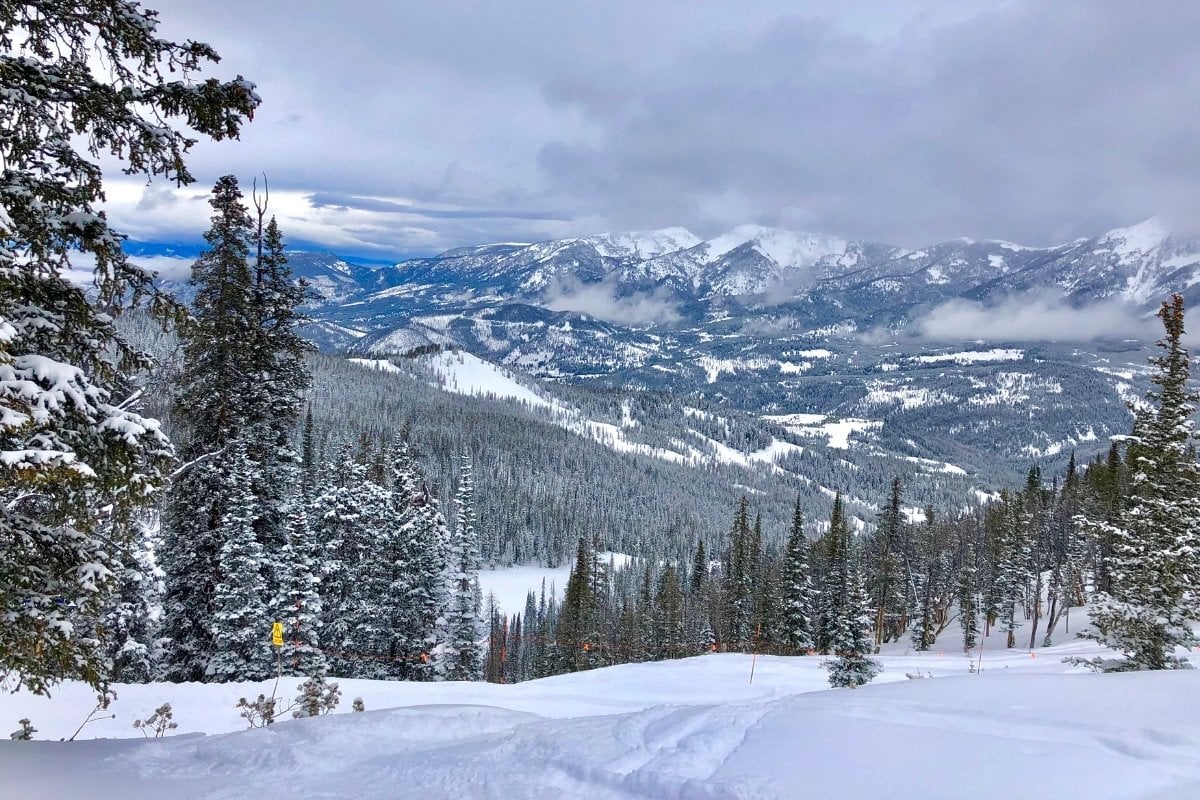 It's only right that this list starts with one of the most activity-filled destinations in the state. With activities, dining, and spa options, Big Sky, Montana, has everything you need for a fun-filled vacation.
Enjoy the beautiful mountainous views by skiing or snowboarding down at your own pace. Or, partake in a cross-country skiing adventure for a more laid-back and scenic tour. If the physical demands skiing and snowboard require don't fit your physical abilities, take a snowmobile out and play in the snow instead.
While skiing and snowboarding reign supreme in Big Sky, there are plenty of other outdoor and indoor activities to keep you and your family entertained for the duration of your stay. Partake on a horseback ride through the wilderness trails as you take in the beauty the area has to offer. Or, immerse yourself in the canyon ravines by traveling down the river on a raft.
Whether you are visiting Montana during the winter or summer months, Big Sky offers year-round outdoor activities for you and your family to enjoy. With everything from mountainous snow adventures to displays of the arts and culture the area offers, Big Sky is a definite bucket list vacation spot for you and your family.
Yellowstone National Park
No list of vacation destinations to the western United States is complete without Yellowstone National Park. Expanding across three different states, Yellowstone National Park is a destination that should be on every family's vacation bucket list.
The list of activities for families at Yellowstone National Park is endless, with everything from seeing bison up close to taking in the majesty of Old Faithful Geyser. Hiking, biking, and horseback riding are all family-friendly activities the park offers.
One of the more unique activities to partake in at the national park is the Ranger Program. Join a park ranger to learn more about the park's history while exploring as a young scientist, embarking on guided tours, and even becoming a junior ranger.
If your schedule allows, consider visiting the park in April, September, or October. These months are considered the off-season for the park. Visiting in the off-season means less of a crowd and a higher likelihood of seeing wildlife like moose, elk, bison, and even bears, which is what makes the park so special.
Glacier National Park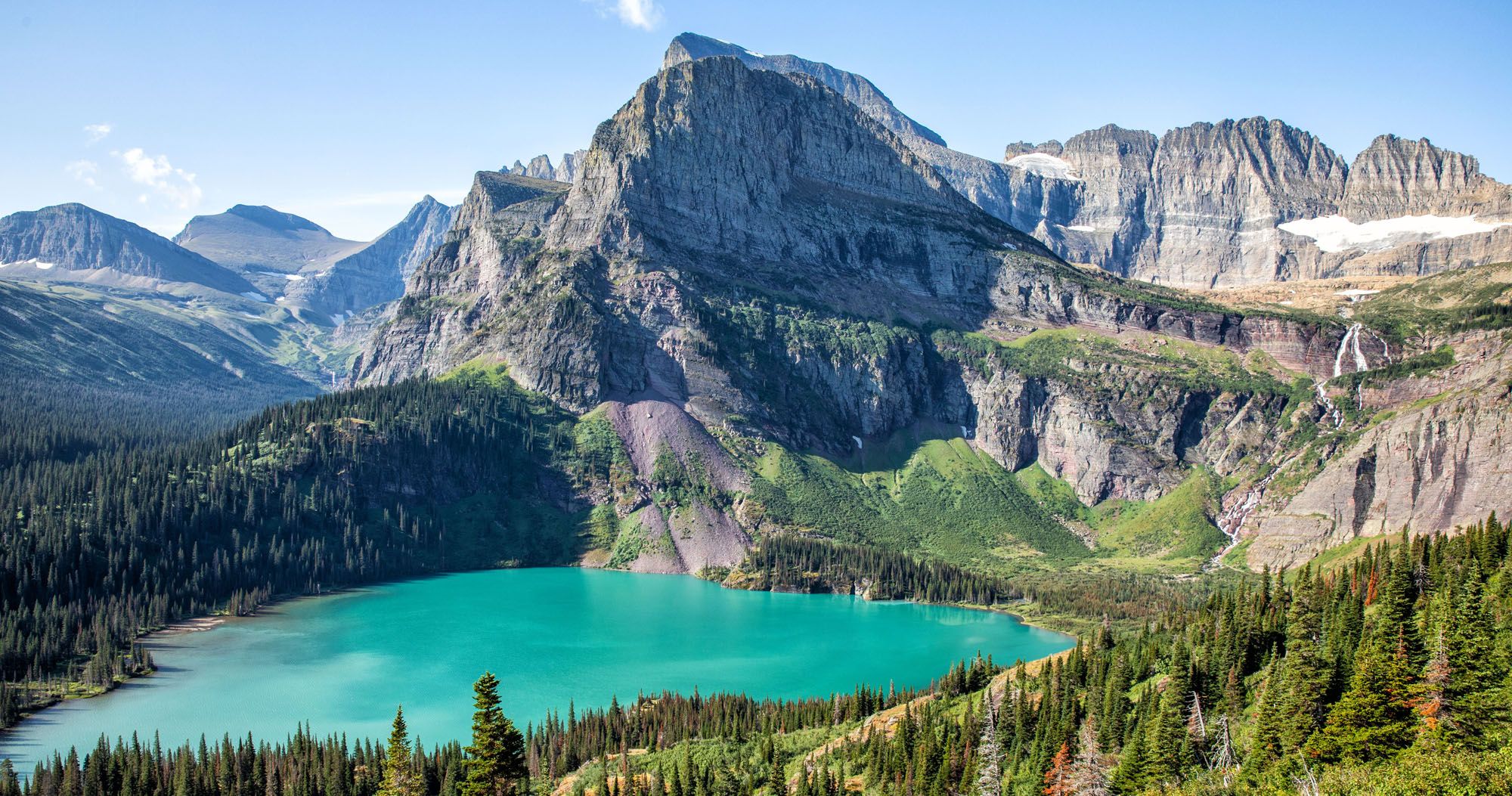 National parks are not in short supply in Montana as the steep mountain ranges, and the natural formations are claimed as government property to protect and sustain their natural beauty. Glacier National Park is such a destination. The pristine forests and rugged mountains accompanied by the glistening lakes make it a site you don't want to miss.
The park holds over 700 miles of hiking trails that are perfect for adventurous vacationers looking to engulf themselves in nature and receive physical activity along the way. The solitude of the forests allows you to become one with nature while enjoying a wilderness paradise.
Glacier National Park offers various learning opportunities to familiarize yourself with the plants and animals native to the park and learn about their habits. Apply this newfound knowledge as you camp on-site or hike the endless trail system.
Check the local weather conditions before visiting Glacier National Park, as these can affect the park hours, camping availability, and road closings. With the height of visitors entering the park during the summer months, you may consider visiting in the off-season for a less crowded and more enjoyable experience.
Helena, Montana
Claimed as the capital of Montana, Helena captures the western spirit by taking the natural beauty of the state and embracing it. Located halfway between Yellowstone National Park and Glacier State Park, visiting Helena is an experience like no other.
Embrace yourself in all that Helena has to offer by taking your family to Broadwater Hot Springs. This is the capital city's only natural hot spring and is full of therapeutic hot waters. The water temperature is controlled by combining the natural hot water with water from the Natural Cold Springs for an all-natural experience.
After relaxing in the hot springs, indulge yourself in the arts and culture of the area by visiting the History Museum, Lewis and Clark Library, Cathedral of St. Helena, or the Montana State Capital. If your family enjoys a good spooky story, visit one of the surrounding ghost towns of Elkhorn.
As with most other Montana vacation destinations, winter activities are in full swing in Helena. The city offers cross country skiing, an ice rink, snowshoeing, and a ski area for your whole family to enjoy. If winter sports aren't your forte, check out some of the many boutique shopping destinations scattered around the city.
Dude Ranches
Dude ranches are scattered across the western United States and are highly sought-after family vacation destinations. While every dude ranch is unique in its way, they all have one thing in common; the ability to make you feel like you're a real cowboy or cowgirl.
Put on your cowboy hat and strap on your spurs because we're going to Bonanza Creek Country Guest Ranch in Martinsdale, Montana. This dude ranch focuses on riding and cattle work, so it may not be suited for younger children. The wide-open expanses allows you to get acquainted with your horse in the open field without having to worry about running through thick brush and timber.
At Bonanza Creek Country Guest Ranch, you also have the opportunity to explore hiking trails, enjoy private lake fishing, and watch wildlife. If your family contains younger children, visit the Bar W Guest Ranch in Whitefish, MT. With activities for guests of all ages like wagon rides, cultural kids programs, and trail rides, this trendy vacation spot gives you the ultimate dude ranch experience without having to work livestock.
Experiencing dude ranches for yourself is the perfect way to immerse yourself in the western culture and gain an intimate understanding of what it takes to round up cattle and live like a cowboy in the west.
Whitefish, Montana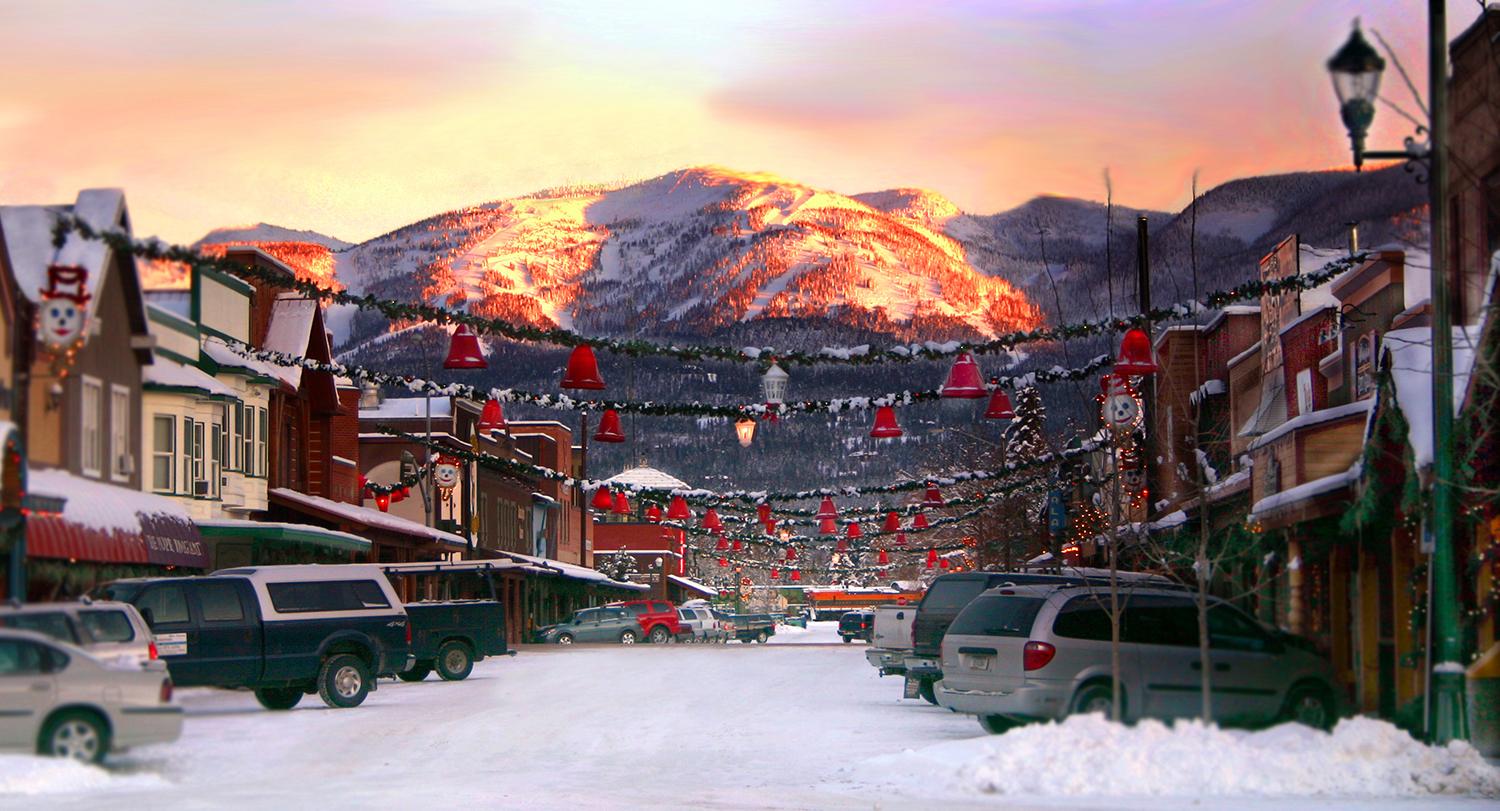 If you want to experience Whitefish, Montana, but not partake in dude ranch festivities, there are plenty of accommodations and entertainment opportunities around town. With activities ranging from outdoor aerial parks to guided flying tours, and indoor activities like the Alpine Theatre Project and booze cruises, you're sure to find an activities for the whole family.
If visiting during the winter months, partake in a cross skiing adventure on the Big Mountain Nordic Trails or enjoy a guided glacier adventure. If you find yourself in Whitefish during the warmer months, check out the Alpine Slide at Whitefish Mountain Resort or partake on a bicycling tour and enjoy miles of endless scenery.
One of the more unique activities in Whitefish is a flying tour when you get to witness an aerial view of the beauty Northeastern Montana has to offer. If a private flying experience sparks your interest, reserve early as available fills up quickly!
Activities around the area are endless, but so are dining and shopping options. Dine at one of the many unique restaurants or diners scattered across town like Logan's Bar & Grill at Grouse Mountain Lodge or Bonsai Brewing Project. Don't forget to check out the shopping scene as you will find shops selling everything from outdoor gear to crafts and jewelry and the latest western fashion pieces.
Missoula, Montana
Missoula, Montana, is another destination in Big Sky Country, perfect for a family vacation. Also called The Garden City, Missoula bursts at the seams with natural beauty as the Clark Fork River and the mountain ranges paint a majestic picture.
As far as entertainment goes in Missoula, things to do in the quaint town are plentiful. The music scene is large in the town of seventy-three thousand residents as music from Willie Nelson, Pearl Jam, Chris Stapleton, and Dierks Bentley line the streets. Cultural experiences in Missoula don't end at music. The art scene boasts vibrant paintings that tell the story of western civilization.
Outdoor activities include fishing, Caras Park, and stand-up paddle-boarding, to name a few. If you're looking for indoor activities, try visiting the HUB, an indoor facility with a go-kart track, arcade games, and a multi-level laser tag arena.
While the scenery and entertainment in Missoula are impressive, the local food availability may give it a run for its money. Try some local favorites like Bison Burgers, Rocky Mountain Oysters, and Hoagieville Cheese fries. Complete your dinner with some Big Dipper Ice Cream, a local favorite.
Bozeman, Montana
Known as "the most livable place," Bozeman, Montana, boasts picturesque views from every angle as mountains surround the city from every direction. With the dramatic mountain ranges mixed with the Gallatin River and the quaint downtown buildings, Bozeman is a definite stop on your Montana vacation. 
Bozeman, Montana, is most widely known for its fly fishing scene. With spots like the Cameron Bridge on the Gallatin River, the Hyalite Reservoir, and DePuy's Spring Creek, fly fishing is a part of life for Bozeman residents. 
After a secluded afternoon fly fishing in one of the many spectacular spots, venture to downtown Bozeman where you will find a bustling, yet historic atmosphere. Breath in the mountain air as you window shop and admire the western artwork. Stop by one of the many dining options in the town and get your fill of the local favorites.
With several parks and hiking trails around town, you and your family can enjoy the outdoors while remaining close to civilization, which isn't always possible in Montana. While Bozeman is a college town, majestic surrounding scenery creates a serene environment not possible in a lot of college towns across the United States. 
Paradise Valley
Just north of Yellowstone National Park, you will find Paradise Valley. Paradise Valley is part of the Yellowstone River and one of the major valleys the river passes through. Surrounded by the Absaroka Mountain Range in the east and the Gallatin Range in the west, this valley is a sight to behold.
Known as "an untouched wilderness gem," this valley offers vast views of the natural beauty of the area. Visitors to Paradise Valley gawk at the scenic beauty as the wildlife roams the area. While the untouched beauty of the area is what attracts most visitors, there are activity opportunities in Paradise Valley.
The most common activity tourists partake in at Paradise Valley is floating or fishing the river. Put on your life jackets and jump in the raft to enjoy a different, more hands-on view of the river. Or, park along the shores of the river and cast your line in an attempt to catch fresh fish.
If the cold weather is keeping you from enjoying the valley on or near the river, visit the nearby Chico Hot Springs and relax in the naturally heated waters. Whether your family enjoys gawking at the expansive views of the valley or prefers a hands-on experience, Paradise Valley will not disappoint.
Kalispell, Montana
In the northwest region of Montana, Kalispell gets its name from the Salish language and means "flat land above the lake." The body of water that calls Kalispel home is Foy Lake and is the perfect spot for your family to enjoy swimming during the summer months and fishing and boating year-round. Stocked annually with rainbow trout, your fishing experience on Foy lake is sure to be colorful.
Kalispell is the largest city in northwest Montana, which means there are plenty of activities for you and your family to enjoy. Such activities include high alpine hiking trails, wild rivers, mansion museums, and a unique main street to explore.
The proximity of Kalispell to Glacier National Park means you get easy access to explore the surrounding areas in ways that you can't in park boundaries. One such exploration opportunity is rafting on the Flathead River. While rafting on the river is not permitted inside park boundaries, it is permitted on the outskirts of the park, which happens to be only a 30-minute drive from Kalispell.
Don't let the opportunity pass you up to visit the gorgeous area of Kalispell, Montana. With a variety of entertainment options and its convenient location, it is the perfect destination for family-friendly fun.
Butte, Montana
Montana's fifth-largest city has a motto of "The Richest Hill on Earth." Butte is on the western end of the state and originated in 1864 as a mining camp on the Continental Divide. With its rich history in establishing the American West, Butte, Montana provides visitors with a historic yet fun-filled vacation destination.
Because of its historic origins, the top sights in the city of Butte consist of historical destinations like the World Museum of Mining, Our Lady of the Rockies statue, Dumas Brothel tours, and the Mai Wah Society Inc Asian History Museum. As with all other Montana vacation destinations, there is an abundance of hiking trails around the city that allow you to explore some of the most gorgeous sites in the United States.
After immersing yourself in the historical origins of the city, cool off at Ridge Waters water park or enjoy an adult beverage at Muddy Creek Brewery. Get your fill of shopping at the Butte Plaza Mall before partaking on a Montana ATV Adventure where you can enjoy some 4WD, Off-Road tours. If you're looking for a more leisurely but exciting adventure, book a Spooks & Spirits Haunted Trolley Tour.
With plentiful educational destinations, your family vacation to Butte doubles as a first-hand history lesson mixed with adrenaline-filled activities.
Glasgow, Montana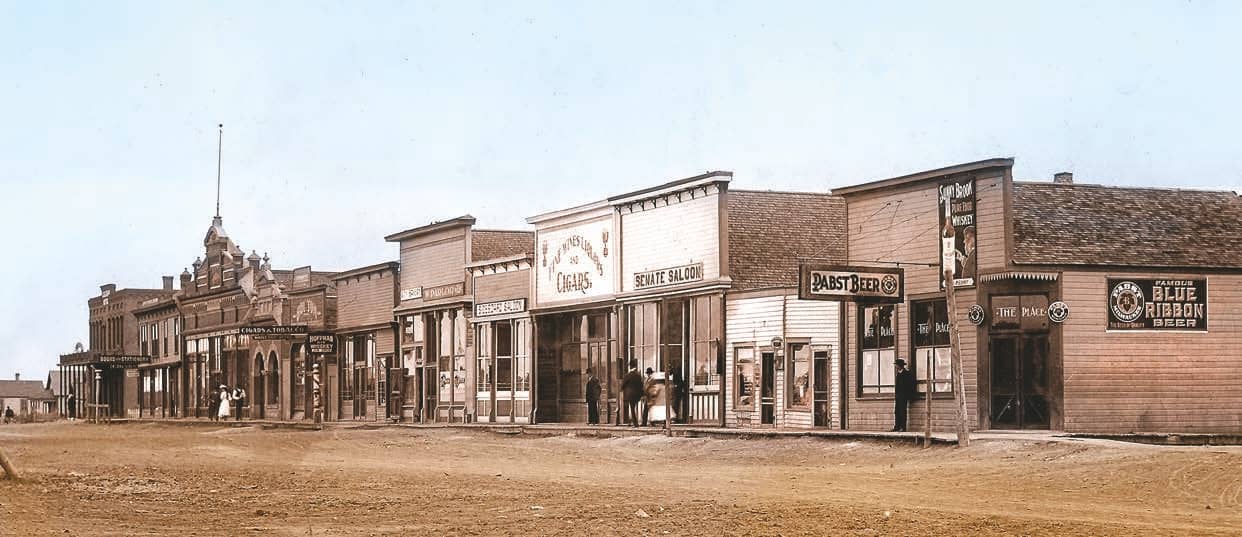 The small, quaint town of Glasgow, Montana, is a refreshing getaway from the hub of the larger cities in Montana. While the population is just over three-thousand residents, Glasgow is the most populous town in over 100 miles, making it an important piece of the economic puzzle for Eastern Montana.
With origins as a railroad town in the 1800s, history runs deep in the streets of Glasgow that can be seen at the Valley County Pioneer Museum. This museum showcases fossils, Indian artifacts, railroad, early business, aviation, and wildlife collections for visitors to enjoy.
One of the key attractions to the area is Fort Peck Lake which you may find yourself at by accident as most Glasgow roads lead you to this lake. When traveling through the Charles M. Russell National Wildlife Refuge to the lake, you may see bugling elk, herds of mule deer, red fox, or coyotes as they call this area home.
Glasgow offers one of the more unique children's activities as the Children's Museum of Northeast Montana provides a platform for creativity and exploration. If fishing is on your to-do list, check out Dredge Cut or Duck Creek at Fort Peck. Both fishing access spots surround you with beautiful scenery resulting in an unforgettable experience.
Lewis and Clark Trail
A pivotal part of Montana's history, the expedition of Lewis and Clark is remembered through the Lewis and Clark Trail system that runs through the central region of the state. This trail expands across 16 U.S. states and provides modern-day tourists with historical hiking, biking, and even driving opportunities.
Retrace the footsteps of Lewis and Clark by partaking in an expedition that runs parallel to the Missouri and Yellowstone rivers. The 450-mile trip is split up into a five-day period where you begin in Glasgow and travel through Wolf Point, Glendive, and Fork Peck before returning to Glasgow.
Along the way, you will have the opportunity to explore the wide-open expanses, towering mountains, historical sites, and learn the history of the Lewis and Clark adventure around every corner. While it is recommended to embark on the five-day journey to get the most realistic experience, you can break it down and only partake in portions of the journey.
Conclusion
The best places to visit in Montana with kids may not always be the most popular or well-known destinations. While Yellowstone National Park, Big Sky, and Glacier National Park are a destination every family should vacation to at least once in their lives, the less known and quieter destinations hold just as much value.
Enjoying a fishing trip on Flathead Lake or driving the Lewis and Clark Trail provide an excellent opportunity for you and your family to enjoy Montana uniquely. Exploring the college town of Boseman, Montana, and taking in the endless mountain-range views will leave your family vacation satisfied.
No matter your goal for visiting Big Sky County, we promise you and your family will want to come back for more Montana adventures after visiting these best places for family vacations in Montana.
More about our TFVG Author
A seasoned traveller, Dad, and avid sports tourist, James foundered The Family Vacation Guide to share his expert vacation experiences- especially when it comes to being a travelling family man.
Featured in Travel articles such as Travel + Leisure, TripSavvy and SFGate, you know you're reading some of the best vacation tips online.