It's been a long year and now you're ready for a vacation and the best family resorts in the Catskills are sure to take your breath away upon arrival.
From gorgeous views of the Catskills mountains in New York State to sprawling hiking trails and the views of the sky, these seven family resorts are sure to get you thinking about a relaxing vacation.
What's Special About The Catskills? 
The best resorts in Catskills offer a unique blend of heritage and comfort, together with the chance for a peaceful stay.
Whether you're staying minutes outside of Woodstock or tucked in nicely somewhere close to the Catskills Mountains, the gorgeous views and opportunities to be one with nature will surely keep you occupied. Ultimately, it's your choice of resorts that will guide you toward the best resorts that Catskills has to offer. 
During the 1940s-1960s, Catskills stood out like no other location in the area. At one point, there were over 500 hotels to choose from, with guests complimenting everything from the calming views of the skies and lakes to the well-prepared dishes offered for brunch, lunch, and dinner.
The Catskills will keep you from wearing out for good from living in the city.
The only question you have to think about is which resort, in particular, will be the one you choose for your vacation. 
The Best Family Resorts in Catskills
Ready to start your vacation? Resorts in Catskills are ready to help you escape to peace. Try one of these extravagant resorts if you're ready for the vacation of your dreams.
1.  Emerson Resort & Spa
Address: 5340 NY-28, Mt Tremper, NY 12457
Phone: (845) 688-2828
Price: $$
With its marvelous contemporary atmosphere and extensive dining options, Emerson Resort & Spa tops the list of exciting stays you'll enjoy during your vacation. Get checked in and comfortable before heading straight for the Lodge where you'll choose from luxurious, well-decorated rooms.
Later, your family can walk across brick floors to explore shops filled with clothing and specialty items, then choose from a range of unique experiences, including a car show event, watercolor class, or guided nature walk. Your time here will surely be memorable.
For short to longer stays, rest assured the amenities include Wi-Fi, an outdoor pool, spa, and a restaurant and bar for you to enjoy. Whether you're here to escape the bustling city or simply want a cozy place to stay while traveling through, this resort is sure to captivate your attention for days or weeks at a time. Expect overall to be treated with hospitality. The resort even follows up on most Google reviews on the Web.
2. Wolff's Maple Breeze Resort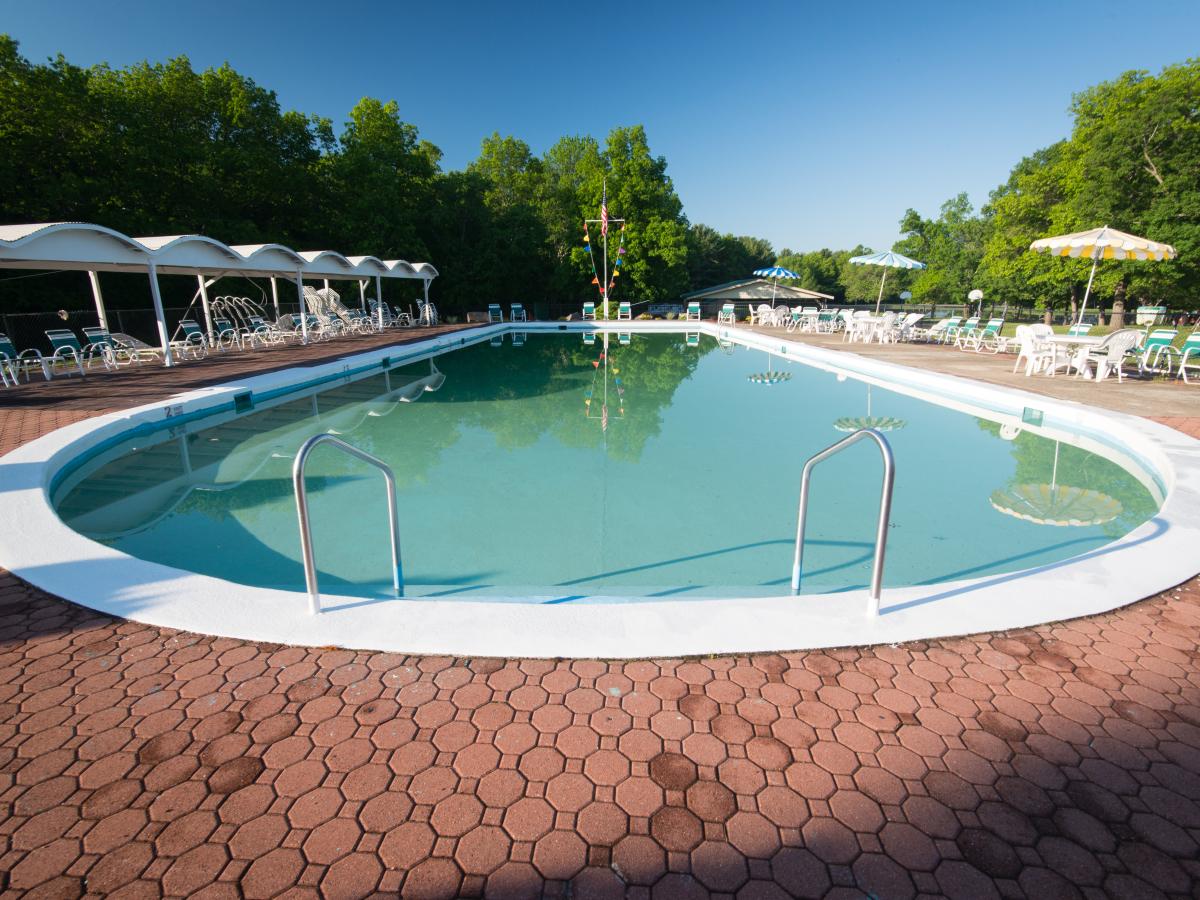 Address: 360 Cauterskill Rd, Catskill, NY 12414
Phone: (518) 943-3648
Price: $$
Here, your relaxing getaway may begin with a dip in this resort's pool. Or, maybe you're like some family quiet time to explore the site's rich heritage, breathtaking sky views, or one of seven gorgeous lakes. Whatever your fancy, there will always be time to find something else to do, as according to Trip Advisor, you'll be only a few miles from the Old Catskill Game Farm.
Drift away from the intense life of the city and enter an enchanting location offering a peaceful getaway you've always sought.
Combined with fitness programs, WI-FI, and an on-site restaurant, Wolff's Maple Breeze Resort happens to allow guests an opportunity to experience the performing arts. When you get the chance, soothe your mind as you listen to music or watch drama at the Orpheum Performing Arts Center. 
When you return to your room, you'll be able to see the well-maintained grounds the next morning. This resort is the ideal spot for families who want to enjoy time alone while also being close enough to appreciate other nearby experiences as well.
3. Kenoza Hall
Address: 5762 NY-52, Kenoza Lake, NY 12750
Phone: (845) 482-1022
Price: $$$
For guests of Kenoza Hall, it's the escape to nature that makes this resort one of the best resorts in the Catskills. The atmosphere has a classy but cozy sophistication, with elegant meals and remarkable food service providing a memorable experience for families and individuals alike. Whether you're interested in lounging in a velvet chair in one of the common areas or sitting at a custom-made writing desk in your room, you won't be far from immersing in the site's beautiful garden viewing room.
Meanwhile, enjoy dishes such as the Oysters Rockefeller, then take a moment to hike along with one of the nearby trails at Kenoza Lake.
For events that stand out, the Hall serves as a perfect location for couples getting married. No matter the ceremony, you'll be taken care of for certain. But if you're into the hotel for the amenities, you've found a home for the time being. Kenoza Hall also offers yoga, a sauna, a pool, and a garden workshop for you to appreciate. Overall, it's well worth the slightly higher price.
4. Hotel Mountain Brook
Address: 57 Co Rd 23C, Tannersville, NY 12485
Phone: (518) 589-6740
Price: $$
There's one major highlight that stands out about Hotel Mountain Brook. That's the complimentary breakfasts that are sure to have you well-fed and smiling.
Start your morning in a room with free Wi-Fi and a private bathroom, but don't linger on your Queen-size bed for too long. Not even the flat-screen televisions and spacious rooms will keep your attention away from the meditative views of the surrounding mountains and land.
After breakfast, you'll want to head to the front patio and feel nicely tucked into the resort. Hiking opportunities are recommended. If you want to spend, head up Hill Street and peruse the handsome selection of antique gifts. One thing is for sure: when you leave, you'll never forget the views of the Catskills Mountains again.
5. Callicoon Hills
Address: 1 Hills Resort Road, Callicoon Center, NY 12724
Phone: (845) 482-2420
Price: $$
At Callicoon Hills, the experiences are as rich as the resort's atmosphere. Get comfortable upon your arrival with a healthy meal plan throughout the day that goes great with an afternoon hike.
According to Trip Advisor, the site is a century-old resort that's filled with stories and heritage. But when you're ready to be one with the environment, it's always a pleasure to try fishing before the sunset. Continue your journey into peace at the nearby Apple Pond Farm and Duke Pottery, located within three miles of the resort.
You'll be happy to know the environment is suited for kids, as are the tasty food choices your children can choose from the menu.
Nightly refreshments are served so you never have to worry about having a snack. The next afternoon, you can enjoy the pleasures of the king-sized pool, especially if you choose to check in at The Pool House. Interested in what they say is the heart of the resort? Consider a stay in the 1900s boarding room. You'll be for a real treat.
6. Hotel Dylan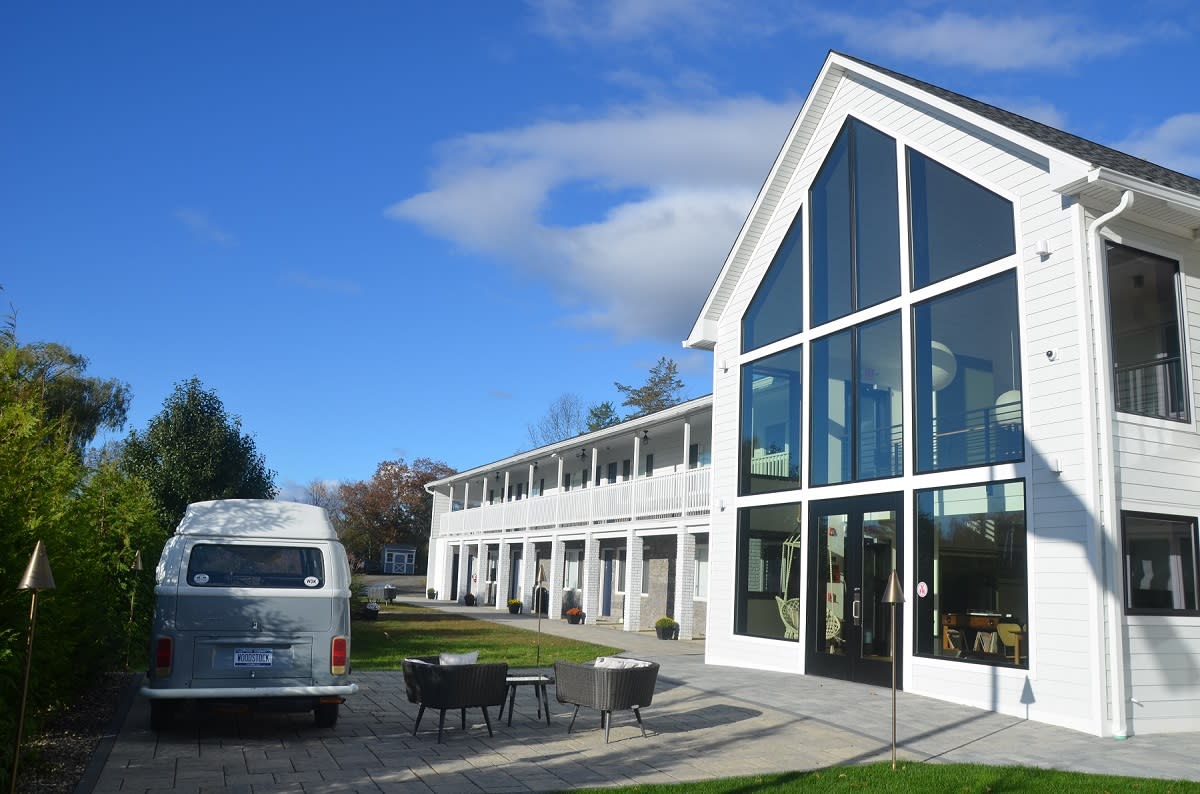 Address: 320 Maverick Rd, Woodstock, NY 12498
Phone: (845) 684-5422
Price: $$
There are plenty of positive things to say about this 3-star hotel that puts you in viewing range of Hudson Valley. From the moment you check in, you'll see Hotel Dylan's went the extra mile with the amenities. In addition to Wi-Fi and cable TV, you get to enjoy having an iron and ironing board already in your room. If that doesn't catch your attention, the record player and records and individual private outside entrance to your room certainly will.
Something else to lure you in is the Band Suite. According to Dujour.com, it's the most checked-out room. And if you like animals, there's the nearby Catskill Animal Sanctuary, a real pleasure to visit if you're planning on being out and about during your stay. Overall, Hotel Dylan is a reliable and trustworthy retreat. Consider giving the resort a call. They're only a five-minute drive from downtown Woodstock.
7. Urban Cowboy Lodge
Address: 37 Alpine Rd, Big Indian, NY 12410
Phone: (845) 254-5026
Price: $$
This is your chance to get outside and be one with nature. The Urban Cowboy Lodge has an interesting name and an even more intriguing offering of available rooms. But when you check in at either The Alpine, Chalet, or Cabin, you'll see a view. A view so soothing you can even sit in a tub and take it all in. What this lodge wants its guests to feel is a healthy dose of outdoors and coziness. Upon arrival, you'll be surrounded by Catskills National Park. A joy in itself,
The land is fun to explore as there is a mountain lake around 68 acres of property. The 25-room boutique hotel comes with nearby mountain trails for an amazing hike.
Eventually, you'll have your share of the outdoors and come inside for a vegetarian-friendly dish selection from The Public House. Share your meals with a large family and you'll think of this lodge as having everything you wanted. The Urban Cowboy Lodge is one of the best family resorts in Catskills.
Find Peace Today
Whether you're looking to stay somewhere where you can enjoy nature, or it's delicious food and amenities you're looking for, the best family resorts in Catskills will leave you wanting to come back for more. These resorts offer a much-needed getaway from the stress of modern life so you can feel relaxed and calm, and most importantly, rejuvenated with peace.
More about our TFVG Author
A seasoned traveller, Dad, and avid sports tourist, James foundered The Family Vacation Guide to share his expert vacation experiences- especially when it comes to being a travelling family man.
Featured in Travel articles such as Travel + Leisure, TripSavvy and SFGate, you know you're reading some of the best vacation tips online.