Planning a camping trip can sometimes feel like a lot of work, but planning the first family camping trip can be incredibly stressful.
A lot rides on the first trip because there's a fear that if your kids don't immediately take to camping, they'll never learn to love it the way that you do. But the trick is to keep it simple and remember that camping is supposed to be fun!
Below are the top 13 tips to make sure your family's first camping trip goes off without a hitch. 
1. Camp in Your House or Yard
Practice makes perfect, as they say! Camping in your house or your yard is beneficial for several reasons. First and foremost, it's fun! Get your kids used to sleeping in the outdoors when there's still all the comforts of home, and they don't have to work for it. 
Encourage your kids to have friends over for a sleepover and pitch a tent in the backyard. A first camping experience can be scary for kids, so positive and safe associations are key.
The second reason to camp in your yard before hitting the backcountry is to test out all your gear!
After a year or two in the garage, your tent may have gotten a few holes, or your sleeping pad may have sprung a leak. "Test" camping in your yard gives you the chance to troubleshoot your gear before you really need it.
2. Find an Established or Accessible Campground
The goal of your very first family camping trip is simply to have a good time. You'll have plenty of chances to level up your camping game later in life, but your kids will only want to if they enjoy camping.
For your very first trip, consider sticking to an established campground with plenty of amenities. Your kids may need time to ease into going to the bathroom outside or filtering their own water, so keep it simple the first time.
Find a campground with real bathrooms and potable water pumps. A picnic table and grate over the fire may not go amiss, either.
Learning to take comfort in sleeping in the great outdoors comes with experience, so your kids may feel safer if you stay in a campground where they can fall asleep to the sounds of people talking in nearby campsites or make friends with kids similar in age.
3. Bring Extra Layers
When doing any outdoor activity, preparation is critical; there's nothing worse than getting stuck in the pouring rain without a change of clothes.
Even if you take your first trip in the dog days of summer, it's better to be safe than sorry. Bring enough layers for your children and yourself to stay comfortable in both hot and cold weather.
Base layers, sweatshirts, down jackets, and waterproof jackets and pants are recommendable whenever you go camping, as are waterproof boots, a warm hat, and extra pairs of socks.
4. Get Your Kids Involved in Planning
Planning is one of the most important parts of camping, and adequate planning typically leaves more time for fun when you're actually camping.
The goal of your first family camping trip is to encourage your kids to have a good time in nature while disconnecting from a lot of the distractions of the real world. But a great side effect of camping is learning the importance of planning and the responsibility that comes along with taking vacations.
Planning your camping trip doesn't always have to be a chore; thinking about your trip should be fun and engaging. For example, ask your kids questions about what they're hoping to get out of the trip.
If you're camping near a lake, maybe they're looking forward to swimming or fishing; if that's the case, then you can remind them how important it is to remember their bathing suit, innertube, or fishing rod.
Getting your kids involved in the planning process is both a great learning opportunity and a way to get a better feel for how you can make this trip into something they'll truly enjoy.
5. Make a Packing List
A packing list is an essential part of the planning process. If you've ever camped before, you know the frustration you feel when you realize you've forgotten something at home, and you'll have to go without it.
If you've camped a million times, you might already know everything that you need, but you can always check out packing lists like this one from REI if you want to double-check.
Packing lists are a way to ensure that you remember everything before you leave, which is essential for both your safety and your fun (don't leave the deck of cards behind)! As an important part of the planning process, try to get your kids to do their own packing.
Encourage them to write packing lists and then go over what might be missing and why that item might be necessary. For example, if they forget to write socks on their list, you can discuss how disappointed they might be if they don't have an extra pair and accidentally step in a puddle.
6. Bring Bug Spray
If you're going camping in the summertime, mosquitos are almost always a consideration, especially if you're camping by a lake or other body of water.
Do some research to see what the bugs are like where you're going; forums are an excellent option for recent reports on people's experiences.
If you're opposed to DEET, there are several natural solutions on the market, or you could even consider bringing a bug lantern or citronella candle to keep by your picnic area.
Whatever preventative measures you choose to take, make sure to bring some hydrocortisone with you, or a few bites have the potential to ruin the whole trip. 
7. Bring Extra Toilet Paper
Getting used to outhouses and going to the bathroom outdoors can be a real adjustment for some, so you'll want to do everything you can to make the transition as easy as possible.
Most established campgrounds will have campground attendants who restock the bathrooms, but during the busy summer months, they may not be able to keep up with the foot traffic.
To ensure everyone stays clean and happy, make sure to pack a few extra rolls of toilet paper for the trip. It may not be a bad idea to just leave some rolls in your camping boxes year-round, so you never get stuck in the wilderness without them!
You can feel free to bring baby wipes with you as well for an extra clean feel, but make sure you check if they're biodegradable before flushing or dropping them down camp toilets.
8. Make Food Over a Campfire
What's the first thing that most people think of when they think of camping? S'mores, of course! Lean into the fun and novelty of camping, and cook food that your kids will learn to love and associate with outdoor family camping trips.
You can cook so many things over a fire, not just hot dogs on sticks. Consider bringing vegetables such as corn that you can grill over the grate. Camping is a great time to bust out your cast iron skillet and make some all-in-one pot meals.
Let your kids request some of their favorite meals ahead of time and figure out if you can make it over a campfire. Regardless of which campfire recipe you choose, sitting around a fire and eating is a classic camping activity and something the whole family is sure to enjoy. 
9. Bring Comforts From Home
Before your kids learn to love camping, they might just have to get used to it. Bring some items from home that you know will bring them comfort to help with the transition.
Do they have a favorite blanket or stuffed animal? Items that provide your child with a sense of security will help get them used to sleeping outside.
For your first camping trip, you may have to settle for "roughing it" a little less, so if your kids request to bring certain items that you see as unnecessary, it might benefit all of you just to give in.
Remember to think of camping as a vacation, so if things from home help them relax, it makes your job easier.
10. Plan Activities
Planning activities is crucial for making family camping trips fun and memorable. There needs to be enough structure that the days go by and your kids aren't bored, but enough flexibility for them to enjoy their surroundings and find something about camping that is meaningful to them.
Have conversations with your kids before your trip. Ask them about how they want to spend their time and what they're looking forward to the most. Make sure to embrace their personal choices and give them the freedom to connect with nature in their own way.
Family hikes and activities are essential, but fostering a sense of independence and individual connection with the outdoors (especially for teenagers) is equally important.
In addition to outdoor activities, make sure to bring leisure activities like board games and playing cards that everyone can enjoy on lazy mornings and evenings at camp.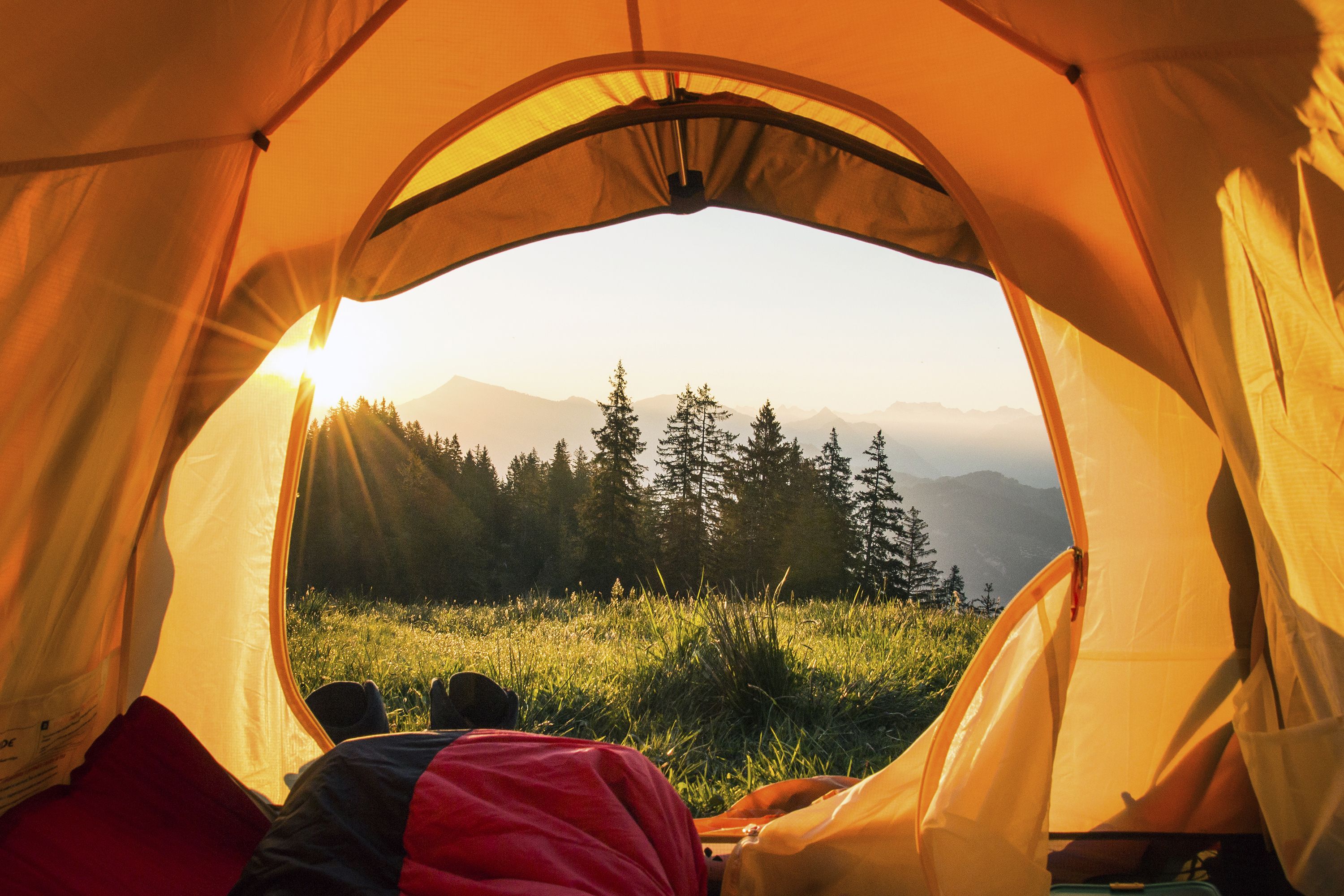 11. Split the Chores
No amount of planning ahead of time will alleviate all of the chores you'll need to complete when camping; there will still be food to cook, dishes to wash, tents to set up, etc.
To get your kids involved without burning them out, split up the chores, so they each only have to do a few a day. Vacations are a time to be free of typical household duties, but camping still entails a certain amount of work, best shared among the group.
12. Don't Forget the First Aid Kit
Safety is one of the biggest concerns when camping with kids, especially considering how many cuts and bruises they get just in your living room.
Safety is paramount to consider if you're camping somewhere without cell phone reception or a far distance away from a hospital.
Bringing appropriate first aid gear is necessary any time you go camping, and this is no different when you have kids in tow.
If you want to keep it easy on yourself, you can buy a camping-specific first aid kit that will typically be enough for a few people over a few days.
It's also easy to compile your own first aid kit with the basics. But if you choose to create your own, make sure you're looking for items that traditional first aid kits might not have that are specific to doing activities in the outdoors, such as a pair of tweezers or a key for tick removal.
You can also pack a first aid book with information on how to remedy common camping issues and ailments such as poison oak or poison ivy.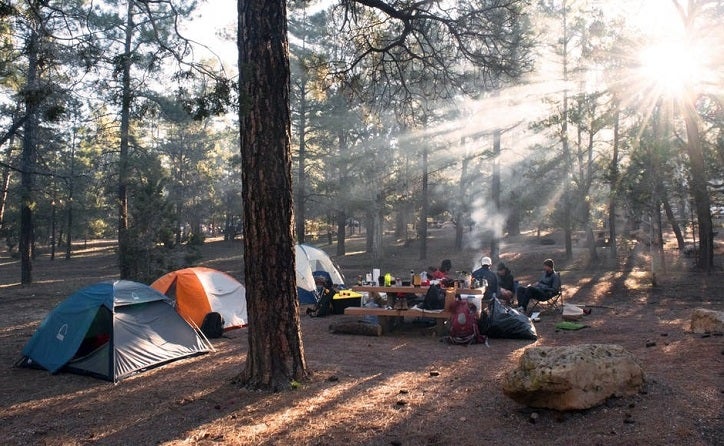 13. Leave the Electronics Behind
While some children may require electronics to self-soothe, or outdoor apps may be beneficial learning tools in the woods, for the most part, camping is about getting away from it all and learning to appreciate the natural world.
Rather than bring electronics camping, try to encourage your family to spend time appreciating and enjoying activities that they may not be able to enjoy at home.
Activities could include swimming, hiking, or even having a scavenger hunt. Camping offers the ideal environment to disconnect and recharge, and part of the goal of your first family camping trip should be to help your kids learn how to embrace that.
Camping is also a great time to renew their love of reading, as there's nothing better than enjoying a good book, lakeside.
Final Thoughts for the Best Family Camping Trip
Camping is such a fun activity for families, and the hope with your first family camping trip is to instill in your kids a love of nature and sleeping under the stars.
Try to get your kids as involved as possible in the planning process, and encourage them to take part in shaping the trip into what they want it to be.
Remember to bring games and plan activities that everyone will enjoy so your kids want to go on another camping trip.
If you follow the above tips, your first family camping trip is sure to be a success!
More about our TFVG Author
A seasoned traveller, Dad, and avid sports tourist, James foundered The Family Vacation Guide to share his expert vacation experiences- especially when it comes to being a travelling family man.
Featured in Travel articles such as Travel + Leisure, TripSavvy and SFGate, you know you're reading some of the best vacation tips online.