New parents dealing with cabin fever are always looking for ways to decompress and get out of the house. Walking a nature trail is our suggestion – but no, not alone, with your kid! Sure, hiking with a baby or toddler comes with its challenges but our tips are going to make things a lot easier, so let's dive in.
Quality time with family doesn't have to be limited to the living room when you have a baby. If a vacation or road trip still feels overwhelming with your little one, consider hiking with your baby or toddler instead.
Hike the mountain trails, stroll along blue lakes, or walk through verdant National parks with your baby or toddler. The great outdoors is merely a giant playground to explore with your little one. The right gear and a bit of practice are all you will need to celebrate your baby's First Hike.
The Benefits of Taking Your Baby Hiking?
Any kind of outing is a huge accomplishment for new parents and hiking is a fabulous way to brighten your life. The immediate benefit you'll experience is the feeling of freedom from the confines of your four walls. Moments that allow you to breathe in the fresh air and cherish your bundle of joy without worrying about chores, cleaning up, and work are priceless during those first couple of years after your child is born.
Hiking with your baby has also been proven to improve their sleep, boost immunity, and help them develop a sense of adventure and exploration in their early years. Plus, while travelling with babies is a fantastic idea, most tourist spots aren't the most accommodating of crying kids. Mother Nature, however, is far kinder, making the outdoors a much safer space to express their emotions. 
When Can You First Take Your Baby Hiking?
Your baby needs to be at least a month old before you consider bringing them along on a hike. Babies up to 5 months old can be taken on short pleasant hikes in a front carrier. Older babies that are able to sit up on their own might prefer the visibility that a back carrier offers. Always consider your toddler's capabilities carefully before selecting a suitable route.
Before you begin adventuring with your little one, make sure your body is well-rested. While your eagerness to get back outside is understandable, don't forget that pushing yourself too hard too soon can have consequences. Long walks around the neighbourhood can be a lovely way to get back on track before hitting the hiking trails. A dry run without your kiddo and with all your gear can help you familiarize yourself with the joys and trials of hiking trails.
What's The Best Way To Carry Your Baby when Hiking?
The most suitable way to carry your baby depends on a few factors: your fitness level, age of the child, weather, kind of trail, and whether or not you're hiking with a partner.
Hiking with a Baby Carrier
Your ideal carrier is determined by the type of hike you choose and the size of your child. Some parents prefer the front carrier to keep an eye on their baby, but back carriers let you see the trail more clearly. There are two main types of carriers for hiking: the hard-frame carrier and the soft-structured carrier.
It's best to use hard-frame carriers when hiking with a partner. They are breathable, adjustable, rigid, and well supported. The only downside is that their weight makes them a little difficult to move around.
Babies that cannot prop their heads up yet will benefit from the soft-structured carrier. It is better suited for winter as they provide more warmth. The carrier encourages more natural sleeping positions, and parents can easily check on the baby. There is, however, the risk of straining your shoulders and back and blocking your feet from sight.
Warmer seasons require a breathable material for carrying babies without overheating them. Back carriers keep babies cool because they are not as close to your body. Older kiddos that can sit up can be carried in a hiking backpack carrier. The huge amount of storage means that you can stuff all your toddler essentials in one place.
Hiking with a Stroller
If you want to walk a wide and flat trail, strollers are a good option. Hiking strollers are heavier than regular strollers and can be difficult to cart around. However, if your child is older or heavier, your arms will thank you.
Hiking strollers come in all kinds of shapes and sizes, some even capable of accommodating more than one child. Some unique features that make them popular include extra storage, trays, weather shields, belts, and all-wheel breaks. Moreover, their sturdy and thick tires move effortlessly over non-paved surfaces without jostling their passengers too much.
Pro tip: Find stroller-friendly trails by looking up "Wheelchair Accessible" trails.
Where to Find the Best Hiking Routes for You and Your Baby?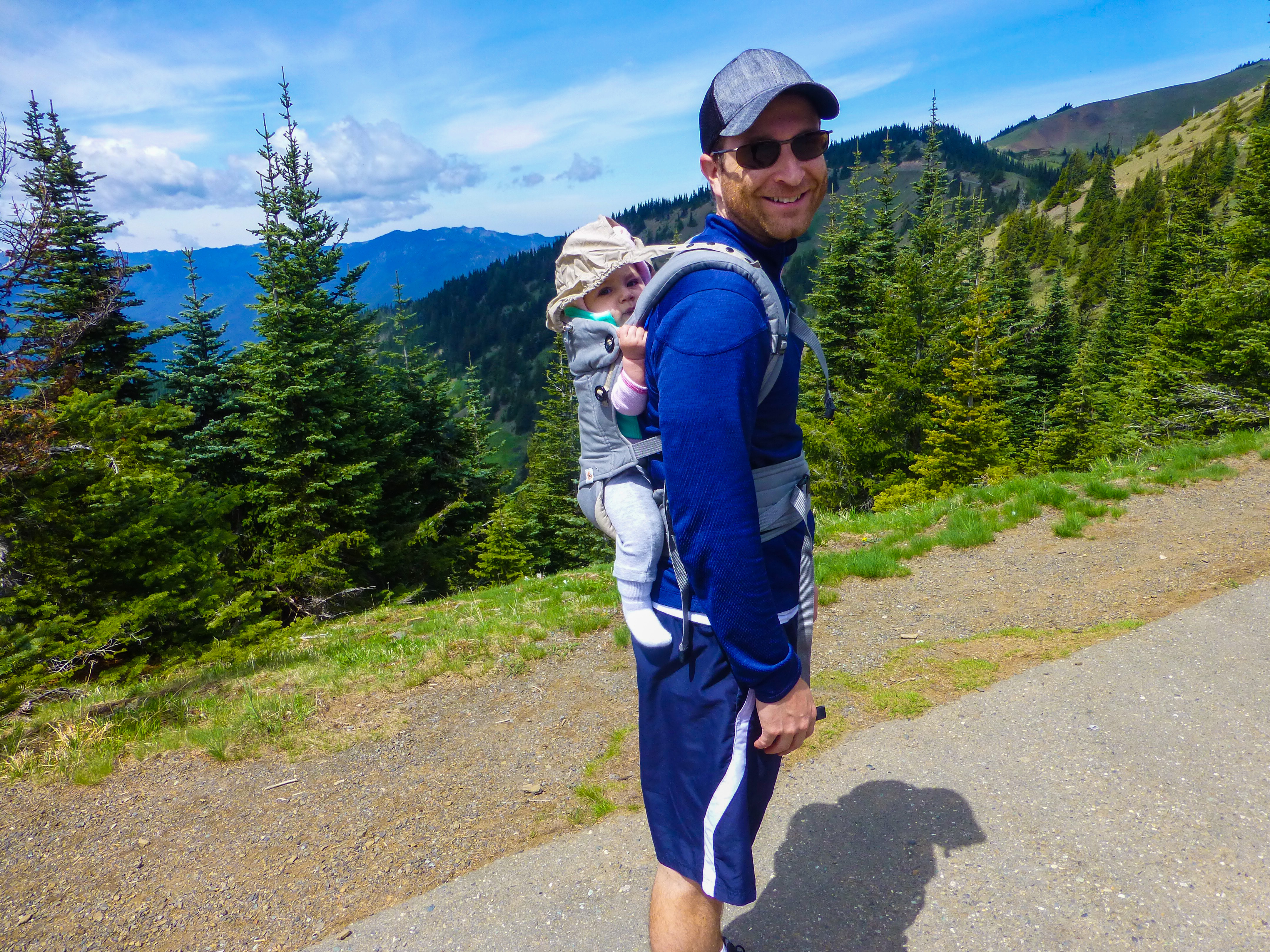 Connect with local hiking communities, and fellow parents, or read first-hand reviews on the internet. You can even check online or call Park Departments to get all the details for family-friendly hiking trails. Apps to find kid-friendly hiking trails (AllTrails) with filters can significantly narrow your choices too.
Start small, then gradually increase your hiking distance. Once you have assessed your abilities, you can gradually expand your comfort zone.
Factors like hiking distance, elevation gain, facilities, and the type of terrain will help you in deciding on a trail that works for you. Avoid trails that involve climbing, rough terrain, and other challenges. Your favourite trails that you are already familiar with are the best option. This way, you will already know the best places to stop for a feeding or diaper change. Choose a shaded trail to prevent your baby from getting too tired in the sun. And if you're using a stroller, ensure it comes with all-terrain tires and higher ground clearance.
Remember that your entire trip depends on the abilities of your youngest hiker. A slow and gentle trail is ideal for babies who require more care. Sticking to flat ground for young toddlers can go a long way in preventing injuries. The most successful hike is one that is safe and fun for everybody. Trails close to home are a good start as toddlers trapped in a car for hours will get cranky. It also means a quick return if things go south during the hike.
What's the Best Time of Day to Hike with a Baby?
The best time of the day to go hiking with a child depends on the season, the weather, the hiking route, and your baby's routine.
Rain, strong winds, and scorching sunshine can quickly turn a relaxing day upside down, so keep a close eye on the weather forecasts.
Planning a hike around feeding or sleeping schedules keeps babies happy and well-rested. Younger infants can sleep for a long time, so maximize nap times to cover the most ground.
Most toddlers are at their best at the start of a brand new day. Start bright and early to get through most of the trail before it gets too hot. Soak in the environment, work your muscles, and then be back home by sunset.
Hustling a toddler to move faster is a losing game. Hiking with children will take longer with diaper changes and feeding stops, so starting early also gives you more time to cover the trail. Additionally, if the weather turns nasty, you'll have an easier time returning home when it's still bright out.
How Should You Dress Your Baby for Hiking?
The rules are simple: clothing should match the weather. Light and long-sleeved clothes, a large sunhat, and sunscreen are suitable for summer. For the rainy season, a rain cover and an umbrella are must-haves. In winter, wrap your little ones in multiple layers to keep them snug and warm throughout the trail.
Toddlers are a force of nature, and the likelihood of them damaging their clothing is usually pretty high. Make sure what they are wearing is durable and can withstand a good amount of wear and tear. Discerning parents can go ahead and pack some extra clothing just in case.
Another essential is a good pair of shoes. Based on the season and kind of trail, opt between comfy sneakers, simple sandals, or sturdy hiking boots. Prevent injuries and tears by breaking in new shoes well before the hike.
Two things must be kept in mind when out hiking with babies. The first is that they can't move around as much to generate body heat. The second is that they need to be shielded from the sun, wind, and rain. A layered dressing system works best for this criteria as it allows them to take off a couple of layers when it gets warm and put them back on when it gets chilly again.
Top Tips for Feeding Your Baby on a Hike
An early start is incomplete without a filling breakfast.
A nursing baby requires nothing more than their momma to stay fed on the hike. A good nursing strategy is to breastfeed your baby just before you begin. The slow movement and full tummy are guaranteed to lull them into a nice long nap.
When on the hiking trail, formula-fed babies will require a travel bottle warmer, warm water in a thermos, and some pre-measured formula. Tip: Powdered formula is much lighter than the canned stuff.
Hiking makes one hungry, so frequently fuel up on the trail to keep spirits high and hangry children at bay. Sliced fruit, trail mix, and salted nuts are high-energy fun foods for toddlers and kids to munch on. Easy-to-hold fruits and veggies are a nutritious fix for the child who loves to do things all by themselves.
Variety is the spice of life, so a wide range of portable snacks will make toddlers a lot more excited to hike. Wafers, food pouches, and dissolvable snacks are all good options for keeping those cravings at bay. Plus, a yummy treat back at the car is a smart incentive for the return journey.
After the hike, kick off those boots with a nice picnic to cool down and fill rumbling tummies. As a bonus, exhausted and fed children are more likely to slip into a post-meal siesta while on the car ride home.
Hydration is Key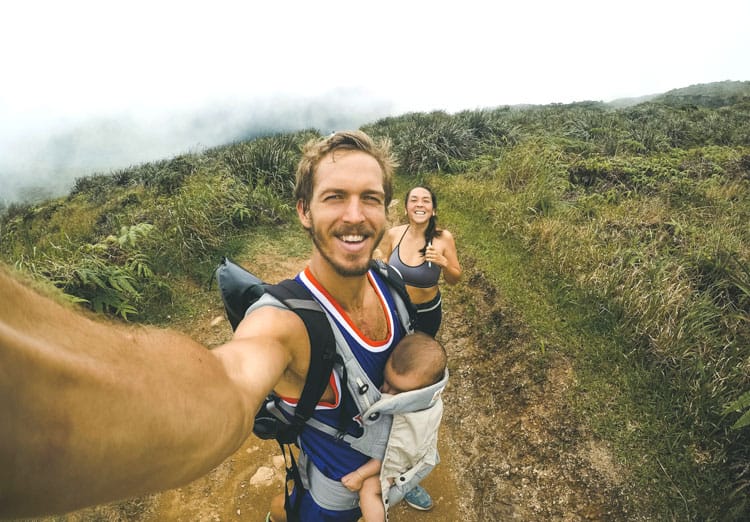 Drinking water while on a hike is super important, and the amount you carry varies with age, the trail, and activity level. Be sure to bring adequate water or mark the spots where drinking water is available en route beforehand. Brightly-coloured water bottles encourage toddlers to carry their own and drink when thirsty.
Nursing and formula-fed babies don't usually require additional water, but a baby bottle filled with water can be a real lifesaver in case of an emergency. It's most important, however, that breastfeeding mothers stay hydrated themselves.
Scheduled hydration stops for younger kids and toddlers is a good plan. Longer and more intense hiking routes can be made much easier with some electrolyte replacements, especially in hot weather.
Top Tips for Changing Your Baby's Diaper on a Hike
When it comes to changing diapers while on the move, practice makes perfect. Let's take a look at everything that you should keep in mind.
What to Pack?
First things first, packing the bag. The bag is your survival kit when things go code brown. Diapers and wipes, of course, are essential. You will also need to bring a portable changing mat, creams, and extra clothes. An absolute must-have is the wet bag, and a poop shovel can come in handy too.
The Diaper
While on the trail, the main factors to consider are how long you plan to hike, where you plan to change diapers, the best diaper to pick, and how many diapers you'll need.
Longer hikes that involve camping can give you a bit of flexibility on how much and what you carry. You should try setting up close to a rest area so you have access to more facilities for cleaning up.
For shorter hikes, review the trail beforehand for facilities like restrooms with baby changing stations or convenient spots for changing diapers. The ideal changing spot is a flattened area just a little ways off from the trail with a shelter to protect your baby from the elements. This will let you comfortably change a messy diaper without blocking the route for other hikers, or having to constantly shoo away curious animals. A water-resistant changing mat can make things go a lot more smoothly.
Disposable or cloth diapers – that is the question. Well, it all comes down to personal preference. Disposable diapers are a quick and simple affair as they involve no stress of washing or drying. On the other hand, cloth diapers can mean a lighter backpack because you don't have to carry home soiled diapers. However, you will need to change them more frequently as they absorb far less than disposables.
There is no such thing as too many diapers. Carrying extras is vital and can be the difference between a happy walk through the wilderness or a puddle of tears. A smart way to figure out how many diapers you will need is by averaging the number of diapers used at home over the same time period, plus a few more.
The Cleaning Supplies
Travel wipes, hand sanitiser, and diaper creams can go a long way in keeping clean when on the trail. A small towel, a warm blanket, and some extra clothing are a safe bet too.
The Poop Shovel
Get toddlers in on digging up catholes and teach them how to go potty out in the great outdoors. They may need a little help balancing themselves at first so make sure you stay close by.
The Wet Bag
"Leave No Trace Principles" are a mark of respect for fellow hikers and local wildlife. So ensure you carry two separate bags specifically for the purpose of collecting used diapers and dirty clothing. Odour-free bags are a wise investment, and if you are on the trail for longer, a bear canister for storing soiled diapers is a must.
Changing Diapers on the Trail?
Before you begin, check diapers in the restroom or car. A good start for toddlers is a quick potty trip at the trailhead.
Regular stops on the trail to check and change diapers are advisable. A game at potty time makes it less unpleasant for toddlers and parents alike. Perfect their pottying technique by encouraging independence as they balance on tree trunks or hold onto your hands.
Mastering the standing diaper change might be a good alternative for the mobile and inquisitive toddler. If squirmy toddlers are a struggle, try using the many distractions of the great outdoors to get them to hold still.
Consider planning your hiking trip with other families. This can offer an extensive support system that can be quite inspiring and helpful, especially if you forget something or run out.
Final Thoughts
Be flexible with your expectations, prepare well, and start with a trial hike. Hiking, baby or not, is about rolling with the punches, so do not worry if your first hike isn't what you envisioned. If all goes to plan, your baby will soon celebrate a new milestone and if not, just try again!

Check out these other articles about travelling with a baby or toddler:
More about our TFVG Author
A seasoned traveller, Dad, and avid sports tourist, James foundered The Family Vacation Guide to share his expert vacation experiences- especially when it comes to being a travelling family man.
Featured in Travel articles such as Travel + Leisure, TripSavvy and SFGate, you know you're reading some of the best vacation tips online.