For cartoon fans, the Cartoon Network Hotel is a bit of a dream come true. Where else can you spend a few days and nights living inside of a cartoon?
Ok, so fine, you're not actually in an animated cartoon, but as soon as you step inside, you'll be immersed in a completely toon-themed world, as the Cartoon Network Hotel brings all your favorite animated shows into reality.
So, Where's the Cartoon Network Hotel?
The Cartoon Network Hotel is situated four miles from Lancaster, Pennsylvania, right on Lincoln Highway East. For reference, that's about 150 miles southwest of New York City and only 85 miles northwest of Baltimore, Maryland. It's easy to get to by car, and it's very family-friendly. 
What Are the Accommodations at the Cartoon Network Hotel?
All of the rooms and suites at the Cartoon Network Hotel offer cartoon-themed fun and decor. There are rooms with two double beds and a shower and tub, or slightly smaller rooms that have a shower but no tub. Or, scale down a bit and reserve a room with an accessible full and twin bed and a roll-in shower that's ADA accessible. 
Plus, there are also rooms with king beds, shower and tub combos, queen beds, and bunk beds. There's pretty much a room setup that works for any size family of up to four or five.
You can choose from rooms inspired by any one of six Cartoon Network shows:
The Amazing World of Gumball
Adventure Time
Ben 10
The Powerpuff Girls
Steven Universe
We Bare Bears
Or, you can amp up the immersion of your experience at the hotel by choosing to stay in one of the upstairs suites in the main hotel building. These suites are spacious and completely themed to one of four cartoon favorites:
Each suite has its own uniquely distinctive setup, so you can choose one that's best for your group. But the typical room amenities include things like a coffee maker, big-screen television, WiFi, a kitchenette and microwave, a hairdryer, and comfortable sleeping arrangements to suit your family's needs.
The entire property is also smoke-free, so you don't have to worry about bad smells from cigarette smoke.
What Can You Do at the Cartoon Network Hotel?
The entire Cartoon Network Hotel offers immersive experiences and activities for all ages. Sure, kids tend to be bigger cartoon fans than adults, but there's something here for everyone. For instance, if your kids are fans of the Ben 10 show, stop into the Omnicade for a cartoon-inspired gaming experience.
Or, if you want to relax and swim, lounge, and play at either the year-round indoor pool or check out the outdoor kid's pool, done in the theme of The Powerpuff Girls. Buttercup, Blossom, and Bubbles are even there to entertain and keep you company.
There are also plenty of other indoor and outdoor activities to enjoy with the whole family. When you're ready to eat, stop into the Cartoon Kitchen for a meal, where even the food is cartoon-themed. Or, if you just want a snack, stop into the Bearista Cafe for a caffeine pick-me-up. When you're looking for a souvenir, it's just a quick turn into the Cartoon Network Store for a memento of your visit.
Then, maybe it's time for a visit to the interactive and exciting kids' play area, the Toon Room. Here there are daily instructor-led activities available at no extra cost and a wealth of creative experiences to enjoy and open the mind. Wherever you turn, your favorite cartoon characters are right nearby.
What Else Is There to Do Nearby?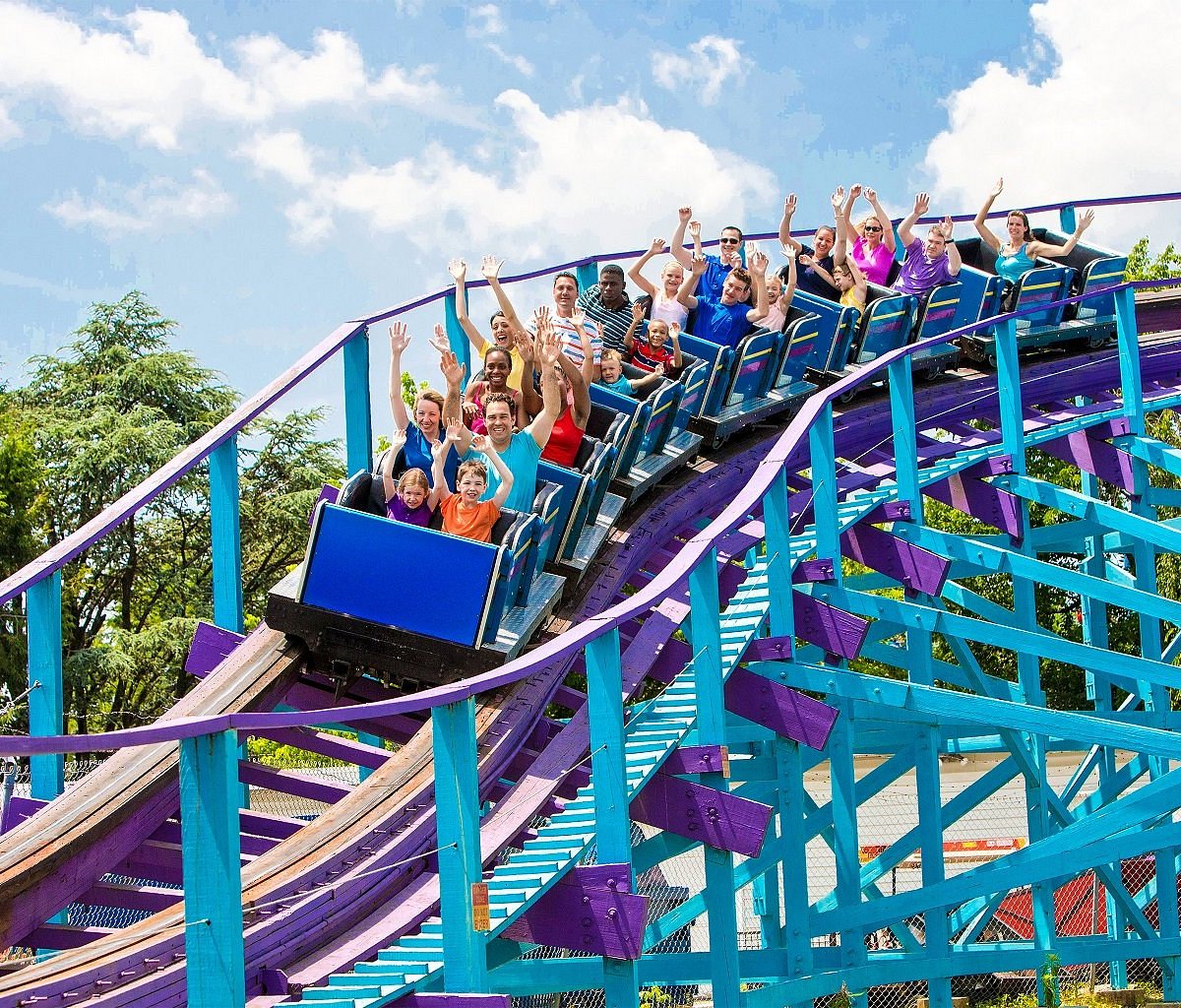 The hotel is right near Dutch Wonderland, a popular amusement park with a kids-centric approach and more than 35 attractions and rides. Guests at the Cartoon Network Hotel receive favorable admission discounts, so many families stay at the hotel and head down the road for a visit during their stay.
You can also check out quite a few other family-centric locations that cater to families visiting the area. For instance, you could visit the National Watch & Clock Museum and Library to learn about historic clockmakers and see a working German-made clock from the 16th century. Or head on over to Old Windmill Farm, and explore how the local Amish community lives.
If you want a little more action, there are other local theme parks and attractions, and you could even take a family shooting lesson at the local firearm training center, Morr Range. Or, just spend a few hours exploring the Lancaster area, which is rich in history, working farms, covered bridges, and Pennsylvania Dutch-style restaurants.
You're also not far from Hershey Park's sweet attractions and Traintown USA, a popular family destination. Use the Cartoon Network Hotel as your base, and range out on the road and see all the area has to offer. 
How to Book a Stay at the Cartoon Network Hotel
Staying at the Cartoon Network Hotel is easy. You can reserve a suite, single room, or book a special package and amp up the experience for everyone. There are fairly deep discounts associated with package deals, so you can save money and still enjoy all the hotel's amenities, activities, and accommodations without breaking the bank.
Even if you're not staying in the hotel, you can book a toon-tastic birthday party for your little one. Birthday parts are offered in any of three packages, Cyan, Magenta, or Yellow. Yellow package deals are the most expensive, but they offer comprehensive access to all the hotel has to offer. The other packages are more affordable and slightly scaled-down.
Plus, you can pick and choose which optional add-on activities you need to complete the party! If you have questions about what's on offer, just get in touch with the friendly staff. They'll help you figure out exactly what you need to make it a perfect, memorable cartoon party.
More about our TFVG Author