A trip to the Poconos Mountains is guaranteed to be full of stunning scenery and outdoor adventures. If you're planning a family vacation, it's critical to plan a family vacation that has something to offer every family member.
Fortunately, with a balance of scenic outdoor activities and family-friendly attractions, the Poconos in Pennsylvania is a dream destination for all ages.
If you're planning a getaway to the Poconos with young travelers, here are 16 of the top destinations and attractions to visit that are sure to make your trip memorable for the whole family.
Why not also check out our guide to the best Poconos family resorts?
Camelback Lodge & Indoor Waterpark
The historic Camelback Lodge in Tannersville, PA, is one of the top places to visit in the Poconos when traveling with kids. This lodge is designed around families, with plenty of activities that will keep everyone happy and entertained.
Camelback Lodge is located nearby some of the best ski, snowboard, and tubing slopes in Pennsylvania, making it the perfect location for a family winter getaway. After a long day outside, the resort offers plenty of dining options.
Camelback Lodge is also home to Aquatopia Indoor Water Park, which boasts:
13 water slides
An interactive toddler area
Pool-side shops and restaurants
Private indoor cabanas to rent for even more quality family time by the water
When you stay at the lodge overnight, a pass to Aquatopia Waterpark is included with your room.
Camelback Lodge offers even more family-friendly indoor fun with:
Laser tag
Rock climbing
Arcade games
An escape room
Bumper cars
In warmer months, you can also relax and play at the Camelbeach Outdoor Water park.
Great Wolf Lodge
With events and entertainment created just for kids, Great Wolf Lodge is one of the most family-friendly resorts you can find.
In Scotrun, PA, Great Wolf Lodge offers an exciting indoor water park, with attractions ranging from kiddie slides and a splash pad for toddlers to exhilarating slides and raft rides for older children and adults.
Other activities include:
The live-action MagiQuest adventure
Family-friendly-bowling
A ropes course
Arcade
Glow golf
Daily events, such as family dance parties, arts and crafts, bingo, and story time are also included with your stay and offer the perfect way to spend some extra quality time together on your getaway.
After a long day, you can relax and spread out in the spacious family suites, some of which even include cave or cabin-themed rooms that your kids will love.
Camel Mountain Adventures
For a thrilling family adventure with stunning views of the Pocono Mountains, make sure to stop by Camel Mountain Adventures near Camelback Mountain.
At the most prominent outdoor adventure park in Pennsylvania, your family will never run out of exciting activities to enjoy together.
Zip down the steel-track mountain coaster, walk through the Treetop Adventure Course or experience the best mountain views as you zipline through the air. Or, if you prefer staying on the ground, you can take part in an off-road segway tour through the forest.
Poco Snake & Animal Farm
This family-owned and operated animal attraction in East Stroudsburg is ideal for a day of family fun with kids of any age.
At Poco Snake & Animal Farm, kids can have a unique, up-close experience with animals. They can pet rabbits, feed monkeys, and bottle-feed deer, goats, and pigs.
Along with the feeding and petting animals, this farm is home to:
Sloths
Lemurs
Chinchillas
Raccoons
Macaws
Snapping turtles
A 23-foot python
When traveling with any animal lovers, Poco Snake & Animal Farm is a must-see. The opportunity to see and interact with the farm's exciting animals is guaranteed to create lasting memories for kids of all ages.
Claws 'N' Paws Wild Animal Park
Nicknamed "The Zoo in the Woods," Claws 'N' Paws Wild Animal Park in Lake Ariel is another fantastic spot for any animal lover.
At this open-air zoo, kids can get up close to a vast range of animals, including:
Deer
Goats
Tortoises
Monkeys
Lions
Black bears
Alligators
And more, with over 120 species in total available for viewing
There are also many opportunities to interact with the animals, including visiting the lory feeding area or hand-feeding carrots to the giraffe.
After you've explored and seen all the animals in the 30-acre enclosure, kids can stop by the dino dig to dig for fossils, solve puzzles, take pictures, and attend daily kid-friendly activities.
Costa's Family Fun Park
If you're making a summer trip to the Poconos with kids, Costa's Family Fun Park is worth a visit. Located in Hawley and open from mid-June to Labor Day, this park has countless family-friendly activities that will keep your kids smiling the entire trip.
The park's four water slides and bumper boat rides are the perfect way to cool off during the warm summer months. Costa's Family Fun Park also offers:
Go-karts
Mini-golf
Laser tag
A driving range
A playground
For an additional cost, kids ages two and older can mine for fossils and gems at the park's discovery center.
After a day in the sun, you can stop by the on-site snack bar for a treat. The snack bar offers a variety of kids' meals, as well as delicious hand-dipped Hershey's ice cream for dessert.
American Candle
While American Candle in Bartonsville may have started as a standard candle store in 1978, it's now a Pocono Mountain Staple with a range of enticing shops and displays. Today, American Candle is an immense must-see establishment with something for every family member to enjoy.
While the store still offers a wide variety of aromatic candles, you'll also find boutiques, jewelry, home decor, wine and beer, and unique collectibles and souvenirs.
While parents will love all the shops, kids will be thrilled when they visit Candy Land, the largest candy shop in the area. This shop features hundreds of candy barrels, novelty cotton candy, local PA fudge, and fresh and delicious rolled ice cream from Rolley's Ice Cream Shop.
With over 30,000 square feet of unique shops, American Candle truly offers something for everyone.
The Schisler Museum and McMunn Planetarium
Whether you love nature, wildlife, or astronomy, the Schisler Museum and McMunn Planetarium is the perfect place for a day of family fun. Located at East Stroudsburg University, this museum and planetarium are designed for visitors of all ages to explore and learn more about the natural world.
The Schisler Museum is home to:
Over 130 exciting wildlife specimen exhibits
A 300-gallon aquarium
Several insects from around the world
The biggest draw for families, however, is the immersive and exciting Delaware River Exhibit. Visitors can walk through the re-creation and experience the region's plants and wildlife.
Admission also includes access to the McMunn Planetarium, which uses a digital projection system to create stunning star shows and stream short films for kids.
Together under one roof, this museum and planetarium are designed to inspire and engage kids as they learn about nature and astronomy. With programs and events designed for kids of any age, this is an excellent stop on any family trip.
Blue Lightning
Another East Stroudsburg staple, Blue Lightning Tubing, is an ideal destination for any family looking for a thrill during their trip. As the only year-round snow tubing facility in the Poconos, Blue Lightning can offer exciting and daring family fun no matter when you plan your family trip.
Blue Lightning Tubing features a magic carpet lift and two 400-foot tubing lanes you can glide down. This unique attraction creates the same fun and excitement as snow tubing, but your family can enjoy it in winter, spring, summer, or fall.
The facility is also close to several other outdoor activities, including bumper boats, horseback riding, a ropes adventure course, ziplining, and more, so you can explore the area and enjoy all the adventures it has to offer.
Pocono Go-Karts
This family-run attraction, located in East Stroudsburg, boasts the biggest and best go-karting park in the Poconos. With both kiddie and adult go-karting tracks, as well as plenty of other family-friendly activities, kids and parents will love the exciting quality time they spend together at this amusement park.
Along with two full tracks, Pocono Go-Karts includes full night lighting for nighttime races during the warm summer months, with seats available for kids to race safely alongside their parents. The park also offers miniature golf and paintball for all ages to enjoy.
Greene Dreher Sterling Fair
If you're thinking about a family trip to the Poconos in late August-Early September, make sure to drop by Newfoundland, PA, to celebrate the Greene Dreher Sterling Fair. This annual fair, which has been around since 2017, is full of family-friendly entertainment and attractions designed to honor the region's agriculture.
With live music shows, mouth-watering food vendors, agricultural exhibits, games, rides, and so much more, this fair is bound to keep every member of the family entertained. With so much to explore, the Greene Dreher Sterling Fair is the perfect place for a family outing with children of any age. Even the youngest kids will love all the music, animals, and excitement of this celebration.
Pocono Environmental Education Center
If you're looking for a fun and educational family activity, the Pocono Environmental Education Center might be a top choice for you. Located in the Delaware Water Gap National Recreation Area in Dingmans Ferry, this center aims to increase appreciation for nature through hands-on experience in the outdoors.
You can choose from customized family-oriented programs that best fit your schedule, including relaxing family camp weekends or seasonal, year-round programs such as guided hikes, cross country skiing, and canoeing.
If you're looking for a unique outdoor adventure, PEEC is the place to go. Along with specific family programming, you can also explore 12 miles of hiking trails, team-building activities, and specialty workshop opportunities.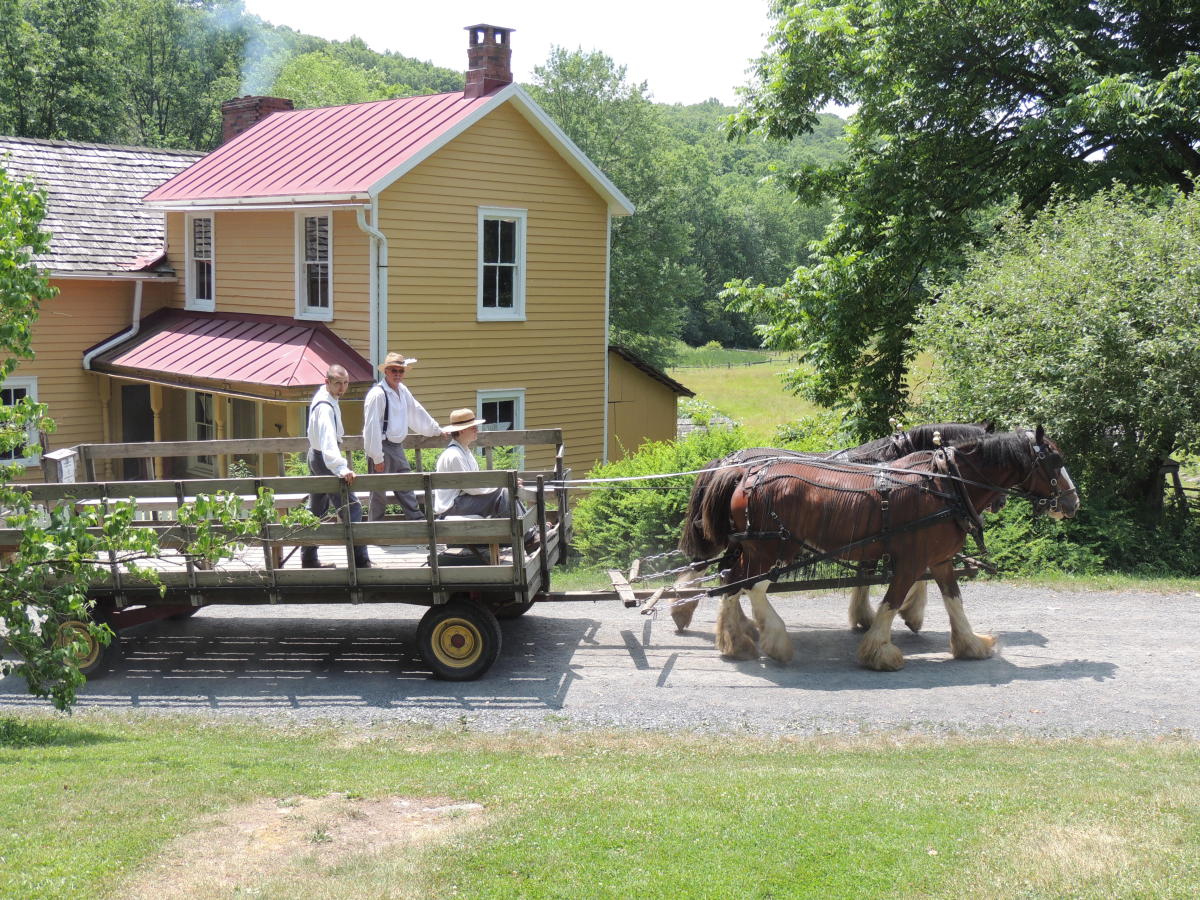 Quiet Valley Living Historical Farm
While other activities provide the chance to learn about history, this living museum allows families to live it. Located on 114 acres of scenic land in Stroudsburg, the Quiet Valley Living Historical Farm is an exciting and unique way to experience 19th century Pennsylvania German agricultural heritage.
Dressed actors will tell you about their day on the farm and help you learn more about how people lived at the time. You can also find daily events and activities for kids of all ages that allow history to come to life. Through this immersive educational experience, kids are guaranteed to create lasting memories.
Old Jail Museum
While an abandoned prison may not be the most kid-friendly attraction on this list, the Old Jail Museum in Jim Thorpe is a must-see for older kids interested in historical sites or the paranormal.
The facility was used as a jail until 1995 when they converted it into a museum. Today, you can take a guided tour around the building to learn bout its history, the mysterious handprints on the wall, and the rumored ghosts that haunt the halls.
For families looking for some creepy, paranormal thrills, walking the halls of a haunted abandoned jail is sure to provide.
Promised Land State Park
Nestled 1,800 feet above sea level in the Delaware State Forest, Promised Land State Park provides plenty of kid-friendly outdoor activities to enjoy in a natural, scenic setting.
State park visitors can kayak, canoe, or fish on the lake, visit a wildlife observation station for some birdwatching, relax at the beach, or enjoy one of several family-oriented hiking trails or environmental nature programs.
With rustic cabins and plenty of amenities available throughout the park, this is the perfect place to enjoy the outdoors while spending quality time with your family. No matter how young travelers are, this park has programs and activities that suit every visitor.
The Shawnee Playhouse
This small, historic theater in Delaware is a fantastic spot to visit when you're searching for kid-friendly entertainment in the Poconos.
Through local actors and high-quality, family-friendly shows, the Shawnee Playhouse creates engaging and exciting productions geared towards adults, teenagers, and kids of all ages. If you're on a more extended visit to the Poconos, the playhouse also offers summer camps for kids designed to build their creativity and get them interested in live theater.
With incredible, entertaining shows, the Shawnee Playhouse provides an excellent opportunity for kids to relax, learn, and experience unique live theater at any age.
More about our TFVG Author
A seasoned traveller, Dad, and avid sports tourist, James foundered The Family Vacation Guide to share his expert vacation experiences- especially when it comes to being a travelling family man.
Featured in Travel articles such as Travel + Leisure, TripSavvy and SFGate, you know you're reading some of the best vacation tips online.