Orlando, Florida is one of the fun capitols of the world—and while the waterparks there don't tend to get quite as much attention as the other amusement park attractions, they are packed full of fun.
But we all have limited time in this world, and you may only be able to spend one day at a waterpark during your stay at Orlando in Florida. So if you can only choose one, which should you go with?
The answer to that question fully depends on what your priorities are for this vacation—each one has unique features and strengths that make it better for different families. In general, Blizzard Beach is best for kids, Typhoon Lagoon is best for a "tropical getaway" feel, and Volcano Bay is best at Universal Studio's unique quality-of-life amenities.
In this guide, we'll first go through an overview of each one of the three parks, then transition to comparing them on five different benchmarks: immersiveness of theme, quality of attractions, logistical ease, and whole-family fun.
You can also check out or brilliant guides on the best water parks in Orlando, 10 of the best Orlando resorts with water parks, and also the best hotels for families in Orlando.
Parks Overview
Even though all three of these parks have things in common—they're all Orlando waterparks that are connected to a larger network of amusement parks, for example—they are each quite distinctive as well.
Typhoon Lagoon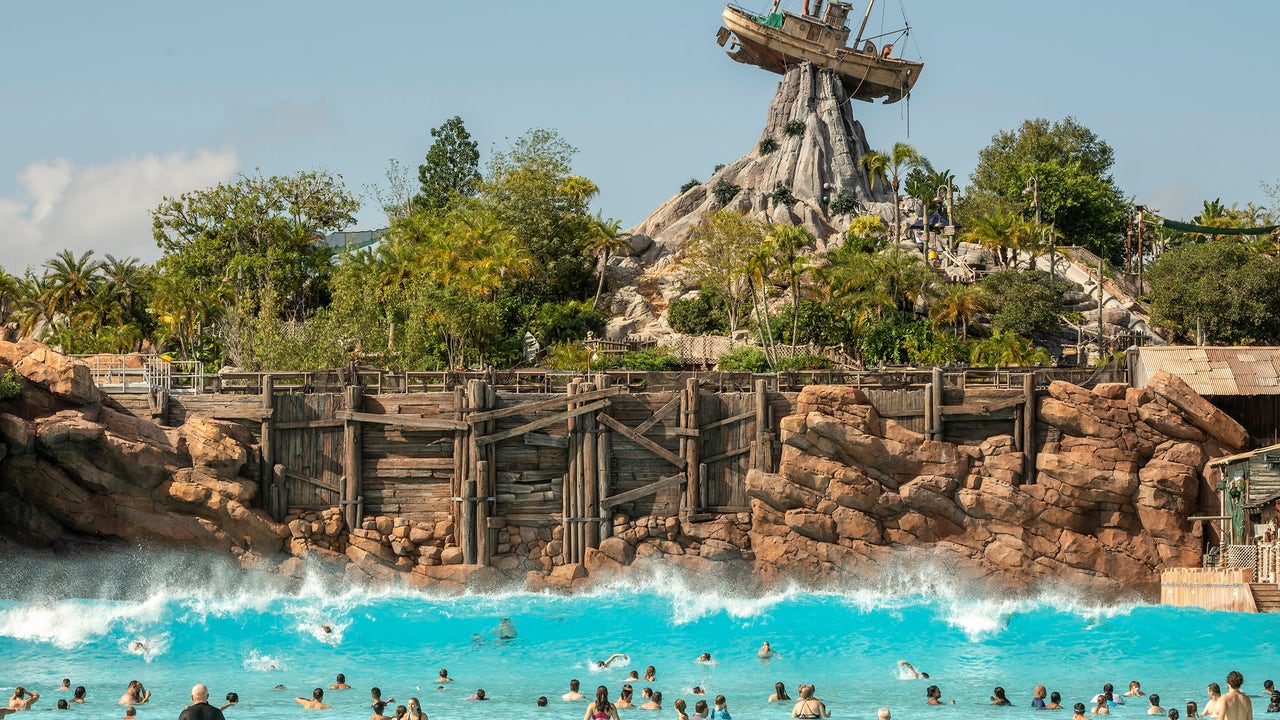 Disney World's longest-operating waterpark, Typhoon Lagoon was first built in 1987, 13 years after they opened the now-closed Disney's River Country.
Typhoon Lagoon's premise is that of a tropical paradise that has been thrown into utter chaos by a massive typhoon. Island-themed wreckage is strewn everywhere, providing delightful infrastructure for the watery playground.
The park is split up into four main sections: Mount Mayday, Hideaway Bay, Typhoon Lagoon, and Ketchakiddee Creek. Mount Mayday is the most visible part of the park, and it towers over the Typhoon Lagoon section—the immense wave pool that sits at the heart of the park. From the entrance, Ketchakiddee Creek is to the left of the lagoon, while Hideaway Bay is to its right.
It was also the second most popular waterpark in the world in 2016, logging nearly 2.3 million visitors that year. While it was closed for the COVID-19 quarantine, it recently reopened on January 2, 2022.
Notable Attractions
Typhoon Lagoon Surf Pool: The largest wave pool in North America, the Typhoon Lagoon Surf Pool is one of the most distinctive and exciting attractions the park has to offer. Unlike a standard wave pool, Typhoon Lagoon's version brings large surf-style waves at regular increments. These waves are safe and incredibly fun to interact with.
Crush N' Gusher: This fun-packed ride is a unique blend of roller coaster and tube rafting ride. The 400-foot long coaster sends you (and several friends, if you like) speeding through one of their three fruit chutes (banana, pineapple, and coconut) for a time filled with laughter and thrills.
Ketchakiddee Creek: For younger children (specifically those under four feet tall), Ketchakiddee Creek can serve as the perfect play area away from the wave pool.
This delightful interactive play area has all sorts of cool quirks, including scaled-back waterslides, a waterfall cave, and a leaking tugboat with a water cannon called the S.S. Squirt. This area also has fun little animal characters—crocodiles, seals, and elephants dot the landscape, creating a magical experience.
Humunga Kowabunga: This is probably the scariest attraction in the Lagoon. It's the fastest and steepest of all the park's waterslides, sending you zooming out of the top of Mount Mayday at a 60-degree angle: all in near-total darkness.
If the darkness sounds uncomfortable to you, don't worry—you'll travel so quickly through the 214-foot slide that you'll arrive back in the light in no time.
Mayday Falls: Typhoon Lagoon has three inner tube waterslide rides themed as "Falls," but Mayday Falls is by far the most intense of the trio. While Humunga Kowabunga is faster and steeper, Mayday Falls is higher and lasts longer. That doesn't mean it's unexciting—quite the opposite this ride is full of twists, bumps, and thrillingly terrifying speeds.
Blizzard Beach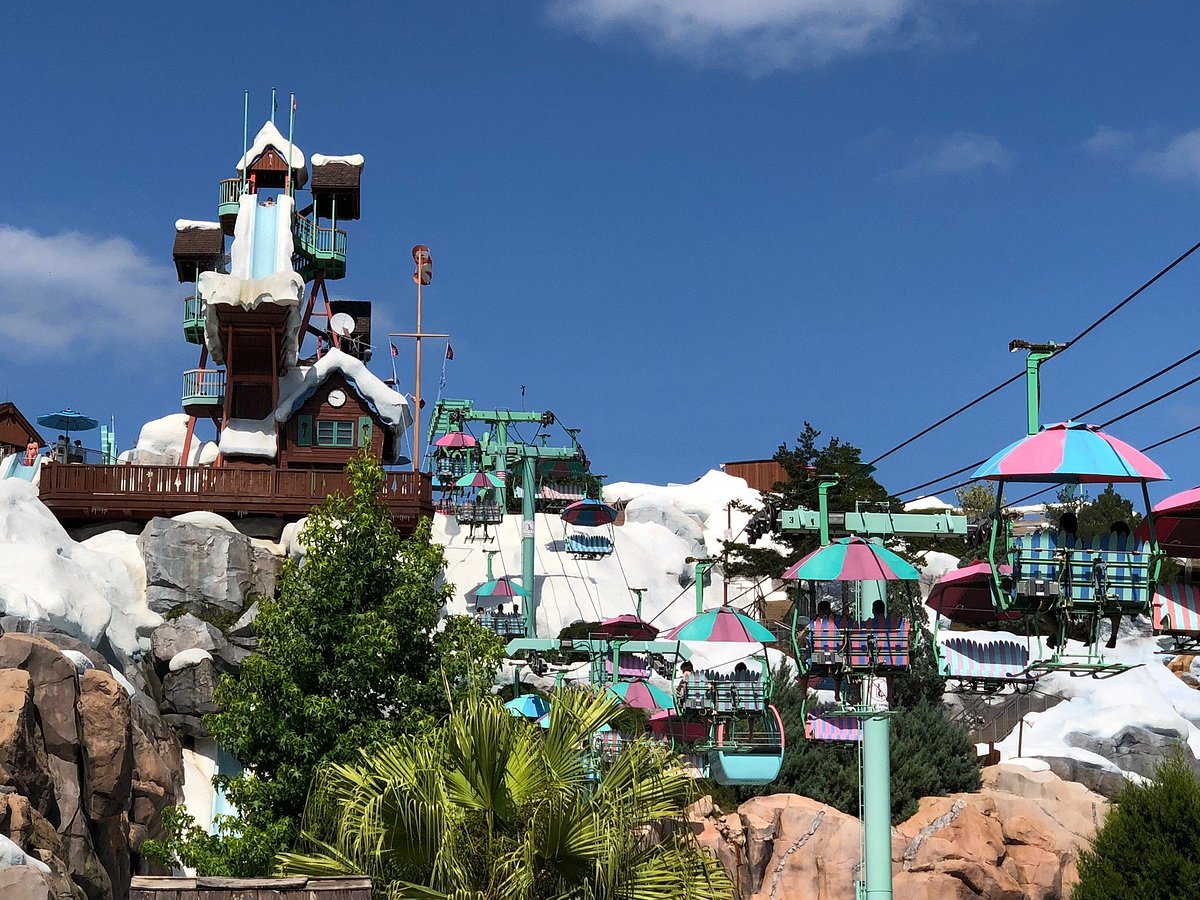 Blizzard Beach is the younger sibling of Typhoon Lagoon, and Disney World wanted to build it with a unique twist that would distinguish it from their two previous waterpark projects. For that reason, they decided to give it a wintry theme.
Disney's lore behind the park goes something like this—there was a time when Florida suffered a freak weather event and turned into an arctic climate, complete with snow everywhere. Someone started a ski resort during this time, but once the weather returned to normal, they started to close it down.
Amid that closing down process, Ice Gator (an alligator wearing a hat and a scarf) saw the old ski jump as a water slide, landing in a basin of now-melted snow with great joy. Because of his optimism, the ski resort was transformed into the Blizzard Beach waterpark we know today. Ice Gator also serves as the park's mascot.
The park is split into three different "slopes," in keeping with the ski theme, and then the ground level.
The Purple Slope has primarily waterslides and attractions designed for two participants (or teams of participants) to "race" each other.
The Green Slope features some of the park's best-known rides like Summit Plummet and Teamboat Springs.
The Red Slope has only one attraction, though it's quite a large one—the multi-slide, 600-ft Runoff Rapids.
The Ground Level features the rest of the important attractions at the park, including the lazy river, the two different children's play areas, all dining, the wave pool, and the rather unique ski lift.
Notable Attractions
Summit Plummet: This is the signature ride at Blizzard Beach—at 135 feet tall and 360 feet long, it's one of the tallest water slides in the world, as well as the second tallest free-fall body slide in the world.
It is likely the most exciting ride available at Disney waterparks—or perhaps in any Orlando waterpark. The slide is so dark and steep that you cannot see the slide when you peer over the edge—you can only start to see it once you're in the position to start the ride.
Kid's Play Areas: Blizzard Beach is excellent at children's options. It has two different play areas, one geared towards kids under 48 inches and the other geared towards pre-teens writ-large.
The former area is called Tike's Peak and features much smaller versions of the waterslides present throughout the park (as well as other diversions). The latter is called Ski Patrol Training Camp and offers several slides of its own as well as a delightful leisure pool.
Teamboat Springs: This ride is a delight for the whole family. You'll hop in a raft that holds between four and six people. If you have fewer than four in your group, the workers will likely bring some strangers in to join you.
The raft careens down a 1200-foot long waterslide with plenty of rapids, twists, turns, and room to bounce around. The inner-tube raft spins randomly while your whole group gets sprayed with water—it's a thrilling time.
The Chairlift: If you want to get up to the Green Slope, which contains both Teamboat Springs and Summit Plummet, you can walk there if you want to. But you can also use the Chairlift, which is more of an attraction than a ride. It mimics a classic ski chairlift, carrying people up to the height of the Green Slope, and the views and convenience it offers are truly lovely.
Downhill Double Dipper: The Double Dipper centers around one of the many features that make Blizzard Beach distinctive: competitive waterslides. The 50-foot ride is not long, but it presents two side-by-side waterslides for two friends to hop onto and be simultaneously released. The pair are then timed and can compare their landing times.
Volcano Bay
Volcano bay is the newest waterpark of the three, having only opened up in 2017. It replaced Universal Orlando Resort's previous waterpark, the Wet 'N' Wild, which closed on December 31, 2016.
The park does not have as much of a story to it as the Disney ones do, but it is heavily themed around Polynesian culture, with its centerpiece being the titular volcano called Krakatau. The volcano is 200 feet tall and features waterfalls and lava flows at different times of the day.
It is structured in four different sections, each portraying a different Polynesian island or culture. One of these sections is Krakatau, and the other three are all villages: Wave Village, Rainforest Village, and River Village.
The primary thrill-oriented rides the park offers are found at Krakatau and Rainforest Village. In the former, you can find the Ko'okiri Body Plunge, Punga Racers, and the Kala and Tai Nui Serpentine Body Slides.
At Rainforest Village, you'll find several raft rides: the unique "saucer-style" Maku, several water slides, and a white-water rafting simulation called TeAwa The Fearless River.
Wave Village is most oriented towards sunbathing and a general feeling of relaxation. It includes low-key wave pools, locations to lie around and relax in the sun, and cabanas you can rent.
Families with children will likely find themselves spending much of their time at River Village, which features much of the family-oriented fun you can find at Volcano Bay, including the Lazy River and the kid-oriented Reef areas.
Notable Attractions
Ko'okiri Body Plunge: This 125-foot drop capsule;e waterslide is likely the most thrilling, terrifying experience you can have at Volcano Bay. The ride places you falling from the top of the volcano at a 70-degree drop. Once the drop door opens, you rush down the volcano alongside gushing water, landing safely in the pool below.
Kala and Tai Nui Serpentine Body Slides: These slides are similar to the Body Plunge, with a key difference—here, two twin slides carry two passengers simultaneously through the ride. These also focus more on the thrill of a speeding twisting and turning, as opposed to the dropping rush of the Body Plunge.
Runamukka Reef: This reef is an incredible spot for your children to pass several hours. In the lore of the park, it used to be a coral reef found deep in the ocean that has now been converted into a playground featuring dump cups, water guns, bamboo sea creatures, and seemingly ubiquitous geysers.
Tot Tiki Reef: Tot Tiki Reef is the toddler-oriented play area at Volcano Bay. There, you'll find whimsical creatures, small slides, and sprinklers galore for your young ones to wander through and delight in.
Krakatau Aqua Coaster: Riding the Aqua Coaster is a wonderful experience—you board a four-person canoe and it takes you ripping and roaring through the inside of the volcano itself.
Comparing the Parks
Now that you have an overview of the different options available at the parks, we can compare them. We have chosen four different benchmarks on which to evaluate the three parks: an immersive experience, quality of attractions, logistics, and whole-family fun.
Immersive Experience
Of the three parks, Blizzard Beach offers the best immersive experience by far. While the themes in all three are fun and each park does a great job at creating a new world for you to dive into, Blizzard Beach's theming is simply a step above the other two.
That's true both because of the uniqueness of the theme as well as how thoroughly the designers exhibit the theme in every aspect of the park. There is not a single ride at Blizzard Beach that does not somehow tie into its foundational story.
The same cannot be said for Typhoon Lagoon and Volcano Bay—even though every attraction in both is certainly decorated per their respective themes, they aren't as immersively tied into a story.
That said, the story behind Blizzard Beach may not appeal to you. If you're trying to emulate a tropical getaway, being reminded of snow and ski lifts at every turn is probably more of a detriment than a benefit. If that's the case for you, then Typhoon Lagoon is next in line for immersive theming.
Quality of Attractions
In our view, Typhoon Lagoon narrowly beats out the competition here. While all three waterparks feature fun-filled rides and attractions throughout, Typhoon Lagoon has the highest concentration of diverse and high-quality attractions. From the unique draw of the immense wave pool to the high number of distinctive and enjoyable rides, it is an excellent choice based on attractions alone.
Logistics
Here, Volcano Bay pretty clearly takes the cake. In every logistical regard from parking to their delightfully innovative Tapu Tapu queuing system, Universal Orlando Resort offers distinct quality of life features that you will certainly enjoy.
Blizzard Beach is at the bottom of our list on this item, due to its being structured around three different "slopes." While that pattern works exceptionally well as a theme, it can be a pain to get around there with all the ascents you need to climb. Even though the Chairlift helps in that regard, the lines for that can be so long that it proves self-defeating—and you can't use it to get back down the mountain either.
Whole-Family Fun
If you're planning a family vacation, you want to find a place with items that appeal to the whole of your family, not just one segment. On that front, Volcano Bay narrowly beats out Blizzard Beach, though both of them are head and shoulders above Typhoon Lagoon.
Both Volcano Bay and Blizzard Beach have two different children's areas, one oriented towards young children and the other towards children of all ages (or, in Blizzard Beach's case, preteens). In both parks, both kid's areas are quite well-reviewed by family visitors.
Volcano Bay edges out Blizzard Beach because of its Wave Village—a space constructed specifically around chilling out and relaxation for visitors of all ages. The Puka Uli Pool and The Reef are both excellent places to catch a more laid-back kind of vibe that you may find a slightly harder time finding at Blizzard Beach.
Final Review: Which Waterpark Should You Choose?
At the end of the day, it wholly depends on what sort of waterpark experience you're looking for.
If convenience is your primary goal (and you're visiting the Universal Orlando Resort otherwise anyway), Volcano Bay is the direction you should go. If you want a magically immersive experience that your children are sure to enjoy, Blizzard Beach is the winner. And if you want a waterpark day packed full of the best waterpark rides Orlando has to offer, Typhoon Lagoon is the best choice.
But if you're asking for an overall favorite, we have to choose Blizzard Beach. Even though it has prominent flaws (challenging walkability, older facilities, etc.), it does so well with what it does well that we can't keep ourselves from recommending it.
More about our TFVG Author