With school letting out and balmy weather on the horizon, it's time to plan your family vacation. Maybe you've already decided where you want to go, but you'll want to consider Pigeon Forge, Tennessee if you haven't made a decision yet. 
There are countless attractions, views, hotels, and resorts in Pigeon Forge for your family to enjoy. The famous Dollywood and Smoky Mountain Opry are in Pigeon Forge. And if that weren't enough, the beautiful Smoky Mountains will surely catch the attention of outdoor enthusiasts.
Before you bring your family to this remarkable town, you'll need to decide where to stay. Choosing the right resort for your family isn't a complicated process, but there are many options. Here are 14 of the best family resorts in Pigeon Forge, Tennessee.
1. Dollywood DreamMore Resort and Spa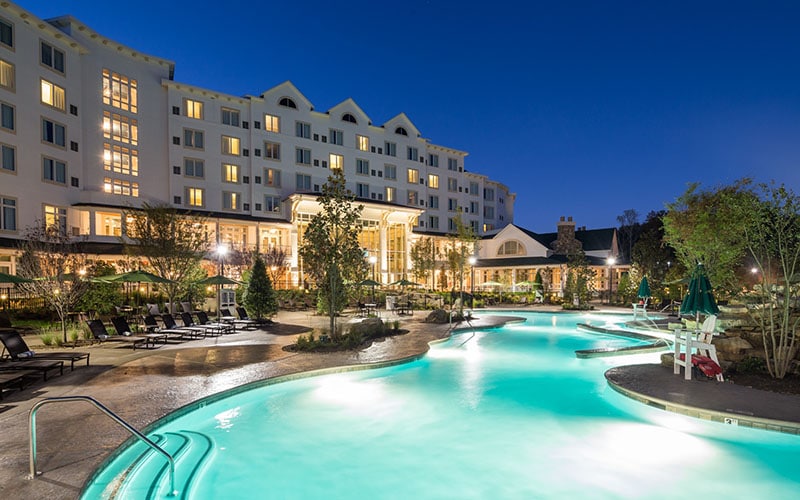 At 2525 DreamMore Way, you'll find Dollywood DreamMore Resort and Spa. This incredible location is within walking distance of Dollywood's Splash Country and only 3 miles away from the Dollywood Theme Park. This resort is right in the center of the action.
The hotel offers rooms and suites that can accommodate up to six guests. If you're looking for something a little homier, you can also rent a cabin.
The resort features an outdoor pool and hot tub, or an indoor pool if you prefer. There is also dining available on-site, including restaurants, a lounge, and a pantry. You definitely won't go hungry here.
Your children will love a stay at this resort which offers plenty of activities like a game room, storytelling, and a playground. The entertainment and hospitality make this an all-around A+ visit for families.
2. The Inn at Christmas Place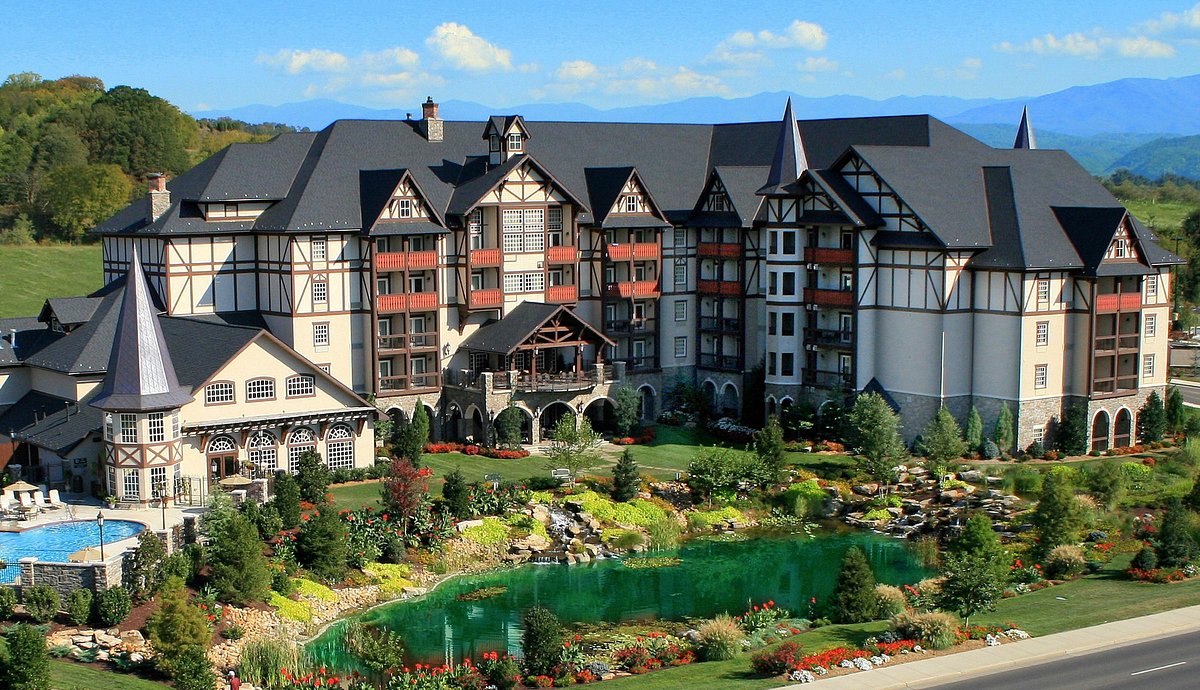 119 Christmas Tree Ln. is home to The Inn at Christmas Place. This adorable Christmas-themed hotel is nestled in the foothills of the smoky mountains and directly across The Parkway from the incredible Christmas Place.
What child wouldn't love this immersive experience? A stay at this resort is as good as staying at the North Pole. Don't worry, you can still celebrate Christmas in July, as this resort is open year-round.
Indoor and outdoor pools are available, with the outdoor pool featuring a waterslide and expansive sunning decks. There is also a hot tub that is open 24 hours a day. If you don't feel like taking a dip, visit the fitness center or take a stroll around the courtyard.
Kids will love the many themed events hosted just for them, so you'll have plenty of time to relax and enjoy your vacation. Take advantage of a stay at the Inn at Christmas Place.
3. Riverstone Resort and Spa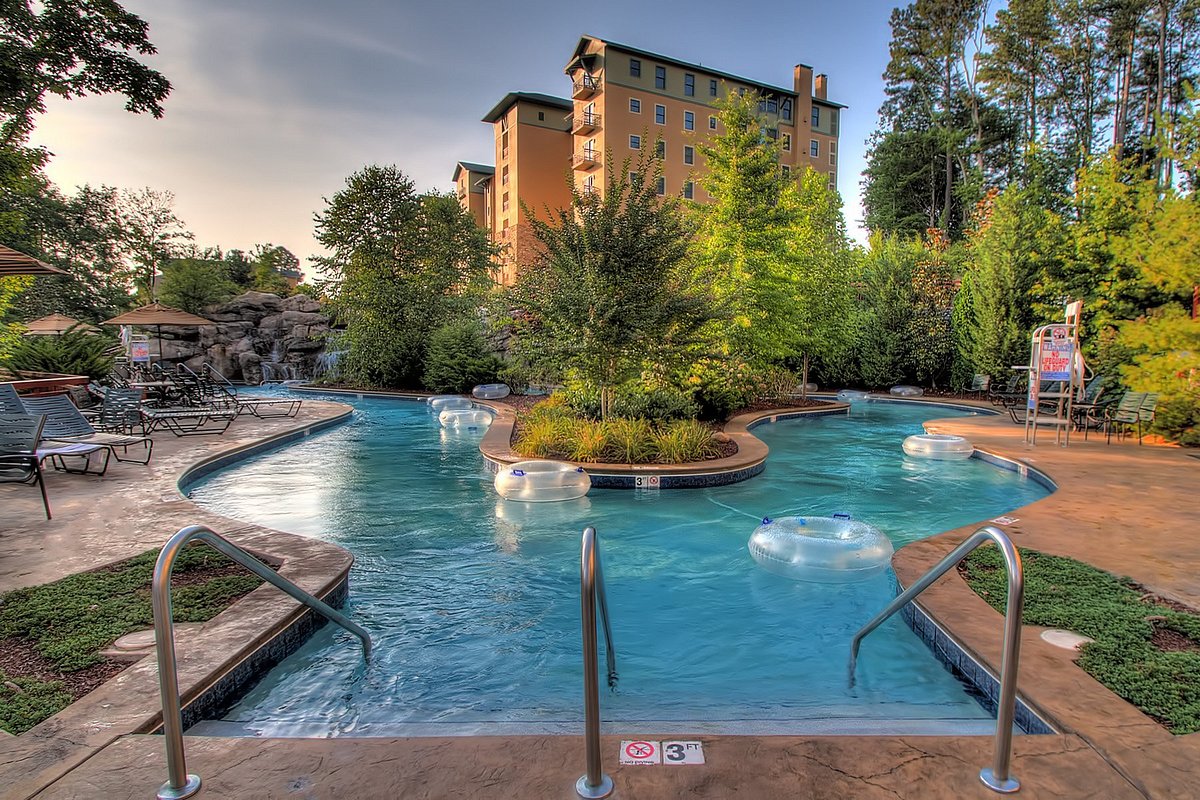 At 212 Dollywood Ln., you will find the Riverstone Resort and Spa. Located adjacent to the Gatlinburg Golf Course, this luxury resort experience has something for everyone to enjoy.
With spacious condos housing one to four bedrooms, everyone will have room to spread out. These fully furnished spaces are comfortable enough to stay with your whole family for as long as you need to restore.
Featuring a spa, indoor pool, and an outdoor lazy river, you'll never struggle to find things to do. Workout in the fitness center or get together for a family meal at the riverside.
Make sure to check out this resort while planning your vacation.
4. Margaritaville Island Hotel
Put the Margaritaville Island Hotel at the top of your list for a tropical escape. 131 Island Dr. is tucked between two branches of the Little Pigeon River.
These gorgeous rooms come with a fireplace (seasonal), a wet bar, and a private balcony. Breathtaking views of the resort and surrounding nature make a stay at this resort one to remember.
Enjoy a meal at the Margaritaville Restaurant, or head to the Rooftop Pool and Chill Bar. What's better than some R&R in the sun?
While your kids enjoy the surrounding area and its entertainment, consider a little self-care. Book a treatment at the spa and pamper yourself. It is a vacation, after all.
5. Music Road Resort
303 Henderson Chapel Road is where you'll find Music Road Resort. With scenic views of Little Pigeon River, this resort offers a quieter Side of Pigeon Forge.
Room and Suite options range anywhere from deluxe queen beds to family-size suites. Or you have the option of staying at the inn, with similar lodging options. There are numerous packages and last-minute deals available if you want to get the most out of your money.
This resort features an indoor pool that your kids will be able to play in year-round, but if you come during the summer, you'll enjoy the resort's water park. The park has slides, a lazy river, and fountains, so don't count on your kids getting bored.
Make sure to check out the local restaurants like The Smoky Mountain Brewery and other exciting attractions in the area.
6. Sunrise Ridge Resort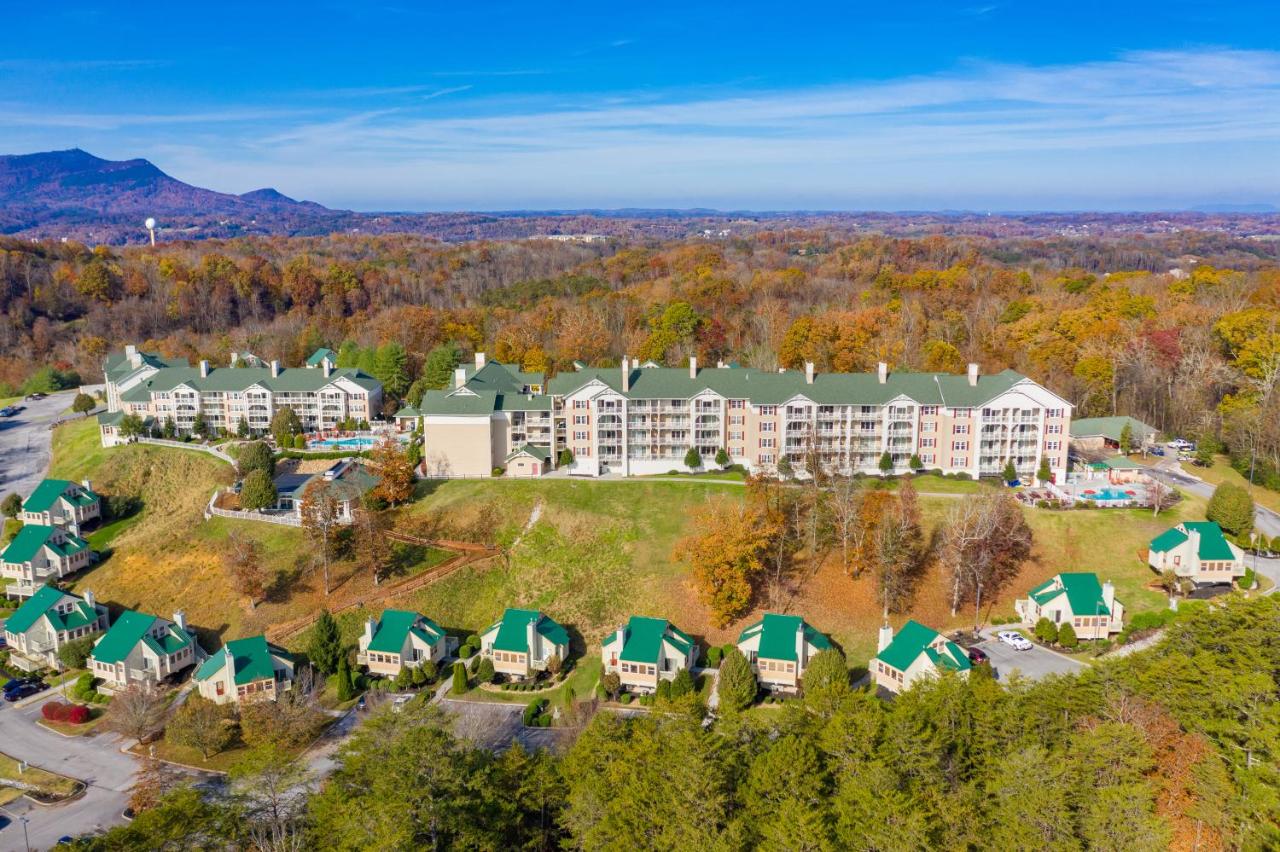 2301 Ridge Rd. is where you'll find Sunrise Ridge Resort. You won't miss this gorgeous hotel, conveniently located at the corner of Ridge Rd. and Trotter Wy.
This resort is helpfully located within walking distance of many of Pigeon Forge's best attractions. Enjoy Dollywood's Splash Country or The Hollywood Wax Museum.
The resort features indoor and outdoor pools. Hot tubs are also available for your relaxation. Enjoy the sauna and fitness center, or host a family barbecue next to a charming fire pit.
These beautiful, spacious rooms are perfect for bringing your whole family to enjoy this iconic town.
7. Parkside Resort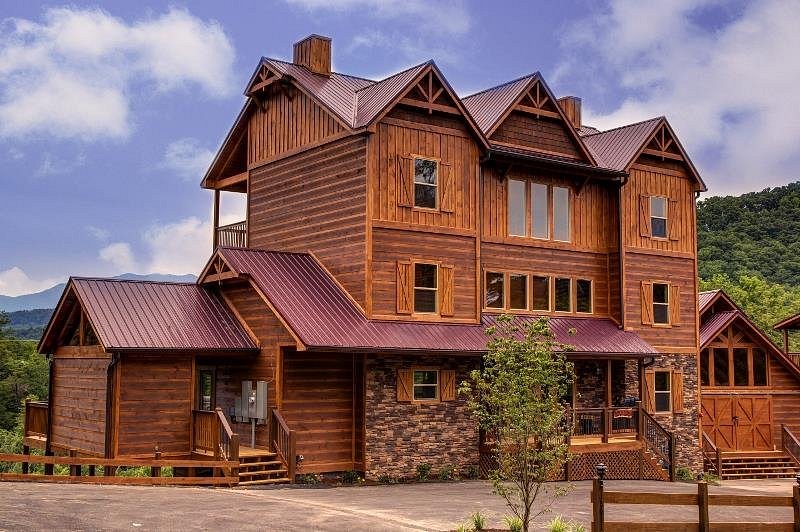 1110 Rocky Creek Way hosts the Parkside Resort. This charming location is one of the newest resorts in Pigeon Forge and is undoubtedly a contender for your family vacation.
Renting a luxury cabin here is an experience you aren't likely to forget. Each cabin's spacious floor plan features a kitchen, fireplace, deck, and much more. You'll get all of the convenience of home life with the amenities of a retreat.
The resort's saltwater pool features a 60-foot slide. Plus, you can take your kids to enjoy a free poolside film in the evenings.
If swimming isn't your thing, try out the putt-putt course, or check out one of two enchanting playgrounds. One is built right in the woods and even features a treehouse. Hiking and biking are also popular activities in this quiet area. No one in your group will be left out during a stay at this luxurious resort.
8. Margaritaville Island Inn
At 2735 Parkway is the famous Margaritaville Island Inn. This resort is right down the road from The Island in Pigeon Forge.
Spacious and stylish rooms offer incredible views of the surrounding area. You'll be within walking distance of many famous attractions and entertainment.
Indoor and outdoor pools with sunning decks are available at the resort for your enjoyment. But don't be surprised if your kids are more interested in visiting The Island.
At the end of an adventurous day, relax at the fire pit while your kids take advantage of the game room. A stay at this resort can plan itself. Who said going on vacation had to be complicated?
9. Country Cascades Waterpark Resort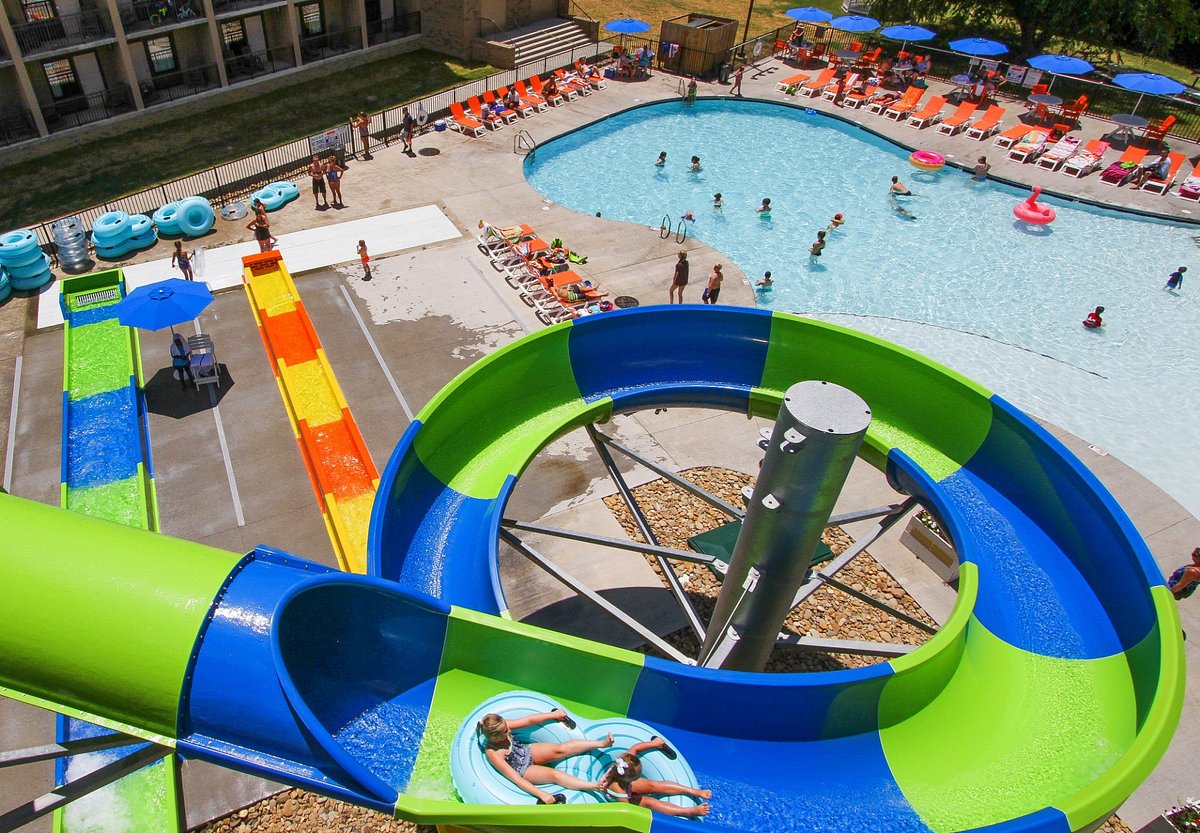 204 Sharon Drive is where you'll find Country Cascades Waterpark Resort. This popular resort is only half a mile from The Island and right up the road from Pigeon Forge Factory Outlet Mall.
Your family will be talking about this vacation for years to come. This waterpark resort is perfect for kids and kids at heart. With the on-site attractions reserved for guests only, this destination is an exclusive retreat.
Pools, slides, and playgrounds will keep your family entertained all day. Book a room or suite and get your vacation started.
If you can get your family away from the hotel, it's easy to explore the many attractions offered in Pigeon Forge. Ask about packages and discounts on the many activities in the area.
10. Willow Brook Lodge
Willow Brook Lodge finds its home at 3035 Parkway. Neighbors with the Crave Golf Club and Adventure Raceway, this lodge is in the heart of it all.
Book a stay in one of the Deluxe rooms, or stay in one of the family suites. These gorgeous rooms offer beautiful views and convenient amenities, such as a delicious continental breakfast.
Indoor and outdoor pools are available for family fun, with indoor and outdoor hot tubs to match. Your kids will have a blast on the slide and play area built just for them.
This resort is conveniently located near plenty of exciting attractions and entertainment. Ask this resort about their specials to save on your stay.
11. The Ramsey Hotel and Convention Center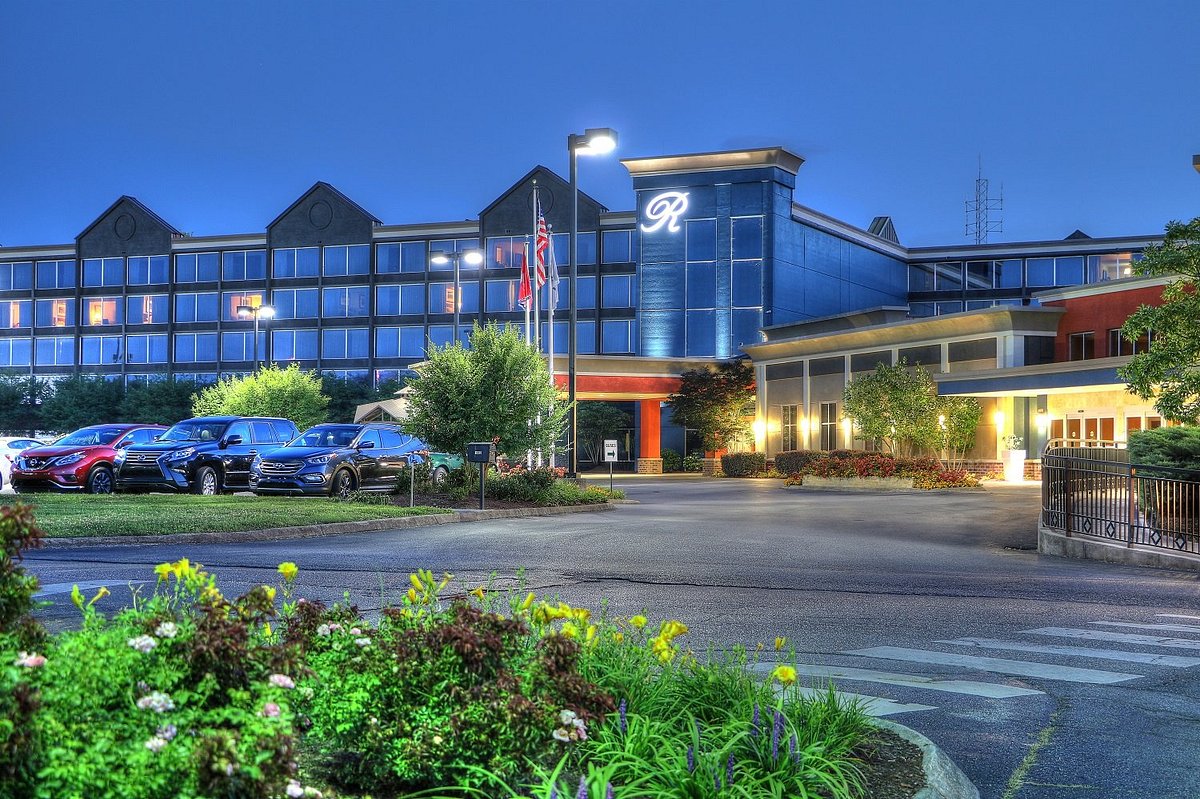 At 3230 Parkway is the Ramsey Hotel and Convention Center. Located about a mile from live entertainment at the Dolly Parton Stampede, you'll find plenty to do at this hotel.
Enjoy your stay in a stylish room or suite featuring options like a fireplace or jacuzzi. Ask about what packages are available to save on your visit.
While you are there, your family can take advantage of the indoor pool and hot tub 24 hours a day. Free poolside movie nights and access to cheery fire pits make it easy for parents to enjoy the use of the fitness or business center.
Book a stay at this hotel for convenient access to all of Pigeon Forge's wonderful experiences and attractions.
12. Courtyard by Marriott
The Courtyard by Marriott is located at 120 Community Center Dr. overlooking the West Prong of the Little Pigeon River. You won't be disappointed with your stay in this luxury hotel.
The large guestrooms and suites will be comfortable enough to stay with your entire family. Pull-out beds, playpens, and even cribs are available upon request.
Treating your family to a good time is easy at this location. Check out the fitness center or game room featuring a billiards table and video games. Or take a dip at the indoor and outdoor pools. What could be more luxurious than drifting around a lazy river?
This resort's many outdoor gathering areas and beautiful accommodations make this location perfect for family getaways.
13. Eagles Ridge Resort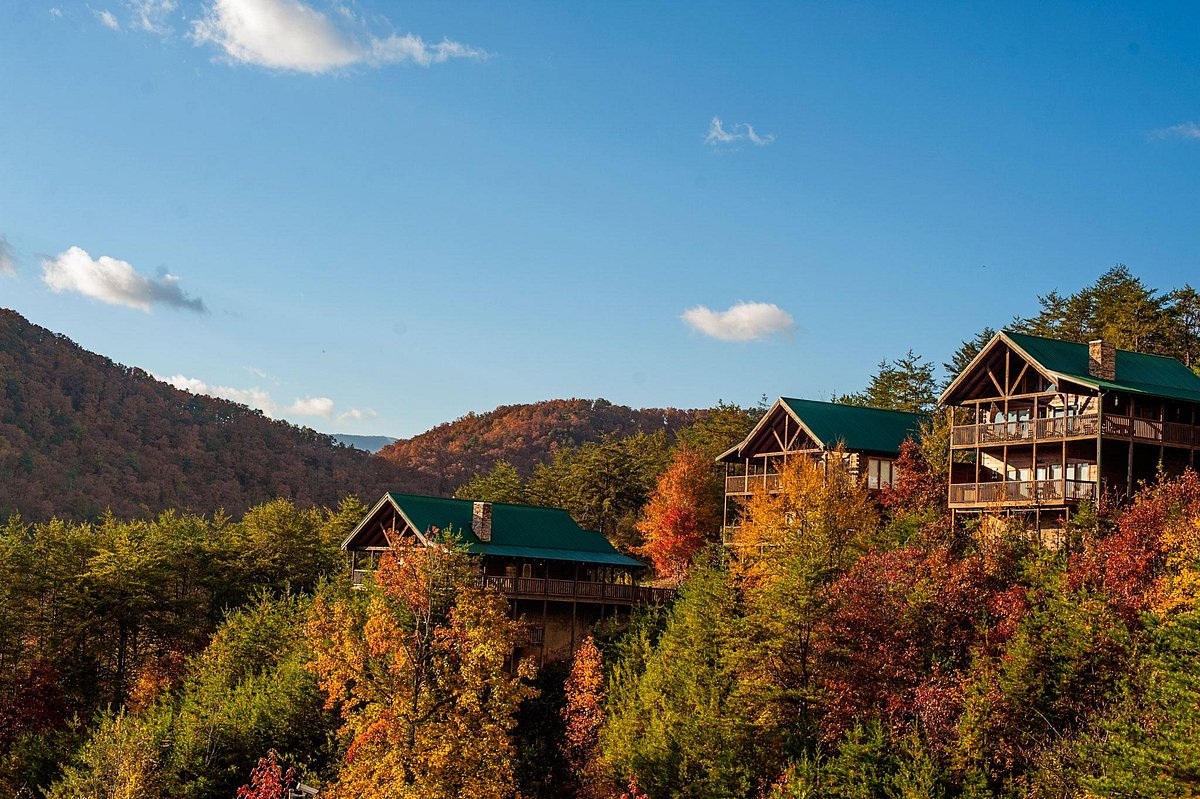 Found at 2740 Florence Dr., Eagles Ridge Resort offers beautiful cabins that are perfect for a family vacation. Within walking distance of plenty of entertainment and dining, you won't be bored during your stay.
The wooded area and secluded cabins make this retreat one of a kind. Outdoorsy families can enjoy hiking the many trails offered in Smoky Mountain National Park. If you'd rather sit back and relax, fishing is also available nearby.
Stay in cabins of up to nine rooms, and don't forget to bring your four-legged friend because pet-friendly accommodations are available. Each of the cabins is uniquely crafted, and some include amenities such as wraparound porches and hot tubs.
Take advantage of the clubhouse or outdoor pool during your stay, and don't forget to ask about the specials.
14. Black Fox Lodge and Hotel
At 3171 Parkway, Black Fox Lodge and Hotel overlooks Little Pigeon River. Located off Route 321/Route 441, this lodge is just a few miles from Titanic Pigeon Forge.
This Cozy lodge-style hotel is within arm's reach of Dollywood and all of the best entertainment in Pigeon Forge. You can pick from rooms and suites large enough to accommodate your whole family during your stay.
Enjoy use of the outdoor pool featuring a slide and water fountain. Or, when you are not running around with your kids, visit the boutique and fitness center.
On-site dining is offered, or check out any of the incredible restaurants in the area. The Old Mill Restaurant and Huck Finn's Catfish are a few local favorites.
Pigeon Forge Is the Perfect Destination for Family Vacations
Pigeon Forge is home to many incredible and iconic attractions. From Dollywood to the Titanic museum, everyone in the family will find something to enjoy in this historic town.
While planning your vacation, check out any of these resorts and hotels, and you're guaranteed to make some incredible memories. They're sure to be a big hit with your family, no matter their age. Don't miss out on your opportunity and book a room today. Summer doesn't last long, so take advantage of the sunny days while you can.
More about our TFVG Author
A seasoned traveller, Dad, and avid sports tourist, James foundered The Family Vacation Guide to share his expert vacation experiences- especially when it comes to being a travelling family man.
Featured in Travel articles such as Travel + Leisure, TripSavvy and SFGate, you know you're reading some of the best vacation tips online.