Tennessee is often considered the heart of country music here in the USA. It's also known for its beautiful natural landscapes, including the Great Smoky Mountains and Little Pigeon River. 
Along this river is Pigeon Forge, home to Dollywood, the Titanic Museum, and many more attractions guaranteed to delight you and your family during your stay.
While Pigeon Forge has several hotels and cabins to accommodate families of all kinds, a few stand out with their lazy rivers to give guests a soothing and unique way to relax during their stay. For your convenience, we collected the best lazy river hotels in Pigeon Forge so that you can worry less about looking for the right place and get to your vacation sooner.
Courtyard by Marriott
Located south of a bend in the West Prong Little Pigeon River is the Courtyard by Marriott. Their indoor and outdoor pools offer a perfect way to spend the day, while their rooms offer a lovely view of the nearby mountains and natural rivers.
This is an ideal place to stay, whether you're there for business or pleasure. This hotel accommodates professionals with a full-service business center and fitness center. Their in-house food service from The Bistro offers breakfast and dinner, offering the perfect way to start and end your day.
RiverStone Resort & Spa
Stated as being "Simply the Best Resort in the Smokies," RiverStone Resort & Spa has a reputation to live up to and offers a variety of amenities to its guests. From newly renovated "Signature" condos to their on-site spa, RiverStone offers luxury with their accommodations.
They're centrally located near some of Pigeon Forge's best attractions: Gatlinburg Golf Course, Patriot Park, and of course, Dollywood is nearby. And after a busy day, guests can work off some excess energy at the gym or relax outside by the river or at the indoor pool.
Music Road Resort Hotel and Inn
With two locations in Pigeon Forge, Music Road Resort Hotel and Music Road Resort Inn, keep their guest's satisfaction in mind. Both hotels host a waterpark with a river and slides as well as an arcade game room with pool tables. They're just a short walk away from the Hollywood Wax Museum Entertainment Center, and the Music Road Convention Center is right next door to the hotel and across the street from the inn.
Not sure which one to stay in? The hotel has a lovely terrace that overlooks the Little Pigeon River, perfect for relaxing and taking in the natural wildlife. The inn has a grand lobby with spacious and traditional decorations, giving it a homey feeling for gatherings.
LeConte Hotel & Convention Center, Ascend Hotel Collection
LeConte Hotel, formerly known as MainStay Suites, is centrally located in Pigeon Forge near several of the city's attractions, including the local outlet mall. This hotel offers specials on its website for nearby attractions. The nearby Titanic Museum is about two miles away for a historical day out.
This is a family-friendly place that doesn't charge for kids and offers free breakfast, this is an ideal place for a family vacation.
Park Tower Inn
Looking for somewhere a little smaller and less busy? Park Tower Inn might be the place for you and your family. With an indoor lazy river and heated pool, Park Tower offers a quieter stay than some other hotels. Rooms offer a charming view of the mountains, and all of Pigeon Forge's delights are nearby. This hotel also offers one of the best prices for their accommodations.
Clarion Inn Near Island Drive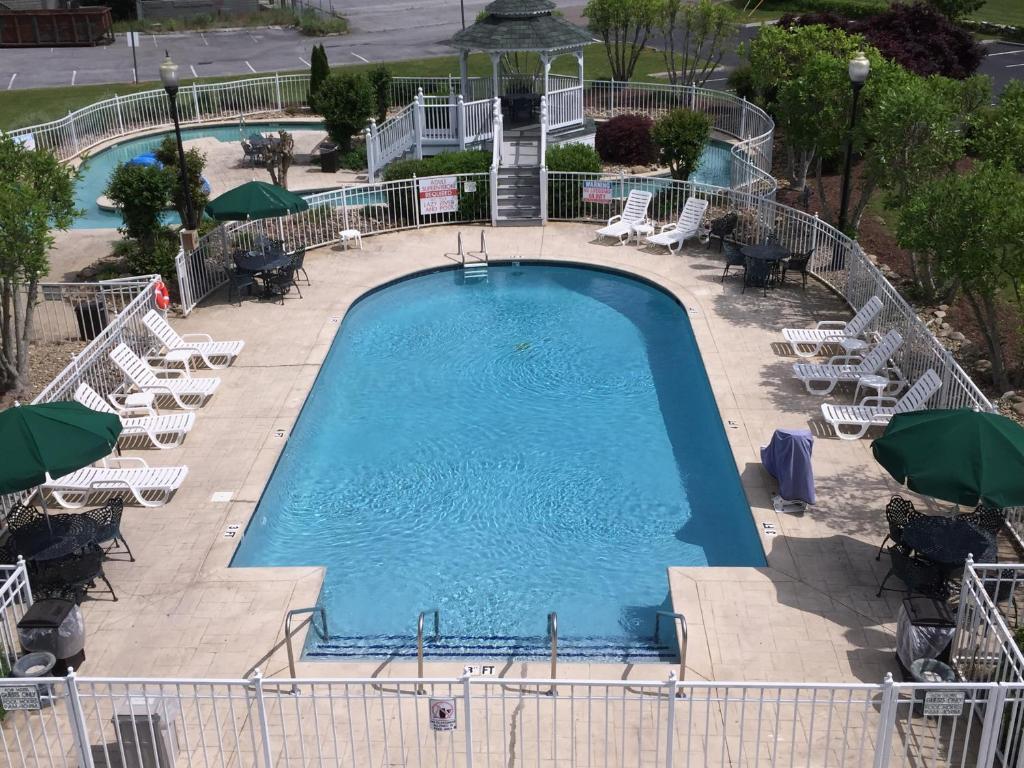 Offering impressive near-hundred accommodations for their guests, Clarion Inn Near Island Drive is perfect for those looking to get the most out of their stay at Pigeon Forge. They're located near shopping centers and a less than thirty-minute drive away from the Great Smoky Mountains National Park.
Their outdoor lazy river is accompanied by a pool and water slide as well as indoor options. This hotel comes complete with a 24hr fitness center and business area to help you get ready for whatever your day's needs might be. Topped off with free breakfast, excellent room service, and housekeeping, it's no wonder they're considered a luxury hotel for their price.
The Resort at Governor's Crossing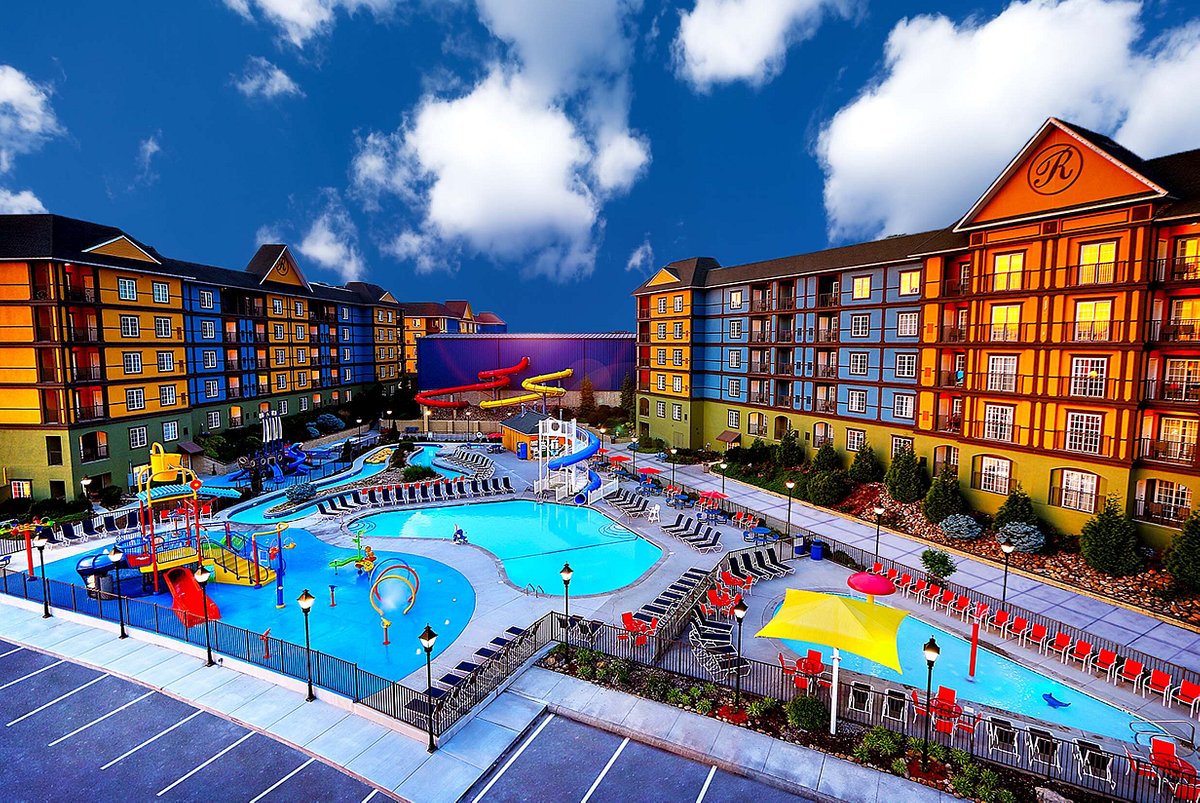 The Resort at Governor's Crossing in Sevierville has an assortment of activities for families staying. Sevierville is just north of Pigeon Forge and is counted as being the seat of Sevier County where Dolly Parton was born. A lovely statue of the iconic singer can be found in their downtown area.
This hotel hosts two playgrounds for kids as well as an indoor water park plus the pools and lazy river outside. This summer they're also holding a special Butterfly Experience event at their Firefly Cove for butterfly viewing in a new aviary. While at the Cove, you can check out their 9 Hole Mini Golf course and then catch a family movie showing in their evening cinema.
Dollywood's DreamMore Resort & Spa
It would be remiss to talk about Pigeon Forge, Tennessee, and not bring up Dollywood's own DreamMore Resort & Spa. Though the hotel itself doesn't host the kind of pool amenities we've been showcasing, it is right next door to Dollywood's Splash Country water park. And the Swimming Hole at DreamMore is a lovely shaded area featuring a gently cascading waterfall at one end of the pool.
Dollywood offers packages and deals to guests looking to stay at the resort while they enjoy the parks. It's an all-in-one deal that could free up some hassle and let you and your family focus more on making memories.
Final Thoughts
Several hotels offer packages and deals to nearby attractions for your convenience. Your safety and well-being are a top priority, so these locations offer contactless check-ins and check-outs to prevent the spread of illness.
Each one of these hotels has a lazy river and a pool- some of them even offer several! The variety of places to stay in Pigeon Forge lends itself to all kinds of budgets. LeConte and Music Road have convention centers for group gatherings, banquets, and conferences.
The Clarion Inn lets kids stay for free, while RiverStone offers a luxurious spa experience. These locations are within a reasonable distance of Dollywood, the Great Smoky Mountains National Park, and several other museums and attractions.
Whether you're a fan of country music or simply looking for your next family vacation, Pigeon Forge offers comfort and fun while you stay. You're sure to enjoy the richness of culture and natural beauty of the local area.
More about our TFVG Author