Gatlinburg, TN prides itself on its hospitality and role as a tourist and resort destination spot. Few places are as family-friendly as Gatlinburg, and if you are like most people, you will run out of time before you run out of places to go and enjoy.
Here is a rundown of the 18 best things to do in Gatlinburg with kids, plus some details you will need to know before you get there.
Or if you're still looking for accommodation, check out our guide to the best hotels in Gatlinburg for families to help plan your trip.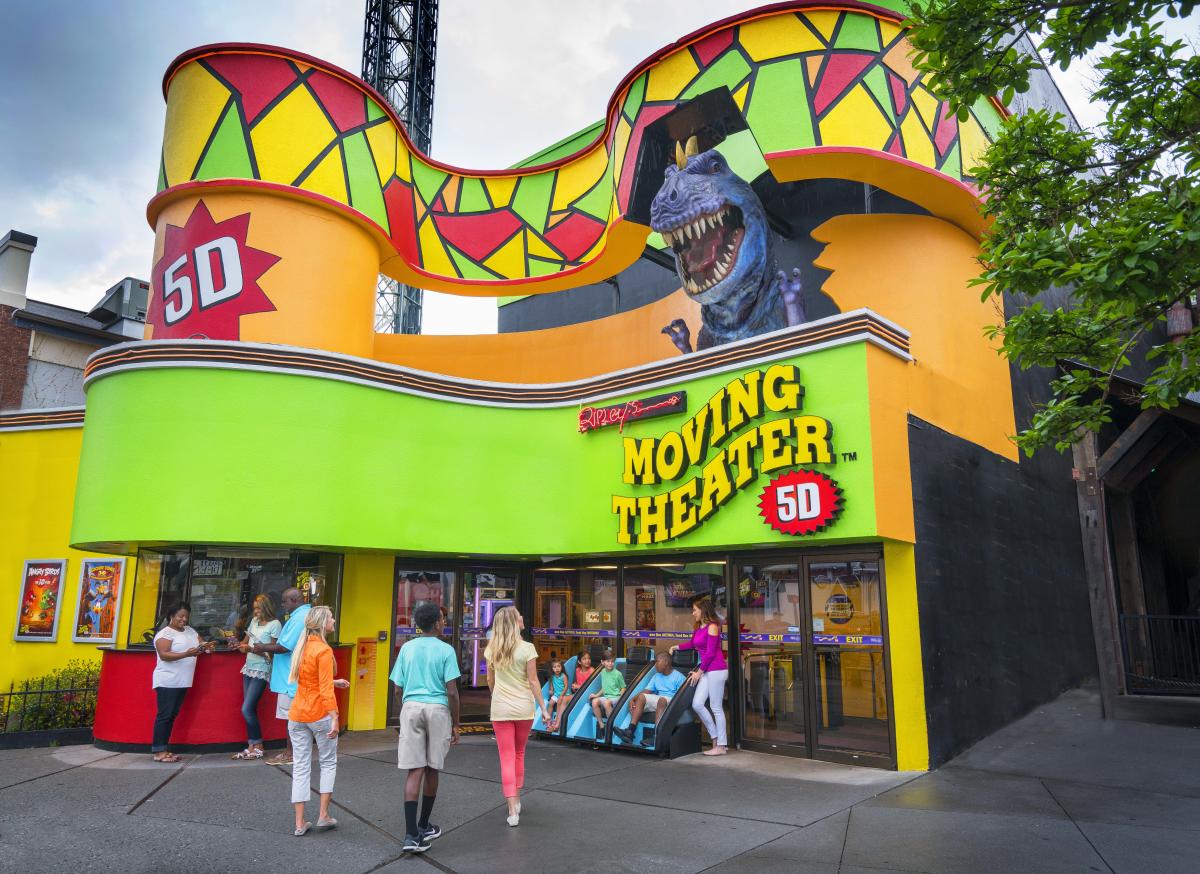 904 Parkway
Gatlinburg, TN 37738
(865) 436-9763
The moving theater is in downtown Gatlinburg and is adjacent to the other Ripley properties. It offers an immersive "5D" experience with vibrating seats, chairs that twist and turn to screen action, and special effects that simulate the weather in the movie. There is also a steady diet of kids' movies that will keep your kids entertained for hours.
There are a few rules and some advice for potential participants. Children must be at least 43 inches tall to enter the theater. Expecting mothers or guests with pre-existing medical conditions are advised to not participate. Children sensitive to noise, rapid movements, flashing lights, or sudden movements might want to forego this experience.
There is an option to enjoy the movies from a traditional seat that does not have the 5D special effects.

115 Historic Nature Trail
Gatlinburg, TN 37738
(865) 436-4629
Any trip to Gatlinburg must take advantage of the 407-foot tall space needle. At the top, you get a 360-degree view of the great smoky mountains and you can get there via glass elevators that let you see the entire downtown section of Gatlinburg.
If you do not want the experience to be just about a great view high in the sky, you can take the Higher Learning program, an educational tour that tells you about historic Gatlinburg and the Smoky Mountains.
The Space Needle has several touring packages, including those that allow you and your family to visit night or day. Other amenities include free viewers on the observation deck. Everyone in your family can enjoy this attraction thanks to the glass elevators.
306 Parkway
Gatlinburg, TN 37738
(865) 430-5577
The Gatlinburg Mountain Coaster runs virtually all the time, no matter the weather or season. The top speed is about 35 miles per hour, which you reach when flying down the mountainside. Speeds are controlled by managing the handles in each cart. If anyone is bothered by the speed, there is a handbrake so you can control the cart from top to bottom.
You are pulled to the top through a Tennessee forest and when you reach the top of the ride, you fly down the hillside. There are multiple sharp turns and the incline is very steep. There are a few requirements: Children must be at least three years of age or 56 inches tall. Anyone under the age of 16 must be accompanied by an adult.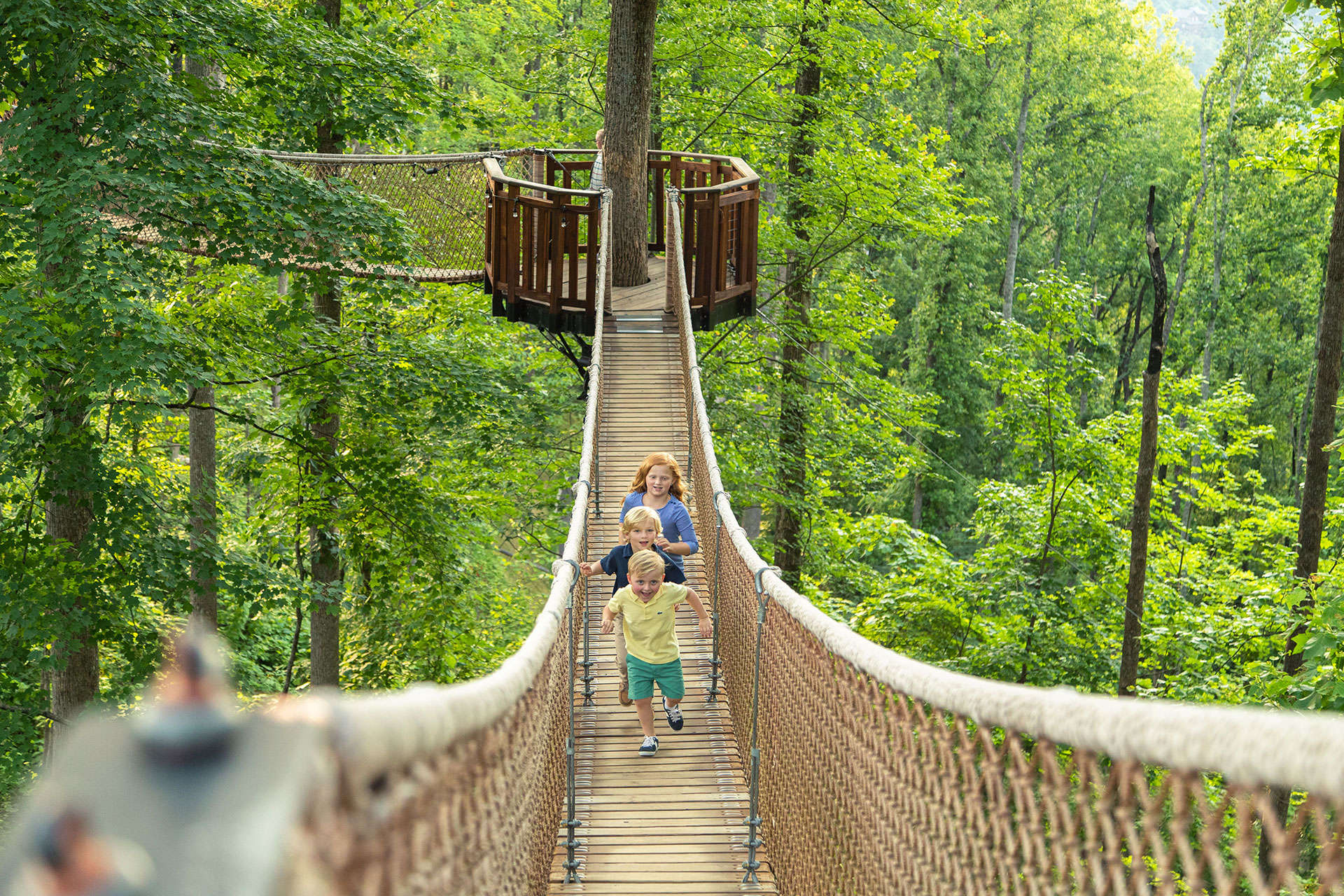 576 Parkway
Gatlinburg, TN 37738
(865) 325-2400
Anakeesta is a different type of theme park, but it has something for the entire family to enjoy. You can ride a scenic chondola (a smaller version of a gondola,) travel along the 16-bridge Treetop Skywalk, and climb the Anavista Tower to enjoy a 360-degree view of the surrounding area from downtown Gatlinburg's highest peak.
If you are more into gardens, there is Vista Gardens, a botanical garden that is landscaped to help visitors relax and enjoy nature. There is also the Dueling Zipline Adventure, a mountain roller coaster (the Rail Runner) and you search for treasure at Anakeesta Gem Mining, which allows kids to learn how to look for gemstones and fossils in a sluice.
Anakeesta also offers several dining options, including a traditional restaurant, smokehouse, casual café, and several snack options. If you are looking to relax with a drink there is the new Tap House that features locally crafted beer and The Bar At The Top Of The World, which offers great views of the surrounding Smoky Mountains.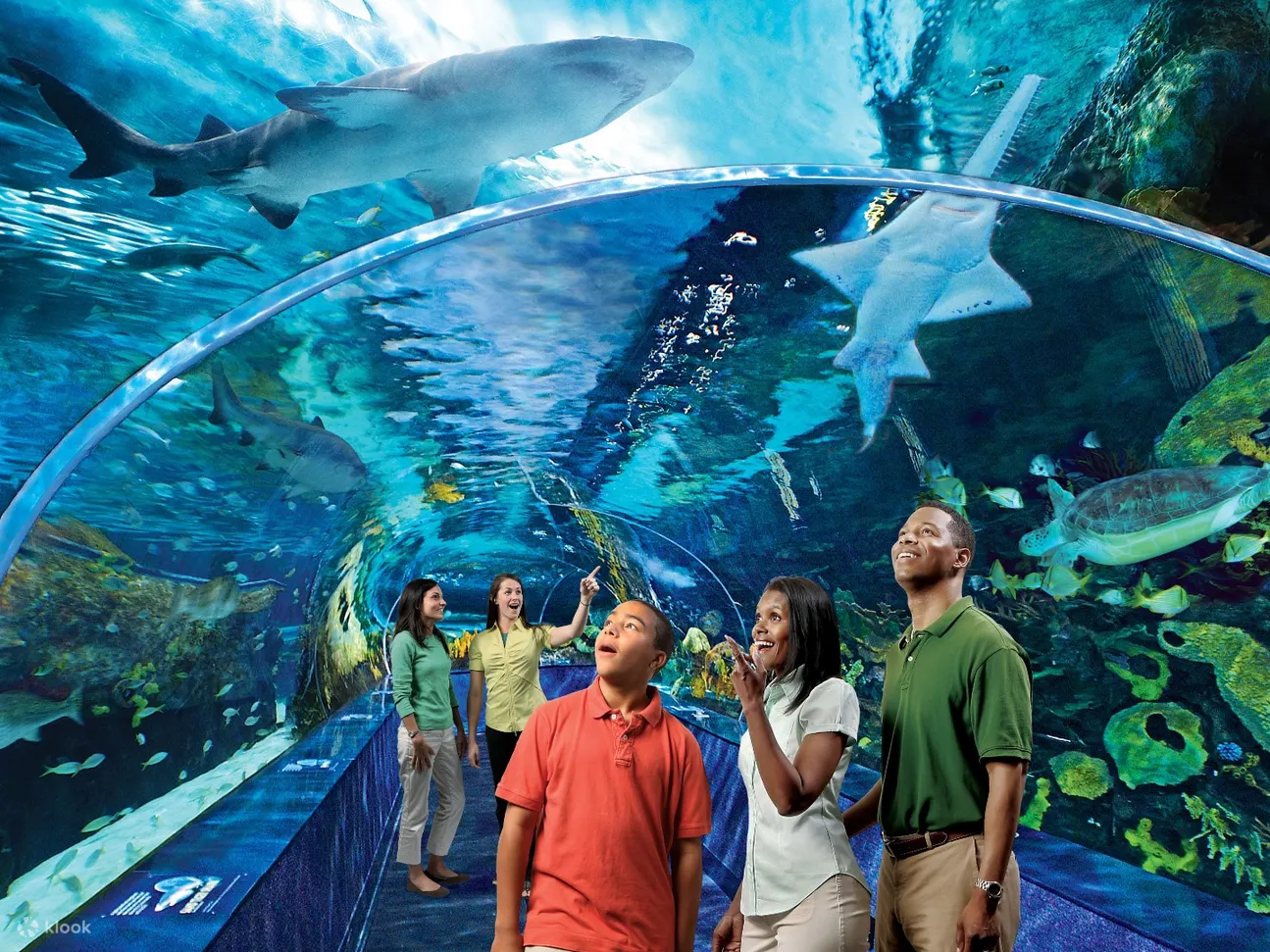 88 River Road
Gatlinburg, TN 37738
(888) 240-1358
When someone mentions aquariums, you do not ordinarily think of Ripley's. Yet, the Ripley's Aquarium of the Smokies is one of the top-rated aquariums in the country. It houses over 10,000 sea creatures and 350 different species. The Aquarium runs educational programs and experiences all year long.
All exhibits are kid-friendly and most have educational content that is fun, meaning your kids will learn without knowing it, which we all know is the best type of learning. A giant selling point is that many exhibits are hands-on for kids and adults. Your children can pet a penguin, feed turtles, and wade around with stingrays. After that, they can watch sharks, eels, and barracudas.
Ripley's also runs several shows and guests can see divers work with marine life inside of tanks. There is also a glass-bottom boat ride that lets you see ocean wildlife, including predators, as you glide over them. Children of all ages are welcome.
716 Parkway
Gatlinburg, TN 37738
(865) 436-2326
Gatlin's Escape Games is as easy to find as the name is self-expressive. Located very close to the Aquarium, you could make a day out of both places. The escape rooms are popular with locals and visitors alike and age-appropriate. In one of the escape rooms, the entire family has to work together to find clues, finish challenges and solve puzzles to "escape" the room.
Each room event runs a little over an hour, so you will have plenty of time to do other things if you want. There are four different adventure themes: Masters of Magic, Legends of Atlantis, Moonshine Hill Hootenanny, and the Haunting of Hyde House. The recommended age for participants is 7 and up. This event is great for adults, teens, and children.
542 Parkway
Gatlinburg, TN 37738
(865) 430-8851
Ripley's is a dominant force in Gatlinburg and the Fun Zone is the latest addition. The theme is the 1980s, which means laser tag, miniature golf, and a shooting gallery. The décor is the 80's and every room has a different theme. There is even a retro store to buy 80's nostalgia like tee-shirts, posters, toys, and games.
Some of the 80's icons represented include but are not limited to Super Mario, Teenage Mutant Ninja Turtles, Slinkies, Strawberry Shortcake, Cabbage Patch dolls, and many more. Children and adults can have fun at the Super Fun Zone.
115 Historic Nature Trail
Gatlinburg, TN 37738
(865) 436-5650
If you are looking for a favorite arcade game you played growing up, there is a good chance it is at Arcadia. The facility covers over 30,000 square feet and most of it is consumed by 100 arcade games. Arcadia advertises itself as Gatlinburg's largest family fun arcade center.
The complex is within walking distance of many Gatlinburg attractions, including the Space Needle. That makes Arcadia convenient in and of itself but also a great way to kill some time in between visiting other Gatlinburg attractions. Or, you can tackle it as a destination.
Games at Arcadia include Star Wars Battle Pod, Mario Kart, Pac-Man, Frogger, etc., and you can win while you play. When you win a game or beat a level, you can be rewarded with e-tickets that are redeemable at the prize center. Children of all ages and adults will have a blast playing arcade games and simulators.
188 Parkway
Gatlinburg, TN 37738
(865) 430-8851
Davy Crockett Mini-Golf honors one of Tennessee's most famous personalities, the American frontiersman, Davey Crocket. Part of the Ripley's Gatlinburg complex, Crocket's minigolf is 54 challenging holes that will have your entire family having a lot of fun. The course includes barnyard characters, woodland creatures, water challenges, and much more.
While the themes covered are more kid-themed, the course is nothing to take for granted. It is challenging, even for the most experienced mini golfer. There are also ample attention-grabbers to keep small children occupied. The course is open to children of all ages and of course, adults, but older children, teens, and adults will have the most fun.
919 Parkway
Gatlinburg, TN 37738
(865) 896-2121
There are three attractions at Amazing Mirror Maze & Circus Golf: The largest mirror maze in Gatlinburg, a mini-golf that sports ½ golf and ½ circus funhouse, and a 7D audience engaged movie theater. No matter what you try, you will have hours of fun.
The maze is confusing and it is easy to get twisted around and lost. Staff is always nearby to help you out. The mini-golf course is 18 holes of moderately difficult mini-golf that will challenge teens and adults but is not so difficult children will not have fun. Finally, there is the Shoot Em' Up Cinema, an interactive movie experience that lets you participate in the action.
The appropriate age for Amazing Mirror Maze & Circus Golf is "everyone." There is something to entertain every member of a family, starting with the youngest and working up to the oldest. If you cannot find something to do that is fun in the facility, you are not trying hard enough.
634 Parkway
Gatlinburg TN 37738
(865) 436-3995
The Village Shops are advertised as the most interesting shopping destination in the Smokies. They were constructed based on the experiences the founders had traveling the world. That means there is an old-world architecture that houses current-day boutique-style stores.
The complex has 27 shops that span the interests of most shoppers including gift, toy, food, clothes, and several other types of stores. The Village Shops also put on an amazing holiday extravaganza decorating the facility from top to bottom. Anyone that likes shopping will love spending a few hours, or even an entire day at the Village Shops.
915 Westgate Resorts Rd
Gatlinburg, TN 37738
(865) 430-4800
Open year-round, the Wild Bears Falls Waterpark provides numerous challenges and thrills as part of their overall water adventure. The waterpark has a retractable roof and indoor-heated water to make year-round enjoyment of the water possible. In addition, there is a 900-foot long river, tons of waterslides, and an interactive treehouse.
Looking to relax while your kids enjoy the water? Wild Bears has an indoor/outdoor sauna and hot tub. For thrill-seekers, there is the 350-foot long tube slide from Clingman's Dome, the highest point in the park. Overall, the water park boasts 60,000 square feet, most of which is involved in enjoying the water in some way, shape, or form.
Because of its diversity of activities, children of all ages can find fun at Wild Bears, as can teenagers and adults. Admission to the Wild Bears is separate from any resort rate or fees. There are multiple places to eat, from more formal dining options to a snack bar.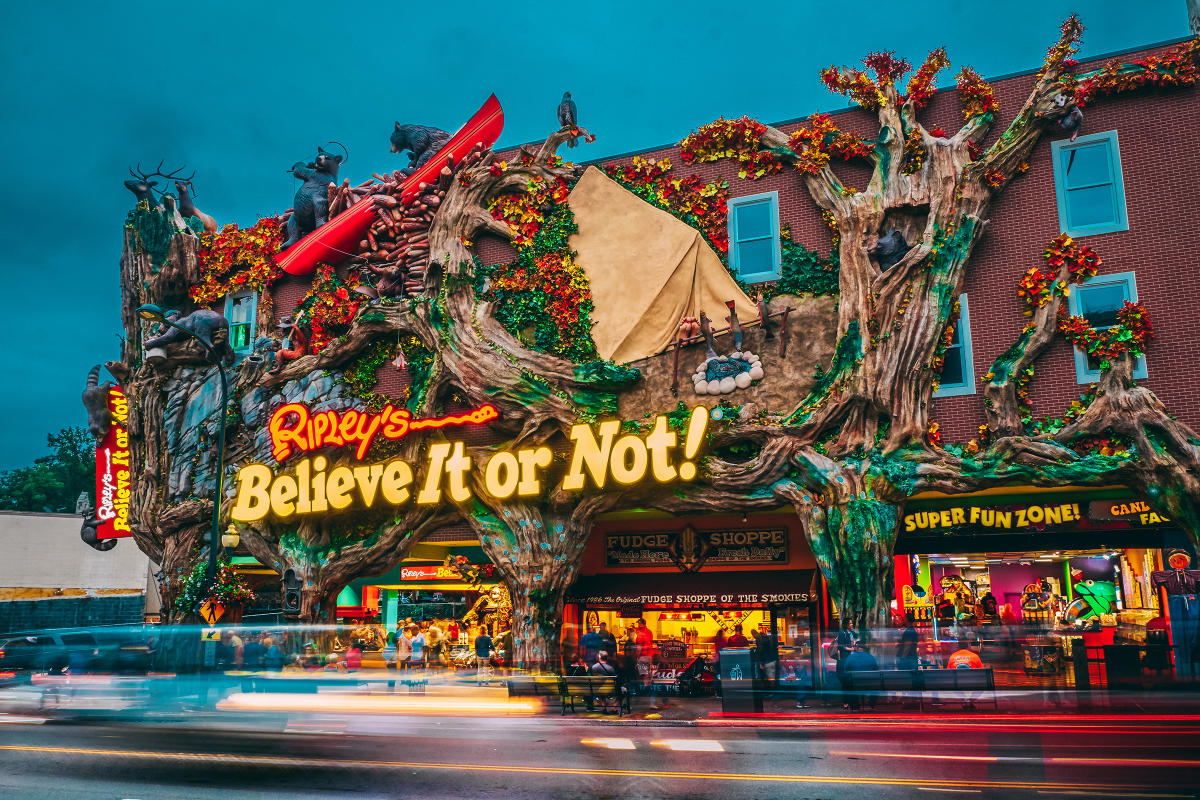 Reagan Terrace Mall
716 Parkway
Gatlinburg, TN 37738
(865) 339-3323
Ripley's Odditorium has over 500 exhibits stored in 16 themed galleries on three floors, comprising almost 13,000 square feet. That is enough weird stuff to keep anyone occupied for a few hours. Exhibits showcase odd animals, people, things, and concepts to create one of the most interesting "museums" in the entire country.
Filled with interactive displays, the Odditorium will keep the attention of your entire family as they take in skulls from a cannibal tribe, shrunken heads, albino animals, strange artwork, magic, human characteristics that are strange, etc. If you cannot find something that captures your attention and imagination, you are not looking hard enough.
The Odditorium provides fun to children of every age, including teens. Adults will also find more than enough to keep them occupied. The entire exhibit is a solid half days' worth of exploring.
1001 Parkway Suite 2
Gatlinburg, TN 37738
(865) 436-5423
Created in 1962, Ober Gatlinburg is an amusement park, mall, wildlife area, and ski area that overlooks the entire Gatlinburg area. During the winter, Ober Gatlinburg provides skiing and snowboarding trails, ice skating, and snow tubing. For the other three seasons, Ober Gatlinburg transforms itself.
During spring, summer, and fall, the facility offers the family-oriented theme park offers "snowless" summer tubing, ski mountain coaster, ice skating, ice bumper cars, Alpine slide, scenic chairlift, and wildlife encounter. The wildlife encounter offers a glimpse of animals that are native to the area.
The facility also provides several eating opportunities. Ober Gatlinburg has the Ober Shops, a full-service restaurant, and lounge, plus several areas snacks are available. Two major festivals bookend the seasons: The Mayfest in the spring and Oktoberfest in the fall. There is something at Ober Gatlinburg for every member of your family.
107 Park Headquarters Road
Gatlinburg, TN 37738
(865)436-1200
It is impossible to describe all the Great Smoky National Park has to offer in a couple of paragraphs. The high points are you can hike, mountain climb, watch nature, boat, fish, picnic, and camp, and all of that can happen on your first day in the park. There are also numerous hotels in the area.
There are many different attractions in the park that highlight the wildlife that live there and its natural beauty. The park runs multiple workshops and hikes for adults and children.
There is a visitor's center with parking to help you get started and to get a lay of the land. Make sure you check park hours for the time you plan on visiting and read any alerts. Remember that a national park is a wild place and address it accordingly.
Highway 321 – East Parkway
Gatlinburg TN 37738
(865) 436-5634
The stables are seasonal, so make sure you call ahead to verify that they are open. Once there, you are in for a treat. The tables have several horses available to rent and ride. There are miles of trails to explore and a professional guide will take you through the entire complex. While not guaranteed, it is a good bet you will see wildlife on your horseback excursion.
Smoky Mountain Riding Stables attend to riders of all ages and experience levels. Novice or pro, you will find a horse, guide, and trail that suits your skill level. Each trip is about 45 minutes and covers 3 miles of wooded trails and streams. That leaves you plenty of time to get to other attractions or it is a great way to wind up your day.
The facility takes no reservations and when in season, stays open until 4 p.m. The age range the stables recommend is 5 and older. You also cannot weigh more than 225 pounds.
744 Parkway
Gatlinburg, TN 37738
(865)436-4886
And,
642 Parkway
Gatlinburg, TN 37738
(865)436-4617
There are two Ole Smoky Candy Kitchen locations, both of which specialize in homemade taffy. The Ole Smoky Candy Kitchen opened its doors in 1950. In addition to taffy, the shops offer fudge, pecan logs, gummy candies, chocolates, and much more.
This is a quick visit type of kid-friendly thing to do. Taking a few minutes to check out the process and enjoy homemade treats is a simple, easy way to keep the kids happy. Plus, the taffy is pretty amazing (so is everything else.)
The shop has something for every age group. It is open 7 days a week from 9:30 a.m. through 11 p.m. The hours are subject to change based on the time of year you visit.
455 Blowing Cave Rd.
Sevierville, TN 37876
(865) 453-5972
The Forbidden Caverns is not technically in Gatlinburg, but if you are in the area, take a short trip and see this fun and educational opportunity for the entire family. The Forbidden Caverns are some of the most breathtaking caverns in the country. Guided tours will take you through natural chimneys, rock and mineral formations, and much more.
Any age is welcome. There are discounts for kids ages 5 through 12. Kids under 4 go free. The Caverns are seasonal, starting April 1.
Final Thoughts
Hopefully, this will get you started if you venture to the resort playland known as Gatlinburg, Tennessee. As you plan your trip, remember, these are just a sampling of all you can do in the area. It is fair to say that you could visit several times and still not see everything this rustic and beautiful area offers.
More about our TFVG Author
Caitlin is one of The Family Vacation Guide's long standing contributors. She enjoys taking vacation to busy, vibrant cities and has stretched her traveling legs out towards Europe in recent months, enjoying new experiences in Barcelona in Spain, and Nice in France.