Nashville. Music City. Athens of the South. Whatever you want to call it, the jewel of Tennessee is a popular tourist destination for many people. If you and the family plan to head to Nashville, you may have questions before hitting the road.
So, what are the best places to stay in Nashville, Tennessee, and what should families with kids look for in accommodations? We will answer all those questions, and more so you can start planning your vacation and be in the country music capital of the world before you know it.
What Are the Best Neighborhoods in Nashville for Tourists?
There is no singular neighborhood that is best for families. The area you will want to stay in or visit will depend on various factors, such as the age of your kids and interests. We have compiled a list of some of the best areas to consider in Nashville, though the final decision will always be up to you.
West End
Vacations have a way of getting expensive quickly, so you should look to save money where you can. Luckily, Nashville's West End is one of the most affordable places in the city. You won't have to sacrifice options for the reduced price, as West End provides many exciting opportunities for tourists.
The central fixture of the West End is Vanderbilt University, a school with as much prestige as any Ivy League college. Over 17,000 students attend the school, so businesses cater to a more youthful and frugal clientele. You will find plenty of businesses with a hip atmosphere, and the prices will be more to your liking, as well.
Despite being home to a college campus, West End is more peaceful than you might imagine. The neighborhood is less crowded than others, and you won't have to worry about losing your family in the hustle and bustle of other areas. There is not much nightlife in the West End, so you should be able to go out at night with young children with ease.
So, what can you do in the West End? Of course, you can visit the Vanderbilt campus. The school hosts athletic competitions and other events regularly, so you can always count on those for activities.
The real highlight of West End is Centennial Park, the grandest park in the city. You can enjoy an entire day at the park with your family if the weather cooperates. Children will enjoy all the room to play and run around, while adults can check out a 1:1 scale replica of the Greek Parthenon.
Depending on when you visit, you may also find events happening at Centennial Park, including concerts. This area is one of the most overlooked by tourists, but it is worth checking out when you visit. Ask any Nashville local, and they'll tell you that Centennial Park is one of the best places in the area.
West End is within walking distance of Downtown, though you may want a vehicle to travel to some of the other neighborhoods. Families hoping to be right in the middle of everything may be a bit disappointed with the more suburban vibe of West End.
For accommodations, you should check out Hyatt House Nashville or Loews Vanderbilt. You will be able to get excellent value most times, though accommodations fill up quickly during bigger Vanderbilt events.
Whether you are visiting a student at Vanderbilt or just want a quiet vacation destination, West End should be near the top of your list of best places to stay in Nashville.
Pros
Quiet
Budget-friendly
Centennial Park
Near Vanderbilt and Downtown
Cons
You need a vehicle to get to other neighborhoods
Accommodations may sell out quickly
Music Valley / Opryland
Let's face it. When you think of Nashville, country music is likely the first thing that springs to mind. If you and the family love that style, you owe it to yourself to stay at the Music Valley, also known to some as Opryland.
Music Valley is excellent for families. The area is safe, tourist-friendly, and has plenty of attractions for children and adults. Families will find a lot to enjoy at Music Valley.
The star of the show is the Grand Ole Opry, perhaps Nashville's best-known attraction. Since 1925, the Opry has played host to legends of country music and newcomers to the scene.
If you plan on taking a trip to Nashville, you owe it to yourself to book a show at the Opry. Hardcore country music fans can also purchase backstage passes to tour the legendary venue. Who knows, you may even get to see the next great country music star before they hit the mainstream.
Of course, there is more to Music Valley than just the Opry, and businesses have built up a thriving tourist community in the area. The Opry Mills shopping center is popular with tourists, as you have a chance to shop at all your favorite stores. The center is the biggest shopping area in all of Nashville, so you can pick up nice souvenirs for yourself or your friends there.
The Gaylord Opryland Resort is perhaps the finest hotel in the city, though it is an expensive place to stay. Still, few resorts cater to country-music-loving families quite like the Opryland. Even if you choose not to stay at the resort, anyone can visit the grounds and explore the nine-acre area.
The rest of the hotels in the area are cheaper, so this is another budget-friendly option for visitors.
Families with picky eaters may like the food options in Music Valley, as they cater to tourists with chain restaurants and recognizable brands. If your family is not as adventurous about trying new foods, the Music Valley neighborhood should do nicely.
As far as drawbacks, Music Valley only has a few. You will be a bit far from Downtown, so you should prepare to bring a car or pay for a ride if you want to visit other neighborhoods. Older children and some adults may find the area too touristy or not authentic to the real Nashville.
Pros
Grand Ole Opry
Gaylord Opryland Resort
Perfect for tourists
Decent lodging options
Cons
Distance from Downtown
Some may find Music Valley inauthentic
Downtown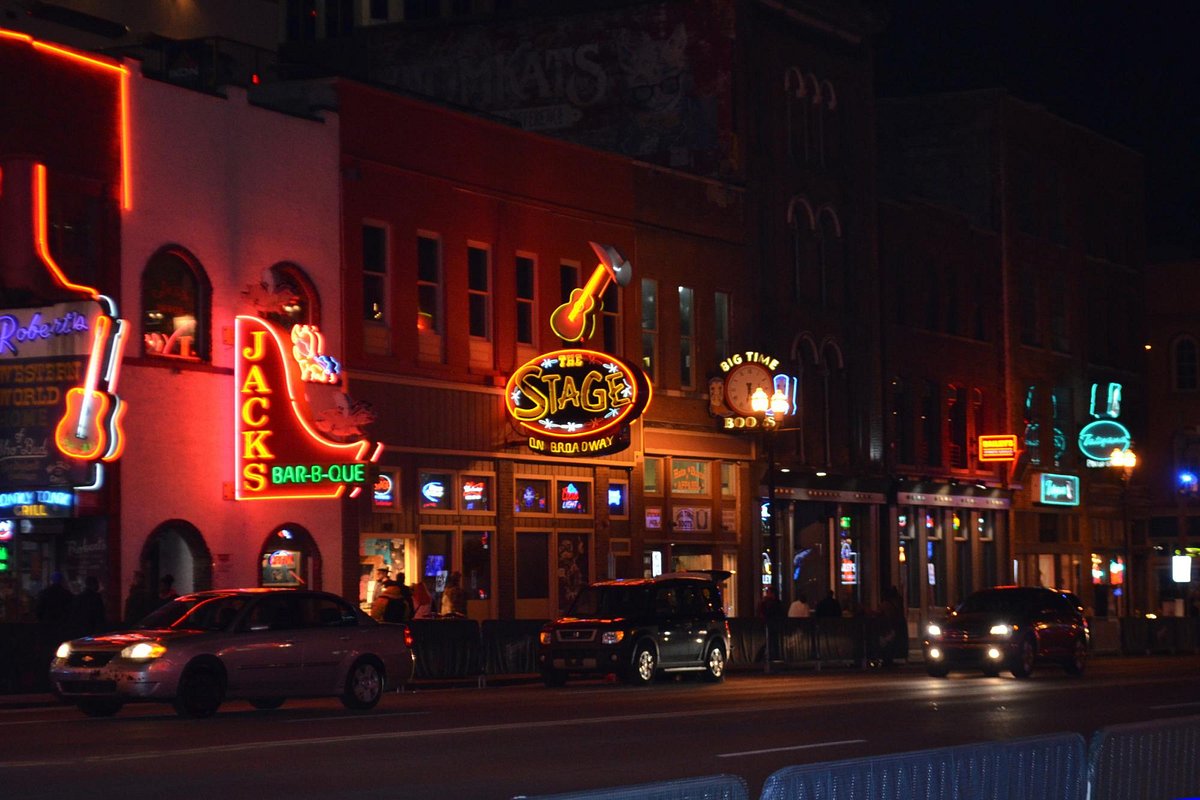 Petula Clark said it best when she sang how you can always go downtown. Downtown is a favorite neighborhood for first-time visitors to the Music City, as you will find many of the city's most famous attractions here. Parents may enjoy the nightlife in the area, while others may find it a turnoff to the area.
It is always convenient to be within walking distance of all the attractions you hope to visit in the city. While you may not be close to the Grand Ole Opry, you will have the pick of the litter for Downtown attractions if you choose to stay in the neighborhood.
Downtown is another excellent option for country music fans, as you can easily walk to the Country Music Hall of Fame. You and the family could spend an entire day exploring the museum and seeing all the exhibitions they have on display. If you enjoy the genre, you owe it to yourself to take a family trip to the hall of fame.
Johnny Cash, the Man in Black, is one of the biggest legends of the country music scene. Nashville hosts the Johnny Cash Museum, where fans can admire the work of one of music's favorite sons. The curators have stocked the museum with all the memorabilia and exhibits they could get their hands on. If you enjoy Cash's music, you can't miss this attraction.
The rowdy, crowded, and bar-lined streets of Broadway Downtown may be a turnoff for some families. You may want to avoid traveling too much at night with your children, as Downtown is filled with bar-hopping bachelor or bachelorette parties regularly. If you can find a babysitter, however, a night on the town for the parents is always a fun way to end a vacation day.
You do not need a car if you opt to stay Downtown. Many of the city's attractions are tightly packed in the neighborhood, and you will be within walking distance of some of the other districts of Nashville. You can save a little money on your vacation by walking instead of driving or hailing a taxi.
Downtown is one of the most expensive districts in Nashville, so you should keep the price in mind when planning your visit.
For lodging, we recommend the Drury Plaza Hotel, though there is no shortage of excellent places to stay Downtown.
Pros
You are within walking distance of most attractions
Country Music Hall of Fame and Johnny Cash Museum
Ample choices for hotels
Cons
Expensive
It may be too crowded for some
Nightlife may be negative for some families
Midtown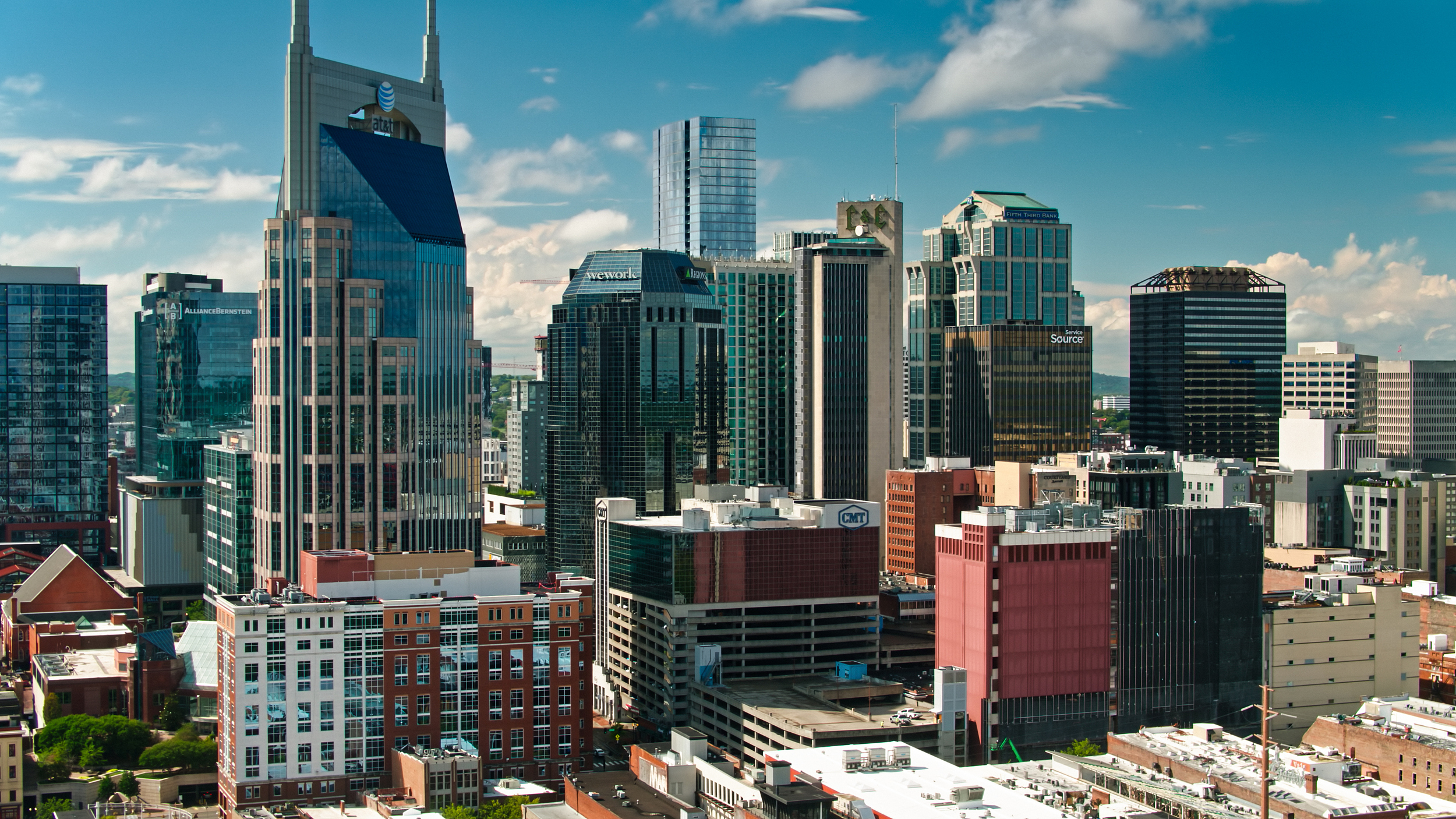 Midtown and the West End seem like a package deal to most tourists and locals, but either option is excellent for families with kids. We think Midtown is one of the best places to stay in Nashville because it has many of the benefits of Downtown with fewer crowds. If a quieter atmosphere is more to your enjoyment, you should give Midtown a try for your vacation.
Midtown is another neighborhood perfect for music lovers. You will find many venues with nightly live music, though you may struggle to find family-friendly options. Still, parents may enjoy a night to themselves with live music and delicious food.
You may have heard of Nashville's Music Row, and you'll find it in this neighborhood. The music scene came out of the area, and you can still see many studios lining the streets of Music Row. There is not much for a tourist to see, but it is worth looking around to see a historical area.
Midtown feels more local and authentic than other neighborhoods of Nashville, like Music Valley or Downtown. You will have a chance to sample much of the daily life of residents, as well as see performances from local bands. If you want the family to see the real Nashville, Midtown may be an excellent option for lodging.
Midtown's location at, you guessed it, the middle of the city means you are within walking distance of many attractions. You could head to the Downtown or West End with ease and enjoy those neighborhoods for a day before returning to your Midtown hotel.
And speaking of hotels, Midtown has plenty to choose from. The Graduate is one of the most popular places to stay, though others choose more affordable lodgings like the Hampton Inn.
Pros
More affordable and quieter than Downtown
Live music
Walkability
More local atmosphere
Cons
The nightlife may be a turnoff for some
So-so attractions
The Gulch
If you need your vacation to be as upscale as possible, you won't find a better option than the Gulch. The Gulch has everything you need to enjoy the finer things in life, including trendy spas and shops. The neighborhood is young and trendy, so if you have teens in your family, they may enjoy the vibe and hipness of the area.
If you and the family love art, you owe it to yourself to check out the Frist Art Museum. You will find many exhibits in the building; of course, you can visit the museum without staying in the Gulch. But being near amenities like the Frist Art Museum makes your vacation more efficient.
If you or your family enjoy bluegrass, the Gulch should be a priority destination. The Station Inn has been one of the best places to hear bluegrass music in the world since it opened in the 1970s. The best part is that kids can attend the shows with an adult. So you can bring the whole family to the show to raise a new generation of bluegrass fans.
If you are heading to the Gulch, we recommend not driving there or leaving your car parked if you do bring it down. Parking is at a premium in the neighborhood, and losing your spot can lead to a headache as you try to find more parking. Luckily, the area is walkable, so you should not have much issue getting where you need to go.
The Gulch has a convenient location between Downtown and Midtown, so you can quickly get to the attractions of those areas. The Gulch is tiny, so getting to other neighborhoods does not take much time.
Pros
Upscale area
Bluegrass music
Walkable and near other neighborhoods
Cons
Expensive
Parking at a premium
Germantown
Germantown is an old suburb of Nashville, and as such, it is one of the most developed. You will find plenty of activities in the area, and it is perfect for visiting families. You will find plenty of amenities, and the area is safe and welcoming to tourists.
As the name implies, Germantown was a suburb European settlers established, and the culture has grown from that. As such, you will find plenty of unique architecture and businesses that set it apart from the rest of Music City.
Germantown has a reputation for being a dream destination for foodies, and it certainly lives up to the reputation if you spend any time there. You will have no shortage of restaurants to try out, with the standout being City House. You will find some of the finest Italian food in the South at City House.
If you stay at an Airbnb or any place with a makeshift kitchen, you can take advantage of the local farmer's market. The market has as much produce as you could ask for, and you save money buying directly from farmers instead of stores. Even if you do not have a kitchen at your disposal, you can still take some produce home with you to prepare a feast upon returning.
If the weather permits, you would be remiss not to visit the Bicentennial Capitol Mall State Park. The park is massive at 19 acres, and you will find plenty of ways to keep your children occupied when visiting. If you enjoy the outdoors, this attraction in Germantown should be near the top of your list.
Hotel options are not as plentiful in an area like Germantown, but the Germantown Inn is the best lodging. Of course, there are cheaper options available for visitors, as well.
Pros
Cozy, suburban neighborhood
Unique architecture
Food
Cons
Fewer lodging options
A little out of the way
East Nashville
East Nashville is another residential area, but it is well worth your time and consideration for the best places to stay in Nashville. The neighborhood is quiet and has a more local and hip vibe. If you want to take your family to a place that's a little more secluded, East Nashville is an excellent choice.
We should mention that football fans may want to stay in East Nashville if they plan to catch a Tennessee Titans game. Nissan Stadium is in East Nashville, so you will have little trouble making it to a game if that interests you. The stadium also hosts many concerts during the offseason, so it has a little something for everyone.
East Nashville resembles a small town more than most areas of the city, so if you enjoy a more low-key atmosphere, this might be your favorite neighborhood. There are few crowds in the area, so you won't have to wait for ages for a table at a restaurant or sit in traffic for hours.
Speaking of cars, one of the drawbacks of East Nashville is its walkability. While some city areas are perfectly navigable without a vehicle, you will need one to get around this neighborhood. Adding to that issue is the scarcity of parking. Be prepared to search high and low for a place to park your car.
East Nashville is cheaper than staying in some of the other neighborhoods, so it's a good option for those on a budget. You are also conveniently located near Downtown and its surrounding areas, so you can save money on lodging for more fun activities in the hub.
If you are traveling with a family, you may not be affected by the early closing times of many local businesses. With the neighborhood being a residential area, its restaurants often close early. If you need to put the kids to bed early in the day, this isn't a problem, but anyone hoping to enjoy the nightlife will need to look elsewhere.
Looking for lodging in East Nashville? We recommend the Dive Motel. Do not let the name fool you. This is a wonderful place to stay with the family, thanks to its massive pool. The pool is even open to the public.
Pros
Nissan Stadium
Trendy, local feel
Inexpensive
Easy to get to Downtown
Cons
Unwalkable
Early business closures
Parking
Is Nashville Safe?
Yes! Nashville, like most American cities, is safe for a trip if you use common sense. Stay in one of the neighborhoods we listed, and always use your head when out in the unfamiliar territory. If you are careful, you should not have much of an issue with crime in the area.
Nashville has an above-average crime rate compared to other US cities, but tourists are unlikely to be affected. The crime in the city is mostly contained in a few areas you would likely not visit when on vacation. As long as you do not go looking for trouble, you are unlikely to find any.
What Should You Look For in a Hotel for the Family?
Have you decided where you want to stay? If not, we have a few suggestions for choosing your hotel.
Pool
It's a fact: kids love pools. Try to find lodging that includes a pool for younger kids to play in after a day of adventure. Parents can always take the opportunity to get a few laps in or relax in the chairs after a busy day.
Amenities
Does the hotel have a game room? Any fun areas for kids to play in? If you plan on taking a trip with the family, you may want to find a hotel with a few activities for children to partake in while you recover from the day's activities.
Spacious Rooms
Children love to run around and cause a ruckus in hotel rooms. The more space they have to play, the less headache you'll have.
Dining Options
Does the hotel have any restaurants on-site that are kid-friendly? Do they offer a continental breakfast? Feeding the family can often be an expensive part of the trip, so using the continental breakfast for a free meal can help keep the cost of the trip reasonable.
What Are the Best Activities in Nashville?
Excited to get to Nashville? Now that you know the best places to stay in Nashville, we will share a few activities you must partake in when you visit.
Live Music
It's called Music City for a reason. Nashville is a country music fan's dream. No matter the neighborhood you decide to stay in or visit, you will likely find live music wherever you go. Of course, there is the Grand Ole Opry, one of music's most famous venues. Take the kids for an experience that they will never forget for the rest of their lives.
Outside of the Opry are plenty of opportunities for live music. Many local restaurants and bars have live shows nightly, though you may have to pick and choose to find suitable shows for your children to attend. No matter what style or era of country music you prefer, you will likely find your new favorite band during a trip to Nashville.
Local Restaurants
Nashville is not on the level of some of the other gastronomic hubs of America, but the city is quickly developing a reputation as being a place of foodies. If you look hard enough, you will find exquisite local restaurants of all models. While you will find plenty of chain restaurants for picky eaters or kids, we implore you to check out a few local eateries while in town.
Sports
Nashville is a great sports town, even if it doesn't get the credit it deserves on that front. Of course, the first team that will jump to your mind is the Tennessee Titans of the NFL. Hockey fans are sure to think of the Nashville Predators. The city also hosts an MLS team and a minor-league baseball squad.
If you are a fan of college athletics, you can check out a Vanderbilt game against some stiff Division 1 competition.
No matter your family's preferred sport, you can likely find an exciting game to attend while in the city.
Conclusion: The Best Places to Stay in Nashville for Families With Kids
No matter where you decide to lodge, you will find many of the best places to stay in Nashville on our list. Any of these locations are perfect for a family vacation with enough entertainment for the whole group.
What are the things you are most excited about in Nashville? Are there any attractions you think are a must-see? Let us know about your trip plans!
More about our TFVG Author