Looking for a destination to spend your next family vacation? The Smoky Mountains offer entertainment, activities, and hotspots to suit all ages. This is one of the reasons those traveling with children return to this resort time and time again.
Of course, when planning a trip, choosing a hotel that provides features designed around you and your kids is a must!
To inspire you, we've listed 12 of the best family hotels Gatlinburg, Tennessee. Many of the kid-friendly hotels on this list boast free cancellation, free breakfast, game room set-ups, indoor pool facilities, larger suites, kid's clubs, and more…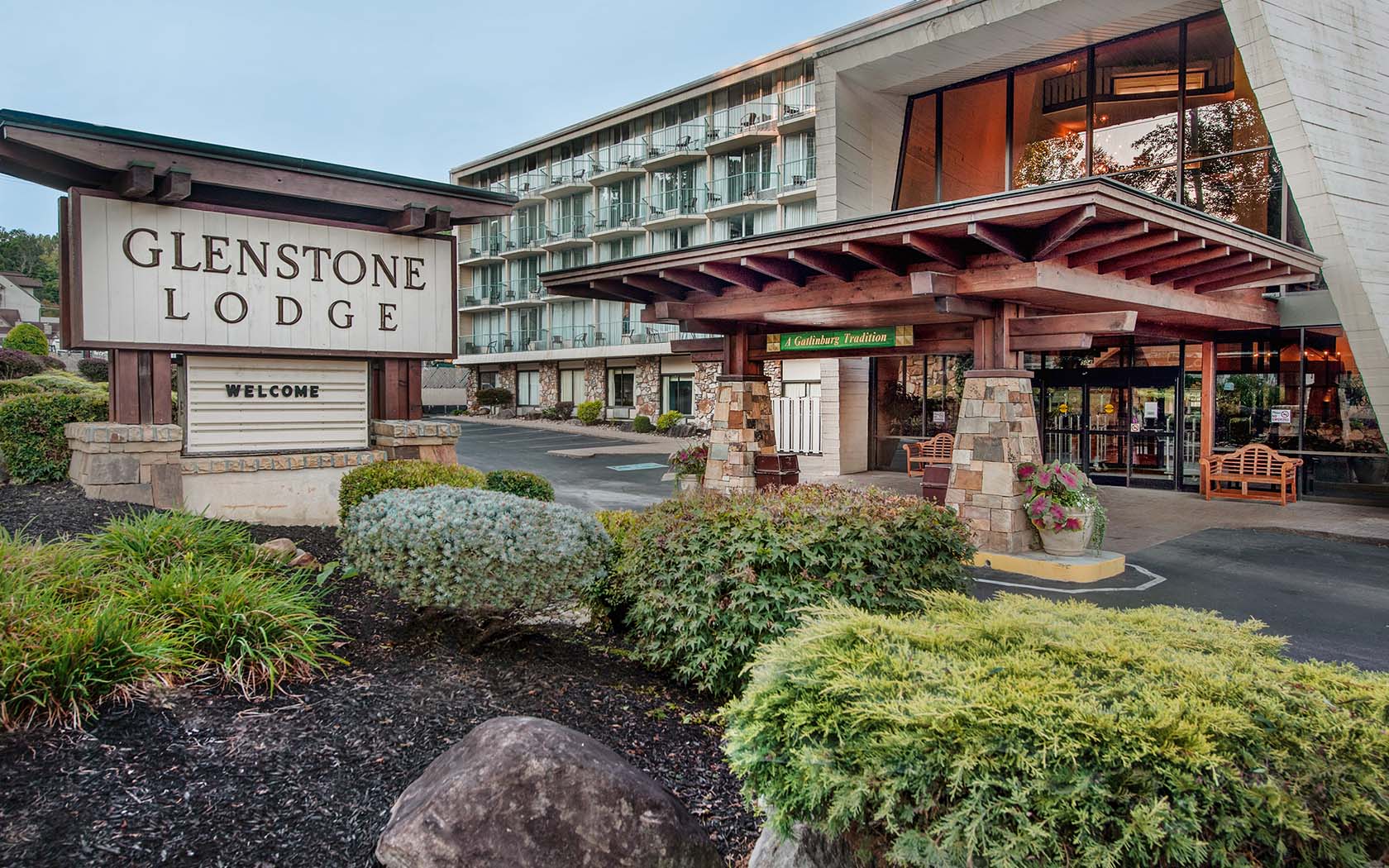 Whatever your budget or requirements, Glenstone Lodge (one of the many family-friendly hotels in Gatlinburg), boasts accommodation to suit all. If you're looking for a double queen, a large king, or a bigger room for larger groups, you've come to the right place, and all room options come with a backdrop of the stunning Smoky Mountains National Park.
Located just a stone's throw away from downtown Gatlinburg, you'll discover there is plenty to do and see on your doorstep, including numerous activities that promise to keep the kids entertained.
All in all, Glenstone Lodge is a charming family-friendly hotel, which is an ideal option for a weekend trip or longer.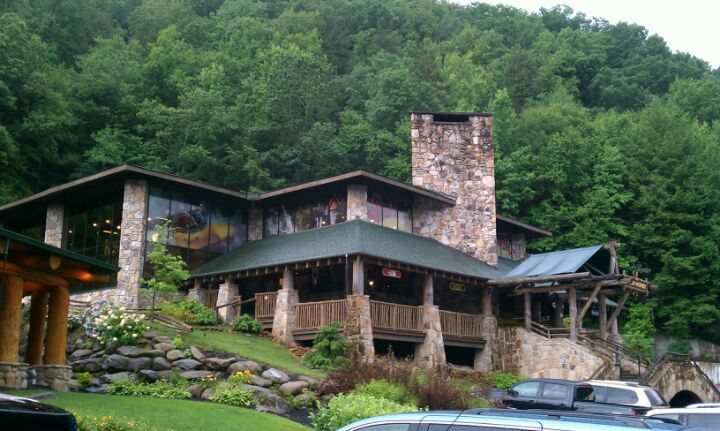 This DoubleTree by Hilton Hotel in Gatlinburg promises a stunning vista of East Tennessee's celebrated Great Smoky Mountains National Park.
Ideal for your next getaway and a good alternative to the Hilton Garden Inn, The Park Vista comes in the shape of a modern high-rise hotel with features designed around both kids and adults.
Situated just 30 minutes from Gatlinburg Airport, it is here you can indulge in a haven of relaxation in the form of a mountain retreat.
It's also positioned close to Nashville and Knoxville in Tennessee and Asheville in North Carolina, meaning there are plenty of places to explore nearby.
This Gatlinburg Park Vista hotel spans an impressive 25,000 sq. ft. and includes a grand ballroom. On arrival, the kids will be pleased to learn a signature DoubleTree chocolate chip cookie awaits them.
Whilst the little ones explore the outdoor playground and game room facilities, the adults can relax by the fire pit with a chilled refreshment, whilst sampling a variety of taste-tantalizing appetizers in the atrium lobby, Firefly's Patio Lounge.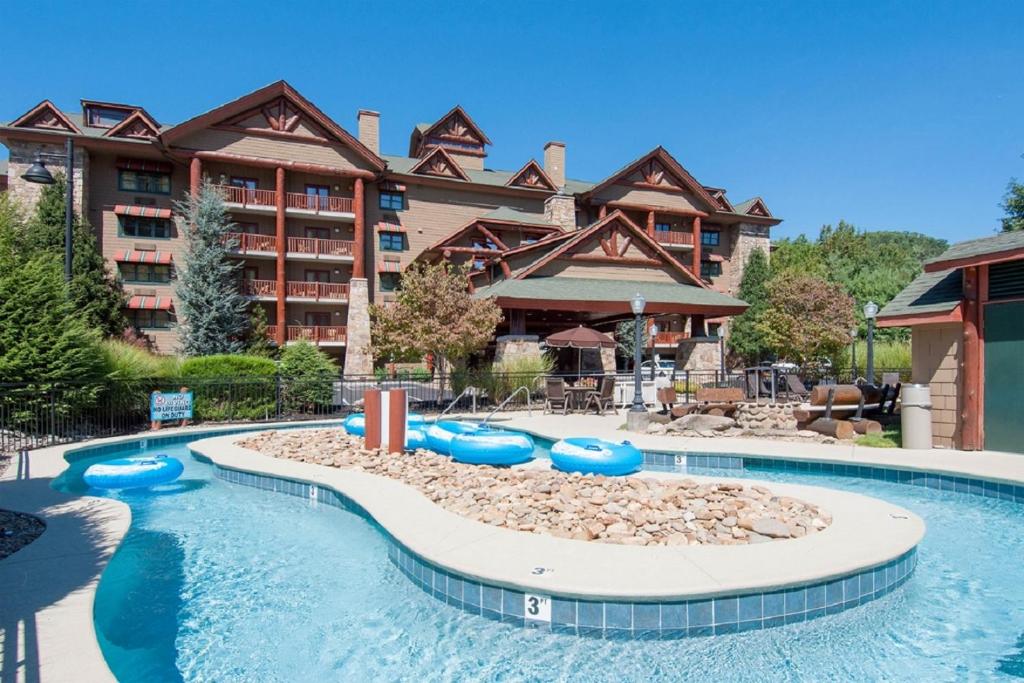 A top choice for families of all tastes, the Bearskin Lodge on the River Hotel in Gatlinburg boasts a combination of comfort, value, and convenience. It is one of the many hotels in this area situated in a great location.
All its features are perfectly suited to kids and adults and the hotel boasts a great location, and is within walking distance from numerous must-see landmarks, including St Mary's Catholic Church, Ripley's Aquarium, and the famed Smoky Mountain.
The location is just one of the reasons that the Bearskin Lodge in Gatlinburg Tennessee is popular for a trip in both the winter and summer months.
Hotel rooms include mini-fridges, a flat-screen TV, a desk, and complimentary WiFi. Families staying in the hotel benefit from a front desk that is open 24 hours a day, a laundry room, an outdoor fire pit, outdoor furniture, and a pool.
There is also parking on-site should you wish to drive or hire a car during your stay to check out one of the hiking trails or golf courses situated further afield. This is particularly popular with families wishing to embark on staycations or those who find it easy to travel by road if they need to bring the likes of prams, bikes, and other equipment with them.
Bearskin Lodge on the River is close to various restaurants serving delectable Spanish cuisine, in the shape of Estrella Hondumex and No Way Jose's.
Nearby prevalent attractions include Gatlinburg SkyLift, the Gatlinburg Space Needle, and Gatlinburg Scenic Overlook, both of which are within walking distance from the establishment.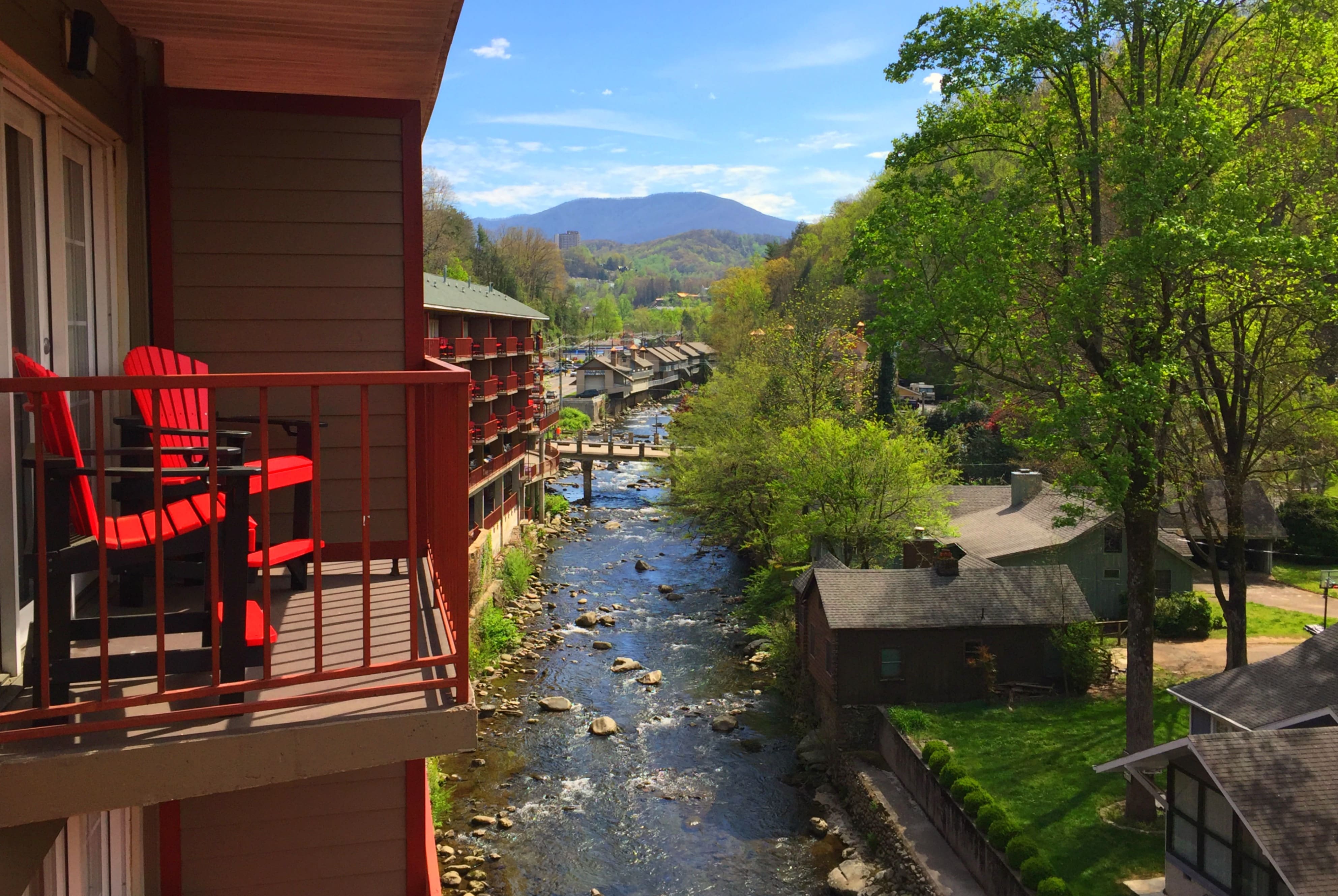 Looking to visit Gatlinburg with the kids? Baymont by Wyndham Downtown Gatlinburg on the River is a great option for those traveling with children, as well as those looking for an eco-stay.
Located a stone's throw away from a variety of Gatlinburg's must-visit attractions, including Fowler's Clay Works, an indoor waterpark with a water slide (perfect for rainy days) the Gatlinburg First United Methodist Church, and the Great Smoky Arts and Crafts Community.
The Paul Murray Gallery and the Historic Ogle Log Cabin are also nearby, which makes the Gatlinburg Comfort Inn perfectly positioned for tourists wishing to explore the surrounding area.
Guests are privy to complimentary WiFi, whilst the stylish rooms boast a series of amenities in the shape of air conditioning and flat-screen TVs.
Throughout your visit, you will have use of the on-site picnic area, a 24-hour reception, and a daily newspaper, which you can opt to have delivered to your room.
In addition, free breakfast is served daily and there is a kid-friendly indoor pool and parking on-site, as well as an Italian cafe and pizzeria.
Looking for a home away from home for this year's holiday? Look no further than the Westgate Smoky Mountain Resort & Water Park.
Located a short distance from one of the most visited parks in the USA, the Great Smoky Mountains National Park, as well as vibrant downtown Gatlinburg and the celebrated Dollywood theme park, there is plenty for you and the kids to do during your stay.
On top of this, the hotel is privy to numerous on-site facilities, comprising an impressive indoor and outdoor water park with a water slide – a hot spot for kids!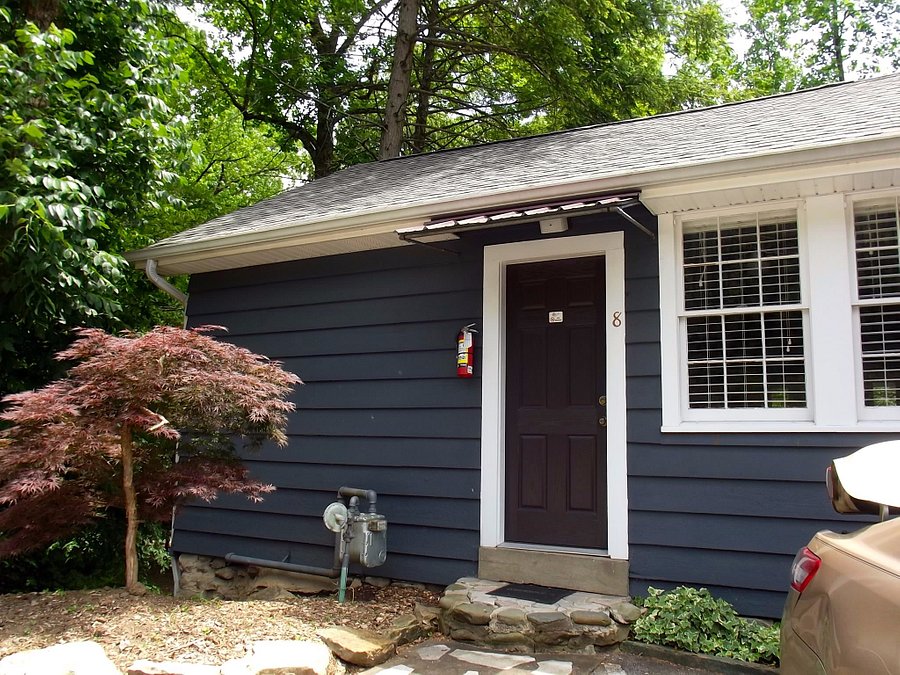 Situated in what can only be described as a Mountain Paradise, Carr's Cottages and Camping Resort is an ideal place to set up a base in which to explore the Great Smoky Mountains!
Kid-friendly hotels such as this resort are home to numerous extras including complimentary WiFi, free parking, an outdoor pool, on-site BBQ facilities, a hot tub, and a self-service laundry room.
Families with young children will be pleased to know this is a non-smoking hotel that offers both rooms and suites, meaning it is suited to small and large groups.
The rooms boast a private balcony with a stunning view, as well as air conditioning, and a kitchenette comprising of a refrigerator and microwave.
This recently revamped hotel, the River Edge Inn, comes in the shape of boutique-style, kid-friendly accommodation.
Situated close to a handful of Gatlinburg's most renowned restaurants and must-see sights, it's a great place to spend a holiday.
On-site, you'll discover a seasonal outdoor pool, as well as a kid's wading pool area. The River Edge Inn has 43 rooms in total, set across three floors. All non-smoking rooms boast easy access via the hotel's elevator.
Each room features a mini-fridge, hardwood laminate flooring, a Keurig coffee maker, a microwave, white linens, Bath & Body Works bathroom products, private balconies with a pool view, and free WiFi.
Traveling as a larger group? This Gatlinburg hotel's rooms boast a total of two queen beds, as well as gas fireplaces in certain suites. The largest suites can house between eight and ten people.
Every guest is entitled to a free 'Grab and Go' continental breakfast each morning.
Other notable hotel extras include free parking, blackout curtains, housekeeping, kid's television networks, private balconies, air conditioning, telephones, and non-smoking rooms.
Kids stay for free in this Gatlinburg resort and ski rental is available on site. There are also numerous hiking trails to choose from.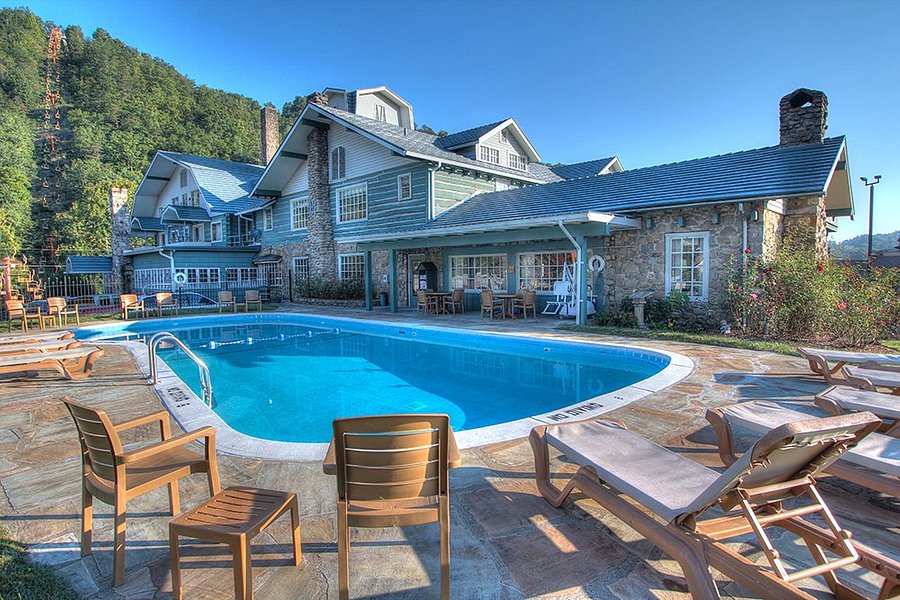 Sourcing family-friendly hotels in Gatlinburg shouldn't feel like a challenge, and thankfully there are lots of options available, including the Gatlinburg Inn.
Guest rooms feature numerous extras comprising air conditioning, flat-screen TVs, and free WiFi. On top of this, the Gatlinburg Inn boasts a 24-hour reception, daily newspapers, a selection of board games and puzzles, a free breakfast, and baggage storage.
The inn is also privy to a pool and free parking, should you wish to arrive by car. However, you will find the majority of tourist hot spots are located within walking distance.
These include the Gatlinburg First United Methodist Church, Gatlinburg Space Needle, Guinness World, Gatlinburg Scenic Overlook, Gatlinburg SkyLift, and several eateries serving up the famous local crab, such as The Peddler Steakhouse, Crawdaddy's Restaurant & Oyster Bar, and Cherokee Grill.
Larger rooms are available on request at this hotel and kids stay at this resort for free.
If you're looking for a friendly resort to stay at in Gatlinburg, the Fairfield Inn & Suites is a great choice and one that is situated in a great Downtown location.
Both the rooms and suites at the Fairfield Inn & Suites Gatlinburg boast free WiFi, air conditioning, and a mini-fridge.
Both kids and adults are privy to numerous on-site amenities, comprising a 24-hour reception, daily newspapers, a free breakfast, on-site parking, and an outdoor pool.
Other on-site amenities include a fitness center, babysitting services, a whole host of children's activities, and ample-sized rooms.
From this conveniently located resort, you and your little ones will have access to a variety of Gatlinburg's must-see landmarks and restaurants, all of which are renowned for local crab dishes.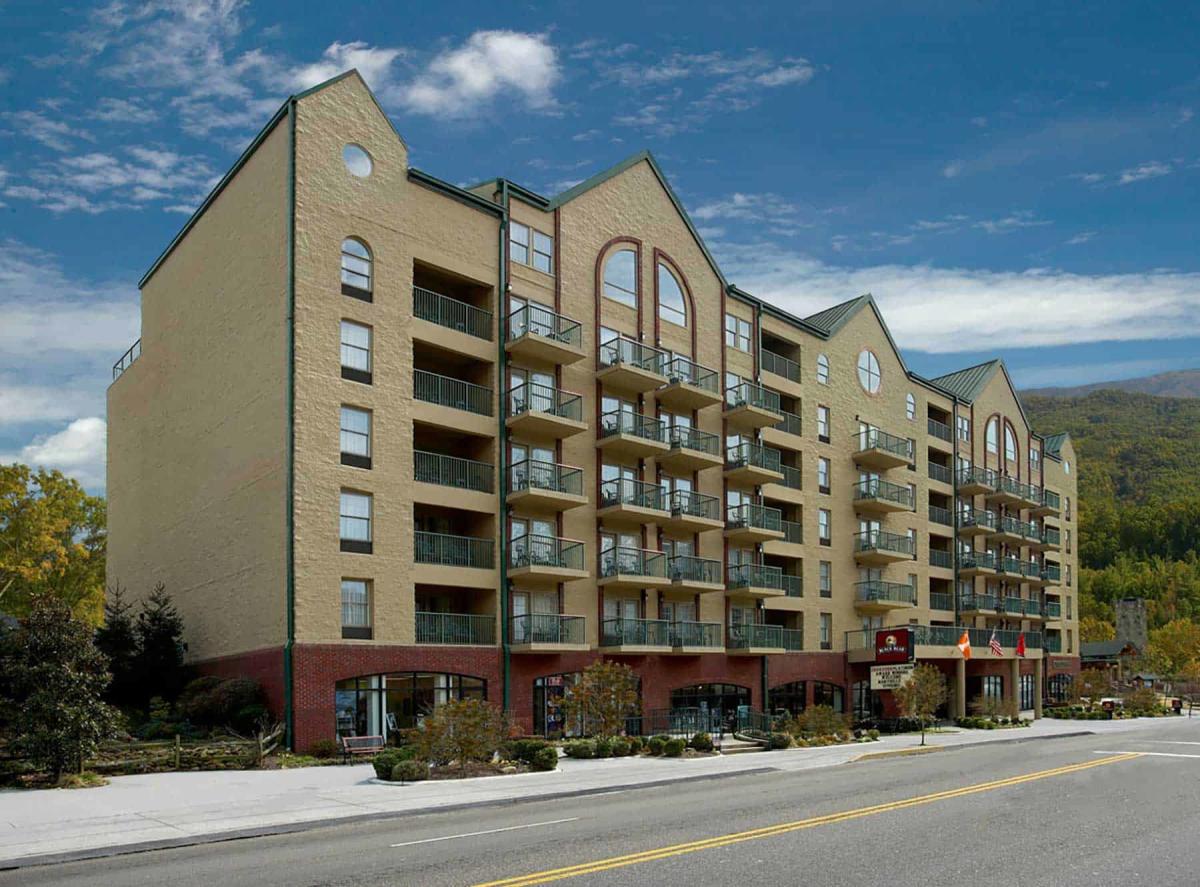 Looking for a stylish stay in Gatlinburg? The Black Bear Inn & Suites is a great choice. Fuel up for a day of exploring the local area with a moreish, free hot breakfast, offering everything from Belgium waffles to omelets – all cooked to order.
The Black Bear Inn & Suites is situated in a perfect location on the Parkway, close to the renowned Great Smoky Mountains National Park, and a stone's throw away from numerous tourist hot spots, including Ripley's Aquarium.
Other must-visit attractions comprise Dollywood, Pigeon Forge, the Titanic Museum, an array of restaurants and theatres, and the Tanger Outlets.
Parking, complimentary WiFi, an outdoor pool, a 24-hour front desk, air-conditioned large rooms, and housekeeping services are all available on-site.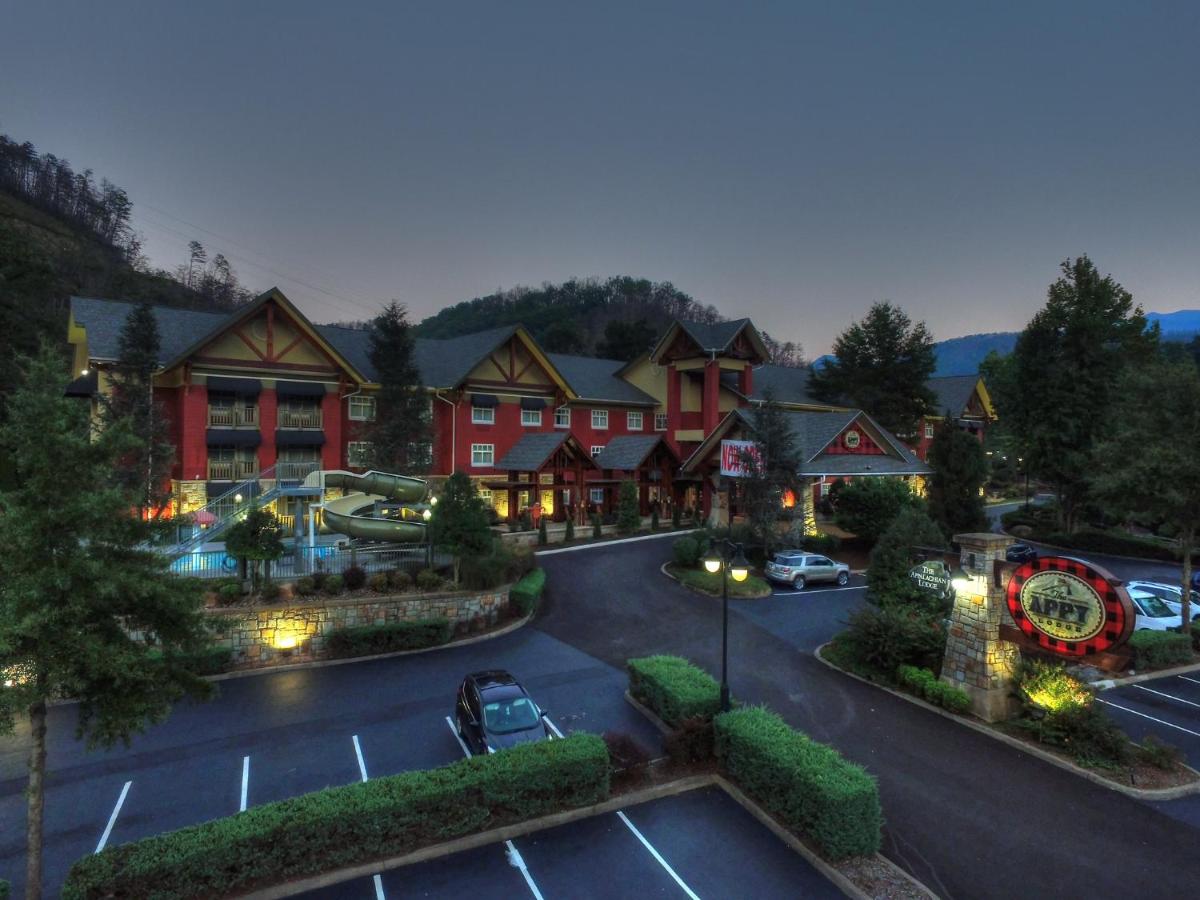 The locally owned Appy Lodge is a great option for families looking to embrace all the famed Smokies have to offer. The Appy Lodge resort recently underwent an impressive $5 million revamp, which took place in 2018.
The establishment sits on one of the USA's most notable footpaths, also known as the Appalachian Trail. All of the guest rooms boast names of the trail's numerous shelters.
The hotel itself is brimming with pictures that tell stories of the Appalachian Trail's vibrant history.
This friendly property in Gatlinburg boasts numerous features including an indoor and outdoor pool, and a kid-friendly splash pad.
Guests are privy to free breakfasts and afternoon refreshments – perfect for refueling after a busy day. Other amenities comprise complimentary parking and WiFi, a fitness center, and plenty of on-site kid-friendly activities. Kids also stay for free!
The Black Bear Inn and Suites provide the perfect home away from home, with easy access to the Great Smoky Mountains National Park, which sits half a mile away from the establishment.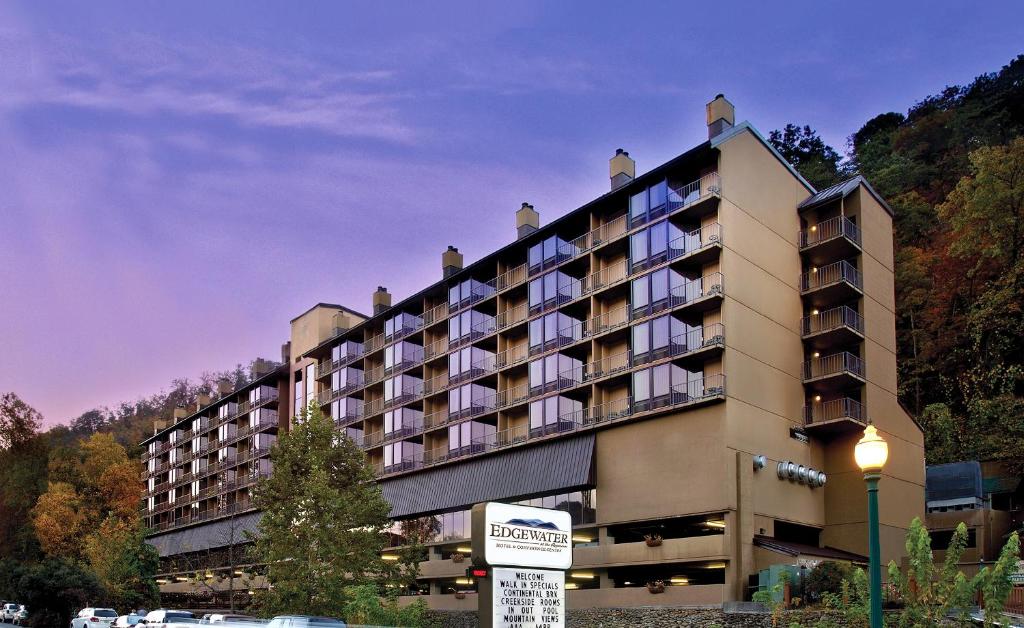 The Edgewater is another great home-away-from-home resort and one that promises an epic Smoky Mountain experience!
All rooms and suites boast private balconies, micro-fridges, a free continental breakfast, a swimming pool that is open all year round, and complimentary WiFi across the hotel.
Situated in the center of Gatlinburg, close to the entrance of the famed Smoky Mountains, and a stone's throw away from numerous family-friendly attractions such as Ripley's Aquarium, Guinness World, and Downtown Gatlinburg.
As with many hotels in Gatlinburg, this option includes on-site parking, baggage storage, daily newspapers on request, housekeeping, flatscreen TVs, and ample-sized suites.
Final Thoughts
Come rain or shine, these kid-friendly Gatlinburg hotels offer something to suit the whole family.
From indoor and outdoor pools to a selection of on-site kids clubs, mini-golf, hot tubs, a lazy river, games rooms, and more, when searching for Gatlinburg hotels that have been designed to cater to parents traveling with children, Gatlinburg is a top choice for your next family holiday.
More about our TFVG Author
A seasoned traveller, Dad, and avid sports tourist, James foundered The Family Vacation Guide to share his expert vacation experiences- especially when it comes to being a travelling family man.
Featured in Travel articles such as Travel + Leisure, TripSavvy and SFGate, you know you're reading some of the best vacation tips online.