Nothing screams summertime in Texas like river floating or tubing. Home to about 15 rivers, the state has many unique places where you can hop into an inner tube and float by while enjoying the serene and beautiful Texas countryside.
With that being said, here are eight of the best places to go tubing in Texas.
Guadalupe River
This 230-mile river running from central Texas to the Gulf of Mexico is one of the best places to go tubing in Texas.
Its calm waters (about 52-54 degrees F) and reasonable flow rate make it the go-to place to cool off while enjoying the thrill of river floating. What's more, it is adorned with beautiful pecan and cypress trees that provide ample shade from the scorching sun.
One of the best tubing sections in the Guadalupe River is the Horseshoe Loop, which takes about two hours to float by. However, this depends on the water levels. Of course, you can go beyond that section and float further.
There are tons of great river outfitters and tubing spots at San Antonio, New Braunfels, San Marcos, Texas Hill Country, and more areas near the Guadalupe River.
Most of these outfitters have all the equipment you need for tubing, among other excellent services such as shuttles to take you to and from the river.
South Llano River
This 100-mile tributary of the Colorado River, located in the North West of Austin, Texas, is also a fantastic place to go tubing, kayaking, and partake in many other recreational water activities.
We especially like the river's section that runs through the South Llano State Park. The area is exceptionally family-friendly, allowing you to bring your kids along to play in the water.
Other access points to the river include:
Boone's crossing, which is just before the South Llano State Park
Pete's Pecan Patch near Junction
Castell crossing
HR Seventh Heaven near Llano
The South Llano river site at County Road 150
Frio River
The 200-mile cool, crystal clear spring-fed river that runs through the heart of Texas Hill Country may be giving the Guadalupe River a run for its money.
Unlike most rivers in Texas, the Frio River is located in a more remote setting, making it perfect if you love a quiet environment. However, it is not too far from most of Texas's major cities. For instance, the distance between the river and Austin city is about 140 miles and approximately 80 miles from San Antonio.
Frio River is surrounded by breath-taking nature, from tall limestone buffs to giant cypress trees, guaranteeing an unforgettable experience. One of the popular access points is Garner State Park, where you and your family can enjoy a peaceful tubing trip down the river and water-related activities.
Other great access points to the Frior River include:
US Highway 83 bridge
County Road crossing near Kent
Bridge on FM 337 at the Eastside of Leakey
FM 1120 crossing West of Rio Frior
Magers crossing
Second River Road crossing
Bridge off FM 1120 Southeast of Leakey
Blanco River
Flowing through the breath-taking Southern Texas landscape, the Blanco River is a perfect place to enjoy a quiet summer day. You'll be treated to dams, waterfalls, and beautiful bald cypress and pecan trees. The shade makes it a great place to cool off during the high summer heat.
The best access point to the river is the Blanco State Park, located at 101 Park Road 23 in Blanco, Texas. You'll be able to get all the equipment you need at the park, so you only need to come ready for action. You can also enjoy swimming and other recreational water activities at the park.
San Marcos River
If you're looking for a place in Central Texas to go a river tubing adventure, then head on down to the San Marcos River. This river is a tributary of the Guadalupe River, one of Texas's cleanest and coolest (72°F) rivers.
San Marcos River is situated approximately 30-45 minutes from Austin, so it is the tubing spot for you if you reside in Austin, Texas. Tubing along the San Marcos river takes about 3 hours, which is just the perfect period to have some fun under the scorching sun.
The perfect access point to the river is the city park behind the Strahan Basketball Stadium, where you can enjoy a 1-mile tubing trip while socializing with many co-eds from Texas State University.
Comal River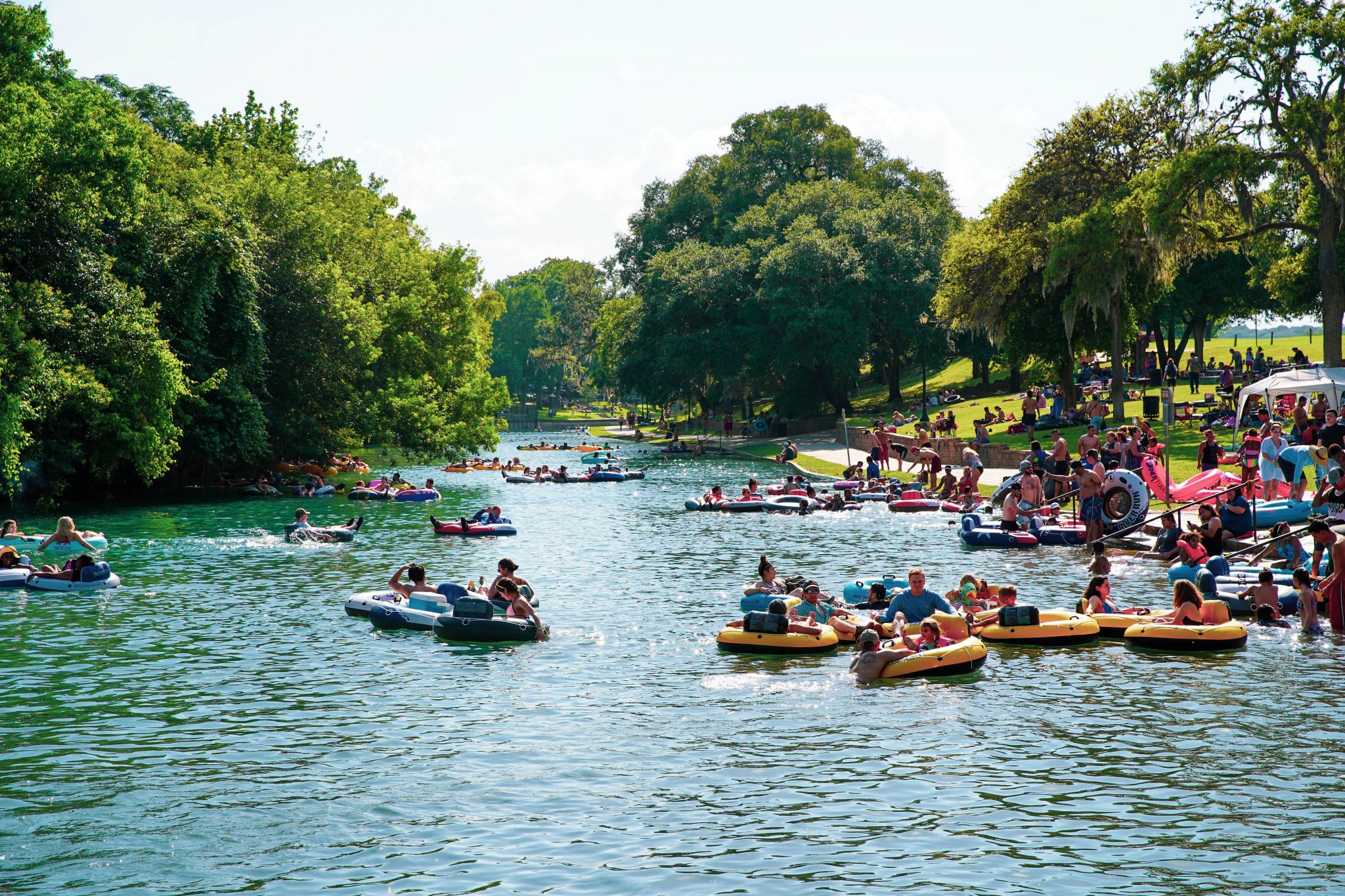 Another tributary of the Guadalupe River is the Comal. Interestingly, this is one of the shortest rivers in Texas and globally, making it ideal for first-time tubers. Spring-fed by the great Edwards Aquifer, this river maintains its cool temperatures (70-72°F) all year round, which is perfect, especially during summer.
You can access the Comal river at Landa Park and Schlitterbahn water park and enjoy a 2-2 ½ hour floating trip just up to the point where it flows near the Guadalupe River.
Medina River
Situated at the Northwest side of San Antonio, the Medina River is one of Texas's most bypassed and underrated floating places. The remoteness makes it perfect if you are looking for a less-crowded spot to go tubing.
Medina river flows from the springs in Edwards Plateau in Bandera County and stretches for about 120 miles. Its slow flow rate gives you enough time to behold the beautiful canopies of maple and cypress trees along the river and breathtaking sceneries.
There are top-notch river outfitters, such as the Medina River Company, that not provide easy access to the river but also offer floating trips that last between 2-7 hours.
Pedernales River
Wrapping up our list of the best places to go tubing in Texas is the Pedernales River. Situated just near Pedernales Falls State Park, it is surrounded by a beautiful landscape that you can enjoy while floating.
The main access point to the river is Pedernales Falls, State Park. However, the management doesn't offer any tubing equipment, so renting some from another place before you get there is recommended.
How Do You Prepare for River Tubing?
While tubing is a fun and thrilling adventure, there are some preparations you have to make to get the most out of your river floating trip.
Let's take a look at what to bring to your river tubing trip.
A Tube
You can rent a tube from a river outfitter. Luckily, there are many top-notch outfitter companies across Texas, most of which are located near the river tubing spots.
The other option is to purchase one. When selecting a tube to buy, it is advisable to go for one with a mesh material at the bottom. This material makes it comfortable to sit on for several hours during the floating trip.
It is also best to choose a tube with handles or any other points onto which you can tie a rope. These handles will allow you to attach other things you may bring along with you, such as coolers with your beverages.
Another feature to look out for when shopping for a tube is a headrest. A comfortable headrest will enable you to relax your neck and head during the many hours of river-tubing.
Water Shoes
Most riverbeds contain stones and other sharp objects, which may hurt your feet when getting into and out of the river. So it is essential to have some durable water shoes that can cover and protect your entire feet.
Sunscreen
It goes without saying that sunscreen is a critical product to have with you all the time, especially during summer. Before embarking on your tubing adventure, make sure you have sunscreen on you and with you so that you can reapply during the trip if need be.
Extra Ropes
Since most river tubing trips are pretty long, anything can happen, so it is crucial to be prepared. One way to do so is carrying one or two extra ropes that will keep you covered if the rope you have used to attach your items to the tube snaps during the trip.
It is recommendable to use nylon ropes because they are not readily subject to wear and tear.
Extra Clothes
You will be in a river, so you're bound to get wet. That is why it is essential to bring some extra clothes that you can change into once you finish river floating. You wouldn't want to stay wet during the entire trip back home.
An Insulated Water Bottle
The need to drink water, especially during the summer season, is relatively high. So, you may want to bring some water with you when you go river-tubing. It is advisable to use an insulated water bottle to keep your water cool regardless of the high temperatures.
Tips for Floating Safely
Now, let's look at other things to keep in mind when you are preparing for river-tubing.
Try Not to Bring Valuable Items on Your Trip
Remember, you will be close to the river, so you can lose something pretty quickly. That is why it is essential not to bring valuable stuff with you, such as your phone, camera, those high-end sunglasses, and other expensive items.
Check Your Preferred River's Flow Rate and Current
Before plunging in, it is vital to check the river's flow rate and current. A high flow rate might be dangerous, and it's best to keep off. On the other hand, if the rate is too low, the tubing trip won't be that enjoyable.
So, check with your river outfitter company or tour guide to ensure that the river is suitable for tubing at that particular time.
Familiarize Yourself With the Necessary Rules and Regulations
Some specific rules and regulations govern the activities taking place in these rivers, including tubing. Before going on a river floating trip, get to know the local laws. For example, are you allowed to drink during the journey? If yes, then what kind of bottle material is prohibited?
Conclusion
River tubing is hands-down the best way to spend your summer in Texas. The good thing is that it isn't an extreme sport such as white water rafting or canoeing. All you need is proper gear and a good tube. However, it is crucial to choose a suitable river and ask for guidance from a tour operator to avoid mishaps.
The truth is that these are not the only great places to go tubing in Texas, but you'll be sure to get an unforgettable experience. They are also easily accessible and offer some of the best sceneries in the state.
If you do find yourself looking for something more extreme, we have a guide for the best places for family river rafting in California for you to check out!
More about our TFVG Author
A seasoned traveller, Dad, and avid sports tourist, James foundered The Family Vacation Guide to share his expert vacation experiences- especially when it comes to being a travelling family man.
Featured in Travel articles such as Travel + Leisure, TripSavvy and SFGate, you know you're reading some of the best vacation tips online.