Packing can be a very stressful endeavor, but it helps to know the airline's restrictions and limits imposed on your luggage. 
Many people hate waiting at baggage claim after a long flight. And you may even worry about your checked bag and if it'll be there when you land.
For this reason, many people opt to carry on their luggage rather than check it. Carry-on baggage is a great solution, but there are some ins and outs to familiarize yourself with before you start packing!
If you're flying with Allegiant Airlines, consider this your complete guide to their carry-on bag sizes, fees, and limits. Plus, what to know if you decide to check a bag.
Bag Size and Weight Requirements
Before flying with any airline, you must know the bag size and weight requirements.
When it comes to your carry-on bags, airlines are very particular. They only have so much overhead space and room under the airplane seats.
Before flying with Allegiant, make sure all carry-on bags meet the size requirements detailed below.
Personal Items
To prevent being charged carry-on fees for your personal item, make sure it fits Allegiant's size and weight requirements before heading to the airport.
The maximum dimensions of a personal item are 7 x 15 x 16 inches or 17.8 x 38.1 x 40.6 centimeters. There is no weight requirement for personal items.
All exterior bag measurements include wheels, pockets, handles, and decorations, so ensure you measure thoroughly.
A personal item could be any of the following:
Purse
Briefcase
Small backpack
Small camera
Food container
Laptop case
Small duffle
Small tote
As long as the personal item can fit under the seat in front of you, Allegiant should have no problem allowing you on with it for no extra charge.
But if you bring an oversized backpack or cannot fit your briefcase under the seat, it will count as a carry-on bag, and you may be charged for using overhead compartment space.
Carry-on Bag
Carry-on bags can be larger than personal items, as they don't need to fit under the airplane seats.
Allegiant requires that all carry-on bags destined for the overhead compartments are no bigger than 9 x 14 x 22 inches or 22.9 x 35.6 x 55.9 centimeters. There is no weight limit on carry-on bags.
If your overhead bag is bigger, they may force you to check it at the gate or charge you an extra carry-on fee.
A carry-on bag could be any of the following items as long as it meets the size requirements:
Roll-aboard bag
Garment bag
Tote bag
Duffle bag
Small suitcase
Bag Fees
The carry-on bag fees for Allegiant Airlines range from $10 to $75, depending on the situation and the airport. The carry-on bag fee is nonrefundable unless the flight is canceled or your bag is lost before boarding.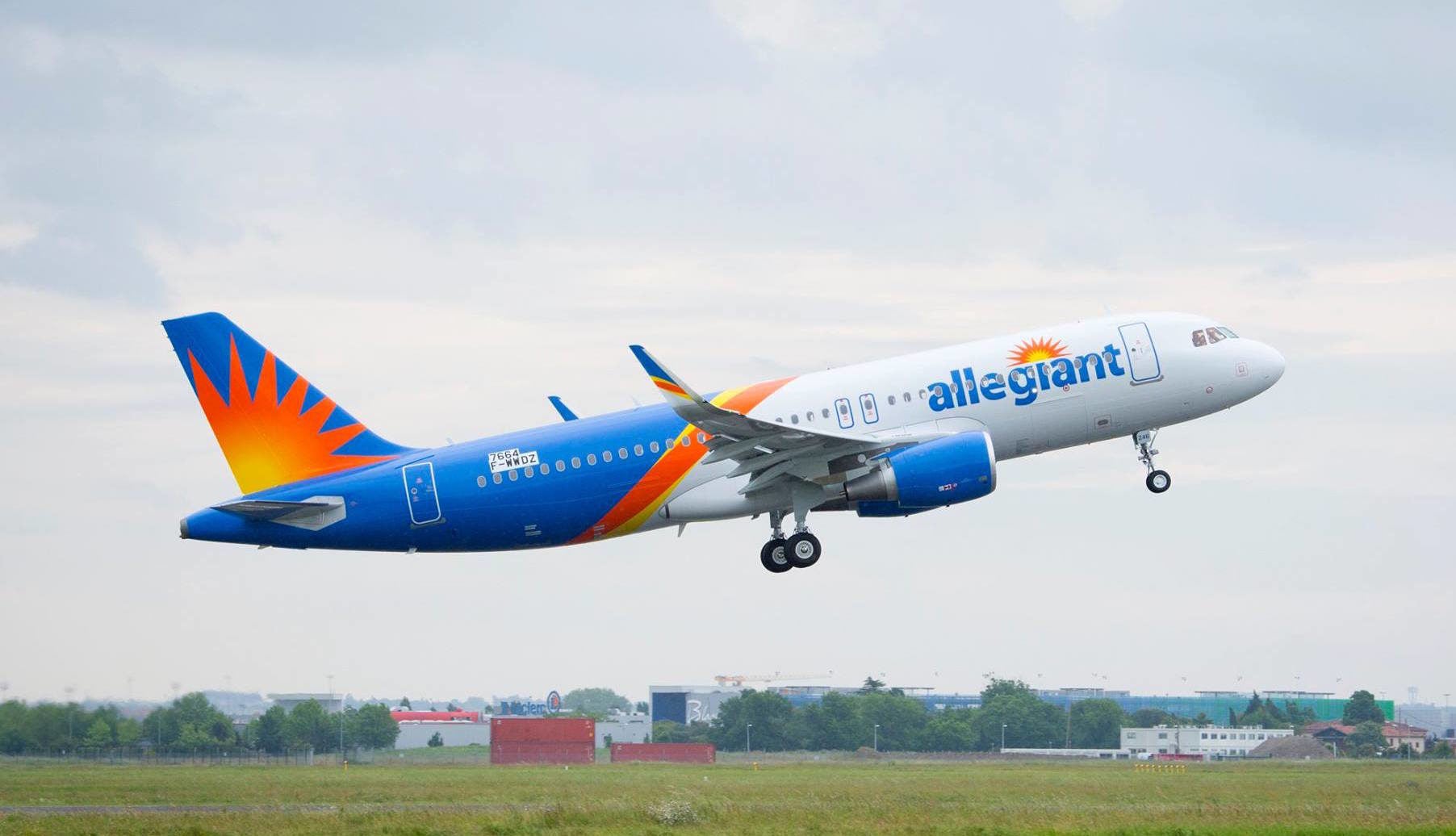 Personal Item Fees
There is no charge for your personal item as long as it meets the size and weight requirements set out by Allegiant. The airline allows every passenger to bring one personal item to stow under their seat.
Standard Carry-On Fees
Travelers that request a carry-on bag when they book the flight will be charged the lowest rate, between $10 and $35.
If you decide to bring a carry-on pre-departure, such as a week before the flight, it will cost you $45, no matter what airport you fly in or out of.
If you do not notify Allegiant that you want to fly with a carry-on, you will be charged a carry-on bag fee of $50.
Overweight or Excess Carry-On Fees
Overweight and excess carry-on fees apply to baggage that exceeds the personal item size requirements, the carry-on size requirements, or an additional bag that was not accounted for. So if you pay for one carry-on bag and show up with two, you're subject to an extra charge.
If you bring a personal item that is big enough to be a carry-on bag, you will likely be charged $50 at the gate, and they will ask you to store the luggage in the overhead compartments.
If you bring an oversized carry-on bag, they will likely charge you $75 and have the bag checked at the gate if they believe it cannot fit in the overhead compartments.
If they believe it can fit in the compartments, they will charge you $50 and consider it an excess bag. Any additional carry-ons you did not pay for will be a $50 charge.
When they take your bag to put under the plane right before boarding, a gate-check can cost up to $75, depending on the circumstances. If you paid for a carry-on and the plane ran out of room due to no fault of your own, they will check your bag for free.
But if you arrive with a carry-on that exceeds the weight and size limits, they will charge you to have it checked and not allow you to bring it on the plane.
Fee Exceptions
In addition to the carry-on bag and a personal item, these items can board the plane without incurring additional fees or charges.
Mobility aids
Necessary medical equipment
Assistive devices for disabilities
Car seats
A jacket, coat, wrap, or similar outer garment
A diaper bag
An umbrella
One item of reading material
Food or drink for consumption during the flight
One bag or box of duty-free purchases
Bag Limits
There are other limits on Allegiant carry-on bags and personal items. Read the restrictions below to prepare.
Number of Bags
According to TSA guidelines, all passengers can only bring one personal item and one carry-on bag per flight. No matter how small the bags are, no passenger is permitted more than one of each. If you have more than two bags, you must check one of them before boarding.
Sports Equipment
Any bulky sports equipment that does not fit into your personal item or carry-on must be checked and put under the plane, or you can buy an additional passenger ticket for your item.
If you're carrying a single baseball or a baseball mitt, something light and compact, you must keep it in one of your carry-on bags.
Some sports equipment that you must pay to bring include:
Hockey stick
Baseball/softball bat
Bowling ball
Ice skates
Skis/snowboard
Musical Instruments
The Allegiant policy for musical instruments is the same as sports equipment.
If the instruments cannot fit into your carry-on or personal item, they cannot come aboard the plane with you unless you buy a passenger ticket.
So passengers with guitars and similarly large instruments must check the item or purchase another seat. They are not permitted to store it in the overhead compartments.
But if you have a small instrument that fits under the seat in front of you, it can count as your personal item.
Allegiant Checked Bag Information
Now that you know everything there is to know about carry-on bags, it's wise to learn a bit about checked bags with Allegiant Airlines.
Size Requirements
All checked bags must be 80 linear inches or 203 centimeters in height, width, and length. If they do not fit into this size requirement, they will be considered oversized and are subject to additional fees.
Weight Requirements
Checked bags must weigh 40 pounds or 18 kilos or less. Bags that weigh between 41 pounds and 70 pounds or 18.6 to 31.8 kilos incur an additional fee. Bags that weigh between 71 and 99 pounds cost even more. If it exceeds 100 pounds, it may be turned away.
Fees
Every checked bag with Allegiant Airlines at the airport costs $50. It's $25 at booking. Overweight bags are an extra $50 unless they exceed 71 pounds.
Bags between 71 and 99 pounds cost an additional $75. Items such as musical instruments and sports equipment typically cost $75.
Limits
Every Allegiant Airline passenger may check up to four bags within the size and weight requirements. If you check one or more musical instruments or sports gear that does not fit within the size requirements, you may only be able to check two or three items.
Final Tips
It may be a hassle, but taking the time to measure and weigh your bags could save you frustration at the airport. Often people don't realize their bag is just a pound or two overweight.
Something that could easily be remedied with some thoughtful re-packing. So hop on the scale and pull out the tape measure just to be sure you're following the rules before they're charging your card more money.
Another good tip is to try and make your luggage decisions when booking the flight to save you some money! If you know you tend to overpack, it's better to pay $15-$25 for a checked bag or carry-on when you buy your ticket!
In the end, preparing your baggage properly will save you money and stress at the airport.
More about our TFVG Author
A seasoned traveller, Dad, and avid sports tourist, James foundered The Family Vacation Guide to share his expert vacation experiences- especially when it comes to being a travelling family man.
Featured in Travel articles such as Travel + Leisure, TripSavvy and SFGate, you know you're reading some of the best vacation tips online.