Traveling with children is a whole different ballgame than traveling with just yourself, a partner, or a friend. Not only are you responsible for everything you need, but you also have to plan for your children's needs.
In addition to packing, choosing a hotel, and selecting excursions for the trip, you also have to take into consideration what airline you ultimately decide to book your flight through. At the same time, this may not be a big deal to some. However, the experience you have with the different carriers can impact your vacation substantially.
Today we are highlighting two popular airlines – American Airlines and Southwest, both of which are often used by travelers all over the world. But which is better for families with kids? Continue reading to see the benefits that come with each carrier.
Things to Consider
When you are getting ready to embark on a vacation with children that involves air travel, there are certain items that you want to think about before finalizing the payment details. As with all families, different things come at various levels of importance when embarking on a memorable vacation. The items below reflect some of the more high-level topics to consider.
Luggage Allowance
Gone are the days when all airlines offered a free checked bag on your flight. While a few carriers still do this, it is not as standard as it once was. Seeing what allowances are permitted is critical to a successful vacation for those with children.
Carry-On Limitations
Most airlines still allow travelers to bring a carry-on onto the flight for no additional charge. However, this isn't the case for all carriers. When it comes to many budget carriers, bringing on standard carry-on sized luggage may come with an extra fee attached.
If your family requires additional items during a flight, you will want to pay close attention to the guidelines on carry-ons and what is allowable.
Assigned Seating
Another change that has occurred in recent years is the inability to receive automatic seat assignments that place your entire group together on your flight. Many airlines today require an additional fee to secure seat placement. If you are traveling with a group or even your family, you must pay the cost for each traveler in order to be placed together for your flight.
While airlines claim that they make attempts to seat families together, they also encourage you to purchase a seat assignment to avoid being apart during transit.
Airfare Cost
For many families, deciding what carrier to utilize for an upcoming trip often boils down to cost. With rising expenses in many different areas, purchasing plane tickets for an entire family is a hefty expense.
When selecting the carrier you want to use for your vacation, one of the most critical planning pieces revolves around the price of the individual tickets.
Where They Fly
It's essential to remember when planning a trip that not all carriers fly to the same destinations. While some cater to regional locations, others may travel to international locations. Ultimately, it's not always possible to utilize your first choice carrier due to their lack of flights to your vacation destination.
Rewards Programs
With the high cost of flying, getting something in return is a huge benefit. Most airlines offer a loyalty program that allows you to redeem points for future savings on travel or other items. If you have more trips coming up, it is worth looking into the different carriers' programs and how lucrative they can be.
In-Flight Entertainment
Being in a confined space, whether a car or a plane, can have young children going stir-crazy in record time. Having some form of in-flight entertainment can help to distract them from being in their seat for several hours.
Some airlines will have tv shows, movies, and games on a seatback monitor. Others will have a selection of entertainment options that are accessible on a mobile device. However, many budget airlines don't offer any type of in-flight entertainment. For that reason, it is good to find out what options are available while searching for the best flight.
American Airlines
Founded in 1926, American Airlines has been in existence for almost a century. In that time, the carrier has expanded drastically and now offers flights both within the United States and internationally.
Luggage Allowance
Unfortunately, American Airlines does not allow any free checked luggage. Certain exceptions apply, namely when flying to international locations or when booking a higher seat class.
While the charges will vary based on weight and destination, the general fees for checked luggage are as follows:
| | | |
| --- | --- | --- |
| Location | First Bag | Second Bag |
| Domestic | $30 | $40 |
| Caribbean | $30 | $40 |
| South America | $45 | $65 |
| Transatlantic | $75 | $100 |
| Central America | $30 | $65 |
These charges are calculated per person. Therefore, if you have a ticket for your child and they check luggage, airline officials will estimate the cost on a first-bag basis. Only when one individual has more than one piece of luggage will you be charged the higher rate.
Carry-On Limitations
All ticketholders on American Airlines are privy to one carry-on item and one personal item. A personal item is considered as a purse, laptop bag, or small backpack. Carry-ons must fall within the dimensions of 18 x 14 x 8 inches. If your item exceeds that size, you must check your bag and pay a separate fee.
One of the best perks to flying American Airlines with small children is that many of the in-flight necessities that they have are not counted against your carry-on allowance.
The following items are allowed to be brought onto the plane for no extra cost:
Diaper Bag
Soft-Sided Cooler Bags
Breast Milk
Car Seats
Strollers
Medical Devices
Mobility Devices
Adult passengers requiring medical and mobility devices can also bring them on board for no extra cost.
Assigned Seating
When booking Basic Economy seats through American Airlines, you do not get an option to select your seat without paying an extra fee. This cost will vary depending on the flight's length and the seat's location.
One benefit to American Airlines as it pertains to assigned seating is that while they try to seat families together before departure, they guarantee that children under 15 will be placed next to at least one adult on the flight. For many parents, this will help them breathe a sigh of relief and save a few dollars.
Airfare Cost
American Airlines is not considered a budget carrier, and as such, the airfare is not the lowest available. That said, they are not at the top of the most expensive airline lists either. Most travelers would consider airfare purchased through the carrier to be moderately priced.
Where They Fly
American Airlines offers both domestic and international travel. However, there are times when they rely on partner airlines to complete the trip due to a lack of available fleet or the destination not being within their range.
The airline's primary focus is domestic flights, with a close second being in Central and South America. Currently, they fly to 1,100 destinations. However, American Airlines has expanded its service offerings in the past few years, and it will likely continue to do so in the near future.
Rewards Programs
The AAdvantage Program is the loyalty option for American Airlines travelers. There are several ways to earn miles through the Program, including what you make from travel, points from one of their company credit cards, and shopping with airline partners.
Once you reach an appropriate level, you can redeem points and miles for discounted or free travel, seat upgrades, and retail purchases.
In-Flight Entertainment
While American Airlines doesn't have in-flight entertainment in the form of shows on a seatback headrest, they offer shows, videos, movies, and games through their complimentary limited internet program that you can access through your mobile device.
If you want to be able to peruse social media, work, or send emails while in flight, you will need to purchase wifi for use during your time on the plane. However, to access the available entertainment options, you do not have to pay additional fees to access the available entertainment options.
As an exclusive to American Airlines flights, you can watch shows on Apple TV, brush up on your foreign language skills through Rosetta Stone, and children can watch educational videos through American's partnership with Homer.
Southwest
Having not been in service as long as American Airlines, Southwest was formed in 1967 in San Antonio, Texas. The carrier has quickly risen in the ranks to become one of the top options for budget airfare.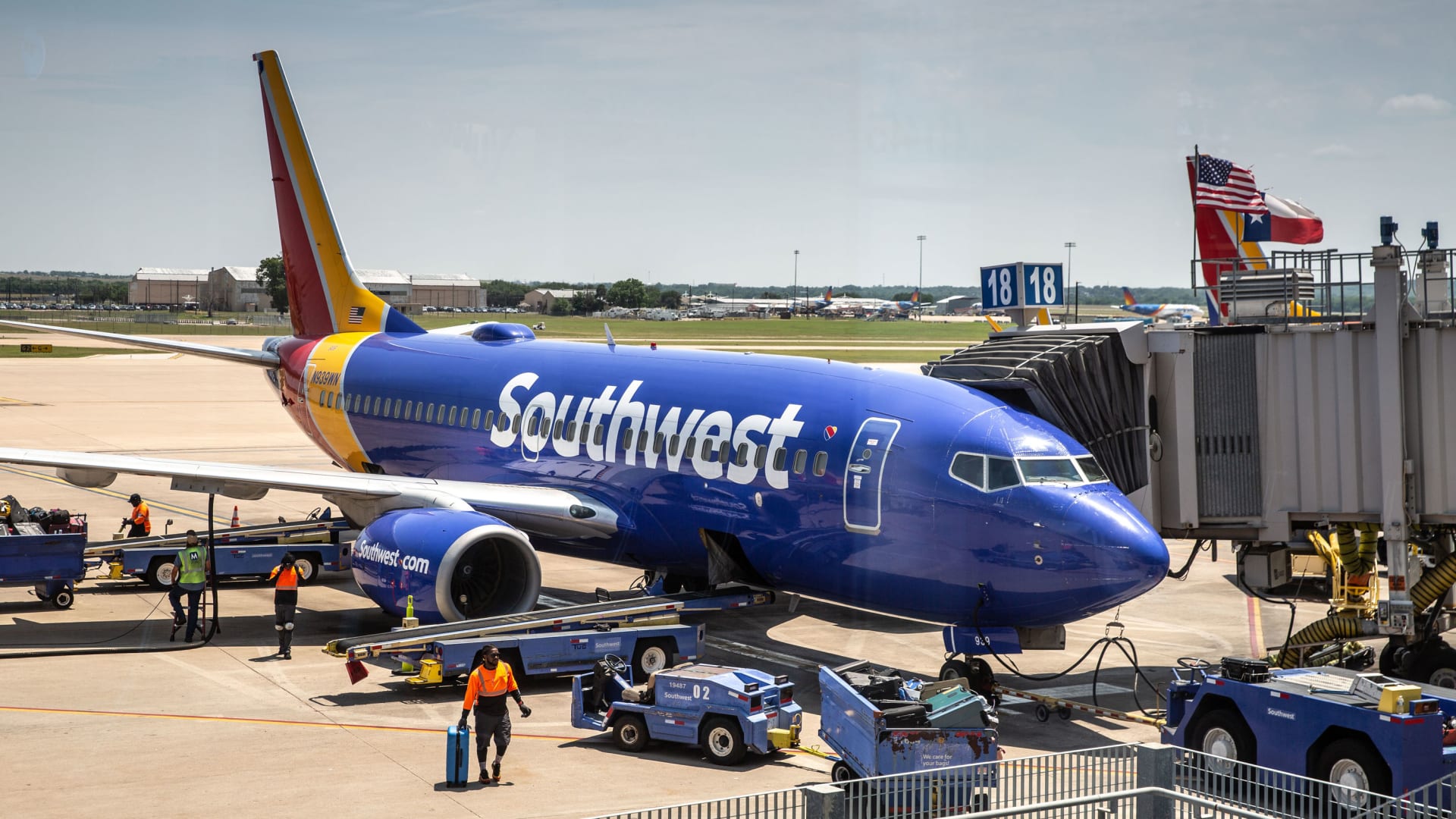 Luggage Allowance
One of Southwest Airlines' best perks is that you can check two suitcases for free. Moreover, you can check skis, golf bags, and even surfboards for free when flying through this budget carrier. You are limited to 50 pounds for each checked bag, with fees incurred for excessive weight.
If you have more than two bags you need to check; the standard fee for each is $75. Each ticketholder is allowed two checked pieces. As an example, a family of four that each have a seat on the flight can check up to eight suitcases before takeoff.
Carry-On Limitations
Southwest Airlines abides by the Transportation Safety Administration (TSA) standards regarding carry-on baggage. By these guidelines, you are allotted one standard carry-on bag and one personal item.
Your personal item can come in the form of a purse, laptop bag, or small backpack. Things that you can bring aboard without it counting against your carry-on limits include:
Infant and Baby Strollers
Mobility Aids
Medical Devices
Coats, Jackets, or Clothing Worn
Food In Disposable Packaging
Umbrellas
Each carry-on must fit within the dimensions of 24" (L) x 16" (W) x 10" (H). If your item exceeds this size, you must check your bag instead of carrying it on the plane. If you have already reached your limit on your allowable number of bags, you will be subject to the $75 additional baggage fee.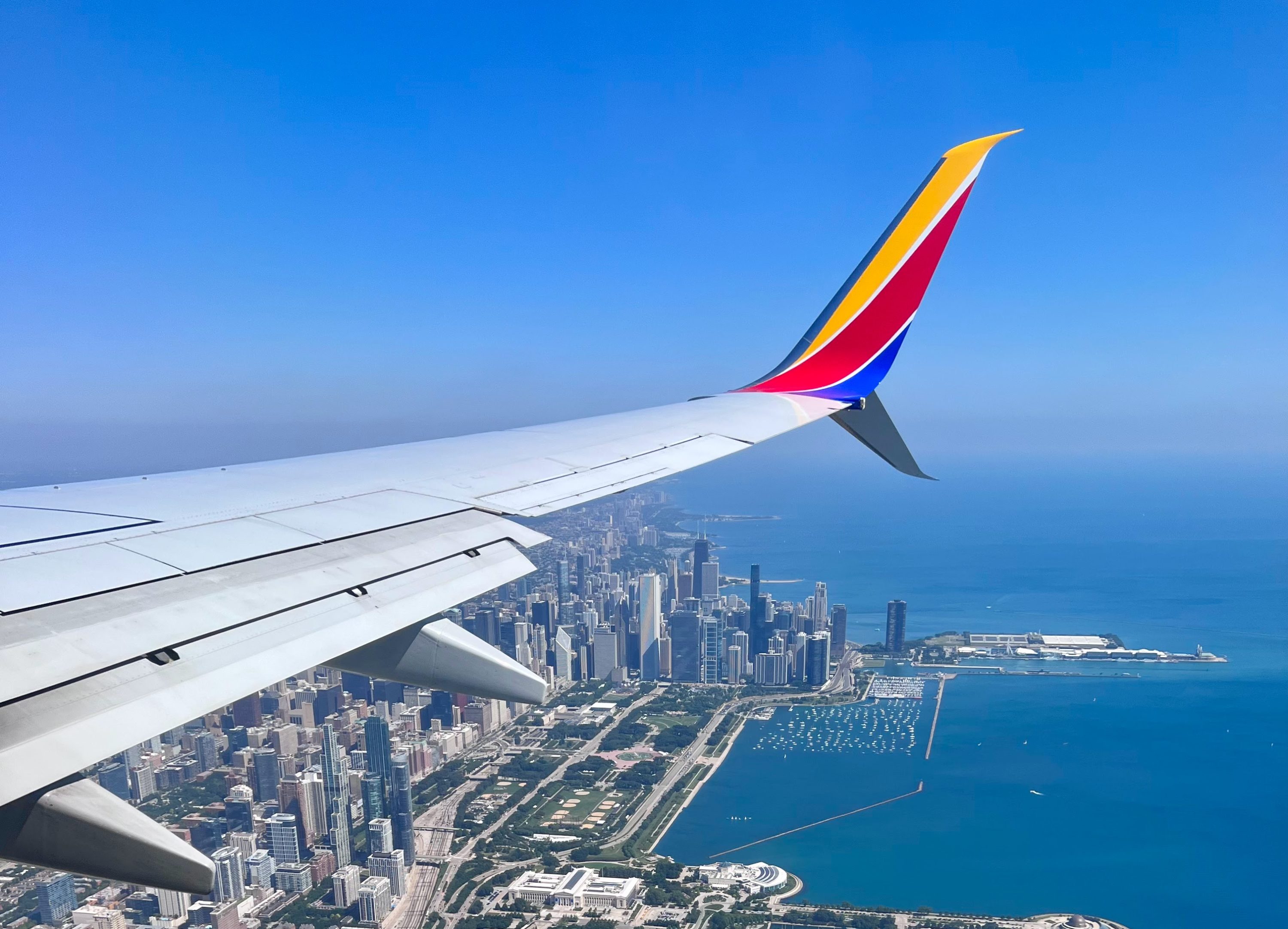 Assigned Seating
One of the most unique features of Southwest Airlines is its open seating concept. With this layout, you do not have pre-assigned seats. Instead, as you check-in, you are given a zone for boarding. When that zone is announced, you can enter the plane and select the seat of your choice.
This structure is helpful because it eliminates spending the extra money to secure seats together. One downfall is that the selection may be limited if you wind up in one of the last boarding zones.
If you want to avoid this at all costs, you can select priority boarding, which allows you to board before other groups. This privilege comes with an extra fee you pay during booking or before check-in.
Airfare Cost
Southwest is considered a budget airline. However, their rates are not as low as other carriers like Spirit, Jet Blue, and Frontier. In comparing the different airlines, Southwest comes in at a higher cost but offers more perks, such as free checked baggage and in-flight snacks.
Where They Fly
Southwest's route map focuses primarily on domestic flights, with some Caribbean, Mexico, and South America options. One thing to note regarding Southwest is that they don't fly out of all major airports.
For example, when flying out of Chicago, you can opt for Southwest if you choose your departure airport to be Midway. If you prefer O'Hare, you won't be able to utilize the Southwest airline.
This situation is shared with several budget airlines and is something you should consider if your preferred airport doesn't serve Southwest.
Rewards Programs
The loyalty program that Southwest promotes is called Rapid Rewards, and it operates similarly to the way other airlines do. When you travel, you earn points that you can later redeem for discounted travel or retail rewards.
You can also gain extra points through a Southwest-affiliated credit card. Each purchase will net your reward account a certain number of points you can redeem later.
You are privy to additional points when you book higher ticket and seat levels. Therefore, if you choose to fly Business, you will be compensated with more points than you would with their Wanna Get Away fare.
In-Flight Entertainment
Like American Airlines, Southwest offers in-flight entertainment that you can access from a personal mobile device. You can watch live TV and movies and order refreshments through their company portal.
If you desire the internet for social media, email, and general browsing, you will need to pay a small fee to gain access. However, the internet required for in-flight entertainment is complimentary.
American Airlines vs. Southwest: Which Is Better for Families With Kids?
As you find yourself planning your next vacation while weighing the pros and cons of each airline and the perks they offer to flyers, which is the best option?
While American Airlines flies to more destinations, Southwest operates in many areas domestically, in addition to the Caribbean and South America.
American Airlines charges for checked luggage, while Southwest allows two bags for free. Additionally, Southwest will enable you to check sporting equipment for no charge.
If you choose American Airlines, you must pay extra for assigned seating. On the other hand, Southwest operates on an open seating policy where you select your seats based on your boarding zone.
Both airlines offer loyalty programs and in-flight entertainment. However, American Airlines has exclusive programming that you don't have access to on other airlines.
Both airlines offer free carry-on. However, Southwest is more restricted in what you can bring on board in addition to your carry-on.
Southwest is considered a budget airline, and its rates come in lower, on average, than American Airlines. However, American Airlines partners with more carriers to service an expanded route map, which offers a slight advantage to travelers.
While the decision will always boil down to what perks are best suited for your family, if both carriers fly to your chosen destination, the lower costs affiliated with Southwest are likely the better option for families with kids.
In Summary
There's a lot to take into consideration, not only when planning a family vacation but also when selecting the best options for things like accommodations, activities, and transportation. With the cost of many things going up, finding ways to have the experience you desire while staying within budget becomes a priority.
When analyzing the distinctions between American Airlines and Southwest, you will see an almost equal amount of similarities and differences. One is labeled as a budget airline, which typically comes with fewer perks than what is standard, and the other is a more premium carrier, which is known to offer more features to make your travel comfortable.
However, labels don't always accurately define a company, and airlines are no exception. Learning what each carrier offers is essential to making an informed decision. This article highlights the pros and cons of American Airlines and Southwest, helping you decide which is better for families with kids.
More about our TFVG Author
A seasoned traveller, Dad, and avid sports tourist, James foundered The Family Vacation Guide to share his expert vacation experiences- especially when it comes to being a travelling family man.
Featured in Travel articles such as Travel + Leisure, TripSavvy and SFGate, you know you're reading some of the best vacation tips online.