Have you ever been to Disney World or Disneyland? Have you ever wondered what a Magic Band is? If you've used Magic Bands before, you know how hard it can be to navigate them.
Many have questions about how and when they work and what conditions they work in. Many people have asked, "Are Magic Bands waterproof?" This article will answer that question and more.
Is the Magic Band waterproof?
Yes! Magic Bands are waterproof. They are built to last if you get caught in a typical Florida midday storm or if you suddenly decide to go for a swim or you get soaked on Splash Mountain. 
The RFID chip, located inside the Magic Band, is completely covered in a special plastic, which keeps it safe even if the Magic Band is submerged in water.
What Is a Magic Band?
A Magic Band is an adjustable wristband with a radio frequency chip inside covered in TPU, which is a plastic material that makes the bands lightweight and flexible.
Anyone from kids to adults can wear Magic Bands with no problem. However, it's best to stay safe if you are allergic to plastic or rubber. Magic Bands were first introduced in 2013 in Walt Disney World to make the guest experience at the parks and resorts more convenient.
Disney created them to help elevate the everyday guest experience in a unique way that hasn't been seen before.
How Do Magic Bands Work?
The RF technology in the Magic Bands allows them to be connected to your My Disney Experience app and can do multiple things for you. Disney's goal was to make the guest experience more convenient.
Hotel Key and Park Ticket
The Magic Band acts as a ticket and hotel key for the guest. It allows you to get into the parks by attaching all their tickets to their Magic Band. Rather than carrying around physical tickets or having to pull out your phone constantly, you can just tap your Magic Band at the entrance to the parks, scan your finger, and you're in. 
Another aspect of the Magic Band is acting as a hotel key. Having to deal with a physical hotel key can be annoying and hard to keep up with. The Magic Band makes this easy and can get you into your hotel room and any key card access areas around the hotel.
Lightning Lane Access
Magic Bands give you access to any lightning lane reservations you have. The Magic Band can also link your lightning lane reservations since it is where your tickets now live. So when it's time to return to a ride for your reservation, you don't have to worry about taking out your phone or finding a physical ticket.
Payment Method
Magic Bands can replace your physical card and act as a payment method during your time on Disney property. If you stay at a Disney resort, you can attach a credit or debit card to your Magic Band, which will charge anything you use your Magic Band for back to your hotel room.
You can use this method to pay for everything from dining to shopping and more around the parks throughout your stay. It makes buying merchandise from the world of Disney that much easier.
Dining Plans
If you have signed up for a dining plan with Disney, your Magic Band is also linked to that and can be used to redeem your dining plan credits. Just as you would tap your Magic Band to pay for an item, you can tap it to use a dining credit at participating locations, including snacks and meals.
Photo Pass
The last important feature of the Magic Band is its ability to link Photo Pass. When you go to a photo pass photographer at one of the multiple locations, they will ask you to tap your Magic Band to link the photos to your reservation, automatically sending them to your My Disney Experience app for you to view later and decide if you want to buy. 
In addition, the photos will automatically appear watermark-free if you have already purchased a photo pass package.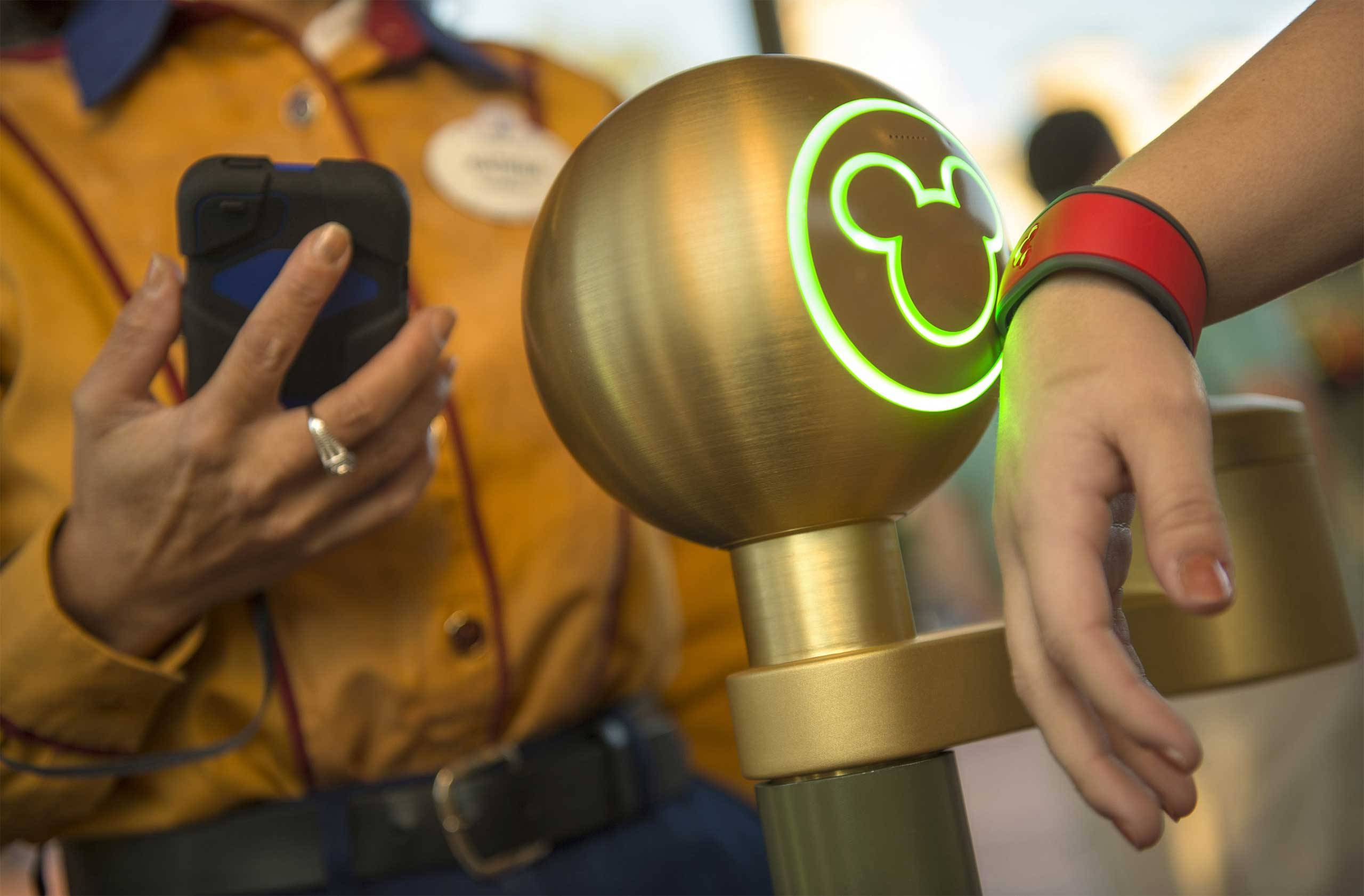 Why Do You Need a Magic Band?
While Magic Bands are helpful during your stay, they aren't 100% necessary to have a good time. One reason Magic Bands are useful is if you are staying at one of Disney's many hotels.
Staying at the hotel allows you to charge things to your Magic Band and use it as a ticket. These are some of the major perks of the band, so if you aren't able to utilize those features, there isn't much to using the Magic Band on its own.
If you are not staying at a Disney hotel, you can use your Magic Band for linking tickets, lightning lane reservations, and photo pass opportunities. If these features sound great, you can purchase a Magic Band at multiple locations throughout the park and Disney springs.
When deciding if you want to use a Magic Band or not, it is all based on personal preference. Some people enjoy having the simplicity of the Magic Band and not having to take out their phones constantly throughout the day.
Others don't see the point and prefer just using their phone rather than paying extra for a Magic Band. Whichever side you fall on, Magic Bands can be a great tool for your trip and a fun accessory to remember it by.
Are Magic Bands Reusable?
Yes! You can use Magic Band for multiple trips throughout multiple years. While they are reusable, you can't transfer the Magic Band to a different account. Once it is linked with someone's account, you can't change it later, so you can't give your Magic Band away to a friend after your trip.
What Is the Battery Life of a Magic Band?
While you don't need to charge your Magic Band, they do have a small battery hidden inside. The battery is long-lasting and can work for up to 2 years. Unfortunately, when the battery dies, there is nothing you can do to replace it, but you can keep dead Magic Bands and use them as memorabilia or keepsakes for the future.
Therefore, they are reusable within those two years, but you will need to replace them after the battery dies.
How Much Are Magic Bands?
Magic Bands vary when it comes to pricing. There are different styles of Magic Bands that come into consideration. For example, the basic single-color Magic Bands are cheaper than the special design, limited edition, or limited release Magic Bands.
The basic Magic Bands that have eight color options cost around $20. You can purchase them on ShopDisney or at Disney springs and any of the parks. Magic Bands that have special characters or icons cost around $25. When there is a limited edition Magic Band or a limited release Magic Band, those can cost close to $50.
It is best to buy your Magic Bands from Disney directly, so if anything is wrong with them or you have issues, Disney can help. Different colors and designs for Magic Bands allow you to showcase your personality and style through the band. Whether you like StarWars, Minnie mouse, or stitch, there is a Magic Band option for you.
If you want to customize it even further, there are two D-tech locations, one in Disney Springs and one in Magic Kingdom. At D-Tech, you can choose from multiple Magic Band designs and customize them with your name, the date, and more. These are made-to-order, so if you want to take advantage of this opportunity, be sure to plan around it.
New Magic Band 2.0
On July 27th, 2022, Disney released a new version of the Magic Band that had never been seen before, Magic Band+. These have some additional features that the original Magic Bands do not have.
The first thing that makes them stand out is their ability to interact with characters throughout the park. For the 50th anniversary, there are gold character statues placed throughout the parks.
These Magic Bands can interact with those character statues when you wave. Once you wave at any of these characters, this will enable a light sequence and sound, which is a fun included feature that adds more magic to the park experience.
These Magic Bands can also interact with the fireworks in Magic Kingdom. They will illuminate along with the show, making you feel even more a part of the magic. However, Disney does advise that the Magic Band be fully charged and up to date to interact with the show properly.
Another key feature the Magic Band+ has that the previous ones do not is that they are rechargeable. One downside of original Magic Bands is that they have no use once the battery is dead. The new Magic Band+ comes with a charging cord, so whenever it dies, you can simply recharge it and let the magic live on.
These Magic Bands come at a higher cost than the original and only have a handful of design options so far. To find one of these Magic Bands, you can head to any of the parks or Disney springs and purchase one for $34.99.
Conclusion
The Magic Band is a fun and useful gadget if you are a frequent visitor to Disneyland and want a little more magic added to your experience. And because they are made of special, waterproof plastic, you don't have to worry about the electronics inside getting wet and failing.