It can be a challenge to choose a vacation destination that will satisfy all your needs while also impressing your teenagers. There is no denying that teens can be pretty fussy, which makes booking a vacation that much more difficult.
Luckily, we have gathered the 12 best all-inclusive resorts for families with teenagers so you don't need to search far!
We chose our picks based on customer reviews, teenager-friendly amenities, location, and price. That way you can rest assured that only the best are included. Find your family's next vacation spot below!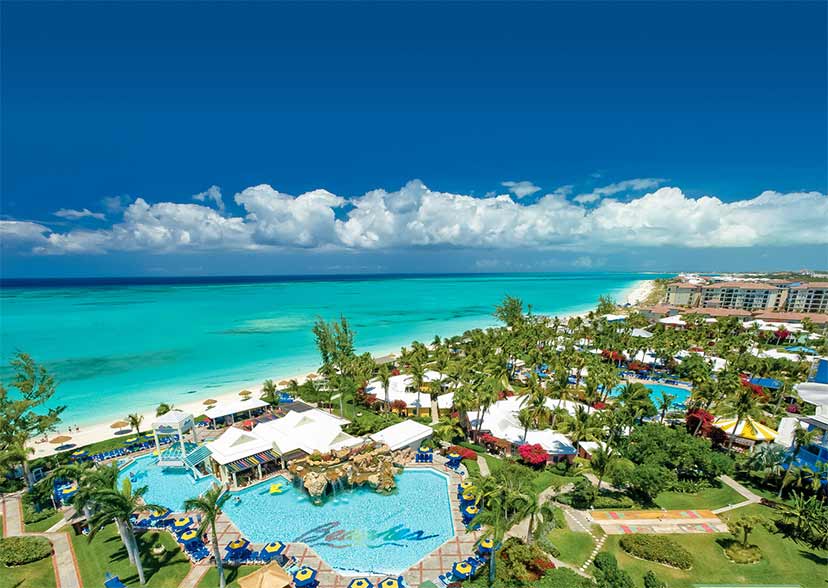 Situated on the serene Turks and Caicos Islands, the Beaches Turks & Caicos resort is a fantastic holiday destination that is sure to impress the whole family. With only a 200-yard walk to the sunny Grace Bay Beach, fans of seaside destinations will instantly fall in love with this all-inclusive resort.
Across the island, you will find a wide array of fantastic venues and clubs suitable for the entire family. From water sports to scuba diving lessons, the Turks & Caicos Islands are jam-packed with events to keep your teens entertained.
When it comes to the guest rooms, you can expect all the modern conveniences you have grown accustomed to. With air conditioning, a flat-screen TV, and even a fridge in your room, you will struggle to find an all-inclusive resort quite like this.
The Beaches Turks and Caicos resort is only 4 miles from the nearest airport and you won't need to worry about a long trek as there is a free airport shuttle service available to all guests.
When it comes to this collection of gorgeous islands, you may come for the beach but we assure you, you will stay for this fantastic beachside resort!
On the easternmost tip of the Dominican Republic, you will find one of the finest all-inclusive resorts suited to families with teenagers. The Dreams Punta Cana Resort and Spa is a family-friendly resort offering you gorgeous views of the coast.
Featuring 6 restaurants with a wide selection of cuisine and 10 lounges, this beachside resort is designed with comfort in mind. Each air-conditioned room is fitted throughout with a flat-screen TV, a seating area, and even a dock for your teenager's iPod.
On top of this, the Dreams Punta Cana Resort and Spa can arrange a plethora of activities for you and your kids to enjoy. This includes, but is not limited to, horseback riding, snorkeling, and even an outdoor adventures teen club – previous guests especially loved the core zone teens club.
Parents have also been considered as besides the resort you will find a well-designed golf course, offering you a way to wind down on your summer vacation. Having your own space whilst on holiday can truly enhance your experience!
Florida is easily one of the top tourist destinations in the US, and with resorts such as the Hilton Sandestin Beach Golf Resort & Spa, it is easy to see why. Built with active families in mind, the Hilton Sandestin Resort is packed to the brim with sports activities that will impress teens and adults alike.
With over 3 swimming pools to choose from and a whopping 15 tennis courts, this is truly a locale for anyone who can appreciate court or water sports. But tennis and swimming aren't all that this Floridian resort has to offer.
On-site guests can find access to 5 exquisite restaurants offering a range of cuisines. Steaks, seafood, and sushi are all the names of the game when it comes to the Hilton Sandestin Beach Golf Resort & Spa so finding something you all agree on has never been easier.
Outside of the resort itself, you will find a wonderful array of days out for the family. The popular Big Kahuna's Water Park is less than 2o minute's drive away!
Whether your teens appreciate sport or you are just looking for an escape to the beautiful state of Florida, a stay at the Hilton Sandestin Beach Golf Resort & Spa should be heavily considered!
A small but picturesque island, Aruba is fast becoming a popular destination for anyone looking to visit the Caribbean. In terms of holiday resorts in Aruba, you will struggle to find somewhere quite like the Four Diamond Award Aruba Marriott Resort & Stellaris Casino.
Although it offers a range of adult-only venues, such as the Stellaris Casino, this is still one of the top resorts for teens you will find in the Caribbean.
Each room found on this island resort features a balcony and a flat-screen TV that offers in-room movies. Hopefully, the weather stays sunny on your visit, but it's always nice to know you have a backup option in case a sudden storm strikes.
However, if the sun holds out then you will be pleased to know that the Aruba Marriott Resort offers a fantastic array of events and activities that teens will love. The Palm-Eagle beach is just a short walk away, and parents can use the car rental desk for long-distance adventures on the isle of Aruba.
With venues for adults and multiple activities designed for teens, the Aruba Marriott Resort & Stellaris Casino is a perfect getaway for adventure-seeking families!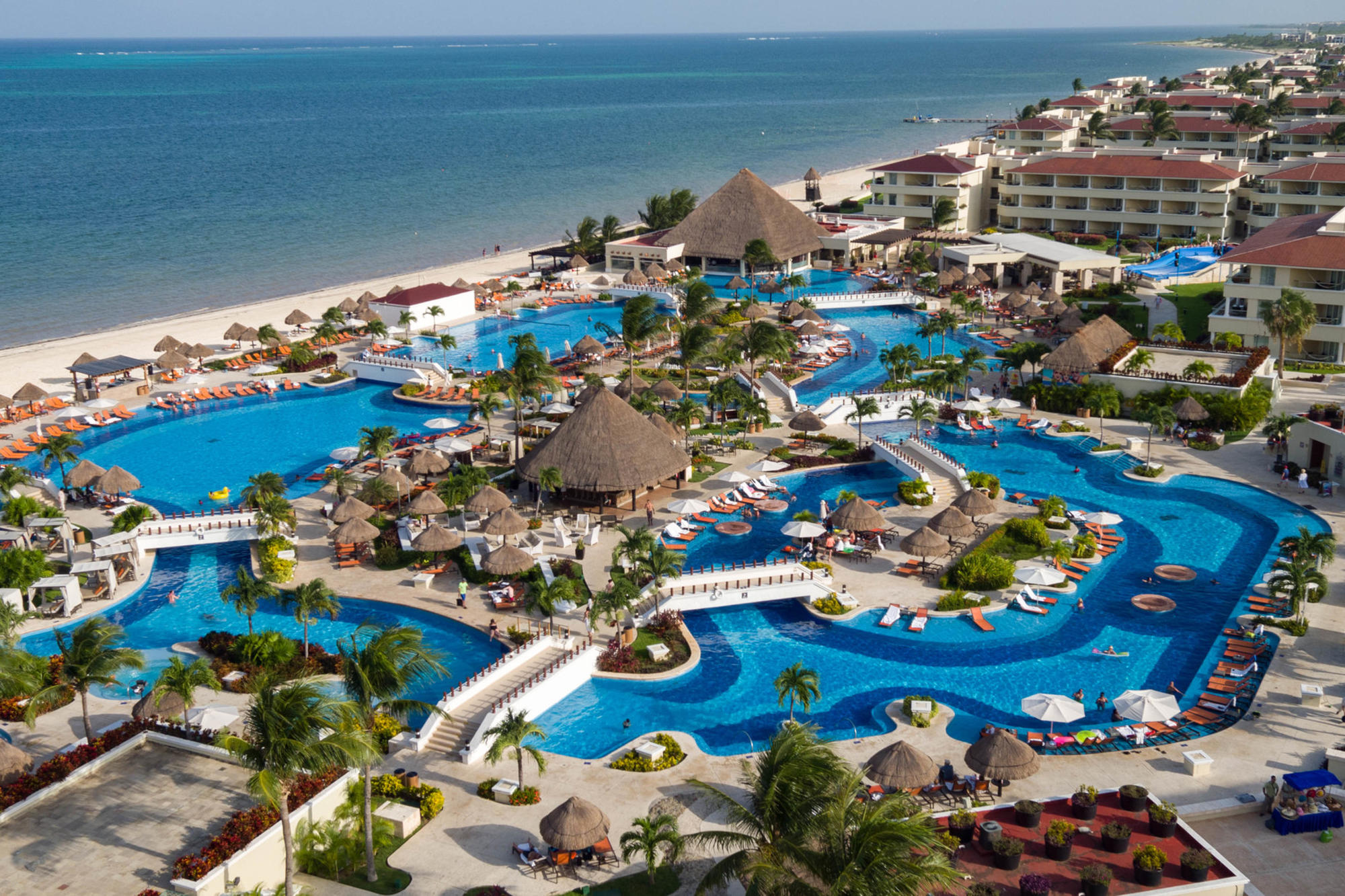 Due to its hot climate and all-year-round events, Cancun, Mexico is a perfect destination for winter family vacations. Whether you are trying to escape the harsh American winters or you just want a place to stay in the sun, the Moon Palace Cancun is a top-tier teen-friendly resort.
When choosing a holiday resort for you and your teens, you will mainly want to find somewhere that offers comfort and a one-of-a-kind experience. Thankfully, comfort and a premium experience are exactly what the Moon Palace Cancun excels in.
Each room features a 2-person hot tub and full-room service. On top of this, you have access to the most modern features you would expect such as a flat-screen TV and a private balcony offering you views of the gorgeous Cancun beach.
The nearby 27-hole golf course was designed by Jack Nicklaus, providing a place for parents to wind down – or even teens who love to golf.
Throughout the resort, guests can also access many different activities and clubs suitable for both kids and teens. The Noir Disco club, with an optional kids club section, offers a funky way to spend a Friday night, whilst your teens and kids will fall in love with the local Wired lounge arcade.
With so many activities and events providing families a way to spend their holidays, the Moon Palace Cancun can sit proudly alongside some of the top resorts for teens and adults in Mexico.
Jamaica is quickly becoming one of the most popular summer vacation destinations. This is in part due to its gorgeous landscape and picturesque vistas, but it is also host to a wide selection of all-inclusive resorts.
One such resort is the Royalton White Sands Resort, a fantastic seaside resort that is perfect for families with teens.
This travel sustainable property provides world-class service that can compete with some of the top resorts across the globe. From its free Wi-Fi throughout to the incredible array of dishes and cuisine on offer at the on-site restaurant, Royalton White Sands Resort is easy to recommend.
However, that's not all that is available when booking a stay in this gorgeous property. Thanks to its seaside locale, there is a plethora of things to do especially suited to families with teens. From spa treatments to water sports, your family will never run out of things to do.
If you are considering visiting Jamaica in the near future and you are looking for a place to stay, then consider the Royalton White Sands Resort. This is truly a contender for one of the best all-inclusive resorts available today!
The LUX chain of all-inclusive resorts are some of the best in the world and the LUX South Ari Atoll situated in the Maldives is no different. Featuring 5-star rooms and surrounded by the crystal clear waters of the Indian Ocean, this teen-friendly resort is truly like no other.
Inside the resort, guests can access the highly-rated games room, which includes a pool table and even a darts board – perfect for teens looking to make new friends on their family vacation.
For the parents, this resort offers a wide selection of beauty and spa treatments. This includes a personal full-body massage or even a glass of wine in a hot tub. The nearby beach is also right at your doorstep, so you don't need to worry about transport to and from the highlight of the Maldives.
The LUX South Ari Atoll also boasts the largest motorized and non-motorized collection of water activities on the island of Maldives. This makes this a perfect choice for anyone who appreciates water-skiing and other popular water activities.
Anyone planning on visiting the Maldives any time soon should be sure to add this resort to their visit list. The LUX South Ari Atoll is easily one of the best all-inclusive resorts not only in the Republic of Maldives but in the world!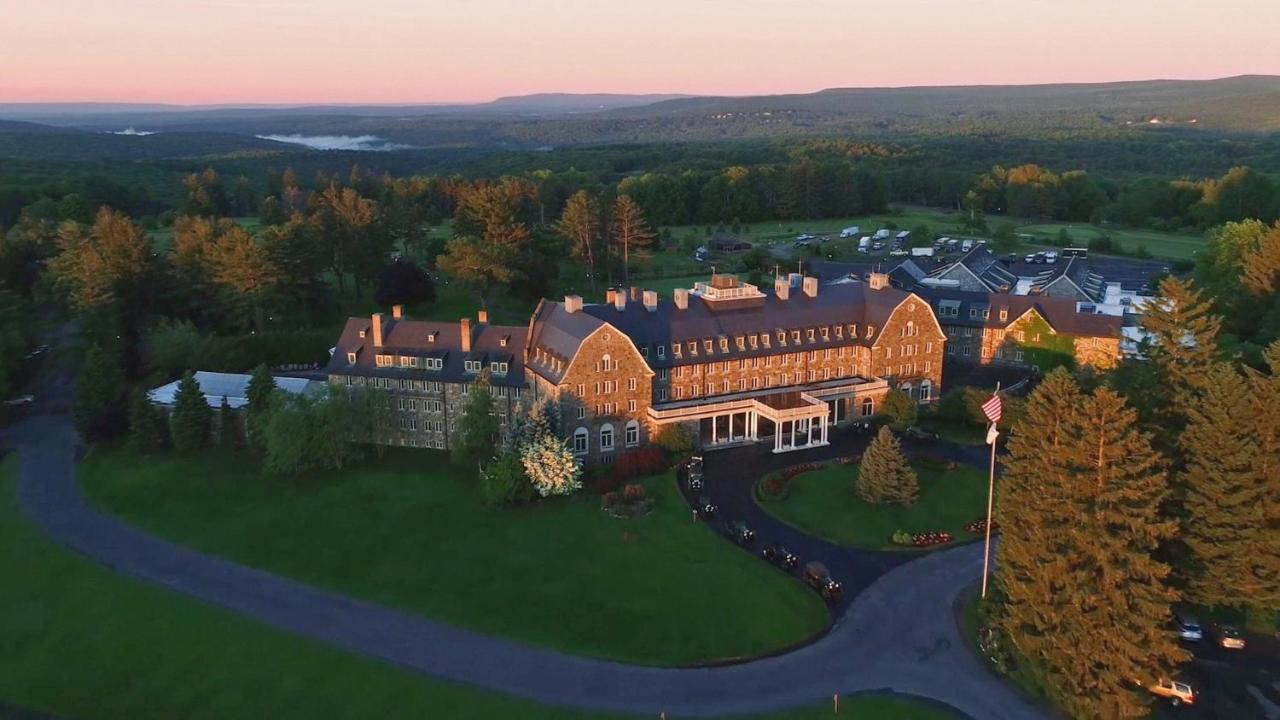 The Poconos are easily one of the most beautiful mountain ranges in the United States, so it's no wonder you may want to visit on your next family vacation. Thankfully, the Skytop Lodge may just be the ideal resort for both you and your teenagers.
Fans of traditional aesthetics will instantly fall head over heels for the Skytop Lodge. The main lodge itself is designed with a Dutch-colonial aesthetic in mind whilst the interior of each guest room boasts an English-country style.
In terms of family accessibility, the Skytop Lodge features an impressive teenage and child-friendly program. This consists of a wide selection of activities that your teens are sure to love such as kayaking, canoeing, or even just exploring the picturesque Poconos range with a tour guide.
Guests of the Skytop Lodge can also access the multiple eateries dotted throughout this mountain range resort. If you can appreciate a morning coffee then you just have to check out the Corner Roast Coffee House.
Saint Croix found in US Virgin Islands may not be the first destination you think of when it comes to family holidays, but it shouldn't be overlooked. This small but gorgeous island is full of wonders perfectly suited for family vacations.
In terms of Saint Croix resorts, the Tamarind Reef Resort is one of the best options for families with teenagers on the island. Offering a selection of discounts for families and a choice of guest rooms to stay in, this affordable holiday resort creates a fantastic family getaway.
All rooms contained within this resort are packed to the brim with convenient features such as private bathrooms and air conditioning. You can also opt-in to extra features including satellite channels for the flat-screen TV found in each room.
As this resort is situated beside the Tamarind Reef, you can expect most of its activities to focus on exploring the gorgeous beach. However, there are a few land-based venues such as the local golf course or even a horseback riding venue.
With friendly staff and a ton of fantastic dishes in the on-site restaurant, the Tamarind Reef Resort, Spa & Marina is easy to recommend. If you have never considered visiting the US Virgin Islands, then be sure to keep this seaside resort in mind!
Encompassed by a gorgeous natural waterfall and landscaped gardens, the Windjammer Landing Resort is a highlight of Saint Lucia. With a host of teen-friendly activities and a selection of serene experiences, this is one of the finest all-inclusive resorts out there.
One of the highlights of the Windjammer Landing resort is its teen-friendly design. This resort plays host to a fantastic water park, featuring a selection of slides and pools and one of the most impressive lazy river rides we have ever seen!
Perhaps one of the biggest reasons you may be planning a holiday at a resort is to escape the chaos of city life. If this is the case, then the Windjammer Landing resort offers everything you are looking for.
It features a wonderful Serenity spa that provides its guests with a private pool, a spa treatment room, and even a steam room. This resort places the well-being of its guests above everything else.
It even has a Jacquot Fun Club to keep your teens entertained with a multitude of side activities. From bonfire nights to karaoke, there is truly something for everybody at the Windjammer Landing resort.
If you have never been to the Eastern Caribbean island nation of Saint Lucia, then now might be the time to change that. Once your family has spent the night at the Windjammer Landing resort, they will never want to leave!
As you might have noticed, this is not the first time we have mentioned Jamaica on today's list. Thanks to its affordability and unique experience, Jamaica is quickly becoming a popular tourist destination – and with good reason. The Jewel Runaway Bay Beach & Golf Resort is just one of these reasons!
This all-inclusive beach resort is one of the top resorts for teens in Jamaica and even offers a unique experience for parents. Surrounded by lush landscapes, and with the crystal clear ocean at your doorstep, anyone who can appreciate nature will feel right at home at this family resort.
Teens will instantly appreciate the novelty of the palm-tree hammocks found within this resort. However, if they are looking for something a little more active, then you can expect them to fall in love with the local water park.
For parents, the nearby 18-hole golf course and Rose Hall shopping district are highlights. Guests are also given free access to the resort's fitness classes, which is just another fantastic addition to an already impressive holiday resort.
Finding a place to stay that will impress the entire family can be challenging, especially if it is your first time visiting a new country. Thankfully, with the Jewel Runaway Bay Beach Resort, there is truly something for everybody!
Fully embracing the beauty of the Riviera Maya, the Grand Velas Riviera Maya is one of the most naturally beautiful resorts featured on our list today. Overlooking the Caribbean Sea and surrounded by tropical beauty, anyone who can appreciate the beauty of Mexico will fall in love with this resort.
With a focus on escaping the hustle and bustle of city life and a superb choice of spa treatments, this Mexican resort offers a true wind-down experience. The food provided is also incredibly impressive, with the chefs pouring love and passion into each dish.
In terms of activities for teens, the Grand Velas Riviera Maya is built to offer a peaceful retreat. So, although you won't find a wide selection of teen nightclubs or tennis courts, you will find the perfect place to read or pursue an artistic hobby.
However, you can still expect some of the most popular amenities to be included in your stay. This includes free Wi-Fi and access to a choice of 2 heated swimming pools, so you won't need to look far for all the conveniences you have come to expect.
For families looking for a peaceful escape who want to try something new, then the Grand Velas Riviera Maya is one of the top choices out there. Thanks to its perfect location and surrounding natural landscape, this resort is truly like no other!
In Summary
Spending time away with the family can truly create memories that will last a lifetime. But sometimes, when it comes to teens, they can crave a little independence on family vacations. This can include access to a teen club where they can meet new friends or activities they can do away from their parents.
All of the 12 resorts we have picked for our list today are designed to offer a compelling experience for both parents and teens alike. With such a wide selection to choose from across a number of different countries, finding an all-inclusive teen resort has never been easier.
It is our hope that this article has helped you find the perfect destination for your next family vacation, or at the very least given you a sense of what to expect. As always, safe travels!
More about our TFVG Author
A seasoned traveller, Dad, and avid sports tourist, James foundered The Family Vacation Guide to share his expert vacation experiences- especially when it comes to being a travelling family man.
Featured in Travel articles such as Travel + Leisure, TripSavvy and SFGate, you know you're reading some of the best vacation tips online.