If you're expecting a new baby, you may be considering embarking on a trip called a "babymoon" and enjoying some last-minute, kid-free luxury.
If you were not yet considering it, consider clearing your schedule to get ready to embark on an incredible vacation before the most significant shift of your life occurs when your first child is born.
If this sounds appealing to you, continue reading to learn more about these babymoon ideas and discover the best babymoon destinations. 
What Is a Babymoon?
A babymoon is a vacation that expectant parents take before the birth of their new baby. The purpose of this trip is to provide the parents with some much-needed relaxation or adventure since chaos and responsibility will soon fill their lives.
Your babymoon can be a low-key "staycation" at home or a local hotel, or it can be a luxurious trip to a beautiful location. But a babymoon might look different from a traditional vacation because one party is pregnant during this getaway.
Pregnancy limits the activities that you can participate in. Strenuous activities or high-risk adventures like sky-diving, roller coasters, and other thrill-seeking activities are off the table, along with anything that may harm the baby, like drinking alcohol.
The purpose of the babymoon is to relax and participate in last-minute travel that may not be possible once the couple has a child to care for.
Why You Should Take a Babymoon
Having a baby, especially your first baby, is a life-changing experience. Once you become responsible for a child, your life changes forever, and things like traveling become much more difficult.
If you take your child with you, your whole trip revolves around their schedule, needs, likes, dislikes, and other factors. Taking a babymoon allows you to experience an adult-only trip without worrying about babysitters or potential emergencies back home.
In addition to the experience of travel, a babymoon is a great chance just to relax. Once your baby comes, you may not get enough sleep for quite some time. Before this happens, you can kick back by a pool somewhere sipping a non-alcoholic drink in the sunshine and then retire to your hotel room for a nap.
There are a few reasons why you should take a babymoon, but we believe that anyone who is expecting a new baby should try to look at babymoon ideas to take some time for themself before the arrival of their new addition.
There are a few factors to consider, such as where to travel and at what point during your pregnancy you should take the trip, but we will take a look at these and help you plan for a fantastic trip with these babymoon ideas.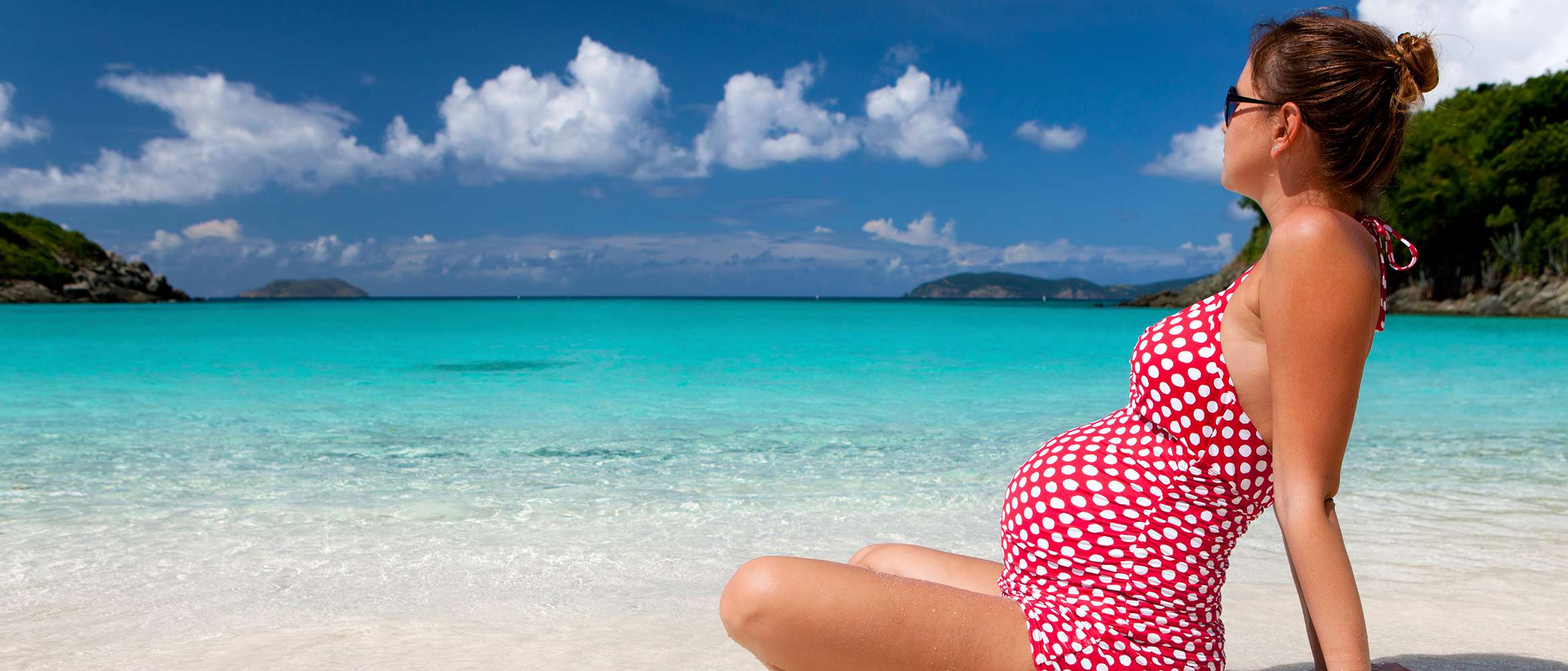 When Should You Take a Babymoon?
The question of when you should embark on your babymoon adventure comes up often. Your babymoon will most likely occur while you or your partner is pregnant.
Occasionally, couples may choose to take their babymoon after they decide to have children together but before conceiving. This way, they can still enjoy high-thrill activities and things like alcohol or "forbidden foods" (like sushi or lunch meat) during their vacation.
Similarly, some parents go on their babymoon after the baby is born and simply hire a caregiver or family member to stay home with the baby. This way, you still can enjoy some time without children, but you don't have to shy away from activities that are not safe for pregnancy.
However, the most common time to take your babymoon is during pregnancy. In this case, the question becomes, "how far along in my pregnancy should I take my babymoon?"
The best time to take your trip is during the second trimester of pregnancy. The reason is that many women are frequently sick during the first trimester, and the risk of miscarriage is still elevated. However, most pregnant women gain their energy back during the second trimester and feel capable of travel and adventure.

The third trimester can be a dangerous time to travel. Most doctors will advise you not to travel very far from the hospital in case anything unexpected happens. Travel is also more uncomfortable during the final trimester because you will be larger, have less energy, and tire more easily. 
What Makes a Good Babymoon Destination?
Several factors go into choosing a destination for your babymoon.
Weather: While most people enjoy warm or tropical climates, some may find the cold more relaxing. Whether you want to lay on the beach or go skiing in the snow, the local weather is important when selecting your destination.
Activities: You will want to research what local activities are available where you plan to go. If everything is high-thrill or not accessible during pregnancy, it may not be the right destination for you.
Budget: Your budget is a huge factor when deciding where to go on your babymoon. Some couples may have a tighter budget and need to choose a cheaper location, but you and your partner may want to go all out.
Other things may determine what kind of babymoon vacation you and your partner will choose, depending on your likes and dislikes.
We took all of these factors into consideration while compiling this list. So keep reading for our top five babymoon ideas.
Great Smoky Mountains, North Carolina
The Great Smoky Mountains are an East Coast mountain range that passes through the Carolinas and Tennessee. Many choose the Smokies for romantic getaways and fun family vacations because of the relaxing atmosphere and beautiful views.
While you can certainly book your babymoon in the Smokies in Tennessee, we recommend Western North Carolina. The North Carolina mountains are gorgeous, and you will be near cities like Asheville or Waynesville, which will give you plenty of opportunities for fun activities.
Depending on the time of year, the weather in this area is warm and pleasant, making it ideal for relaxation. The Great Smoky Mountains make a perfect babymoon spot because of the great weather, plentiful activities, stunning views, relaxing environment, and because this getaway will not break the bank.
Compared to a more tropical area or all-inclusive resort, you can vacation in the mountains on a much tighter budget. That makes it one of our top picks for babymoon ideas.
Where to Stay
There are many options for lodging on your mountain babymoon. Waynesville is a large town with plenty to do. In addition, it is a short drive from Asheville, North Carolina, which is also a popular babymoon destination.
This area features hotels, resorts, Bed & Breakfast Inns, cabins, and other types of accommodations.
The Yellow House is a luxurious ten-room bed and breakfast that offers a "Special Occasion Package." The B&B touts this package as being perfect for babymoons. It allows you to add chocolate-covered strawberries, flowers, and a picnic lunch.
You can also rent a cozy cabin or cottage in Haywood or Maggie Valley.
If neither of these options sounds appealing to you, you can book a stay at a local resort or hotel.
What to Do on Your Babymoon in The Smokies
There are so many relaxing activities to try while enjoying a babymoon in the mountains.
You can go on a hike and enjoy the scenic mountains. The Great Smoky Mountains are part of the Blue Ridge Mountain range, which is known for some of the most incredible sunsets in the country.
Visit nearby Waynesville or Asheville and enjoy the fantastic local cuisine and unique artisan shops. A stroll through downtown just might be what you and your partner need to unwind before the baby arrives.
Drive down the Blue Ridge Parkway and take in the scenery, or check out one of the many incredible waterfalls. You can take a day trip to Lake Junaluska and relax by the cool water.
If you visit in the winter, there is even skiing available. Remember to check with your doctor before skiing or doing anything strenuous while pregnant.
Riviera Maya, Mexico
Mexico has always been a popular vacation getaway. Usually, when you think of trips to Mexico, you think of alcohol-fueled parties and girls' nights out. 
However, Riviera Maya, also sometimes referred to as the "Mexican Riviera," can be a fun and relaxing spot for you and your sweetheart to spend some quality time together before the birth of your child.
Riviera Maya is an excellent destination for a babymoon because of the wonderful warm weather and the many opportunities to relax in luxury together.
The main benefit to vacationing in this destination is the availability of all-inclusive resorts. While these trips may be pricey, you will be able to fully relax knowing that everything is taken care of for you. Your meals, lodging, and activities are all provided for you, which cuts down on unexpected expenses and the stress of planning.
Where to Stay in Riviera Maya, Mexico
You can book several different places and types of lodging in Riviera Maya, but our recommendation is an all-inclusive resort. We looked into several that will provide you with a life-changing babymoon experience.
Viceroy Riviera Maya
An all-inclusive stay at the Viceroy Riviera Maya includes amenities that most of us only dream of. You will receive a traditional Mayan blessing as part of your package, along with room service for your meals and drinks. In addition, of course, you will likely be partaking in mocktails.
There are lots of exciting activities available on-site and nearby. You can also go shopping in Riviera Maya and then return to the Viceroy to take a dip in your private plunge pool.
Velas Resorts
For a truly unique experience, Velas Resorts offers a "Buddy" Babymoon Package. This stay is not just for expectant parents, but for their friends and loved ones as well. The resort will arrange baby-themed games and activities and provide specialty drinks and mocktails to your party. In addition, the soon-to-be mom can enjoy a maternity photoshoot in a breathtaking location.
Velas Resorts offers a one-of-a-kind, all-inclusive experience for new parents. You will not regret booking your babymoon at one of their several locations, including the one at Riviera Maya.
Secrets Riviera Cancun Resort & Spa
Secrets Capri Riviera Cancun is an all-inclusive resort and spa. A trip to Secrets will ensure that your babymoon is memorable.
The resort offers special packages for various events. One of these is a proposal package. If one of you is thinking of popping the question during your babymoon, you may want to inquire about this and see what kind of assistance the resort will provide.
What to Do on Your Riviera Maya Babymoon
The possibilities for your babymoon in Mexico are endless.
Riviera Maya offers some of the best shopping in the world, so you and your partner can spend a day (or two) perusing the local markets and specialty boutiques.
You can explore the beautiful local beaches and crystal blue waters or enjoy a local excursion or tour to explore the local scenery. In addition, you can join many guided tours and activities, many of which your all-inclusive stay might cover.
You can attempt snorkeling or Scuba diving in between eating at unique restaurants. Riviera Maya also touts local golf courses so you and your sweetheart can hit the fairways.
Of course, your babymoon should be relaxing, so at the end of the day, soaking in a pool or hot tub and then relaxing in your luxury suite will help to prepare you for the impending birth of your new baby.
Tucson, Arizona
Another warm location, Arizona, is perfect for a babymoon. 
Not only is the weather great, but Arizona offers many activities. A babymoon in Tucson would be perfect for the adventurous couple looking to experience their "last hoorah" before they take on the responsibility of a kid.
We will break down where to stay in Tucson, Arizona and what activities to do on your babymoon.
Where to Stay When Vacationing in Tucson
When taking your babymoon in Tucson, Arizona, you have several options. You can book a cabin or hotel or an all-inclusive resort.
These are all great options if you want to relax and explore the area while keeping your trip low-key.
However, if you are seeking adventure, you may wish to book a campsite and "rough it" for your babymoon. If this is the kind of thing that excites you and your spouse, it would be a great idea to scratch that camping itch before the baby arrives. It is much more challenging to enjoy a wilderness experience with a small child.
Along the same lines, one of the most interesting things about Tucson is its Dude Ranches. These are working ranches that allow you to experience ranch life but still provide standard Western accommodations.
If you choose to enjoy time at a guest ranch, make sure to research all activities. Some everyday activities, like horseback riding, will require your doctor's approval if you are pregnant.
Many Dude Ranches, like the Tanque Verde Ranch, have luxury accommodations like a swimming pool, spa, and included meals.
If you choose to lodge at a Dude Ranch, you will form memories with your partner that will last a lifetime.
Tucson also offers destination spas like the Miraval Resort and Spa. This destination can provide the relaxation and wellness experience you desire during your getaway.
What to Do on Your Tucson Babymoon
Tucson is known for breathtaking views and adventurous outdoor activities.
If you are looking to enjoy yourself before the arrival of your new baby, you will want to explore what Tucson offers.
One of the main activities in Arizona is hiking in the beautiful desert and canyon trails. However, you can also choose to go biking. Whatever you decide, make sure to bring plenty of water and stay hydrated. Temperatures in Arizona can quickly become dangerous, and if you are not drinking water frequently, you can get sick. Therefore, it is imperative that you keep this in mind during pregnancy.
In addition to hiking and sightseeing, you can relax at your resort and swim, or you can enjoy the nearby nightlife and shopping.
Tucson is the perfect destination for those who want their babymoon to be full of adventure and new experiences.
The Poconos, Pennsylvania
Another mountain destination has made our list: The Poconos Mountains in Pennsylvania. 
It is an excellent babymoon destination because of its versatility. You can travel here during the winter for a ski vacation, or you can enjoy the mountain views during the summer.
There's a little bit of something for everyone in The Poconos, and you and your spouse will surely enjoy your couple's retreat here in advance of your newborn joining your lives.
Where to Stay During Your Poconos Babymoon
The kind of lodging you select for your babymoon in The Poconos depends on the type of trip you and your partner select.
Since your babymoon focuses on celebrating the upcoming birth of your child, you may choose a relaxing summer camping trip and book a cabin in the woods where you can sleep in, enjoy the serene mountain forests, and spend time connecting with nature.
Or, you may want to book a stay at Great Wolf Poconos, a massive indoor waterpark and resort. This way, you have dining, shopping, and fun all under one roof.
If you're looking for something a little different, you and your love may wish to book your babymoon during the winter and spend time in a ski resort.
There are many choices in the Poconos, which has fantastic areas for skiing. You can spend time at Jack Frost Big Boulder and stay at a nearby hotel or the Split Rock Resort. You can book a stay at The Shawnee Inn & Golf Resort before hitting the slopes on Shawnee Mountain, or you can find one of the numerous Poconos ski lodges to stay in.
Just like everything else, consult your doctor before skiing during pregnancy. You may want to just enjoy the lovely winter weather and spend time in a luxury resort suite, sipping hot cocoa by the fireplace while enjoying beautiful snowy mountain views. There are many ways to relax in the snowy Poconos.
The Lodge at Woodloch even offers a Babymoon Escape package, allowing you and your partner to spend time at a fancy spa, connect as a couple, and truly revel in your last moments as a family of two.
What to Do in the Poconos
You may be wondering what activities are available to you and your spouse while you are baby mooning in the Poconos Mountains.
Like other mountain destinations, hiking and nature trails are always an option.
As we discussed, skiing is on the table so long as it is deemed safe for you and your baby. If you are planning a winter getaway, there is also ice skating. Although this may be a hazardous activity, many couples enjoy watching more experienced skaters zip around the rink artfully.
Of course, there is nothing more romantic than a horse-drawn sleigh ride in the snowy mountains. So pack some warm gloves, grab your cocoa, and connect with your partner in a winter wonderland.
In addition to Great Wolf, other waterparks are available if you want a fun activity to share. These include Kalahari Resorts and Camelbeach Mountain Waterpark. You may have fun zooming down the water slides or soaking in the lazy river together!
Whatever activities you choose and regardless of which season you decide to visit the Poconos, your babymoon will be unforgettable, and you and your co-parent will be closer than ever.
The Caribbean
This destination may be an obvious option, but who wouldn't enjoy a getaway in The Caribbean?
There is no one-size-fits-all vacation, but lounging on a beach is the closest you will get to perfection.
"The Caribbean" refers to a region located southeast of the United States coast, comprising several islands. There are roughly 700 islands that form what we call the Caribbean.
Because of this, you have many choices when booking an island getaway for your babymoon.
Where to Stay On Your Caribbean Babymoon
The question of where to stay can get complicated. You must first decide on an island and then choose the resort or hotel where you will be sleeping.
Each island has plenty of high-quality lodging choices, so you will have no trouble finding a beautiful room to spend your babymoon.
However, first, you will want to choose the island on which you will be vacationing. Some of the major Caribbean islands are Puerto Rico, Jamaica, Cuba, Haiti and the Dominican Republic, Barbados, and Saint Lucia.
Many all-inclusive and luxury resort options in the Caribbean will surely meet your expectations of babymoon ideas.
You can stay at Baha Mar in the Bahamas, the Renaissance Aruba Resort & Casino, La Concha Renaissance San Juan in Puerto Rico, or one of the hundreds or thousands of other resorts.
What to Do During Your Babymoon in the Caribbean
Each vacation is unique. You will want to plan ahead of time whether you want an exciting, action-packed babymoon or a sleepy getaway with your partner.
Depending on which island and resort you choose, you have plenty of ocean options like Scuba diving or snorkeling, jet skiing, exploring the local islands, fishing, hiking or biking, swimming, or sailing.
You can also enjoy shopping, fine dining, a day at the spa, gambling at a local casino, a sightseeing excursion, or more activities.
If you want a more low-key vacation, you may want to just spend your days at an all-inclusive resort like Divi Carina Bay Resort & Casino on St. Croix, one of the U.S. Virgin Islands. You can relax in your beachfront suite and enjoy your included room service meals and snacks.
No matter the Caribbean adventure you choose, you and your spouse will find the connection, rest, and rejuvenation you need before your baby is born.
Which Babymoon Ideas Will You Try?
Whether you choose one of the amazing babymoon ideas on our list or go in a separate direction and choose a different vacation spot, you are sure to have a great time.
It's important for expecting parents to take some time for themselves before the baby is born. You can use your babymoon to strengthen your bond and relationship and prepare your bodies and minds for the stress of welcoming a new baby into your home.
You will return home from your getaway relaxed, confident, and more in love than ever. For years to come, you and your partner will have the memories of your trip together to help get you through those trying moments when your baby is crying, when it's the middle of the night, and you are frustrated.
Hopefully, this list of the best babymoon ideas has helped inspire you to start planning your babymoon and where to travel. The only thing left to do now is to book your trip!
More about our TFVG Author
A seasoned traveller, Dad, and avid sports tourist, James foundered The Family Vacation Guide to share his expert vacation experiences- especially when it comes to being a travelling family man.
Featured in Travel articles such as Travel + Leisure, TripSavvy and SFGate, you know you're reading some of the best vacation tips online.