It can be stressful to plan a family vacation, especially if you are on a limited budget. That's where Club Med's all-inclusive resorts come in. Club Med resorts boast spectacular natural landscapes and high-end accommodations.
Here, we share the best Club Med all-inclusive resorts for a relaxing and excellent family vacation.
1. Club Med Punta Cana
Club Med Punta is just 10 minutes from Punta Cana International Airport. The breathtaking resort is located on Hispaniola Island, the Eastern region of the Dominican Republic. You will have an unforgettable family vacation when you visit this resort. Club Med Punta Cana is characterized by tropical vegetation for a relaxing stay.
The resort provides numerous family-friendly activities. Take your kids to the creative zone or the trapeze lessons. While your kids enjoy a circus-like playground, you can have a romantic day at the beach with your partner. Alternatively, you can enjoy a couple of massages at the spa zone.
Family members can participate in acrobat activities in the resort. Make sure you jump on the trampolines when you visit the family resort. Samana restaurant provides you with an international buffet. The elegant food joint has polished tables and beautiful light fixtures.
Most guest rooms in Club Med Punta Cana can hold up to six people. Thus, your family can reserve one room. Other notable activities in this resort include:
Basketball.
Kayaking.
Tubing.
2. Club Med Pragelato Vialattea
Located on the slopes of the Italian Alps, Club Med Pragelato is the perfect stop if you want a ski holiday with your family. What you will find in this resort include exposed ceiling beams and chalet-style accommodation. You can visit the famous Vialattea Ski area using the private cable car. However, the cable car is available mainly during the winter months.
Besides snowboarding, other popular activities in Club Med Pragelato include snowmobiling. The resort provides mountain bikes, allowing you to cycle through the vast forests. The environment around the resort has sea marmots and other wildlife. Remember that it's challenging to have horse rides in the resort.
Visitors opt for the outdoor pool or the full-service spa at an affordable fee. Don't forget to dine at the La Trattoria Pizza house. If you don't like mountain cuisine, you can go for fondue or raclettes.
3. Club Med Cancun
Club Med Cancun is a Yucatan Peninsula family resort known for its sandy beaches. Cancun is currently considered the ideal destination for people looking for crystal clear water and sandy beaches. You enjoy the thrilling nightlife and amazing theme park in Club Med Cancun. Unlike other family resorts in the neighborhood, Cancun is located in a more remote location.
Cancun has been praised in online reviews as a resort that offers guests a sense of relaxation. It's hard to have a sense of space in more heavily developed areas. The resort has multiple landscapes, such as rocky headlands and Caribbean waters. The huge coral reefs make the resort an excellent place for snorkeling activities.
The redesigned pool and bar area ensure visitors have a luxurious retreat. The Deluxe and Suite rooms are comfortable and spacious. In addition, you will have access to unlimited amenities when you tour Club Med Cancun. The resort has several sports facilities like tennis and golf.
The private beach has multiple sun lounges and shade umbrellas to relax on sunny days. If you are a licensed and certified scuba diver, you can scuba dive in clear ocean waters. Popular restaurants found in Cancun include La Hacienda. The guest rooms offered by most restaurants allow ocean views.
You need to book the resort several days before. However, the offers are subject to availability and capacity control.
4. Club Med Finolhu
Club Med Finolhu is the ultimate destination for discerning families in the Maldives archipelago. The upscale resort has villas on the beach and overwater, allowing visitors to choose sunset or sunrise ocean views. Beach villas in Club Med Finolhu have a fashionable décor and high-end amenities. Guests prefer Club Med Finolhu over other private island resorts as it features private pools.
Your family can engage in beach soccer or volleyball. You can also attend water polo classes in the resort. No doubt Club Med Finolhu is an excellent choice for a luxury summer holiday destination. The underwater discoveries and scenic views guarantee the finest experiences.
Club Med Finolhu utilizes solar panels to generate electricity. Thus, the resort always has a continuous supply of electricity. The management ensures guests have a once-in-a-lifetime family vacation. It's time to find a hideaway in the heart of Maldives by visiting Club Med Finolhu.
Make sure to book preferential settings on Kani Island. Kandu restaurant has an intimate dining setting and a beautiful open-air terrace.
5. Club Med Cherating
Located on the east coast of Malaysia, Club Med Cherating is where you can capture peace in nature. The all-inclusive resort is found in a vast forest, so it's the perfect choice for jungle adventures. While you enjoy the massage in the pagoda, you will hear gibbons in the surrounding trees. Play with your kids in the splash zone when you aren't enjoying the natural paradise.
The Zen zone pool allows adults to enjoy the spectacular views of the South China Sea. Guest Rooms in Club Med Cherating feature hardwood floors and fantastic wall prints. Your kids will have a separate pool as well as a splash zone. The adult pools overlook the beach, and padded sun lounges are close to the pool.
Guests in Club Med Cherating enjoy basketball and beach volleyball. Choose the resort if you desire to have a memorable trip on holiday. The wonderful environment and good relaxing environment make the resort distinct from other resorts in Malaysia. Every visitor loves the resort because of its passionate and friendly staff who ensure your family is satisfied.
You can explore the vibrant wildlife through rope bridges. Tour guides will help you spot wildlife and visit Turtle Sanctuary. In addition, Mutiara provides guests with unique Malaysian décor.
6. Club Med Columbus Isle
The heavenly resort is a paradise for diving enthusiasts. Club Med Columbus Isle is located close to San Salvador Airport. The resort has white sandy beaches and turquoise waters. You will have access to professional instructors for PADI training. The resort staff will also escort you to the tropical reefs along the ocean.
Guests are dropped at the coral formations, allowing you to swim with sharks and turtles. Club Med Columbus Isle has fun-filled water sports like kayaking and paddle boarding. Guest rooms feature an aquamarine color scheme. You can easily view the clear waters from the room balconies.
La Pinta Beach Lounge is one of the most prominent restaurants in this area. You can have cool drinks and light snacks in the lounge. La Pinta Beach Lounge provides its customers with table service dining in the evenings. The colonial décor and excellent food will make you visit the lounge whenever you visit Club Med Columbus Isle.
7. Club Med La Plantation d'Albion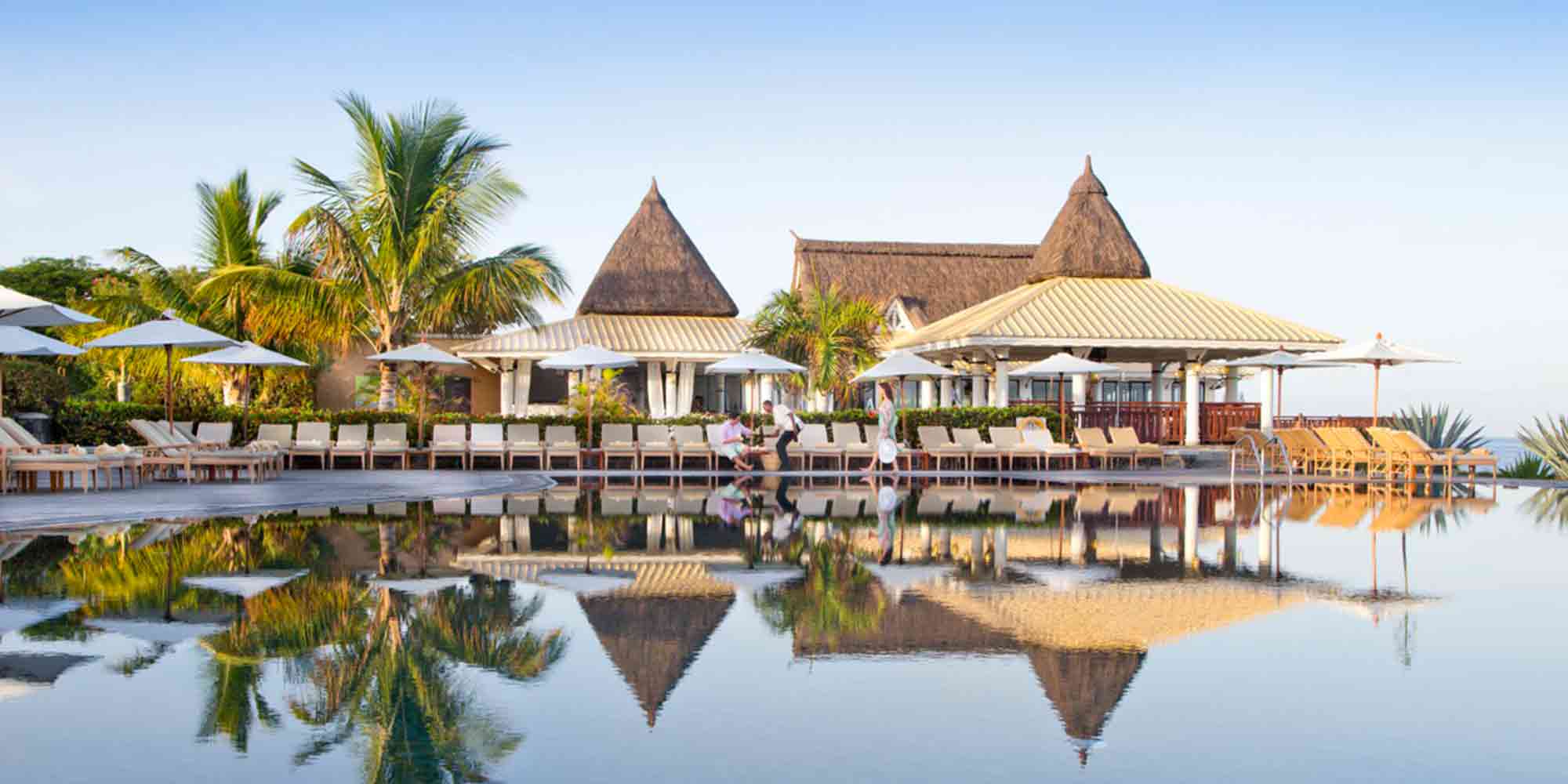 The luxurious resort is located in the middle of the Indian Ocean. Club Med La Plantation has facilities for adults and kids between two and seventeen years. In the evening, the staff includes free champagne in your meals. The Zen pool is used by adults and often hosts water sports.
The hidden resort has unique settings and lush vegetation. A huge coral reef protects beaches in this resort. It's important to note that the resort is where untamed nature consisting of trees meets exceptional service. You can choose the destination for family holidays and honeymoons.
Customers always have access to the golf facilities. You can hire a golf instructor who is always in the golf facility. The resort has two beaches that overlook coral reefs and palm trees. You can explore coral's colors and various underwater creatures in the resort.
Like other resorts on this list, kayaking and sailing are popular in Club Med La Plantation. You can have a full body massage and facial treatments if you have enough time. Most restaurants in the resort offer local dishes, although some sell Asian dishes.
8. Club Med Opio en Provence
Visit Club Med Opio in South France for the best taste of life. The resort incorporates local styles and traditions. Club Med Opio is similar to a traditional local villa. On the other hand, modern rooms are painted with soft gray and white décor.
Club Med Opio is the preferred destination for sport-minded people. Guests have the opportunity for tennis lessons and guided tours in the vast countryside. It's one of the few Club Meds with double trapeze and bungee cords.
Recently, the resort established a supervised kids club where your children can play as you relax with your partner in the Roman baths. Club Med Opio has activities for all age groups. Besides, guests are served an international menu in the resort.
9. Club Med Palmiye
The all-inclusive resort is located on an extensive beach close to the Mediterranean Sea. The resort has received Green Globe certification for several years. Club Med Palmiye is committed to reducing environmental impact and preserving biodiversity. Lofty pine trees and lush vegetation surround the white villas on this resort.
The guest rooms feature a distinct minimalist décor and white and pink highlights. Each guest room has a sliding door leading to a spacious balcony. The alfresco dining terraces ensure customers enjoy the warm climate.
Club Med Palmiye has endless activities such as trapeze and tennis classes. Your kids can also have guided horse rides in the vast horse fields. The resort has certified instructors who offer water skiing and kayaking classes. Sailing and windsurfing are other popular activities in Club Med Palmiye.
Your kids will participate in team sports and workshops as you enjoy the spa with your partner. The resort has introduced other outdoor activities like safari tours and sailing journeys. Discover the fishing villages along the coast by visiting Club Med Palmiye.
10. Club Med Miches Playa Esmeralda
It's time to enjoy Club Med Miches Playa's exhilarating activities. The environmentally friendly resort boasts of a natural setting and luxurious palm groves. The resort is just a 75-minute drive from Punta Cana airport. The eco-luxury family resort is the perfect summer destination.
Club Med Miches is the newest Club Med resort in the Caribbean region. Unfortunately, the resort was shut down due to COVID-19 restrictions. Club Med Miches is different from other Club Meds in the Dominican Republic as it offers premium accommodations. In addition, the resort has numerous guest rooms spread across lush tropical acres.
The Explorer Core Village in the resort has different kid-friendly activities and a private pool. On the other hand, Emerald Jungle has a huge spa and Zen pool, used mainly by adults and wellness-oriented travelers.
Each guest room in this resort has a private pool. You will also have an ocean view as the rooms overlook the ocean. Guests in premium rooms have access to a private section of the extensive beach.
11. Club Med Turkoise
The redesigned resort center is located on one of the best award-winning beaches in the world. The resort has a new swimming pool, restaurant, and main bar. Guests will have thrilling watersports when they visit Club Med Turkoise. Initially, the resort was known as a party hotel where young couples could mix and enjoy the endless entertainment.
Prices at Club Med Turkoise vary with the hotel policy, demand, and booking dates. You need to visit the resort website and view the prices. Guest rooms in Club Med Turkoise are in low-rise buildings with spacious balconies.
The main restaurant in Club Med Turkoise serves its customers three meals a day. The best dining options to consider are oceanfront Blue Coral Bar and Beach Bar. You can have pure wine at an additional cost. The main activities provided by Club Med Turkoise are water sports and fitness.
You can check-in at Club Med Turkoise at 15:00 and checkout before noon. Remember the vacation package includes flight, hotel services, and transfers.
12. Club Med Caravelle
Club Med Caravelle is located on the finest beach in the Caribbean. You must visit the resort if you want your family's adventurous spirit to run free. Club Med Caravelle allows you to experience delightful culture from the local communities. Don't forget to try traditional French cuisine at the main restaurant.
The Club Med resort provides unrivaled excitement for terrain lovers. The resort has family-friendly suites and kid clubs that your kids can enjoy while in the spa. Try yoga and trapeze classes if you are a fitness lover.
13. Club Med Buccaneer's Creek
Club Med Buccaneer's Creek offers impressive outdoor activities. The all-inclusive resort is located a few miles northwest of Sainte Anne. You can drink and try great food at the beautiful resort. Guests enjoy guided hikes and surfing in the resort.
You must take advantage of the mangrove paddles at Club Med Buccaneer's Creek. The beachfront locale has a wide range of activities like sailing and kayaking. Guest rooms in Club Med Buccaneer's Creek have a clear ocean view.
Frequently Asked Questions
You need to do research before choosing the best Club Med resort. Here are the most common questions about Club Med resorts.
Does Club Med include food?
Club Med is an all-inclusive resort, providing all meals in the package. The resorts offer specialties such as Chinese, Italian, and Japanese meals.
What drinks are included at Club Med?
Your package at Club Med includes wines, water, and fruit juices. Champagne comes at an extra charge.
Is room service included at Club Med?
Club Med offers room services, but it's not included in the package.
Are gratuities included at Club Med?
You don't have to tip the staff at Club Med. However, you can tip your favorite people in the resort.
What is the newest Club Med Resort?
The newest Club Med is Club Med Utah in Snowbasin. The four-star resort has 320 rooms, becoming one of the largest Club Meds in more than 20 years.
How many Club Med Villages are there in the world?
Club Med operates at least seventy resorts worldwide. Most of their resorts are located in the Caribbean.
What is special about Club Med?
Club Med resorts provide different outdoor activities for kids and adults. Kids are put into different categories so that the activities are age-specific.
Does Club Med pick you up from the airport?
You can include a transfer in your package whenever you place a booking with Club Med. However, the transfer fee depends on the destination from the airport.
Conclusion
Club Med is by no doubt the best all-inclusive resort in the world. The resort offers professional coaches to train in golf and tennis. It's time to visit the above Club Meds and see the natural treasures they have to offer.
More about our TFVG Author
A seasoned traveller, Dad, and avid sports tourist, James foundered The Family Vacation Guide to share his expert vacation experiences- especially when it comes to being a travelling family man.
Featured in Travel articles such as Travel + Leisure, TripSavvy and SFGate, you know you're reading some of the best vacation tips online.