If you've always loved swimming in the ocean, relaxing at the beach, and taking vacations in coastal regions, then you may enjoy spending time around marine life. Have you ever thought about how much fun it would be to swim with dolphins?
If you're up for a real adventure, you can travel worldwide and take a swim with dolphins in many different spots. If you want to visit the best places for swimming with dolphins, take a peek at the 20 locations we gathered below.
Now, let's get started and learn all about the best coastal spots to swim with dolphins! 
1. Dolphinaris Cancun, Mexico
Dolphinaris Cancun in Cancun, Mexico, is one of the best places where you can enjoy petting a dolphin and seeing it in its natural environment. If you've spent enough time relaxing at the incredible Cancun beaches, then check out the Hotel Zone and Dolphinaris Cancun.
This place will let you go swimming with the dolphins, and you'll undoubtedly have an incredible time! Additionally, you can even go ziplining, go on a rollercoaster, visit the Wet'n Wild Waterslide park, or go swimming in a wave pool at this fantastic park.
2. Dolphin Research Center, Florida
You'll find the Dolphin Research Center in Marathon, Florida, which is right on the coast of South Florida's Keys. Here, you can visit Ernest Hemingway's home as well as the Dolphin Research Center. You can participate in a dolphin encounter here and learn much more about this glorious marine animal from the guides.
This nonprofit dolphinarium takes the utmost care to keep its dolphins safe. In addition, it provides a fun and educational experience for both adults and children. Children above age five can attend as long as an adult accompanies the youngest kids. The entire dolphin encounter lasts up to 25 minutes.
3. Dolphin Quest, Hawaii
You can visit Dolphin Quest on the Island of Hawaii at the Waikoloa Village. When exploring Hawaii, you'll love checking out the beaches and taking a tour of the volcanoes. Although exciting, these fantastic outings will pale in comparison if you get to swim with dolphins at Dolphin Quest. For dolphin lovers of all ages, this will be an experience you'll never forget.
Dolphin Quest within the Hilton has plenty of fun activities for both parents and their kids. Along with swimming with dolphins, you can partake in wildlife viewing experiences to observe sea turtles, spinner dolphins, monk seals, and humpback whales.
4. Dolphin Cay, Bahamas
Dolphin Cay sits in one of the best and most luxurious resorts in the Caribbean. It's in New Providence, the Bahamas, right at the Atlantis resort. 
You will be amazed the second you step into this resort. Along with a gorgeous hotel, the dolphinarium known as Dolphin Cay is an incredible place to observe dolphins and go for a swim with these beautiful animals.
Along with the dolphins, you'll find sea lions and other marine animals while visiting here. Dolphin Cay is also responsible for promoting environmental solutions, such as coral reef preservation.
5. Dolphinaris Cozumel, Mexico
Cozumel, Mexico, also has another great place where you can swim with dolphins. The Dolphinaris Cozumel has a one-hour program where you can take a swim and encounter dolphins.
If you're taking a cruise to Cozumel, Mexico, be sure to sign up for a fun dolphin encounter at Dolphinaris Cozumel. You'll be back on your cruise ship with a fantastic memory to hold for decades.
The beautiful aquamarine waters of the Caribbean Sea surround this gorgeous area. You can also grab lunch at one of the many wonderful restaurants located around here and even go shopping to bring back some souvenirs for your friends.
6. Azores Archipelago, Portugal
One of the best places to see marine life is at the Azores Archipelago. There are over 24 species of marine mammal wildlife here, accounting for one-quarter of the species known worldwide. The Azores Archipelago habitat provides a sanctuary for these animals in the middle of the Atlantic Ocean.
Further, this region has eight different species of dolphins. The waters surrounding the Azores Archipelago have some of the greatest variety of marine wildlife worldwide, so this is an incredible place to go for a swim with a wild dolphin.
7. Marsa Alam, Egypt
You'll find spinner and bottlenose dolphins in the Red Sea as well as common and Risso's species. You'll love swimming with these gorgeous species of dolphins. Tour guides have found that swims generally result in dolphin encounters about 80 percent of the time. Those are some decent odds, so it's definitely worth a trip!
The coral and fish around here are incredible as well. The best place to check out the dolphins is Marsa Alam in the southern Red Sea area. In fact, this place is known as the Dolphin House. You can dive and snorkel here while watching the dolphins come out for a swim.
8. The Galapagos Islands, Ecuador
The Galapagos Islands are known as one of the UNESCO World Heritage Sites, and many divers dream of swimming and diving in this region. This area has the feel of being remote and unique when compared to the typical resorts and tourist traps of other spots to swim with dolphins.
The different types of dolphins you can meet here include spinner, spotted, bottlenose, common, and Risso's species. The variety of marine wildlife at the Galapagos Islands is incredible. Some of the different animals you may encounter here include:
Whales
Mantas
Sea lions
Penguins
Marine iguanas
Sharks
9. Sataya Reef, Egypt
The Sataya Reef near Egypt has plenty of different dolphin species as well as a beautiful coral reef and colorful fish. You'll find sea turtles here along with oceanic whitetips and lots of fish by the coral reef.
The best time to visit either of these reefs is from May through July. Egypt is also famous for wreck divers who want to observe notable shipwrecks deep underwater. Sharm El Sheikh and Marsa Alam are two favorite spots for divers in Egypt.
10. Socorro Island, Mexico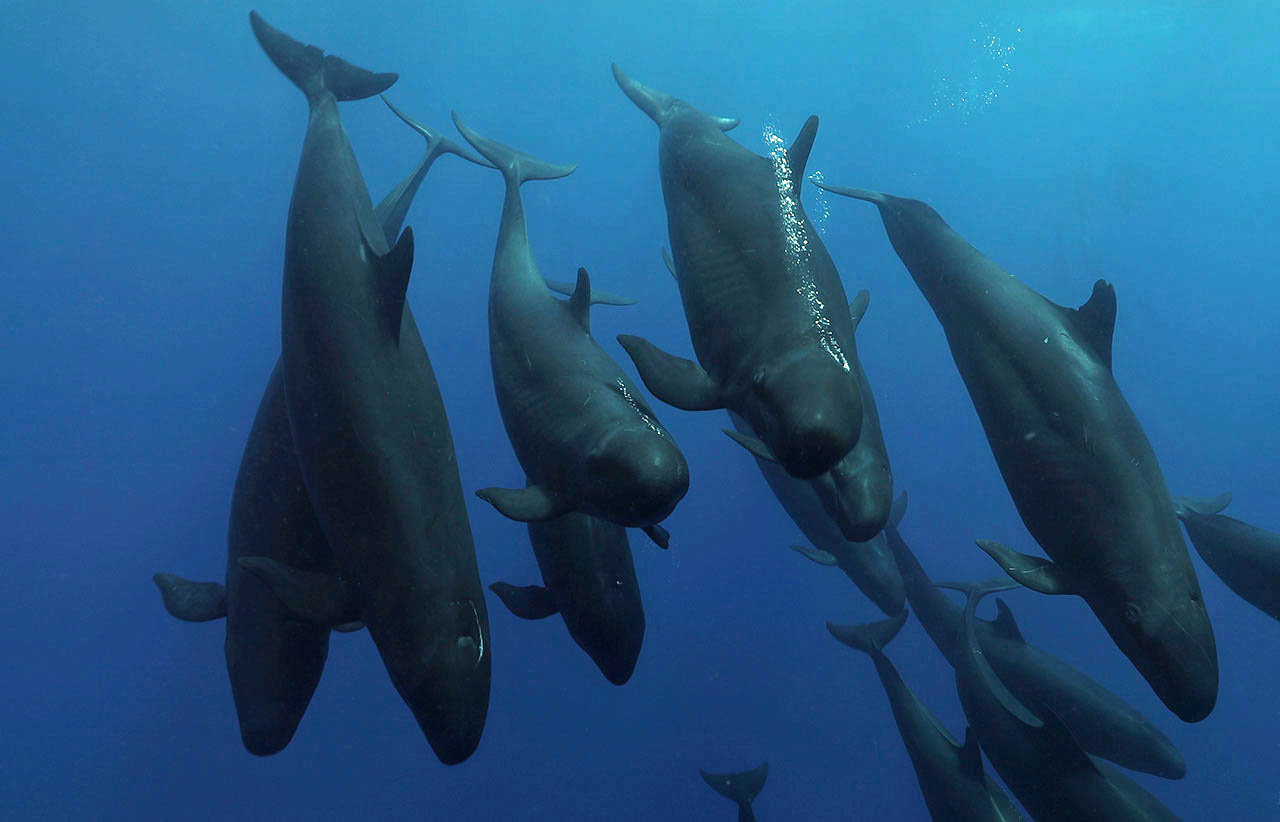 Socorro Island is known as the Mexican Galapagos due to being a very impressive diving location with diverse marine wildlife. Some of the incredible giant animals you'll find here include:
Whale sharks
Manta rays
Humpback whales
Dolphins
There are as many as ten shark species – including hammerheads – at this destination.
You'll love having the incredible dolphin encounters you can experience at Socorro Island. Really, you'll never forget the amazing time you'll have swimming with bottlenose dolphins. The best time for you to go for a swim with dolphins at Socorro Island is from January to March.
11. Ningaloo Reef, Australia
In Western Australia, you'll find a great spot for swimming with dolphins at Ningaloo Reef. This place is famous for the sighting of manta rays and whale sharks. Further, this reef is becoming more and more known for observing bottlenose, common, and Indo-Pacific dolphins. People come here to go for a swim and encounter these gorgeous animals.
At Ningaloo Reef, you can enjoy seeing whales and sharks as well. The Port Stephens-Great Lakes Marine Park is the perfect place to observe several common dolphins as well.
12. The Sardine Run, South Africa
The Sardine Run in South Africa is a wonderful place where sardines travel up the Eastern coast of this country, which attracts some incredible wildlife. Here, you can view whales, sharks, various seabirds, and plenty of dolphins.
Divers can go for a swim with up to 18,000 dolphins while they have a meal of sardines in the middle of the ocean. You can also enjoy watching these dolphins plan out how to hunt for sardines and show off their intelligence.
The best time to visit Sardine Run is from May to July.
13. Fernando de Noronha Marine Park, Brazil
Fernando de Noronha Marine Park, known as a World Heritage Site, remains a premier diving destination in Brazil. This marine park is home to 230 species of fish and 15 species of coral in the reefs.
You'll find a huge number of spinner dolphins at Brazil's Fernando de Noronha Island. This island also holds some of the most incredible beaches worldwide, and you can find it 200 miles off the coast of Brazil.
You can visit thousands of marine wildlife here and go for a swim with dolphins from August to November.
14. Bimini Islands, Bahamas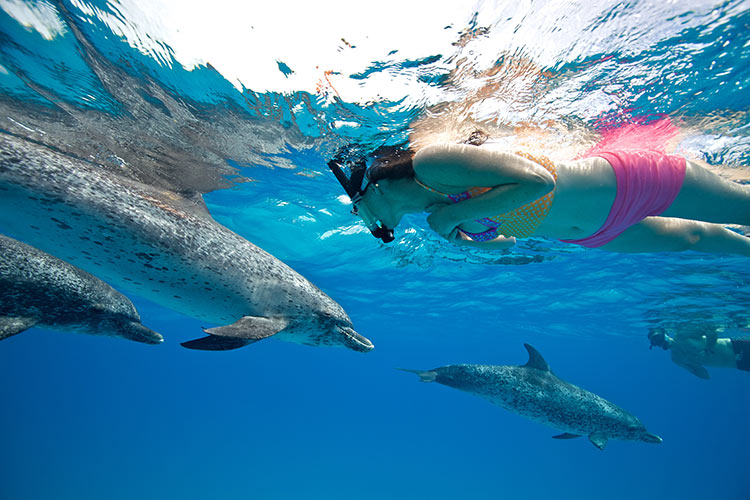 The Bahamas has some of the best beaches where you can relax and swim with colorful fish. Of course, the Bahamas' island location makes them a prime spot to swim with dolphins.
Consider swimming with dolphins at the Bimini Islands in the Bahamas. The locals and tour guides will tell you that the dolphin encounters here are the best of all time.
In the Bahamas, the guides guarantee a dolphin encounter, and they treat these fantastic animals with respect and safety. The wildlife is not baited with food or made to do any tricks.
15. Kona, Hawaii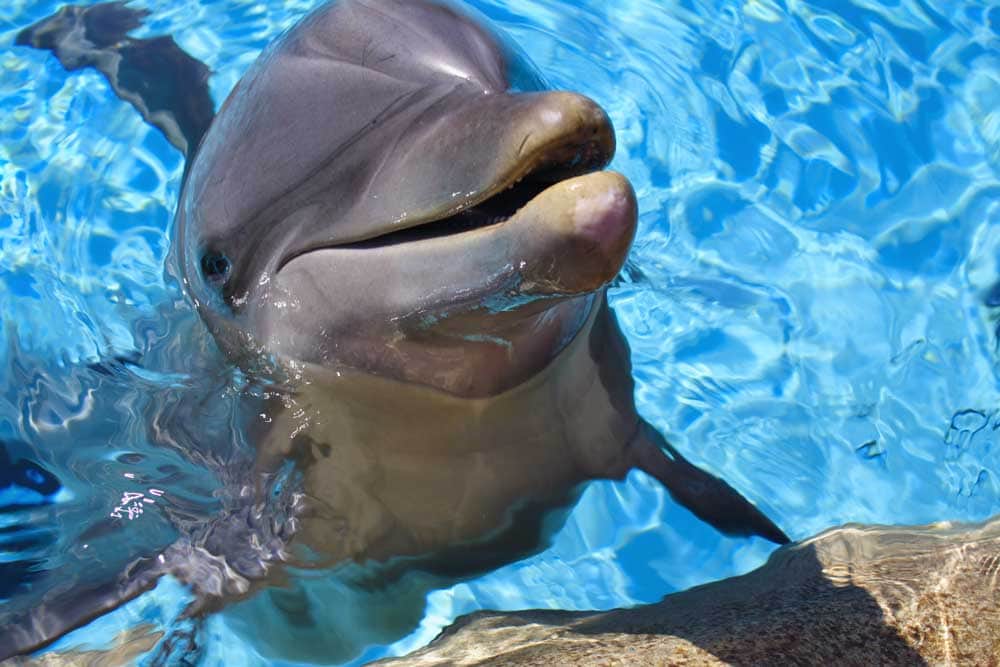 If you want to encounter dolphins, you'll need to check out Kona in Hawaii. The dolphin tours cost around $140, so it may not be cheap – but it is loads of fun. Best of all, these dolphin tours last anywhere from four to five hours, so you can spend the whole afternoon observing dolphins.
You will most likely encounter the spinner and spotted dolphins in Kona. The guides at these tours will teach you all about dolphins and other marine life in the region. The tour guides attempt to avoid disturbing the animals and give them space.
16. Dolphins Bay, Brazil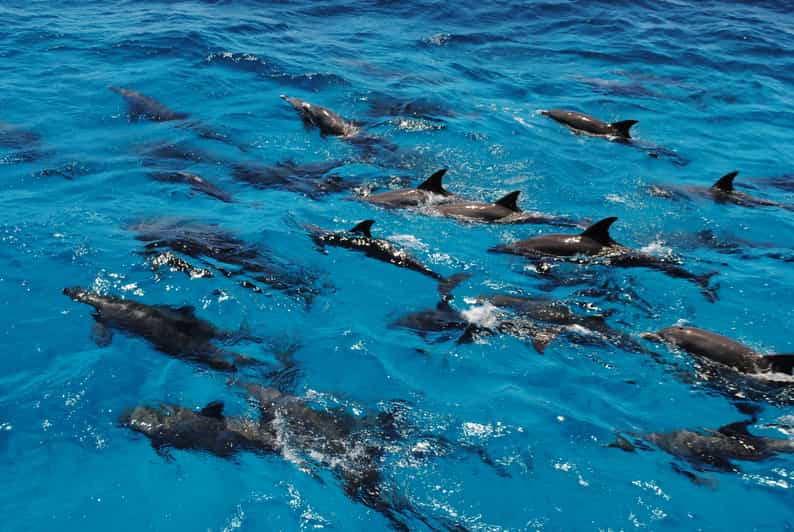 You can book a boating trip in Pipa, Brazil, for $50, and you'll have a chance to observe beautiful dolphins. At Dolphins Bay, you can see these gorgeous animals jumping in the water. Here, you can even rent a kayak or a paddleboard and then see these dolphins swimming around you.
You can also spend the day at Madeiro Beach where you'll see dolphins as well. Whatever you choose, you'll have a great time!
17. Cape Byron Marine Park, Australia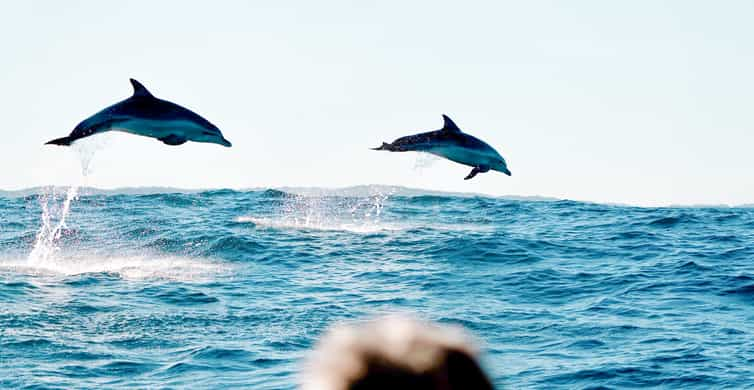 If you visit Byron Bay, you'll need to take a kayaking tour. Marine experts and surfers will guide this tour. It's easy to book, and you'll get to explore Cape Bay Marine Park in eastern Australia. Here, you'll see plenty of bottlenose dolphins as well as three species of sea turtles and humpback whales.
You'll get to interact with the animals, but you're not allowed to cross a certain line or touch any wildlife.
18. Madeira River, Bolivia
You can actually find dolphins in areas besides the oceans or seas. The Madeira River in Bolivia is home to pink dolphins called bufeos. There aren't too many of these animals here, and you can only find them in certain parts of the river.
You can book a river tour with guides who will educate you on the location and marine preservation here.
19. Kaikōura, New Zealand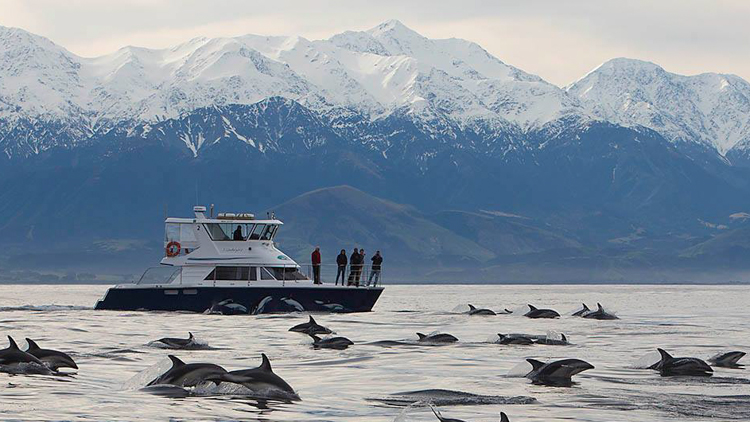 The landscape in Kaikōura, New Zealand, is incredible. Not only will you get to view dolphins jumping out of the water, but you'll also see huge mountains surrounding the aquamarine ocean. As such, there are plenty of mountain climbers, hikers, and divers coming here for its tourist attractions.
Best of all, you'll see plenty of dolphins, seals, and whales in Kaikōura, New Zealand. Dolphin encounter tours cost about $120 here, but you'll get to see up to 300 dolphins jumping out of the water on this wildlife tour.
20. Pelagos Sanctuary, Italy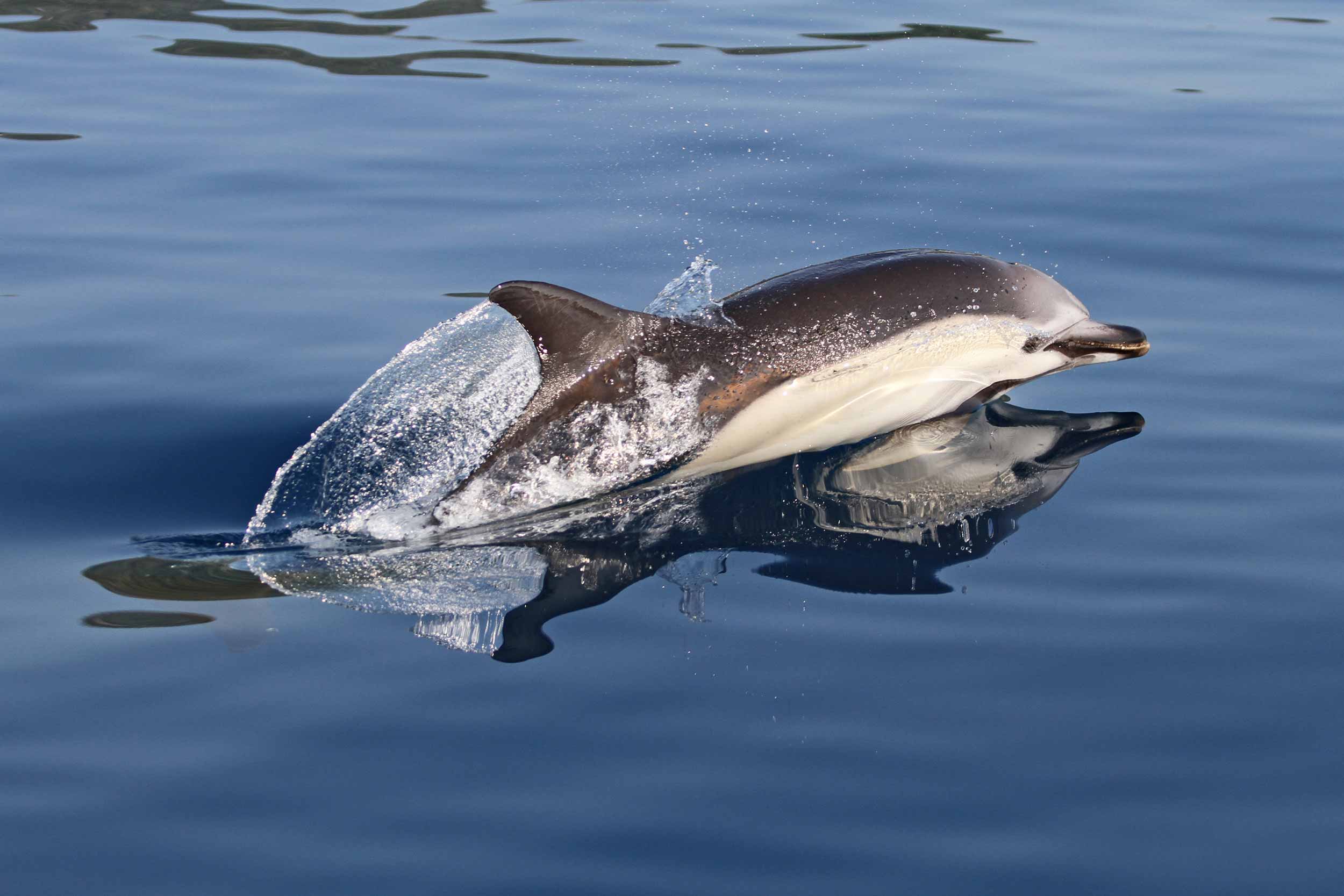 You can book a trip to swim with dolphins during the day in the Pelagos Sanctuary. As many as 2,500 dolphins live here, and the tour takes about seven and a half hours.
This opportunity is quite an incredible day trip where you'll also get to see whales and turtles.
Before You Go
If swimming with dolphins is on your bucket list – or perhaps your kids' bucket lists! – the destinations above are sure to make some dreams come true.
Whether you want to try something relatively local, like Florida or Mexico, or venture worldwide, these dolphin destinations will not disappoint.
More about our TFVG Author
A seasoned traveller, Dad, and avid sports tourist, James foundered The Family Vacation Guide to share his expert vacation experiences- especially when it comes to being a travelling family man.
Featured in Travel articles such as Travel + Leisure, TripSavvy and SFGate, you know you're reading some of the best vacation tips online.