Flying often seems like a better approach to traveling when you have children. What parent doesn't love having less time in a car and a faster travel duration to your destination?
Additionally, having the freedom to use the bathroom and move around while in the air is a huge bonus.
While all of this sounds like perfection, you then realize—eventually, you will land. When you get off of the plane, you will need to have access to all of the daily items that your children need. These vital elements include both a car seat and a stroller.
How do you navigate this with a reduced level of stress? Can you bring a stroller and car seat on a plane?
To help you plan your next travel excursion, we have compiled all the necessary information that you need to know about bringing these vital pieces of equipment on vacation. Continue reading to learn all the resources you can use to get your items on a plane.
Things To Know Ahead of Time
Often when you are researching for an upcoming trip, you will come across conflicting information regarding requirements for air travel. To help adequately inform you, we want to clarify a few key points before diving into the topic.
Having your child in a car seat is not legally required during air travel.
A child under two years old can fly as a lap child with a paying adult.
Not all car seats are approved for use on an aircraft.
Booster seats are not acceptable forms of child restraint on an airplane.
This information will allow you to make a better-informed decision when traveling to your next destination.
Can You Bring a Stroller on a Plane?
The short and direct answer to this question is no; you cannot bring a stroller onto a plane. You can, however, use your stroller throughout the airport and check it at the gate. With this, you can use it all the way up until boarding, and then it will be available to you as soon as you get off the plane.
Another option, aside from gate checking, is to check your stroller with your luggage at the check-in counter. It is necessary to note that if you do this, you will not have access to your stroller again until you land and gather your belongings from baggage claim.
While this route is still beneficial to many, it is also essential to remember that baggage does get lost on flights from time to time. Although it is not common, there are occurrences where items are placed on the wrong flight or don't leave the originating airport. If this were to happen with your stroller, you wouldn't have access to it right away, if at all, during your vacation.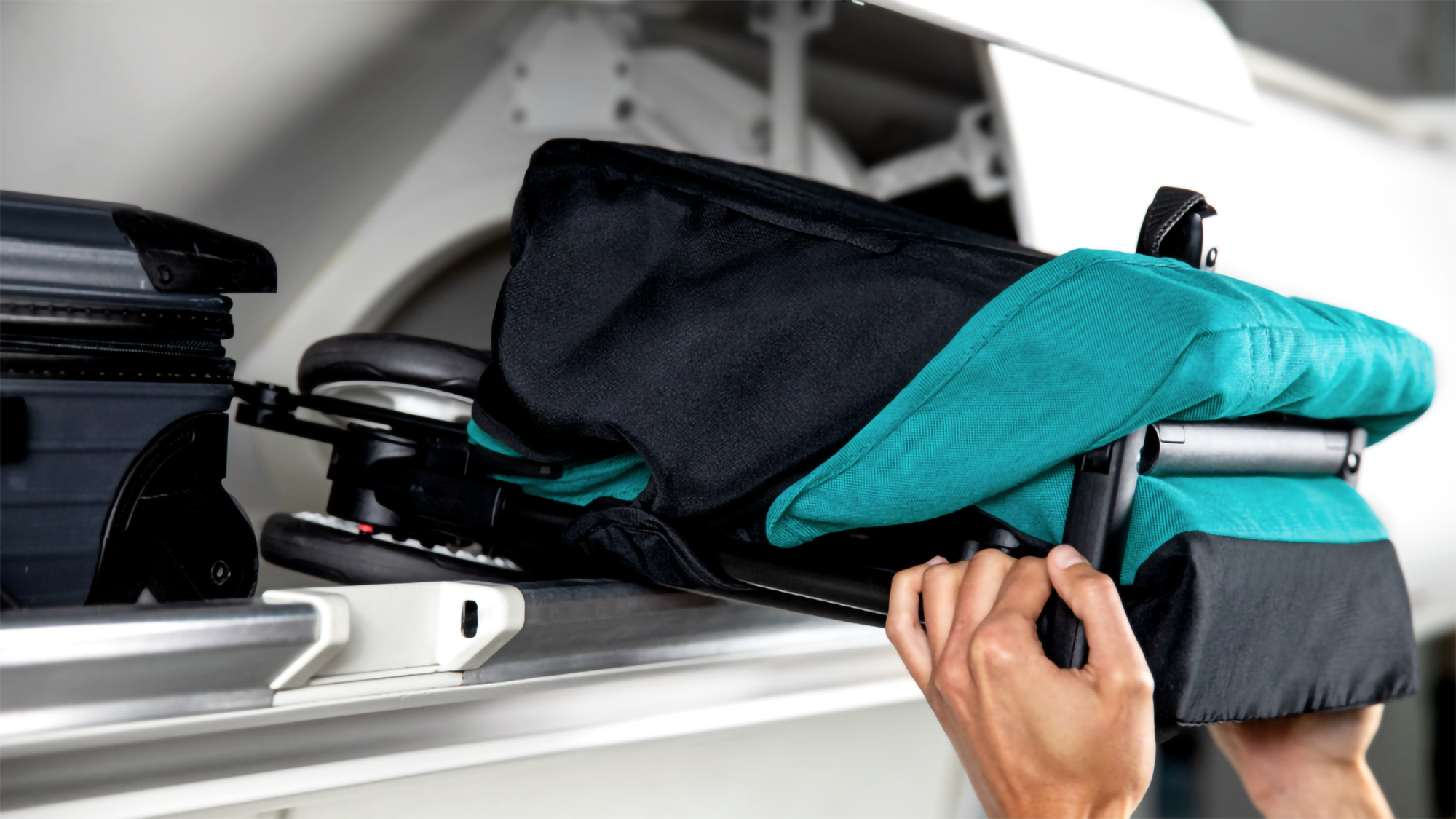 What Is the Cost?
All airlines, including budget options, allow you to gate-check your stroller for free. Many also let you check yours as baggage for no fee as well. If you are considering bringing a stroller along with you for your next trip, be sure to reference your air carrier's website for definitive and up-to-date charges regarding their stroller policies.
Should I Luggage Check or Gate Check My Stroller?
When considering the different routes of getting your stroller from point A to point B, you should consider the various elements.
Are there fees attached to either method?
Will I need my stroller throughout the airport?
If the stroller gets lost, will I be okay without it?
Additionally, it would help if you contemplated the value associated with your stroller and whether the different parts are easily replaceable. As many parents know, strollers can be quite costly. This fact is especially true when you get a high-end model.
When you check your stroller in with your regular luggage, you are subjecting it to a variety of external elements. Unlike your clothing and personal items, your stroller doesn't always have a protective covering like a suitcase offers.
Therefore, you may find damage associated with your stroller upon retrieving it at baggage claim. Common issues include latches breaking off, tears in fabric or mesh, and missing wheels.
Which Strollers Are Good for Airplanes?
When parents add baby items to their registry, they aren't always thinking about how their stroller will be conducive to travel. However, this is a crucial element to consider because certain styles are better than others.
As strollers roll out with more and more features, you start to see their size expand. Some models even have multiple attachments, making it easy to switch between a bassinet style, an infant seat attachment, or even the ability to fit multiple children.
The first thing to consider is how easy it will be to fold up and open the stroller during high traffic periods. To best figure this out, imagine yourself in a TSA security line. You are there with many people in front of you and just as many behind you. Now envision yourself with your stroller, carry-on, child, and whatever else you have to juggle.
Do not forget that in this scenario, you have to remove your shoes, take out certain items from your carry-on, hold on to your child, and fold up your stroller so that it can go through the scanner.
That seems a bit overwhelming, doesn't it?
If you choose to take your stroller with all the fancy bells and whistles, you are likely not able to close it up and load it onto the security table effortlessly. In addition, these strollers often have several pieces that need removing to make it through security, baggage check, and gate check and are quite heavy to maneuver.
However, many stroller types allow you to fold up and out with one hand. Whether it is an umbrella stroller or a compact style, you can easily remove your child, close up the equipment, and place it on the belt without issue.
What's more, you won't have to worry about holding up the line for too long. And you also won't be pulling your hair out trying to juggle everything at the same time.
If you choose to check your stroller in with your luggage, you will have a different set of concerns. Primarily you may find your equipment damaged. This worry isn't as much of a problem for those traveling with a lightweight, compact stroller.
However, if you bring along a high-end option with many add-ons, you risk the chance of pieces breaking off or coming up missing during transit.
Can I Bring a Car Seat on a Plane?
In terms of bringing a child safety restraint on a plane—yes, this is acceptable. However, you will only be able to use your car seat for your child if you have paid for a seat for them. Therefore, if you have a lap child, you will not be able to utilize the car seat because you have not paid for a seat for them.
As we mentioned above, not all car seats are approved for use on an airplane. These seats include booster seats, which are commonly used for older children. While you cannot use boosters on plane seats, they can be carried onto the aircraft and stowed away with other carry-on items.
Another thing to consider is that if you happen to have an empty seat next to you, a flight attendant may allow you to use it for your child and their safety restraint. However, you will need to have a seat in your possession to do so.
For those who have not purchased a separate ticket for their child, the car seat itself is often already checked in with their baggage or gate-checked prior to boarding.
If you are curious about whether an empty seat is available, it is worth your while to ask a representative at the boarding station if there is any availability before entering the plane. If there is, you can request to be reassigned to utilize the empty seat and bypass gate checking your car seat.
What Is the Cost?
Like strollers, there is no cost to gate-check a car seat before boarding. Even with the budget airlines like Spirit and Frontier, the ability to bring along a safety restraint is free of charge.
However, there may be a fee (depending on which airline you use) if you check your car seat with your regular luggage. This cost will vary based on which carrier you use, so checking what fees apply before travel is best.
Should I Luggage Check or Gate Check My Car Seat?
For many, it is a no-brainer to check their car seat with their luggage. Especially if you are traveling with a lap child, you often don't want the extra burden of lugging a car seat through the airport with a stroller, baby, and carry-on.
However, it is vital to think about the purpose of the child safety restraint and the materials that it is made of internally. The foam that makes up the seat can become cracked and break if handled roughly. For this reason, many car seats need to be replaced after even minor accidents.
Because of this, you may want to consider the damage that can take place between the time of dropping your car seat off at the baggage desk and picking it up at baggage claim. Many individuals have found items within their luggage broken or their suitcases damaged. Car seats are not exempt from that and are often treated with the same care that luggage is.
Gate Checking your car seat gives you more peace of mind that your items are being handled with care. Additionally, your seat is in your possession right up until boarding and directly after. You can often see the flight staff loading your items onto the plane after leaving them at the gate.
While damage can still happen during gate checking, it is less likely to occur than if you were to utilize baggage check services.
Which Car Seats Are Good for Airplanes?
As we mentioned above, not all car seats are suitable for use on an aircraft. To find out if your seat is acceptable for your upcoming trip, check to see if it has FAA approval. While finding one with this certification makes it appropriate for air travel within the United States, that isn't always the case for international travel.
If you plan to fly outside of the United States, be sure to check what requirements your chosen carrier operates with, as this may vary from what you are used to at home.
Because car seat requirements are different between countries, what is deemed acceptable in one may not be in another. The last thing you want is to be stuck in an airport with a seat you can't use and have to check it with your baggage.
Another critical element to note is that some airlines may have their own restrictions even if your seat is FAA approved. For instance, if your seat has unique features that aren't suitable for air travel or require more space than the plane seats allow, the air carrier has the right to refuse its use.
However, as long as the seat falls within the airline's guidelines and is FAA-approved with a paid seat, parents reserve the right to use their safety restraint during flight.
Many car seat brands have been awarded the FAA-approved certification. To know for sure, check your seat for a sticker that states, "This restraint is certified for use in motor vehicles and aircraft."
Some of the most popular child car seats that the FAA approves for use in an aircraft include:
Costco Mighty Fit 65 Convertible Seat
Graco Contender Slim Convertible
All Britax Brand Seats – Infant and Convertible
There are many other brands and models that are certified for use in an airplane. Additionally, several hold certifications in both the United States and Europe, making it easier to have peace of mind when traveling.
Things To Note When Checking Your Baby Equipment
For those who decide to check their stroller or car seat with their regular luggage, there are a few things to implement that will help your equipment arrive safely at your final destination.
Purchase a High-Quality Case or Cover
Some airlines will provide you with, or sell, a cover for your car seat or stroller. While this is helpful, they aren't always made of durable materials. Therefore, it isn't guaranteed that it won't rip while in transit, leaving your items exposed to external sources.
Purchasing a high-quality cover that fits your equipment is a better route to take. You can find many options online or through your car seat and stroller manufacturer. Be sure to select one with padding that is made with long-lasting materials.
Pack Additional Items With Your Equipment
Not all airlines allow this, but some (Delta included) will enable you to put items other than your stroller or car seat in your equipment case. Adding in things like clothing and diapers will not only free up space in your own luggage but will also provide more cushion to your seat or stroller while en route to your destination.
Thoroughly Check Your Items
Once you land and retrieve your car seat and stroller, be sure to check for any changes in your equipment immediately. Remember, you won't be able to see all damage if it exists, as problems with the internal foam won't be visible. However, glance over your items to see if there are any cracks or tears.
If you find any problems with your items, be sure to speak to an airline representative. It isn't guaranteed that they will offer a resolution for the issue, but it is always worth inquiring about promptly upon arrival.
In Summary
Traveling in and of itself can be stressful. When you add in children and all of the gear (and snacks!) they need for everyday activities, the stress level rises exponentially. However, there are ways to accommodate your children's needs with less anxiety.
It is important to note that each family is different, and all come with various needs. Whether you need to have your stroller and car seat with you throughout the airport, or you can get by without and check it with your luggage, there are options available. Most airlines make this even more accessible by allowing you to bring your items along at no charge.
Don't miss out on making memories with your family due to the worry over transporting the necessary equipment. Instead, take the time to decide what you need for your upcoming adventure, what restrictions and accommodations your carrier has for such needs, and which route—baggage check or gate check—you want to utilize.
In the end, the memories made will outweigh any challenges faced with a stroller or car seat. So take the trip and enjoy the good times!