Traveling is no doubt fun and exciting. Airport security- not so much. It can be frustrating and stressful knowing what to pack in your carry-on especially, with little ones.
Planning and packing your bags properly can make the screening process and your travel experience much easier at the airport. We put together this guide to help you avoid delays and a possibly grumpy security agent. 
Can You Take Food Through Airport Security?
Yes. Dry, solid, and prepackaged foods usually go through security hassle-free. Liquidy, saucy, and creamy foods that exceed the allowed amounts are a no-go and will be thrown out.
For those who travel frequently, you should be familiar with the 3-1-1 rule for liquids by now. Travelers are allowed to bring on most liquids as long as they meet the requirements of the 3-1-1 rule. What this means is that you can carry up to three 3.4 ounces(100ml) bottles of liquids (3) as long as they are all contained within one 1-quart zip-top bag (1) and are carried by one passenger (1).
To make the screening process smoother, travelers are encouraged to keep food items in separate bags. It's best to keep your food sealed in a leak-proof container. Prepackaged foods usually pass, as they are sealed, labeled, and easy to identify. Keep your carry-on organized and uncluttered so the machines can get clear X-ray images and avoid delays for you and everyone else behind you. 
Can I Bring Food for My Baby Through Airport Security?
Good news and a sigh of relief for parents. Baby food, breast milk, and other baby items are excluded from the 3-1-1 liquid rule for children two years of age and under. As long as you bring a reasonable amount. These items will have to be separated from your other carry-on items. They will likely be subjected to additional screening so don't be surprised if you see security personnel open and inspect your containers.
Can I Take Homemade Food Through Airport Security?
Whether you have specific dietary requirements for health reasons or personal preference you may wish to take your prepared foods from home. You need to be careful about your choices. As outlined above you'll want to avoid saucy, creamy, and liquidy meals like spaghetti sauce or curries.
If you make a salad, skip the salad dressing unless you use it as one of your allowed three items. Sandwiches usually pass and are probably your safest and cleanest bet unless it's drenched in sauce. Make sure everything is in clear, leak-proof containers so it can be scanned through security quicker. 
Can I Bring Fresh Fruit Through Airport Security?
If you are traveling within the US, you can bring fresh fruit and vegetables with you through security. You can even bring fresh meat, seafood, and eggs. Chances are you won't be snacking on them during your flight but at least you know the option is there should the need arise. Just make sure everything is wrapped up and sealed to prevent smells and juices from leaking out.
Which Foods Can You Take Through Airport Security?
Fortunately, most foods are allowed through airport security. Below is a list of foods that usually pass without special instructions. Even though there's no guarantee that you won't meet a disgruntled TSA guard, the law says you're allowed.
Baby food, formula, breast milk, and juice are allowed in reasonable quantities in carry-on bags for children under two. Take them out of your carry-on bag, as they will be screened with the rest of your travel essentials. You do not need to have your child with you to transport breast milk. 
Dry, solid snacks like nuts, dried fruit, cereal, cookies, chips, snack bars, and crackers. 
Protein and energy powders
Sandwiches – easy on the sauce, please
Gum and candy
Bread
Salt, spices, tea bags
Pies and cakes – as long as it has no jelly or cream 
Pizza
Solid cheese
Solid chocolate
Empty water bottle or coffee thermos
Coffee grounds
Dried pet food
Fresh fruit and eggs – only within the US
Fresh meat and seafood – The food must be completely frozen when brought through screening. You will not be allowed to take partially thawed food or food with liquids in the container through security. 
Frozen food – You may pack frozen perishables in your carry-on or checked bags in dry ice. You may only use five pounds of dry ice. It must be vented and clearly labeled.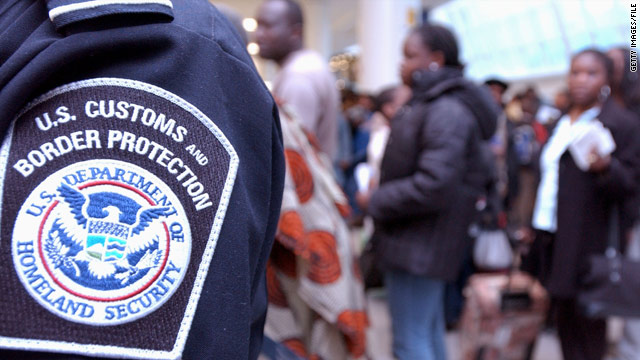 Foods to Avoid Through Airport Security
Though technically some of these foods will be allowed, they have to meet the 3-1-1 rule. So if you have other liquids that are more important to take on board, avoid bringing these foods through airport security to avoid waste and hassle.
Yogurt
Soup
Bottled water
Creamy cheeses
Liquid chocolate
Liquid coffee
Creamy dips and sauces
Gravy
Honey
Maple syrup
Hummus
Ice cream
Jams and jellies
Juice
Oil and vinegar
Nut butter
Salad dressings
Salsas and sauces
Canned food, especially if it is more than 3.4 ounces, will not be allowed through security. They are mostly filled with liquid and it is hard for the machines to scan them and see what's inside. Any half-eaten or unwrapped food may also not be allowed in. Though technically it's permitted, security could give you a hard time if it's not wrapped properly. So make sure everything is wrapped before heading towards the line.
Can I Bring My Own Food On An International Flight?
In general, if you are flying abroad, the same rules apply. No liquids, sauces, and creamy things. Commercial foods that are unopened are usually fine. With the added exception that fresh fruit, vegetables, and meat are not allowed through customs. International flights are typically very strict with fresh foods, especially fruit and vegetables to prevent the introduction of invasive species or diseases into new environments.
Security checkpoints are getting more strict across the globe. So to save time and keep everyone happy less is best. Be sure to pack any food or liquid items that you may have purchased as a gift into your check-in luggage. Always be honest when declaring your items to prevent a huge fine later on. 
Conclusion
Traveling on a plane is challenging with kids. Even though it takes a bit of work, bringing your own food can be a great distraction and less expensive for the long journey. Unless it's necessary, avoid bringing goods with liquid and cream as much as possible.
If you are still unsure about what you can bring, download the MyTSA app where you can take a photo of your item and ask them if it's allowed through security. You wouldn't want to start your long-awaited family holiday by having to deal with annoyed TSA agents and impatient travelers. Bon-voyage!
More about our TFVG Author
A seasoned traveller, Dad, and avid sports tourist, James foundered The Family Vacation Guide to share his expert vacation experiences- especially when it comes to being a travelling family man.
Featured in Travel articles such as Travel + Leisure, TripSavvy and SFGate, you know you're reading some of the best vacation tips online.