Sunscreen; It's a vacation essential! It's at the top of many traveller's list of things to pack, but did you know that there are strict rules about packing liquids, such as sunscreen, when traveling by airplane? So, can you bring sunscreen on a plane?

Due to safety, the TSA applied strict rules into the carrying and packaging of liquids on all flights, which does include sunscreen.
We have done all the research for you and have made a handy guide to help you decide whether to pack sunscreen in your checked bags or your carry-on bags. We have also included helpful information about what size and which types of sunscreen are allowed on flights and different ways to store your sunscreen in your luggage.
We understand how stressful it is to prepare for the unknown when information seems vague and unreliable. Knowing what to expect ahead of time and being prepared, with knowledge of TSA rules and regulations, can really help to cut down on the stresses that often go along with traveling on planes. It is good to know what to expect when encountering a TSA checkpoint. 

If you're here, you maybe taking a trip to a sandy location. Make sure you've got your checklist for a family beach vacation ticked off!
Yes, You Can
Yes, you can bring sunscreen on a plane. TSA guidelines state that the administration allows sunscreen storage in your carry-on bag.
CARRY ON: Bottles of sunscreen must be equal to or smaller than 3.4 ounces (100 ml).
CHECKED IN HOLD LUGGAGE: Larger bottles allowed, however the limited per traveller cannot exceed 70 ounces (2kg) / 68 fluid ounces (2L)
No, Sunscreen Bottles Can't Be Full-Size
The administration advises that travelers should stick to the 3-1-1 rule when they pack carry-on luggage. That is, those 3.4 ounce (or smaller) bottles must be packed together in a single quart-sized resealable bag. Keep in mind, that's only one resealable bag per traveler, but you are allowed as many bottles as fit in one bag, in adherence to the maximum limits stated above.
To add to this, the TSA has published detailed guidelines and advice to future passengers regarding these rules. TSA urges passengers who wish to travel with larger quantities of sunscreen, or other liquids or aerosols, to include them in their checked luggage so they can use them at their desired destination.
NOTE: Each contanier of sunscreen must not exceed 18 ounces (0.5kg) / 17 fluid ounces (500ml)
If you're wondering why the TSA implemented the 3-1-1 rule, it's all about the safety of passengers on all flights. It turns out that studies done in the early 2000s suggested that a certain amount of liquid is needed to produce explosive devices. Therefore, it makes sense to limit bottled liquids to make flying safer for all travelers.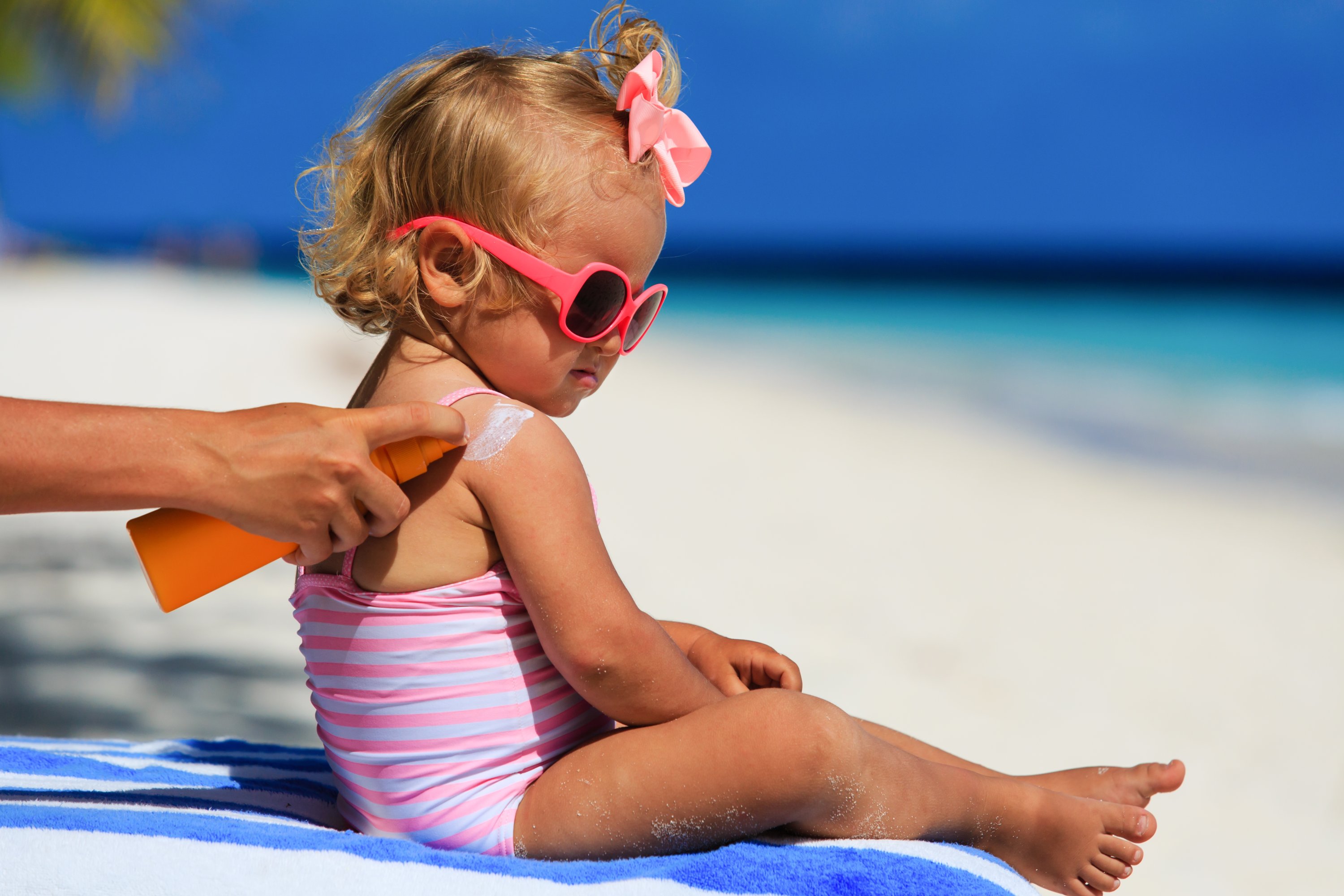 Can You Bring Spray Sunscreen on a Plane?
Some people do prefer their sunscreens in a spray or aerosol. Are those allowed on flights? Yes, the TSA does allow sunscreen in spray form on planes in carry-on luggage since it is considered a toiletry item.
Spray bottles of sunscreen must adhere to the 3-1-1 (i.e., no more than 3.4 ounces or 100 ml bottles, packed in one resealable, clear bag). As with other liquids, larger bottles of spray sunscreen or aerosol bottles must be packed with checked luggage.

The TSA have a comprehensive "What can I bring?" guide, which is worth having a look over before you travel.
You Have Options!
When it comes to miniature bottles of lotions, potions, and other miscellaneous liquids, you have a lot of choices. Sunscreens are no exception; they come in cute little bottles and even in roll-on form. Here's a range of sunscreen brands and levels of protection we found that make their products available in the requisite 3.4 ounces (100 ml) size, or smaller:
Banana Boat Sports Extra, 30 SPF, three fl oz
Neutrogena Ultra-Sheer Dry-Touch, 45 SPF, three fl oz
Coppertone Sport 4-in-1, 50 SPF, three fl oz
COOLA Organic Sunscreen, 30 SPF, three fl oz
Sun Bum Original Sunscreen, 70 SPF, three fl oz
Hawaiian Tropic Everyday Active, 15 SPF, 1.65 fl oz
Reef Repair Sunscreen, 50 SPF, 1.7 fl oz
Banana Boat Ultra Defense 100 SPF, three fl oz
Love Sun Body Glow Natural (Tinted Sunscreen) 30 SPF, three fl oz
La Roche Posay Anthelios Melt-In Milk Face & Body Sunscreen 100 SPF, three fl oz
Aveeno Protect and Hydrate Sunscreen, 70 SPF, three oz
Think Baby Body & Face Sunscreen, 70 SPF, three oz
Roll-ons and Stick Sunscreens
We also wanted to include a section about roll-on and stick sunscreens because we love the idea of something un-spillable in our hand luggage and we think you might too! Many of these sticks are also applicable to wet or dry skin, which makes them all the more practical for families traveling with kids, especially as they usually claim to be water-resistant as well.
As an added benefit, many types of stick and roll-on sunscreens are also kid-friendly in the sense that they are tear-free and hypoallergenic, and friendly to sea and reef life. Here are some sticks and roll-ons that are available in travel sizes (although they don't have to adhere to the same rules and regulations as liquids; they are in the same category as solid deodorants):
Neutrogena Ultra Sheer Face and Body Stick Broad Spectrum SPF 70, 1.5 oz
Banana Boat Kids Stick, Tear-Free, Water-resistant, SPF 70, 0.5 oz
TropicSport Reef Friendly Mineral Sunscreen SPF 70, 0.49 oz
CeraVe Sunscreen, SPF 50, 0.47 oz
Coppertone Sport Sunscreen Stick, SPF 40, 1.5 oz
Cetaphil Sunscreen stick, SPF 50, 0.5 oz
Blue Lizard Sensitive Mineral Sunscreen Stick, SPF 50, 0.5 oz
Sun Bum Original Face Stick Sunscreen, SPF 30, 0.5 oz
Neutrogena Beach Defense Stick, spf 50, 0.5 oz
Aveeno Positively Mineral, SPF 50, 0.5 oz
Babyganics Rollerball Sunscreen, 50 SPF, three oz
Sun Bum Original Roll-On Sunscreen 50 SPF, three oz
Project Sunscreen Roll-On Sun Protection For All, 50 SPF, three oz
Supergoop! GlowStick, 70 SPF, 0.5 oz
Reusable Bottles
There are valid reasons for deciding to decant your larger bottles of skincare products or other toiletries into reusable plastic bottles. You may be trying to do your part in protecting the environment by using fewer throwaway plastic items, typically transporting food and drinks in reusable containers, and would like to apply the same logic to bathroom products.
Or you may have noticed that smaller bottles of toiletry items tend to be worse value for money per liquid ounce than larger ones. Buying in bulk tends to save money in the long run, especially for the more shelf-stable products such as beauty products and other toiletries because they usually take much longer to expire.
Whatever your reasoning, it's certainly not a bad idea to use reusable bottles, if you decide to use a liquid or a gel type of sunscreen, especially with a little bit of research beforehand to ensure that they are good quality and have the correct capacity. TSA rules allow for liquids and gels carried in hand luggage without the original manufacturer's label, so no worries as far as that is concerned.
Many of the container brands do claim to be TSA-approved, although that seems a little tricky to verify. It's also worth noting that it's a good idea to shop around and read reviews to find the bottles or packs that don't leak. Even though your liquids will be packed in plastic bags, it's still probably nicer to not have any spillage in your carry-on bags!
In Conclusion
Wherever you decide to fly for your vacation this summer, you'll want to protect yourself and your family from the sun and all its ravages: painful sunburns, unsightly peeling, premature aging, skin cancer, and sunspots. It's good to know that you don't have to have your sunscreen tucked away in your checked luggage, but right with you on the plane.
Now you know that you can always have some sunscreen at hand, even on the plane. You will be able to plan and relax as you near your travel date. You can also go ahead and plan on reapplying before you deplane; just reach into your hand luggage and grab that small bottle of sunscreen in preparation for the fun in the sun that awaits you.
More about our TFVG Author