Anyone who has traveled understands the inherent frustration of checking into a hotel early. Every hotel seems to have its own guidelines for when it's appropriate to check in, and they are almost always after three in the afternoon.
Now, when you're on a family vacation, checking into a hotel later in the day should be no issue. Don't let the stress of planning encroach on the fun time you have waiting. You're on vacation, after all: relax a little bit. 
But when you've got kids with you, it can get understandably hairy when it comes time to check in to your hotel, and the room isn't quite ready yet. When that happens, you might find yourself asking if you can check into a hotel early.
Fortunately, there is a simple answer to that question: yes! You can definitely check into a hotel early. However, that is sometimes dependent on hotel policy and how full they are when you arrive. 
Reasons to Arrive Early
Arriving early at your hotel makes you feel like vacation is getting an early start. The sooner you can unpack your bags and kick off your shoes, the better you'll feel. Vacation seems to start the moment you walk through those hotel doors.
So, frustration might naturally well up when you walk through those hotel doors and find that the room is not ready.
There's no need to panic. Most hotels provide a valet service for your bags, so you can just drop them off and get to exploring while the staff prepares your room. This mindset will better prepare you to unwind and enjoy a vacation than flying off the handle at the poor front desk representative.
Just because your room might not be ready doesn't mean you shouldn't arrive early for your reservation. There are plenty of legitimate reasons to get to your hotel early, even if you know that you won't have a room right away.
Maybe you have dinner reservations that start early? You can arrive and ask the hotel front desk for temporary accommodations. They'll almost always have something they can offer so that you can at least freshen up after your trip.
Even if you can't check in early, you can start your vacation without the burden of luggage. Or perhaps you've arrived early because there are attractions to see and museums to visit. Even in this instance, you can probably leave your bags at the front desk and head out for a day of exploring.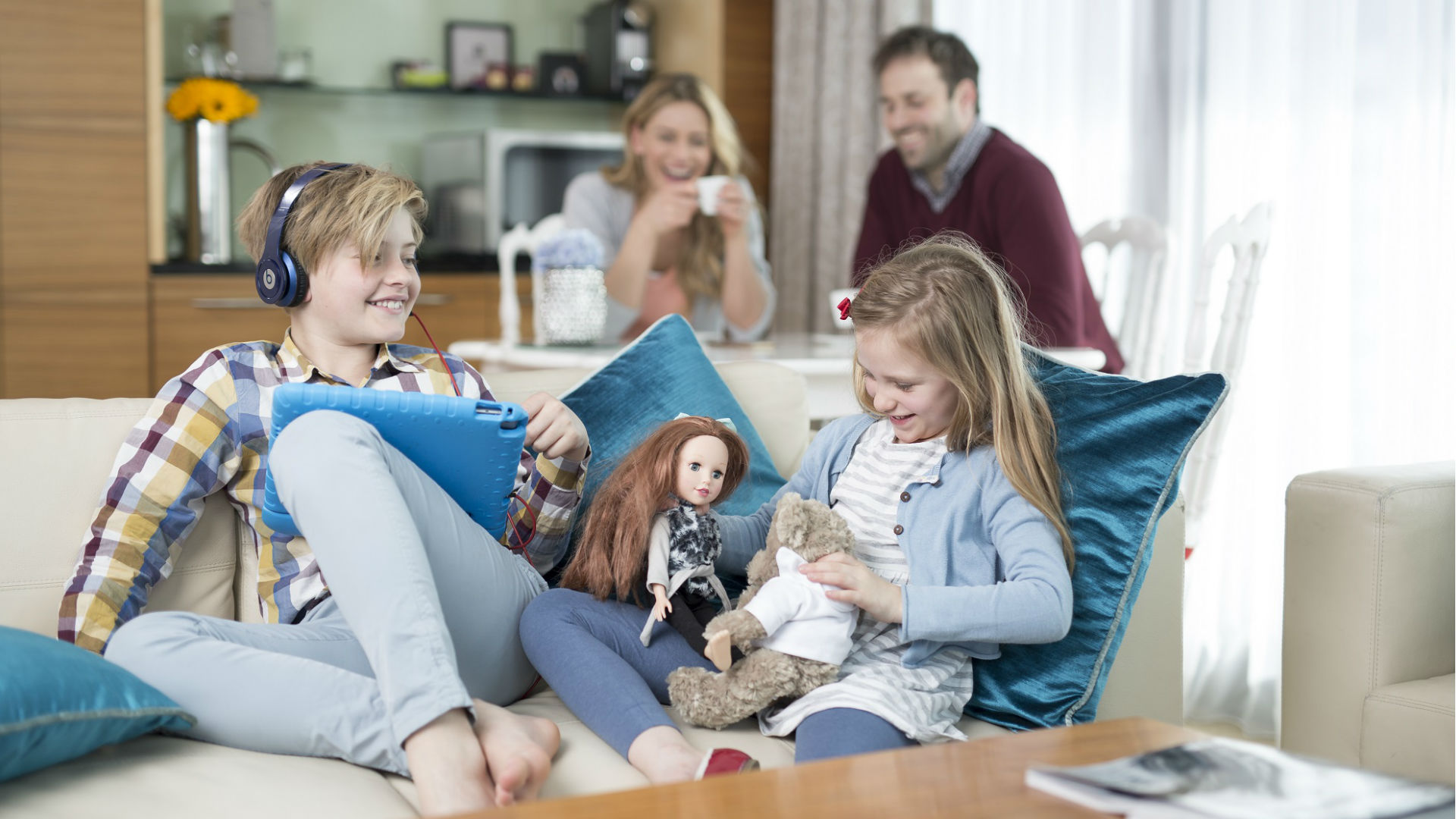 Early Check-In Offered
The first thing you need to do is call your hotel. See if they offer any early check-in options. Before you decide to make your way to your hotel, at least take the time to see if that's allowed. This simple thing can save you from all kinds of awkwardness and frustration.
Most hotels will advertise early check-in options, either online or when you make your reservations. If you're staying somewhere a little nicer, you probably have a greater chance of getting an early check-in.
However, you might run into the issue of a fully-booked hotel that hasn't emptied before your arrival. If a hotel offers early check-in, they probably provide late check-out, as well. That means someone could be staying in your room right up until the last possible minute.
The critical thing to remember is that no matter why you choose to show up early, it is a decision that you have made. It does no one any good to get all worked up about something no one can fix. Try not to take it out on the hotel staff—they are doing the best they can. 
Tips for Checking In Early
If you're interested in showing up early for your hotel reservation, there are some practical steps you can take to make the whole process easier.
Call Before You Arrive
You should always call before you arrive at your hotel. This is true regardless of what time you want to check in.
Even if you're showing up at the exact moment that check-in is available, you should still call before you arrive. It's just common courtesy. And don't you want to start your vacation off on a courteous foot?
Calling before you arrive increases your chances of getting to check in early. When you let the staff know that you're on the way, they might be able to pull some strings and get a room prepared for you.
If they don't know that you're coming, they will probably leave the rooms for housekeeping to deal with as they see fit, which means they'll be ready in time but not early.
A great way to get checked in early for your hotel reservation is by calling ahead to let the staff know you're on the way. They'll be able to tell you whether or not an early check-in time is available.
Be Amenable
No matter what happens or what the staff says, you need to treat them kindly.
Remember that it isn't the front desk associate's job to clean and prepare the rooms.
Remember that the bellhop has no say over whether or not you get to your bed sooner rather than later.
Keeping these things in perspective will help you have a better attitude regardless of how quickly you can get into your room.
Even when they can't do anything about the situation, being pleasant to the staff will make them want to help you, which means the potential for free drinks is much higher.
Suggest A Downgrade
Let the staff know if you're in a hurry to get into your room and don't care what kind of room you get. They may not check you in early because you booked a suite or a deluxe room.
Being comfortable with a downgrade will increase your chances of getting checked in early. The less-fancy rooms are often easier to prepare, and there's usually one or two ready to go anyway.
If you're willing to take any room they offer, make sure to communicate that to them at the outset. This helps the staff widen their search and get you into a room and out of your shoes that much faster.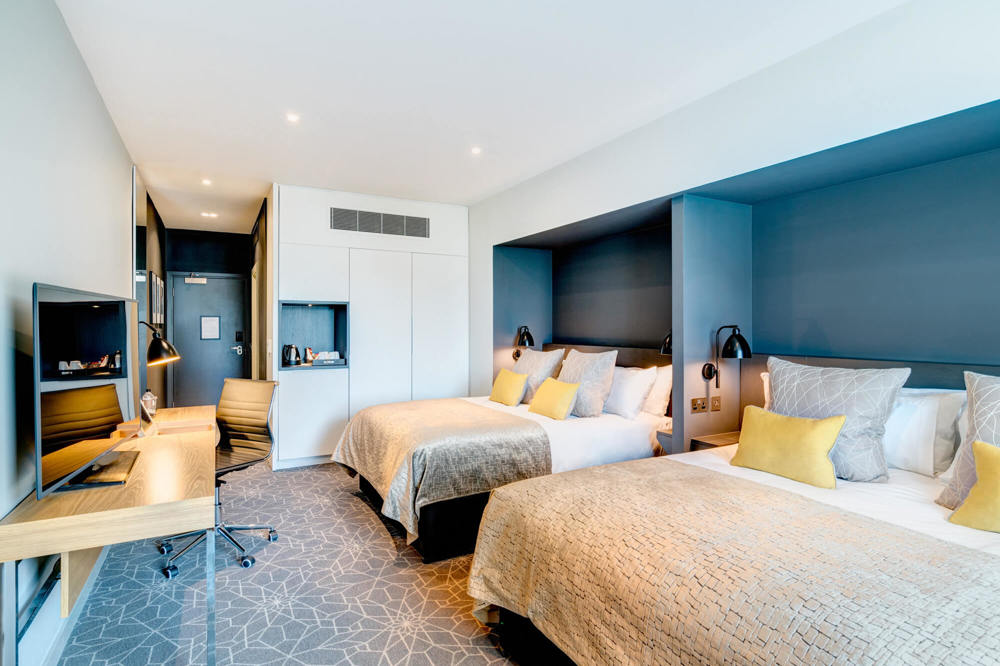 Enjoy the Lobby
If you can't check in early, be prepared to make the most of your time. There's probably a cool bar or restaurant in the lobby where you can enjoy a drink or an appetizer while you wait.
Maybe there's a piano in the lobby where you can bang out that tune you haven't played since high school? Everyone wants to hear your rendition of Chopsticks, so you might as well have at it.
You can also strike up a fascinating conversation with any hotel staff. From the front desk staff to the valets, there's probably a funny story or two you can coax out of them while you wait for your room to be ready.
Grab Some Food
If you can't check in to your room early, ask for a food recommendation. Most hotels have a restaurant of some kind within their space, so you can always give that a try. Or you can head out for some of the local fares.
The front desk staff is highly knowledgeable about the local area. Asking for tips concerning getting some good food and enjoying a relaxing afternoon will help build a friendly relationship. And you'll probably get the best recommendations.
Since you have to wait anyway, you might as well make the most of it. Find a nice place to sit for a while, enjoy some people watching, or take the kids for a stroll around the neighborhood. Whatever you have in mind, the hotel staff can give you a good idea of where to go.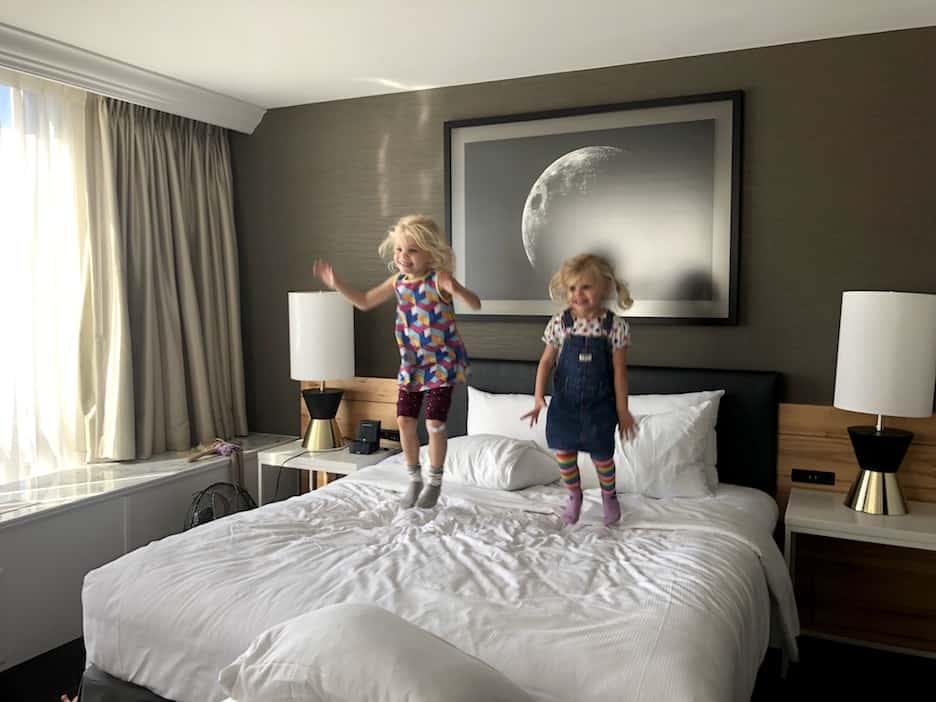 Be Flexible
Prepare yourself to go with the flow no matter what. Even if you call ahead and the front desk seems optimistic that you'll be able to check in early, prepare for the possibility that something might change before you arrive.
Nothing is guaranteed until you are checked in to your room. If there is an option for checking in before you arrive, you can request that when you call ahead.
But be flexible. Don't make the poor hotel front desk workers feel bad if there is no room available early. Take advantage of the opportunity to explore and stretch your legs. Whether you're driving or flying, it's going to feel very good to go for a walk and enjoy the fresh air.
Before You Leave
If you're wondering whether or not you can check into a hotel early, the answer is yes.
Well, the answer is maybe. Various factors go into whether or not an early check-in is available. While it is always possible, it won't always happen. So, calling ahead tends to be a good idea in these situations.
Whatever happens, remember that the hotel staff is working as quickly as possible to get you into your room. Make sure you thank them if they do get your room ready early. And be pleasant and courteous if they are unable to accommodate that request.
More about our TFVG Author
A seasoned traveller, Dad, and avid sports tourist, James foundered The Family Vacation Guide to share his expert vacation experiences- especially when it comes to being a travelling family man.
Featured in Travel articles such as Travel + Leisure, TripSavvy and SFGate, you know you're reading some of the best vacation tips online.