It is common for travelers to be carrying a wide variety of things as they go from place to place. You step into the airport with rolling luggage, backpack, travel pillow, and more. You get to the counter and check yourself and your luggage before heading off to security.
Here you have to unload the rest of your burden and then pick everything back up again and put it back on your person on the other side.
It's a lot.
Not a long time ago, travelers or even ordinary people had to deal with one more thing getting in the way of an abundance of items. This included travelers wanting to listen to music while they go from point A to B, waiting for their flight, or on their plane. Corded headphones tended to get tangled in everything from backpacks to hair to pillows.
Thankfully we now live in the age of wireless earbuds, in which the most commonly used are AirPods. Travelers can now listen to their music while slinging bags around without missing a beat.
You can use your AirPods on a plane but we all know electronic device use on planes can come with its share of headaches. So let's break down what you can and cannot do with your Airpods once you have boarded your plane.
How Exactly Do AirPods Work?
AirPods and other wireless earbuds have eliminated the entanglement of wires by connecting to your phone through Bluetooth. iPhone wired headphones have been connected through the charging port since the iPhone 7 removed the standard headphone jack.
This means that not only do AirPods allow cord-free streaming, but it also allows for being able to charge your phone at the same time.
So what exactly is Bluetooth?
Bluetooth uses short-range radio frequencies to allow devices within range of each other to connect. Phones to wireless earbuds are a popular pairing today. Just walk down any street or through an airport terminal and chances are good you will see more than a few people with wireless earbuds in their ears.
The technology is considered generally secure but it is worth noting that the tech-savvy can obtain use of your Bluetooth devices to send their own sounds through. So it is best to have Bluetooth turned off when you are not using it.
AirPods are equipped with an accelerator in addition to their Bluetooth capability. This is a device that uses motion and optical sensors to know when they are inserted into the ears. This helps preserve battery life as when they are not in use they do not deplete charge. They do not have a tangible power button for this reason.
AirPods can be connected to a variety of devices such as iPhones, iPads, and Apple Watches. They can also connect to Android phones and tablets.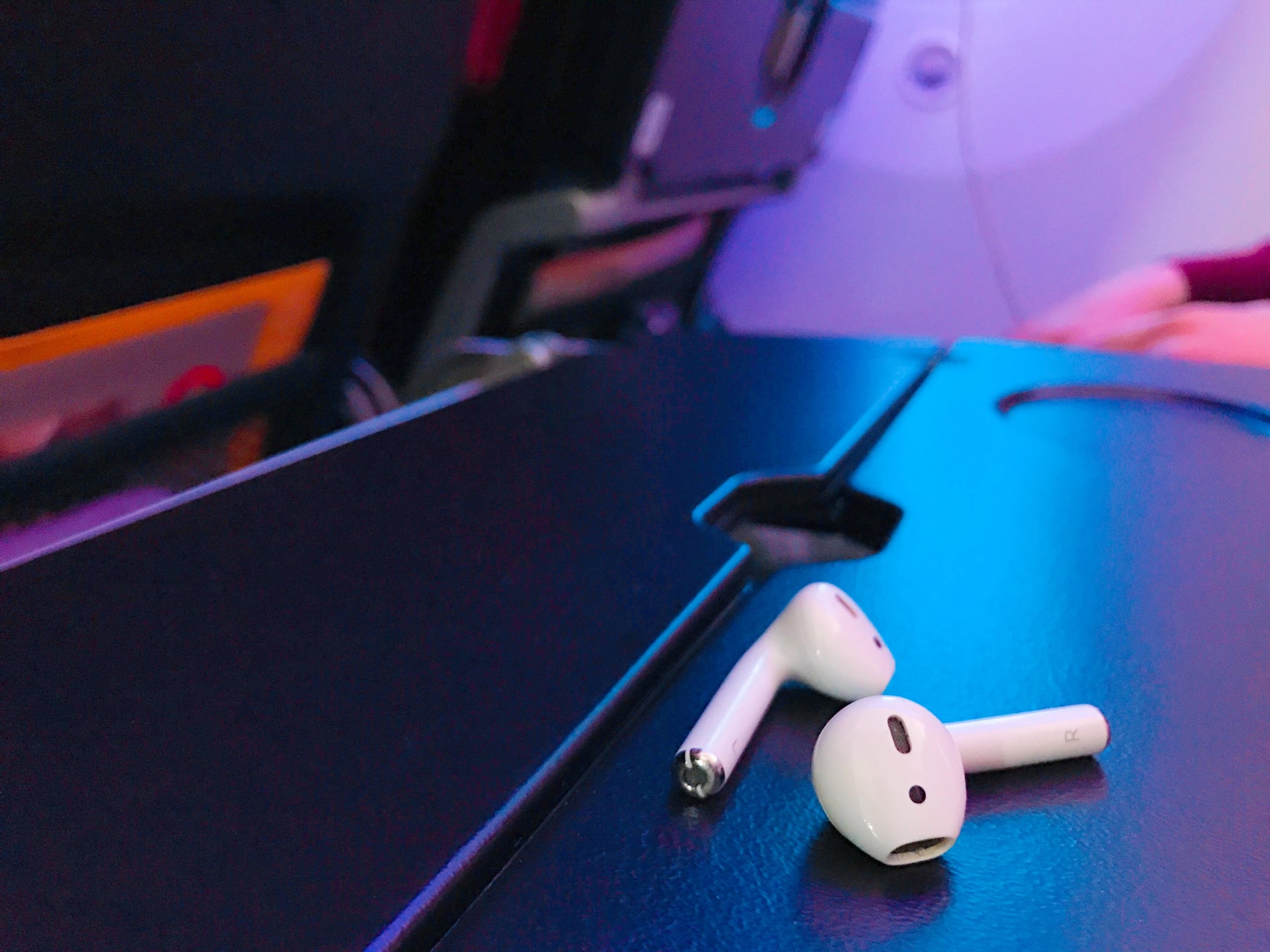 Is Bluetooth Use Allowed on a Plane?
It is well-known travelers are requested to turn off wireless devices when their plane is preparing for take-off. Cell phones come equipped with an aptly named airplane mode for this reason. The mode allows users to keep their devices on but turns off the ability to use cellular data.
This allows travelers to still listen to music, watch movies, and play games without the potential of their device interfering with any of the plane's systems.
Usually, all wireless communication except Bluetooth is turned off when a phone is put into airplane mode, still allowing for the ability to wirelessly sync to your AirPods.
If you have ever turned off Bluetooth after going into airplane mode however your phone may remember that and turn off Bluetooth with wireless communication. If that happens you can simply turn Bluetooth back on while staying in airplane mode.
Since Bluetooth is a short-range transmission of data from device to device it is generally allowed on flights. Specifics vary from airline to airline so travelers should always double-check policies and regulations.
So what exactly does this mean for AirPod use? Most flight attendants aren't going to ask you to remove your AirPods but they will ask for them to be turned off during take-off and landing along with all other wireless devices.
The reason for this is not a worry of Bluetooth interfering with the plane as much as if you're listening to music you are not paying attention to important flight and safety information.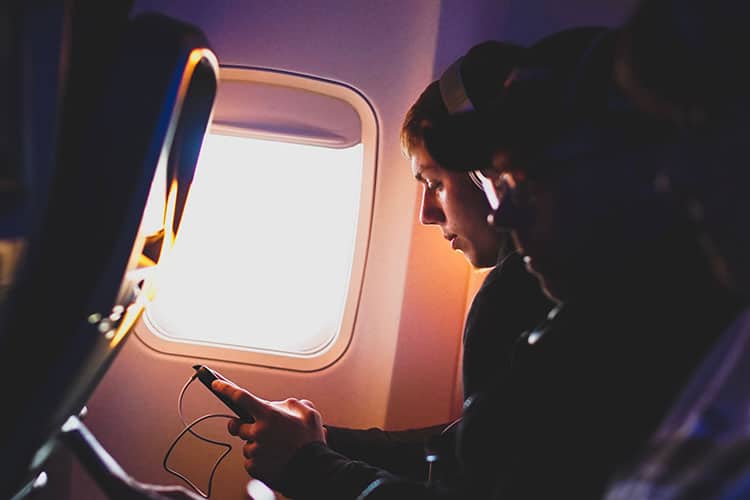 Popular AirPods and other Wireless Earbuds
AirPods were some of the first wireless earbuds commercially available and are the most well-known still today. They also come with the hefty price tag of an industry leader.
Just because AirPods are the most popular wireless earbuds options does not mean they are the only option. There are several high-quality alternatives available at various price points.
AirPods
Apple released its 3rd generation of AirPods in October 2021. A shorter stem makes them less noticeable in the ears, and they come equipped with Apple's MagSafe wireless charging. They also boast up to six hours of listening time on a single charge.
Those seeking a more upscale option can choose AirPods Pro. This version is older than AirPods 3rd Generation and offers less listening time per charge at 4.5 hours. AirPods Pro's main draw comes from its noise-canceling technology.
You can easily toggle between noise-canceling mode and transparency mode which counters the noise canceling and allows outside sound in.
You can also accept and make calls on either AirPods or AirPods Pro by double-tapping one of your pods.
The more traditional headphone lover can ditch the pods and go with Apple's AirPods Max. The name may say pod but the look and feel is much more old-school – just wireless. AirPods Max features two muffs that fit over the ears connected by a padded mesh that fits over the top of the head.
Other Wireless Earbuds
The active user looking for a solid set of earbuds to wear in the gym that boasts a low profile and fits snugly in the ears needs to look no further than Jabra Elite Active 75t. They are waterproof and come with a 2-year warranty against dust and sweat. The Elite Active 75t also comes with noise-canceling technology.
Amazon's Echo Buds (2nd generation) offers quality earbuds that not only wireless stream music and make and receive calls but also that work well with popular virtual assistants Alexa, Siri, and Google Assistant. Echo Buds provide up to 5 hours of listening per charge and feature noise-canceling technology.
Those looking for a more affordable option that still provides a quality experience need to look no further than a pair of Soundcore Liberty Air 2. They are not the smallest option on the market but they offer noise-canceling technology, up to 7 hours of listening per charge, and they are anywhere from half to a quarter of the price of comparable earbuds. 
Enjoy Your Media Anywhere
So while you are discouraged from using your AirPods during take-off and landing to ensure you hear all-important flight and safety information you can generally listen to your music or movies with no issue. Just make sure to double-check your specific airline's rules and regulations and follow instructions from your flight attendants.
It can be difficult to decide which AirPods or other wireless earbuds to choose from with all the bells and whistles out there. Those featuring noise-canceling technology are recommended for air travelers as that feature can help drown out the noise of the plane, crying babies, or other distractions so you can listen to your media in peace.
More about our TFVG Author
A seasoned traveller, Dad, and avid sports tourist, James foundered The Family Vacation Guide to share his expert vacation experiences- especially when it comes to being a travelling family man.
Featured in Travel articles such as Travel + Leisure, TripSavvy and SFGate, you know you're reading some of the best vacation tips online.