Have you been thinking about taking a quick trip with your family for a nice, tropical getaway?
Puerto Rico and Costa Rica are both fabulous family vacation spots. They offer beaches, activities, culture, and history all in one area.
But when it comes to Costa Rica vs. Puerto Rico, which is better for families with kids?
Costa Rica vs. Puerto Rico
Costa Rica and Puerto Rico both have a wealth of natural beauty and cultural destinations to explore. From rainforests to mountains to caves, Puerto Rico and Costa Rica offer activities for every interest.
Costa Rica is best known for its rugged rainforests and stunning beaches. It's home to volcanoes, monkeys that like to hang out with hotel guests, and all other forms of tropical wildlife.
Puerto Rico is home to hilly provinces, caves, and gorgeous waterfalls. It also boasts the beautiful El Yunque rainforest. Its capital, San Juan, is famous for its colorful streets and Spanish colonial architecture.
Both places are also rich with Hispanic culture. So you'll be able to brush up on your Spanish, learn about the culture that makes each destination so unique, and taste some truly mind-blowing foods.
But what can you do with everything these vacation spots have to offer? Take a look at this epic list of things to do on your next family vacation in both of these sunny vacation spots.
Things to Do in Costa Rica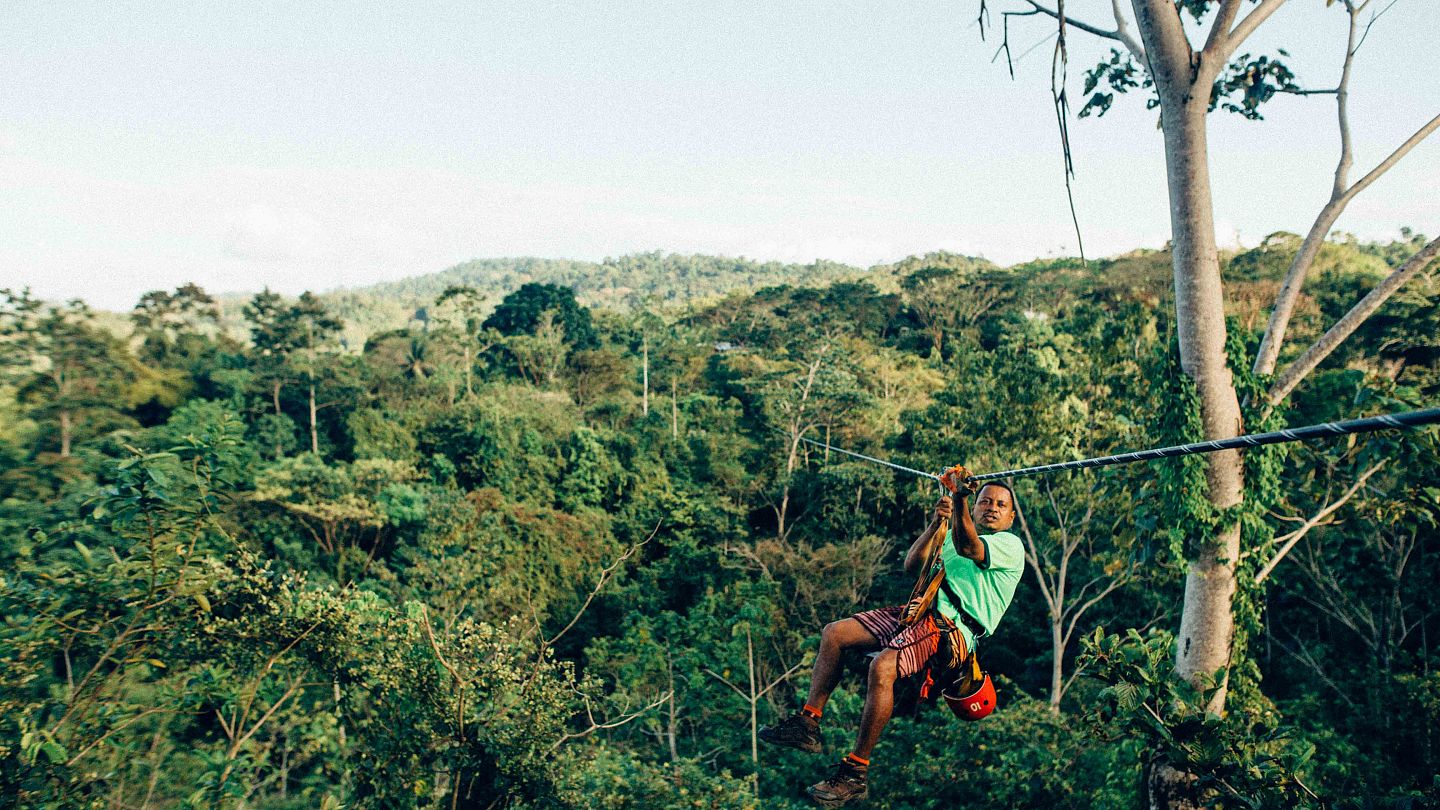 Costa Rica has a ton of options for kids and adults alike. If your family is into natural splendor, you can explore a volcano, take a canopy tour on a zip line, or check out one of the many national parks.
Or, if you're more into indoor activities, you'll find museums, animal sanctuaries, and conservatories that can fill up your day.
Arenal Volcano National Park
Nestled between the Tilarán and Guanacaste mountains, Arenal Volcano National Park is home to Costa Rica's two very own volcanoes. The smaller volcano, Chato, is inactive, and its crater now houses a beautiful lagoon.
The Arenal Volcano is still very much active. Back in 1968, the volcano erupted and has been churning ever since. Each day, you can see smoke coming from the peak, and at night, you can look up and watch as lava flows down the sides.
If you and your kids want to check out this natural wonder, make sure to take it in from the west, in the town of La Fortuna, because that's where the vent is.
La Paz Waterfall Gardens Nature Park
The scenery at La Paz Waterfall Gardens Nature Park is second to none. If you love waterfalls, serenity, and animals, this park will be an excellent stop for you and your family.
Your kids will love hanging out in the animal sanctuary, where they'll be able to see jungle cats, monkeys, reptiles, butterflies, and more. In addition, you can view the park's five massive waterfalls along its hiking trails.
The Waterfall Gardens is a great stop for kids of all ages, especially if you want to burn some energy. Between the hiking trails and animals, you'll be able to spend several hours enjoying the space.
Kids Saving the Rainforest
The Kids Saving the Rainforest wildlife sanctuary tour is the perfect opportunity for your kids to take in the Costa Rican rainforest and learn a bit about conservation in the process.
The coolest thing about the sanctuary is that it was founded by two nine-year-old girls for the sole purpose of educating people on the importance of rainforests. You can visit the sanctuary and learn about the many species of animals that live there. The best part is that all proceeds go toward caring for the animals.
If you want to go a step past visiting, you and your family could even volunteer for the day. The volunteer program is open for kids eight and above with parental supervision. There are quite a few steps involved, so be sure to take care of your volunteering reservations in advance.
Arenal Ecoglide Park
If your kids are on the adventurous side, you can take a tour of the rainforest canopy on Ecoglide's ziplines. The park offers 13 platforms and 11 cables ranging in length from 30 to 1,410 feet, along with a suspension bridge.
The Ecoglide Park is located near Arenal Volcano, just west of La Fortuna, so if you're visiting the volcanoes, you can make a canopy tour an easy stop. Ecoglide's tours take about two hours to complete.
Ecoglide offers several different canopy tour combos, so you'll be able to tailor your visit to what your family enjoys most.
Tortuguero National Park
Do you think your kids would enjoy checking out some nesting sea turtles? Then you should hop on a boat tour of Tortuguero National Park, where you can watch massive sea turtles emerge from the ocean.
Tours are at night, so this one may not work if your kids are younger. But for kids who have an interest in sea life or if you're looking for a fun nighttime activity, this one definitely takes the cake. The best time of year to visit is during nesting season, which is June through October.
Also, it's important to know that Tortuguero is very hot and rainy compared to other areas, so dress accordingly. You might consider throwing a poncho in your backpack in case a surprise rainstorm comes in.
Take Surf Lessons
Surfing is one of Costa Rica's top beach activities, so a trip there wouldn't be complete without a surf lesson or two. Tamarindo beach is one of the best places in the world to learn to surf, and you'll find a lot of highly-experienced instructors who can cater to any age.
This would be a fun activity for the whole family, or if you want to drop the kids off for an hour or two, you could do that and head on for some grown-up time in town.
Things to Do in Puerto Rico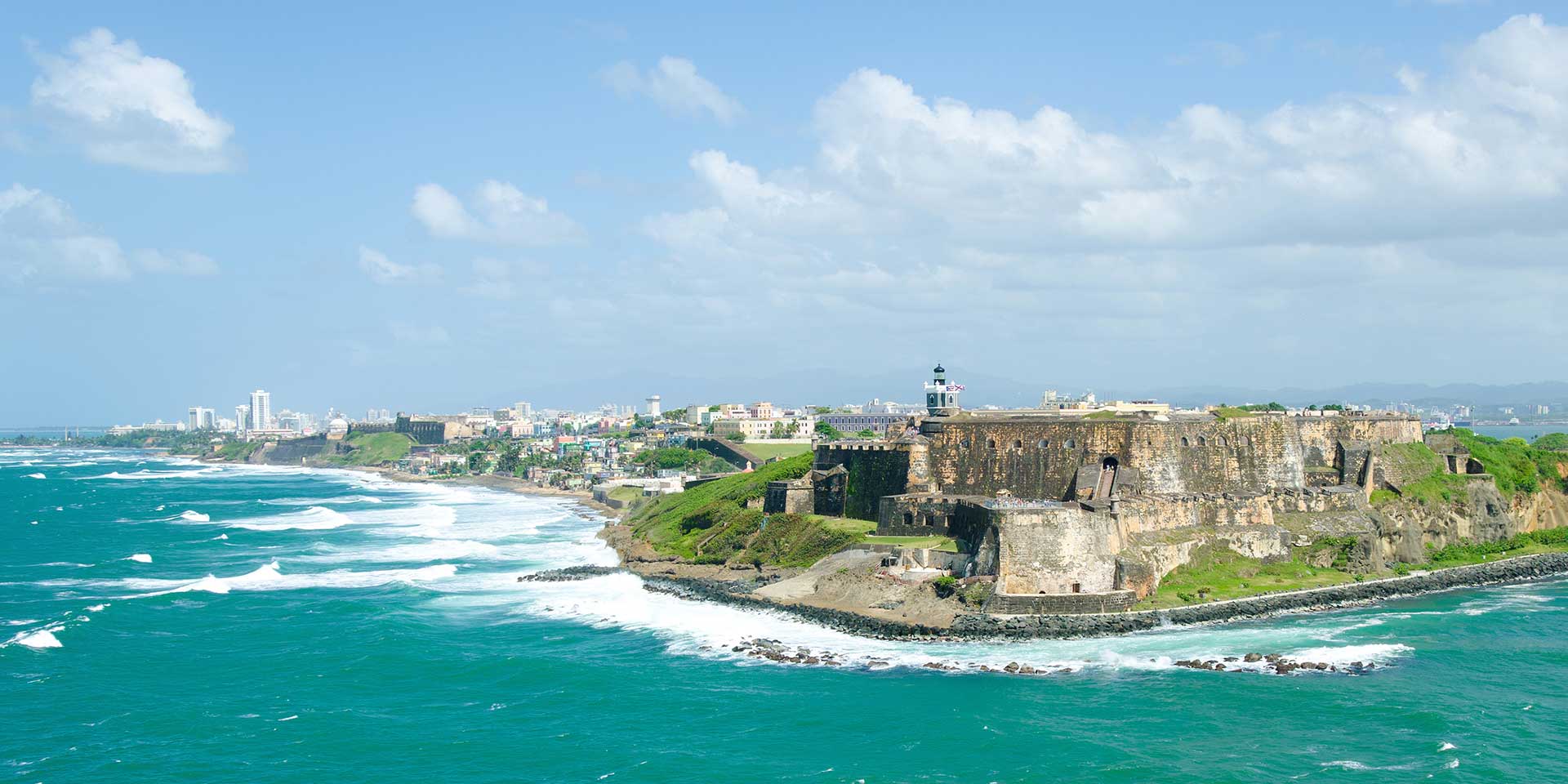 Puerto Rico is a small island located just west of the Virgin Islands in the Caribbean. It's known for its lush landscape, picturesque mountains, and vibrant historical settings.
There are so many options in Puerto Rico that it's difficult to narrow them down. However, here are a handful of activities you and your family will have a blast checking out.
Cabezas de San Juan Nature Preserve
The Cabezas de San Juan Nature Reserve located in Fajardo gives you access to some of the most diverse aspects of Puerto Rican ecosystems. You'll see a bioluminescent lagoon, coral reefs, beaches, and forests all tucked away in the northeastern section of the island.
Nighttime tours will show you the vibrant nature of the creatures that make themselves known in the dark, including frogs, insects, and the bioluminescent organisms that live in the Laguna Grande bay.
Parque de Bombas
When you're taking a tour of Ponce, be sure to stop off at the Parque de Bombas de Ponce or the Old Ponce Fire Station. After serving as the city's official firehouse for more than a century, the city retired it and converted it to a museum.
The firehouse has unique architecture that boasts the city's traditional colors of red and black. It's located in Ponce's central plaza, Las Delicias Plaza. If your kids are interested in firefighting, this is a great stop to add to your itinerary.
Hacienda Campo Rico
A family of adventurers will love the zip lining course located at Hacienda Campo Rico on the northern edge of the island in Carolina. The zip line course features five ziplines, five hanging canopy bridges, and a nature hike.
You can also opt for the rappelling course, which combines the thrill of cave rappelling with three ziplines and an ATV ride. This one is probably better for older kids, but it's a great way to enjoy the outdoors and get your blood pumping.
Tour Old San Juan
Old San Juan offers some of the most picturesque views and exciting history you can find in Puerto Rico's capital. You'll take in historic sites, including Fort San Cristobal, the Plaza de Armas, the San Juan Cathedral, and the city gates, among others.
A walking tour is an excellent way to get some exercise and learn about the local culture. You'll see where the city was born and learn about its fascinating history. It also has more than a few great photo ops.
Tanamá River Adventures
If you're in the Utuado area, you should check out Tanamá River Adventures, which offers many activities for adults and kids, including cave tubing, hiking coffee plantation fields, and swimming.
One of the most incredible activities you can do at Tanamá River Adventures is cave tubing. A guide will take you through the underground cave system on inner tubes, where you'll see ancient rock formations, fossils, and do some swimming or free jumping.
Arecibo Lighthouse and Historical Park
The Arecibo Lighthouse and Historical Park is a cultural theme park located in Arecibo. It has a little bit of everything and is suitable for kids of all ages.
You'll find scale models of Columbus' ships, replicas of slave living quarters, and a pirates' cave. There's also a splash zone, a zoo, a playground, and an aquarium if your kids aren't too into history.
And, of course, you can check out the Arecibo Lighthouse, a structure with more than 120 years' worth of history to explore.
Albergue Olímpico
The Albergue Olímpico is an Olympic training center in Salinas that also offers a water park, aviary, a botanical garden, and several playgrounds. It's also home to the Puerto Rican Sports Museum.
This is a great place to spend the bulk of your day. Your kids won't run out of activities to keep them entertained, and you won't have to worry about driving from one activity to the next all day long.
Lodging
Costa Rica and Puerto Rico both have some great options for lodging. However, when it comes to which is best for families with kids, it really comes down to what type of amenities you want and what features you want access to.
The best place for lodging in Puerto Rico is in San Juan, the island's capital. It has a wide array of family-friendly resorts and easy access to attractions, including beaches and historic Old San Juan. If you're aiming for guest houses or inns, you'll want to check out the southwest portion of the island. However, San Juan can make an excellent base for families.
Costa Rica offers a lot of off-the-beaten-path lodging options, along with places to stay within Costa Rica's national parks.
Costa Rica's most exciting lodging options are, without question, its treehouse hotels. There are several scattered around the small country, and each gives you beautiful views, a serene setting, and the likelihood of a few morning monkeys stopping by for a visit.
You could also stay at the resort in Arenal Volcano National Park, where you can wake up to a volcanic view each morning. Tortuga Lodge, accessed by boat, is another resort-style setting in the middle of the rainforest.
Best Time to Visit
One thing both Costa Rica and Puerto Rico have working against them is that hurricane season starts toward the end of summer, which is when a lot of people tend to travel since their kids are out of school.
Still, there are certain times of year that make each place unique.
Costa Rica
Costa Rica vacationers are at the mercy of a much longer, more severe rainy season than those going to Puerto Rico. It has a comfortable average temperature that sits just below 80 throughout the year, which is perfect for all those outdoor activities.
However, it also gets tropical-style rain, which can quickly put a damper on things, especially if you forgot to pack a poncho.
If you want to visit Costa Rica with the weather in your favor, head there during the dry season, from November through April. Costs are at a premium that time of year, but your risk of rain ruining your plans is pretty low. The rest of the year sees anywhere from nine to 13 inches of rain per month.
Your best chance of low crowds, pleasant temperatures, and minimal rain will be November. It's more of a shoulder month and isn't officially part of the dry season. You might still risk some rain showers, but if you're traveling on a budget or want smaller crowds, it's a good happy medium.
Puerto Rico
Puerto Rico's average daily temperature is in the mid-to-high eighties all year long, so no matter when you go, you'll have warm weather. The biggest thing you have to decide is how much rain you want to risk dealing with.
Puerto Rico's rainy season is pretty long. The worst months for rain are usually August through October, which is also hurricane season.
As for cost, Puerto Rico's prices are highest in the summer months, which is its busiest tourist time. However, March through June are generally the months that see the best weather.
The sweet spot for vacationing in Puerto Rico is March or April. March sees some of the lowest rainfall of the year and has an average daily temperature of 85 degrees. It's also not a busy tourist time. Combine all of that, and you have off-season prices with ideal vacation weather.
Your next best option is April. You'll see slightly more rain, but prices will still be reasonable. Just remember that Spring Break is usually in April, so that week will cost significantly more and be more crowded.
Getting Around
Getting around will be a top priority no matter which place you visit. Neither destination is a "park your car and walk" type of place unless you're in the capital. So you'll need to figure out exactly how you'll get to and from each destination.
Your best option, whichever you choose, is to rent a car. Then, you'll be able to come and go as you please and reach the more remote destinations in both spots. Plus, you won't have to worry about paying for public transportation each trip.
Public transportation is an option in Costa Rica and Puerto Rico, although it's quite minimal. Puerto Rico's metro system, Tren Urbano, will take you to and from San Juan, Guaynabo, and Bayamón.
The most important thing to remember when renting a vehicle in Costa Rica is that many roads are unpaved or are in poor condition. So, consider renting a four-wheel-drive vehicle to keep you safe from potholes and other bumps.
The Winner
When it comes to the best family vacation spot with kids, the winner is Puerto Rico. There's a ton to do for kids of all ages, it doesn't take long to get to most places, and the rainy season isn't nearly as bad as Costa Rica. Both have their good qualities, though, so no matter which one you choose, you'll be sure to make some great memories that'll last a lifetime.
More about our TFVG Author
Caitlin is one of The Family Vacation Guide's long standing contributors. She enjoys taking vacation to busy, vibrant cities and has stretched her traveling legs out towards Europe in recent months, enjoying new experiences in Barcelona in Spain, and Nice in France.