Pizza is known as a New York City classic. You will see plenty of stands and shops lining the streets, selling it by the slice. Getting some pizza during your stay in New York is almost a requirement. But how do you know which place is worth trying? Let's find out!
If you are visiting New York for the first time or are a seasoned local, you want to make the most of your visit and try the best pizza available to you in the area. Take in the beautiful sights of Times Square while you eat your cheesy, greasy slice of heaven.
The first pizza shop to top our list is Carnegie Pizza, a small but featured staple in Times Square for some quality New York City pizza. The shop is unassuming and small but offers big, bold flavours perfect to represent what great pizza should taste. Carnegie is located just a few blocks from Main Street, right in the heart of Times Square.
Carnegie's pizza speaks for itself, and it is even featured nationwide on Gold Belly, a website listing some of the best gourmet foods. People are raving about vodka pizza, chunky eggplant parmesan pizza, and classic pepperoni pizza with fresh, soft dough made to order.
Carnegie Pizza has great reviews not only because of the tasty food but also the atmosphere. In this smaller, lesser-known pizza joint, you can avoid the large New York City crowds and lines.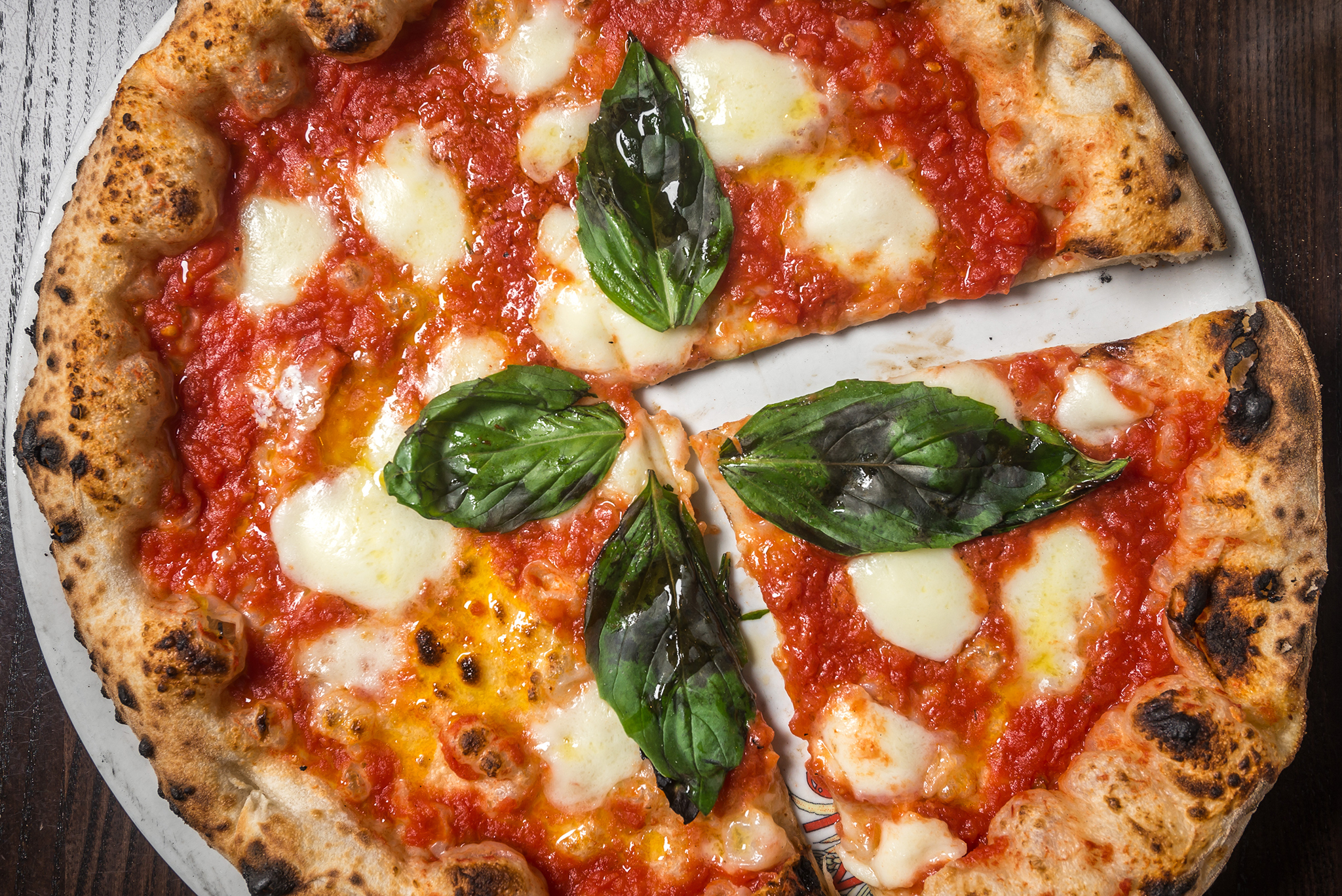 The next stop on our list is a better-known location, as there are multiple Ray's Pizza locations throughout the city. The chain started in 1964 and has been serving fresh slices near Central Park for decades. It is the perfect option for tourists and visitors seeking to try a pizza at a tried and true New York City staple.
Four famous Ray's Pizza locations exist in different spots in Manhattan alone, making it one of the big players in the city's pizza market. The famous Ray's crust is thin and crispy, following the authentic Sicilian recipe.
Over the years, many knockoff restaurants tried to claim to be Ray's Pizza but were using the name for recognition. Ray's Pizza is a well-known name across the country. When you think of New York pizza, you often think of Ray's.
Right in the heart of the theatre district is John's pizza place, offering freshly made pizzas that are perfect for the family. Stop by and enjoy a fresh slice after catching a Broadway show or stop by for a quick bite on your way to your next show.
Guests are raving over the garlic knots and sizes of the pies, so keep in mind that one or two slices are more than enough for one person when you visit.
The building seems pretty drab from the outside, but as you explore the inside, you will discover the location is rich in history. At the back of the restaurant, you can find what used to be a gospel tabernacle. It has since been converted. John's is a perfect gem to uncover during your stay in the city.
As 99 Cent Fresh Pizza's name implies, it is the perfect stop for a quality dollar slice of New York pizza. If you happen to be in a rush, making a stop here instead of going to a sit-down restaurant is a great idea. You will get your food fast and enjoy a delicious slice of pizza.
The pizza shop has been around for a while. Because it is a favourite amongst locals looking for a late-night slice or even a bite on their way to work during rush hour, it has a large following. Sometimes, the cheapest option can also be one of the best tasting options!
Kiss My Slice is located in the middle of Manhattan and is an authentic New York City pizzeria offering up many different types of pizza. From spicy Buffalo chicken to pico de gallo pizza, from thin crust to deep dish, this location offers lots of variety.
Kiss My Slice has only been open for about six years but is highly rated and reviewed by many customers, both locals and tourists. Many nearby hotels and Airbnb owners recommend this newer pizza joint to their guests to give them the best possible experience in the city.
Another pizza joint located in the heart of the theatre district is Patzeria, which offers a great deal on many different items, including fresh, piping hot pizza. Patzeria has the advantage of being right next door to a few hotels, making it a go-to for tourists and guests to grab a quick slice before heading up to their room to conclude their evening.
Choose from a slice of lasagna pizza, Alfredo pizza, or classic fresh Italian fare pizza with fresh mozzarella and fresh chopped basil. Patzeria is open for breakfast, lunch, and dinner, giving you many chances to visit. It offers many different types of foods other than pizza, such as breakfast food and sandwiches for lunch.
Patzeria's pizza is by far the highlight of the place. It deserves its place on this list as a frontrunner in the pizza-making arena.
The name of this next choice comes from its founder, Amadeus. Arriving in America in the mid-1980s from Italy, he opened a deli that became popular for its sandwiches and fast service. All he wanted was to open a pizza joint, so he did just that in 1994.
Now, Famous Amadeus is a New York Original pizza joint, known for its crazy fast and fresh pies. The pizza place stays open late, giving you the chance to get that late-night slice in after a long day's work or a long evening of fun.
It uses old-school preparation methods and hand rolling, kneading, and tossing the dough. The pizza flavour is reminiscent of authentic Italian pizza from the homeland, and the quality is unmatched.
Prepare for the gooiest, cheesiest, and greasiest pizza experience, as the food speaks for itself. The place is not fancy, as it does not need to make up for quality in other ways other than the food. So, if you are looking for a no-frills, matter-of-fact pizza on a paper plate joint, look no further.
Unregular pizza is just as unregular and unique as the name implies. This pizza joint strives to be different and does a great job. Have you ever dreamed of fried chicken on your pizza? No? Well, you have now, and it tastes even better than you thought it did!
One of the main highlights of this shop is that they have an entire section of Burrata pizzas (also known as BurraPizzas), which are pizzas that feature a juicy glob of cheese on top. Burrata cheese is Italian cow milk cheese that has a particularly delicate and sweet taste. You can order multiple Burrata pizza options or choose from the other options on the weird and crazy menu.
Other highlights of the menu include the classic Diavola pizza, but with spicy hot honey drizzled on top, the all-mushroom pizza, and the all-meatball pizza featuring different types of meats. The restaurant offers vegan options.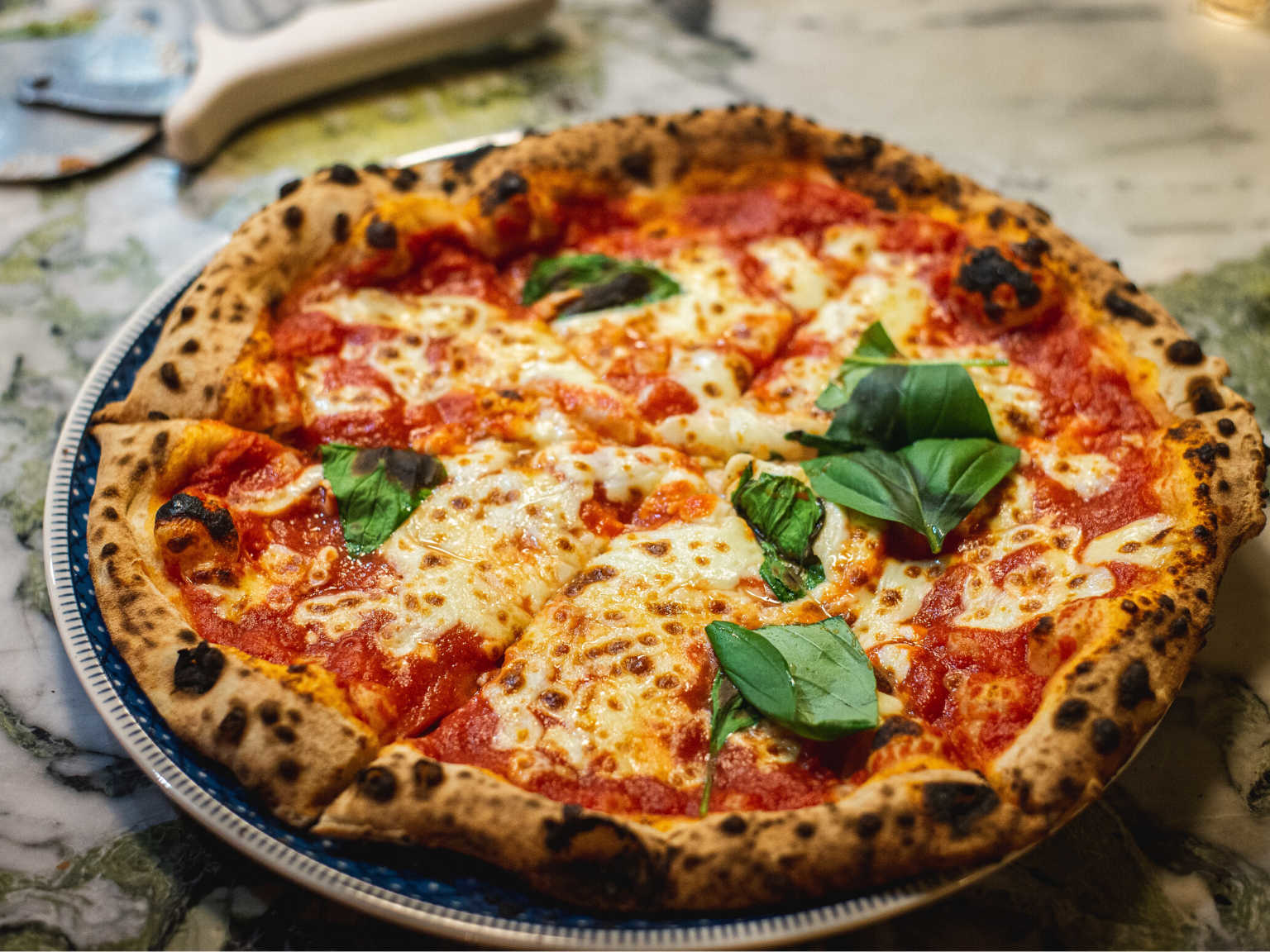 Another exciting option for some authentic Italian pizza is Champion Pizza, founded by owner Hakki, who happens to be a world champion of pizza aerobics. You will see the walls lined with awards and medals for its great-tasting pizza and lines of pictures of celebrities who have visited the location and enjoyed a slice.
You can rest assured you are getting quality New York pizza at a great price.
Whether you get a square pizza, a "grandma" pizza (a term for a thin crust Sicilian type of pizza), or just a slice, you cannot go wrong with this place. From Margherita to White Pesto to Quattro Formaggi for cheese lovers, this pizza joint does not disappoint!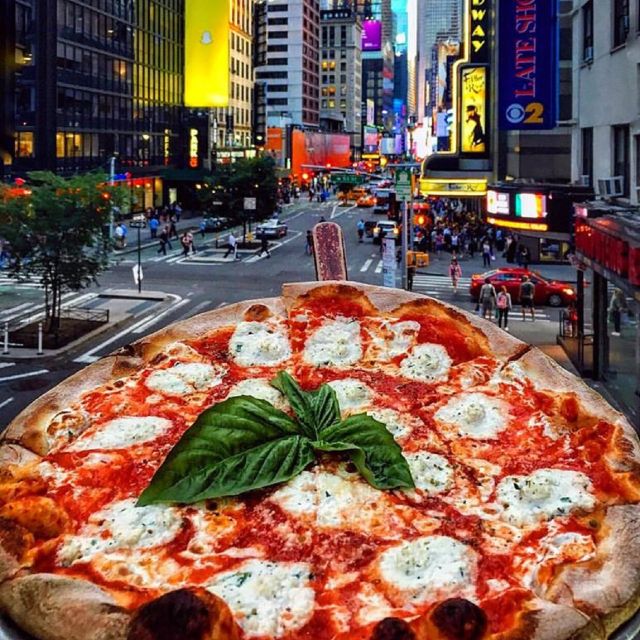 This New York classic was born when the founder began baking pizzas in the 1930s and decided to open his wood-fired pizza shop. Angelo's is a favourite among locals and visitors alike for its unique flavour, authentic crust, and unique style.
The city has very few locations that offer traditional New York-style wood-fired pizza, and Angelo's pies are some of the best available.
The tomato sauce is freshly made daily, along with all of the quality ingredients that the restaurant uses. One small pie is large enough for two to share and is perfect for a date night.
With whole ingredients baked fresh to order, this pizza shop is a good place to visit and will not disappoint. Having pizza while on vacation in New York City is pretty much a requirement, and if you are looking for one of the best, Angelo's lives up to the hype.
Final Thoughts
Whether you choose to visit all ten pizza places or just one, you are guaranteed to be happy with your choice. New York has some of the best pizza places in the country, and Times Square is no different. Go for a traditional pizza or get as "unregular" as you wish with your choice!
Want to learn more about how to have the best New York City trip EVER? Check out the articles linked below:
More about our TFVG Author
Caitlin is one of The Family Vacation Guide's long standing contributors. She enjoys taking vacation to busy, vibrant cities and has stretched her traveling legs out towards Europe in recent months, enjoying new experiences in Barcelona in Spain, and Nice in France.