SeaWorld San Antonio is an incredible theme park and attraction in Texas that attracts the attention not only of children but also of adults. That's not strange, considering this park has many activities for everyone regardless of their age.
SeaWorld San Antonio offers many kid-friendly rides, like the Super Grover's Box Car Derby and the Rio Loco. But adults can also enjoy thrilling rides and rollercoasters filled with plenty of 360-degree flips and loops.
That's not nearly all. You can interact with penguins, dolphins, and sea lions or even participate in animal tours. You can visit the habitats of animals such as alligators and flamingos and learn more about them through educational presentations.
However, you probably know these things and know that to do all of this, you need comfortable accommodation near SeaWorld. Well, don't worry. Below are 6 of the best hotels near SeaWorld San Antonio that have everything you'll need for your stay, whether you're going alone or with your family.
Revealed: The Best Hotels Near SeaWorld San Antonio
9800 Hyatt Resort Drive, San Antonio, Texas, 78251, USA
210-647-1234
4.5/5 (TripAdvisor)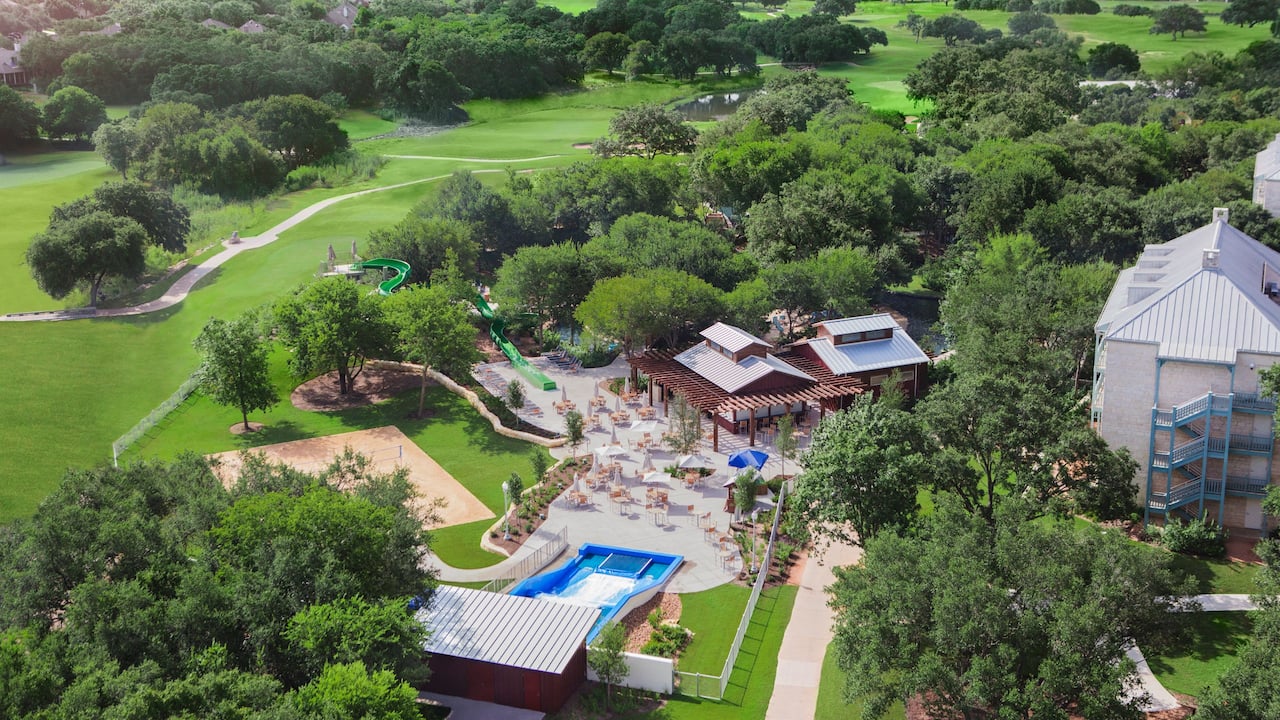 The first hotel worth mentioning is the Hyatt Regency Hill Country Resort, wrapped in greenery. It has many restaurants and bars on-site, and even one restaurant to-go, so the delicious foods are just a few minutes away. There are dog-friendly rooms available; if you ask, you'll get everything you need for your dog.
Equally important to mention is that this hotel has plenty of accessibility features so everyone can feel comfortable. The accessible parking, rooms, and different hotel areas will make the stay easy for anyone with some kind of disability. Of course, SeaWorld San Antonio is only a seven-minute drive away from Hyatt.
Accommodation
The Hyatt Regency has 500 comfortable rooms, including 58 family-friendly suites. There are rooms with comfy king beds, double beds, a patio or balcony, and ADA showers. They all have flat-screen HDTVs, coffeemakers, mini-fridges, and in-room safes.
The suites are great if you're planning a family trip, as they have all the essentials but are bigger and provide more privacy.
Hotel amenities
5-Acre Water Park
On-site restaurants and bars
Hill Country, 27-hole golf club
Indoor and outdoor event space
Windflower spa
Pool
24-hour fitness center
Business center
More details
10919 Town Center Drive, San Antonio, Texas, 78251, USA
210-767-1100
4/5 (TripAdvisor)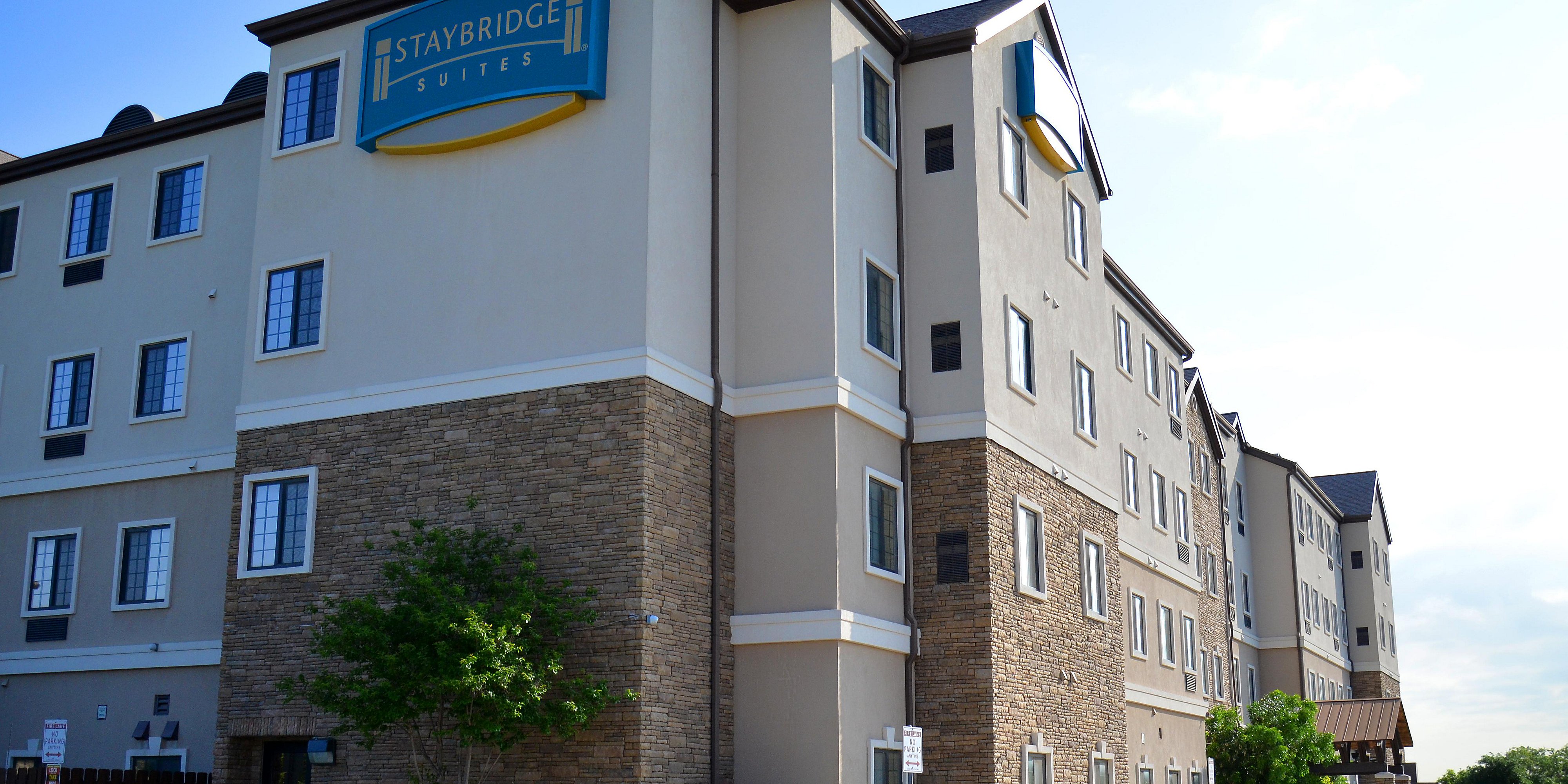 The Staybridge Suites is the closest hotel to the San Antonio SeaWorld, with plenty of spacious rooms equipped with all the necessities. SeaWorld is a five minutes drive or 25-minute walk, so either way, it's very close.
Additionally, you can use the shuttle service on the weekends. You just need to consult the front desk about the schedule.
Moreover, this hotel allows pets and service animals and has a pet walking area. So, you can easily bring up to two pets with you by paying an additional fee.
Accommodation
This hotel has 98 non-smoking guest suites on four floors and seven accessible suites. The suites are renovated and very cozy, with fully equipped kitchens. They also have flat-screen TVs, a radio, and free Wi-Fi.
The suites in Staybridge also have a work desk with a lamp and a two-line phone, where you can do your work and stay connected.
Hotel amenities
Delicious complimentary breakfast
Fully equipped 24-hour fitness center
On-site business center open 24 hours
Accessible rooms and pool
Visual alarm/alert in guest rooms
Outdoor heated pool
Daily housekeeping
On-site guest self-laundry facilities
Free parking
Shuttle service
More details
1605 TX-151, San Antonio, Texas, 78251, USA
210-509-3700
4/5 (TripAdvisor)
Courtyard by Marriott is another one of the hotels near SeaWorld San Antonio that offers high-quality services. If you decide to book your stay here, you'll be only a six minutes drive away from SeaWorld.
The Courtyard is smoke-free, so it's a great choice if you plan to stay with your kids. Also, the bistro, the lounge on-site, and the nearby restaurants allow you to eat something different every day.
Accommodation
The first thing you'll notice is that the rooms and the suites in the Courtyard have bright colors, lots of light, and king and queen beds with plush pillows and comfortable mattresses. The private bathrooms have a hair dryer, and the kitchens have a mini fridge.
The LCD TV in your room will keep you entertained, and the large desk, the ergonomic chair, and the free access to the Internet are more than enough if you have some work to do.
Hotel amenities
Fitness center with 24-hour access
Bistro and a lounge on-site
Indoor and outdoor heated swimming pool
Hot tub
Complimentary internet access
Space for meetings and events
More details
10015 Westover Hills Blvd, San Antonio, Texas, 78251, USA
210-520-0441
4.5/5 (TripAdvisor)
The TownePlace Suites is a five-minute drive from SeaWorld San Antonio and a family-friendly hotel. Even more important to mention is that if you're traveling with babies, everything worth seeing in San Antonio will be close to you.
Also, this hotel is pet-friendly, so you can bring your furry friends with you. The modern and stylish accommodations will win you over, so let's see everything else that'll make your stay in this hotel unforgettable.
Accommodation
You can book a studio equipped with two queen beds, a studio with one king bed plus a sofa, or a one-bedroom suite. The rooms have striking colors and are light and airy.
No matter the type of room you'll choose to stay in, you should know that they all have a fully equipped kitchen, LED TVs with access to premium movie channels, and a spacious living area.
Equally important, this hotel has ADA-accessible hotel rooms and suites that are welcoming to everyone.
Hotel amenities
Free buffet and delicious hot breakfast
Free tea and coffee
Dry cleaning service
Fitness center
Outdoor pool
Complimentary on-site parking
More details
9800 Westover Hills Blvd, San Antonio, Texas, 78251, USA
210-509-9800
4/5 (TripAdvisor)
The Hilton San Antonio Hill Country is one of the best hotels near SeaWorld San Antonio because first, it's only a five-minute drive from SeaWorld, and second, it's family-friendly.
With this being said, if you're planning on coming here with your kids, know there are many things this hotel provides for fun with the whole family. The giant table games and the movie nights by the fire pit will provide you with a high-quality time with your family.
This hotel has three outdoor pools, one for kids, which is amazing, but there's also a whirlpool to make your stay even more relaxing.
Furthermore, you can dine inside or outside or even by the pool. An important thing to know about this hotel is that it's not pet-friendly, but that can be an advantage if you're allergic.
Accommodation
The modern yet cozy rooms at the Hilton San Antonio Hill Country have comfortable beds and LCD TVs. Some of them can accommodate two people, and some of them up to four.
The suites of this hotel are also amazing, but they're bigger. So, if you're planning to stay in this hotel with your family, make sure to book a suite so everyone can have the space they need. The suites have work desks, rainforest showers, and everything to provide you with a relaxing stay.
Hotel amenities
Fitness center
Business center
Meeting rooms
On-site restaurant
Three outdoor pools
More details
9700 Military Dr W, San Antonio, Texas, 78251, USA
210-647-9300
4.5/5 (TripAdvisor)
If you're up for a bit different and more natural accommodation, the Hyatt Residence Club San Antonio, Wild Oak Ranch will be the perfect place for you. Located just a ten-minute drive from SeaWorld, you can quickly visit the park anytime you feel like it.
The combination of limestone and rustic wood makes this ranch warm and welcoming. The furnishing is comfortable, and you'll have everything for a peaceful stay. More importantly, this is a highly accessible hotel for people with disabilities and older people.
Accommodation
The Wild Oak Ranch has rooms with one, two, or three bedrooms, so whether you're coming with your partner or with the whole family, you'll always find suitable accommodation here.
The rooms are bright and spacious, with leather furnishing and a furnished private patio or balcony. Besides these rooms, you can also book a studio apartment, which can easily accommodate four people.
Hotel amenities
Indoor/outdoor heated family pool with waterslides
Fitness and business center
Spa
Free self-parking
On-site restaurant
More details
Conclusion
Knowing the best hotels near SeaWorld San Antonio should make planning your trip to Texas a lot easier. Now as you've discovered them and everything they offer, you can easily decide which one to book.
Surely, you'll have a great time visiting SeaWorld San Antonio and experiencing everything this city offers.
Therefore, book the room you like best while it's still available, and start getting ready for an amazing trip!
More about our TFVG Author
Caitlin is one of The Family Vacation Guide's long standing contributors. She enjoys taking vacation to busy, vibrant cities and has stretched her traveling legs out towards Europe in recent months, enjoying new experiences in Barcelona in Spain, and Nice in France.