Wondering what to bring on vacation? Packing can be difficult, especially if you are traveling with a big family. When preparing to board your vacation flight, it is essential to be familiar with the airline's specific baggage guidelines to make your family's travel as seamless as possible.
If you and your family are flying with Delta Airlines for your vacation, you need to be aware of what you can and cannot bring to avoid issues at the gate. Delta Airlines may have policies you aren't familiar with that could result in unnecessary vacation stressors.
Here's our guide to everything you need to know about Delta carry-on size, fees, and limits. Read before you hop on board!
Delta Carry On Policy & Checked Bags 
Delta carry-on policy states that each passenger is allowed one carry-on item and one personal item at no additional cost. These items must fall under the size restrictions and contain no restricted objects. You also have the option to check your bags.
If you are a traveler flying within the U.S. in the Main Cabin seat without any of Delta's listed exemptions, your first checked bag under 50 lbs will cost you $30, and your second $40, each way.
These fees apply only to Basic Economy, Economy, and Delta Comfort+ passengers. If you upgrade to first class, Delta Premium Select, or Delta One, you will get two free checked bags with a weight limit of 70 pounds.
Delta Skymiles Medallion members are also eligible for significant exemptions. One of the most notable is the waived fee for members' first checked bag. In addition, if you are a member traveling with family, up to 8 people traveling through your reservation also get a free checked bag.
If you are a cardholder of the Delta SkyMiles® Gold American Express Card or higher, you and up to eight others included in the reservation will enjoy a free checked bag.
Active military personnel also enjoy exemptions from the baggage policy. For example, baggage fees for their first two bags under 50 lbs are waived if traveling for personal reasons. More specific information on these exemptions is available on Delta's website.
Checking your bags is your best option if you have any of these exemptions, multiple bags, or overweight bags.
Carry on Bags
Checking bags can be expensive, especially if you are traveling with your family. Bringing carry-on items is free as long as they follow the requirements. Your carry-on bag must be able to fit in the overhead bin or underneath the chair in front of you.
Size Restrictions
Delta carry-on size must fall within these parameters:
The baggage's combined length + width + height must be less than 45 linear inches.
The individual length, width & height must be less than 22 by 14 by 9 inches.
Any handles and wheels on the luggage are included in these measurements.
Weight Restrictions
There is no maximum weight restriction for Delta carry-on baggage, except for in these locations:
At Changi International Airport (SIN) in Singapore, carry-on baggage must be less than 15 lbs.
At Beijing Capital International Airport (PEK) in Beijing, China, domestic carry-on bags must be less than 22 lbs. Individual airline rules apply internationally.
At Pudong International Airport (PVG) in Shanghai, China, carry-on must be less than 22 lbs.
Personal Item
Delta also allows passengers to travel with one free personal item, as well as items that are free to carry on in addition to your usual carry-on items.
Delta carry-on size restrictions list these personal items as examples:
Purses
Briefcases
Backpacks 
Camera Bags
Diaper Bags
Laptop Bag
1 item of smaller or similar size

Free Carry-On Items
Delta allows passengers to carry on the following items at no extra cost in addition to other carry-on items:
Jacket
Umbrella
Any food and drink purchased past the TSA checkpoint
Duty-free items
Special items such as strollers, wheelchairs, child safety seats, & assistive devices
What To Bring In Your Carry on Bag
There are a wide variety of items allowed in your carry-on bags. However, there are some limitations on items that pose risks to the safety of passengers. You can read more about the dangers of these items on the Federal Aviation Administration's site.
Liquids
Delta airlines follow TSA restrictions for carry-on items such as liquids, pastes, aerosols, and gels, so it's best to pack larger items like this in your checked baggage.
All liquids, gels, pastes, and aerosols must be in a container 3.4 ounces or smaller.
All liquids must be in a resealable quart-sized clear plastic bag that is removed from bags and screened during security. 
Beverages bought past TSA checkpoints are not included in these restrictions.
Special screening procedures and exceptions are in place for items such as medication, formula, breast milk, etc.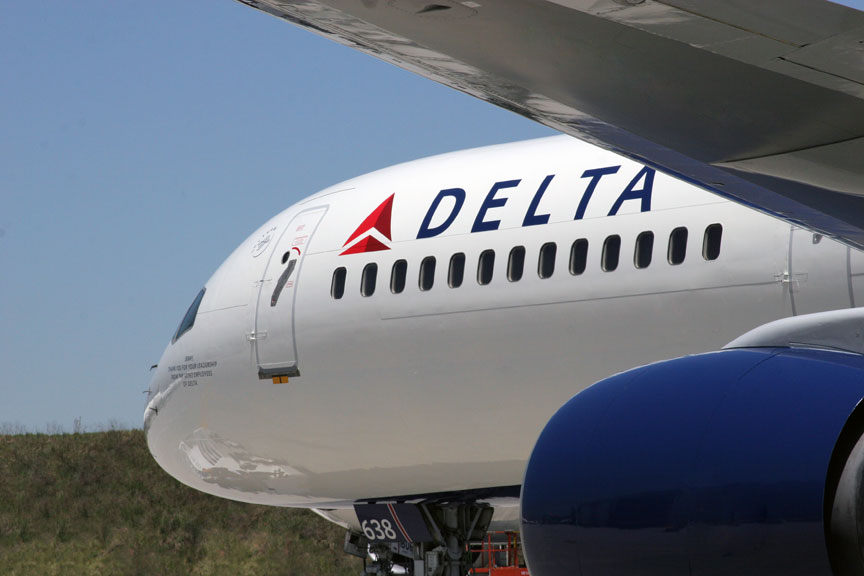 Carry On Bags & Infants
Infants traveling on an adult's lap, or unticketed infants, do not have baggage allowance. However, their bags count as a part of the ticketed adult's allowance.
Infant seats, breast pumps, associated cooler bags, and bassinets may be brought for free in addition to any other carry-on items you may have. You can check strollers and car seats for free at the ticket counter, the gate, or curbside.
Pets
Bringing a pet? Delta carry-on size requirements state that small dogs, cats, and household birds are allowed to travel with you in the cabin for a fee that is collected during the check-in process.
Pets larger than that are to be shipped. Your pet will count as your one carry-on item for an additional cost. The requirements are as follows:
You must pay a 95$ fee each way if you are traveling in the US, Canada, Puerto Rico, or the U.S. Virgin Islands.
You must pay a 200$ fee if you are flying internationally.
Pets must be ten weeks or older to travel domestically, 16 weeks or older if flying from another location into the U.S., and 15 weeks or older if flying into the E.U.
Pets must be able to fit in a small, leak-proof, ventilated pet carrier that you can fit under the seat in front of you.
One pet is allowed per carrier with exemptions.
Female dogs and cats are allowed to travel with their litter if they are between 10 weeks and 6 months of age.
Two compatible pets that fit into one kennel that are the same size and breed, aged between 10 weeks and 6 months.
Pets must remain inside of their carrier for the duration of the flight.
There are specific regulations in place as set by the USDA and the airline itself, so be sure to familiarize yourself with how to keep your pet happy and healthy on board.
Delta Duty-Free Items
If you are traveling to a country with a duty-free program and purchase items sealed in clear plastic bags, you can travel with those items in your carry-on at no additional cost.
However, if you change flights in a country without a duty-free program, place them in your checked baggage to avoid confiscation.
Special Items
Delta carry-on size restrictions have exemptions for what the airline calls "special items." These items do not meet Delta carry-on size requirements or dimensions, but they are allowed to fly with you.
Strollers and children's seats
Medical equipment
Sports equipment
Perishable items
Musical instruments
Imported merchandise
Your special items each count as one bag, and depending on the size, you may be able to bring it on as a carry-on item. Additional fees may apply for oversized items.
Restricted Items
According to the TSA, the following items are not allowed to fly in your carry-on bags. You can find information on the dangers posed by these items on aircrafts on the TSA's webpage and the DHS website.
Bleach, drain cleaners, or pesticides
Fireworks or explosives
Aerosol products
Gunpowder
Mace, pepper spray, and bear deterrent
Torch or blue flame lighters
Lighter refills
Fuels
Paints and stains
Lubricants, such as transmission oils and motor oil
"Strike-anywhere" matches
Meals Ready to Eat (MREs)
Hoverboards and balance gliders
Motorized riding suitcases that use lithium or lithium-ion batteries
Sharp objects like knives and box cutters
Items with refrigerants such as air conditioners, freezers, or dehumidifiers
Delta Carry-on Connecting Flight Restrictions
If you are flying on a Delta Connection Flight, you can only bring a personal item on board due to the aircraft's smaller size. However, Delta will allow you to check any carry-on bags at the gate without charge in this case.
Checking Bags at the Gate
If your luggage exceeds the Delta carry-on size requirements, you will likely have to check it at the gate.
If this happens, you won't have to pay a gate checking fee, but you will have to pay the cost of a checked bag ($30 for your first bag, $40 for your second). So be sure to check that your bags meet the size restrictions before heading to the airport.
Conclusion
So how can you avoid extra baggage fees? Stay up-to-date with Delta's baggage restrictions and pack accordingly. If you are ever unsure about whether your bag qualifies as a carry-on, Delta staff will be happy to help.
More about our TFVG Author
A seasoned traveller, Dad, and avid sports tourist, James foundered The Family Vacation Guide to share his expert vacation experiences- especially when it comes to being a travelling family man.
Featured in Travel articles such as Travel + Leisure, TripSavvy and SFGate, you know you're reading some of the best vacation tips online.