Planning a Disney dream vacation is oodles of fun, but there are so many options, making it more difficult. One of the biggest decisions is which Disney destination to visit. What's better for your family: a Disney cruise or a trip to Walt Disney World in central Florida?
The truth is that both potential vacations have lots of pluses. Below, we've broken them down into five categories. The good news is that whichever you choose, you're guaranteed to have a fantastic time!
Planning and Booking
The experience of booking and planning your vacations is very different between a Disney cruise and Walt Disney World, mainly because the cruise is all-inclusive and Disney World is not.
Walt Disney World
When you plan and book a Disney World vacation, you have a lot of decisions to make. What's more, you have to be seriously on top of everything if you want the best experience possible.
Once you choose your dates, you have to decide on where to stay. Disney operates 25 different options for accommodations, and there are literally hundreds of "off-property" hotels in the vicinity from which to choose.
Then, you have to decide on park tickets. How many days do you want to visit the parks? Do you want to add the Park Hopper Option to visit more than one park per day? What about the waterparks or sports complex?
Once you make those choices, you have to buy the tickets and make your park reservations as far in advance as possible, lest the parks you want to visit sell out for the day. We also recommend doing some advance planning around what rides and attractions you want to experience before visiting. That can provide some direction to your experience in the parks.
Don't forget about dining! As of January 2022, Disney has not reinstated its dining plans. Still, if you want to eat in any of the restaurants, we strongly recommend making reservations; many are very popular and will book up months in advance (dining reservations open 180 days in advance).
What is more, you have to budget for each of these things separately, in addition to souvenir shopping, unique experiences, and other incidental costs.
All of this being said, some people are natural planners and enjoy that part of the experience. If that's you, then you'll love all the work that goes into planning your Walt Disney World vacation. After all, it can be a lot of fun.
Disney Cruise
When it comes to booking your trip and planning everything you'll do, a Disney cruise is easier. Your most significant decisions happen upfront when choosing which cruise itinerary you want to take and which ship you want to sail. That dictates your ports-of-call as well as the available activities.
You should also decide ahead of time whether you want to take excursions at your ports-of-call or what you want to do during your days there. You don't have to plan tours, and sometimes it's fun to wander around and explore. But if you're looking for adventure–whether it's seeing ancient ruins or scuba diving–you'll need to do some planning.
Some other activities and experiences onboard Disney cruises also require reservations. There are restaurants where reservations are strongly recommended (including character dining), as well as childcare, spa treatments, and more.
However, the majority of your time at sea will be much more relaxed and go-with-the-flow. Your family will enjoy the luxury of waking up and deciding then and there what they want to do, which can be a welcome change of pace from your busy lifestyle at home.
Entertainment and Things to Do
There is a lot to do on both a Disney cruise and a Disney World vacation, although the activities are very different.
Walt Disney World
In Walt Disney World, the main thing to do is the theme parks. Disney World has four parks – Hollywood Studios, Epcot, Magic Kingdom, and Animal Kingdom – and each is packed with rides, attractions, entertainment, and more. They have activities for kids and grown-ups of all ages, from thrill rides to character meet-and-greets to shows and parades.
Disney World is also home to two waterparks, Typhoon Lagoon and Blizzard Beach, with state-of-the-art slides and water attractions. They have a massive dining, entertainment, and shopping district called Disney Springs with hundreds of stores, eateries, bars, and more.
As mentioned above, Disney World also has 25 hotels and other accommodation options. All of which have swimming pools and other family-friendly activities, such as outdoor movies at night, games, and much more. Finally, sports fans can enjoy the Disney ESPN Wide World of Sports and multiple miniature and regular golf courses.
Disney Cruise
Many of the activities you'll find onboard a Disney cruise are similar to those on any cruise ship. Disney Cruise Line has five ships, Dream, Fantasy, Magic, Wish, and Wonder. Each has unique offerings, and we recommend exploring each of them in-depth.
Generally speaking, though, each of the ships has some similar features. They all have multiple swimming pools and water activities, including slides, splash pads, and even surfing or wakeboarding experiences.
There is a spa on every ship with a range of treatments. Each ship has specific areas and activities for kids of various ages and adults. There are kids' clubs where parents can drop their little ones to enjoy adult time at bars and lounges.
There is also live entertainment on each ship, and every boat does fireworks at sea and character experiences. You need to book some of these in advance. However, many do not require reservations, adding to the relaxed atmosphere on board.
Food
The food and dining situations in Walt Disney World and aboard a Disney cruise are very different, as you might expect. Let's take a closer look.
Walt Disney World
On land in Disney World, the dining options are virtually endless. There are restaurants for just about every cuisine and so many themes. These include Japanese, Moroccan, regional Italian, African, Mexican, and so much more.
In addition, enjoy dining with princesses, Mickey Mouse and friends, a Hawaiian luau, an Old West show, and so on. No matter what you're craving, you'll probably find it somewhere in Disney World.
Not to mention, there are multiple dining styles. You can stay in a villa and cook for yourselves. There are quick serve, casual sit-down restaurants, formal dining, and endless snack options everywhere. Of course, all of these choices can be overwhelming, and it plays into how much planning you need to do.
Disney Cruise
Because the cruise ship is a contained environment, there are fewer choices, but that doesn't mean the quality or quantity is lesser. In fact, guests rave about the dining options and food quality onboard Disney cruises.
In addition, there is a lot of variety. You can find all of the basics and some creative options at the buffets and restaurants, and each of the ships has multiple restaurants and dining options.
While the dining options might be fewer onboard a cruise ship, one of the significant benefits (which ties into our subsequent discussion) is that the food is all-inclusive (mostly) and all you can eat!
No need to worry whether your kids will only eat a few bites of their appetizer or whether they'll like the entree they want to try; you can have it all! That also means that not everyone in your family needs to agree on where to eat. Everyone can get exactly what they want.
Prices and Costs
In truth, it's difficult to compare the costs of the two options because there are so many ways to tweak both vacations. Still, there are some significant points to cover.
Walt Disney World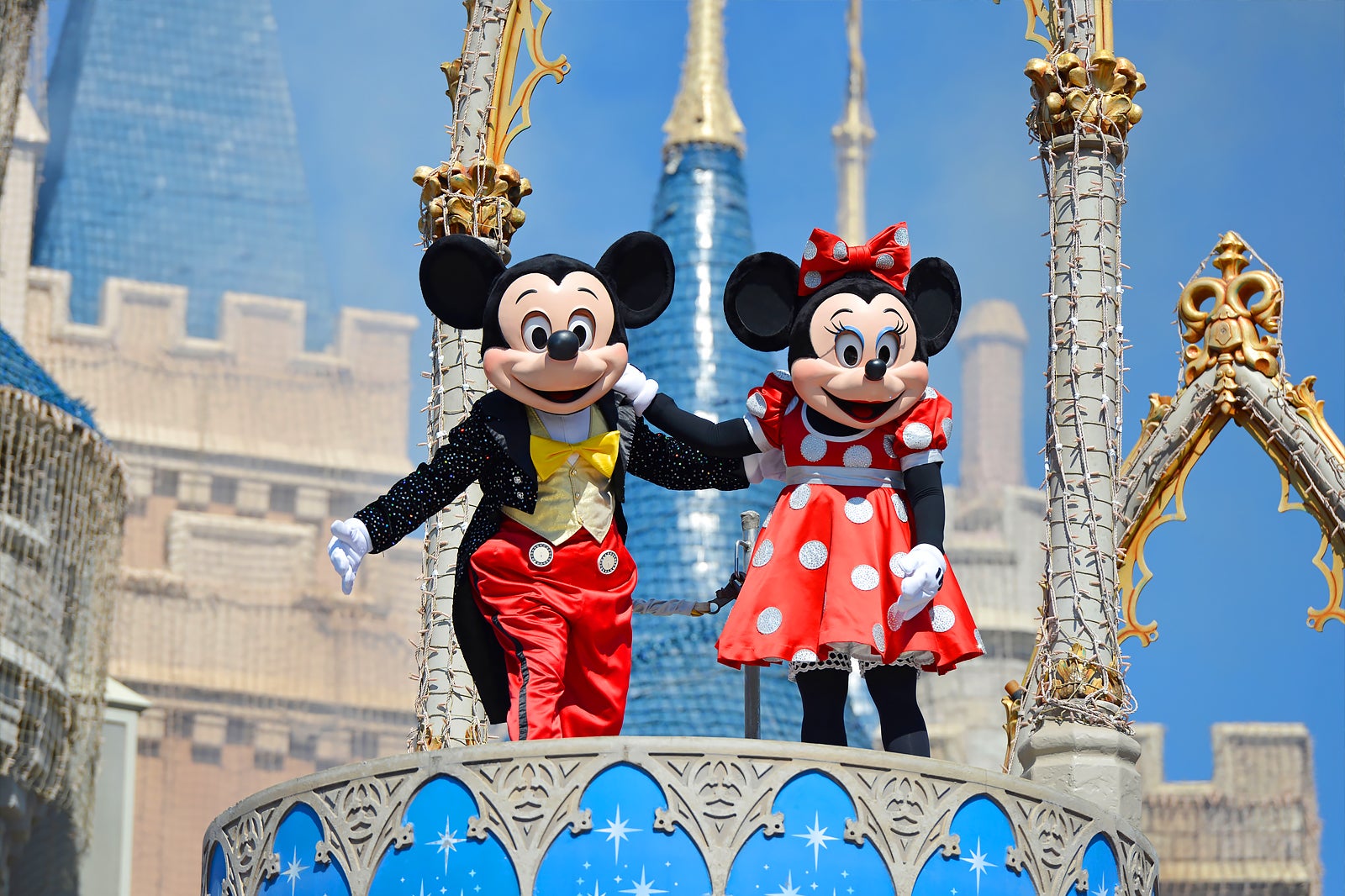 There are many ways to save (or spend) money at Disney World. For example, staying in a value resort instead of a deluxe villa will save hundreds, as will sticking to quick-serve meals and limiting souvenir shopping.
The most important thing to know about costs at Disney World, especially in comparison to a Disney cruise, is that everything is a la carte. Especially since they've suspended sales of the dining plan, you can expect to pay separately for every part of your vacation. Constantly taking out your wallet and spending money can cause a lot of stress while you're supposed to be relaxing and enjoying.
Disney Cruise
Once again, prices can vary widely; a two or three-day cruise is exponentially cheaper than a seven or ten-day, and staying in a standard stateroom is less expensive than a suite.
One of the things that can make a Disney cruise so appealing is that it's (mostly) all-inclusive. That means that you don't have to budget for every little thing, including meals, most entertainment, experiences, or even accommodations. The only extras are excursions, special activities, and sometimes alcohol for the adults.
In the end, you can make a Disney cruise or a Walt Disney World vacation work on most vacation budgets. The significant upside to a Disney cruise is that it's all-inclusive, with very few surprise costs. But there's more flexibility and ways to save at Walt Disney World.
Crowds and Pace
The size of the crowds and the pace of your vacation are two of the significant differences between Walt Disney World and a Disney Cruise.
Walt Disney World
There's enough to do both onboard the ship and in Walt Disney World to fill more than a week's vacation. That said, the pace is much faster and more intense on land in Florida. With so many rides, shows, and things to see, there's pressure to go, go, go all day and into the night.
Disney is also very good at creating buzzing energy throughout the parks, making you want to see and do it all. You'll be on your feet all day doing miles of walking, too. Many people leave their Disney World vacation more tired than when they arrived!
Walt Disney World can also be very crowded, depending on the time of year that you visit. If you visit during peak season (much of the summer, school breaks, and around all major holidays), you can expect huge crowds, even with the new park reservation system. That can mean long lines for attractions.
Disney Cruise
The pace of a Disney cruise is typically more relaxed than a Walt Disney World vacation. Guests are encouraged to take things slow and relax. In addition, because it is a contained environment, there isn't as much pressure to keep going constantly.
One of the other nice things about a Disney cruise is that there is greater crowd control since there are only so many staterooms that can only hold a certain number of guests. That way, you don't feel the pressure to get in line early or compete with other visitors for activities and access. There's more than enough to go around!
Have the Best of Both Worlds: A Land and Sea Adventure
If you've read through all of these criteria and still can't decide, then don't! Instead, opt for a land and sea adventure, where you take a short cruise and spend a few days in Walt Disney World. Disney sells packages for these types of vacations.
The plus side is rather apparent because you get to enjoy both options, the cruise and the theme parks. The packages that Disney sells are usually for three or four-night cruises and three or four nights at Walt Disney World. Often, these packages include hotel accommodations and park tickets on land.
Everything else works largely the same way: you can plan excursions for your cruise and customize your time at the Florida resort however you want. Upgrades are usually available, but downgrades are not. You can also extend the land portion of your trip, but you may not be eligible for the special rates of the packages.
Enjoy Your Time as a Family
No matter which you choose – a Disney cruise or a vacation to Walt Disney World – the most important thing is that you enjoy your time together as a family. Use this information to make the right decision based on your ideal trip, and then have the most magical experience of a lifetime!
More about our TFVG Author
A seasoned traveller, Dad, and avid sports tourist, James foundered The Family Vacation Guide to share his expert vacation experiences- especially when it comes to being a travelling family man.
Featured in Travel articles such as Travel + Leisure, TripSavvy and SFGate, you know you're reading some of the best vacation tips online.