Trading pins originated in Disney World and gained popularity due to their uniqueness. Thousands of pins have hit shelves within the parks, and thousands more made outside of Disney have still found their way into many collections worldwide.
With so many options to add to your collection and a plethora of information revolving around pin collecting in general, it can be overwhelming trying to learn the ropes and get started. The following information will educate you on pin trading, how it began, and everything you need to know to build your magical collection.
What is Pin Trading?
Pin Trading began during the Millenium Celebration and has since become a favorite activity for Disney park visitors. However, while pin trading has become a favorite hobby for many park visitors, there is much to learn about the different types of pins available and how to acquire them.
While you can trade pins with other visitors in the park, the most common means of trading is with cast members. Cast members offering pins for trading will wear lanyards, but since the Covid-19 pandemic began, parks have transitioned to doing pin trading boards to avoid unnecessary contact.
While things are slowly returning to normal, it may be more common to do the bulk of pin trading at the stations in shops or other designated areas.
Whether you are looking to trade pins to acquire your favorite characters or complete some of the sets considered valuable, pin trading offers everyone something. Hobbyists and hardcore collectors alike can be seen bringing their collections to the park to enjoy the benefits of trading.
How to Get Started
Upon entering the park, many shops carry pin trading starter sets. These packs will contain one Disney lanyard and a few themed pins you can trade throughout the park. You can also venture to pin shops to purchase individual pins if you do not wish to trade out the ones received in the starter pack.
First-Time Pin Traders
Preparing for pin trading before entering the park is always best! There are many places where you can order either desired or random pins to begin your collection. For example, eBay contains sellers that put together random starter bundles for pin trading, or you can venture to Amazon or Disney's store to buy some there.
Be aware that some random purchases may not contain official pins from Disney, but the actors and trading boards will still accept them. These pins, however, may not be accepted for trade by other guests in the park.
Once you have acquired your starter pins and a lanyard to hold them while you are in the park, you can begin to map out where you would like to go to make your trades. For example, some characters can only be seen during certain times or in certain areas of the park, while trading stations in shops can be a little easier to navigate.
Once you have a plan in place, you can take your less desirable pins to these locations and trade them up for pins you may want. In the case of mystery pin trades, if you get one you don't like, you can always trade it at another location and try again.
Types of Pins
There are countless pins favoring different characters and films, but some are themed, part of a specific set, and exclusive to a particular time or event.
These pins will reflect a Mickey Mouse silhouette on the pin design and come in small sets that all follow the same theme. Mostly these pins can only be acquired through trading with cast members, but in some cases, they can be bought in mystery packs within the Disney stores.
Unfortunately, these pins are considered exclusive; thus, some may be difficult to locate, especially if they came from discontinued sets. 
Completer Pins
Completer pins will be the one pin from a set that is usually deemed the hardest to locate. These pins will have a complete mark on the back to distinguish them and have limited availability. These pins will follow the theme from a movie or show and usually feature the characters associated with it.
Limited Edition Pins
Limited edition pins are released only for a specific time and usually correlate to an event. Some limited edition pins are designated only for annual pass holders and Disney visa card holders. Special events and holidays may also prompt a limited edition pin release, but once they are gone, they can only be scored through trading or lucky mystery packs.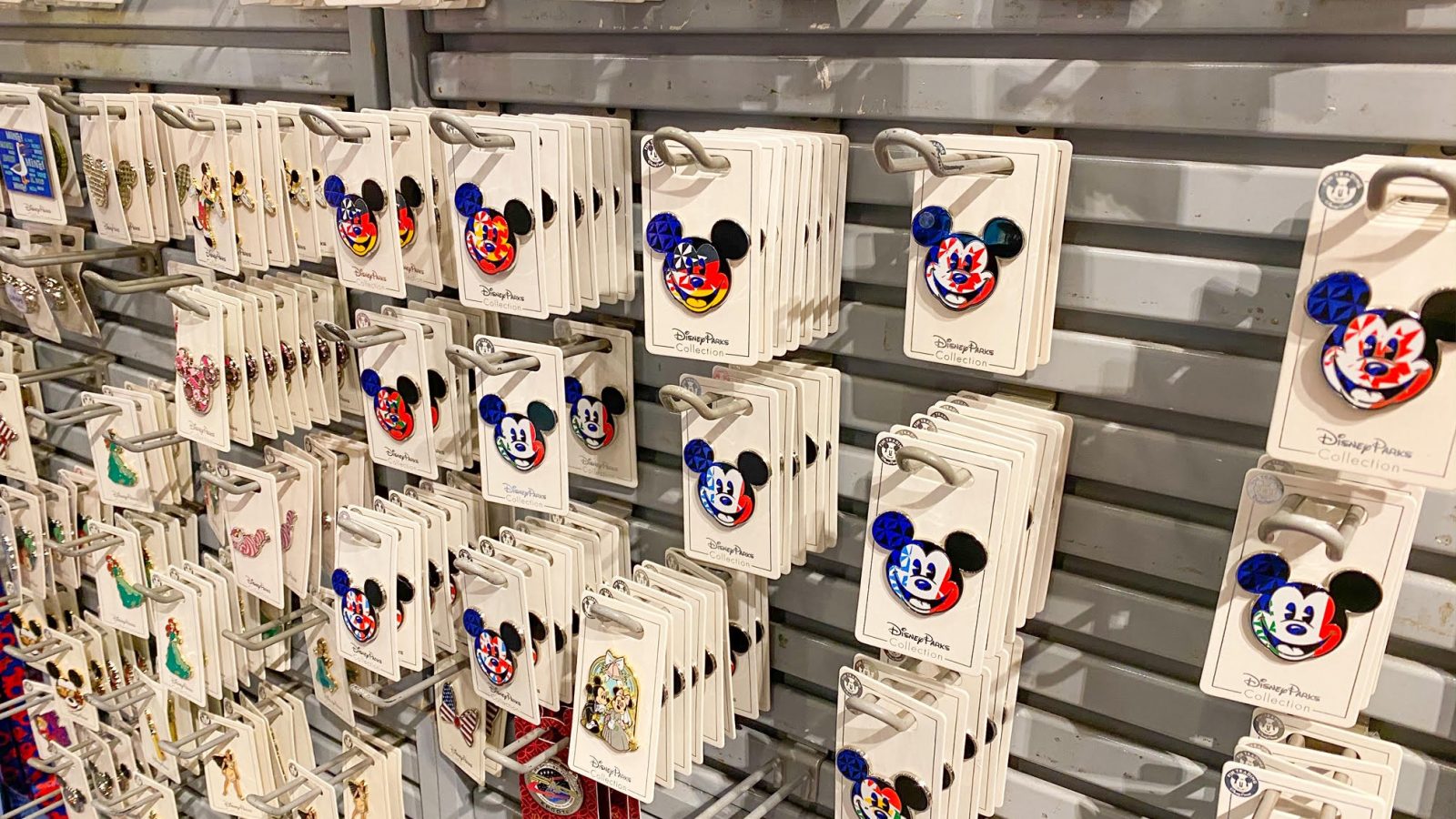 Series
These pins follow a theme and can be bought in shops or traded. Themes can include characters, films, and even styles. There have been a large number of series released since pins first gained popularity, and there continue to be many more in development.
Pin Values
While most pins can be purchased online or in stores for low prices, you may come across some that appear to be worth far more than others. Pins that were limited releases become discontinued, and thus their worth tends to increase due to collectors wanting to complete their sets.
Most pins typically cost about $8-16 unless you start seeking out pins that are no longer found in stores. Pins that are jumbo-sized or have a unique movable feature can cost a bit more. If you are not looking to become a hardcore collector, you can purchase mystery packs online for a fraction of the price of buying them individually.
Some of the most expensive pins were designed with the use of diamonds and other precious stones. These particular pins can cost hundreds, and for those discontinued, they can be upwards of $1,000. Of course, this value reflects those who are willing to pay. The Dream Jeweled Mickey Mouse pin is the most sought after due to its rarity and sits on the market at over $1000.
Where To Buy Disney Pins Online
The best places to buy Disney pins are in the parks or on Disney's website. 
On Disney's retail site, ShopDisney, you can browse all of the pins Disney currently has available. You can sort them by franchise, movie, and character. You're also able to browse new releases and clearance sales you may not be able to take advantage of in stores.
ShopDisney also offers free shipping on some orders and frequently offers coupons, including 20% off select styles or 10% off your total purchase.
Purchasing pins online is a great way to get started with your base collection. If you want to guarantee you get a certain character or franchise pin, your best bet is to get it from the online store.
ShopDisney also has some exclusive anniversary and special edition pins you will not find inside the parks, including the Jungle Book 55th Anniversary pin and the Hocus Pocus Halloween 2022 limited edition pin.
Where to Trade Disney Pins
The first and easiest place to trade your Disney pins is within the park itself. Since Covid affected the park, most cast members are no longer wearing lanyards to invite trades. Instead, you may have to seek out trading boards that are located at specific points in the park or within shops. These boards can be either mystery trades or regular trades.
New pins can be purchased at the following shops:
Magic Kingdom
Frontierland: Frontierland Trading Post
Liberty Square: Ye Olde Christmas Shoppe and Memento Mori
Fantasyland: Fantasy Faire and Big Top Souvenirs
Main Street USA Emporium
Adventureland: Plaza Del Sol Caribe Bazar
Epcot
World Celebration: Pin Store & Imageworks
World Nature: SeaBase Gift Shop
Germany: Die Weihnachts Ecke
France: Souvenirs de France
Italy: Kidcot Fun Spot
Port of Entry (Mystery Pin Board)
Canada: North West Mercantile
UK: Tea Candy
World Discovery: Mission Space Cargo Bay
Norway: The Fjord
Mexico: Plaza de los Amigos
Animal Kingdom
Dinoland: Chester & Hester Dinosaurs Treasures
Oasis: Garden Gate Gifts
Discovery Island: Island Mercantile
Hollywood Studios
Sunset Boulevard: Once Upon a Time
Hollywood Boulevard: Sid Cahuenga's One of a Kind
Echo Lake: Tatooine Traders
There is a limit of only two trades per board or cast member, so be sure to choose carefully. Mystery boards will have numbered boxes for you to choose from. Simply offer a pin you are willing to trade and select a box to receive your mystery pin. Also, keep an eye out for pin kiosks throughout the park, as there may be some outside of the shops themselves.
Other visitors at the park may also be looking to trade and while it is certainly encouraged to be friendly with other pin collectors, be mindful that there should be no third-party selling of pins inside the park. It should be a simple pin-for-pin trade.
At home, you can join online forums and communities that focus on trading Disney pins with other collectors around the world. Be sure to exercise caution when doing trades and transactions online so that you do not fall victim to any scams, especially when it concerns pins with higher-than-average values.
Trading Etiquette
There are a few things to remember when participating in pin trading within Disney World. The following is a light list of rules to abide by when approaching cast members or pin trading boards. 
Pins should be kept in relatively good shape with no chips or cracks. If you do damage a pin, leave it at home or back in your hotel. If you purchase a pin and then realize it is broken, bring it back to the shop you purchased it from for an exchange.
Always ask politely for a pin trade, and never demand it. Cast members reserve the right to say no, and many of them are genuine collectors as well!
You cannot trade a pin that the cast member or trading board already has.
While it is not mandatory to have Disney-licensed pins, they must be enamel. Plastic button pins are not up for trade.
Cast members wearing green lanyards will only trade with children. If you are an adult, don't attempt to trade with these cast members.
Only two trades per cast member or pin board.
Keep the rubber backing on your pins during trading to avoid injury. It can be removed after the trade is completed for display purposes.
Pins that have names on them or are personalized in any way can not be traded. It is unlikely these pins will be picked up again by other traders.
No trading pins for money or gifts of any kind. It may only be one pin for one pin.
Following these guidelines will make your pin trading experience enjoyable and will give you a better shot at scoring your favorite pins.
Displaying Your Disney Pins
While wearing your pins on your lanyard is one of displaying your pins, you will quickly learn there are other fun ways to show them off as your collection grows. One main way for collectors to do this is with cork pin boards. These can come in a variety of sizes to house all manner of collections.
You secure the pin by simply pushing it into the board; just be sure to save the rubber backing so that you can safely trade the pins later. Of course, pins will not be accepted without that rubber backing present.
Many collectors will store their pins in special binders so they can keep them on the go. There are several types of pages and binders to store your pins in, most of which can be purchased online. Depending on how large you wish your collection to get, there are display case designs to hold the bulk of your collection.
Disney Pin Trading Tips
With an understanding of what pins are and how the trading system works, some things to keep in mind can put you ahead of the game. 
Get Your Pins Early
Purchase your pins online, at random. You will get many pins at a relatively low price to trade, so you don't have to risk trading out on ones you want to keep. If you score some nice ones to keep, that's a great bonus. This will save you money and give you several to trade off upon entering the park.
Plan a Route
Depending on whereabouts you plan to be in Disney World, check the above list to mark which shops carry pins for sale and trade. Furthermore, some cast members may only be out at certain times in specific areas of the park.
If you are looking to make the most of your time, decide on what paths to take inside the park so that you have the opportunity to trade with the available cast while venturing to each trading board.
Avoid the "Pro" Collectors
Some visitors will be looking to make trades with newbies to gain valuable pins. However, the safest way for anyone just joining the pin trading culture is to stick with the Disney-specific trading areas within the park. Trading with the cast or staff gives everyone the same opportunity to get a new or desirable pin. 
Don't be afraid to say no to a trade; if another guest is giving you trouble over your decision to decline, reach out to a cast member for help. 
Get There Early
At the start of the day, cast members and trading boards will have fresh pins. Having the first pick of the day means having a better chance of scoring a better pin. Throughout the day, everything will be selected and traded out, leaving less of an opportunity to receive a limited edition or hidden mickey pin.
In Conclusion
It may seem overwhelming, but the most important thing is to have fun, as that is the staff's primary goal. Due to this, " scrappers " will be floating around, which are non-authentic or fake pins. These are often acquired in mystery lots online for alarmingly reasonable prices. 
To the trained eye, they would appear faulty in one subtle way or another, but they so closely resemble the authentic ones. So whether your pin is fake or not, the staff will still make a trade with you.
Look for the most appealing ones to you, and add those to your collection if you plan to casually trade pins. With over 100,000 pins currently released, getting one of each is a near impossible task. 
Pin trading has developed its own culture. It offers an activity for families to participate together while also catering to those eager to collect all the ones missing in their collection. 
Online trading communities have emerged, and many individual sales and trading posts have made a large number of pins available. Be sure to take caution when doing any online transactions.
On your next trip to Disney, pack up those pins and enjoy the endless fun pin trading has to offer.
More about our TFVG Author
A seasoned traveller, Dad, and avid sports tourist, James foundered The Family Vacation Guide to share his expert vacation experiences- especially when it comes to being a travelling family man.
Featured in Travel articles such as Travel + Leisure, TripSavvy and SFGate, you know you're reading some of the best vacation tips online.