American Samoa is a United States Territory, and so many Americans incorrectly believe that they can travel there without a passport. This belief is not correct, however, and you will find that you do need a passport to enter.
There are several requirements when traveling to American Samoa, and there are several recommendations before entering.
Requirements To Enter American Samoa
To enter American Samoa, American citizens must have a passport.
Residents of the United States that are not U.S. citizens must obtain a visitor's permit.
Currently, there are no restrictions requiring COVID-19 vaccinations to enter American Samoa. Still, you should check the American Samoa page of the CDC website before traveling to ensure that nothing changes as scientists discover new strains of the virus.
Individual airlines may have additional requirements besides those required by the CDC and the U.S. government. Make sure you check with your airline for any other potential requirements.
Recommendations To Enter American Samoa
While there are no vaccination or health requirements to enter American Samoa, there are several vaccinations that the CDC recommends:
COVID-19
Chickenpox
Polio
Hepatitis A & B
Measles
Typhoid
Additionally, the CDC recommends that you be careful when around contaminated water and that pregnant women do not travel to American Samoa.
Contaminated water puts you at risk for Leptospirosis, while pregnant women risk getting infected by the Zika Virus, which can spread to unborn babies.
Other Important Things To Know When Traveling to American Samoa
When Traveling to American Samoa, there are many important things to know besides the requirements and recommendations to enter the country.
Traveling Need-to-Knows
Generally, flights come into American Samoa through Hawaii to either the Pago Pago International Airport, Ofu Airport, or Fitiuta Airport.
You may enter the country with one carton of cigarettes, one case of beer, and one bottle of wine if you would like, but you cannot bring a larger quantity of those items without paying additional duty to Customs.
Money in American Samoa
American Samoa uses the United States dollar. Banks and ATMs are available around the islands, and larger banks and exchange houses can change other common currency into United States dollars.
Most vendors on the islands will accept Visa, Mastercard, and AmericanExpress if you do not wish to carry large amounts of cash.
Outlets and Electricity
American Samoa uses the same voltage as most outlets in the United States.
If you are traveling to American Samoa from some European countries, however, you may need a travel adapter to use your electronics as usual.
Commercial Activity
American Samoa follows the United States standard for commercial hours and bank holidays.
Government buildings and most commercial outlets are open from 8 am to 4 pm on weekdays and shortened hours on Saturdays.
Holidays are generally the same as those celebrated in the U.S., with the addition of American Samoa Flag Day on April 17th and Manu's Cessession Day on July 16th.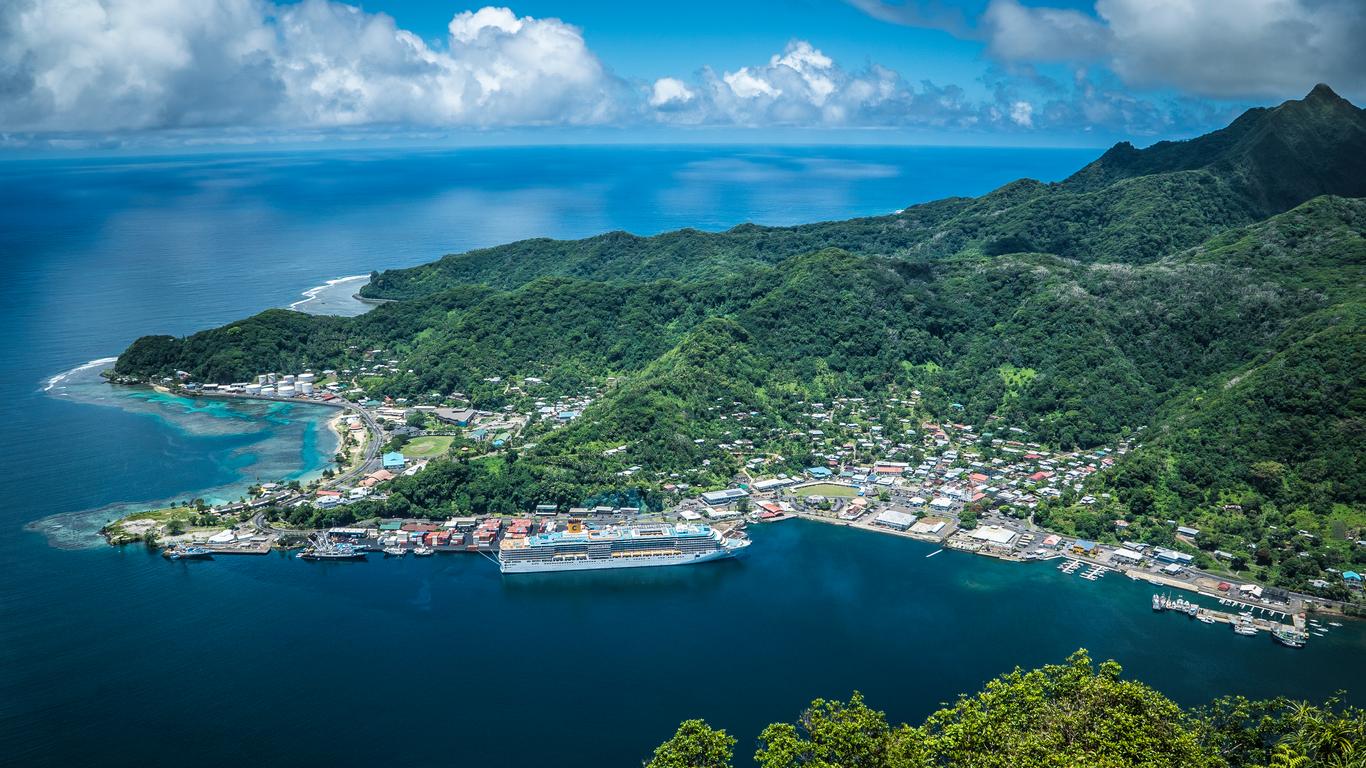 Weather and Clothing
American Samoa is a tropical territory that is warm year-round. Typically, temperatures sit at 85 degrees Fahrenheit.
If you are traveling to American Samoa between November and March, prepare for lots of rain. While temperatures are still high, American Samoa does have a wet season as the United States is typically in a cold season.
Generally, wearing breathable summer clothing is acceptable year-round.
That being said, it is important to dress appropriately for the event you're going to. It's generally not appropriate to wear swimwear into shops downtown, so if you decide to go shopping after a trip to the beach, bring shorts and a T-shirt or other clothing to slip over your bathing suit!
Language
The official languages of American Samoa are Samoan and English. When visiting the islands, most people will speak English as it is the business language of the islands.
Using Your Phone
Generally speaking, your United States cellphone will not work in American Samoa.
Large carriers such as Verizon and T-Mobile often have international travel packages that allow you to use your phone on vacation for an additional fee.
Alternatively, if you plan to stay in American Samoa for a long time, it may be beneficial to go to a phone store in American Samoa for a temporary sim card to use.
If you don't want to deal with the hassle of talking to your current phone provider or finding a new sim card upon arrival, place your phone in airplane mode with data turned off before you arrive in American Samoa.
You can use phone applications in areas with wi-fi to call home for free, but this will not allow others to call you, and if you aren't in a location with wireless internet, you will not be able to use this method.
Traveling Once You're in American Samoa
Once you've arrived in American Samoa, how are you going to explore the islands' beauty?
Luckily, there are plenty of transportation options.
One of the standard options is to take a taxi. Taxis are available at any time of day or not and are the most convenient options. They are the most expensive option for frequent travel, however.
Another way to get around American Samoa is by renting a car. The United States driver's licenses are accepted in American Samoa, and the road rules are extremely similar to those in the U.S. Drivers travel on the right side of the road, and signs are the same as they are in the U.S.
The cheapest way to get around American Samoa is by taking aiga buses. While this is the cheapest option, it is not the most convenient or predictable. The bus service doesn't have a fixed schedule, but services typically end around 5 pm. On weekends, there are significantly fewer buses in service.
Water taxi services are available if you want to get from one island to another. These trips do not run frequently and take approximately 8 hours, so it is not something that you can do on a whim for a day trip.
In Conclusion
Traveling to American Samoa is an exciting adventure, but it is important to prepare yourself before you begin properly.
Get your passport and your new knowledge ready to enjoy an excellent time in this tropical paradise.
More about our TFVG Author
A seasoned traveller, Dad, and avid sports tourist, James foundered The Family Vacation Guide to share his expert vacation experiences- especially when it comes to being a travelling family man.
Featured in Travel articles such as Travel + Leisure, TripSavvy and SFGate, you know you're reading some of the best vacation tips online.