Frontier Airlines is a budget airline with a strict baggage policy, causing many customers to shell out money for oversized or overweight bags at the check-in counter.
So, if you're hoping to save your head and wallet from this painful scenario, read on to learn about the must-knows of Frontier carry-on size policies.
Carry-on Size Allowment With Frontier
Frontier allows all passengers to carry on one personal item. The measurements are as follows:
Personal item: 18" (W) x 14" (H) x 8" (D)
The personal item doesn't have a weight restriction, but it must comfortably fit under the seat in front of you. You'll find bag measuring devices around Frontier's check-in counter so that you can ensure your personal item fits within their size restriction.
You can also bring a formal, larger carry-on bag with you on your Frontier flight. Depending on your ticket and Elite member status, you may or may not have to pay for this bag.
Frontier's carry-on bag dimensions are below:
Carry-on bag: 24" (H) x 16" (W) x 10" (D)
It's important to include your carry-on suitcase's handles, wheels, and straps when measuring it, as they all count towards the dimensions.
Furthermore, your carry-on bag must weigh 35 pounds or less. Otherwise, you'll have to pay to check it through when you arrive at the check-in counter.
What Happens if I Have an Oversized Carry-on Bag?
If you're checking luggage with Frontier, which comes with its own set of size restrictions and fees, the ticket attendant will likely check to ensure your carry-on bag is within the allotted weight and dimensions.
However, if you're only traveling with a carry-on bag and personal item, you'll be able to skip that line and head right through security. We encourage you not to overfill your bag, though, because you could still get caught.
When it comes time to board, the flight agents keep a careful eye on the luggage people carry onto the plane. If they discover you're carrying on a too big or heavy bag, they'll have to check your bag at the gate.
Doing so comes with a higher fee ($60) than checking your bag, so save yourself the trouble and follow Frontier's policies.
Items That Don't Count as Carry-ons
If you're scratching your head about how you'll bring everything on the plane with you, we've been there. However, Frontier offers a small degree of leniency, stating that you can carry the following items on the aircraft in addition to a carry-on bag and personal item at no additional charge.
Coats
Crutches
Canes
Diaper bags
Respiratory devices
Portable oxygen concentrators
Foot rugs for praying
Disposable food and drinks
Furthermore, Frontier allows certain other items that you can prove are medical assistive devices as a carry-on. However, if it's not on this list, it's best to check with them before making your reservation.
We encourage you to plan your food and drinks accordingly, as purchasing them on a Frontier flight can get expensive. You're welcome to bring food from home and eat it on the plane. However, you'll need to buy any drinks once you pass through security.
The only drink you're not allowed to consume on the plane is alcoholic beverages. So, if you take advantage of duty-free alcohol once passing through the secure part of the terminal, you'll need to leave it in its sealed bag until you arrive at your destination.
The Cost of a Carry-on Bag on Frontier
Carry-on bags are always free for the following passengers:
Frontier Miles Elite members
Passengers who purchased The Works ticket category
If you don't fall into either of these groups, you'll need to pay a fee to carry on your bag. That's a significant divergence from other budget airlines, like Southwest, that allow a free carry-on bag.
Unfortunately, Frontier doesn't make it easy to know how much you'll owe for a carry-on bag until you're ready to book your trip. That's because the price depends on how far in advance you purchase your ticket.
Furthermore, any money you pay for a carry-on bag is non-refundable, even if you cancel your flight.
Nevertheless, you can expect to pay between $30 – $55 if you pre-book a carry-on bag online. But if you send your bags in advance with LugLess, you'll only pay $14 – $39. You can also book your bag at the counter, although it'll be more than the online price (but less than at the gate).
As mentioned earlier, if you exceed the size and weight requirements and a flight attendant discovers this at the gate, you'll need to pay an additional $60 for a gate check-through bag.
Other Frontier Luggage Costs
To some, Frontier nickels and dimes its customers. To others that travel lightly, it's a wonderful way to save some money. Regardless of your point of view, below are examples of some of the other bag fees you might have to pay:
First checked bag: $30 – $50
Second check bag: $45 – $55
Overweight bag: +$75
Should you go through LugLess, these baggage fees drop significantly.
Traveling With Pets as a Carry-on
Frontier only allows pets to travel on their planes as a carry-on bag, meaning you won't be able to travel with medium to large-sized dogs.
The good news is that you can travel with either a personal item or a carry-on bag in addition to your pet. You'll need to pay the standard fees if you choose the carry-on option.
Speaking of fees, Frontier will charge you a flat $99 fee for bringing your pet as a carry-on. Frontier allows the following animals on their domestic flights within the United States:
Dogs
Cats
Rabbits
Guinea pigs
Hamsters
Small household birds
If you're traveling internationally, you'll only be able to do so with a domesticated dog or cat.
Pet carries have the same dimension restrictions as carry-on bags, with 18" x 14" x 8" being the maximum amount. Furthermore, your pet must be able to stand, turn around, and lie down within their carrier for Frontier to accept them on board.
For the Military
If you're a United States military member on active duty, the fees we covered here don't apply to you. Frontier offers the following free bags for people who are currently active military members:
One personal item
One carry-on bag
Two checked bags
The only downside? Any family members you're traveling with can't take advantage of this free bag policy.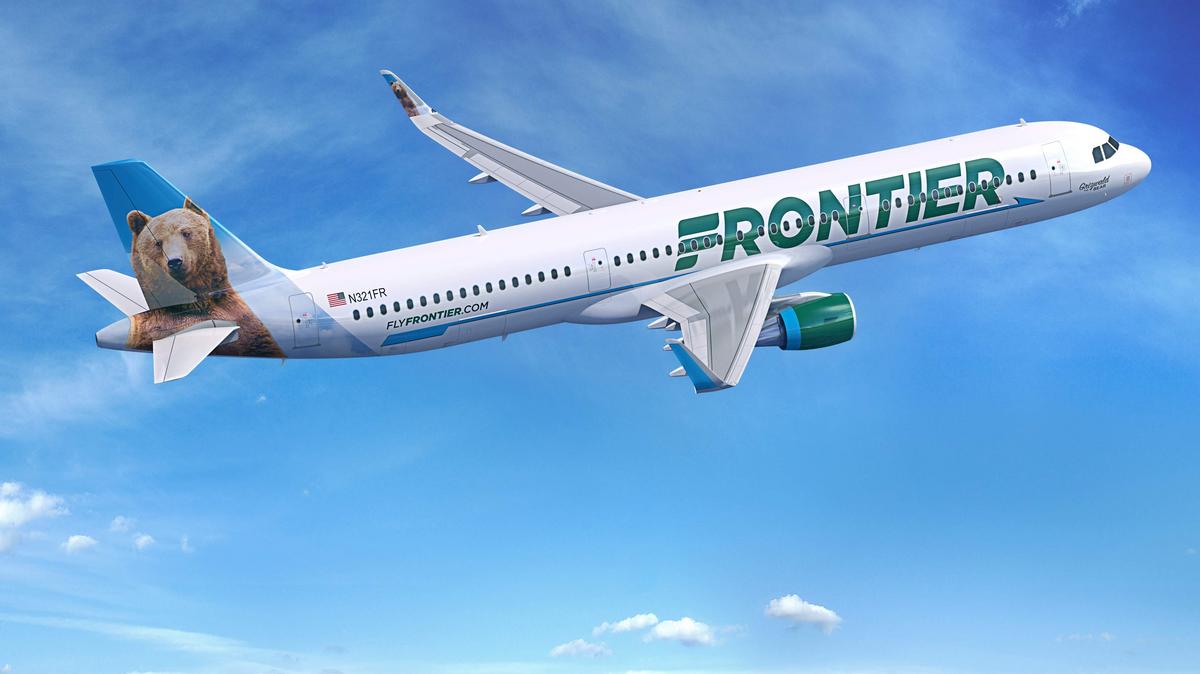 Items You Can't Bring in a Carry-on
If you're rolling your eyes at more restrictions, this time, it has nothing to do with Frontier. Instead, the Transportation Security Authority (TSA) has several measures in place to keep you safe.
Liquids
You'll need to leave your gigantic bottle of shampoo and conditioner in your checked bag, for airport security only allows one see-through quart-sized bag of liquids per passenger. Furthermore, no single bottle of liquid can be over 3.4 ounces (100 milliliters).
Sunscreen, toothpaste, gels, and creams all count as being a liquid. It also means you'll need to dump out any drinks before passing through security.
However, once you arrive inside the airport terminal, you'll be able to purchase disposable drinks and bring them on board your Frontier flight.
Batteries
If you have any devices with lithium batteries, you must have the capacity to remove them without using a tool. Smart bags are an excellent example.
As long as you have devices with removable batteries, you can bring them in your carry-on bag. In fact, you must carry them on the plane with you. Therefore, if you have any spare lithium batteries, take them out of your checked bag before passing through security.
Miscellaneous Items
TSA provides a laundry list of items indicating what's safe to bring in carry-on bags and checked bags. They also let you know if there's anything special you need to do to be able to carry the items on the plane with you.
Some of the highlights of items not permitted aboard Frontier flight carry-on bags (or any airline, for that matter) include:
Ammunition
Pepper spray
Fireworks
Straight razors
Scissors with a blade longer than four inches
Bottles with more than 70% alcohol
However, we encourage you to check out this link for a complete list of TSA's dos and don'ts for carry-on items. It's an entertaining read, given that they cover items like antlers and handcuffs. In case you're wondering, yes, you can bring both antlers and handcuffs in your carry-on bag.
The Bottom Line
Understanding Frontier carry-on size restrictions is essential before you fly, as they can hit you with difficult-to-swallow fees when you arrive at the airport. So, in addition to knowing the dimensions of your carry-on bag, make sure its weight doesn't exceed 35 pounds.
That said, some people love flying with Frontier because it offers them the option to book a cheap standard seat and only add a carry-on with the free personal item, helping them save money compared to airlines with more generous bag policies.
More about our TFVG Author
A seasoned traveller, Dad, and avid sports tourist, James foundered The Family Vacation Guide to share his expert vacation experiences- especially when it comes to being a travelling family man.
Featured in Travel articles such as Travel + Leisure, TripSavvy and SFGate, you know you're reading some of the best vacation tips online.