Have you ever thought about the definition of an ideal vacation? I would say vacationing with your family on one of the world's most beautiful islands, far away from the usual. Isn't it a great way to build memories that will last a lifetime?!
Bora Bora is part of the Leeward Islands, both of them are part of the Society Islands of French Polynesia, located in the South Pacific Ocean. It is globally known for its sandy blue beaches, crystal clear lagoons, tropical trees, and breathtaking views. No doubt, that's the ideal magical place to spend an unforgettable vacation.
The question is, can you visit this incredible Island on a budget? If yes, what are the approximate costs for a family vacation? Here is what you should know if you plan your next vacation to Bora Bora.
The Cost Of A Vacation To Bora Bora
Suppose a four-member family is going on a vacation at Bora Bora. Their seven days trip will have an average cost of $10,721.
However, Bora Bora island is tiny, and you can visit and explore everything that's there for 3-4 days, which is enough. It means you will save money, and the cost will be lower than the overhead cost for a seven-day trip.
The Cheapest Time To Visit Bora Bora
Fortunately, in Bora Bora, it is always hot, and you can go whenever you want, but you should be careful to consider some things when choosing when to visit it.
You can, and why would you not, choose the most affordable and the best time to visit it. Down season travel starts from November 1st and continues up to the end month of March. The high season begins from May to October.
If you choose to visit Bora Bora during the low season; it can be less expensive, but it has more rain, and you won't enjoy the experience to the fullest. While you shouldn't visit it during the high season, that's because of the spicy high prices.
We suggest visiting Bora Bora at the end of October or the beginning of November. You will find more reasonable prices, and you can enjoy your on-budget vacation.
Flight Cost: When To Book?
Everyone knows that the flight cost depends on the state you are traveling from. However, booking tickets ahead of time will save you money. Keep following for a while the days of the week the price of tickets usually drops on Monday, Tuesday, or Wednesday.
Skyscanner is such a great site to check out the ticket prices and book as soon as possible if you find the best price. You can set a price alert, so you will get emails from this website whenever there is a price change.
Another good website you can check is Secret Flying. It has a lot of outstanding deals for Bora Bora trips. It's legit, and it is constantly sharing the latest hot deals so you can get tickets at reasonable prices.
The flight cost for a four-member family is, on average, $2,748 to $6,980 for the economy.
Accommodation: How Possible Is It To Rent On Budget?
There are a lot of places to choose from. There is expensive accommodation, such as luxury hotels and villas, and less costly, like an Airbnb apartment. You can pay around $880 for a villa, $1,250 for an Outwater bungalow, or under $50 for an Airbnb apartment.
Below you are going to find some of the best and cheapest known places you should visit:
The Best Resorts you should visit in Bora Bora
If staying in a nice place is part of your trip, these next places will blow your mind.
The St. Regis Bora Bora Resort
A luxury resort where most of the accommodations are beachfront, and everyone can enjoy the spectacular view of the blue beaches. It has everything you would ask for, starting from the gym, outdoor pool, and excellent restaurants with various dishes.
It's high privacy and an ideal place to stay with your family. The cost per night starts at $133 to $568 per night.
Four Seasons Resort Bora Bora
This fantastic resort is a collection of unique bungalows located on the Bora Bora lagoon. It has breathtaking views of the lagoon, private gardens, and several pools. You can enjoy its facilities to the fullest, such as a gym, spa, yoga, and Polynesian restaurants that offer open-air dining.
The cost it's going to depend mostly from the type of accomodation that you choose and the services they offer. You can pay $1,130 per night for a one-bedroom beach-view overwater bungalow. The price for a deluxe one-bedroom overwater bungalow suite costs $4,168 per night.
Bora-Bora Pearl Beach Resort & Spa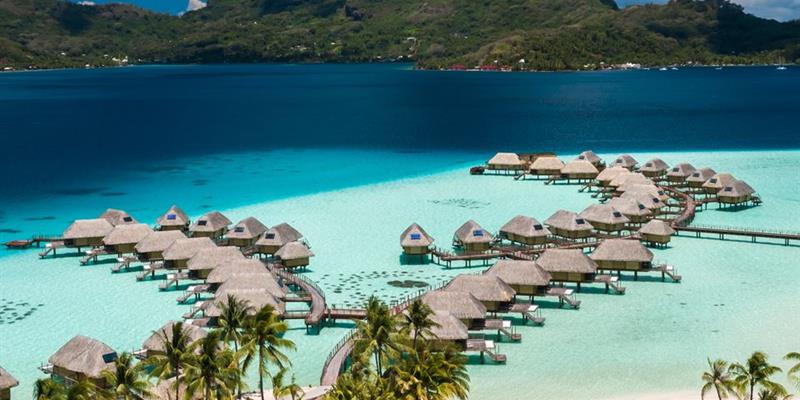 Extravagance bungalows with expansive terraces and breathtaking lagoon and mountain panoramas will accompany you along the journey. If you think about the mountain, the resort overlooks the imposing Mount Otemanu.
You can enjoy the spa, pools, diving center, and restaurant eateries. It is possible to enjoy all of these despite the type of accommodation you have chosen. The prices vary from $840 to $1,134 per night.
Cheapest Places To Stay in Bora Bora
If accommodation feels like an area you don't want your money to be spent, check these more affordable options.
Bora Bora Shelter for Backpackers
This hostel offers the most affordable stay on the Island. It has a 30$ cost per night, which is an excellent price for staying there.
It has a lot of positive reviews because of its cozy room and courteous owners, and guess what? It is near Matira Beach.
Guesthouse
A guesthouse is a good idea. You will have the opportunity to meet locals, talk to them and learn more about their lifestyle and culture.
You will be gaining more experience and knowledge than staying at luxury resorts. The cost per night is only 33$, consider accommodation plus a free guide.
Airbnb
Airbnb is also a known platform to rent places on a budget. So if you don't have an Airbnb account yet, it's time to register to it so you can explore new stayings, select one of them and book it.
The prices vary from under $50 to under $100. Airbnb has forty rentals rented for under $100 and 27 properties rented for under $50.
Booking.com
Booking.com is a great site to check out the several guesthouses available at fantastic prices under $100. Start searching for the accommodation, sort from the lowest to the highest and just book it.
Make sure to choose the place that fits better. It's cozy, with an affordable price, and helps you enjoy the vacation to the maximum.
Cuisine: Restaurant Or Local Food?
Where are the food lovers? Are you a restaurant fan or a local cuisine explorer? Whether you choose to eat in a luxury restaurant or mid-restaurant range, the cost will surprise you. Many people say the food prices in Bora Bora are spicy.
Eating in the resort you reserved or in a restaurant has an expensive cost and will make you spend more money.
A main plate and appetizer will cost about $160 per person in a mid to high-range restaurant. On the other hand, a burger and cocktail at a resort will cost you around $35.
How to save money on a resort? You can save money by asking them if they have a pre-paid meal plan. Some resorts charge individual breakfasts at $70 but extended breakfast packages at $150.
You can save money by frequenting the local grocery store. The food is fresh, tasty, and cheap. It varies from $10, and it's an excellent choice to eat some meals. Many local dishes have chicken, pork, rice, local veggies, and fruits like mango, bananas, papaya, and pineapple.
If you are a seafood lover, there are many restaurants you can visit and enjoy the local traditional dish. The best seafood restaurants are Saint James Bora Bora, Lagoon Restaurant by Jean-Georges (The St. Regis Bora Bora Resort), and Matira Beach Restaurant. Make sure to check them out!
You are going to find that the breakfast prices are reasonable and inexpensive. In comparison, dinner and lunch are a bit more pricey. Casual dining costs 10$ to 30$ per meal. In comparison, luxury dining runs from $30 up to $120 per meal. You choose between them!
Local Transportation: What You Should Know About
If you are in a resort in Bora's small Motus, you have to call a water taxi to get to the main Island. It costs around $25 each way. Also, check your hotel first as most of them have discounted rates with the water taxi drivers.
We don't recommend using the land drivers since they are unmetered cars which will tell you the cost depending on how rich you look. Also, the proper taxi may overcharge you if they can. So that's definitely an expensive way to travel around the Island.
There is a local bus known as Le Truck which even the locals don't know the exact timetable of the bus so that it won't plan you the day in the best way possible. But it will save more money by using this form of transportation, for sure.
For on-budget family vacations you can use buses or taxis, but also renting bicycles, it's not a bad idea. It really saves money; you can make your schedule and explore the 18-mile Island in two hours. The cost of renting a bicycle per day is around $10-$15.
The rentals also offer scooters and excellent two-seater buggies, except for the bicycle. So it's a great idea to combine these and enjoy your experience without bothering anyone and at your own pace with your family members.
Choose the best option which won't save you only money but also stress!
Main Activities You Can Do in Bora Bora
Bora Bora is not only about enjoying views or beaches but also getting excited doing different activities. It has a variety of activities which you can choose from.
4WD tours
Snorkeling
Scuba Diving
Jet Skiing
Tubing
Sporting Events
Walking Tours
And More
How Much are These Experiences for a Family Group?
Everyone who loves watching breathtaking views would love to try 4WD Tours because it is a great way to check the mountain, forest, and sea. It starts from $69.86 per adult.
Snorkeling in Bora Bora makes you explore the underwater world so close up. The cost for this experience starts from $108.05 per adult. That's definitely an unusual activity to spend with your family.
If you want to book a tour of the Island and getaway on the Bora Bora Mountains by Quad / ATV, the cost for a group of more than two people starts from $271.67.
However, if you want something thrilling but travel on a budget, you should begin with a minivan Island Tour, which is a three-hour bus. The price starts at about $55.
There are also different types of excursions available, starting from 80$ per person. There are three types, half-day excursions, which are $80 per person, full-day excursions, which are $120+ per person; and private tours vary from $300 to $3000.
You can also plan by yourself the activities or places you will go. Don't forget to visit some of the bora bora's attractions. You can visit zoos and aquariums. Bora Bora Lagoonarium is a must-see, with nature and parks, museums, and boat tours.
So, How Much Does a Trip to Bora Bora Cost?
Some prices you should put in your mind about the average cost of travel, food, flights, accommodation, and sightseeing are listed below:
The average food, travel, and sightseeing varies from $640 to $1,648 per day for four people's daily expenses.
The flights cost vary from $2,748 to $6,980 for economy. Be sure to check which airlines offer free kids flights.
Lodging for a family group of four varies from $218 to $272 per night for two 1-star hotel rooms or $192 to $224 per night for a 2-bed vacation rental.
In addition to the prices, we also consider there are a few things every traveler to the beautiful islands should be wary of.
8 Essential Things You Must Know Before Traveling To Bora Bora
Besides getting ready for your not-so-usual vacation, unless the Caribbean islands are your thing, there are a few things you should know before going on a trip to Bora Bora.
It Is Not Expensive If You Carefully Plan Ahead
Bora Bora is an expensive place, starting from the flight tickets to the accommodation, food, or activities. But some people made it to go to Bora Bora without spending that much money.
Is it possible? Yes, it is. Below you will find everything that you need to know about traveling to Bora Bora at the lowest cost possible.
English Is A Spoken Language
You don't need to worry about the language, because their English is good and is widely spoken by the locals. But you should know that the official language is French. So, if you know French, you can use this opportunity to improve your French language communication skills.
Their Currency Is CFP Franc (XPF)
The exchange rate varies. Although France uses euros, the currency of Bora Bora and French Polynesia islands is the franc. A 1 euro is equivalent to 119.63 CFP Franc. That's the price of a bottle of water.
Bora Bora Has Only One Real Beach
Everyone says Bora Bora has a lot of sandy beaches, but in reality, it has only one beach named Martira. It is located in the southern part of the Island, and it's considered one of the most beautiful attractions.
Its clear blue water, white sand, and outstanding view make it lovable to the locals and the tourists. The beach is public, so there is always a mixture of locals and tourists.
The hotels on the small islands also have wonderful beaches. But these are private and only obtainable by the guests.
Bora Bora's Capital City
Bora Bora's capital city is Vaitape. It is a beautiful small city, and It has a population of 5000 people. You can find around the city supermarkets, hotels, accessories shops, and souvenirs.
There are also well-known cozy restaurants and bars. So when visiting the capital city, don't forget to grab a coffee at Aloe Cafe.
Water Based Or Land Based Activities
Are you water based or land-based activity enthusiast? When it comes to water-based activities, we can mention swimming, scuba diving, or snorkeling. These are the tourist's favorite activities on the Island.
While there are a lot of land-based activities, you can choose from. Many tourists choose a jeep tour to go to the mountain and enjoy the breathtaking views. They make stops in different places during this time, so they enjoy different views.
Visiting historic landmarks is a great way to know more about their history, culture, and interesting facts. You can also look at the shops to check out the Island's unique pearl jewelry.
You Should First Take A Flight To Tahiti
All the tourists that arrive at the airport will have to travel to Tahiti Island. Consider visiting this fantastic Island, and then prepare for Bora Bora.
Some information about Tahiti:
It is the largest Island in French Polynesia, and it is a cluster of tiny islands. It has untouched beaches, lagoons, and historically interesting places.
The Bora Bora Airport Is On A Motu
This Island has a lot of unique things, one of them is definitely the airport. When you land at the Bora Bora airport, you will have the chance to see the crystal clear blue water.
It would be best if you took water taxi stands which don't cost too much and here you go. Just enjoy the moment! Then you will have to find the resort's representative that can help you go to the final destination.
Closing Thoughts
Bora bora is a fantastic island to spend some quality time with your family and make the most of the vacation. It is a great way to escape from everyday life.
Going for a vacation to Bora Bora is considered expensive compared to other places. The flight ticket is expensive but not only, and the high rates of hotels and resorts that charge because of the remote location of the Island.
But planning ahead of time for the vacation to this place will help you save more money, reduce unnecessary costs, plan the day and activities, and for sure reduce stress.
Start planning now if you think of Bora Bora as the next destination trip with your family!
Happy Holidays!
FAQ
Here are some of the most common questions
When is the worst time to visit Bora Bora?
It is the rainy season which occurs between November and February. However, the chances of any storm are low.
Are there any chances of theft in Bora Bora?
Bora Bora is one of the most secure places globally with; low crime rate. However, there might be chances of theft. So take care of your valuable things and wallet.
Is Bora Bora a safe beach for a family vacation?
It's absolutely yes. There might be a lot of sharks swimming on the beach, but they are not dangerous, and no shark attack has happened in the last 50 years. So you don't need to worry.
Can I Use Euros in Bora Bora?
You can use this currency to make payments in resorts, restaurants, or big shops. However, the ideal thing is to convert them to the local currency because you will get a low conversion rate if you make any payment in the euro currency.
Can you drink faucet water in Bora Bora?
Yes, you can drink faucet water in all the international hotels, and it's safe. Regardless, make sure to ask for confirmation from your host first.
More about our TFVG Author
A seasoned traveller, Dad, and avid sports tourist, James foundered The Family Vacation Guide to share his expert vacation experiences- especially when it comes to being a travelling family man.
Featured in Travel articles such as Travel + Leisure, TripSavvy and SFGate, you know you're reading some of the best vacation tips online.