If you're planning to travel soon with your carry-on, you must know the airline's carry-on policy. Specifically, various regulations dictate what you can carry and what you cannot as you board the plane. These policies differ from one airline to another, so whatever works for you in a particular airline may not work every time.
If you're going to fly JetBlue, read below the JetBlue carry on size and other policies and how they may impact your journey.
What Does JetBlue Consider a Carry-on?
JetBlue's carry-on policy is reasonably flexible, so long as you don't mind paying extra for the privilege. The airline allows passengers to bring a personal item and one piece of luggage on board.
JetBlue's definition of a carry-on bag fits entirely under the seat in front of you. But the airline also has a few other carry on rules about what can and cannot go into your overhead bin.
Generally, passengers can bring a purse, briefcase, laptop bag, or other small containers onboard for free. However, if you want to check your bag, you'll have to pay some cash we will discuss below. In addition, the airline does not offer complimentary checked bags for customers traveling in Basic Economy fares.
JetBlue Airline Baggage Allowance for Domestic Flights
JetBlue allows 1 carry-on bag plus 1 personal item when traveling on domestic flights. Your carry-on bag must fit in the overhead bin or under your seat and weigh less than 50 pounds (22.68 kg).
Personal items can be a purse, laptop case, or a small backpack. According to JetBlue carry on size, your luggage must fit under the seat in front of you. If it's sports gear like a bicycle, you'll have some of its parts, like pedals, disentangled so that it can fit in the space. 
The amount of baggage you can take in depends on the weight of your bag and its dimensions. For example, if a passenger has two pieces of baggage weighing over 50 lbs and their combined dimensions exceed 158 cm (62 inches), they will be charged an excess fee for each piece over this limit.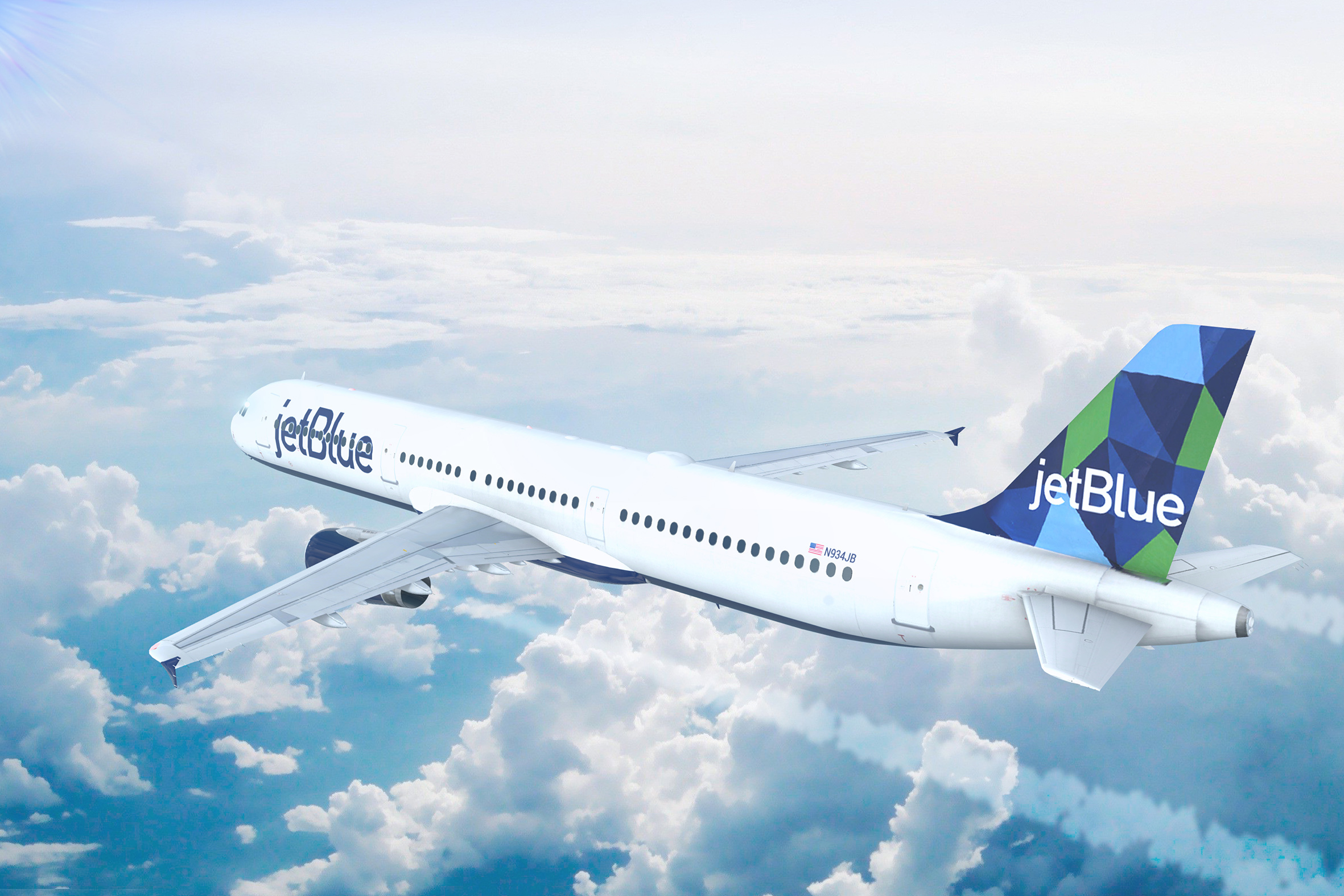 JetBlue Airline Baggage Allowance for International Flights
When traveling on international flights, the airline allows one checked bag and one personal item per person.
The following items are allowed as a personal items:
Handbag or briefcase that fits under the seat in front of you, no larger than 22x15x9 inches (56x38x23 cm), weighing no more than 7 pounds (3.2 kg). The bag must fit comfortably in the overhead bin or under the seat in front of you without encroaching into another seating space.

An infant carrier, stroller, or wheeled toy, provided it weighs no more than 35 lbs (16 kg) total. Your baggage should be foldable to be stowed under an airline seat or in an overhead compartment without obstructing access to seats or aisles.

JetBlue Carry on Size, Fees, and Weight
JetBlue has a weight limit of 50 pounds for carry-on bags and 35 pounds for checked baggage. This is the same as its competitors, but it's important to note that many airlines have recently increased their weight limits.
Here are the weights of different luggage and the amount you'll part with for each at JetBlue:
50 lbs or less – free (except surfboards)
51-100 lbs – $30 per bag (per segment)
101-150 lbs – $50 per bag (per segment)
151-200 lbs – $100 per bag (per segment)
Checked Bags:
Standard Checked Bag (21 lbs) – $25 per bag, each way
Preferred Checked Bag (26 lbs) – $30 per bag, each way
Large Checked Bag (62 lbs) – $50 per bag, each way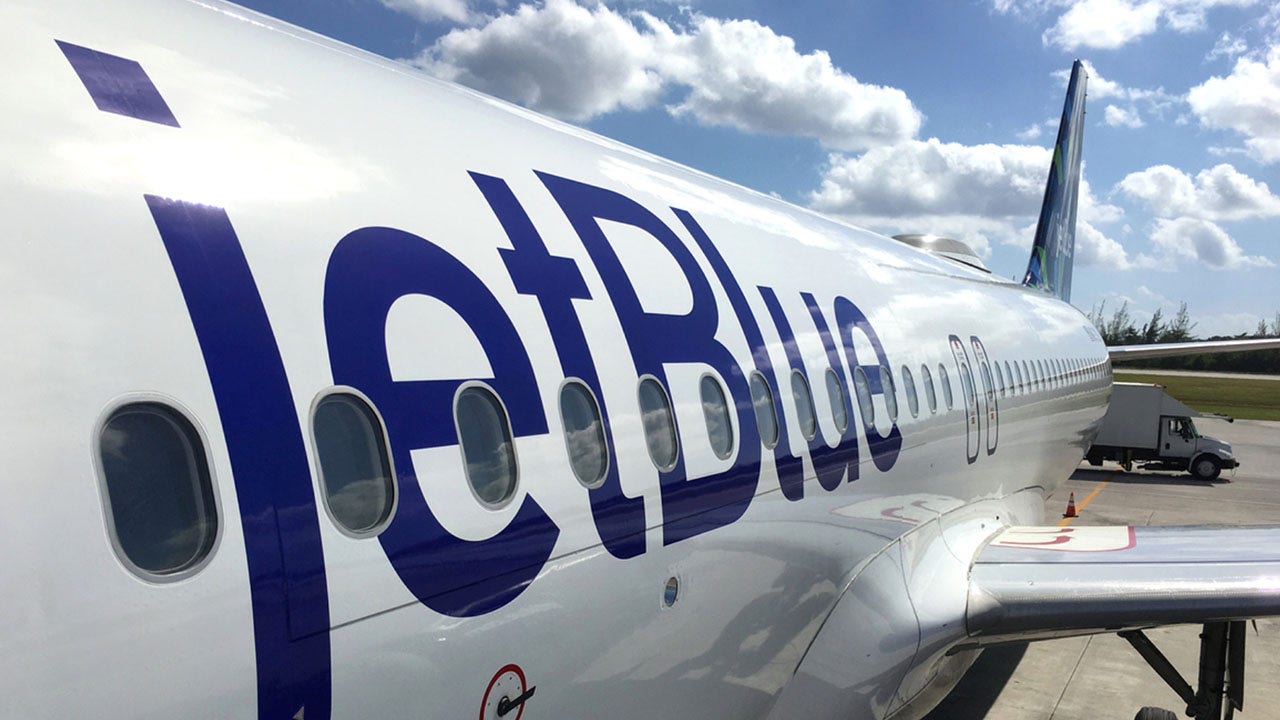 Can You Check In Two Bags With JetBlue Airlines?
JetBlue allows all passengers to check in up to two bags to their destinations. That's because JetBlue is a low-cost carrier, meaning it offers affordable prices for tickets. So, for those who want to save money on baggage fees and avoid paying more for extra baggage fees, JetBlue offers an alternative.
Most international airlines do not offer this option. Instead, they charge fees for every bag you check in. As a result, if you want to take two bags with you on your flight, you may end up paying double the cost of what you would have paid had you only checked one bag.
So how does JetBlue allow passengers to check in two bags for free?
The answer is simple: by offering fewer amenities and services than other airlines do. For example, JetBlue doesn't have many frills or extras for flights and service — just good old-fashioned flying at its best!
The airline also offers several options for purchasing additional checked bags if you're traveling with more than two pieces of luggage.
What Is Allowed in Hand Luggage at JetBlue Airlines?
You can only bring one carry-on bag and one personal item onboard. The carry-on bag must be no larger than 45 linear inches (L + W + H) and weigh less than 25 pounds. The personal item can be no larger than 18 linear inches (L + W + H) in size. This includes laptops and e-readers that meet these requirements as well.
If you have more than one carry-on bag or more than one personal item, the attendant may ask you to check them at baggage claim. This luggage does not count towards your total weight allowance for the flight. If this happens, JetBlue will refund any checked baggage fees after your flight has landed safely.
JetBlue Check-in Times
JetBlue check-in times are based on the departure time of your flight. You can check in online and at the airport.
International flights: Between 3 hours before the flight and 60 minutes before departure.

Domestic flights: Between 24 hours before the flight and 40 minutes before departure.
Choose JetBlue, Choose Luxury
When you choose JetBlue, you choose a premium experience that goes beyond the typical airline.
JetBlue carry on size offers one of the best limits, and you can be sure about the safety of your luggage. Save money by purchasing your ticket in advance. 
More about our TFVG Author
A seasoned traveller, Dad, and avid sports tourist, James foundered The Family Vacation Guide to share his expert vacation experiences- especially when it comes to being a travelling family man.
Featured in Travel articles such as Travel + Leisure, TripSavvy and SFGate, you know you're reading some of the best vacation tips online.