Traveling by car with kids can be both wildly entertaining and extremely challenging. Fits and tantrums can be inevitable, but keeping your kiddos preoccupied helps the travel time go by smoothly.
Road trips are a wonderful way for families to spend a lot of time together – hours and hours of nonstop time together, to be exact – and creating some very memorable moments.
And the best road trips are ones where the entire family is happy.
So we've put together our best road trip activities for kids to keep the whole family entertained. There's a little bit of something for everyone ranging from quiet time to games for the whole family. 
Why not also check out our guide to the best family road trips in the US?
How to Prepare to Travel with Kids
Road tripping with kids is not the same as driving an hour to visit family for the holidays. So being well prepared is essential.
Fun and activities are important, but safety and comfort are at the forefront of any parent's thoughts.
Be sure to have an emergency kit prepared and include a first aid kit, water and a blanket. A quick Google search will give you an idea of what exactly you need for this.
Putting cleaning wipes, diapers, snacks and blankets in close proximity will eliminate the hassle of having to stop whenever any of these items are needed.
It also may seem obvious, but telling your kids how long the trip will be will help mentally prepare them for the amount of time they'll be spending in the car.
Now that we've touched on the essentials, here's some activities to keep your family entertained while road tripping. 
Activities with Electronics
Time without electronics is nice, but road trips can be exhausting enough on their own without feeling the need to actively entertain the whole family for every minute of it.
So here's a list of some electronics to keep handy so you can take a beat and relax.
Audiobooks
A road trip is the perfect time to get into an audiobook. There is something cathartic about listening to a story while watching the scenery outside the car window.
It's also great for those who are prone to get carsick because, unlike watching a movie, listening to an audio book doesn't require you to look at a screen.
This can also be a great opportunity to learn something new! Audiobooks aren't just for fiction stories, there's a plethora of non-fiction books available too.
If you've been wanting to learn a different language, this would be a great opportunity to learn as a family.
Portable DVD Player
Having a few movies handy for the kids to kick their feet up, relax, and enjoy is a must. Navigating a long trip can get overwhelming at times, and this invites a solid 90 minutes of uninterrupted peace.
Just make sure you have a yak bucket handy if you have any little ones with a weak constitution.
Portable Gaming Device
Another great source of entertainment. Keeping a portable gaming device, like a Nintendo 3DS, Switch, or PSP charged up and ready to play is always a good idea.
Even having a mobile phone or tablet handy, provided you're not using it as a GPS, is also great for antsy kids and adults alike. Nothing makes time fly by faster than getting into a great game!
Mix-tape Style Playlist
Getting into the same music you're kids love is such a great way to bond. A road trip is the perfect time to make a playlist classic mix-tape style.
Have everyone pick 5 favorite songs to add to the playlist and don't skip any songs! It's fun to hear how the different styles change from song to song. You can even make a guessing game out of it and try to figure out who picked which song.
Carpool Karaoke
Have you ever seen the segment Carpool Karaoke on The Late Late Show with James Corden? Although there is an official Carpool Karaoke game, you can DIY this genius idea!
All you have to do is look up your favorite songs on Youtube and add "karaoke version" or "instrumental" version to get the music without the lyrics and connect your phone via USB or bluetooth to your car speakers.
Viola! Now you can hold your own Carpool Karaoke party road trip style!
Pick a Podcast
There isn't one topic on this planet that doesn't have at least ten podcasts covering it in detail. Podcasts have exploded in popularity over the past few years and for good reason.
Pick the right one and you'll be entertained for hours on end.
You might want to pick one or two podcasts ahead of time so you don't end up down the browsing rabbit hole during your road trip.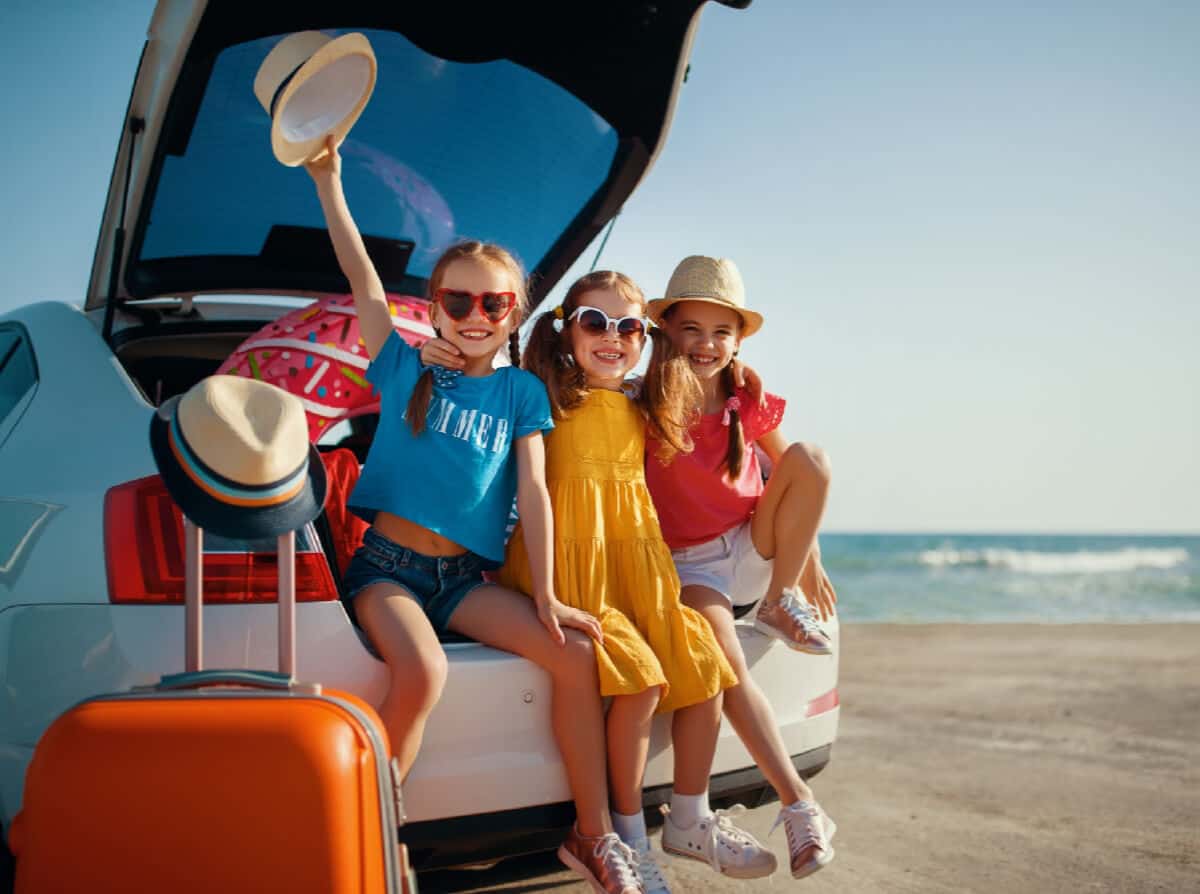 Quiet Activities for Individuals
Siblings don't always want to interact with one another, so it's a good idea to keep a handful of individual activities handy. Especially if you're a parent who likes to limit screen time, here's a few ideas to keep your kids busy.
Coloring Books
Classic entertainment for all ages. Nowadays you can find all sorts of coloring books designed for ages two to one hundred year olds. They can be simple cartoons to insanely detailed to fit your needs.
And if you want to be super creative and think out of the box, you can put your own spin on this activity by altering the pictures to make your own work of art.
All you need to achieve this is some white out and a pen or marker. White out some of the lines and draw your own before you color the picture in. You can alter facial features, hand gestures, clothing, and anything you can think of. Let your imagination run wild!
Journaling
Creating a road trip journal is a good way to document the events. And what makes this even more precious is that it's from the perspective of your kids. Reading about events from your child's point of view is not only entertaining but a way to get a glimpse into their heads.
Adding some illustrations to some of the more comical or memorable moments adds an extra dash of creativity to it as well.
You can find those classic looking composition notebooks for just a dollar at your local dollar tree. Dedicate an entire notebook for the whole trip. You can even pass it around and have each family member have their own entries.
Read a Book
It's always a good idea to encourage your kids to read. Nothing ignites the imagination quite like getting immersed in a good book.
The Chronicles of Narnia, Harry Potter and A Series of Unfortunate Events are a few favorites that really pull you into imaginary worlds.
You can even pair this up with an audiobook so if their eyes get tired, or if they get carsick, they can pick up where they left off on audio.
Sketchbook and Pencils
Drawing is another way to get some creativity going. Your kids can draw straight out of their imagination or use it as another way to document their experiences.
You can use interesting landmarks you see as a creative prompt. Or they can create their own comic strips to illustrate a funny moment in the trip.
The kids can also play games like tic-tac-toe or hangman. Or even make a travel version of Pictionary. Or draw some paper puppets and put on a puppet show.
The possibilities are endless.
Crossword and Word Search Puzzle Books
Crossword and word search puzzles are really the best way to zone out. If you have a little one who is anxious, try giving them a word search puzzle to keep their mind busy.
If you have a thrill seeker in the family, create contests to see who can finish a puzzle first. Or time them to test how fast they can finish a puzzle.
You can find a variety of puzzle books at any dollar store.
Seek and Find Books
Similar to a puzzle book, Seek and Find books involve finding certain objects within a picture.
Some of the puzzles you'll find in these books are spotting the differences between two photos or looking for hidden clues in one picture.
Perplexus
Perplexus is a very hands-on puzzle. It's a 3D puzzle in a transparent globe and you have to guide a small ball through the puzzle maze. It's similar to the traditional flat surface mazes with the small metal ball.
Many people find this particular puzzle very addicting and ensure it will keep your kids busy for long periods of time.
There are a variety of Perplexus puzzles ranging from Harry Potter to Star Wars and more.
Create an Animation
Creating an original cartoon is every creative kid's dream. It's a lot easier than it sounds and loads of fun. Have you ever seen any of those "Draw My Life" videos on Youtube? Taking that same concept, your kids can use a dry erase board to create a stop-motion like animation.
Here's a short how-to on how to create your own animation:
Draw a guide where you'll line up the camera edges to take images so they are consistent in every frame.
Draw your initial scene. This can be simple stick figures or as complex a scene as you want.
Using a phone camera, snap a picture. Line the top and bottom of the camera with your guide lines.
Erase areas of the drawing you want to move and re-draw the image in the new position.
Snap another image.
Continue to do this until your animation is complete.
Download a stop motion app to edit your images into a moving picture.
Voila! You've created an animation!
Make animations based on your road trip experiences!
Activities for Toddlers
The real secret to a pleasant road trip is keeping the toddlers happy. And although they love watching Cocomelon and can pretty much exist exclusively in that world, bringing them back to ours with some hands-on activities is always a good idea.
Here's a few simple yet toddler-addictive mess free activities for your road trip. Some of these are just genius!
Cookie Sheet and Magnets
Using a cookie sheet as a magnetic board is simply genius! Toddlers love magnets. They are easy to grab and stick to things. What's not to love?
Here's a few different ideas for using a cookie sheet for a magnetic board:
You can use simple alphabet magnets to keep your toddler happy,
or you can go all out and create little magnetic characters and glue them to a magnetic sheet. All you have to do is cut them out once they're glued.
You can print out photos of characters and do the same thing. Just glue them to a magnetic sheet and cut them out.
Bop It!
Still as relevant as it was in the 90's, Bop It! still provides loads of fun for any age. In case you're unfamiliar with how this game works, it gives you a command to either bop it, twist it or pull it to test your reflexes.
It also helps kids pay attention and follow direction, but it's simple enough for a toddler without being over stimulating.
Hold a contest to see who can Bop It! the longest.
Crayons and Blank Paper
A tried and true activity beloved by all tiny humans. Toddlers love to scribble and draw. Give them some blank paper and a few colors and you will have artwork to cover your fridge for years and then some!
And bonus points if they have older siblings. Drawing an excellent teaching and collaboration opportunity. Have one sibling start off by drawing a face and then pass on the drawing to the younger sibling.
You can even start with different shapes and see what masterpiece they can make out of a single shape.
Paint by Sticker Activity Book
Paint with paint is a genius idea when you're riding in a car. These Paint by Sticker books have solid color stickers of different shapes to create a mosaic-like picture. Your toddler will get to "paint" without the mess!
And they get to play with stickers, which is always a hit!
Small Bag of Favorite Toys
In the midst of thinking of new activities to try out for your road trip, don't forget the good old fashioned toy bag.
Just grab a handful of your toddlers favorite toys and store them in a small bag. Overstimulation from gadgets and visuals and electronics can quickly cause a little mind to feel anxious and scared. Anxious and scared toddlers tend to cry a lot so give them some of their favorite toys and leave them be for a while. Works like a charm.
Magnetic Drawing Board
Don't want to tote around a bunch of paper and crayons? No problem! Get one of these Magnetic Drawing Boards and they can enjoy creating art without paper clutter piling up.
Let's face it, having just a few drawings to hang on the fridge is a real treat. However, for a road trip, sometimes less is more.
These magnetic drawing boards are perfect for kids ages two through seven.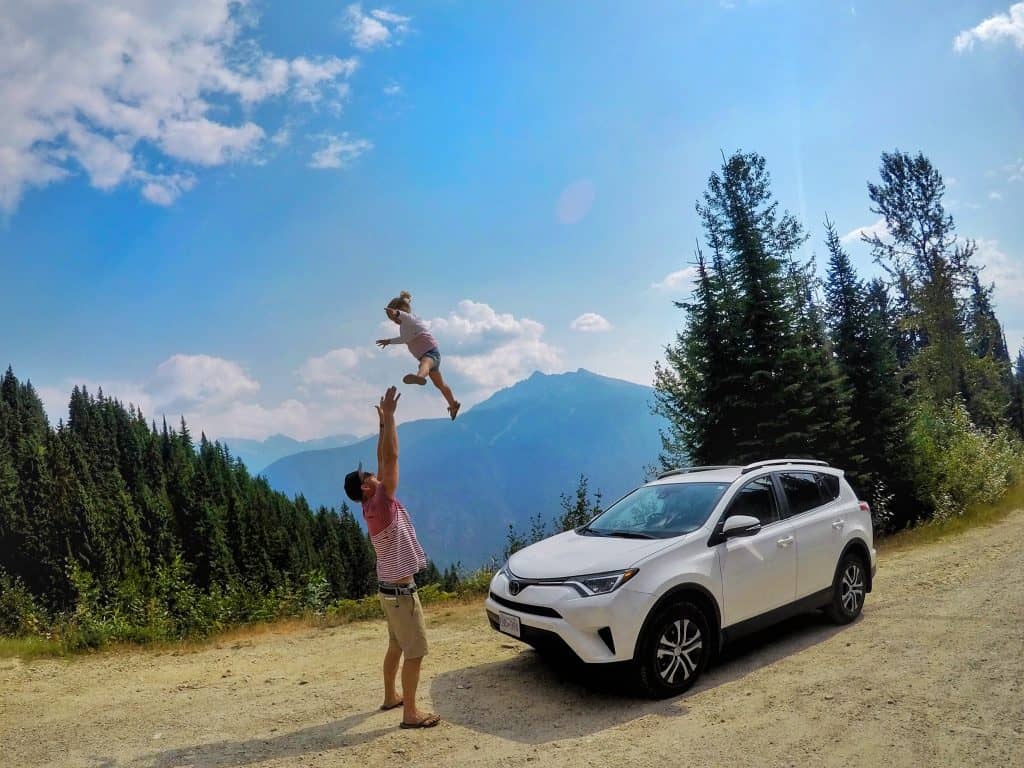 Activities for the Whole Family
It's not a real road trip until you squeeze in some of that classic family fun. Now this is what creates those beautiful memories, so get out your camera and get ready to have a blast!
Here's a list of some of the funnest games you can take on the road.
Road Trip Bingo
A quick Google search for travel bingo should provide you with some free boards to print off. All you need is magnetic tiles and a cookie sheet to make this bingo game car friendly.
Instead of someone calling out numbers, look for the images outside your window.
Come up with some cool prizes for the bingo winner, like a goodie bag or some candy.
License Plate Game
License Plate Game is a classic, but you can add your own twist or make it a contest. License Plate Game is one of those games you can play continuously throughout the road trip, because I'm sure it would take at least that long to collect as close to all fifty states as possible.
Here's a could different ideas to keep track of the license plates you find:
Print a blank map of all fifty states and color in the states of the license plates you see. Coloring in a blank map also tests your knowledge of each state's location.
You can also print off labels of each state's name and put them on a magnetic sheet. Once you cut out all the labels, stick them in a small tin can like an Altoid can. For each plate you come across, transfer the corresponding label to the top lid of the can and whoever has the most transferred wins!
Monster Drawing Game
It doesn't even need to be a monster, you can use any type of creature in this drawing game. The describer needs to be someone who isn't driving, for safety reasons.
Here's how you play:
One person looks at an image of a cartoon monster and describes what they see to the kids drawing. The kids draw what's described and when they're done, see how the drawings compare to the image. Take turns who picks and describes a monster while the others draw.
You can kick this one up a notch by cutting out the drawings of the monsters and pasting them in a scene together on one single piece of paper.
Magnetic Game Boards
If your family is a fan of playing board games, this is perfect for you.
Gamie Magnetic Board Game Set comes with twelve classic board games including Tic-tac-toe, checkers, chinese checkers, backgammon, and chutes and ladders.
These board games are mini versions of the full size games so they are great for traveling. And they are designed to withstand a lot of shaking and jolting from a car ride. All the game pieces are magnetic so you don't have to worry about losing your place or pieces falling on the floor.
Dry Erase Board and Markers
There are so many possibilities for entertainment when you have a dry erase board and markers.
You can play games like Hangman, Wheel of Fortune, and tic-tac-toe. You can also make a travel version of drawing games like Pictionary.
The dollar tree sells small dry erase boards for just a dollar, so if you get one for each person, you can play a word association game like Scattergories.
Mad Libs
No matter what age you are, this game never ceases to be hilarious. Have one person hold the mad lib and say what kind of word they need to fill it in. For example, if they need a noun, adjective or verb.
When you or your kids fill out the entire mad lib, read the story to find out how ridiculous and funny it turned out.
This is something you'll need to print before you travel. Printable Mad Libs can be found all over the internet. If you type in a Google search "travel mad libs," you can find a bunch of free printables in this specific category.
Countdown Goodie-bags
Goodie bags don't have to be anything extravagant. You can create simple goodie bags with small toys or treats.
The idea with this kind of goodie bag, is that you award your kids with each destination milestone. This helps them countdown how many milestones are left before you reach your destination.
When you are preparing your goodie bags before your road trip, look at a map of your journey ahead to determine how many goodie bag stops you want to create and how far apart they are. For example, for a six hour journey, you could make three per child. Space out the destinations so they'd get a bag every two hours.
Washable Window Markers
Giving a child the opportunity to write on something that's usually forbidden is gold! And as long as it doesn't hinder the visibility of the driver, even better.
You can find washable window markers at any local craft store. They usually come in packs of eight or twenty-four in a variety of colors. Window markers wash off easily with soap and water or glass cleaner.
Your kids can have a blast doodling on the windows, or writing messages. They can use the markers to count how many miles are left in the trip. Or you can take any of the drawing games discussed in this article and apply it to the windows!
Laminated Map and Dry Erase Markers
Have ant-sy kids who like to know how far you've gone, and more importantly, if you're there yet? This is something you're going to need for your trip.
Before you start your road trip, print out a map of your journey. This just needs to be a map of the area you're driving, not the whole country like in some other activities discussed in this article.
Show them the route you're taking for your trip. With their dry erase markers, they can trace the road on their map as you travel. They can draw "x's" at the places you stop and add any other doodles to the map. Have them draw their own legend.
This will help your kids keep track of the trip so they don't ask that never ending cycle of "are we there yet?"
You're welcome.
Road Trip Story Starters
If you find traveling with your family comes with a lot of silence or arguing, using story starters is something to get a light hearted conversation going.
You can find some road trip story starters at somewhatsimple.com under their travel section.
If you're feeling extra ambitious, here's something else you can do with this idea:
Record the story.
Remember the animation idea a while back? Use this audio to animate your story!
Or you can just save the audio file to listen to later. Either way this is something to treasure for years to come.
Make a Roadtrip Family Movie
We've gone through thirty different road trip activity ideas! Why not document your experiences and make a family movie? Record where you visit, playing games together, telling stories and, yes, even the silly arguments that we all know is inevitable.
All you need is a phone or tablet and a video editing app. Most video editing apps are free or have free versions.
The most important thing to remember is to have fun with it, flaws and all. This will be something to look back on when your kids are grown up and you'll be so happy you recorded this experience.
Conclusion
Being well prepared makes a huge difference in your overall road trip experience. Whether you're looking for some quiet time or playing a game as a family, this list is sure to keep you entertained for hours on end.
More about our TFVG Author
A seasoned traveller, Dad, and avid sports tourist, James foundered The Family Vacation Guide to share his expert vacation experiences- especially when it comes to being a travelling family man.
Featured in Travel articles such as Travel + Leisure, TripSavvy and SFGate, you know you're reading some of the best vacation tips online.