Where can you swim with manatees? Is it legal to swim with manatees? Would you even want to swim with manatees if given the opportunity?
These are all fair and valid questions that are well worth considering before making any final plans for your Florida vacation. 
It's perfectly understandable if you've never considered swimming with a manatee before. But now that you're presented with the opportunity, you're kind of interested, aren't you?
The good news is, there are places in the United States where you can swim with manatees if you want. And if Florida is the next destination for a family getaway, you should consider putting a manatee swim on your itinerary.
But before you make any final decisions, let's take a moment to learn more about these wild and exciting creatures that are sometimes called the cow of the sea. 
A Little Manatee Info
If you've ever seen a manatee, you might quickly understand why they earned the nickname "sea cow." They're large and somewhat round, similar to cows you see on land. And they have a face that almost resembles a cow's face. In particular, their nose structure is remarkably similar.
The manatee is a fascinating creature. It's a large, herbivorous mammal that resides in shallow or marshy coastal areas. Manatees exist in the waters of the Caribbean Sea, the Gulf of Mexico, the Amazon Basin, and West Africa.
Manatees tend to be loners, more solitary creatures that don't travel in large herds or schools like other sea creatures. They're also big sleepers, spending about half of their day sleeping submerged in the water.
Just like land cows, these sea cows are big grazers. They traverse the shallow waters in search of plants that they can consume. And if they aren't sleeping, they're probably eating.
One of the most exciting things about manatees is how they communicate. They can actually transmit a range of various sounds, although most communication tends to happen between mothers and their calves. 
Florida Manatees
The manatee is considered one of Florida's most enduring animals. Even though they exist worldwide in some small populations, Florida is one of the best places to see and experience a manatee up close.
The manatee capital of the world exists in Citrus County, Florida. Crystal River, which sits nearly an hour north of Tampa, is known as one of the best spots in Florida to see the fascinating manatee.
The Florida manatee is actually native to Florida. It can grow up to ten feet long and weigh about 1000 pounds. And this is actually on the small, or at least average, scale. Some manatees can grow over 13 feet. And they can weigh nearly 4000 pounds.
The Difficulties of Swimming with Manatees
One of the reasons it might be difficult to swim with manatees is their protected status. Manatees are a protected species under the Endangered Species Act and the Marine Mammal Protection Act.
If you want to experience swimming with the manatees, then Crystal River is the only place in the known world where you're allowed to do so. For many reasons, swimming with manatees at other locations is not permitted. It could also be illegal.
Another reason that it might be difficult to swim with manatees is how quickly they grow accustomed to humans. Manatees around humans can get used to them fast and lose their natural fear.
When an animal like a manatee loses its fear of humans, it might approach boats more readily. Boats can be incredibly dangerous for manatees, and so can unsuspected humans who have manatees approach them in the wild.
Since manatees are already a protected species, it's easy to understand why swimming with them might not be allowed under most circumstances. The last thing anyone wants is to cause greater harm to the manatee population.
But You Still Can!
With over half of the known manatee population living around Florida and the southeastern United States, it makes sense that there is some opportunity to enjoy swimming with the manatees in a safe, protected environment.
At Crystal Lake, you can experience something profound under the supervision of experts and manatee specialists who know how to keep both you and the great sea cows safe on the adventure.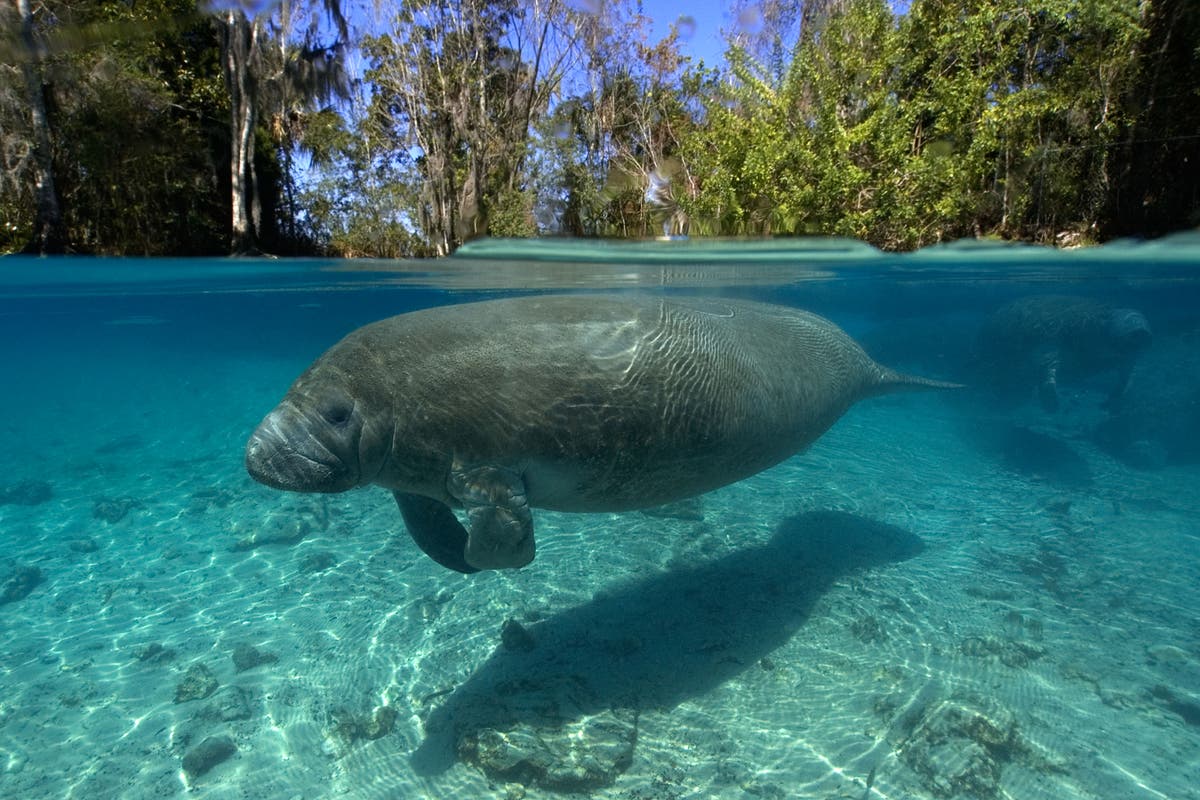 Why Swim With Manatees?
If you're on the fence about whether or not to swim with the manatees, that's okay. There's a lot to consider when making such a big decision. Let's take a look at some of the biggest reasons why swimming with the manatees in Florida is a fantastic idea:
Experiencing any life underwater is exceptional
Manatees are amazing creatures
Seeing them in their natural habitat is unbeatable
Manatees are incredibly gentle
Most people who spend time swimming with manatees will tell you that no experience can beat it. Although they are large, somewhat tubby, slightly unattractive creatures, the manatee is surprisingly majestic underwater. And they're friendly.
When you swim with the manatees, don't be surprised if you get up close and personal with one or two. They will come right up to you, regardless of personal space, and try to get a good look at you.
Despite their size and intimidating stature, manatees are very gentle and friendly. They pose no threat to humans who are interacting passively with them. They're probably pretty excited to see you and check you out.
The Legal Option
If you've decided that swimming with the manatees is next on your list of fun family activities, then you're in luck. Although it's not legal everywhere, there is one exceptional place where you can swim with manatees: Florida.
Since manatees are protected species, it's no surprise that swimming with them is mainly illegal around the world. Not only that but interacting with them in specific capacities is also considered an offense of various degrees.
From November to March, you might stumble upon migrating manatees hanging out at their favorite natural winter refuge: Crystal River. And here, you can experience a swim with these majestic giants, accompanied by professionals who have done it hundreds of times.
Are Manatees Safe?
Manatees are large creatures, so wondering how safe it is to swim with them is a valid concern. After all, you've heard them being compared to cows on more than one occasion. And aren't cows pretty dangerous?
Cows are calm, peaceful animals. And their seafaring counterpart is much the same. Manatees are gentle creatures, and they pose no threat to humans who wish to swim with them.
And when you're swimming with trained professionals at a place like Crystal River, you can rest easy knowing that you'll see exactly what to do to stay safe underwater. Expect to have the time of your life swimming with the manatees down in Florida.
Good Family Fun
One of the best things about swimming with the manatees is that it provides good, wholesome fun for the entire family. Whether you've got your little kids with you, your teenagers, or traveling with the grandparents, anyone is welcome to swim with manatees.
As we've already pointed out, manatees are gentle, peaceful creatures. This makes it easy to take your kids into the water with them. Your kids will have stories to tell for years to come if you take them to swim with a bunch of manatees.
Manatees are the very epitome of gentle giants. They're large creatures, and they're undoubtedly powerful. But they are simply kind and curious animals who enjoy interacting with people and take full advantage of having your attention under the sea.
If you take your kids swimming with the manatees, be prepared to have them ask to return every single year. It may seem like a once-in-a-lifetime experience, but you're going to want to go back as soon as you leave.
So, don't be afraid to have your kids jump in the water with you. If they know how to swim, they're more than welcome to join you on your manatee adventure. Just be sure to keep them close to you as you explore the river's depths. 
Tips and Bad Ideas
When you go swimming with the manatees, it's important to remember a couple of crucial things that you can and cannot do. Remember, you can get in trouble interacting incorrectly with the giant sea cows. So, be mindful of expectations before you get in the water.
Tips
It would be best to remember that you should have a good time while you're down there. Make the most of your time in the water while considering some of these tips below!
Let Them Near You
When you come across the manatees, it's perfectly fine for them to come up and touch you. They might grab you with their flippers and even try to give you a manatee kiss. Don't worry: this is perfectly natural. And even though you shouldn't touch the manatees, it's much different if they feel you.
Swim With Them
Feel free to swim alongside them. As long as you observe the rules of passive observation, you can swim alongside a manatee to get a sense of how it moves and how fast it can swim. Please don't chase the manatee, but stick with them for a while and see what happens.
Water Shoes
And when you go to the water, wear water shoes instead of flippers. Water shoes are a much better option when swimming with manatees because they make less noise. You're also less likely to unintentionally hit a manatee with a water shoe than a flipper.
Stay Calm
Finally, make sure that you are friendly and calm around the manatees. The quieter your own demeanor, the easier your time with them will be overall. You can learn a thing or two from the way that they behave.
Bad Ideas
Remember that manatees are a protected species, so there are several things that you cannot and should not do when you go swimming with them. Keeping these things in mind will help ensure that everything goes smoothly and everyone is safe.
Don't Touch Them
It's different if the manatee touches you. But when you go swimming with manatees, remember the rules of passive observation. This means no touching the creatures, especially if they are sleeping or seem agitated.
Touching them might be an option when you go on a manatee tour. But it would be best if you waited for the direction of your tour guides before you tried to touch the giant creatures.
You can watch them all you want and even get close to them. They have no sense of personal space, so you won't weird them out by coming right up to them. But be careful and methodical with your movements and keep your hands to yourself.
Don't Feed Them
One of the most common problems between humans and wildlife is that humans always want to feed animals. And usually, they want to feed animals human food. You simply cannot do this with a manatee.
Stay Quiet
It's best to make as little noise as possible when swimming with the manatees. In the same way, you should let them make the first move when it comes to touching; you should try to avoid disturbing them by splashing around or being too excited.
It might seem like a ridiculous expectation, but keeping your cool around the manatees will help ensure that you don't startle them or make them feel unsafe. The more comfortable they are around you, the better off everyone will be in the situation.
Stay Out of Designated Areas
When you're swimming with the manatees, you'll probably run into a few sections that are quartered off to provide manatees with plenty of feeding ground. These areas should be considered off-limits to humans.
Follow these basic tips, and you'll be well on your way to having the time of your life. And always remember to listen to the professionals. After all, they have been doing this much longer than you.
Where To Swim With Manatees
We've covered a lot of manatee information. Now, you're probably wondering if we forgot about the main question: where can you swim with manatees? Well, rest assured, that question has an answer.
You can go swimming with manatees at one location in the United States: Crystal Lake, Florida. Not only does Florida have one of the larger manatee populations, but it also houses a few tour companies that will take you on your very own manatee excursion in the lake.
Crystal River, Florida
Located in western Florida, about an hour north of Tampa, Crystal River is home to the Crystal River National Wildlife Refuge. This is where the manatees are sheltered all year long and why Crystal River is the best place to swim with manatees.
At Crystal River, you'll find a few different places that will take you out to swim with the manatees.
Open for boat tours and underwater excursions, Swim with Manatees allows visitors to schedule appointments online. With multiple packages, the team promises a great time out on the water whether you want to swim with manatees or not.
But they highly recommend swimming with the manatees. In fact, they consider the manatee package the most popular feature of their tours. For three hours, you can enjoy the experience of a lifetime with professionals who love what they do.
Under the supervision of Captains Traci Wood and Laci Gist, you'll be led on an experience like no other at the Manatee Snorkeling Center. Here, you can learn everything there is to know about manatees while experiencing them up close.
Offering small group tours with no age restrictions, the team teaches you how to properly interact with the manatees before you ever get in the water. They're a trained and licensed team passionate about preserving manatee culture and teaching you all about it.
Of all the manatee swimming opportunities in the Crystal Lake area, Capt. Mike's is perhaps one of the best-known and most sought after. With an outstanding reputation, the team at Capt. Mike's has been providing excellent service for years.
At Capt. Mike's, you can actually choose your own adventure for your tour. You can completely customize what you'd like to see and do, and the team will make it happen.
For about three hours, you can experience the majesty of the world beneath the water's surface at Fun 2 Dive tours.
Filled with education and adventure, you have a wide selection of packages available to choose from for your manatee exploration with Fun 2 Dive.
Final Thoughts
If you are planning a trip to Florida with your family, you might want to consider adding a quick stop in Crystal Lake so you can swim with the manatees.
Even if it is a little out of your way, it's going to be well worth the effort in the long run. After all, it's the only place in the world where you can have such an incredible afternoon.
More about our TFVG Author
A seasoned traveller, Dad, and avid sports tourist, James foundered The Family Vacation Guide to share his expert vacation experiences- especially when it comes to being a travelling family man.
Featured in Travel articles such as Travel + Leisure, TripSavvy and SFGate, you know you're reading some of the best vacation tips online.