With warmer weather just around the corner, surely there are tons of families looking for a getaway and well, where better to enjoy the sun than at the beach? Sandcastles, dip your toes in the ocean and even indulge in the odd ice cream cone.
There are plenty of choices, from the beaches of Miami to the tropical islands of the Caribbean. However, with lots to consider when picking a destination for the family, it can become quite a laborious and even overwhelming task.
To make things easier and so you can get down to the beach quicker, we have compiled a ranking of the best beach destinations for your family this summer. We considered family-friendly accommodation and facilities, public restroom availability, family activities and some costs to determine the best options for your family beach vacation.
Revealed: The Best Family Beach Destinations
For this table, we ranked each location on all the factors to give it a score out of ten to determine the best overall beach locations for you to take your family.
1. Albufeira, Portugal
Family Beach Score: 7.63/10
Albufeira started as just a small fishing village but has grown into an extremely popular vacation destination.
With its long strips of beach and fishermen now using the docks also as a base to make diving tours, dolphin watching and boat trips, there's plenty for the whole family to enjoy.
Despite its average annual temperature being 17.7ºC, in the summer months, you'll likely experience plenty of the mid to high 20s – perfect beach weather.
2. Sarasota, FL, United States
Family Beach Score: 6.86/10

The Sunshine State was almost destined to feature in this ranking with its countless beach towns, and coming in second is Sarasota, Florida.
This destination is made for beach days, with its generous selection of gorgeous beaches and an average annual temperature of 23ºC.
However, Sarasota isn't just beaches; there are also the Sarasota Jungle Gardens, where your kids can feed flamingos and The Ringling Museum (owned by one of the famous Ringling brothers), where your kids can learn a few circus tricks in the Tibbals Learning Center.
3. Antalya, Turkey
Family Beach Score: 6.66/10
Antalya is a resort city in Southern Turkey, with ports packed with yachts and sprawling pristine beaches graced with white sand upon which are lined a few beachfront hotels.
With the average annual temperature being 20.1ºC, we again have a pretty good average for beach weather. A
nd there's also a festival that takes place between May and December, involving people coming from all over to build sand sculptures.
4. Tahiti, French Polynesia
Family Beach Score: 6.51/10
Tahiti, one of the French Polynesian Islands, is a vacation for the outdoorsy family – with absolutely breathtaking sights and some of the best beaches on the planet.
However, with the wide range of resorts available to stay at, they are sure to have other activities should you tire of the beach; some have infinity pools and tennis courts and various cultural activities.
5. Olbia, Italy
Family Beach Score: 6.4/10
Located in the Sardinia region in Italy, Olbia is a city soaked in history, with its medieval buildings and Roman warships to explore, plus a wide range of eateries and coffee shops.
As as well as that, there are yet more stunning beaches here and in the whole Sardinia region, but that's not all; you can take dolphin spotting tours and go snorkeling in the protected reefs, which have other-worldly beauty.
A truly unforgettable experience.
Ranking The World's Best Family Beach Vacation Destinations
The World's Safest Family Beach Destinations
San Sebastián, Spain
Crime Index Score: 15.05/100 
San Sebastián, in recent years, has reached record high safety levels, recording a 93.46% safety rating, and in our crime index score, it came out at 15.05/100.
On top of that, San Sebastián is often touted as the most family-friendly vacation in Europe; with its beaches–namely La Concha, aptly named for the beach's conch-like shape–there are also plenty of parks and museums too.
Dubrovnik, Croatia
Crime Index Score: 15.08/100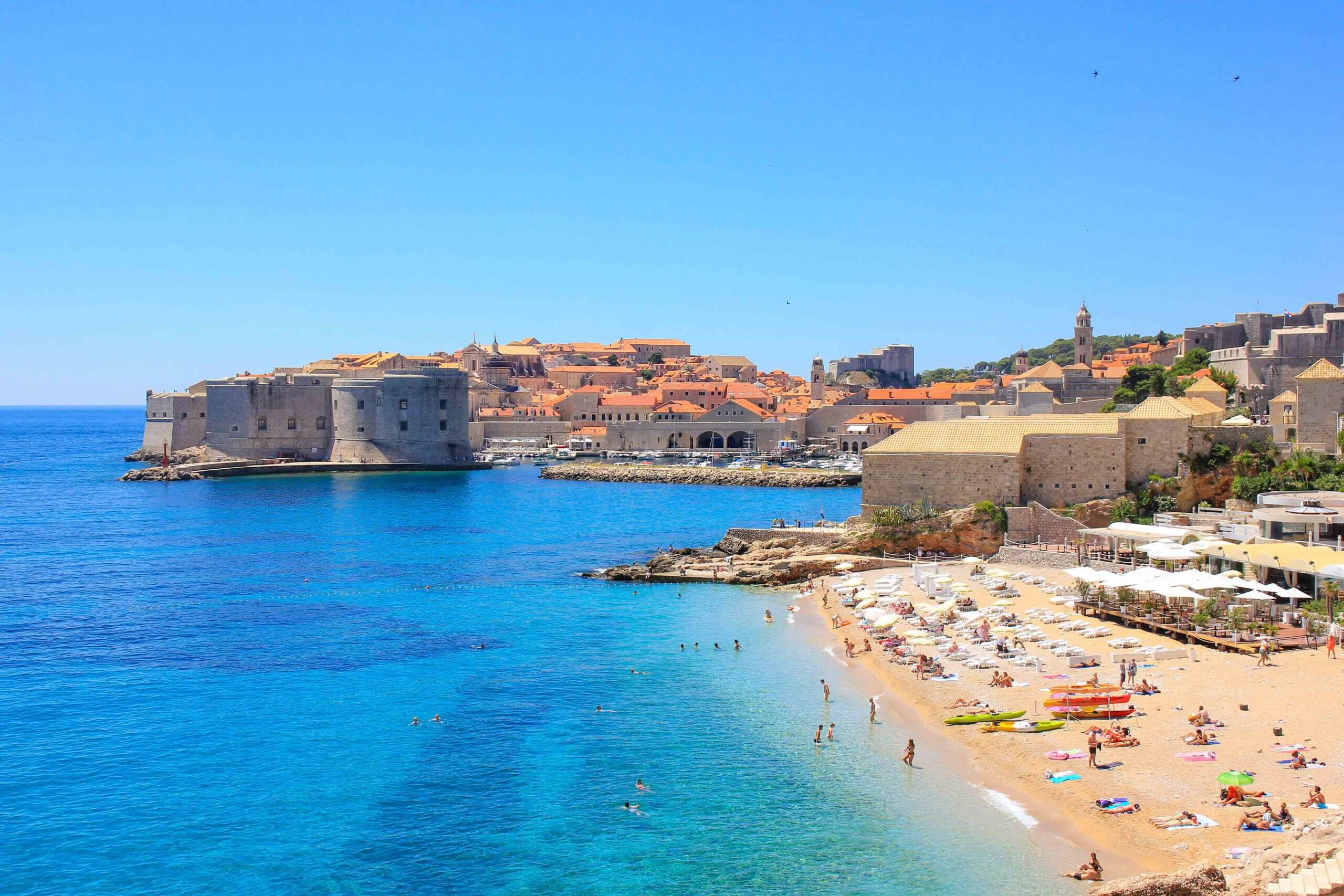 Dubrovnik, located on Croatia's Dalmatian Coast, is famed for its mesmerizing scenery and its use as a filming location for HBO's Game of Thrones (not for the kids, this one).
Dubrovnik is widely considered a very safe city with low crime rates, which the crime index score of 15.08/100 reflects perfectly.
And in such safety, you can feel free to take a tour of the city walls to get a birds-eye view of the beautiful city, take one of the island-hopping boat tours or simply relax on the beach.
Dubai, United Arab Emirates
Crime Index Score: 16.35/100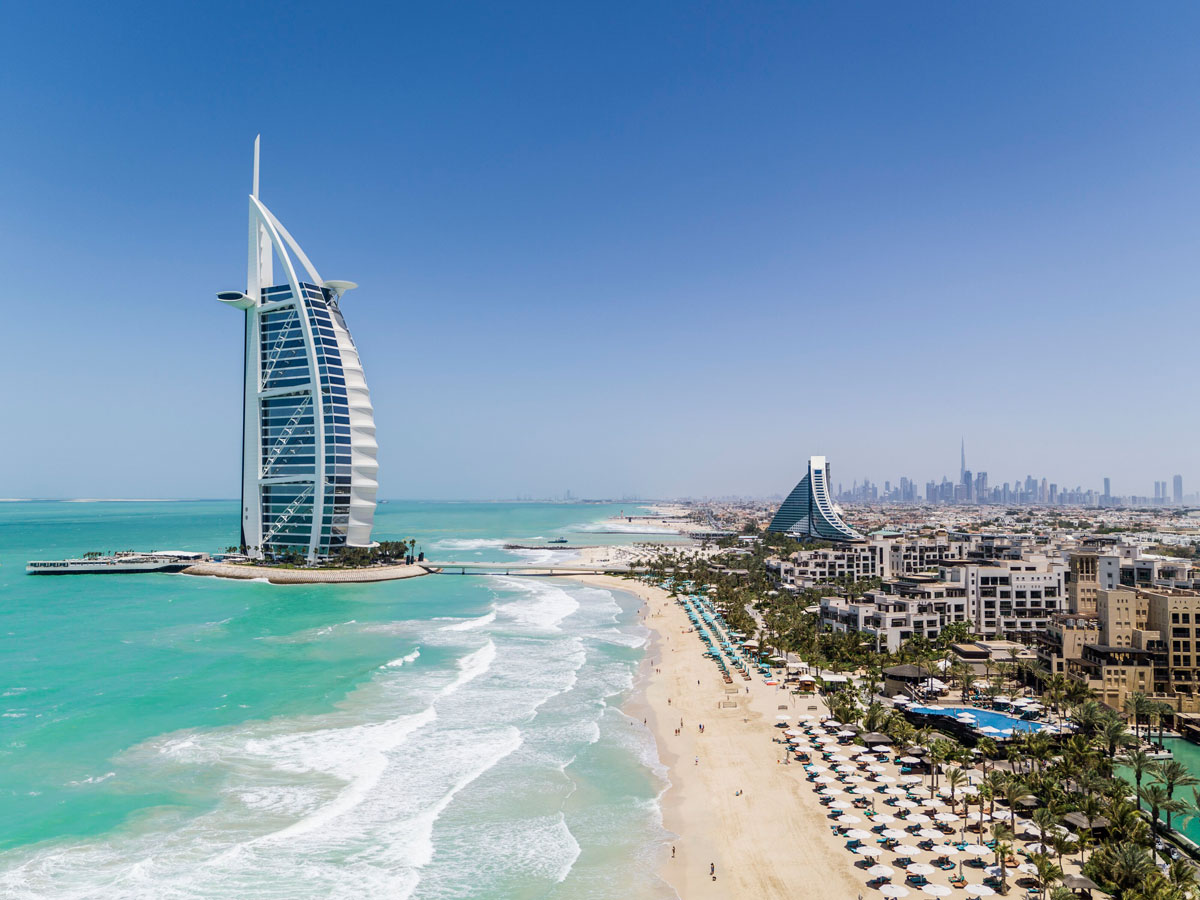 Dubai is yet another city widely known for its low crime rate and outstanding safety levels.
The Women, Peace and Security index of 2021 reported that 98.5% of women felt safe in Dubai.
And if that's not convincing enough, its crime index score is 16.35/100, one of the lowest in the world.
With its modern skyline, a beachfront stretching the width of the city and the artificial Palm Islands just offshore, which has the Atlantis water park, safety and a variety of activities for the family, what more could you want?
The Beach Vacation Destinations with the Most Family-Friendly Facilities
To reveal more about the world's best family beach destinations, we calculated the percentage of family-friendly facilities, such as hotels and restaurants, and then took an average of all these facilities to form this ranking.
Positano, Italy
Family-friendly Hotels: 4.5% | Family-friendly Restaurants: 57.9% | Family-friendly Parks & Nature Activities: 100.00% | Family-friendly Beaches: 100.00% | Average of Family-friendly Facilities: 65.6%
Positano is a stunning cliff-side village on southern Italy's Amalfi Coast, and is a popular European vacation destination, with the Spiaggia Grande beach at the base of the village.
However, since that beach can get crowded over the summer, Fornillo beach and Arienzo beach are other great options, but be sure to wear shoes as some of these beaches are a little pebble-y.
There is also a range of boat tours around the coast and even caves to explore, such as Grotta di Fornillo.
The streets of Positano are lined with a vast assortment of cafes and restaurants, offering a wide range of eating options, and a majority of them are child-friendly.
Albufeira, Portugal
Family-friendly Hotels: 17.4% | Family-friendly Restaurants: 59.8% | Family-friendly Parks & Nature Activities: 75.9% | Family-friendly Beaches: 87% | Average of Family-friendly Facilities: 60.0%
Albufeira has more to offer in the way of family-friendly hotels and restaurants, but not all of its beaches are considered family-friendly by Trip Advisor.
However, its beaches do have that European flair and beauty about them and there is more to see and do here, too. The Slide and Splash and the Zoomarine water parks should keep the kids more than entertained; the latter offers dolphin interaction sessions which is sure to be a memorable experience.
Ayia Napa, Cyprus
Family-friendly Hotels: 18.1% | Family-friendly Restaurants: 68.8% | Family-friendly Parks & Nature Activities: 77.8% | Family-friendly Beaches: 73.3% | Average of Family-friendly Facilities: 59.5%
Another village on the southeast coast of Cyprus is Ayia Napa, a place best known as a vacation resort with plenty of awe-striking beaches.
But, aside from its beaches, there are plenty of other things for the whole family to do–namely, Water World Waterpark and Parko Paliatso Fun Fair and Luna Park, boasting 25 different attractions.
And with a whopping 68.8% of restaurants being rated family-friendly, per TripAdvisor, there's no reason for your family not to answer that island vacation call.
The Family Beach Destinations with The Most Restrooms
Sydney, Australia
Restrooms per 100km2: 363
When you're on vacation, you're out and about, taking in the sights and experiences, so it stands to reason you'd want an ample selection of restrooms.
Sydney has you covered; whether you're at one of its beautiful beaches, Taronga Zoo or the Royal Botanical Garden for a picnic, there are 363 restrooms per 100km2 within the city.
Boracay, Philippines
Restrooms per 100km2: 129
Boracay, the island off the coast of the Philippines, is second for most restrooms.
Relaxing on one of the many island beaches, you can be sure you'll not be short on options for the restroom; with 129 per 100km2, that's plenty for an island.
Barcelona, Spain
Restrooms per 100km2: 115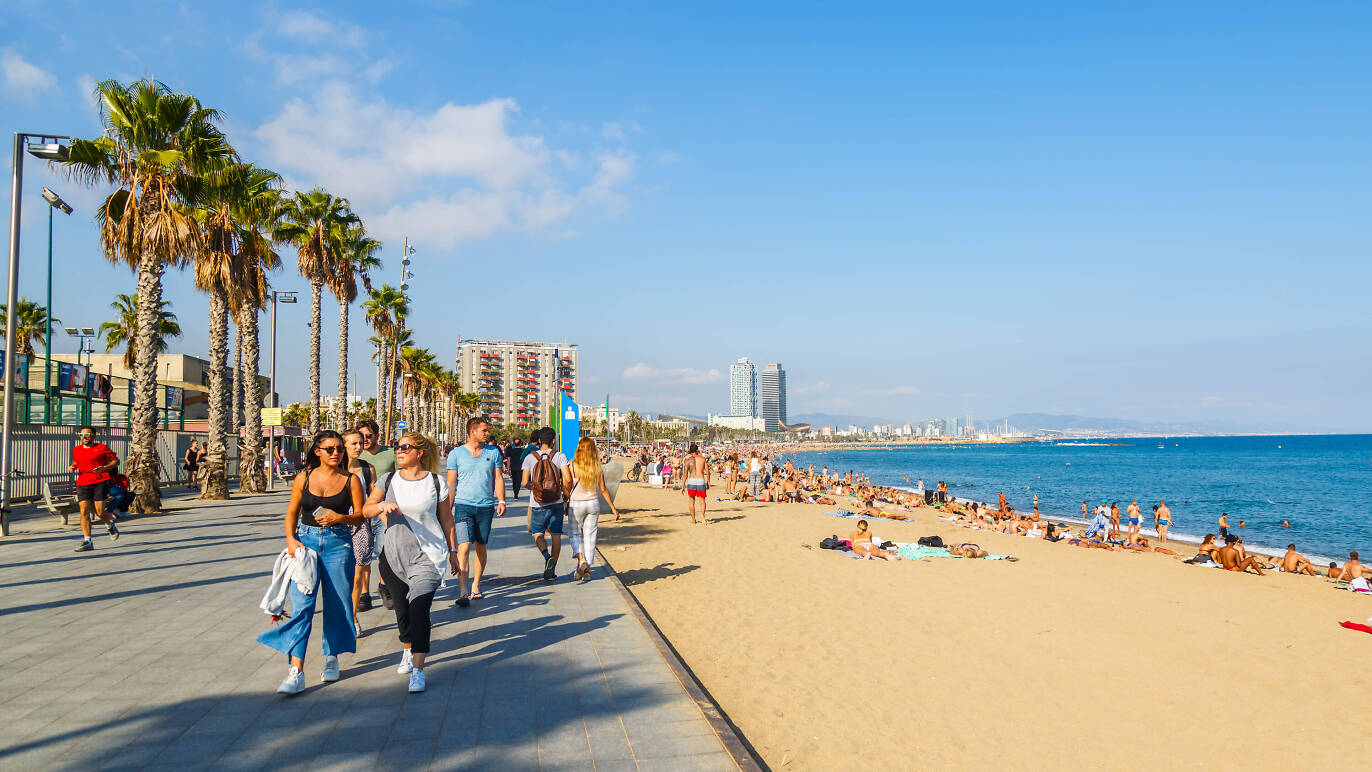 Being one of the larger cities to appear here, it stands to reason that Barcelona would rank so high on restroom availability.
Whilst you're busy enjoying Barceloneta Beach or one of the other family activities, such as Tibidabo Amusement Park or Barcelona aquarium, there are 115 restrooms per 100km2, making restroom queuing most likely obsolete here.
The Most Affordable Family Beach Destinations
Varna, Bulgaria
Average Hotel Cost (weekend night): $45.65 | Average (inexpensive) Restaurant Meal Cost: $7.00 | Total Cost: $52.65
Varna is a port city in Bulgaria, facing the Black Sea, famous for "The Gold of Varna", Thracian jewelry that was discovered in a necropolis, now displayed in the Archaeological Museum.
With plenty to do, from beaches and the Sea Garden to Stone Forest–a natural rock formation–Varna is a great choice for a beach vacation without breaking the bank, with it costing around $45.65 for a weekend night hotel and just $7 for a meal at an inexpensive restaurant.
Palawan, Philippines
Average Hotel Cost (weekend night): $51.82 | Average (inexpensive) Restaurant Meal Cost: $3.29 | Total Cost: $55.11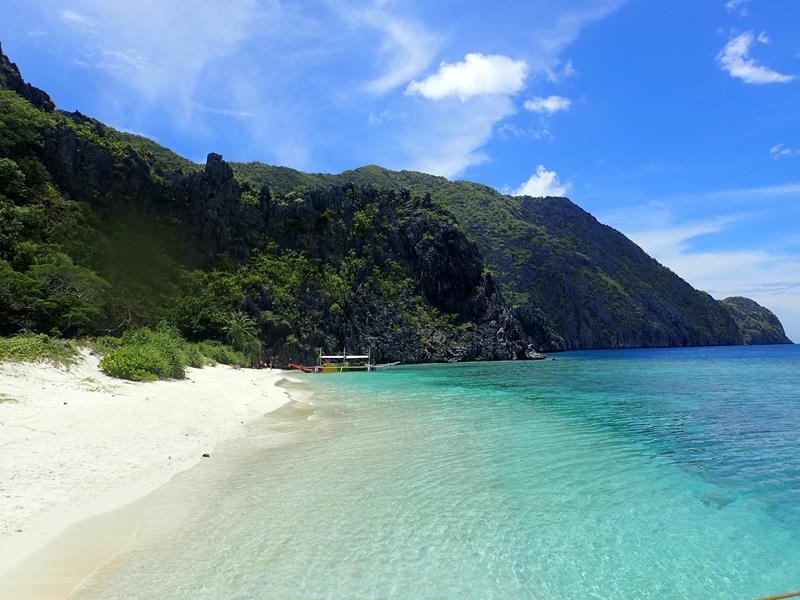 An official province in the Philippines, the island of Palawan is located in the Mimaropa region, the island itself sitting between the South China Sea and the Sulu Sea.
With the total costs coming to just a few dollars more than the previous ranking, Palawan is another great option with sugar-white sand beaches with coral reefs which have a few wildlife sanctuaries where you can snorkel.
There's plenty to keep the whole family entertained for such a low cost.
Olbia, Italy
Average Hotel Cost (weekend night): $87.59 | Average (inexpensive) Restaurant Meal Cost: $14.22 | Total Cost: $101.81
Coming at almost double the cost of the previous two rankings, we have Olbia, the coastal Italian city.
We have the costs of an average hotel room on a weekend night at $87.59 per night and the cost of an inexpensive meal at a restaurant at $14.22, which is still a reasonable price–besides, you're on vacation, so treat yourself.
---
Methodology
We started by building a list of the best beaches and best beach cities in the world that are considered good locations for a family vacation.
From there, we looked at Numbeo and Wikipedia for both crime and average annual temperatures of the various locations. We calculated average temperatures manually in some locations (where data from Wikipedia and Numbeo was unavailable) using Google's average temperature data for locations.
For the family-friendly facilities, we used TripAdvisor to get the number of hotels, restaurants, nature and park activities and beaches for each location and then filtered each of those for the child-friendly options. We then calculated the percentages for each factor.
We then used a Public Bathroom mapping site to gain data for restrooms. We took the number of restrooms and the km² of each location. We calculated the number of restrooms per 100km² for each destination with these numbers.
Finally, using Numbeo and Kayak, we got the average costs of a meal at an inexpensive restaurant and a hotel room on a weekend night.
We then gave each destination a normalized score out of ten for each factor, before taking an average of these to calculate our overall score.
More about our TFVG Author
A seasoned traveller, Dad, and avid sports tourist, James foundered The Family Vacation Guide to share his expert vacation experiences- especially when it comes to being a travelling family man.
Featured in Travel articles such as Travel + Leisure, TripSavvy and SFGate, you know you're reading some of the best vacation tips online.