The Pacific Northwest is arguably one of the most naturally beautiful areas of the entire United States.
The region offers a diverse array of scenic views and natural wonders, including but not limited to pristine beaches, striking landscapes, thrilling waterfalls, relaxing forestry, eye-catching overlooks, and awe-inspiring mountains.
If your family consists of beach lovers, mountain lovers, and forest lovers, you don't have to make tough decisions when it comes to Pacific Northwest family road trips.
Any of the following road trips ideas are filled with a range of activities to suit various interests and preferences.
That's what we love about the Pacific Northwest – you can indeed have it all, and then some.
But how many options are there when it comes to Pacific Northwest family road trips?
The short answer is – a whole lot.
But don't worry; In this article, we've outlined six of the best Pacific Northwest family road trips to consider in the great states of Idaho, Washington, and Oregon.
1. Salmon River Scenic Byway – Idaho
This road trip is not the most popular of the northwest family road trips. Still, it is worth starting with due to its spectacular views, fun river activities, ample hiking opportunities, and unique ghost towns.
You'll want to start in Boise, Idaho, then make your way to Stanley, Salmon, and Sun Valley before heading back to Boise to finish your road trip. We recommend 7-10 days for this family adventure and a few more days if you plan on rafting as well.
Rafting the Salmon River
The Salmon River is most notable for its whitewater rafting opportunities, although you can also go fishing and hiking along the river as well.
This river is an accessible, safe whitewater rafting river for kids, as a family-friendly class three (with one being the easiest class and five being the hardest). As long as you go with a reputable rafting company and keep your life jackets on the entire time, this should be a fun and compelling way for your family to bond and create new memories together.
Stanley Hot Springs
The first stops we recommend are the hot springs along the Salmon River Scenic Byway.
There are several hot springs to choose from, including Sunbeam Hot Springs, Kirkham Hot Springs, Snake Pit Hot Springs, and Goldbug Hot Springs.
If you'd like to have a relaxing yet fun and unique day with the family, this is an excellent activity. You can sit back, relax, and soak up both the warm natural waters as well as the striking natural views.
Sawtooth National Recreation Area
The Sawtooth National Recreation Area is located outside the town of Stanley and has 300 picturesque mountain lakes and 700 miles of hiking trails. If your family is into hiking, backpacking, and camping, you will love the beautiful outdoor opportunities that sawtooth presents.
Outside of hiking, you can also rent bikes and enjoy the views that way. If you want to switch things up even further, you can also take an enjoyable horseback riding tour of the area.
Finally, if you'd like to swim, paddleboard, take a boat cruise, or simply enjoy a spectacular lake, make sure to visit Redfish Lake while you're in the area.
Sun Valley
Sun Valley is a popular resort town with many activities for your family to enjoy or opportunities to relax and get a nicely cooked meal after all that adventuring and hiking.
We also recommend stopping or staying in Ketchum, the smaller, more quaint town close to Sun Valley but offers a more quiet and vintage charm.
Boise
Finally, you can end your family road trip in Boise, Idaho. As Idaho's capital city, Boise will offer a seemingly endless list of things to do, from water and action sports to museums and history, art and performances, and numerous dining options.
2. Olympic Peninsula Family Road Trip – Washington  

The Olympic Peninsula is a trendy Pacific Northwest family road trip for several good reasons. 
Located on the northwest corner of Washington State, and typically starting in Seattle, both the mountain and ocean lovers in the family will enjoy the unforgettable views and exciting activities that this road trip route has to offer
You can start by going from Seattle to the small island town of Bainbridge, then heading to the popular towns of Port Townsend and Port Angeles. Next, the real adventure will begin as you participate in various activities within Olympic National Park.
If time allows, we highly recommend exploring Mount Rainier National Park as well before heading back to Seattle.
Given the high number of stops you'd likely want to make and outdoor activities, you'll want to partake in, reserve ample time for this road trip – we recommend around 9-10 days if possible.
When it comes to the number of days you want to spend on this activity-dense trip, we certainly believe the more, the merrier!
Bainbridge island
Bainbridge Island is a great first stop, as it is only an hour west of Seattle and on the way to the more scenic adventures this trip has to offer.
You and your family can explore the shops and restaurants, visit the Bainbridge art and history museums, or take a brief hike in Fort Ward Park.
Port Townsend
Port Townsend is a charming, historic town with Victorian houses that are beautiful to hatch a glimpse of.
Like Bainbridge, there are also many history museums and art museums to stop at. Otherwise, if your kids are more into science, be sure to check out the Port Townsend Marine Science Center.
Port Angeles
Port Angeles is the closest town to Olympic National Park, making it a bit busier and more popular than Port Townsend.
It's an excellent base for a day trip to Olympic National Park, especially if you are driving in a car and not an RV and want a nice Airbnb to stay in for a night or two.
Olympic National Park
Olympic National Park is undoubtedly the highlight of an Olympic Peninsula family road trip, especially for families who love to hike.
You can visit Hurricane Ridge, which is just a few miles outside of downtown Port Angeles and provides various great hikes and viewpoints. And of course, many of these viewpoints face the prize of the park – Mt. Olympus.
You may catch glimpses of wildlife at Hurricane Ridge as well, including but not limited to deer and mountain goats.
Other wonderful places to visit at Olympic National Park include Hoh Rainforest for huge moss-covered trees, Sol Duc Valley for its serene vibe and hot springs, Lake Crescent Lodge for the beautiful surrounding lake, La Push for three coastal beaches, and Grand Pass for a thrilling day hike.
If you want to do more than a hike, walk, or drive but still want an adventurous day, consider reserving an afternoon to go rafting at Lake Quinalt or one of the other lakes at the park.
If you and your family wanted to, you could spend almost your entire road trip at Olympic National Park and never get bored!
Mount Rainier National Park
Mount Rainier National Park is not technically on the Olympic Peninsula; however, it is a relatively convenient stop if you go from Olympic National Park back to Seattle.
This park takes up a smaller land area than Olympic National Park, but don't let that fool you into thinking that this park isn't as grand.
While the highest point at Olympic National Park is 7,980 ft, the highest point at Mt. rainier (Mt. Rainier itself) is 14,411. This makes Mt. Rainier a striking, worthwhile mountain to visit, even if just for the views.
This park is also typically a little less crowded than Mount Rainier National Park, making it more ideal for families who enjoy more spacious and quieter surroundings.
There are a lot of highly active hikes at Mount Rainier National Park. One of the best views is the Skyline trail up to Panorama Point.
But if you have young kids or would simply like an easier time, you choose from shorter hikes like the Alta Vista Trail or Nisqually Vista Trail. These trails can get you to a beautiful viewpoint in under 2 miles.
Besides hiking, you can visit waterfalls such as Myrtle Falls and Narada Falls, stop at Reflection Lake, or take a scenic drive along Chinook Scenic Byway.
3. Cascades Loop – Washington
Similar to the Olympic Peninsula road trip above, the Cascades Loop family road trip would begin in Seattle as well. 
However, instead of going west towards the coast, you will head north and then east, towards the famous North Cascades National Park.
The park is the highlight of this road trip, but you can stop at surrounding towns before and after, including Everett and Leavenworth.
We recommend 6-7 days for this road trip, and longer if there are a variety of activities and hikes your family wants to do within the Cascades park.
Everett
Stop in Everett on your way to North Cascades National Park to enjoy orca whale watching and amazing coastal scenery.
Deception Pass
Stop in Deception Pass to walk on the scenic bridge, take a beach break, or set up lunch on one of the beach picnic tables.
North Cascades National Park
The North Cascades National Park is not for the faint-hearted family. It is a smaller and lesser-known park for Northwest family road trips, allowing you to get views with barely any human obstructions.
Although there are trails for all levels, we recommend this park for athletic and highly adventurous families and families with older children.
For your strenuous hiking, you'll be rewarded with spectacular views, glacier-fed lakes, sprawling forests, beautiful waterfalls, and more.
Leavenworth
Leavenworth is a cool, hip, mock Bavarian village that will make your family feel like they've been transported to a cozy German town.
Wander around the shops and restaurants, take a horseback tour from the Eagle Creek Ranch, take a short hike through The Enchantments, or golf at the Leavenworth Golf Club.
4. The Columbia River Gorge Family Road Trip – Oregon 
The Columbia River Gorge road trip is a 3-5 day, a 125-mile road trip that starts and ends in Portland, Oregon. As the most extensive designated National Scenic Area in the United States, this trip will present many beautiful and unforgettable sights.
There are activities throughout the road trip for the whole family to enjoy, including but not limited to hiking, waterfalls, fruit picking, and wineries.
You would start driving along the 75-mile Columbia River Highway from POrtland, explore the Hood River Fruit Loop Trail, and camp at or near the Cascade Locks Marine Park before heading onto your next adventure.
75-Mile Columbia River Highway
If your family loves waterfalls, you won't want to miss out on stopping to see them along the 75-mile Columbia River Highway.
Specifically, the Columbia River Gorge National Scenic Area has a high concentration of spectacular waterfalls, jaw-dropping cliffs, and scenic trails for hiking.
Make sure to stop at Sherrard Point, which is a wonderful viewpoint for Mt. St. Helens, Mt. Adams, Mt. Hood, Mt. Rainier, and Mt. Jefferson.
The Hood River Fruit Loop Trail
The Hood River Fruit Loop Trail is a 35-mile road in Oregon directly south of the Columbia River. This loop allows families to go on a beautiful, self-guided road trip.
You can make the iconic stops at the Hood River Valley and catch spectacular views of Mt. Adams and Mt. Hood in the background.
This is a great road trip route for families who love fresh produce as well. There are a multitude of orchards and farms along the way where you can pick up fresh, family-grown fruits and vegetables. In addition, if the adults of the family want a nice little treat, there are breweries, cideries, and wineries as well.
Cascade Locks Marine Park
The Cascade Locks Marine Park is right on the south side of the Columbia River, and it's a great location to camp with an RV.
Additionally, your younger kids might enjoy the nautically-inspired playground.
Because it's a small and relatively popular campground, make sure you book it far in advance of your trip.
5. Oregon Coast Road Trip – Oregon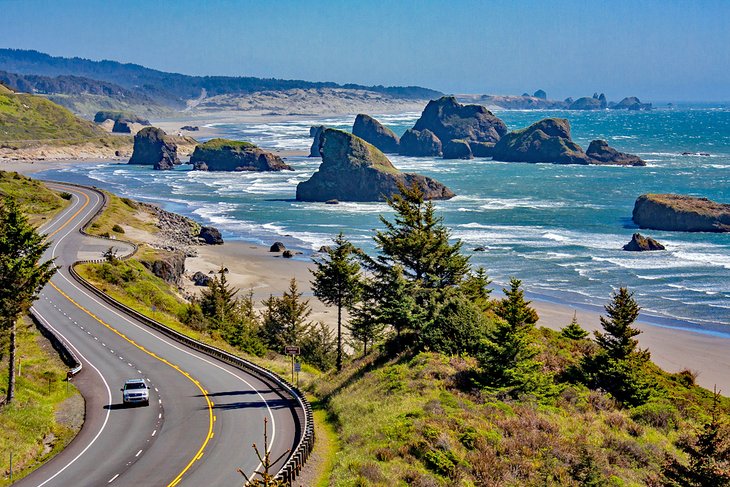 The Oregon Coast is one of the most gorgeous Pacific Northwest family road trip options, especially starting from around Florence, Oregon, and ending in Astoria, Oregon (or vice versa). 
The coast is dotted with sea stacks, beautiful beaches, and a wide range of activists for your family to enjoy.
Oregon Dunes National Recreation Area
The Oregon Dunes National Recreation Area is south of Florence and consists of 40 miles of win-sculpted sand dunes. This is a unique and exciting place for your family to start an Oregon Coast road trip.
If you're seeking a bit of adventure, a popular activity to do here is to rent ATVs or quad bikes and go for a ride along the dunes. Your kids will love the thrill!
The dunes are right on the ocean, making it an excellent place for the adventure-seekers, the relaxation-seekers, and the scenic-lovers in the family.
Your family might also enjoy playing around in the tide pools, which is another popular feature in this area of Oregon.
Yachats
Yachats is a town north of Florence where you'll find a beautiful oceanic area with more tide pools and excellent views. The sunset views are particularly appealing in this area.
Your kids can have fun playing in the tide pools or watching the seagulls and seals in action while you rest in this supremely relaxing environment.
Astoria
The town of Astoria is a true highlight for Northwest family road trips, as there are numerous places to visit, especially for beach lovers, rock lovers, and sea stack admirers.
Ecola State Park is a natural wonder where you can find starfish in the tide pools, ferns not far from the coastline, and, if you're lucky, even elk on the road!
Finally, if you select this road trip, be sure to seek out the iconic Haystack Rock, which you can spot from Cannon Beach.
6. Umpqua National Forest and Crater Lake – Oregon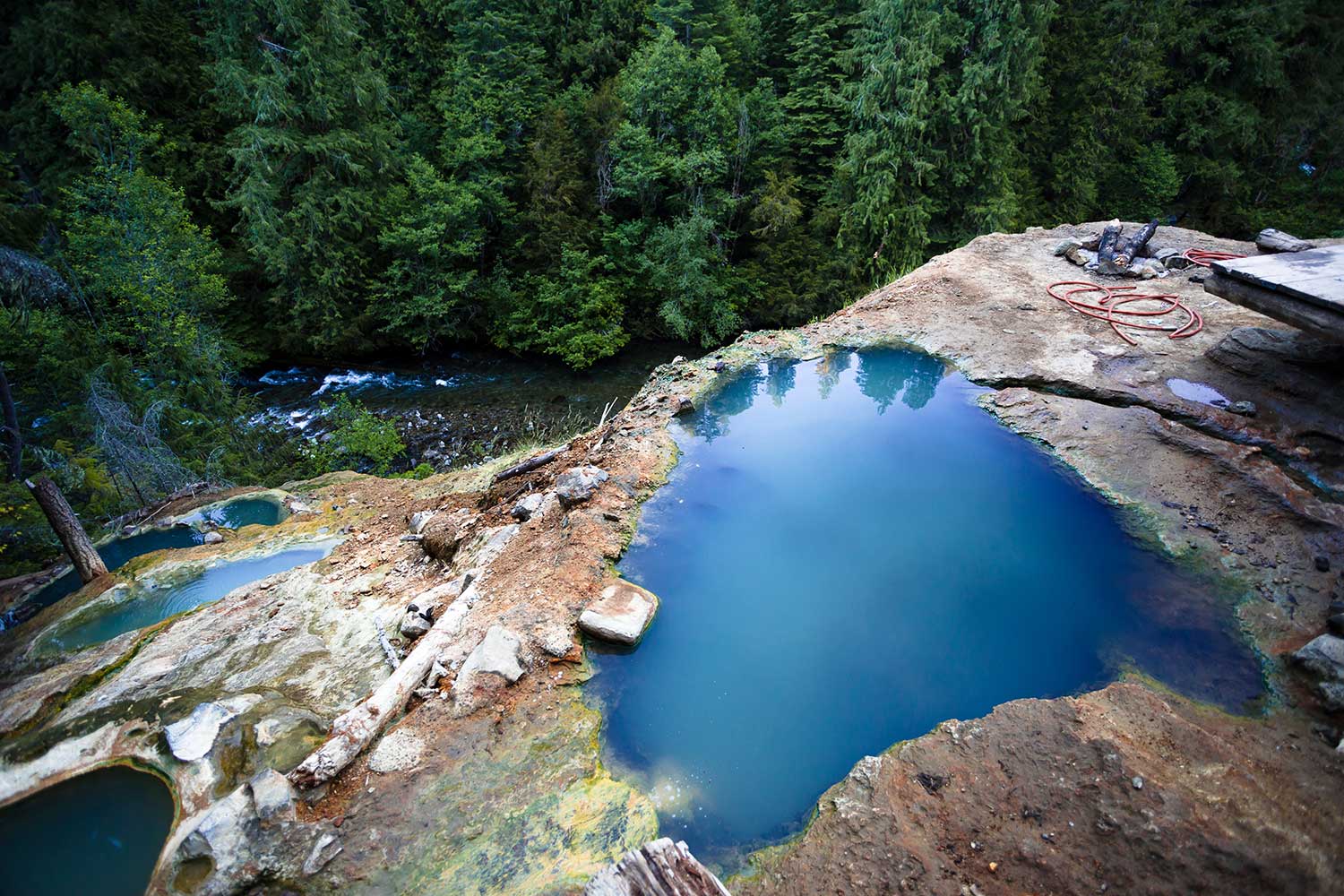 This route of Oregon is by far one of the most eye-catching northwest family road trips. 
Starting at the town of Eugene, you'll drive to the beautiful Umpqua National Forest, then make your way to the iconic Crater Lake, stop by the town of Bend, and end with the Mckenzie River Trail before making your way back to Eugene.
We recommend ten days for this trip, or seven at the very least.
We also recommend taking this trip in the fall. You don't need the warmth required for a coastal Oregan trip, and you'll get the spectacular fall colors in this forested region of the state.
Umpqua National Forest
The Umpqua National Forest, and its accompanying scenic byway, has seventeen beautiful waterfalls to either explore, hike or simply gawk at.
The waterfalls are truly the stars of the show at this national forest, but the expansive forests, rivers, and valleys are nothing to sleep on either.
Although a lot has burned down in the forests, it is still a highly recommended stop for true nature-loving families.
Crater Lake
Crater lake, the deepest lake in the United States, is a sight to see, unlike any other.
Dawning a spectacular shade of blue, with an island named "Wizard Island" within the crater itself, this lake presents unbeatable, unforgettable views that the whole family will love.
For many people, Crater Lake is one of the most beautiful natural scenes they've seen in their entire life. So if you decide to go on an Oregon road trip, this lake is truly a must-see!
Crater Lake is a lake that you simply stop at, admire, and take pictures of. But your family can also spend time enjoying the full Crater Lake National Park, which is a 183,224-acre park with 30 overlooks to view the lake.
If you enjoy presenting your young ones with fun learning opportunities, be sure to ask a park ranger for a seven-page Junior Ranger Book for them to complete while the family explores. And if you go during the summer season, don't let the kids miss out on the Junior Ranger daily Activities.
Finally, if you plan to spend a whole day there, you can inquire about taking a boat or trolley tour of the area as well.
Bend
The town of Bend offers various outdoor and recreational opportunities. Everyone in the family is sure to find something they will enjoy partaking in if you stop in Bend.
You can go to the Newberry National Volcanic Monument, watch an animal show at the High Desert Museum, or stop by Tumalo waterfalls if you haven't gotten enough of chasing waterfalls.
If you're still up for physical activity and your kids are at an appropriate age, you can try mountain biking, rock climbing, or simply take more hikes around the town, including the Smith Rock State Park trails.
McKenzie River Trail
The Mckenzie River National Recreation Trail, located in the Mckenzie River Valley, displays pristine, torques waters, bright green forests, and two gorgeous waterfalls – Sahalie Falls and Koosah Falls – along the way.
In the biologically diverse Mckenzie River Valley as a whole, you can catch vast ranges of fir and cedar forests, snowy peaks, river valleys, and even lava fields.
The Pacific Northwest – consisting of Washington, Oregon, and Idaho – has a lot to offer for your next family road trip.
In summary, Washington provides beautiful landscapes, striking mountains, scenic drives, and bustling towns to explore. In Oregon, you'll get gorgeous beaches, fun tide pools, diverse scenery, and lovely waterfalls. And in Idaho, you will have plenty of options for relaxing in hot springs, walking around lesser-known towns, and going on unforgettable hiking adventures.
What you ultimately choose for your Pacific Northwest family road trip is up to you. But we hope this list has provided some guidance on where to start looking and what will best suit your family's preferences and desires.
More about our TFVG Author
A seasoned traveller, Dad, and avid sports tourist, James foundered The Family Vacation Guide to share his expert vacation experiences- especially when it comes to being a travelling family man.
Featured in Travel articles such as Travel + Leisure, TripSavvy and SFGate, you know you're reading some of the best vacation tips online.